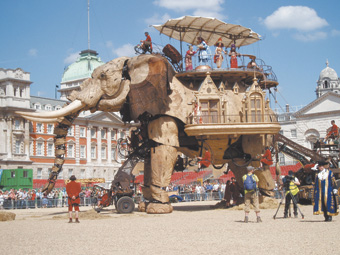 photo Susana Paiva
The Sultan's Elephant, Royale de Luxe
EARLY IN 2006, WE MET LIFT (LONDON INTERNATIONAL FESTIVAL OF THEATRE) DIRECTOR ANGHARAD WYNNE-JONES ON AN ICY DAY, APPROPRIATELY OVER A WELSH RAREBIT IN A CAFÉ NEAR THE LIFT OFFICE IN LONDON'S EAST. WYNNE-JONES HAS BEEN BUSY REVITALISING THE 25-YEAR-OLD FESTIVAL, RADICALLY INTENSIFYING ITS LONG-TERM LOCAL AND INTERNATIONAL FOCUS. HER ENTHUSIASM FOR THE 2008 FESTIVAL AND THE VALUES UNDERPINNING IT ARE CONTAGIOUS, HER LANGUAGE PEPPERED WITH TERMS THAT SUGGEST VISIONARY, EVEN REVOLUTIONARY ZEAL AND A REAL SENSE OF QUEST. MORE RECENTLY, IN AN EXCHANGE OF EMAILS, SHE REPORTED ON THE VISION'S REALISATION, AND CHALLENGES, TO DATE.
Wynne-Jones came to Australia as an artist. In 1994 she appeared on the cover of the very first edition of RealTime as the new director of Performance Space. During her time here she staged memorable site-specific works (like Hydrofictions) on Sydney Harbour and was part of Peter Sellars' team for the 2000 Adelaide Festival until she left to become a mother. Despite that festival's practical problems it's clear that Wynne-Jones continues to be inspired by Sellars' vision as well as the one she inherited from Lift's founders Lucy Neal and Rose Fenton, but is doing it in her own intensively collaborative way. Lift in 2008 will be created by a large team of "Seekers"—artists and artworkers from London and the world along with representatives from around the UK and East London communities in particular.
Lift's collaborative model is intended to engender a wider public participation where those attending become something more than an audience, and instead create a festival that is about more than art, to ensure that art is doubly valued. To enable this, Lift is creating as the hub of its festival a New Parliament.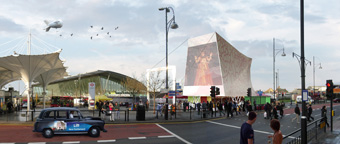 image AOC
The Lift New Parliament as it might look in Stratford, East London
lift new parliament
Lift has run a major architectural competition for a design for its New Parliament with a brief for a mobile structure that can hold hundreds of people and be used for performances, forums and broadcasting. The aim, says Wynne-Jones, is to place the structure near centres of power, like the British Parliament in London, where its very presence will say, "art is important." And it can travel the country and the world. Designed by architectural practice AOC with engineers Momentum and Mark Prizeman, its "flexible membrane structure taking the archetypal form of a tent as its starting point", the winning submission was selected by a jury from four anonymous short-listed designs (out of 56 entries) that were put to the public to have their say in an online vote. Wynne-Jones has written, "At the heart of this vision is…a new concept in performance space, where artists from around the world and the people of London can gather together to share stories, exchange knowledge, and imagine and rehearse new futures."
constituency
Lift combines the local (East London), the national (via the tourable New Parliament), and the global (the Seekers). Long-term Lift staffer Tony Fagan is coordinating the involvement of East London communities, while the Seekers consult with their own. The Seekers met in London in May 2006 and will meet again in March this year as well as consulting online. The ultimate goal, says Wynne-Jones, is "to have Lift owned by the community by the 2012 London Olympics."
On the local front, Lift is engaging with local boroughs and their "regenerative agendas." To do that, says Wynne-Jones, the organisation "has had to learn the language: it was an artificial hoop to have to jump through." Clearly, having to deal with local government and to seek funds beyond the Arts Council of England (Lift's principal funder) is a major challenge. When we met, Wynne-Jones was by no means certain that Lift could achieve the financial goals that it had set itself. But, she said, "regeneration is vital for these communities: it is urgently needed or disaster lies ahead."
Similarly Wynne-Jones sees it as vital that artists face the challenges of their world. Lift's role, she says emphatically, is "to create context, to move closer to the things we fear…and to have a voice." The New Parliament will provide a place for that voice, and hopefully its realisation will encourage potential sponsors to give, but also to enter the parliament themselves.
seekers
Asked about the choice of the term 'Seekers' for Lift's collaborators Wynne-Jones explained that it "came from a desire to get away from overly academic associations with the term 'curator' in the visual arts world and the product oriented 'programmer' in performance. I have read Harry Potter, but it wasn't a direct crib, I promise." However, she reveals, "'New Parliament' is proving very unpopular with all the collaborators in East London, testament to disappointment with New Labour and indicative of voter disengagement—in the UK you don't have to vote, so most people don't. When the parliament does open it may well be called something else. But whatever it's called—suggestions welcome—it will be a physical embodiment and tangible experience of peoples' desire and capacity to engage with each other, with theatre—in its broadest sense—and with the things that matter to us most, locally and globally."
taking it to the streets
To light the flame of its vision, Lift collaborated on a large scale public theatre event for four days in May 2006, a visit to London by The Sultan's Elephant, a massive human-operated pachyderm created by Frances' Royale de Luxe mechanical marionette street theatre company. Lift involved primary and secondary school students, young and emerging artists in the event, contributing objects, letters, drawings and photographs about their particular part of London or the UK. These then travel with the elephant around the world. The event also included a day of conversation, "How many elephants does it take…?", at the South Bank Centre to explore how creative people and city infrastructures can collaborate to change the way the city is experienced.
For Wynne-Jones the estimated million people who turned out to see the elephant confirmed the need for a new public space. At the time she said: "Almost a year on from the bombings of July 7 2005, the people of London came together to celebrate and share an experience, eager to interact with each other and to be in a public space together. We saw a different London and were filled with a great sense of ownership which enabled a generosity between us. The sheer joy and enthusiasm with which the elephant [was] greeted suggests a tremendous need for a space that allows us this freedom to come together more often. One of those spaces is the Lift New Parliament."
seekers meet
Wynne-Jones said that the meeting of the Seekers happened at the same time as the visit of The Sultan's Elephant: "We wanted them to experience London at its most animated…We left our intense discussion many times to participate in this reclamation of the city by its citizens." At this meeting, "the Seekers heard from us about the proposed Lift New Parliament…Inevitably we talked about money and risk. Participation is at the heart of the process and we invited the Seekers to share their experience and understanding of participative work from their very different contexts and asked if audiences can be turned into or should be participants.
"Much of the discussion centred on how individual and collective identity is constructed, how relevant that was to us now, how much of it was constructed from our individual and national histories. Questions arose to do with whether there is a sense of identity that is common to all, irrespective of context or geography. In our dreamings of the space of the Lift New Parliament as a place of cultural equity we talked about what might need to be given up, what needed to be held onto, what protocols we might establish, whether we needed a constitution.
"The Seekers spoke of their understanding of their role and how they inhabited it….They range from artists, initiators and creators to prospectors, prophets, transformers and revolutionaries to messengers and catalysts. Simply put, we got to know each other."
next
Asked about the stages leading to Lift 2008, Wynne-Jones explains it will entail further testing of the Lift vision and the first presentations towards programming. "We begin our next meeting in March 2007 with a gathering of the Seekers along with politicians, scientists, cultural commentators and academic theorists to think about the context that we are operating in and the potential for change. Exploring the question 'How do we live?', we'll use Open Space Technology (www.openspaceworld.org), a self organizing meeting and discussion tool which we hope will become one of the meeting protocols within the Lift New Parliament, to make visible the landscape we are operating in and unearth its spiritual and philosophical underpinnings as a prelude to the Seekers' presentation of the projects they have selected.
"By the time the Seekers leave seven days later we will have a fabulous palette of proposals from existing work, new commissions and linking events between the international work and UK-made work. These will have been discussed with the programmers from our partner venues. What remains is for Lift to raise the funds to produce and present the work. The production process begins in the Autumn of 2007, with a 10-month run up to the festival and the launch of the Lift New Parliament."
opening parliament
Wynne-Jones is programming "a number of trailblazer events leading up to the opening. These will be created by international artists in collaboration with communities and are indicative of the kind of projects we imagine will happen in and around the Lift New Parliament. In Eat London, a collaboration with Spanish artist Alicia Rios and 300 community members will create a giant three dimensional city made entirely out of food to be eaten on one glorious day by London's citizens. Auckland's dance company Mau, will stage Requiem [originally commissioned by Peter Sellars for the New Crowned Hope Festival in Vienna in 2006 to mark the 250th anniversary of Mozart's birth] at the South Bank Centre, and Stan's Café from Birmingham will create the largest artwork made of rice in the world [the company appeared in the 2006 Melbourne International Arts Festival], in which every living person is represented by one grain.
"The festival, with the Lift New Parliament as its heartbeat throughout June 2008, will begin in Stratford [East London] in collaboration with our partners. The parliament will then be packed up and transported along the river by boat and travel to the South Bank Centre. Alongside the commissioned program within the Parliament itself, there will be debates, celebrations and an exchange of ideas through a whole range of mediums, between international artists, local residents, cultural commentators, politicians and local, national and international audiences. That's not forgetting singing, dancing, eating, and generally having fun!
"The final design for the parliament will go public in June this year and then it will take a year to tender and build it, test and open it!"
Lift's Seekers
Caroline Calburn, theatre artist, Cape Town, South Africa; Jeremy Deller, artist, curator, London, UK; Ishrat Nishat, theatre artist and critic, Dhaka, Bangladesh; Oby Obyerodhyambo, playwright, director and writer, Nairobi, Kenya; Jonathan Parsons, director Brisbane's Riverfestival, Australia; Roma Patel, interactive media and theatre artist, Nottingham; Menno Plukker, theatre , dance and festival producer, Montreal, Canada; Lemi Ponifasio, theatre artist, artistic director of MAU, Auckland, New Zealand; Dawn Reid, theatre director, London; Fabio Santos, teacher, choreographer, arts project coordinator, London; Jenny Sealey, multisensory theatre artist in disability arts, London; Subathra Subramaniam, dancer-choreographer and biologist, London; Lone Twin—Gregg Whelan and Gary Winters, writer-performers, directors, Brighton and Glasgow; Prasad Vanarase, theatre artist, Pune, India; Wen Hui, choreographer, Beijing, China.
Lift, www.liftfest.org.uk
RealTime issue #77 Feb-March 2007 pg. 2
© Keith Gallasch & Virginia Baxter; for permission to reproduce apply to realtime@realtimearts.net