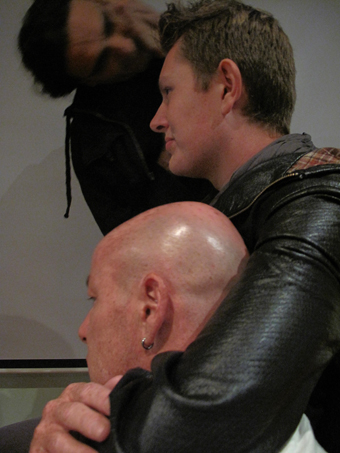 courtesy the artists
LIVE WITH IT : We all have HIV, project workshop
A few years ago a stranger was moved to write to me in praise of a review in which I'd described a work by BalletLab's Phillip Adams as fuelled by "obsessive self-indulgences." My correspondent went further, labelling the same piece "the most self indulgent load of tosh that I've ever had to endure! So much so that I will never again go along to see anything that involves him." I replied explaining that my words had been intended as objective description, not negative criticism, and that those same self-indulgences had also produced some of the most unexpected and daring experiences of my theatregoing career. The writer took this into consideration, and decided to give Adams another chance.
He might want to start with BalletLab's latest, LIVE WITH IT (we all have HIV). The work is an extraordinary collaboration with more than 50 community participants who have been "infected or affected" by the virus and has been co-created with visual artist Andrew Hazewinkel. Where Adams' previous work has always been, by his own admission, relentlessly "Phillip-centric," LIVE WITH IT has seen him consciously forgo his customary position as master and commander in favour of something new. "Not allowing me to be a director feels like it's the next step," he says, and suggests that what he is instead doing is closer to "curation, in some ways."
LIVE WITH IT began with a series of workshops last year followed by one-on-one developments with participants and the July showing will see a series of five or six 10-minute auto-portraits by participants offered each night, drawn from an overall pool of 20 such works. The forms of these portraits range from movement to spoken word, video and pre-recorded audio.
"It's not Phillip's vision and it's not my vision," says Hazewinkel. "It's somehow a shared vision which is distributed between all of the participants and ourselves in this kind of strangely morphological way. It's the experiences that we've had the whole way that have revealed what each of these co-authored self-portraits are. They're not our portraits of these people." That challenge to Adams' own method is itself paradoxically typical of his practice, he says: "It wouldn't be a BalletLab work if I wasn't challenged and educated in the process. Otherwise I'm just regurgitating the same postmodern canon of shit."
Adams' work has always been grounded in real research while drawing inspiration from topics far from the mainstream—the cult dynamics of Miracle (RT93) and Tomorrow (RT114), Aviary's bird-watching and millinery, Axeman Lullaby's woodchopping (RT87) and the furry fetishisations of Brindabella (RT83). All have been Adams' attempts at speaking to personal moments of obsession, and LIVE WITH IT is also informed by his own experiences. Adams lived in New York from 1988 to 1998, during which period his partner of the time contracted HIV/AIDS and died. "I have the passport and the license to talk to the epidemic in the way that I experienced it."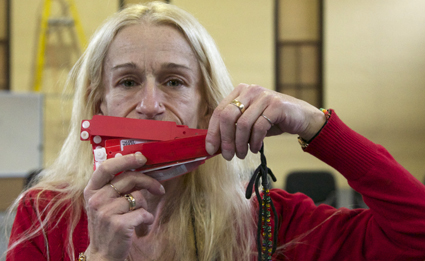 courtesy the artists
LIVE WITH IT : We all have HIV, project rehearsal
At the same time, the very form of the work is an attempt to transcend atomistic thinking about HIV. As the provocative subtitle We all have HIV suggests, the work is not simply concerned with relaying the experiences of individuals so much as drawing attention to HIV as something shared across time and space. Hazewinkel is uncomfortable with terms such as "community art" and instead likens LIVE WITH IT to the Beuysian notion of the "social sculpture" in which the art, artist and audience are all part of the same organism.
Importantly, the development of the work involved time spent in regional Victoria. The discourse around HIV is often inflected with an implicit sense that it is an urban disease. But, says Adams, "In the country I felt that the people who talked [about] this are less anxious to talk. I don't know what that's about. There's a real sense of Australian country town community."
Conversely, the devastating effects of HIV AIDS in Africa is frequently divorced from local experiences of the same disease, something connoted by the work. "Without going into a 90s 'We are the World' way of thinking, there's a sense of a unified, global humanity where we all have it," says Hazewinkel, "whether we're a rich western country with the latest treatments available or if we're a much poorer African country where even if you're lucky enough to get hold of treatments it's stuff that people here moved away from nine years ago."
The globalised context of the work is juxtaposed with a focus on "the Australianness of it," says Hazewinkel. "One of the things we're trying to do is present really intimate, microscopic, poignant Australian experiences of HIV within a broader aggregate of Australian culture. So we look at the Australian relationship (to HIV) over the last 30 years. It's contextualised with data that comes from high and low culture, politics, sport, that somehow frame the intimate experiences."
Those personal experiences, however intimate, do speak powerfully of the ways in which more than 30 years of HIV have seen us all "infected or affected" and have resulted in "scars, enlightened moments, stigmas," says Adams. One such story from a LIVE WITH IT participant offers a moving illustration. On the eve of the new millennium, a Melbourne woman decided to go to a New Years Eve party in the Docklands. "She rocked up with her friend and they thought they'd go out and have a whizzbang time. She was on the dance floor and having a good time and all of a sudden there was a dude in a Grim Reaper suit." In 1988 the then 24-year-old had returned from Europe having contracted Hepatitis B and HIV. "She was told she had four years to live," says Adams. "Imagine being a young woman given this news in 1988." Twelve years later she was confronted with one of the most impactful icons associated with the AIDS epidemic, right there on the dance floor.
The result? "She danced with him all night," says Adams. "That is facing 12 years of the infection to the point where she can talk to it literally on a disco floor. And she loved it."
Phillip Adams BalletLab, LIVE WITH IT (we all have HIV), concept, co-direction, choreography Phillip Adams, concept, co-direction, design Andrew Hazewinkel, with community participants from Melbourne and regional Victoria, Arts House, Meat Market, 17-27 July; http://www.melbourne.vic.gov.au/ARTSHOUSE/PROGRAM/Pages/LiveWithIt.aspx
For all articles on Phillip Adams see the realtimedance archive
RealTime issue #121 June-July 2014 pg. web
© John Bailey; for permission to reproduce apply to realtime@realtimearts.net