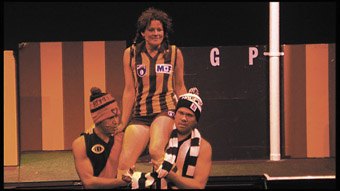 photo David Nixon
Raymond Wright, Tanya Langdon, Donald Mallard, Barracking
AWARENESS OF THE HUGE CULTURAL SIGNIFICANCE OF AUSTRALIAN RULES FOOTBALL FOR INDIGENOUS PEOPLES IN THE NORTHERN TERRITORY HAS ONLY RECENTLY BEGUN TO DAWN ON WHITE URBAN AUSTRALIANS. THIS HAS BEEN DESPITE THE FAME OF INDIVIDUAL ABORIGINAL PLAYERS FROM THE REGION WHO HAVE SUBSTANTIALLY LIFTED THE GAME OF LEAGUE TEAMS IN THE SOUTH. IN THE WAKE OF THEIR SUCCESS WITH MICHAEL WATTS' NOT LIKE BECKETT (RT81, P32), ALICE SPRINGS' RED DUST THEATRE HAS NURTURED ANOTHER FASCINATING PLAY, THIS TIME ABOUT FOOTBALL, AND TOURED IT THROUGH THE TERRITORY.
Katherine-based writer Toni Tapp Coutts, who saw the play in her home town, describes its tone as "although heart-wrenchingly honest, essentially comic." She writes,"Barracking does not take the easy road. You squirm in your seat as Cuz tells the ambitious young footballer Brownie in no uncertain terms what it can be like to be a blackfella in the city. Coutts thinks that "the focus on the shared faith of football, almost a religion for many Australians, allows the play to confront issues of racism, love, family pressure, community demands and the internal struggle of a young man who wants to be a great footballer in the city, playing for his beloved Hawks, but doesn't want to let down his home team, family and friends."
Written by Jane Leonard (a long-time writer who moved to Alice Springs nine years ago) and Steve Gumerungi Hodder (a Mornington Island man who has lived much of his life in the Alice as an actor and broadcaster), Barracking is, on the page, a brisk and engaging account of a developing romance between Brownie and a Melbourne writer, Goldie, who has moved to Alice Springs after the death of her father. A series of brief encounters where Goldie is sometimes the only white person at a community match bring the two closer together, a shared passion for the Melbourne-based team Hawthorn providing common ground. Brownie has the talent to play for the Hawks and yearns for the accompanying luxuries in contrast to the poverty and despair that surround him. His cousin, Cuz, has lived the life of the footballer in the city, a venture undone by white racism and his own stubborness. Brownie is undeterred, he already knows racism. However, when the 'draft', the search by white coaches for black talent, ensues and Brownie is told by his coach to give up his community team coaching, his love for Goldie and a vision of a Northern Territory team taking on the south creates a new future for him and his community.
Threaded through this tale are scenes, often comic, of Goldie's evolution as football fan (and writer, as she mimics sports broadcasters) from childhood to adolescence and university, in each period having to restrain her passion for the Hawks in the interest of not upsetting male domination of footy fandom. The exception is her beloved father with whose ghost she affectingly chats to in a cemetery before taking off for Alice Springs, saddened by her loss and deploring the corporatisation of the AFL. In the Alice she finds both love and a community-based football that reminds her of better times.
Barracking is often overtly didactic (Goldie's Armenian heritage, for example, is a loaded late addition to the story) and in the end it's wilfully and jovially sentimental, largely because there is no scene where we witness the emergence of Brownie's vision and the struggle to realise it—we find out about it after the event. Similarly, although the developing relationship between the lovers is nicely handled, the challenges to it becoming a marriage are sidestepped (even though Brownie is elsewhere as frank about Aboriginal racism as white) and the birth of their first child simply announced. Although there are clues to Brownie's background in his chats with Cuz, there's not the same attention paid to his growing up as there is to Goldie's—how did he become a footballer, what of his relationship with his relatives, how is it he's escaped the pull of alcohol and other traps?
The great strength of Barracking, however, is in its language—the footy coach with his mouthfuls of mixed metaphors, the droll humour that seems an inherent part of the riches of Aboriginal English, and the playwrights' often deft handling of dialogue. There are ample engaging cultural details, for example in an exchange on playing aids: "Cuz: He was cheating anyway. Them Nungkara rub that ndura on his legs. Brownie: Can't be. May as well be on steroids, dirty camp dog! So where you get that stuff?" Later, Goldie comments that a player "leaps like one of these big red roos." Brownie explains: "You know why? He been sung. Them old men sing all night for him, then they call for that wallaby, eagle, kangaroo, anything. Transform him. He's that kangaroo now."
Issues of race and culture are woven through the narrative: "Cuz: How any white blokes know your skin, your totem? They don't know our language, our country. They don't know 'cause they got none either." Brownie is shocked when his white team mates treat him as one of them while using racist language: "like I wasn't there…it was like them pretty boys didn't even think I'm black." And Cuz speculates on cultural difference: "Why you think they don't have a Territory team in the league? We got enough talent here for a half decent team…Money, that's why, footy all shop now. Them management take care of business, not spirit. That's why us blackfellas all over the shop. White man worry 'bout money first, then spirit after."
In performance, says Tapp Coutts, "Brownie and Goldie are surrounded by an assortment of characters capably played by just two actors: the bitchy girls on the netball team in Goldie's teenage years, a university professor, a beatnik boyfriend, the disillusioned Indigenous player who has returned to the Territory, the ghost of Goldie's father and even an AFL 'Bishop.' Raymond Wright, who plays Brownie and has enormous promise, was sighted by director Craig Mathewson at a shopping centre only five weeks before the tour."
Tapp Coutts reports that "Barracking toured remote regional Northern Territory during August, playing to small crowds of devoted theatre-goers in the Ti Tree Indigenous Community, the Ali Curung Indigenous Community, Tennant Creek, Katherine, Timber Creek and at the Darwin Festival and the Alice Desert Festival. It was a miracle that the performance went ahead in the small town of Timber Creek, 300km west of Katherine, as the road crew vehicle and trailer—with all the staging, sound and lighting—rolled over three times, the equipment strewn across the highway. In true Territorian style the actors proceeded to Timber Creek with a clothes rack and costumes and performed, without sound or theatre lighting against a sheet-covered whiteboard backdrop, to an enthralled 40-strong crowd. Aboriginal children squealed with joy, calling out their favourite footy teams."
–
Barracking, writers Jane Leonard, Steve Gumerungi Hodder, director Craig Mathewson, performers Tanya Langdon, Raymond Wright, John Robb Laidlaw, Donald Mallard, costume designer Franca Barraclough, lighting Greg Thompson, sound design Steve Gumerungi Hodder, Craig Mathewson, producer Danielle Loy, Red Dust Theatre, Alice Springs; Aug 14-Sept 8
Written by Keith Gallasch with Toni Tapp Coutts, a Katherine-based short story writer who works in remote indigenous communities as Project Coordinator for Katherine Regional Arts.
RealTime issue #82 Dec-Jan 2007 pg. 36
© Toni Tapp Coutts & Keith Gallasch; for permission to reproduce apply to realtime@realtimearts.net