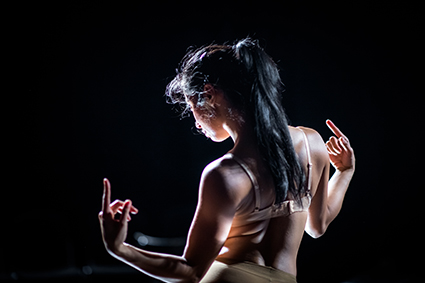 photo Andreas Endermann
Eisa Jocson, Host
The drought is about to break, impatience and irritability soon to be quelled as Performance Space's looming storm of experimental creativity, Liveworks, brings promise of relief and excitement, flooding expectation with a mass of negative (wicked, outrageous and, of course, subversive) cultural ions, invigorating the spirit and inducing aliveness.
For Performance Space regulars it's been a long wait. The organisation decided to compact much of its 2015 program into an October-November festival. Having devised the program with his staff, Performance Space Artistic Director Jeff Khan is now a man with a mission, eager to sell the season, deftly summing it up when we meet: "There are 10 major works that we're presenting across all of the gallery and theatre spaces at Carriageworks. There's also a free performance program in which there are three major commissions, one per week: by Leon Cmielewski and Josephine Starrs in the first; Garth Knight in the second week; and a collaboration between Force Majeure and Ghenoa Gela in the third. Alongside those three major works there's a whole series of free performance interventions in the public and external spaces of the building that will take place once or twice each, popping up and surprising audiences throughout the festival."
I ask Khan if live art will be at the forefront of the festival. His response is firm: "I find myself less and less interested in the genre of 'live art' as a label. We're thinking about the festival in the broader framework of experimental practice to provide a context for the kind of works we are presenting which have affinities with live art, visual arts, dance, theatre and other practices. Thinking of ourselves as an experimental arts festival frees us up."
I wonder why Khan has retained the Liveworks title of former Performance Space festivals. He says, "it looks back to the first initiated by Fiona Winning in 2008 and continued by Daniel Brine in 2010. It very much shares the philosophy initiated by Fiona of creating a really immersive experience for audiences. But we've greatly expanded it both in terms of the number and scale of works and its duration, activating the entire Carriageworks building as a creative site. This is the Liveworks of the future. Rather than presenting isolated seasons of, say, a dance production that runs a week, we're really encouraging audiences to dive in."
Khan is particularly keen on foregrounding the conversation an intensive festival can generate: "There's a strong public program that runs through the core of the festival. That's always a priority for me, to be able to expand on the works, not just to see a show but for audiences to be offered the chance to drill deeper and for artists to present their ideas on different platforms. So Track 12 will be entirely dedicated to public programs throughout the festival. Tulleah Pearce has done a great job of shaping a meaty program with a whole bunch of perspectives: festival artists in conversation about their practice; workshops and masterclasses; and some new initiatives. I'm very excited about Live Works Meditations where you meet with an expert in the artist's practice for an hour to be guided through discussions or activities or exercises related to what you're about to see." Afterwards, participants "gather for half an hour to discuss and, over a glass of wine if you like, reflect on what you've seen."
Jonathan Jones, Guguma Guriin/Black Stump
We move on to discuss the works in the festival program. A new work by Wiradjuri artist Jonathan Jones, says Khan, is inspired by research in his country "around the expression 'beyond the Black Stump,' that notion of a marker between colonial and Indigenous territories. He's been collecting stumps from Wiradjuri land around Narrandera in southern NSW, which are going to be sculpturally treated and installed in a constellation in the gallery alongside a series of pared back, minimal works that refer to the landscape and borders between colonial and Indigenous cultures and the knowledges that those landscapes contain, the different layers of knowledge from colonial times to Indigenous pre-colonial times."
Wade Marynowksy, Robot Opera
Lee Wilson and Mirabelle Wouters of performance company Branch Nebula are providing dramaturgical input to Wade Marynowsky's Robot Opera with a score by Julian Knowles. Past audiences have been entranced by the artists' frocked robots swirling about and making gnomic utterances but now they're part of a live performance, each with "a distinct voice," says Khan, "with the capacity to merge and shift in timbre and form but also to harmonise with each other. The soundscape has little in common with traditional opera; the operatic element is in the epic scale. There are tightly choreographed sections and then moments that dissolve into an interactive experience where the robots follow, respond and speak to the audience."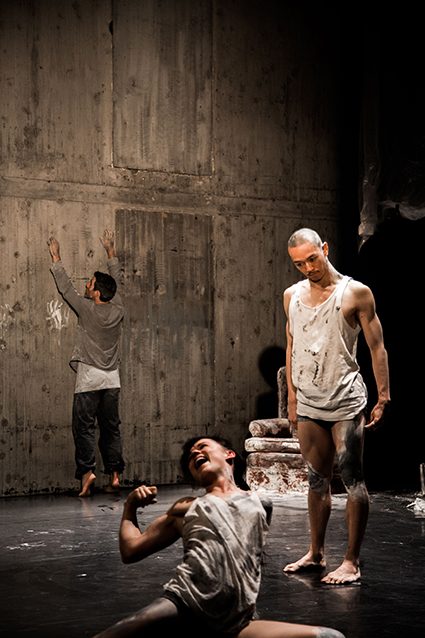 photo courtesy the artists
Triumphs & Other Alternatives, Muscle Mouth
Going international: Muscle Mouth, Eisa Jocson
While discussing overseas guests in the festival, Khan says, "One of our ambitions for Liveworks over the coming years is to grow it from a national experimental arts festival into an international festival with an Asia-Pacific focus, bringing the kind of experimental practice that's so strong here in Australia into conversation with the experimental practice happening throughout the Asia-Pacific regions. This year we're bringing New Zealand dance company Muscle Mouth with the Australian premiere of Triumphs and Other Alternatives, which premiered in New Zealand earlier this year. We also have Eisa Jocson from the Philippines who has toured Europe and Asia." Of Muscle Mouth's dance theatre, Khan promises "virtuosic and really high octane, physical work. There's a sense of flesh being sculpted out of the physical form but also out of Ross McCormack's choreography. These works will kickstart a dialogue and showcase works from Asia-Pacific artists who are very mobile globally but, ironically, little or not previously seen in Australia."
Victoria Hunt, Tangi Wai…The Cry of Water
Sydney-based Victoria Hunt will present Tangi Wai…The Cry of Water, her second full-length work following the Performance Space premiere of the solo Copper Promises in 2012. The new work features 10 dancers, "a big leap for Victoria," says Khan, "including most notably a collaboration with Kristina Chan who is undoubtedly one of the finest and most skilled contemporary dancers in Australia. As an inter-disciplinary work it's extraordinary. Fausto Brusamolino who works with NZ's Mau is the lighting designer, collaborating with video artist Boris Bagattini to create mist curtains—with droplets falling at varying levels of density—and the illusion of a sparkling field of stars. Add to this the rigour of Victoria's cultural research into her Maori heritage and ideas around female authority and the thresholds between life and death."
Nicola Gunn, Piece for Person & Ghetto Blaster
"Nicola Gunn's new work, Piece for Person and Ghetto Blaster," says Khan, "is part of the trilogy of solo works that she's made about trying to be a better person and the tension between individual subject and big global issues—in this case world peace. This work is part of a Mobile States tour, premiering with us and then touring nationally."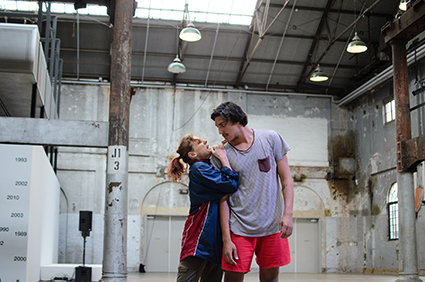 photo Lucy Parakhina
Vicki Van Hout, Thomas Kelly, 30 Ways with Time and Space, Performance Space, 2013
Vicki Van Hout, Les Festivités Lubrifier
Khan is excited about Vicki Van Hout's Les Festivités Lubrifier (The Lubricated Festivities), "developed from a rough sketch she created hot on the heels of her Cité residency in Paris and performed in collaboration with a talented young Indigenous dancer she is mentoring, Thomas Kelly. It really mirrors their hilarious, antagonistic, collaborative and mutually supportive relationship, all of which comes out in this duet. And it showcases a different side of Vicki from that seen in Briwyant and Long Grass. It's so funny, and so light but has all of the cultural politics that Vicki navigates."
Cmielewski and Starrs, Dancing with Drones
Leon Cmielewski and Josephine Starrs' Dancing with Drones is a duet between a dancer (Alison Plevey) and a drone developed in a residency at UNSW hosted by Performance Space. There'll be, says Khan, "large-scale projection of footage shot from the drone's perspective in the artists' continuing investigation of the new technologies we have for apprehending the landscape."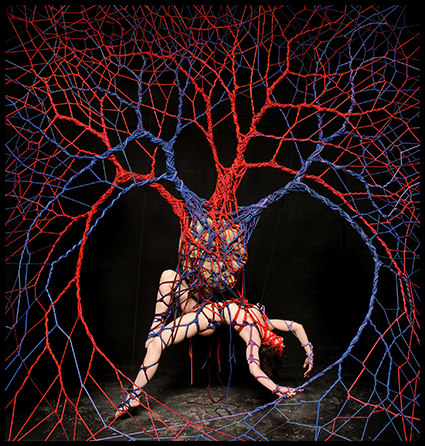 photo courtesy the artist
Blood Consciousness, Garth Knight
Garth Knight, Nemeton
A photographer who specialises in Japanese rope bondage techniques, Garth Knight is building a large-scale cumulative rope installation in the foyer, "growing like an organism over the course of the of the festival," explains Khan, "so that it gradually consumes more of the Carriageworks architecture—with objects and bodies suspended in it. The process is very sculptural and performative so we thought it would be interesting to translate it into a live performance context."
Ghenoa Gela, Mura Buai (Everyone, Everyone)
"We've invited Torres Strait Islander dancer and choreographer Ghenoa Gela, in collaboration with Force Majeure, to present an expanded version of Game of Seven, a durational improvised performance based on Viewpoints techniques focused on the body in space. We've asked her to re-imagine that structure incorporating her TSI movement vocabulary. The result will be Mura Buai (Everyone, Everyone), three hours per night in the final week of the festival with a great ensemble of nine dancers, Indigenous and non-indigenous. Other free performances will feature Zin Collective, Lauren Brincat and Bree van Reyk, Colin Kinchela and Latai Taumoepeau."
Hissy Fit, I might blow up someday
The storm at the centre of the Liveworks program will manifest as Hissy Fit. Khan is proud that "they formed through a Stephen Cummins Bequest residency at Performance Space and the material that they generated was so strong that we curated them into the first Day for Night in 2014. They're all super strong, brave performers and as you might imagine from the subject matter, female hysteria, the work will be very intense, very physical—the three of them as mediums for hysterical performance. It's gonna be wild!" [See our interview with Hissy Fit]
Liveworks is ready to energise us with radicalised hysteria, the unleashed psychic energies of inherited cultures, the uncanny presences of drones and robots, the transformative sculpting of black stumps, rope and bodies and the dance into otherness of the mosh pit, the macho man, pole dancer and the dancethon Mura Buai. Embrace the storm!
Performance Space, Liveworks, Festival Of Experimental Art, Carriageworks, Sydney, 22 Oct-7 Nov
RealTime issue #129 Oct-Nov 2015 pg. 4
© Keith Gallasch; for permission to reproduce apply to realtime@realtimearts.net