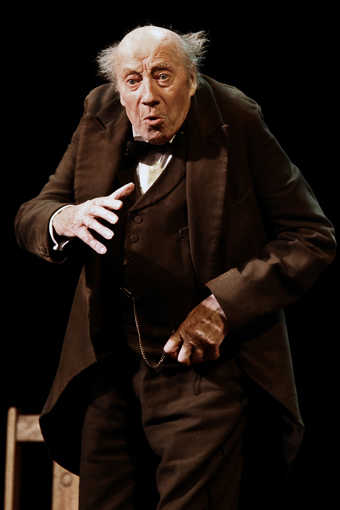 photo Prudence Upton
Théâtre des Bouffes Du Nord, On the Harmful Effects of Tobacco
Set with the aging, ramshackle objects of a worn out music school, the stage ticks with the polyrhythmic certainty of a collection of metronomes, each keeping their own meter while pushing the others just slightly out. A luscious red curtain falls limply away from its anchor, placing us somewhere antique. Nioukhine (Michel Robin) meanders on stage with a hobble and a hunched back. He exits and enters absentmindedly, playing for gentle laughs while three of his "seven, no six, … no, seven daughters"—the musicians (violinist Floriane Bonanni, pianist Emanuelle Swiercz and soprano Muriel Ferraro)—wait with poise at their instruments, in modest bustled gowns.
Originally dubbed a farce by Chekhov, On the Harmful Effects of Tobacco presents the character of Nioukhine at the dusk of his life, intending to deliver a public lecture on the evils of smoking, but instead offering a series of reflections on marital entrapment and wasted life. While his presence offers some slight lazzi [commedia dell'arte clowns. Eds] touches, Chekhov's final version of the monologue largely subdues outward comic physicality in favour of text that works towards subtler tragi-comic reflection. There are the familiar themes, then, of a lament for lost youth and of life lived through the rapid socio-economic upheaval of Tsarist Russia in decline, for which Chekhov's signature works are recognised.
The pathos of a character bemoaning his less than tragic fate is underscored by the musicians who materialise the play's ironic subtext. Bach's Sonata No. 1 in B minor for Violin and Piano opens to move us from melancholy to paced, playful fervour. This is extended to crescendo with a call to presence by the shy soprano, who flits from the stage the moment her bold rendition of Tchaikovsky's Romance, Op 47, No. 1, is over. As Nioukhine lulls into reverie—"How I long to run away and to forget … I was young once …"—Berio's Sequenza VIII for Violin punctuates his brooding with cutting repulsion. This exasperated performance, played with Bonanni's audible gasps, shoots Nioukhine's reminiscence out of the past and into the present. It feels as if we are as disjointed as them all: both in and out of time.
Stage relationships with time take on a different flavour in Have I No Mouth which produces a distinctive sense of presence carried by the three performers who play themselves. Cast as a mother-son-psychotherapist trio, Feidlim Cannon, Ann Cannon and Erich Keller craft a delicate theatre of distant intimacy to contemplate what it is to work through the sudden experience of losing a family member. Feidlim's father, Sean Cannon died from misdiagnosed Guillain-Barré Syndrome, and mother and son draw to the surface their entwined histories of family, grief and memory in order to examine the unresolved feelings they carry about a seemingly avoidable loss.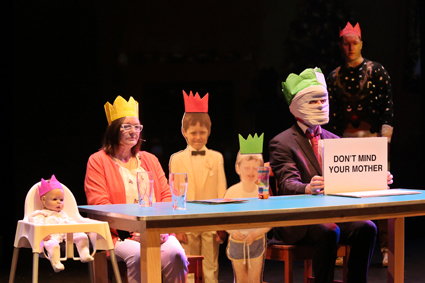 photo Prudence Upton
Brokentalkers, Have I No Mouth
While in theme the work risks making the stage a place for therapy, Have I No Mouth rather enables the inverse to happen: therapy and memory become theatrical, self-reflexive and at times comical. At the forefront of the work is the dynamic played out between Feidlim and Ann which traverses sentiment as well as sarcasm as they paint, via a series of memory vignettes, a landscape of Feidlim's Irish-Catholic youth. In one such re-enactment, Feidlim finds Ann's rather ominous selection of significant objects—a coffin for a baby, a telephone, a roll of bandage –"a little negative." So begins the kind of familial banter that can only have been rehearsed over 30-odd years, now brought to subtle theatrical visibility. While Feidlim judges Ann for "talking about the horrible shit," Ann likes to think she knows her son better than he does himself: "Are you telling me that you don't believe in God anymore? Well I don't believe that you don't believe in God anymore."
What is exquisite about this work is the complex (un)self-conscious clarity the performers bring to the presentational status of their on-stage selves. As a 'therapeutic' method in itself, this allows for an ever-refracting play between performed-present and performed-past selves that is further enabled by gentle dramaturgical disruptions to the ownership mother and son hold over the past. When Feidlim reads—verbatim on a microphone—his mother's account of the loss of her third son soon after birth, a startlingly affective, almost biblical beauty emerges in place of what would otherwise be a catharsis of emotion. As Ann is blessed in a stream of gently falling confetti, Feidlim speaks her words: "It was snowing. I said: 'I know he's gone, isn't he?'" In sifting so poetically through time, these performers expertly use theatre to share their collective journeys to self.
2015 Sydney Festival: Théâtre des Bouffes Du Nord, On the Harmful Effects of Tobacco, director Denis Podalydès, concept Floriane Bonanni, Sydney Opera House, 22-25 Jan; Brokentalkers, Have I No Mouth, co-directors Feidlim Cannon, Gary Keegan, Seymour Centre, Sydney, 15-18 Jan
RealTime issue #125 Feb-March 2015 pg. 18
© Bryoni Trezise; for permission to reproduce apply to realtime@realtimearts.net