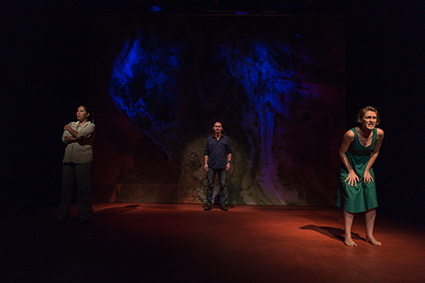 photo Glenn Campbell
Broken, Brown's Mart
Broken is poetic storytelling that evokes the innermost experience of falling in and out of love and the attendant hope and despair of three lives in collision. Well-structured, it moves fluidly between individual perspectives with language rich in imagery.
Three separately toplit actors on an empty stage, disconnected from each other, speak sparse, fragmented thoughts. The precipitating event is a car crash on a remote desert road. The driver Ash (Rosealee Pearson) repeatedly describes the crash roll—side, roof, other side, roof, other side—swaying gently, echoing the rolling of the car. The action switches between characters, moving to a young woman, Mia (Ciella Williams), who details acute physical pain. Initially we think she is in the crashed car but it becomes clear as the play progresses that she is alone at home, waiting for her lover and birthing her baby, tragically too soon.
Linking the two women is Ham (Matt Edgerton) who discovers the accident and goes to help. The helper and injured woman become emotionally embroiled; their path appears set. Night falls around the new lovers as they wait for paramedics to arrive and the action switches to Mia giving birth to her dead baby and still waiting for her husband—Ham.
Broken's intricate structure engages the audience by gradually revealing moments from different time and spatial zones that, once linked, unfold the characters' histories, their dilemmas and possible choices. Writer Mary Anne Butler further enriches the structure with repeated scenes. With each repetition choices are both clarified and become exponentially tortuous. The stakes are high, the writing heightened as the two stories are revealed simultaneously.
Balancing the intensity of language and story is the restrained, un-cluttered direction by Gail Evans. Shifting from motionless characters voicing their thoughts to the minimally interactive dialogue scenes, Evans employs a withheld physicality that suggests rather than depicts. The scenes of the couples falling in love and having sex are compelling because they refrain from awkward grappling and go instead for clean choreography that plays with light touch and no touch. Similarly, Ham giving Ash the kiss of life is deftly choreographed; watching over him as he tries hard to save her, she describes her slow move towards death.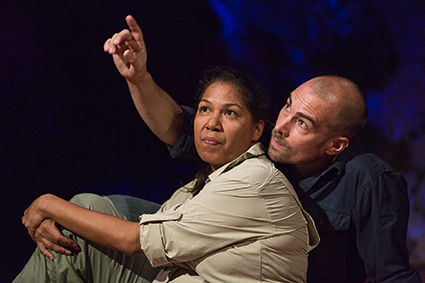 photo Glenn Campbell
Broken, Brown's Mart
Characters voice their perceptions of themselves, the others and the situation. These are often lightly humorous, indicating in a wry, ironic tone how people see one another. Mia is quietly impressed when she first meets Ham, noting to herself that, in this remote two-weeks-on-one-week-off mining environment, he knows what 'panini' is. Elsewhere Ash fights hard to keep her boots when Ham needs to cut one off to save her foot. "They're my Docs!" she shouts before telling her rescuer to "fuck off." Towards the end, as Ash tries to find Ham after several months, she waits outside Coles in Alice Springs hoping he'll appear. "Nothing." So then she waits "outside Woolworths for a week and finally sees him." Anyone from a regional or remote area can recognise the inevitability of finding someone in a small town by staking out the two supermarket giants.
The setting of the play, the vast Australian desert, is beautifully realised by Kris Bird's simple set of reddened floor cloth and painted hanging backdrop that dominates the space. It's a commanding art piece in itself, boldly abstract, textured, dynamic and expressively lit by Sean Pardy, transforming it from moody to gentle, dangerous to soft, day to night and reflecting the action and the actors' conjuring of the landscape. Angus Robson's sound design echoes the writing as he creates another layer of poetic minimalism—soft curlew cries, ambient and suspenseful undertones and intense silences.
With its deliberate disconnection between actors and characters and lack of immediate action, Broken is initially challenging, but once the first moments of connection between stories and characters are made and the actors find their rhythm the production begins its compelling roller coaster ride to a whodunit-style revelation. Broken is a powerfully immersive production which deserves to be seen nationally.
Knock-em-Down Theatre & Brown's Mart Productions, Broken, writer Mary Anne Butler, dramaturg Chris Mead, director Gail Evans, performers Matt Edgerton, Rosealee Pearson, Ciella Williams, set Kris Bird, lighting Sean Pardy, sound design Angus Robson, Brown Mart Theatre, Darwin, 17-29 March
RealTime issue #126 April-May 2015 pg. 38
© Nicola Fearn; for permission to reproduce apply to realtime@realtimearts.net