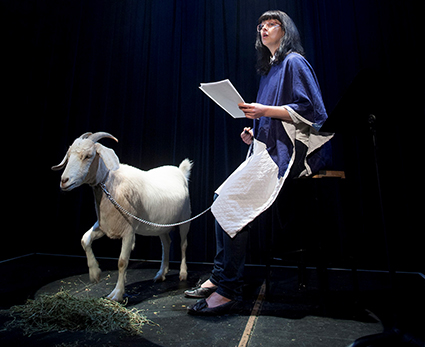 image courtesy PADA
Emma Hall (and goat) in Sarah Rodigari's Reach Out Touch Faith (2014) which will be performed by Josephine Were in Near and Far
A new contemporary arts organisation in Adelaide, Performance & Art Development Agency (PADA), is about to stage its first event, Near and Far. Its founders, Emma Webb and Steve Mayhew aim to develop "new artworks, initiatives, networks and public programs with multidisciplinary artists locally and across Australia"(website). I asked Mayhew about the motivation for forming PADA, whether or not Adelaide has the experimental artists to sustain it and if there is a critical context that will adequately respond to and support it.
Mayhew explains that he and Webb "had often worked with each other in our various guises and came together mid last year and said let's make this 'official.' Back in the mid 2000s we'd combined on CCD programs and have since been collaborating between our organisations," Vitalstatistix, where Webb is Creative Director and Country Arts SA, where Mayhew is Creative Producer. Both organisations are located in Port Adelaide. Mayhew worked with Webb on Vitalstatistix' first Adhocracy (a national gathering that develops new experimental and interdisciplinary projects) and "when touring a work regionally for Country Arts I consider how our city-based audiences can also benefit from seeing it."
I ask how important for the founding of PADA were Mayhew's experience of programming the 2012 National Regional Arts Conference, Kumuwuki (RT110, p12; RT112, p12), renowned for its focus on live art, and Webb's curating of Adhocracy. "They were major catalysts," he replies, "turning points for both of us to look to each other for support, knowing that we weren't working alone. We said, 'let's consolidate what we can do through PADA.'"
What is it, I ask, about experimental work that excites Webb and Mayhew? "I think Emma agrees we get charged up on ideas from artists and how they articulate them in a 'live' sense. I love feeling like I'm one of very few people spoken to, touched and related to in a performance. The fewer the audience, the better for me. I don't want to sit in a crowd of 10,000. I want to be in an audience of one to 200. That immediacy is really special; I'm fascinated how artists manifest it and I love working with artists to manifest it. For me, it's about not being lost in the crowd."
The organisation's website states that PADA aims "to contribute to the contemporary arts culture and ecology in South Australia." I ask Mayhew if there are the experimental artists to work with PADA and grow that ecosytem. "That's what we want to explore. I think they're there, but we've to find them. They'll come from all kinds of disciplines. For example, local live art performer Josie Were is performing Sarah Rodigari's Reach Out Touch Faith II in Near and Far. Were and some other women are taking live art by the horns and really wrestling with it. There are some local government cultural officers who have been using live art approaches to engage communities about how to better activate 'dead' public spaces. They've employed people like Josie and others from Adhocracy in suburban Adelaide (eg Linger Longer, a public art performance for Unley City Council in which the artist tucked people into a bed so they could "dream about what was possible in our public spaces" and hear others' dreams recounted. Eds). Hats off to them for using live art—the unexpected is a beautiful thing to happen upon," says Mayhew.
I ask if Mayhew and Webb still have their day jobs. Mayhew laughs: "If you want something to happen, you just have to do it. We're working more hours to do it. It's rewarding." PADA gained the support of Arts SA for its first 12 months—"we put a compelling argument"—and has applied for funding for 2016. "It's going to be year by year, nimble and simple. If PADA gets bigger, great, but that's not going to happen now. And if either of us leaves, that's it."
The Near and Far program includes Sarah Rodigari's Reach Out… lecture performance with a goat, to be performed by Were who will receive the script three days before the performance with Rodigari present to delegate the work. Jason Sweeney, a long-time Adelaide pioneer of provocative performance, installation, music and sound works, is, says Mayhew, "one of the most resilient artists I know and always with a singularity of purpose. He's presenting the third part of his Silence series. Fifteen people at a time for a very meditative experience."
While Iceland's Kviss Búmm Bang will not be onsite, they have provided instructions for their audience to engage with mobile phones and answering and machines to create the participatory work 101.IS TO 5000.AU. The group of three women were recommended by Sam Haren, co-director of the Adelaide based creative studio Sandpit, after a recent visit to Iceland. Mayhew took the advice and on his own visit participated in the group's six-hour work, Hospice, at the Reykavik Locale Festival. In pyjamas and groups of 12 or three or alone, the audience is led through an empty theatre where they are encouraged to contemplate mortality. Mayhew said the opening was 1984-ish with the audience having to repeat life-affirming phrases. Later, "We talked quite emotionally with palliative care workers about how we care for each other in the last days, ate mushroom soup and sat in a waiting room completing a totally white jigsaw puzzle. There were plenty of moments for reflection. We were each given a book to write in, for our eyes only. Finally, we were led to the top of the theatre's fly-tower, guided to a black hole in the floor and told to fall backwards into nothing…and that we'd be okay."
On the subject of a responsive critical culture PADA is adopting an interesting strategy. Local reviewer Jane Howard "goes to places in criticism that few people in Australia are prepared to," Says Mayhew. "In her online project Simple Art Transfer Protocol, she'll write broadly about the works in Near and Far to a critic in each of Sydney, New York and London while they talk about what's happening in their cities. Each night there'll be an online summation of the resulting conversation, placing works, cities and critics in context with each other. The conversations provoked by our program might influence our programming in the future."
Also providing context in the Near and Far program is Artists in Conversation with Jason Sweeney and Sarah-Jane Norman hosted by Jeff Kahn (Performance Space, Sydney); Sarah Rodigari and Dan Koerner in conversation with Angharad Wynne-Jones (Artistic Director, Arts House, Melbourne); and a conversation about having conversations about art—with Jane Howard discussing her Simple Art Transfer Protocol.
With the formation of PADA and the staging of its premiere festival, Near and Far, with the passion of its producers for collaboration and multidisciplinary practices, Adelaide audiences and artists can look forward to considerable expansion of local experimentalism and increased opportunities for national and international networking.
PADA, Near and Far, Queens Theatre, Playhouse Lane, Adelaide, 5-11pm, 16-20 Oct, 1-5pm 18 Oct; pay what you want. Book at Eventbrite.
RealTime issue #129 Oct-Nov 2015 pg. 17
© Keith Gallasch; for permission to reproduce apply to realtime@realtimearts.net