courtesy the artists
Chris Henschke & Donna Kendrigan, Rocks
Themes of sound, space, art and science coalesced in discrete instances at two Melbourne art spaces. A performance by Chris Henschke to coincide with the closing of his and Donna Kendrigan's collaborative exhibition, Rocks, continued earlier explorations of hybrid media, universal creative connectivity and the juncture between arts and sciences. Similar notions were explored in a sound sculptural installation by artist collective Plump, successfully drawing together art and physics in a manner that was cohesive and satisfying for both the artistically and scientifically inclined.
Amongst an assortment of geological sculptural forms at The Narrows, Henschke (who recently undertook a residency at the Australian Synchrotron particle accelerator) developed a dense soundscape with natural objects and live processing. Armed with a microphone, sound processing hardware, safety goggles and a few handfuls of dusty rocks, Henschke began his performance with sparse scrapings and the knocking of stones. Coupled with artificial reverberation effects, the sonic spatialisation that ensued served to transport the listeners' imaginations out of their immediate acoustic environment; the psychoacoustic associations developed by Henschke's soundscape creating a disjunction between actual and perceived space. With eyes shut it became difficult to imagine the artist as he was, huddled over rocks and electronics in a small white cube gallery space, rather than standing amongst the vast space of a natural cave formation, recording sounds as an acoustic ecologist.
The work satisfied with a lush palette of frequencies that one would expect in the sizable expanses of nature, from low rumbling reverberated drones to finer close-sounding clatters and ruffles. Subsequently, the piece was sonically dense, an aural pleasure. Henschke paid heed to compositional logic: the improvisation involved a series of cescendos rising to ominous overbearing peaks, then was in turn stripped back to focus on delicate textural sounds. Henschke's medium was occasionally problematic—rock-on-microphone thuds disrupting the listeners' experience of the sonically illustrated space. Towards the climax of the performance, microphone feedback hums were incorporated musically, yielding an appreciation of the work's somewhat synthetic nature.
The organic and electronic, acoustic and synthesised crossed paths in a multi-dimensional and complex installation by Plump (Marc Rogerson, Philip Samartzis and Dave Brown, with projections by Marcia Jane) at the VCA Margaret Lawrence Gallery. In Cluster the causality of chaos theory seemed to be demonstrated on a human scale. Amidst what could be likened to a sonic ether of drones and a wholly immersive emission of sounds produced by Samartzis and Brown, Marc Rogerson's cluster of suspended organic lightweight sculptural forms was gently fanned, swaying to and fro creating subtle knocks, rattles and creaks. These forms were internally lit, their lamps flickering as the sculptures made contact with one another. Indeed, with so much electricity about, I couldn't help but sense a physical relation between the glowing cluster, the visible vein-like wires that manifested across the ceiling and the omnipresent clouds of electronically produced sound. As the audience members moved about the space, their correlation to the work was one among numerous physical factors affecting both the flow of air, the interaction between the objects and, subsequently, the sound that was emitted along with their own subjective perceptual experience. As the synthetic and recorded sounds dispersed, the change in air pressure further affected the behaviour of the sculptural cluster.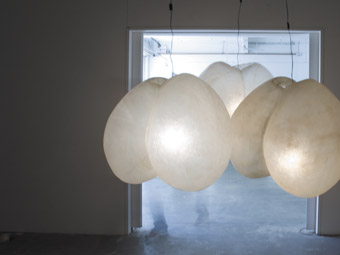 photo Michael Blamey
Plump, Cluster
Fascinating for its multilayered demonstration of a ubiquitous scientific concept, the viewer/listener at Cluster can appreciate macro and micro-structural cause and effect. The work successfully avoided verging into the superficially pseudoscientific, as many attempts at a merger between art and science do. What's more, Samartzis and Brown's dense soundscape of drones, sine waves, electrical buzzes and crackles, as well as recorded sounds, rewarded the patient listener with a subtle and well composed musical experience. Marcia Jane's projections added another slightly synaesthetic element and, like Rogerson's sculptural cluster, played with the pertinence of light and optics to Plump's installation, though perhaps lacking the subtlety of the sculptor's contribution. After experiencing Cluster I contemplate a spiraling column of wind-caught leaves outside the gallery as part of a far greater chain of physical relations.
Chris Henschke/Rock Ensemble, performance, April 24 as part of Rocks, New Works by Chris Henschke and Donna Kendrigan, The Narrows, April 3-26; Cluster by Plump, artists Marc Rogerson, Philip Samartzis, Dave Brown, projections Marcia Jane; VCA Margaret Lawrence Gallery, April 26-May 3
RealTime issue #85 June-July 2008 pg. 30
© Jared Davis; for permission to reproduce apply to realtime@realtimearts.net