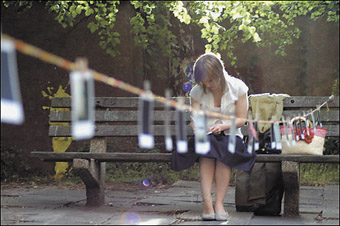 Jenna Watt, Bench, courtesy of NRLA
SOMETIMES IT HAPPENS AT NRLA. YOU'RE SHUTTLING FROM ONE PERFORMANCE TO ANOTHER, DIVING IN AND OUT OF QUEUES, NOT HAVING TIME TO EAT AND BEING CAUGHT UP IN THE MADNESS. THEN YOU STUMBLE ACROSS SOMETHING PERFECT, SOMETHING JUST FOR YOU AND JUST AT THE RIGHT MOMENT. FOR ME, ELEVATOR ARTIST [AN EMERGING ARTIST CATEGORY. ED] JENNA WATT'S BENCH WAS JUST SUCH A WORK.
Bench is a quiet, simple, low-fi live installation in which Watt sits on a wooden bench on the upper floor of Tramway waiting, taking time out from the NRLA crowds and queues, enjoying an inbetween moment and taking the occasional Polaroid to record relatively little for the purpose of posterity. Watt doesn't take many Polaroids—mostly she sits, wanders around to chat with her friends or goes off to the toilet—but when she does take a shot she writes on it then hangs it on a string stretching across the bench area.
Photographic highlights of Bench include a shot of the bench itself, one of an adjacent staircase, a picture of a family friend who came to visit the installation and a partial pic of Jenna's legs and feet. The writing on the Polaroid of the bench says, "You don't have to queue for this one!" "I'm not going to take my clothes off", reads another. And on the far side of the string I pick up a sparse looking installation shot that says "Eventually, you get into a state where you appreciate the crap you talk." Quite. The meagre installation, the humble photographic subjects and throwaway Polaroid, not to mention the artist's flippant approach to her own art, all combine to choreograph the specific inbetween moment or deliberate non-event that is Bench.
These make me smile and I chat to Watt a bit about the installation then carry on looking. Two minutes later she takes a shot of the wall next to the Tramway upper floor toilets and writes on it, "And I'm wondering why you're even up here—it just confirms to me that you're a dickhead." This comment completes my perfect moment with Bench. Watt is right to question my festival fervour, my motives in coming up here specifically to seek out a woman quietly trying to remain undetermined and wasting time in the name of live art. In coming here to witness I have transformed Bench into something entirely more definite and spectacular than the productive inbetween the artist is trying to articulate, and in the process I have been called a dickhead. It serves me right. It's a long time since anyone called me a dickhead so directly—and no-one ever did it in a piece of live art. Because of this I smile all the more. Such an antagonistic response to audience is a beautiful and all too rare thing in live art.
The carefully constructed low profile of Bench, with its bold questioning of its audience and acute sense of self awareness, represents a brave move for a young artist caught in the headlights of NRLA. Bench is also one of the only live works this year that has responded overtly to the specificity of its NRLA context in form, content and concept. Bench is a deliberately inbetween work by a not-quite-yet-arrived artist; it acts as NRLA program down-time or a filler and it is installed in an architectural space specifically designed for lingering or waiting.
Bench was a much needed antidote to other more earnest and overtly staged works at NRLA and the scripted 'looking away' Watt achieved perfectly harnessed the notion of waiting, killing time or purposeful lingering to which audiences and artists at NRLA are so accustomed. Watt says she is at her most productive in these inbetween moments, and I believe her.
Jenna Watt, Bench, National Review of Live Art, Tramway, Glasgow, Feb 9
RealTime issue #84 April-May 2008 pg. 6
© Rachel Lois Clapham; for permission to reproduce apply to realtime@realtimearts.net