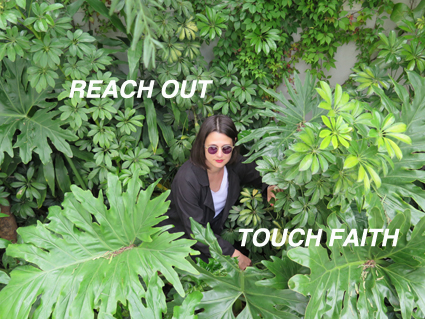 Sarah Rodigari, courtesy the artist
Going Nowhere is not a festival. That's the first thing Arts House's creative producer Angharad Wynne-Jones makes clear. She describes the three-day event as more of a "strategy or proposition," and that proposition is one that gets more and more compelling the deeper you dig into it. Arts organisations have been getting down to the nuts and bolts of sustainability for some years now—theatres sport solar panels, venue bathrooms have reduced water use, programs have gone online—but Going Nowhere takes as its starting point a question. "What's the trickiest thing that we would least like to do without?" asks Wynne-Jones.
The answer is travel. "For many artists their development is hinged on national and international partnerships, tours, institutional exchange and attending conferences, fairs, workshops and so on. The whole notion of getting on a plane is often critical to making a project happen," says Wynne-Jones. "Making a collaboration work, being endorsed and surprised and delighted by being somewhere else."
Going Nowhere challenges its participants to create international work without stepping on a plane. Of course there are modes of artistic production that better lend themselves to such a challenge, but Arts House has deliberately put it to the sort of cutting edge practitioners it regularly programs, often working in fields such as Live Art that crucially depend on the presence of their makers.
"People have been sending scripts and scores around the planet for centuries," says Wynne-Jones. "It's not a new thing. In fact, it's only quite recently that we think of sending entire symphony orchestras from one end of the planet to the other. But it's exciting that there's a whole range of practice that has extended beyond the score or the text, and now how does that practice recalibrate itself through some of those old methodologies but still retain its investigative, experimental form?"
The core of the program might be the series of four commissioned works that see local artists collaborating with others in Cambridge, where Going Nowhere will also take place over the same weekend. Sarah Rodigari and UK artist Joshua Sofaer will confront head-on the fear of missing out posed by a situation in which performing artist and audience aren't available to one another—in this case employing a surprising surrogate. Willoh S Weiland, Julian Crotti and Fritz Hauser are creating a highly theatrical Last Supper-scenario exploring the apocalyptic End Times thinking that accompanies much discourse around climate change, while a collaboration between Melbourne's one step at a time like this and Bristol's Helen Cole and Alex Bradley takes place in both Arts House and the audience's own homes. Dan Koop, Andy Field and Nathan Street's collaboration is both site-specific and transcendent of that notion, employing the ubiquitous transport loops that are available in almost every modern city—think train subways, monorails or free tram services—that tourists use to go nowhere but see everything.
"The brief that we've set is that we are wanting a live experience," says Wynne-Jones. "We're committed to that, even though all the digital possibilities exist and apparently make it seem like anything's possible. There has to be a reason the audience needs to be there. The work can't be completed without them. That's potentially limiting, but that's the discipline of it."
Another appropriate restriction is that artists are not allowed to create waste. Purchases should be minimal and limited to recycled or recyclable material. "They have an extremely light touch in that way."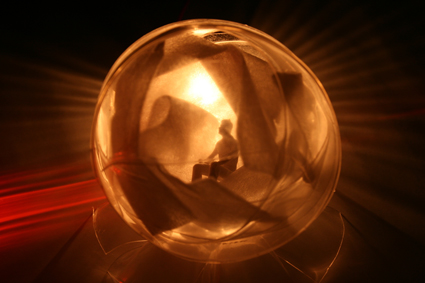 courtesy the artist
Tanya Beer, Weather Report
Beyond the international commissions, Going Nowhere features a sizeable suite of events, including a Tipping Point forum, PechaKucha, and several other artworks. Olaf Meyer is creating a new textural projection to transform the face of the North Melbourne Town Hall; Tristam Meecham is bringing together a range of specialists who traverse an unexpectedly wide interpretation of sustainability—from frog experts to storytellers—to create an Everyday Imaginarium on the Town Hall's balcony garden; and Tanja Beer's People's Weather Report is a 24-hour sound work and installation drawing on contributions from around the world.
While it's one thing to ask artists to rethink their own practices in order to produce a work that can cross borders while they stay put, Going Nowhere's sheer mass poses a broader dilemma. Specifically, it highlights questions of trust that go beyond the individual maker—"not just between the collaborating artists but between the producers and the presenters," says Wynne-Jones. "Without their artists being there, we need to be really clear that we're honouring what we imagine they want as much as what they're demanding that they need. I also think it involves a level of trust from the audience. We've been enculturated, and with good reason, into wanting and enjoying the artist's presence. Particularly in this kind of work. To say they won't be there is challenging."
Wynne-Jones admits that everyone behind Going Nowhere is "setting ourselves up with an impossible problem." The weekend isn't aimed at producing definitive answers that will only allow for 100% sustainable works to be created from here on. Wynne-Jones herself isn't interested in only presenting works by artists working in that way throughout the rest of the calendar.
"To be honest, I think the only people that need to be flying around the world are artists. I think they're the best transmitters of ideas and energy and connections. Once we've found some kind of biofuel for aeroplanes they should be filled with artists zipping around."
But in the meantime, she does hope that Going Nowhere will expand beyond Melbourne and Cambridge in years to come. She makes it sound like a very attractive notion. "My fantasy structure for Going Nowhere in the future is that there could be any number of organisations around the world that over a particular period of time say 'we're Going Nowhere' and there's a repository of projects that have been designed in this way and the organisations can buy one or borrow one or create one or whatever. This is a rehearsal of that.
Going Nowhere, Arts House, Melbourne, 21-23 Nov. Full program at goingnowhere.net.au.
RealTime issue #123 Oct-Nov 2014 pg. 12
© John Bailey; for permission to reproduce apply to realtime@realtimearts.net