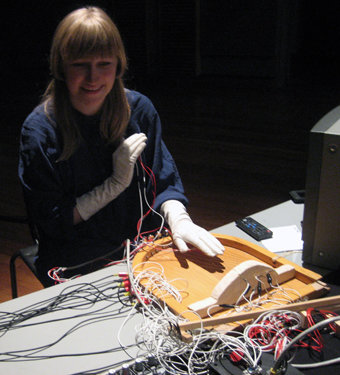 photo Somaya Langley
Pia van Gelder, Liquid Architecture
FOR THE LAST TWO YEARS, THE SYDNEY LEG OF LIQUID ARCHITECTURE HAS BEEN PRODUCED IN ASSOCIATION WITH ABC CLASSIC FM WITH ONE OR TWO CONCERTS BROADCAST THAT SAME NIGHT ON NEW MUSIC UP LATE. THE BROADCAST ASPECT SETS A CHALLENGE: HOW TO SATISFY BOTH CONCERT AUDIENCE AND HOME LISTENER. CURIOUSLY, THE ARTISTS PROGRAMMED IN CONCERT 2 ALL USED STRONG VISUAL ELEMENTS IN THEIR PERFORMANCES.
Pia van Gelder is very handy with a soldering iron, creating a variety of homemade electronic instruments—her audio-visual harp in this performance resembles a harp in shape only. Van Gelder dons white gloves with wired up electrical circuits in the fingertips. As she touches a combination of 'strings' or electrical componentry an audio signal is converted into a video signal. The resulting sound is a familiar dark buzz and hum with sharp on/offs, deep drones and rude eructations: electricity doing what it does when it's being interfered with. The visuals range between bands of static-filled colour reminiscent of liquorice all-sorts and a kind of baroque wallpaper. While the audio element was engaging, it was a symbiotic composition—the radio listeners missed out on a vital aspect.
Marc Behrens' piece was perhaps a better experience for the remote listener than for the live audience. In response to the oft-heard criticism that playing music from a laptop is not performative, Behrens augments his surround-sound set with a series of overly dramatic gestures and actions including some inexplicable play with a stool, none of which have any clear relationship to the sound being made. Whether they are in earnest or parody is also ambiguous. I asked Behrens about his performance and he said that he is inspired by the renowned Italian designer Bruno Munari's explorations into interactive sculpture and the composer and intermedia artist Jerry Hunt. The reality however is that Behrens' actions do not appear integral to his soundmaking, seeming rather like an unnecessary and distracting decoration. If performative provocation is the intention that's fine, but surely listening is the point here? The audio I could focus on was finely detailed and dramatically spatialised.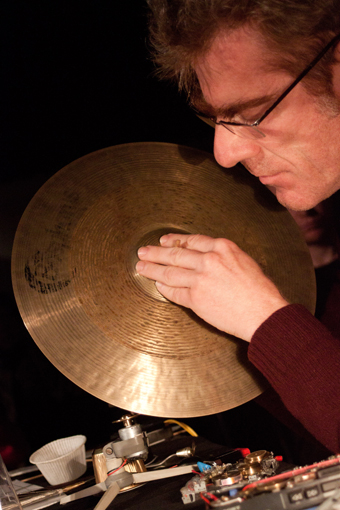 photo Sebastian Avila
Pascal Battus, Liquid Architecture
Pascal Battus is more shaman than showman, extracting the essences of sound from a range of materials applied to the spinning gizzards of old Walkmans. The results are rewarding for the deep listener as each object is coaxed to emit its own subtle combination of rings, brrrrs and fricatives. Battus' concentration is fascinating, like a watchmaker working in fine detail; however, having but two hands he can only make a maximum of two sound gestures at a time. Consequently, his piece becomes a series of similarly composed sonic moments as he works methodically through all the objects on his table. While the detail of each sound set would have been engaging, I am curious as to how the homogenous episodic structure held for radio listeners. However the final cymbal grinding with a dazzling array of harmonics was well worth waiting for.
Battus also presented a series of one-on-one 'sound massages' the following day. With eyes closed you sit opposite the artist while he performs a mini concert around your head: tiny scrapes, crackles and rustles define a complex sphere of listening. The manipulation of spatialisation is amazing, resulting in a feeling of deep intimacy with both Battus and the sounds themselves. It's so simple yet so incredible I don't know why we don't do it all the time!
The sound massage was a little taster of a more innovative way of engaging with focused listening than the concert for radio format and made me crave more. In its current mode, Liquid Architecture in Sydney does seem to lack an engagement with, or support from, the local experimental scene. Perhaps this is due to its contracted size which limits local involvement and/or choice of venue: the exposure offered by ABC Classic FM is significant, but it seems audiences are not so keen on the live recording format and the formal setting of Eugene Goossens Hall, despite its great sound potential. Maybe Liquid Architecture is what it is—a touring concert (or two) but it's hard not to long for an expanded program with associated events across a range of spaces (which I acknowledge means time, money and people's energies). It will be interesting to see how the thematic focus of Liquid Architecture 13, Antarctic Convergence, curated by Philip Samartzis and Lawrence English, will shape next year's event.
Liquid Architecture 12 Sydney, Concert 2, Pia van Gelder, Pascal Battus, Marc Behrens, Eugene Goossens Hall, ABC Ultimo Centre, July 2; Sound Massage, Pascal Battus, Bon Marche Building, UTS, July 3; national artistic director Nat Bates, Sydney co-producers Thomas Knox Arnold and ABC Classic FM; www.liquidarchitecture.org.au
RealTime issue #104 Aug-Sept 2011 pg. 45
© Gail Priest; for permission to reproduce apply to realtime@realtimearts.net