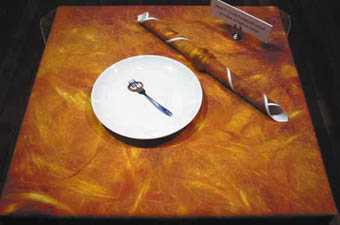 Pam Kleemann, Short n Curly Vermicelli served on a bed of Saffron Swirls
In Cooked, the first of her dual photographic installations recently exhibited at Sydney's Stills Gallery, Pam Kleemann uses liquid light emulsion to transpose images of human bodies onto stainless steel and aluminium cookware.
The black and white images coalesce with the silvery surface grain and their miraculous form has the resinous immanence of a freshly greased cake tin. Cooked sets up a buffet, the red caterer's cloth over a long table on which are the empty cooking vessels and utensils; a casserole pot, pie dish, platter, fry pan, 7" bain marie dish, fish kettle, pizza tray, scoop, saucepan. The images within give a liminal sheen to the domestic grade surfaces, as the viewer recognises a hair braid, a vulva, ear and hoop earings, scalp and wart, podgy baby's foot, a palm. The images are mainly external body surfaces, their folds and follicles, rather than internal viscera, and there's really only a mild effect of attraction-repulsion. Overall the experience of viewing is quite palatable and seems deliberately unfetishistic. This isn't high quality silverware and doesn't raise the spectre of a naked chef. The confluence of metal and flesh usually associated with a more mechanistic, technological, medical or military aesthetic is also refreshingly disrupted—as the images provide more of a bodily geography or ecology, surreally in situ.
In her notes to the exhibition, Kleemann makes reference to the global economy of body parts, and she mirrors that capitalist and imperialist carving up by divvying up and unusually framing her bodies within banal apparatus. The images and objects suggest gendered individuals from domestic family contexts (rather than any illegal trade in Third world body organs), and are depicted here as offering a poetic resistance to the corporate, colonial, consumption of flesh writ large in our culture.
Hairball Café the second installation, announces itself as an ironic and playful performance. The artist has prefigured the position of the viewer as a café customer. The central motifs are 'hair' and 'food', and Kleemann serves up photographic plates of "Meaty Hairballs served on a bed of Twisted Angel Hair", "Map O' Tassie Burger served on a Sea of Squid Ink", as well as hair print table cloths and napkins. Such parodies of nouvelle cuisine in a Paddington Gallery seem at first a bit too overburdened by middle-class pop humour, as if assembled for a mimetic Donna Hay shoot. Yet the installation is therefore free of any real Naked Lunch pretensions: where the artist is in a position to see what's really at the end of your fork—and is suitably accompanied in the notes by quotations from Don Delillo's novella The Body Artist, along with interesting trivia about hair and abjection. These foodie images have a perfection about them and appear less lubricant than the images in Cooked. Although, as Kleemann notes, she is playing off the fact that hair removed from the body usually "becomes foul, disgusting, repulsive, dirty, unhygienic, gross. Especially when it might have strayed from another's body, and found its way onto your napkin, into your food or your mouth."
In Hairball Café, the photographer's process of baking (this time colour) photographic images onto objects references an Italian funerary tradition which imposes images of the departed onto graves and crockery. Kleemann divorces this technique from its original functional use in producing objects of memory, and without using portrait photography, she still captures the more kitsch elements of photography's application in producing unique collectables.
I left the exhibition conscious of the difference between contemporary art's bodily reliquaries and the more traditional, though equally quirky. Last month at flea markets in Rome I picked up some old tarnished pieces of tin, each with a raised area forming the image of a body part: legs, arms, lungs, distended belly and emaciated ribs. Discarded from their Catholic context, they immediately appealed to my aesthetics formed by reading Zone books and the current ubiquitous fascination with the corporeal and iconographies of the body. My Italian friend told me they are called ex voto, and offered to a saint after a healing miracle. We then went to see the Capuchin monk cemetery with pelvic bone chandeliers, skull graves and miscellaneous bone trompe l'oeil.
Pam Kleemann, Cooked and Hairball Café, Stills Gallery, July 3-Aug 3
RealTime issue #51 Oct-Nov 2002 pg. 36
© Keri Glastonbury; for permission to reproduce apply to realtime@realtimearts.net