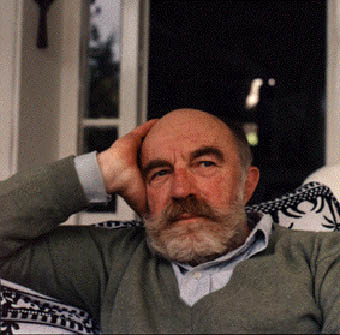 Bernard Parmegiani
The burgeoning sound culture scene, in its many and often overlapping manifestations, moves from strength to strength. Audiotheque—Cinema for the Ears at Sydney Opera House's The Studio (April 14) was a sell-out success combining works created for radio with some deftly coordinated video. The outcome was an audience eager for more events of this kind. The International Symposium of the World Forum for Acoustic Ecology was recently held in Melbourne (see p30) and the coming months offer a plethora of other events. They include the national sound art festival Liquid Architecture in its 4th incarnation, spreading its sonic wings across Australia and the history of an artform.
The greater part of Liquid Architecture 4's program will be held in Melbourne, but there'll also be a 2-day program as part of the Queensland Biennial Festival of Music. As well, the festival's famous guest, French sound art pioneer Bernard Parmegiani, will be appearing at the Australian Computer Music Association Conference in Perth (July 6-9), impermanent.audio in Sydney (July 15,16) and the Brisbane Powerhouse (July 18-19).
In its Melbourne program of performances, workshops, forums and gallery exhibitions, Liquid Architecture is hosting some 30 artists from Australia and beyond, including Scot Arford and H Y Yau from the San Francisco noise/sound art scene. Women artists are given prominence in 360º: Women In Sound, featuring Ros Bandt and Thembi Soddell. Gail Priest appears in the Brisbane program. Other Australian artists include Lawrence English, Phil Samartzis, Bruce Mowson and up and coming local electronic musicians and video artists. On Saturday July 12 and Sunday July 13 in Legends of Electronic Music, a surround sound concert, Ferrari and Parmegiani will present retrospectives of their work hosted by Philip Samartzis.
Another unique feature of Liquid Architecture 4 is GRM Soundtracks, a cinema screening at the Australian Centre for the Moving Image. As the festival press release puts it: "During the 60s and 70s, composers at the GRM (Groupe Recherches Musicales—France's most important experimental music institute) studio in Paris produced soundtracks for moving image makers of the day. Two of its composers, Ferrari and Parmegiani, will be present to provide a live accompaniment and commentary." Curated by Jim Knox the proposed program will include Jean Painlevé's Amants de la Pieuvre, scored by the great Pierre Henry. (See page 17 for a review of the Sydney screening of the Painlevé films.) With this program Liquid Architecture 4 honours a tradition of which it is a vibrant part. RT
Liquid Architecture, directors Nat Bates, Bruce Mowson, producer ((tRansMIT)) sound collective; Melbourne, July 1-26; www.liquidarchitecture.org.au
RealTime issue #55 June-July 2003 pg. 27
© RealTime ; for permission to reproduce apply to realtime@realtimearts.net