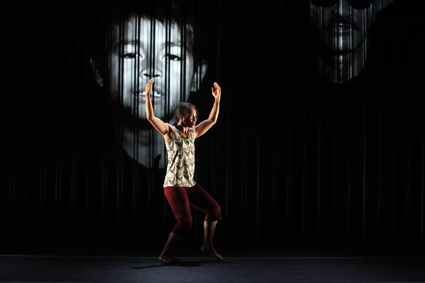 photo Ponch Hawkes
Dalisa Pigram, Gudirr Gudirr, Marrugeku
LOCATED IN THE AUSTRALIAN NORTH-WEST, BROOME HAS AN ABUNDANT HISTORY OF MANY PEOPLES COMING TO LIVE TOGETHER. IT WAS EXEMPTED FROM THE WHITE AUSTRALIA POLICY BECAUSE IT WAS THE HUB OF AUSTRALIA'S PEARLING INDUSTRY. AS A RESULT, MANY CHILDREN LIKE DALISA PIGRAM HAVE GROWN UP PROUD OF THEIR MIXED, CULTURAL HERITAGE.
This is reflected in Pigram's physical training: a bricolage of Malaysian martial arts, gymnastics, indigenous culture and refined, animal movements. It is also part of who she is. Not that such a medley of origins has always been welcome. Gudirr Gudirr opens with a 1928 report to AO Neville (Commissioner for Native Affairs) on the dubious status of peoples of mixed heritage in the Broome area.
All the while, Pigram stands in a far corner, her back towards us. She moves nearer, still facing upstage, punching, lunging, and rotating along the axis of her spine. She cuts a strong diagonal, iterating a movement lexicon in a ritual crossing of space. Facing us, she opens her body into a low lunge to the side, Krishna holding a spear. Or is it a harpoon?
The screen at the back of the space flashes black and white images throughout: of family, living ancestors, gurus and masters. There is an older man, circulating chi, nursing it between his hands. His mastery presides over this performance. Pigram is dedicated to her moving, clear and bold. Her feet say a lot. They are broad, grounded, the feet of a woman who has walked, and fished. She tells a story of catching crabs with her father, learning the ethos of the fisherman: catch enough to eat, no more. The little girl learns to work the long net suspended from the ceiling.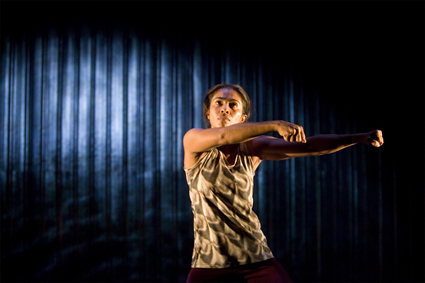 photo Ponch Hawkes
Dalisa Pigram, Gudirr Gudirr, Marrugeku
House lights brighten, we look at each other. Pigram is an airline steward demonstrating the pros and cons of net throwing, inducting us into fishing culture via the technology of the throw net. Perched along its grid-like netting, she looks like an island girl, agile, flexible, at one with its flowing lines.
As the music turns sour, dystopia enters this coastal idyll. The documentary flavour of black and white imagery gives way to the elicitations of colour. A goanna stumbles, its head trapped inside a beer can. History enters the life of the animal. Pigram snatches a microphone, declaring what is past and what is present. If the old days are over, their legacy is not. It is time, she says, to decolonise blackfella's minds, echoing French Algerian Frantz Fanon's heartfelt cry, "Imperialism leaves behind germs of rot which we must clinically detect and remove from our land but from our minds as well."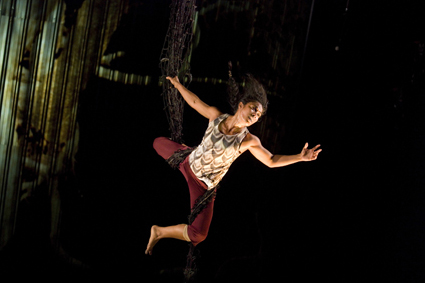 photo Ponch Hawkes
Dalisa Pigram, Gudirr Gudirr, Marrugeku
Pigram occupies the liminal space between colonisation and cultural freedom. Her movements are jerky, discombobulated. They do not eat space, they are confined by it. A tryptich shows young men fighting each other in the dirt, their misdirected aggression devouring their own future. Three images blend into a single scream. Pigram verbalises the anger in a tirade of "fucken" this, "fucken" that. A proliferation of fuckens fills the screen. It becomes surreal. Pigram's body heaves catching its breath.
Silence.
What happens next is key. This is Dalisa Pigram's moment, as an artist and as a subject of history. She is poised in the present of all that has become. She leans out, supported by the long net, her feet on the ground. Leaning: neither fully supporting her own weight nor surrendering it to the net, Pigram explores the possibilities that lie between her body and the net. She runs, veering in a circle, testing the pull of the net as it meets the force of her own activity. The net circles as she soars towards the audience. Time stretches to the elastic sounds of jazz. This expression of the dancer's agency is a mixture of freedom and constraint. She is a compact set of forces, aware of her location, her lineage, but finding a creative line of flight. Three snakes, one snake three ways, slither over river stones, elegant, inexorable. Pigram dances her own future, stretching the space of possibility not just for herself but for us too.