THE DIVIDE BETWEEN THE MARKET SECTION OF THE AUSTRALIAN INTERNATIONAL DOCUMENTARY CONFERENCE WHERE PRODUCERS PITCH PROJECTS, AND THE CONFERENCE SECTION THAT FOCUSES ON THE CRAFT OF MAKING THE DOCUMENTARY IS BECOMING INCREASINGLY CONTENTIOUS. THE NEW CONFERENCE DIRECTOR HAS EVEN ENSURED THAT THE TWO STRANDS NOW OCCUR IN SEPARATE SPACES.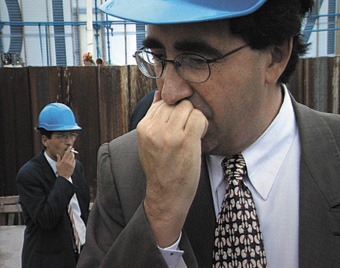 The Socialist, The Architect and the Twisted Tower
For the last few years the award-winning Adelaide filmmaker Heather Croall (now Festival Director, Sheffield Docfest, UK) ran the event. She brought to AIDC an internationalism, a slickness and an ongoing commitment to maintaining the craft section of the conference. The new director Joost den Hartog comes from the market side of documentary events. He has organised markets at, among others, Amsterdam's IDFA, Toronto's Hot Docs and our very own AIDC. His appointment represents a shift in dynamics for AIDC.
English is not den Hartog's first language and he has the diplomatic considered speech patterns of a person who is not a native speaker. He is fast to assure me that non-market sections of the conference are still important. "The marketplace is an important part of the conference but that is not the flagship or the main focus. The main focus this year, because we are celebrating AIDC's 20th anniversary, is on motivation and inspiration and trying to find answers for questions like, 'What is the purpose of documentary for society?'."
The 'conference' sessions from the programme profiled on the AIDC website are almost all market related and aimed at producers. These sessions are the traditional territory of directors, writers, editors and cinematographers. Documentary directors and writers may mutter under their breath about keeping the craft sessions but den Hartog is actually catering to his market by doing this. Documentary filmmakers have voted with their feet at previous conferences, turning out in droves to anything about potential financial resources. In a sense the 'conference' sessions for the directors et al had almost become sideshow to keep them entertained whilst their producers ran around like mad chooks cornering funders and TV execs.
The final session is where the large question "Can Documentaries Change the World?" will be posed. Ross Kauffman, one half of the directorial team of Born Into Brothels: Calcutta's Red Light Kids (2004), will talk with Variety film critic Richard Kuipers to try to find an answer. The question implies functionality as fundamental for the documentary form. It turns out den Hartog does indeed like documentary to have a function, "Call me a hippy or naive, but I think documentary is a very powerful way to raise awareness and to actually mobilise behavioural change and establish social change in society. I am very convinced of that. And I think that there are plenty of examples of recent films that have been able to do that…The most obviously example is An Inconvenient Truth. Now even John Howard thinks that there is something like global warming going on. It is quite an achievement for a filmmaker to get to John Howard."
Unfortunately it looks likely that Participant Productions' Diane Weyermann will be unable to attend the conference, because she'll be busy glamming up for the Oscars where An Inconvenient Truth (2006) is nominated. However Participant Productions is a company well worth watching. Started by the eBay billionaire Jeff Skoll, it aims to fund films that have a social change agenda and turn them into films that will have broad appeal. The company's tagline is, 'Lights, camera…social action!'
One of the interesting side effects of the market people taking over conferences is that they have created a space in which filmmakers might start thinking creatively about the marketplace. Joost says, "On the Monday of the conference there are two sessions designed to explore an alternative marketplace by looking at the example of the internet and starting to look at relationships between various platforms. It will also look at other potential financiers like NGOs. DocAgora is an international initiative which had its first gathering in Amsterdam." There are DocAgora sessions planned for a number of conferences around the world. (DocAgora describes itself as "a virtual webplex" for documentary: "an open space to consider new forms, new platforms and new ways of financing creative, authored and socially engaged documentary content. www.docagora.org). Joost continues, "A report will be written of all the sessions and eventually it will have to result in an alternative marketplace that can exist next to the traditional broadcast model."
Whilst on the subject of commissioning editors, an embarrassing moment occurred last conference when the search for a commissioning editor during a pitching session resulted in a speakerphone admission that she was at the beach. It's a worrying notion that buyers might see AIDC as a beachside break. Joost says, "We screen all buyers on their willingness to work with Australians and Australian content. And the reason why they come is that they are interested in Australian content or have a willingness to work with Australian producers. We do a follow-up every year after the conference to see what kind of deals are made. Most of them go home with two or three presales and a bunch of contracts and projects in development."
A large contingent from Asia will be attending AIDC this year. Joost says "We have quite a big involvement from Discovery Asia and [they] will announce a scheme which is new. They have given their Australian office a fund to commission Australian content. It will be spread over two years for the Australian independent sector."
When asked about what he thinks are the current crises in documentary den Hartog mentioned the obvious, not enough funding, but also felt, "the broadcasters are in a more competitive market these days and they want to brand their channels. That has consequences for independent producers and on the type of content that [the broadcasters] acquire." The issue of branding will be covered at the conference at Rudy Buttignol's session, called "It's the Flow Not the Show." (Buttingol is a leading Canadian network commissioner and programmer). It promises to be an interesting session considering the traditional notion that documentary is about 'program strands' and that individual 50 minute works are fast giving way to reality style series in Australia.
Australian International Documentary Conference, Adelaide, Feb 23-26, 2007, www.aidc.com.au
RealTime issue #77 Feb-March 2007 pg. 20
© Catherine Gough-Brady; for permission to reproduce apply to realtime@realtimearts.net