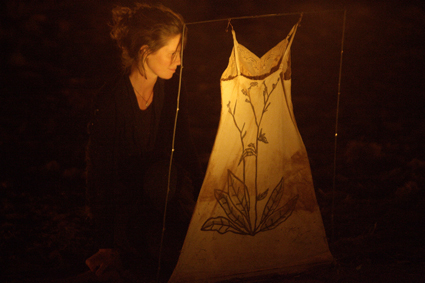 photo Oliver Eclipse
Red Shoes, Under Today
THE DUSK ACHES ITS WAY ACROSS THE DESERT SKY AND A CROWD GATHERS ALONGSIDE A STORMWATER DRAIN THAT SEPARATES THE ICONIC SPENCER HILL FROM THE SMALL ALICE SPRINGS SUBURB OF EASTSIDE. AS THE LIGHT SLOWLY DECLINES, HISTORIES EMERGE FROM SHADOWS AND SAND; FIGURES BLENDING WITH VOICES TO EXCAVATE THE LAYERS OF STORIES UNDER TODAY.
Under Today is the outcome of a five-year quest to uncover what director Dani Powell describes as "the things that we don't see, as relative newcomers to a place that has been extensively mapped by those who have lived here before us." The work's genesis is in oral history, with Powell piecing together the final narrative over many years from interviews with past and present residents of Alice Springs.
Powell realised she was "making a documentary and the question then became how to engage a live audience with a deeply aural work." Multimedia artist Alex Gillespie was one of her earliest collaborators on the project. Gillespie's long-term involvement is reflected in the deep synergy between the soundscape created from the oral histories and her projections of historical and contemporary maps onto the contours of the landscape.
Intimate knowledge of the Spencer Hill site is central to the work's breathtaking use of the landscape; durational manipulation of light and shadow throughout the performance is elegantly employed to illustrate social and historical proximity. The opening sequence of silhouetted figures emerging from and fading back into the landscape left the eye searching for stories in the last of the light; a poignant analogy for the dispersive and ephemeral nature of human experiences layered over the site.
In contrast to the effortless synergy between lighting design and soundscape, the success of the contemporary dance elements as a vehicle for image-based performance was sporadic. Aspects of the live performance provided thoughtful juxtapositions with the aural narrative; the imagery of dancers extracting clothing buried in the sand was captivating throughout, providing an evocative visual metaphor for buried histories. However, much of the choreography, such as pizza-spinning gestures accompanying histories of the Italian community, centred on literal interpretations of individual stories and displayed limited conceptual integration of core themes of the work.
Unlike another recent site-specific performance, such as Big hART's Namatjira in Ntaria/Hermansburg, Under Today is not designed to tour. It has been produced from and for the community of Alice Springs. Despite this, its key message—the importance of understanding the far-reaching historical relationship between the earliest inhabitants and the land—is one that is relevant beyond its local audience. Powell's depth of commitment and skill in collecting and re-presenting these stories in live performance is to be applauded. In a political climate where measures of social dysfunction are often cited as a justification for government interventions on Aboriginal land, Under Today serves as a timely reminder to the community of the complex and contested nature of land tenure and belonging in Central Australia.
Red Shoes, Under Today, director Dani Powell, lighting Kallum Wilkinson, projections Alex Gillespie, sound design Damian Mason, choreography Miriam Nicholls (Bond), producers Red Shoes and Browns Mart Productions; Spencer Hill, Alice Springs, May 25-27
RealTime issue #110 Aug-Sept 2012 pg. 42
© Kelly-Lee Hickey; for permission to reproduce apply to realtime@realtimearts.net