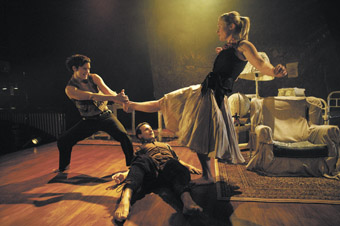 photo Lisa Tomasetti
Alexandra Harrison, Anton, Ingrid Kleinig, Bubble
BUBBLE PRESENTS THREE UNNAMED CHARACTERS (ANTON, ALEXANDRA HARRISON, AND INGRID KLEINIG) TRAPPED IN A MILDLY CLAUSTROPHOBIC DOMESTIC SPACE, EACH JUST HANGING OUT. THE SPACE IS CLUTTERED WITH AN ARMCHAIR, A BED, TABLE AND CHAIR, AN OLD SUITCASE UNDER THE TABLE, RUGS ON THE FLOOR AND A CRINKLY PAPER-COVERED WALL UPSTAGE. IT IS UNCLEAR WHAT THE RELATIONSHIP BETWEEN THE CHARACTERS IS, OTHER THAN THEIR BEING FORCED TO SHARE THIS SPACE. THROUGH SOME UNSPOKEN AGREEMENT, THEY DECIDE TO PLAY A GAME, AND CHASE EACH OTHER AROUND THE ROOM. THIS GAME ENDED, THEY TRY TO TALK, BUT RATHER THAN COMMUNICATING THEY EACH SPEAK OVER THE TOP OF EACH OTHER. WE CAN'T UNDERSTAND THEM, AND PRESUMABLY, THEY ARE ALSO UNABLE OR UNWILLING TO UNDERSTAND EACH OTHER. THE LIGHTS GO OUT.
When the lights restore, our protagonists have discovered more of their bubble world. A package has arrived, and ownership becomes contested, escalating into a physical struggle that spills out over the furniture. Other objects emerge—a letter opener, a stapler, a red texta, a wrestler figurine and a goldfish bowl. Each are brought into the realm of play, put to imaginative re-use in the endless struggles for position that form the basis of much of the choreography, becoming the focus for childish destructive rages, power plays and petty victories. The red texta is used to playfully threaten violence, drawn across the throat of its 'victim.' The wrestler figurine acts as a surrogate for its wielder, strutting and smashing objects in its path. The goldfish bowl is worn like a helmet, becoming another bubble layer.
It's clear that for the characters of Bubble life is elsewhere, and this elsewhere appears as punctures in the surface of the bubble world—a book that when opened shows the light and sound of distant worlds; a hole torn in the upstage paper wall that allows the bright light of outside to shine through. These worlds outside are probably far more disorderly, more dangerous and presumably more interesting, but this bubble world seems strangely resilient, impervious. In this sense, Bubble could be a dance reworking of Sartre's No Exit. Despite the clear desire to depart, our protagonists seem unable to recognise or exploit any potential escape routes, stuck instead in small variations on fixed patterns of behaviour. Even when all of the onstage furniture magically bundles together and rises into the air, leaving the performers to dance beneath the levitating detritus, there is little change in the interpersonal dynamic, it's merely an opportunity to dance slightly more freely in the reconfigured space.
The tone stays mildly bleak, slightly melancholy. Despite the skill of the makers, and all the energy expended, Bubble never gets beyond fatalism. A film sequence played late in the performance seems to underscore this—modern life is depressing and alienating, but there's no escape from it. It's well-trodden thematic ground, and despite the physical inventiveness of the performers, Bubble offers no new perspective.
Legs on the Wall, Bubble, director Rowan Marchingo, performers, co-devisors Anton, Alexandra Harrison, Ingrid Kleinig, dramaturgy Wesley Enoch, set design Dan Potra, design associate, costume design Lucas Edge, lighting Trudy Dalgeish, Christopher Snape, composer, sound designer Carl Polke, film Judd Overton, Rowan Marchingo; The Studio, Sydney Opera House, July 23-Aug 2
RealTime issue #87 Oct-Nov 2008 pg. 20
© David Williams; for permission to reproduce apply to realtime@realtimearts.net