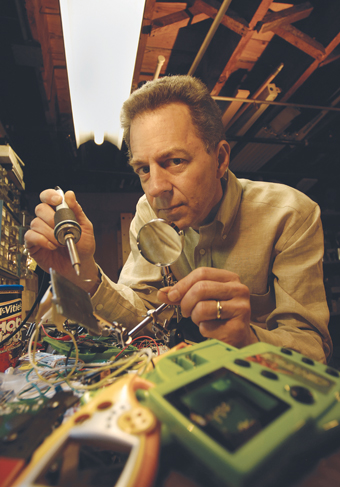 photo Marty Perez
Nicolas Collins in his basement workshop, Chicago, Il (USA) 2006
THE HISTORY OF ELECTRONIC MUSIC IS AS MUCH A HISTORY OF INVENTIVE ELECTRONIC DEVICES AND EXPERIMENTAL INSTRUMENTATION AS IT IS OF MUSICAL FORM AND STRUCTURE. FREQUENTLY, THE TWO ARE INSEPARABLE—THE METHOD IS THE MUSIC. AMERICAN ARTIST NICOLAS COLLINS DESCRIBES HIMSELF AS A HARDWARE HACKER, AND HE HAS LONG BEEN AN INNOVATOR BOTH MUSICALLY AND TECHNOLOGICALLY, MAKING A POINT OF REJIGGING ELECTRONIC GADGETRY TO CREATE HIS MAGICAL MUSIC AND REDEFINING MUSIC ITSELF.
Collins began experimenting with electronic equipment in the early 1970s, and, when the desk-top computer appeared, began writing computer programs that would emulate or extend the sound-generating strategies he had developed. He studied with Alvin Lucier and has evidently absorbed John Cage's interest in experimentation as well as his curiosity and playfulness. Collins' seminal device consisted of a found circuit-board attached to a battery and a loudspeaker, and activated with electrodes or a damp fingertip to produce buzzes and squeals with which to make music.
Collins likes the idea, literally, of a hands-on approach, where the player can touch the circuit board to generate sound, experimenting with degrees of deliberative action in the process of music-making. He is also concerned to explore the disruption of pre-programmed output to create alternative sonic output and thus a new instrument. Instruments that require performer intervention to defy inbuilt automation reveal the profound difference between analogue variability and digital predictability and reveal analogue as so much more seductive. Another early work featured a toy train running along a straight track and touching a tautly stretched wire connected to a contact mike so as to generate a sound as it moved. Such 'folk' instruments are easily accessible to the layperson.
I attended Collins' talk and then his concert, since an understanding of how his gadgets work and how much human intervention is involved is essential to full appreciation. The concert comprised four works that epitomise his philosophy: Salvage (Guiyu Blues) (2008), performed with a team of players armed with found circuit boards; Pea Soup II (1973/2002); The Talking Cure (2002); and In Memoriam Michel Waisvisz (2008). Some of his devices automate randomness and the output can also be affected by extraneous influences uncontrolled by the composer/performer—the gently mesmerising Pea Soup involves running a signal from an auditorium mike through laptop-mounted phase shifters and filters that modify or delete particular tones in response to accumulating feedback. The sound thus stabilises itself around an automatically self-edited set of tones that sonically characterise the room's acoustics and respond to ambient sound such as audience noises. At moments, a cellist and a saxophonist add further monotonal material to the mix. Talking Cure is a piece for spoken word, the rise, fall and texture of Collins' voice triggering piano tones to produce a sound pattern that parallels his speech. These works are an oblique extension of Lucier's I am Sitting in a Room (1969), in which speech is recorded, played back and re-recorded with the ongoing speech to disrupt verbal intelligibility and respond to the space. In Talking Cure, Collins is translating speech into music and simultaneously generating both verbal and musical meaning. We're reminded that voice tones are as important as content in conveying the meaning of the spoken word.
In Memoriam Michel Waisvisz involves a small metal box inside which is a tiny circuit board, a 9v battery and a birthday cake candle burning brightly. The flickering of the candle stimulates a light sensor connected to an oscillator, emitting a howling scream whose pitch and intensity are determined by the flicker. For extra effect, a realtime image of the apparatus is projected onto a screen in the auditorium in vivid close-up. There is a post-industrial sculptural beauty about some of Collins' devices, and there are other works in which he has coupled his sonic gadget with visual effects, for example, using LEDs salvaged from computer games to create new imagery that defeats the narrative of the games and denies player participation.
Collins' aesthetic lies in balancing human intervention with the automation of sound so as to create an attractive and stimulating musical work. It also arises from the beauty of Chaos theory—the sonic result will be different every time. A composition will not be intended to produce a fixed set of notes, timbres or effects, but will be broadly indeterminate within the range of possibilities inherent in the design of the device and its usage. Indeterminacy is extended through the improvised nature of performance. The aggregated, automated interventions of these musical robots, such as multiple tone editing and phase shifting in response to ambient stimuli, take the form of electromechanical daydreaming—this is a kind of primitive, undirected thought, telling in its implications.
Collins also transcribes his sound works for acoustic ensembles, capturing the timbres, textures and structures of the original in the ensemble's score while introducing new forms of intervention to create engaging and unpredictable chamber works that have an intense and unique musicality.
This body of work is about accessibility, vernacular materials and participation, questioning the idea of the genius artist/composer. Virtuosity here involves combining the radical and telling disruption of everyday hardware, programmed self-editing and adroit randomisation. Collins' work is ironic in its postmodern subversion of technology, reminding us of the extent to which new technologies, whose capacities we do not fully understand but which we take for granted, permeate and control our lives. He has recolonised the circuit-board, demystifying and challenging automation and disposability. And he investigates how sound functions and what speech is, addressing the processes of reception, recognition and comprehension of sound and word. The issue of originality and authenticity is another important theme, as he plunders machinery and programs, samples radio transmissions and borrows performative concepts to create new syntheses. The result is conceptually demanding and perversely entertaining, with a powerful current of humour running throughout.
Collins is an articulate and engaging writer and speaker, and his texts, full of joyful anecdotes, form an absorbing personal history of electronic musical experimentation and groundbreaking innovation. Importantly, though, he is a musician, not a techno-geek, and this is seriously interesting music. On his website, you can find recordings, videos and detailed explanations of how the instruments and works were developed. You can download a piece of his software to make your own version of one of his works and there are scores for other works. His book Handmade Electronic Music is on his page and includes instructions on how to solder components and how to make contact mikes and oscillators. You are strongly encouraged to try this at home.
Nicolas Collins, "Collaborations in Sound/Intersections of Science and Art," University of South Australia, June 11; Works of a Slightly Misused Technology, with cello Jack Ward , saxophone Derek Pascoe, and salvage Seb Tomczak, Christian Haines and the Adelaide Hacking Philharmonic, RiAUS, The Science Exchange, Adelaide, June 12; presented by Elder Conservatorium of Music, University of Adelaide with the Royal Institution of Australia (RiAUS) and the Australian Experimental Art Foundation (AEAF); www.nicolascollins.com.
RealTime issue #99 Oct-Nov 2010 pg. 48
© Chris Reid; for permission to reproduce apply to realtime@realtimearts.net