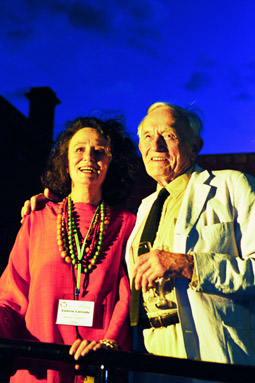 photo Peter Hasson
Valerie Lalonde & Ricky Leacock at the conference
The Australian International Documentary Conference (AIDC) is a chimera, part supermarket, part artistic intellectual pursuit, part rebellious belligerence.
This year in Perth these powerful forces were much in evidence. Pride of place was given to cinema verité documentary-maker Ricky Leacock, documentary prankster Craig Baldwin and US filmmaker Fenton Bailey (The Eyes of Tammy Faye). Bailey sheepishly admitted, while sitting on a panel with the other 2, that he felt he survived in a "highly compromised way" by doing 2 types of work—those which he was passionate about, and those which paid the bills. The presence of commissioning editors from television broadcasters around the world also meant he was unwilling to identify which work was which. Leacock showed no such compunction and set about roundly abusing commissioning editors, listing the films and the broadcasters who had rejected them over the years. You can get away with that when you're 80.
Leacock wasn't the only person at the AIDC doing what he wanted to do in the way he wanted to do it. During a forum entitled "Self and Semi-Funded Projects", younger filmmakers showed how they were able, through a combination of skill and sheer determination, to get their documentaries made and screened. Australian Janine Hosking, director of My Khmer Heart, is currently riding high on a sale to the US network HBO for her 95 minute documentary about Australian Geraldine Cox and her Cambodian orphanage. Hosking and her partner, Leonie Low, worked 4 jobs and called in favours from camera crews they knew from their time as current affairs producers to get the job done. Their crew accepted a deferred payment option, taking their fee once the film had been sold. Hosking is relieved now that they have been able to pay their friends but admits to some sleepless nights when things didn't look so rosy. As an explanation as to why she didn't seek funding from Australian funding bodies her reply is pragmatic, "We wanted to make a documentary, we didn't want to spend our time filling out forms and waiting 3 months for the next funding round. The story would have disappeared by then."
Annabelle Quince, writer/director of Watching the Detectives, admits that if she had been able to see the road ahead of her in 1993, when she had the initial idea for her documentary, she would never have proceeded. Quince, a producer on Radio National's Late Night Live program, found that in applying for funding her track record in other media was not recognised. As the years passed, she saw the innovative idea she wanted to explore in 1993 become mainstream and fly-on-the-wall documentaries become the popular choice for funding. Quince admits that a certain bloodymindedness, and the promises made to women detectives she had met in the USA, helped push her to finish the project. A small handheld camera, a DAT recorder and a 4-week shoot in the USA in 1999 saw her project move towards fruition. It was finally completed after some post-production funding.
Documart, where filmmakers pitch their ideas to commissioning editors from television broadcasters, has something of the flavour of Christians being fed to the lions. The filmmakers take the part of the true believers, while commissioning editors give the thumbs up or down. Along the corridor was a master class on the possibilities of the internet, computer software and non-linear narrative. There was the chance to ponder the fate of The Real Mary Poppins' a documentary pitch (will it fly?) which saw interest from international broadcasters like the History Channel and A&E Biography while at the same time exploring whether broadcasters, exhibitors and distributors will even be necessary to documentary in the future.
The internet, DVD and DVD-ROM explode the idea of linear narrative and transfer much of the narrative control from the filmmaker to the audience. It is no surprise that this is something that captivates Leacock. For filmmakers whose ideas were rejected at the Documart, Leacock must stand as an inspiration. He is delighted with the possibilities the internet gives him to engage with an audience without kowtowing to broadcasters' opinions: "I'm looking for an audience, not of millions, maybe only a couple of thousand people who can enter into dialogue with and about the work."
Rejection is where the art is in Documart.
Australian International Documentary Conference, director Richard Sowada, Sheraton Hotel, Perth, March 6-9.
RealTime issue #42 April-May 2001 pg. 18
© Mary O'Donovan; for permission to reproduce apply to realtime@realtimearts.net