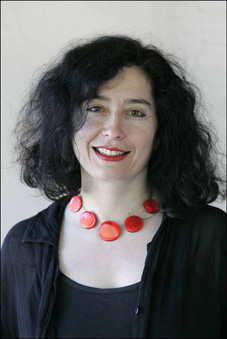 Elena Kats-Chernin
Elena Kats-Chernin might be considered an odd inclusion in this year's Adelaide Cabaret Festival. However, she is no stranger to cabaret and in her student days performed in Cabaret Conspiracy alongside luminaries such as Boom Boom La Verne, Fifi L'Amour and David da Most. Subsequently she worked to pay the bills in the Red Hot and Blues Cabaret show in Berlin while studying at the height of German compositional pedagogy under Helmut Lachenmann at the Hochschule. Kats-Chernin's career has always trod parallel paths—one serious and one fun.
Kats-Chernin's appearance at this year's festival follows her performance as band-member in her own work Mr. Barbecue, at the 2004 Cabaret Festival. The inimitable Lyndon Terracini featured as 'everyman' performing the great Australian barbecue ritual. Kats-Chernin was invited back for this year's event, in obvious recognition of her entertainment value, with Elena Kats-Chernin and Friends, a show originally developed for the 2004 Barossa Music Festival. It was not the usual cabaret fare of stand-up or the crooning of old torch songs, but drew a long bow with the same tradition. Long time friend and associate Christopher Latham on violin stylishly accompanied the relaxed, charming and radiantly good humoured Kats-Chernin at her piano. The other friends in her show were the people in the story of her life that she announced at the outset included "some facts, some half-truths and some complete lies."
Kats-Chernin's keyboard virtuosity was beautifully complemented by Latham's daring violin, in turn haunting, lyrical and always wonderfully evocative. Latham obviously has great empathy for Kats-Chernin's music and she in turn demonstrates great faith in his translation.
The mood shifted from elegaic to whimsical and at times magical. Popular mid-20th century dance forms dominated the music: tango, waltz and blues peppered with a good smattering of rags—one of her favourite forms as player and composer.
Kats-Chernin's narrative moved from her earliest memories to a dedication to her Barossa patrons from the first incarnation of this show. Her musical experience of a blind violinist performing in Bucharia, where her mother was posted as an eye specialist, translated to the exotic Bucharian Melody, while Slick Back Tango is derived from the memory of the smell of her aunt's hair cream. Kats-Chernin's compositional method of building a work from one or two notes was candidly demonstrated in Blue Rose, an ultimately complex work characterised by a series of time shifts. Chopin was acknowledged as the inspiration for the blues movement of her second piano concerto (written while her mother was dying) and quoted liberally within to melancholic effect, while a reworked quotation from Satie's Gymnopédie became the building block for Naïve Waltz.
Economy Class Blues was inspired by long flights between engagements in the most dreaded airline class affordable to concert presenters. Birthday Rag was dedicated to her co-performer and his way of splitting the day in 2 parts: not awake and awake. Augusta's Garden Waltz is named after the first vintage from the vineyard of Barossa Music Festival impressario John Russell, and the piece that she called a "swizzle stick"—Cocktail Rag—was dedicated to Barossa Festival host extraordinaire Peter Lehmann. The uplifting Get Well Rag was written for one of her sons when he became very ill, and the encore piece Peggy's Rag was dedicated to one of Australia's great composers, Peggy Glanville-Hicks, and written during the time that Kats-Chernin spent at Peggy's Paddington musician's retreat when she returned from her studies in Germany. Russian Rag, another encore, was the oldest piece in the show, dating from 1996, and one that has subsequently appeared in many arrangements including the version that frames Radio National's Late Night Live, hosted by Phillip Adams.
The musical and emotional depth of a show that displayed both compositional and performance proficiency, contradicted all the quaint titles and facile dance forms. The music was at once challenging, but postmodern references to popular styles and western musical tradition made it highly accessible and enjoyable. It was a privilege to hear newly devised material in The Maiden and the Well Spirit, based on Russian folklore. But the highlight was the music from Wild Swans that emerged from one of Kats-Chernin's most fruitful collaborations to date. Her piano adaptations from the full orchestral score of her ballet music for Wild Swans, choreographed for the Australian Ballet in 2004 by Meryl Tankard, gave glimpses of the rich musical palate of the ballet.
The inclusion of Elena Kats-Chernin in this year's Adelaide Cabaret Festival is less curious in terms of genre than is speculation about what drove a highly successful mid-career composer to strut and fret upon the cabaret stage. Fortunately for those able to attend, the show provided a rare and engaging insight into the workings of an inspired and incandescent musical mind.
Elena Kats-Chernin and Friends, composer & pianist Elena Kats-Chernin, violinist Chris Latham, Adelaide Cabaret Festival, Adelaide Fesitval Centre, June 10-25
RealTime issue #68 Aug-Sept 2005 pg. 52
© Helen Rusak; for permission to reproduce apply to realtime@realtimearts.net