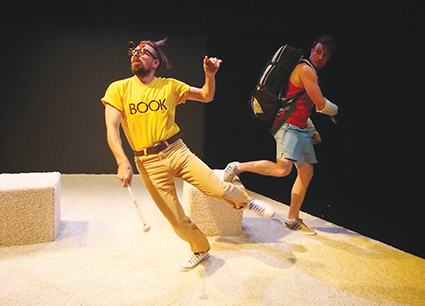 photo Ben Eyles
Lucas Stibbard and Tim Dashwood
JUST AS TRAVEL CAN BE ENLIGHTENING AND TRANSFORMATIVE, SO TOO CAN THEATRE. BOTH HAVE POTENTIAL TO CHANGE THE WAY WE SEE THE WORLD, AND OURSELVES IN IT. PACKED, A CO-PRODUCTION STAGED IN ALBURY-WODONGA BETWEEN HOTHOUSE THEATRE, BRISBANE'S METRO ARTS AND THEATRE GROUP THE ESCAPISTS, PUTS TRAVEL AND TRAVELLERS UNDER THE MICROSCOPE IN A DYNAMIC PIECE OF THEATRE.
It was clear from the outset that Packed was going to do things differently. The B52's classic travel anthem "Roam" played as the audience took their seats, while Timothy Dashwood—beer in hand—left the stage and wandered around the theatre striking up easy conversations with patrons about their travels.
Packed tells the story of two characters, simply referred to as He and She, who represent the extremes of travel personalities. He (Dashwood) in his beer logo singlet, is the likable, loutish Aussie bloke who has swapped his 9-5 responsibilities for a life of travel, ticking off his travel experiences with an equal love of drinking and selfies. She (Neridah Waters) in her sensible walking boots, cargo pants and scarf, is the hard-working anthropologist, writing about and observing the world at one remove. They collide, literally and hilariously, in an unnamed foreign land, where despite the vast gulf of their differences, they fall in love.
Lucas Stibbard (Book) cleverly plays both He's travel guidebook and She's anthropology manuscript. By personifying these two books, as vastly different as their owners, Stibbard's character adds a whole other riotous dimension to the plot and themes.
He has his beer; She has her notebook. He unashamedly wants to suck the marrow out of his experiences, "I'm a tourist, we touch everything." She is above the consumerist tourist mentality. Eventually though, She realises she is merely "hiding in a study of the world that doesn't have me in it."
The script (co-written by Matthew Ryan and Stibbard) is fast and tight; a hilarious swirl of anthropological theory, observation and travel stories. Even random German words are explained in formal lecture style. The cast give standout performances throughout the, at times, manic scenes—lots of climbing, running and leaping. A sense of movement is also conveyed with small, careful effects like She's wiggling her ponytail on the back of a motorbike.
The deceptively simple set, consisting of a section of white carpet and three carpeted cubes, was used to maximum effect, creating everything from towers to planes and motorbikes. The large screen on stage added a more complex layer to the story constantly transforming the stage to keep pace with the busy script. Animations (by Pete Foley) were a clever addition to the text-heavy story, transporting the audience to a whimsical faraway land of flying 'sky yaks.'
There were funny asides about Pluto no longer being a planet and cats having supernatural powers. The audience hit giant balloons around the theatre and the typed pages of the anthropology manuscript floated down on the stage. Like the very best travel adventures, Packed was full of laughter, wisdom and quirky, unexpected delights.
Hothouse Productions, Metro Arts & The Escapists: Packed, co-creators: Keith Clark, Jonathon Oxlade, Matthew Ryan, Lucas Stibbard, writers Matthew Ryan, Lucas Stibbard, design Jonathon Oxlade, lighting Keith Clark, composer Chris Perren, AV design Pete Foley, The Butter Factory Theatre, Wodonga, Oct 23-Nov 1
RealTime issue #124 Dec-Jan 2014 pg. 47
© Kate Rotherham; for permission to reproduce apply to realtime@realtimearts.net