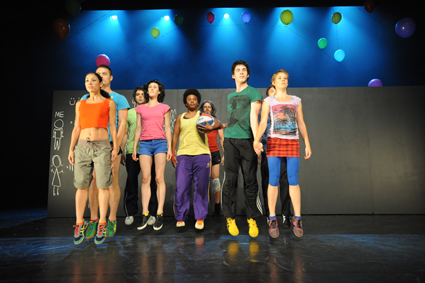 courtesy the artist
Happy as Larry, Shaun Parker
A wordless playground where people (adolescents?) come together to play in front of a giant blackboard is the setting for Shaun Parker's athletic dance work investigating happiness.
Each of the characters is based on personality types mapped in the psychological system the Enneagram (program note), while each dancer has their own speciality—breakdance, contemporary, jazz, body popping, acrobatics, roller skating and ball spinning. Mostly they dance in pairs, occasionally a solo and, top and tailing the show, are two ensemble moments, both tight and invigorating synchronised pieces combining the various genres.
The skilled dancers move with control and energy as they navigate their respective emotional minefields—connecting/not connecting, supporting/dropping, coming together/moving away. They seem to want something, but I'm not sure what. Do they even like each other? It seems a lonely world, even for the lovers who have a brief moment dancing together on a pair of skates before one of them leaves. Another character executes balletic turns, preens and bows to his surrounding audience who applaud his every move until he falls, whereupon they leave him alone to his desperate practice.
For a work about happiness Happy as Larry is surprisingly sombre with the character who spends most of his time watching the others dance, presumably Larry, opening with a prolonged mirthless laugh. No emotion shows on his face or the faces of the other dancers for the majority of the work, generating a slightly unsettling, almost ominous mood. No-one seems happy, certainly not Larry who in the final scene struggles within the coloured balloons that have descended from their spot above the giant blackboard to envelop him. He strikes out with an aggressive attack complete with gun motif.
The blackboard, dominating an otherwise empty space, starts clean with Larry drawing replicated figures in neat rows, which he then labels as "you" (the audience). His careful and painstaking drawing reminded me of a naughty pupil being forced to write lines. Throughout the show the board is filled with chalk sketches—child-like figures, simple statements—"I need company," "I don't need anyone," "That was fun"—and meaningless scrawls as one dancer draws around another's body. It is also a springboard for dancers who leap off the top, hang on to it upside down, disappear inside it and skate in wide sweeping circles around it as it revolves to reveal another scene.
The lighting adds to the slightly lugubrious atmosphere, containing the action and creating a claustrophobic edge, only opening out for the moments when the whole company comes together. The music by co-composers Nick Wales and Bree Van Reyk is a powerful and eclectic mix of electroacoustic with classical snippets that stand alone before being consumed by beats and popping and buzzing effects.
The show comprises self-contained sequences with the giant board revolving to introduce each new segment. Characters reappear but the narrative does not progress and ultimately this repetition becomes monotonously predictable with no sense of the work building to a conclusion. In the end I leave Happy as Larry feeling a little bit gloomy.