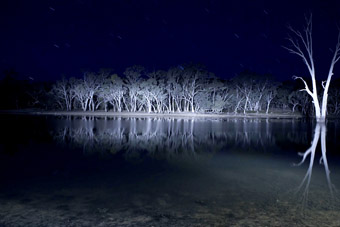 Lake Mungo, Mungo Productions, 2009
IN A CHILLING CLIMACTIC MOMENT IN LAKE MUNGO, A FEATURE FILM BY JOEL ANDERSON, AN ADOLESCENT GIRL COMES FACE TO FACE AT NIGHT WITH HER ZOMBIE-ISH SELF ON THE BED OF DRIED-OUT LAKE MUNGO IN FAR SOUTH-WESTERN NEW SOUTH WALES. LIKE OTHER EVENTS IN THIS GRIM MOCK INVESTIGATIVE DOCUMENTARY, THE 'EVIDENCE' IS MEDIATED BY AV TECHNOLOGY. HERE WE WITNESS NOT THE ACTUAL EVENT BUT THE GIRL'S OWN MOBILE PHONE RECORDING OF HER FATE. ELSEWHERE IN THE FILM, AMATEUR PHOTOGRAPHS AND FILMS, FAKED AND NOT, LEND CREDENCE TO THE FACTICITY OF A POSSIBLE HAUNTING OF HER FAMILY BY THE GIRL. SHE HAD DROWNED IN A LAKE NEAR THE TOWN OF ARARAT NOT LONG AFTER HER LAKE MUNGO TRAUMA.
In Josephine Starrs and Leon Cmielewski's land(sound)scape, the same Lake Mungo is the subject of a media art installation that contemplatively conjures a largely forgotten 19th-century moment, when migrant Chinese labourers were contracted to build sheep station sheds from soon to be exhausted local cypress pine forests. The Chinese found the strange, weather-sculpted shapes of Lake Mungo's surface oddly familiar, seeing in them the 'Walls of China', a naming that persists to this day.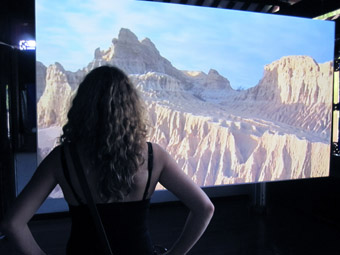 lake mungo, land[sound]scapes, installation, josephine starrs and leon cmielewski, 2009
Land(sound)scape is not about ghosts but the way the work resurrects the past is curiously unsettling as you sit in a former Tea House in the Chinese Garden of Friendship, Darling Harbour, Sydney. The room is largely made of timber, the names that echo through it are Chinese and we observe the land they inhabited and which evoked for them a distant home.
Sunlight is softly filtered through the room's blue-tinted windows. On either side of the viewer are two large screens on which land(sound)scape's gentle disorientations are generated by the contrasting movement of images. On one screen photographs of the uninhabited Lake Mungo landscape pulse slowly, and uncoventionally, right to left revealing strange figurations, buttes, small canyons, empty horizons. On the other, the orientation is aerial, a satellite point of view. We look down steeply onto the white beds of Lake Mungo, stark surrounding country and patches of green vegetation. Our internal movement feels like a slow dance in the air as we shift from the horizontal plane of the first screen to the verticality of the second.
Amid the factual if lyrical interplay of photographs, satellite images and the spoken, layered lists of immigrant and ship names and arrival dates (in Mandarin and Cantonese-inflected English) we notice something quite unexpected—the vegetation here and there spells out words and phrases that eventually form a poem. This quietly fanciful insertion generates another temporal and spatial layer—the evocation of a contemporary Chinese sensibilty nostalgic for a fading past. The artists explain: "[the immigrants] may have been homesick and wished to give the landscape a Chinese name as the formations do resemble some of the eroded outer walls in China. The text incorporated in the satellite image video, 'I only wish to face the sea,' is from a poem by the Chinese poet Hai Zi, 1964-1989. His poetry is about the disappearing Chinese landscape, and expresses nostalgia for the traditional countryside brought about by the large scale migration from the country to the cities."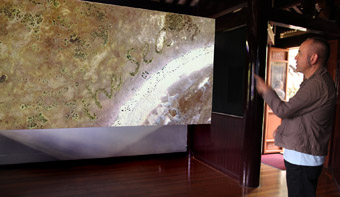 satellite view, land[sound]scapes installation, josephine starrs and leon cmielewski, 2009
In another unsettling moment, the crackling of fire breaks through the Lake Mungo ambience, "refer[ring] to what is known as the Lake Mungo Magnetic excursion; evidence of a change in the earth's magnetic field 30,000 years ago which has been discovered in the ancient Aboriginal fireplaces found at Lake Mungo." The subtle perceptual shifts that land(sound)scape subject us to now vibrate with a long ago tilting of the earth's axis while we contemplate much more recent cultural history.
Lake Mungo is a significant archaeological site of ancient Aboriginal life, dating back at least 40,000 years. In land(sound)scape that history is not central to the work but it is acknowledged, while in the film Lake Mungo it's absent—the landscape is simply eerie, haunted by a palpable image of death to come. Either the filmmaker was ignorant of Lake Mungo's cultural significance or chose to sidestep it. A pity, as its deep history would seem an asset for a horror film—a landscape already populated with spirits. Perhaps the issues and negotiations entailed might have been too much to handle in a whitefella ghost story.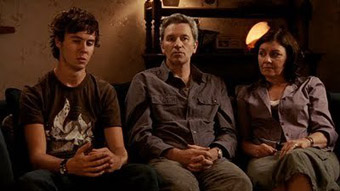 Mungo Productions, 2009
Martin Sharpe, David Pledger, Rosie Traynor, Lake Mungo
For an Australian horror film Lake Mungo is atypically restrained. Although over-extended and with just too many loose ends, its quiet, consistent pressure on the viewer to read images and attend to words closely makes us more than mere observers. We look repeatedly and forensically into photographs and videos. At the same time the film's cinematography oscillates between its 'documentary' content (interviews, news and home movie footage) and sustained, immersive images of the night sky, of the time lapse turn of the stars and beautiful light patterns on the cusp between day and night. While adding to a pervasive sense of eeriness, of vast spaces and forces beyond the haunted confines of the home, these moments lend the film a measured, reflective quality supported by the consistency of the documentary tone and the realistic un-melodramatic performances (including Not Yet It's Difficult (NYID)'s David Pledger as the father)—most apparently improvised.
But what Lake Mungo imparts is not revelatory: means are more interesting than ends. The dead girl's remorse over her secret sex life with a couple-next-door is the underlying motive for her suicide. Sexual abuse is a harsh reality, but its pervasiveness as a too-convenient trope in theatre and film plots mostly exhausts it of any meaning beyond itself. This relieves artists from addressing complexity of character, which remains simply mysterious. Of course, that's the appeal of much of the horror genre, a therapeutic revelling in and acceptance of the inexplicable, here embodied in Lake Mungo as a place where, simply, very strange things can happen. The 40,000 year-old remains of Mungo Man and Mungo Lady are not invoked, nor the land's inheritors, the Barkindji, Nyiampaa and Mutthi Mutthi peoples who today manage the Mungo National Park with the NSW Government.
Joel Anderson's Lake Mungo is located firmly in a European tradition of ghost tales—specifically ones tied to visual technologies. The opening credits comprise Edwardian-styled, sepia-tinted photographs of ghostly figures and ectoplasmic outpourings, locating the narrative immediately in the contested arena of documentation and fakery. But true to the genre in general, the otherworld is a place of fear, a limbo of guilt: the girl haunts her family into discovering the shame that killed her. The otherworld of Aboriginal Dreaming, however, is home to good spirits and bad, a place actually made explicable through inherited knowledge rooted in the land.
Doubtless, this landscape will inspire more art projects. A notable earlier one was Sydney performer Tess de Quincey's Lake Mungo Project, Square of Infinity (1991-94) which premiered in the lake bed and was made into a film, the live solo performance entitled is (1994) and the touring production is.2 (1995). De Quincey seemed to evoke through the almost still movement of one body the expanded sense of time and space associated with this place.
While Anderson's fascinating film uses Lake Mungo for its title and as the location for a key narrative turning-point, a meaningful connection between plot and site, culturally, thematically and cinematographically, is not made. It might be a lot to ask of a popular suspense horror film, but its intelligence, not least about ways of seeing, is so evident that it's surprising a deeper connection with the site wasn't made.
Of course, Starrs and Cmielewski's land(sound)scapes has none of the constraints attached to feature filmmaking and these are works of very different scale and intent. Land(sound)scapes embraces Lake Mungo directly, allows us to take it in and reorients that perspective, visually and historically. It tells a story—of 19th-century migration, with hints of ancient time—in the broadest terms, but the narrative is found in standing between the two screens, in the turn of head and body, and landscape, and in the roll call of the long dead—not ghosts, but newly remembered and ever present.
Land(sound)scape was originally developed for the 2008 Guangzhou Triennial. In 2010 it was a Chinese New Year event presented by Sydney Harbour Foreshore Authority. Josephine Starrs and Leon Cmielewski are Sydney-based artists: http://lx.sysx.org.
land(sound)scape, Josephine Starrs & Leon Cmielewski, voices Wendy Ju, Jenny Ng, Lionel Bawden, HD video editing Greg Ferris; Chinese Garden of Friendship, Darling Harbour, Sydney, Feb 12-28
Lake Mungo was shown at the 2009 Sydney and Brisbane Film Festivals and is to be remade in the US for Paramount Vantage.
Lake Mungo, writer, director Joel Anderson, actors Talia Zucker, Rosie Traynor, David Pledger, Martin Sharpe, Steve Jodrell, cinematography John Brawley, editor Bill Murphy, music David Paterson, Fernando Corona, production designer Penny Southgate, visual effects supervisor Mathew Mackereth, sound Anne Aucote, sound designer Craig Carter; producers George Nevile, David Rapsey, executive producers Bill Coleman, Gilbert George, Robert George, 87 minutes; www.lakemungo.com
Originally published in the March 15, 2010 online edition.
RealTime issue #96 April-May 2010 pg. 25
© Keith Gallasch; for permission to reproduce apply to realtime@realtimearts.net