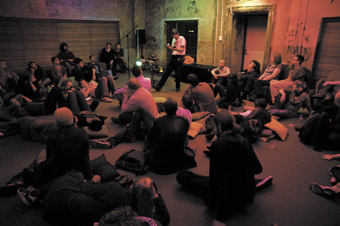 photo Tom Hall
Rafael Toral, Liquid Architecture, Brisbane
CREDIT SHOULD GO TO THE TIRELESS BRISBANE DIRECTOR OF LIQUID ARCHITECTURE 9, LAWRENCE ENGLISH, FOR BREAKING WITH FORMALITY AND DELIBERATELY GENERATING A MORE CONVIVIAL ATMOSPHERE FOR THE RECENT GIGS HE'S STAGED AT BRISBANE POWERHOUSE'S ROOFTOP THEATRE. TONIGHT WE ENTER A DIMLY LIT SPACE SURROUNDED BY SIX EXCELLENT SPEAKERS AND COVERED HAPHAZARDLY IN COMFY FLOOR CUSHIONS. THE RECLINING AUDIENCE WATCH PERFORMANCES WHICH EACH OCCUPY A DIFFERENT REGION OF THE ROOM. THE RELAXED VIBE IS HELPFUL AND POSSIBLY NECESSARY, A STRATEGIC WAY OF SOFTENING THE RELATIVE AUSTERITY AND SERIOUSNESS THAT LIQUID ARCHITECTURE, AN INCREASINGLY DIGNIFIED ELDER-STATESMAN OF THE AUSTRALIAN SONIC ART SCENE, TRADES IN.
Lying on one's back with eyes closed is a pretty decent way to enjoy the evening's first act, Nat, aka Nat Bates, who is also LA's co-founder and national director. It's easy to connect the dots betweens Nat's own artistic practice and LA's broader curatorial focus and predilection. The emphasis is on 'close listening', sound treated as abstract matter to be cut into shapes and forms and arrangements of varying detail, flow, texture. This kind of sonic treatment broadly expresses two things: the basic mutability and transformative potential of sound material, and the sensual pleasure derived from tracking these movements with the ears. Nat's sloping and sliding blocks of dark noise, snatches of visualised sound (doors slamming, wind gushing), and spinning spatialisations inevitably recall the strategies of concrete music maestros like Michel Chion; this is clearly the tradition he operates out of. The trick with the performance of concrete music is to coax a feeling of 'liveness' of dynamic or heightened 'realtime' presence from essentially prerecorded material. Not an easy thing to do.
Next is the renowned Portuguese electronic artist Rafael Toral, who a few years ago ditched his generally well appreciated habit of massaging lush drones and loops from electric guitars in favour of the Space Program, his new direction focusing on improvised performance and manipulation of homemade electronic gear. Toral has proper improvising chops (he is a member of electro-acoustic super-group MIMEO and a regular on the European free jazz scene) and this gives his work an expressive, embodied edge missing from so much electronic music. His set is simultaneously funny and sonically high-minded, incorporating squeaky, sawdust-thin mini-amp generated feedback, light-respondent bursts of noise and jerky, spasmodic dance moves.
From the back of the room Toral comes over like an over-enthusiastic young Dick Smith grappling joyously with some malfunctioning, misfiring new electro-gadget. Giving the 'dork-electronics' angle even more credence Toral peaks his 30-odd minute show by carefully prodding a giant amplified slinky. Like those other historic spring instrument luminaries Ernie Althoff and Hugh Davies, Toral illuminates the continuum between scientist, sound artist and endearing weirdo.
Ian Wadley's musical journey has ranged from 80s/90s indie-pop ubiquity (Small World Experience, Holy Ghosts, Minimum Chips) through singular brushes with genius (drumming for Jandek at SXSW), to his more recent transition into a solo, improvising, electric guitar mangler. A hyperbolic critic once described his music as "Derek Bailey channeling Jimi Hendrix" which despite being one of the more ridiculous formulations ever dreamt, does actually makes strange sense. Wadley merges a loosely Bailey-esque contempt for structure, continuity and closure with a Hendrix-ish feedback-threatened heavy tone. But where these two giants brought pinprick focus and intensity to each successive moment, Wadley's constructions conjure the kind of blasted freeform drift that recalls confusion, queasiness, amnesia, and slowness to the point of collapse. His guitar sings like a drunk and the music goes nowhere, but ultimately that's true of all things and not at all unpleasant.
Seeing out the evening, the revered German electronic manipulator Markus Schmickler proceeds to do basically the only thing left for laptop musicians at this juncture, which is to immediately and absolutely overpower the audience through extreme shifts in intensity and dynamically ridiculous levels of complexity/chaos and sounds that attack and redirect the imagination away from the banal reality of a bloke in a room with a computer. The set is a huge dose of excitement and stimulation, sounds eliciting disgust, horror, wonder and visions of catastrophic meltdown, with the brutality/beauty balance pitched just right. Schmickler might be standing motionless and unexpressive behind his computer, but his sound 'performs' bloody vigorously, like it just popped a truckload of steroids in preparation for the Olympics. Schmickler's long career suggests he is a very astute and thoughtful artist, something of a scene-setter, so I hope to hear a few more interventions of such heady physicality disrupt the sometimes listless, cerebral flow of contemporary computer music.
Liquid Architecture 9, Nat Bates, Rafael Toral, Ian Wadley, Markus Schmickler, director Lawrence English; Brisbane Powerhouse, Brisbane, July 4
Reviews of Sydney and Melbourne Liquid Architecture concerts will appear in
RealTime 87.
RealTime issue #86 Aug-Sept 2008 pg. 43
© Joel Stern; for permission to reproduce apply to realtime@realtimearts.net