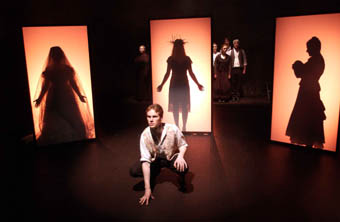 photo Bruce Miller
Tom Hogan, A Lizard Between Her Breasts
How old were you when you had your first cup of coffee? This rhetorical question establishes the territory performed by IHOS Opera Laboratory. Five young men walk on stage and sit behind school desks. Sean Bacon's video images of coffee froth spiraling and melding in a green cup provide a striking visual backdrop. Each performer tastes his cup of coffee—a metaphor for the addiction to lyrics of pop music. Devised by Sally Rees and Matt Warren, Pop explores the potency of seemingly inconsequential pop songs to imbue memory with a snatch of melody or words years after the song's hit status has passed. "In my head the song goes on forever" exists as a measure of time and a trigger for memory. "Not a trace of doubt in my mind" from Neil Diamond's I'm a Believer plays on a suspended cassette player. The line is incessantly repeated even after the player is destroyed.
The performers' incantation of the words "verse" and "chorus" provides a humorous take on the pop song's formulaic structure and a clock counts down the song's length. Sound and video operator Stefan Morton screens talking head images of pop stars onto the school desk lids. Their songs leave a residue of pop a-cappella in the mind.
A Lizard Between her Breasts explores fragments of 3 tragedies by Lorca. It is an intense piece of music theatre composed by Raffaele Marcellino, directed by Anna Messariti and designed by Michael Bates. Impressively performed by the IHOS Music Theatre Laboratory, Lizard is set in the archetypal territory of a village community where life is harsh, moral codes are contradictory, and the hour of blood is never far away.
Lizard opens with a wedding procession. Two trumpets sound and the bride enters trailing an avenue of tulle. The deliberate tearing of the bride's gown dramatically changes the mood. The whispering and hatred commence. This is the province of old, dark bloodlines. We can already anticipate the trials of the human condition—the wife's barrenness, the husband's mistress, hypocrisy, misery, rejection and the affirmation of a child. The husband is like a lizard basking in the sun.
Central to the power of this production is Michael Bates' use of 3 backlit screens where the poses of the main characters are seen in silhouette, visually enhancing the narrative. Video sequences are projected onto the rock wall of the Peacock Theatre. The hem of a bridal gown drags over rock. A man and a woman joyfully run through a forest.
The work of Dmitri Ac on guitar, percussionist Ben Smart and the tight vocal response of the IMTL soloists and chorus are also integral to the power of the production. Despite heavy Catholic imagery such as anguished hand-wringing, the crown of thorns, stigmata on the mistress's palms and the bride's entrails drawn from her wedding frock in the final scene, Lizard is accomplished and exciting music theatre.
IHOS Opera Laboratory, Pop, directors Sally Rees, Matt Warren, designer Sally Rees, composer Matt Warren, video production Sean Bacon; A Lizard Between Her Breasts, director Anna Messariti, musicians Dmitri Ac and Ben Smart, composer Raffaele Marcellino, design & production Michael Bates, costume Sandra Alcor. For both productions: lighting Don & Reuben Hopkins, sound & video Stefan Morton, movement Jindra Rosendorf; Peacock Theatre, Hobart, Dec 12-15
RealTime issue #53 Feb-March 2003 pg. 46
© Sue Moss; for permission to reproduce apply to realtime@realtimearts.net