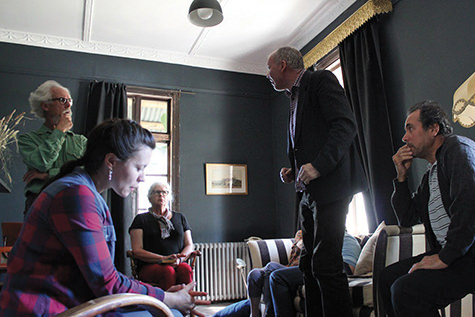 photo Tess Hutson
Uncle Vanya
"A groundbreaking version of Anton Chekhov's Uncle Vanya…the fourth wall of traditional theatre resoundingly broke down as the audience perched amid the action, inside and out."
Norie Neumark, Real Time
Read the full review here.
This acclaimed two-day, live-in, site-specific production, premiered in Avoca in 2015, now travels to the regional Victorian towns of Steiglitz, April 9 & 10, and Eganstown, April 16 & 17. The audience, with the performers, will move through and around the buildings in which they are staged. As well, "between the acts audience members can speak to the characters as they go about their lives. They will be invited to attend a number of talks presented about the history of the houses and the local area. They also have time to explore the local areas" (press release).
Melbourne's La Mama, producer of this event, declares Uncle Vanya to be "the first environmentalist play. Written more than 100 years ago, it is every bit as relevant today. The character Dr Astrov says, 'Forests are disappearing, rivers are running dry… the climate is spoiled…' words which resonate with growing urgency. The play (subtitled A Portrait of Country Life in Four Acts) depicts the lives of its characters—the economic difficulty of living on the land, isolation, tensions around property and family inheritance, people's resilience and deep family bonds. The themes of the play resonate strongly with contemporary issues of people living in regional Victoria" (press release).
For information about bookings, accommodation etc go to the La Mama's website.
RealTime issue #132 April-May 2016, web