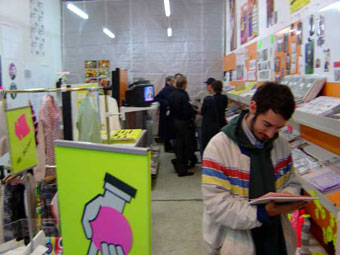 Topshop, Berlin
In 2004 Australian artists created cheap multiples for sale under the title NUCA (Network of Uncollectable Artists), their droll 'salespeople' appearing with cases at art events around Australia. Adam Jasper reports on a like venture in Berlin, though initially in a shop, but now online. Eds.
There are benefits to a depressed real estate market. Along the northern extension of Berlin's iconic Friedrichstrasse can be found an array of abandoned shopfronts, derelict warehouses and despondent government buildings. Specialist stores have made way for $2 shops, which in turn have shut their doors and papered over their windows. In their wake, galleries of a diverse nature have colonised the city, taking advantage of the cheap rents and desperate beauty that a decaying urban environment provides.
Topshop is a movement set up and run by a group of Berlin artists whose project bears witness to the capriciousness of a marketplace that has alternately indulged and neglected them. For 2 weeks of September last year their flagship locale was one of Friedrichstrasse's failed dime stores. Modelled on an imaginary supermarket chain, the store was decked out with wire shelves, products helpfully highlighted by 'Magenta Spot' specials, 99c bargain tables and special offer corners.
A Topshop is different from an ordinary supermarket in a number of ways. Firstly, instead of tight regulation of prices in line with supply and demand, original work is sold at an arbitrary price by the artist, with the emphasis on the absurdly cheap. Topshop artists tend to produce Fluxus-style multiples–usually small, cheap objects that have been manufactured in limited runs. The way they are sold follows the financial logic of mass produced commodities (pile it high, sell it cheap) but their production shares in the logic of exclusion associated with fine art (the object is the unique work of an artist). Samples and failures, as well as misguided concepts and mistakes, are sold for 99c a piece.
Secondly, and perhaps more importantly, Topshop encourages the unrestrained copying, appropriation and modification of artists' work. In the discount area, the exhibiting artists are free to decide which objects they will classify as "material for reproduction", but any work under that classification can be photocopied by shoppers at machines near the checkout. This cheerful encouragement of brazen piracy is offered as a sort of defence against the assault of industry on the last bastions of avant garde notions of authenticity and originality. Industry appropriates innovations so fast that it is impossible for innovators to keep up. If it's impossible to be authentic, because being original means owning a pair of Chuck Taylor Originals, then one might as well camouflage one's self with inauthenticity, with derivative ideas, with objects and concepts so far removed from their origins that they don't have owners anymore, and consequently can't be sold.
Many of the pieces enter into an explicit, knowing and mocking dialogue with the notions of value, price and prestige that inform the economics of the art market. Christian Romed-Holthaus, for instance, sold his artworks–small, egg shaped concrete sculptures–by weight, as if they were fruit. His work then becomes not so much the objects as the act of selling art as if it were primary produce.
Another play on the economic relations of supermarkets and their standardising power was made by Inga Zimbrich with her European Day Trip Bar Coder. The barcoder draws on an archive of generic experiences within European cities to generate a completely normal looking EAN–compliant 13 digit barcode recording the events of your day. Within the archive are all the activities, locations, methods of transport and equipment that might feature in a day trip, as well as descriptors, ranging from hectic to placid. An unintended advantage of the bar coder is that any standard bar code also corresponds to a random set of experiences. This means that ordinary consumables gain a set of connotative experiences. Weetbix will always be linked to a maudlin day in a sultry Athens with an umbrella and bicycle. Your day or someone else's, it barely matters.
One potential criticism of Topshop is its overt inclusiveness. Photos, clothing and pranks make repeated appearances. Catherine Shea's garishly coloured badges declaiming "Saying It Loud Makes It True" made sense, in that they are designed to be smuggled into stores and left for consumers in a reverse form of shoplifting that both commodifies the artwork and reduces its price to zero. However the contribution of Berlin duo Good and Plenty just seemed a joke, although admittedly one in the Fluxus vein: Genuine Yakuza Slippers, consisting of 2 concrete blocks and a belt. However, as Ulrike Brückner (who along with Sabine Meyer is Topshop's convener and founding member) pointed out: "The exhibition contained works of vastly differing aspiration. We were initially concerned that this would result in the denigration of some of the more serious works. But it was actually quite the opposite; the result was deeply exciting. To see these works of varying quality next to each other–for instance, a piece of museum-shop giftware next to an artwork with a rigorous conceptual content–had an astonishing effect. The statement of the artwork only became stronger" (my translation).
Chicks On Speed, the art school electroclash band and erstwhile darlings of New Musical Express were also prominently featured in Topshop, perhaps as representatives of the Berlin art scene currently most favoured by the vagaries of commerce. Chicks On Speed sold their new book It's a Project in conjunction with their new album 99¢ (I couldn't establish whether this album is named in honour of the Topshop bargain tables). Both book and music are marked by a pronounced DIY aesthetic, as if Chicks On Speed were never meant to be a real band, but a fake approximating a pop sensation better than most real bands. They also feature the only current Australian contribution to Topshop: band member Alex Murray-Leslie.
So is Topshop political art or a trendy prank? Collective vision or agglomeration? Futuristic or retro? Duchamp's 'readymades' of the 1920s (a bottle drier, a urinal, a snow shovel) constituted the most corrosive assault on pre-modern assumptions about art, but paradoxically also embody one of the few art manoeuvres that has never tired. They assert the peculiar right of an artist to simply declare their output art, as if by fiat. It is a strategy that reaches its dialectical endpoint in Manzoni's 1961 Merda d'artista (the shit of the artist) but has not ceased to resonate as a tactical possibility. But the commodities sold in Topshop are not exactly readymades. As Dieter Daniels (Professor in Art History and Media Theory at the Academy of Visual Arts, Leipzig) observed at the Topshop Panel Discussion:
"The readymade is a mass produced object that has been isolated from its kind. It is released from the masses, taken off the shelf, and set upon the stage as something unique. The multiple…is something produced in high numbers by an artist and could potentially end up in a shop, on a shelf." (My translation.)
It is therefore in Fluxus that the Topshop movement finds its appropriate historical roots, in the creation and dissemination of 'limited edition' artworks that are sold at such low prices they refuse to be identified as artworks, and are instead confused with prank objects, objets d'art, and novelty gifts.
In August a workshop on Topshop will be held at Estonia's Art Academy of Tallinn. Readers are encouraged to investigate the Topshop concept further and, in line with the official Topshop endorsement of piracy, are welcome to franchise, steal and misuse it.
Topshop, Friedrichstrasse, Berlin, September 16-26, 2004,
www.topshop-berlin.de
RealTime issue #67 June-July 2005 pg. 42
© Adam Jasper; for permission to reproduce apply to realtime@realtimearts.net