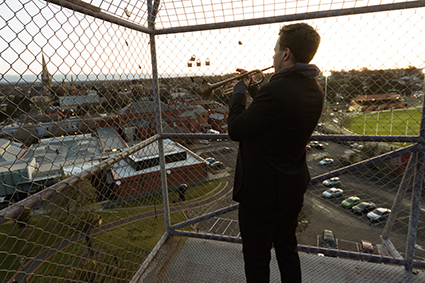 photo © Marty Willams & City of Greater Bendigo
Argonauts soloist, Forlorn Remix, BIFEM 2015
A brass and electronics fanfare by Thomas Reiner heralded the third Bendigo International Festival of Exploratory Music from atop the former mining tower in Bendigo's central park (above). Just down the hill another fanfare by Igor Stravinsky welcomed the audience to the Ulumbarra Theatre. The festival's opening concert was a fitting contribution to the ANZAC centenary: Austrian composer Olga Neuwirth's absurd, disjointed and critical live score to one of the first ever anti-war films, Maudite soit la guerre (War is Hell; 1914).
BIFEM continues to inspire audiences with some of the most exciting international ensembles and new Australian works. This year BIFEM welcomed the provocative Paris-based group Soundinitiative, as well as the Finnish ensemble Defunensemble. As always, BIFEM's warhorses, the Argonaut Ensemble, casually pulled off performances of contemporary masterworks and new commissions. The Amplified Elephants, Inventi Ensemble and a host of solo performers provided exquisite music from each mid-morning to early the next. The festival is thriving along with the regional city's cultural scene. As well as with the usual haunts of the Old Fire Station and the Capital Theatre, this year's festival inhabited the new Ulumbarra Theatre, which is stunningly built into and over the old Bendigo gaol.
Soundinitiative, The Exhausted
Soundinitiative presented the world première of Austrian composer Bernhard Lang's The Exhausted, a piece of musical theatre based entirely upon Gilles Deleuze's essay on Samuel Beckett. At a time when composers often make tenuous connections between their music and the texts upon which they are based, it was thrilling to follow Lang's complete immersion in Deleuze's text. Not that you had to know Deleuze's essay to enjoy the piece. Lang shifts mercurially between musical styles depending on the needs of the text. The ensemble itself is constantly engaging. From their staggered, repeated stage entrances to the piece's concluding bedlam, the ensemble was carefully choreographed by Benjamin Vandewalle. Performance conventions were unwound and remixed before our eyes, just as Beckett would play on sequences of everyday gestures and objects. Half speaking and half singing, mezzo-soprano Fabienne Séveillac transfixed the audience while standing, sitting, walking and hanging upside down from a table.
Defunensemble, All Finnish
Defunensemble offered to perform Australian music when they cold-called festival director David Chisholm, but Chisholm thought that "a postcard from Helsinki was too good a proposition for local audiences." Clad in sea-green and black clothing printed with intricate marine designs, there was something magical about Defunensemble's stage presence. Flautist Hanna Kinnunen's reverberant flute solo Ruoikkohuhuilu by Juhani Nuorvala confirmed the enchanted atmosphere. Australian new music audiences know little of Finnish music beyond Kaija Saariaho whose music is both so peculiar and yet so immediately comprehensible. Human-sized but uncomfortable, it is like a stranger's clothing. There was something similarly person-sized and walking-paced about the pieces by Nuorvala, Ville Raasakka, Perttu Haapanen, Niilo Tarnanen and Sami Klemola. From Raasakka's prickling attacks on harp, flute, and cello to Haapanen's duet for creaking cello and amplified typewriter, there were never more than two or three things going on at once. Each piece was highly segmented and narrative, but they told no particular story, nor engaged in any particular formal game. They were something completely different and a complete pleasure to hear.
Argonaut Ensemble, Sur Incises
The loose association of performers known as the Argonaut Ensemble stunned the audience with a performance of Pierre Boulez's nonet Sur Incises. A buzz of anticipation surrounded the work's first Australian performance in 15 years [the Australian premiere was conducted by Roland Peelman at the Sydney Opera House in August 2000. Eds]. Composed for three each of piano, harp and percussion, the piece is an idiosyncratic exploration of attacks and resonances, a sort of alter-spectralism that extends the piano's sonority around the concert hall through the harps and percussion. Conductor Eric Dudley's gestures were precise and fluid, especially where indeterminate attacks notated in the score resulted in splatters of sound like thrown paint.
From 32 to 43, the Argonaut String Quartet's concert 4x4x4 included four quartets by four different composers. The string quartet is the heirloom orchid of the new music world: outlandish, antiquated, but greatly admired if you happen to find one. This concert was an audience favourite, which is promising as the quartet plans to break the Argonaut tradition of only playing in Bendigo. The concert was a rare opportunity for Australian audiences to hear a quartet by Christophe Bertrand, a promising young French composer who tragically committed suicide in 2010. As Angus McPherson describes in his review (p40) of the concert, eight audience members were able to listen to perceptive audio responses by artists aged between eight and twelve from St Martins Youth Arts Centre. New Zealand composer Dylan Lardelli's sophisticated and intensely polyphonic Mapping, an Inlay wrapped the audience in a murmur of gliding microtones.
Trial by Fire Station
The solo recitals at the Old Fire Station have become a BIFEM institution. Reeling from Soundinitiative's performances, the audience tumbled into the tiny black box to celebrate a single performer's unique contribution to music in Australia. This year clarinettist Aviva Endean, violist Phoebe Green and prepared-pianists Erik Griswold and James Hullick each had their hour to shine.
Endean's performances gravitate away from her principle instrument the clarinet to encompass percussion, performance art and ritual. Endean's late-night performance at the Old Fire Station included her participatory work No Face like Yours in which the audience wears earplugs and "plays" them, following directions given by Endean in a video. From this warm and fuzzy beginning, the concert quickly descended into darkness. Endean left the audience with Wojtek Blecharz's Counter-Earth, a profound reminder of the civil war that continues to displace millions of people and destroy Syria's cultural heritage.
The contemporary master of feathered silence, Pierluigi Billone, contributed long, focussed works to both Endean and Green's recitals. Endean explored the resonant properties of two brass bowls in Mani Gonxha. Green conjured a remarkable range of wispy and grating tones from her viola in Iti Ke Mi. Billone finds new instrumental sounds in an age that has rubbed and tapped every part of one instrument to every part of another (a technique that Richard Toop describes as "instrumental promiscuity"). What I don't understand is the length of Billone's pieces. I awaited the epiphany after the 20th minute of bowl-scraping, but found only the same sounds that I had heard so far.
Loud and clear
Perhaps it was in reaction to this trend in whispering earnestness that several concerts ended with explosions of joyous virtuosity. Soundinitiative concluded their Made in France program with Raphaël Cendo's self-professed "saturationist" piece Faction. Defunensemble closed their All Finnish concert with Feed by the ensemble's guitarist Sami Klemola. His Marshall stack presaged the unrestrained energy of the piece, though his guitar textures never strayed into outright distortion. The whole piece is a dry, tight cacophony. Endean chose a different tactic, opening instead of closing her concert with the woozy squealing of Ablauf.
The fortissimo tour de force of the festival was without a doubt Alexander Schubert's Superimpose Cycle for jazz quartet (actually for seven players), which was performed to an audience packed behind the curtain of the Capital Theatre. The ensemble raced with breakneck speed through Schubert's multi-stylistic escapade, stopping, starting, tooting and crashing under the red light and smoke effects. Myles Mumford triggered static bursts and effects from his laptop beside the audience. The climactic, final episode featured Soundinitiative's Winnie Huang on amplified violin. Huang thrashed her way through the ecstatic violin part, a spectacle made all the more enjoyable by the unintentional half-beat lag introduced by Mumford's processing. Everyone agreed that this should be written into the score.
Talking (and writing) about music
There was sadly less audience interaction this year. BIFEM have persisted in their policy of not printing programs, but with several programs changes between the festival brochure and the performance those express-post letters to the waste paper basket proved necessary in the end. Last year, some performers worked around this limitation by introducing works themselves. Several concerts were also broadcast on ABC Classic FM's New Music Up Late. New Music Up Late has since been axed and the absence of Julian Day's mellifluous voice was duly noted.
If there was less talking during the concerts, there was certainly more afterwards with the addition of a well-attended festival club at the Schaller Studio. This year also included a Music Reviewers' Workshop run by Keith Gallasch, Virginia Baxter and myself from RealTime/Partial Durations. We led five talented writers—Delia Bartle, Angus McPherson, Charles MacInnes, Simon Eales and Jaslyn Robertson—through the marathon process of reviewing a packed festival program, providing passers-by the spectacle of eight frazzled critics tapping away furiously in a room of the Capital Theatre.
BIFEM's dedication to presenting some of the finest and most challenging contemporary music to Australian audiences has paid off. BIFEM's audience continues to grow at an alarming rate. But like Mount Everest, the increase in popularity risks stranding inexperienced climbers without food and water. Next year I will bring a survival pack: sandwiches, muesli bars and water for gorging on between shows; an LED light for reading the brochure during stage changes; and a pair of gloves for those icy walks to the festival club.
BIFEM: Bendigo International Festival of Exploratory Music, Director David Chisholm, Bendigo, 4-6 Sept
RealTime issue #129 Oct-Nov 2015 pg. 37
© Matthew Lorenzon; for permission to reproduce apply to realtime@realtimearts.net