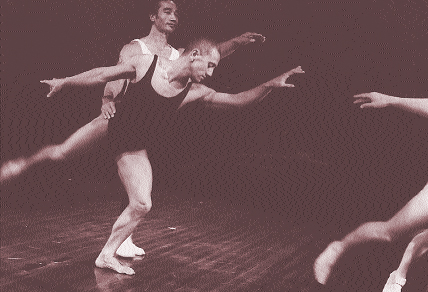 photo Heidrun Löhr
Black Grace
In describing what a dance might mean, people often refer to frames of reference, something which might indicate how to look at a dance so that it makes sense. These days, dancing is also about frames, demonstrating shifting perspectives, requiring the viewer to slide around multiple trains of thought as if over teflon.
In Face Value, we see Kate Champion through windows in a monstrous facade, tiny framed views of her various relationships with the world and more particularly with men, over the years. Another world far behind sends galvanic warnings of storm and stress. Lights flare and briefly illuminate a profound and scary desolation, a vast, empty space with rotting beams, about to collapse. Sometimes we also notice images that seem transparent in their invitation to see past her daily skin. Soon, however, we become aware that these images of her as uncomfortable yet willing model, anorexic, a woman slowly being crushed as she sleeps, are opaque. The blinds are down.
Frames also reveal secret non sequiturs. Kate Champion tells us about the profound relationship between a person's social skin and their inner life, assured that it is remarkable, a source of both strength and destruction. But the secret in Face Value is that we never get to see the hidden passage from one to the other. No artist's insight illuminates the way, and we are left stranded in unwilling collusion and vapid inference. Kate's gorgeous 34-year-old 'facade', in several costumes, remains the primary source of insight, and any talk we hear about menopausal decline and resurrection seems frankly spurious.
What did the six separate Bodies programs (Newtown Theatre) show us? Simply that the frames of reference for most young dispossessed dancers are so tight-arsed as to be suffocating. We are asked to find sustenance in a narrow and ill-fitting series of classroom steps, which for the most part, arising from ancient techniques engendered in the 70s, have lost any power they might once have had.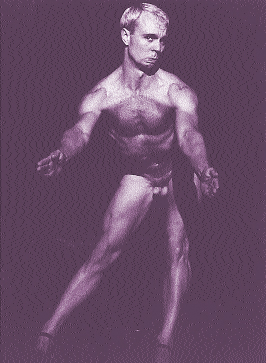 photo Heidrun Löhr
Dean Walsh, Hardware Pt I
But here's an interesting example of censorship! Dean Walsh with his riveting comments on male physicality, in Hardware Part II and Testos/Terrain, was obliged by the management to warn the audience to leave if they might be offended by his "male nudity" which included the riotous sight of his anus. It's a pity we weren't warned about another piece, Duet 4/4, in which two pre-pubescent girls were obliged to adopt sequences of 'pout, waggle and smile' as their preferred if naive style, closely accompanied by two older girls, no doubt demonstrating the condition they might be lucky enough to grow up into, if only they can smile for long enough. The idea of child pornography sprang immediately to mind.
But Dean Walsh's Testos/Terrain is not about homosexuality or even being male, but about being human. His insights seems hard-won, and profoundly embodied. His ghastly singleted 'male', who at first seems to have forgotten his opposable thumb, eventually shows us a place where instinct, animal curiosity, intelligence, and physical nature meet, way below daily manifestations of gender. At this junction, there is a well of polymorphous sensibility. For building a human home of whatever kind, boys' toys may just as well be lipstick here; the creative playing is the same, and it's only the tools of implementation that are different.
Jeff Stein's performance in Lard, at October's Eventspace at The Performance Space, showed another kind of physicality altogether. Unlike Dean, his is not defined by muscular and emotional depth, but by skittering skin-deep neural patterns, visible thoughts which tie up his frame in a kind of dance of simultaneous and conflicting directions. His being is expressed as if merely a series of whims, a collection of certainly more than two minds; he spars with spectres; he is ingenuous, just there, and sometimes he seems afraid of just taking up space.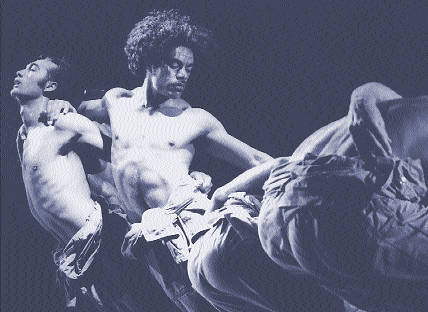 photo Heidrun Löhr
Black Grace
Watching Black Grace, an all-male New Zealand based group, as part of Pacific Wave at The Performance Space, was an unexpectedly moving experience. New company, first work, raging success: a terribly hard act to follow. Ex-football players, professional drag queens, nine dancers highly trained in western techniques among more traditional ones, brought a sophisticated humour, and a mix of lissom and weighty vitality to Neil Ieremia's personal statement. What to say about wanting to be a dancer ("Not a 'dancer', a dancer!") in a virulently hetero black Maori culture? Where do dreams of wanting to be weightless go? Is being a florist really unthinkably weird? The threads of these and other hard questions are unravelled as Black Grace's stories of personal experience are retold.
If their most conspicuous physicality has grown out of contemporary European dance lineage (Douglas Wright via DV8 and Batsheva perhaps), it frames glimpses of black traditions: urban rap and Maori haka for instance. Black Grace itself, in a literal sense, is about journeys across the world's dance floors, and about risking familial and peer group isolation in the attempt to comfortably embody simultaneous and divergent cultures.
There is very little gratuitous material in the choreography of Black Grace, not many extraneous gestures. It is straightforward and often poignant. And there is real joy in the visceral charge, the resilience of unabated competence, the smudged unconfined edges of movement made emotionally resonant, the streams of sensuality, and the heavy, moist thwack of muscle and sinew thankfully audible when the other music stops.
–
Face Value, Kate Champion, The Performance Space November 8-12; Bodies, The Newtown Theatre October 23-November 10; Eventspace, The Performance Space, October 30; Black Grace, The Performance Space, November 15.
RealTime issue #16 Dec-Jan 1996 pg. 9
© Eleanor Brickhill; for permission to reproduce apply to realtime@realtimearts.net