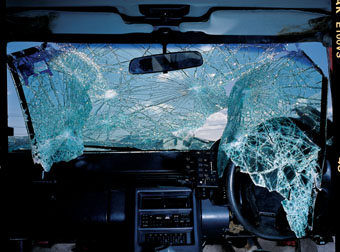 Jeff Busby, Amplification
According to Paul Virilio, the invention of the highway was the invention of 300 cars colliding in 5 minutes. Perhaps the invention of the imaginary car of all those glamorous car advertisements designed to appeal to male fantasies accounts for the appearance of Amplification, a new book by Melbourne photographer Jeff Busby featuring 21 eerie images of car wrecks.
In vivid colour printed full-bleed on mirror gloss paper, Busby's camera lingers on the crushed folds of metal, the rust-stained dings and dangling diffs, the wild patterns of smashed windscreens against blue sky. Turning each slippery page takes you from outside the car, inside past torn upholstery and deflated airbags and out again, and never a word—nothing to distract your eyes from their smooth if unnerving ride.
Jeff Busby is a Melbourne-based photographer with 20 years experience and particular interests in arts and entertainment, architecture, landscape and designer-based work. He is best known for his impressive performance photography.
Amplification is the latest title from 3 Deep Publishing, a company specialising in the work of emerging and established artists. "Each title is considered and detailed, its form and production values, serving to extend and highlight the artist's/designer's conceptual premises and approach to their work." Bird, by young Melbourne designer Kat McLeod, replicated her original hand-embroidered pages and has since won several national awards for design, publishing and illustration. 3 Deep has recently procured distribution rights from international publishers Lucas & Sternberg (NY), Richter Verlag and Quart Verlag (Germany).
Jeff Busby, Amplification, 48pp, hardcover, 210 x 310mm, 3 Deep Publishing, Melbourne, 2004 ISBN 0-9580508-2-1, $85
RealTime issue #60 April-May 2004 pg. 13
© Virginia Baxter; for permission to reproduce apply to realtime@realtimearts.net