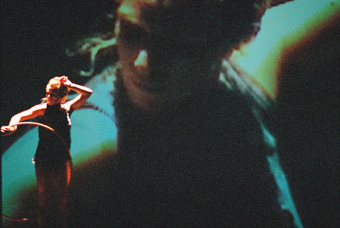 photo Justin Nicholas
Chelsea McGuffin, A Love Supreme
You don't play the beat where it is. You draw a picture away from the beat right up to its core with different notes of different sounds… so continuously that the core is always there for an open mind.
These words from jazz musician Charles Mingus introduce the program for A Love Supreme, Circa's premiere production under its new name, Circa: Rock 'n' Roll Circus Ensemble. The name change reflects the company's aim to "head towards new circus horizons" and this production continues a venture begun with Sonata for 10 Hands and Figaro Variations in creating a new dialectic of music and circus.
In A Love Supreme, artistic director Yaron Lifschitz takes on jazz, but it's not your cruisey type jazz. We're talking Mingus's angular and discordant The Black Saint and the Sinner Lady, a disturbing and demanding work offering the type of centreless challenge Mingus evokes in his words above. The music is confronting enough, let alone in conversation with circus. Bravely, Circa opens this improvisational show with 35 minutes of it. Matched with restless large-screen projection of animated text, the music and design overwhelm the performers as they try to display their tricks, interact with the screen text and complete their acts. Equally challenged is the audience attempting connections, not quite knowing if or when to applaud. We're only partially comforted by the fleeting appearance of a message onscreen; "I feel no need to explain."
This is courageous but difficult work for performers and audience alike and when the first act finishes with spinning china plates coming to their crashing ends in a suddenly silent theatre, there is immense relief. It's like the first act split us open: the onstage onslaught and incompleteness jarring all too well with our complicated, imperfect lives. Feeling vulnerable, we accept the melancholic "spiritual quest" of act 2 with John Coltrane's A Love Supreme. Four upstage spots allow for the improvisational antics to continue, but Coltrane's saxophone offers a more poetic narrative with which to connect. The projection screen is softened with sepia realtime footage of lone figures performing centre stage: a man lying on the floor juggling, a woman caressing her hoops in a dance of strange solitude.
Some momentary images are extraordinary: in low light the spinning hoops create fascinating horizontal patterns across the moving body. And a high impact fragment is created when a couple form a feverish writhing sculpture of co-dependency within a single hoop while, across the stage, a man sits straight-spined and impassive on a chair as a woman teeters precariously on the chair's back. He leaves, she stays, and the chair miraculously stays upright.
The contrasting acts of A Love Supreme are complementary, but with an uneasy tension—beyond what was intended—in the Mingus piece. Improvisation demands limitless energy and a confident intuition for the spontaneous ebb and flow of making work with an audience in situ. While the piece is about the very ideas of chance, fragmentation, and centrelessness, the ensemble's improvisation (modelled on jazz techniques) felt much too tentative. The risks still felt too high for the performers to fully embrace the challenge of the improvisational and many tricks (apart from the intentionally incomplete) were miffed as a result. Then again it was a nervous first night and the show will undoubtedly grow. It made me think, however, that perhaps one of the fundamentals of circus, no matter how ironically self-reflexive and discipline-shattering, is the opportunity for performers to display unfettered skill. Somewhere amongst all the gaping unease and thwarted desire this important new work evoked, we still revelled, if fleetingly, in the human body amazing.
Circa, A Love Supreme, creator Yaron Lifschitz and the Circa Ensemble, performers Darcy Grant, Chelsea McGuffin, David Sampford, Rockie Stone; The Judith Wright Centre of Contemporary Arts, Brisbane, March 31-April 10, North Melbourne Town Hall, July 28-Aug 14
RealTime issue #61 June-July 2004 pg. 8
© Mary Ann Hunter; for permission to reproduce apply to realtime@realtimearts.net