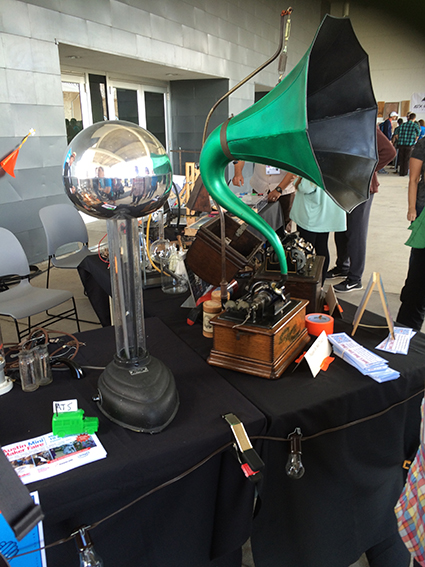 photo Catherine Fargher
The Market SXSW
I make my way to the Austin Convention Centre on the day before SXSW Interactive commences to meet Kylee Ingram, an Australian producer with her own company, Elevator Entertainment. Digital entrepreneurs are already hawking their wares and Kylee and I are greeted by Kyle Kemper, a 'virtual exchange' guru from Ottowa Canada.
Looking like Charlie from the Chocolate Factory, Kyle is a spruiker of Bitcoin. He charms many attendees by offering virtual currency for beers, pies and popcorn, depending on guests' countries of origin. This kind of promotional activity is a strong strand of SXSW, along with trade pavilions, startup hubs, game pavilions, keynote speakers and specialist conference strands in areas as diverse as gaming, art and science, content and distribution, marketing and branding.
Maker movement and gaming pavilion

On day one, I make my way to SXCreate where a range of inventors, scientists, makers and performers spruik 3D printers, electrical gadgetry, robots and VR goggles to the public and offer live science-show performances. I note the space is full of curious and inquisitive locals and their kids doing hands-on interacting. Unlike the Gaming Pavilion, a mix of commercial and indie game makers and sellers, this space has a distinctly DIY feel and something of a steam-punk paradise about it.
Lovejams, Art Games & Game Innovation

At the Long Centre Gaming Conference sessions, I attend a session titled Lovejams, Art Games and Game Innovation at USC with developer Tracey Fullerton, an Associate Professor at University of Southern California School of Cinematic Arts, director of their Game Innovation Lab. She has made a series of games that are both educational and creative. Walden, a game, simulates the experiment in living made by Thoreau at Walden Pond in 1845-47. Fullerton notes that games are not a "can opener to teach specific things." She suggests that gamification as a concept can be misleading. "Games don't make things easier, they make things hard. At their best they challenge the intellect, and make you learn in new ways."
A game creating a buzz throughout SXSW is Never Alone, a collaboration between Alaskan Inuit storytellers. Nearly 40 Alaskan Native elders, storytellers and community members contributed to the development of the game. The Cook Inlet Tribal Council's CEO Gloria O'Neill, is also the founder of Upper One games, which merged with Alan Gershenfeld's E-Line media to create this BAFTA-winning game—a direct partnership with the Indigenous people themselves in an inclusive development process requiring serious commitment from all parties, from initial concepts to final product. Inspired by the rich art and imagery of Alaskan Native cultures, Never Alone brings the atmospheric and compelling world of traditional Iñupiaq stories alive. The developers expressed interest in sharing this model with other indigenous communities, such as Australia's, as a tremendous opportunity to delve deeply into folklore to find stories that can be expressed in unique ways through video games for sharing with global audiences.
Games redefine learning

I saw many exciting projects from Canada, specifically Quebec. Brothers Devin and Shawn Young created Classcraft, an online platform that turns any classroom into a giant role-playing game for the school year. Its success resulted in a $1 million grant from the Canada Film Council and the game being used in schools throughout the world, including 31 in Australia, ranging from late primary to high school. The game was developed initially as a basic prototype in Shawn Young's work as a Quebec high school teacher, mainly as a means of motivating at-risk students to become more involved in classroom and group activity. It developed into giving student teams 'character identities' in a fantasy game environment, allowing them to 'play' in a series of quests as well as random activities.
Quests might involve battles in which special powers are awarded, which create real life outcomes, such as the opportunity to submit an assessment a day late, or in the case of a punishment incurred in the game, students might be required to read unfamiliar poetry in front of the class. Random game activities might include "today's event" where "The Kitty Master" informs students that "you are cursed by the crazy cat lady," so everyone must end sentences with a "miaow" or lose 5 points. Students' involvement has become such that they are attending school to stay with their team and achieve results, and to see what todays 'random' events might be, which translates into growing self esteem and real life education outcomes. Classcraft play might take six to ten minutes of the day, alongside regular curriculum activities. The fact that the game is fun to play, rather than being an educational game per se, and has real life outcomes that are meaningful to the students, has led to its phenomenal success.
The Future of Storytelling: FOST

FOST founding member Charles Melcher, once a leading New York publisher, explores ways of learning, appealing to multiple learning intelligences via interactivity. He argues that interactive publishing can allow for the Socratic tradition (of dialogue as educational) to be extended, given that when something is written down it can become 'dead' language and microtonal facial expressions and subtlety of hand gestures are lost. Research at Columbia University has shown that by using new media to work with kids with disabilities such as Dyslexia and ADD, various cognitive recognition modalities can be used. Melcher suggests that it will take a while before we work out the unique properties of new media as we are, to some extent, still 'setting up the camera.'
Immersive storytelling & the internet of things

Lastly I see Lance Weiller, one of the immersive storytelling leaders in the US who inspired me to come to SXSW. Along with Sagaworld.ca's Jonathon Belisle and Vincent Routhier from Quebec and interactive toy design, video mapping and projection artist Meghan Athavale from Winnipeg, Weiller discusses the basic grammar of telling immersive and interactive stories. Surprisingly, his methodologies for storytelling and building scenes and narrative borrow strongly from cultural storytelling and mapping exercises popular in community cultural development and theatre models from the 1980s to today. His tools include telling stories with objects, creating scenes with post-it notes and finding the hot-spots in a story; all storytelling and theatre conventions in use today. What is different is that Weiller encourages his postgrad students to use wearables and sensors as their objects within this process, creating an environment where a story can be told in a networked environment where the 'internet of things' [physical objects embedded with electronics etc. Eds] creates context and interactivity.
Throughout the sessions with interactive storytellers who build educational and immersive games, the message was the same: games explore play based on series of skills. If you use the skill sets and methods that you already possess to collaborate, play, build groups, communicate or tell stories, game designers can go from there and find systems and mechanics for users to 'play.' Unless the process is clear, recognisable and usable by groups, and the skills have relevance to that group, the games may not succeed. Vincent Routhier echoed this idea, when he suggested, "so many developers are caught up in developing the tools, they haven't actually worked on the play methodology."
Back in Australia, I note how often people say 'no' to new ideas and products. We are used to many forms of cultural funding coming from government sources with well-worn paths to specific ends, often via gatekeepers. The US freemarket economy culture, which is creating a burgeoning podcast, YouTube and maker culture is different from Australia. We expect wages, and to make a living. Fair enough. That's the Australian way except when it isn't an option. Texas, the taxi driver tells me is 'a non union state,' and that means that start-ups don't need to provide standard wages; all kinds of deals can be struck independently, with contracts or without. I imagine America in the 19th century, when industrialists and inventors were speculating and creating cars, railroads, lightbulbs, skyscrapers, the products that rode the waves of steam power, electricity and steel. At SXSW, despite the risks, I see that a decade into the new millennium the same sorts of speculation are occurring in the information revolution, technology start-ups, the internet of things. A new frontier will lead to a new order of things, great profits for some, and will favour the brave.
SXSW, Austin, Texas, 13-22 March, 2015
RealTime issue #127 June-July 2015 pg. 16
© Catherine Fargher; for permission to reproduce apply to realtime@realtimearts.net