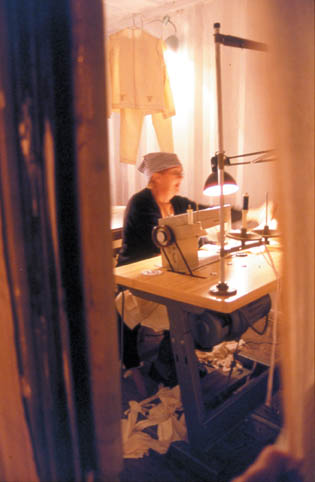 Life Suit, Sussio Porsborg
The Artrage festival has long held a crucial position in the arts landscape of WA offering one of relatively few opportunities for a diverse range of local arts practitioners (particularly younger ones) to initiate project-based works that are highly experimental, contemporary and sometimes risky. (See RT51 for an interview with Artistic Director Marcus Canning.)
One of the key aspects of Artrage 2002 was the strategy of excursions into new spaces, a new network of festival locations ranging from suburban Midland to inner city Northbridge—notably in the park across the road from the new Artrage Breadbox gallery/ Blackbox performance space venues. While this involved a degree of struggle and chaos — freak strong winds, rain, street shenanigans and over-policing—this intermingling of art'n'life was ultimately a welcome initiative. The conversion of the park into Moongarden thrust the festival into the public realm with the Strut & Fret performers on their circus rig (especially Shenzo Gregorio's stunt violin antics), tree-bound trapeze with the E OI collective and the tongue in cheek playfulness of the Lunar Circus.
The MoonGarden was also the site for The Golden Dawn Project, a performance installation based on the Kabalistic pattern of the Sefirot (Tree of Life) devised by the Eater Presents Collective. Despite opaque arcane references and noise spilling in from outside, this work allowed viewers autonomy in navigating their own meditative journeys. Another engaging project in MoonGarden was Sussio Porsborg's Life Suit, a shipping container housing 4 sewing machine stations, the deceptively sweat-shop aesthetic concealing a model for participatory democracy—'the wearer principal.' People were able to sign up to learn all the necessary sewing skills for each to construct their own 'life suit', customizing themselves a calico 'toile' from a generic pattern. Keen participants threw themselves into hours of life-suit labour realizing the project's potential as a committed and engaging experiment.
A key interventionist work, however, suffered a severe case of untimeliness. In the wake of the sad toll of the Bali bombings, it seemed a hypersensitive moment for the presentation of the PVI Collective's satiric scrutiny of the form and language of security—anxiety and terror-angst in Terrorist Training School. (This traveling bus tour of Perth's nether regions has been briefly deferred both out of respect and in response to the need for clearing space around these burning-issues-of-the-moment…stay tuned.) A key spatial intervention was Hotel 6151, for me the hands down highlight of the festival. Here nearly 50 artists operated in collaboration with conveners Christian de Vietri, Ben Riding and Heather Webb to bring 6 floors of a doomed-to-demolition hotel site into being as a dense and exploratory journey, a multisensory aesthetic engagement (see Bec Dean's online report). On the theme of spatial intervention, a guest of the festival was Parisian street artist Space Invader, whose notorious arcade game pixel-images have infiltrated many urban sites internationally. A map of local 'invasions' revealed a welcome interference with the beige hegemony of Perth's spatial politics. Space Invader's work featured in conjunction with the MonoCulture group exhibition curated by Mark McPherson. This sophisticated collection of street-wise graphic works made a strong showing at the Breadbox Gallery.
The satellite events based in outlying Midland also extended the scope of the Artrage program (even down to the curious travelogue series of G Arden Gnome photos featured on Midland trains). I arrived at the opening, Firestarter…The Art Feast, post-carnage, with only the departing crowd and the remains of smouldering book piles, cooling spit-roast carcasses and trolleys of aging tidbits testifying to a strange, pungent night's extravaganza. The premiere performance of Rachel Dease's the scoundrel is made an outcast with the Schvendes Ensemble offered a rewardingly languid ambience within an intimately refined soundspace—a haunting vocal presence with rich strings and wayward jazz percussion elements.
The Urban Anxiety exhibition utilized a defunct Midland bank site, offering an examination of the makeshift economies and nomadic survival strategies of the disenfranchised. Curated by Kate McMillan, the show brought together thoughtful works reflecting textures of human detritus through traces and allusions: photographic documents, including Ric Spenser's large prints of alleyway flotsam, Edit Oderbolz's miniature spatial propositions and scale manipulations, and McMillan's image of the urban shanty home of Japanese internal economic refugees. These were complemented by Raquel Ormella's generic laundry tote bag lettering, S T A Y, as iconic motifs for restless displacement, and Matt Hunt's illusion game of partitioned rooms brimming with mounds of coloured popcorn, later revealed to be propped up with cardboard (playing on the first world-third world polarities of maize as-currency/as-nutrition/as-junkfood).
Another intriguing gambit into alternate space occurred in the voyeuristic pleasures of Peep-In Death, housed in the upper floor of the Risque Erotica premises. With works compartmentalized into booths and requiring the authentic insertion of $1 or $2 for each viewing, Peep-In Death presented the staged 'death-of-the-artist' as peepshow amusement, featuring the works of a series of artists grouped as Arti-Choke (Ainsley Canning, Maya Catts, Sohan Hayes, Cat Hope, Sedon Pepper, Simon Perecich, Tanya V, Karl Ford, Petro Vouris). This offered such deliciously macabre performance moments as the meat-corseted martyr grinding hearts into a mincer while gazing at poster-boy photo (Tanya V); and the superb fish-eyed view into an immaculate white tiled toilet replete with a white-suited-fleshy-dome-hatted figure doing the 'shakin' shaman' dance, summoning the spirits of Onan to a hilarious bluegrass hoe-down soundtrack (Canning); or the flaky video fate of scratching to death (Hayes) amongst other near-death experiences. Similarly The Tall Concrete Project, presented by /G.B.Kjub'Ed/, offered an innovative dance work sited on a city car park rooftop, featuring digital animation and electronic soundtrack drawn from the sounds of the carpark itself.
The sprawling program offered some excitingly fresh contexts for works despite the inherent hazard of becoming diffuse. As well as the projects already mentioned, representing a select slice of the larger works undertaken for Artrage, there were many other notable often smaller works contributing to the overall experience. These included the oscillating laser-gridded Clownhead (Richie Kuhaupt, Geoffrey Drake-Brockman); the candy encrusted MoonGarden folly, Ginger Bread House (Sarah Contos); the photographic street presence of Museum (Alin Huma) and Line of Sight (Tony Nathan); the dense construction of 11,000+ text-bricks in Bookmaze (Poets of the Machine, Ganz & Blum); the confessional voyeurism interactivity of The Booth (Jen Jamieson); and the activist art workshops and forums of Beyond Border Panic with Deborah Kelly.
Artrage 2002, Perth. Oct 15-Nov 4, www.artrage.com.au
RealTime issue #52 Dec-Jan 2002 pg. 8
© Felena Alach; for permission to reproduce apply to realtime@realtimearts.net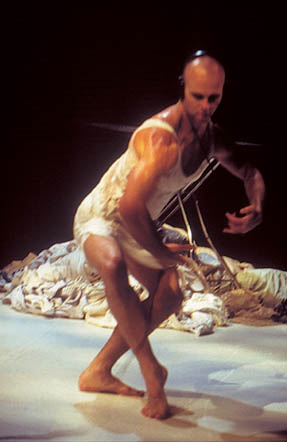 photo Heidrun Löhr
Dean Walsh, Flesh:Memo
2002 got better and better for Sydney-based dancer and choreographer Dean Walsh. This indiosyncratic and provocative artist was awarded the prestigious Robert Helpmann Scholarship by the NSW Government, a development grant by the Australia Council, and he was declared Outstanding Male Performer at the recent Ausdance Awards for his role in the Australian Dance Theatre's Age of Unbeauty. Walsh is also one of the choreographers selected for the Ausdance (NSW)-Sydney Dance Company Space for Ideas project.
The Helpmann Scholarship will enable Walsh to research and develop a work with DV8's Lloyd Newson in London in early 2003, and to collaborate with Paul Selwyn-Norton, an independent choreographer and performer working between Amsterdam, Tel Aviv and Sydney. The Australia Council grant will contribute towards his work with Andrew Morrish on improvisational techniques and with animator/film maker Antoinette Starkeiwicz on an animation/live action version of Walsh's Unspeakable Acts. Starkeiwicz's animation is "very beautiful and unique," says Walsh. "It suggests a moving expressionist painting."
Dean Walsh has collaborated on 12 works with performance and dance companies over the last 10 years, most recently in Garry Stewart's The Age of Unbeauty performed by ADT at the 2002 Adelaide Fringe Festival then at the Drama Theatre, Sydney Opera House. He was choreographer for the Australian premier of Giordano's Andrea Chenier for Opera Australia in 2001 and its restaging for the South Australian State Opera Company. He has also made 16 solo works, 5 of which have toured nationally and internationally. He was part of the cLUB bENT tour to Britain in 1996 and the New Moves (new territories) international dance festival (Glasgow, 2000). In Sydney he has performed in cLUB bENT and Taboo Parlour (Performance Space, Gay & Lesbian Mardi Gras) and in Independent Dance Collections between 1995 and 1999. His Retro Muscle-Song was part of the Mardi Gras Festival Foursome program in 2000 and was the genesis of Maternal Tattoo which he presented as part of his Flesh: Memo for the 2002 Gay Games Festival.
* * * *
Dean Walsh's diverse professional and personal experiences each inform the other. He began working life on the rooftops in the 'burbs as a roofing plumber and now struts his stuff on stages around the world. From cLUB bENT performances that were more like flagrantly fleshy peep shows than high brow dance, Walsh has refined his up close'n'personal style to create works of visceral intensity and mathematical precision. From avant-garde to mainstream, peepshow to pomo, Dean Walsh owns it all.
What was Walsh's early experience of dance? "Until the age of 20 I really didn't know what dance was…I mean I knew that ballet existed because, when I was about 7 years old, my grandmother took me to see the The Royal Ballet Company movie of The Tales of Beatrix Potter. I remember sitting there stunned. It was one of those defining good memories."
Another memorable performance during his childhood was a Disney on Parade extravaganza where the audience's focus became split between the colourful action on stage and a severe storm building up outside. "The storm eventually ripped a massive hole in the tent ceiling creating a chaotic mass exodus. Larger than life Disney characters, like the Big Bad Wolf, were telling people to be calm only to have the kids scream even louder in terror!" Walsh says he wasn't exposed to any "artsy dancey culture." Meanwhile domestic reality was biting hard: "My background was one of disruption and high Richter scale violence and other more insidious abuse as an everyday way of life—one of those families marginalised by income where freedom of choice is cut back to the bare minimum. It was the kind of family life where insight comes from hard-lined reality, not through money and good education. It was an environment of continual fear and hate and emotional upheaval. I lived in a perpetual state of feeling unsafe and sometimes the threat of fatal violence would be heavy in the air!"
Walsh's candour about his experiences carries through into his solo works which he sees as "shifting through many variations on interconnecting themes, mostly around notions of sexuality, gender, homophobic aggression and extremes in family life. But, having stated that, I think there's also been a considerable focus on liberation." He knows however that "a lot of people find straightforward talk about these issues hard to hear. My rebellion and frustration have come not only from my experience but also the ignorance I have sometimes felt in the dance community when I speak about depicting these themes. For me it's a case of don't worry, I'm not victimising myself on stage here, I'm fully empowered and energised by the knowledge that this material is loaded. This relationship I have with you as audience is precariously balanced. But that is exactly why theatre and dance can embody these themes so powerfully."
Walsh describes his early life in lurid terms as something like The Days of Our Lives amplified 50 times with the colour and sound turned up full: "my heart pounding with fear, an adrenalin rush that has taken many years to even begin to learn to calm." The first hint of stability happened at age 17 when his uncle invited him to join his roof waterproofing company for $40 a day. "There I was, half-a-labourer on the roofs of Sydney, trying to be as heterosexual and blokey as I could because these boys in the company were seriously homophobic! So I spent that period day-dreaming far across other roofs, looking for a future. Had someone told me then that I'd end up in dance, I might have given them a knuckle sandwich!"
* * * *
How did Walsh move into dance? "After 3 years on roofs and various uninspiring jobs, I asked an older friend if she could suggest a way I might change my life's direction. She took me to see the British company, Michael Clark and Co, at the Seymour Centre and I was like, wow, now that's what I want to do! It was an epiphany and a real nod to the future! It was a work with lots of sexual naughtiness, fresh imagery and balletic precision to a thumping soundtrack by 80s UK Punk band The Fall. So 2 weeks later, in late 1987 at the age of 19, I went off and did a class with Margaret Chapple at the Bodenwieser Dance Centre in Sydney. With her incredibly thorough dance classes I was able to get ahead. Mind you, I was doing something like 17 classes a week in contemporary, ballet, jazz and yoga!"
What was Walsh's first gig on a professional stage? "I applied to The Performance Space to choreograph a group work for the first of their Open Seasons in 1991—a naive and very dancerly little piece. I kind of got the idea that people thought it was well crafted but very prissy." But Sarah Miller who was then Artistic Director pulled me aside and said, 'Yes, okay, but tell you what, come back next year with a solo.' I went back in 1992 with my first solo Subtle Jetlag."
The theatrical rigour of The Performance Space was alluring to Walsh. "It became a space where I could finally put a voice to the unspeakable. So there I was, running around embodying male violence and stroppy old characters…one friend now recalls that I 'reminded her of a policeman' in my early work."
In 1995 cLUB bENT arrived on the scene, a cabaret smorgasbord of flesh and fuck-you attitudes that has been imitated but never repeated. The imitations lack the nefarious nastiness, intellectual bite and pornographic style of the original. It was part of queer life that did not fit into the gay gym junkies and bean-counting board members who represented the Mardi Gras establishment. Walsh comments: "cLUB bENT was a great platform for investigating all that is queer in society and in dance. It epitomised the demimonde."
Why was cLUB bENT such a powerful influence on Walsh's work? "I had a touch of internalised homophobia and began to consider the possiblity that perhaps other gay men might harbour this same confusion, and that its roots were in intense paternal homophobia and sexual abuse. My blood father never let up on policing and belting out of me my every move that seemed effeminate to him. When I was 11, my step-father moved right in and saw my feminine side, coaxed it out of me and, through violence and the threat of it, discovered that he could have his way with me sexually. So on discovering that this happens to other males and that they felt as confused as me, I thought it was an empowering voice to put on stage.
"I came on in my birthday suit and a pair of high heels. I called it Hardware Part 1 for the plumber in me! I designed my body into drag-esque and fashion model posturing to a song about sirens and a manipulated live version of Marilyn's My Heart Belongs to Daddy. The word 'daddy' was vocalised as a cough and a choke and at the very end I gutterally screamed 'daddy' before I repackaged my limbs calmly with a glowing smile.
"I wanted to make a piece that would push the audience to see beyond the naked male body, something we don't see that much in public, and to witness the body passing through various stereotypical masculine and feminine states to reveal an interior emotional and pyschological pain. Being able to explore this subject matter on stage and test the edges of performance was very important to my growth as an artist and I owe a considerable amount of my present success to cLUB bENT and Performance Space."
Walsh's exploration of his personal plight and its wider ramifications has informed his solo work right up to and including its most complete statement to date, Flesh:Memo. However, working with other artists in performance and music theatre has contributed significantly not only to his performance capacities but also to his sense of form and the possibilities of collaboration.
In 1995 he appeared in Nikki Heywood's Burn Sonata, a searing performance work, without words, about a dysfunctional family. "Working within a powerful group of mature performers and with a generous and talented director was empowering for me. It was a very powerful and physical work. The cast was made up of performers who work in various physical ways and we did daily 3 hour warmups using Min Tanaka's Body Weather technique. This became the common physical ground that we employed within the work and on subsequent projects.
"Another director I've worked with a number of times and whose style and radical approach to theatre has assisted and influenced my own is Nigel Kellaway. I first worked with Nigel in 1994 with Sidetrack Performance Group on FRIGHT!!!. In 1997 Nigel and soprano Annette Tesoriero set up their company, The opera Project, and I performed in 2 works, The Berlioz and The Terror of Tosca. These works deconstructed opera on a small scale but with a large, very physical theatricality. With both Nikki and Nigel I learnt how to manipulate theatrical form and embody very different physical and vocal spaces on stage.
"Probably the most enjoyable and gay-friendly experience I've ever had on stage would be when Brian Carbee and I performed our collaborative work, Stretching It Wider, in 2001 for the Sydney Gay and Lesbian Mardi Gras Festival. Brian instigated the concept and the project and was very receptive to my ideas. In the equivalent to 3 weeks rehearsal we had a full-evening show made out of friendship and a desire to tell it as it is."
Do all the awards achieved this year signify a shift in direction for Dean Walsh? "I want to use this period to develop my performance practice and future solo and group works. This doesn't mean that I plan to leave my queer-focused work behind me. These ideas will work their way into future work but they'll be more informed by other processes and perspectives. I guess it's about keeping true to what you believe to be your own creative strengths but also instigating shifts to set up challenges, something that has been very difficult out there in the independent arena without financial assistance."
* * * *
Looking ahead to working with Lloyd Newson, Walsh says, "I'm very interested in the ways in which he orchestrates the moving body to express so much, especially the unspeakable…DV8 was formed out of a desire to demonstrate how important aspects of the social realm could be powerfully presented through movement. I think the important thing is to not shy away from depicting the depth of the social experience; you know, dance for thinking adults.
"Lloyd has expressed interest in my work and I've asked him to act as a mentor of sorts. His primary focus is on content, without being literal, and its readability through fluid movement with an emphasis on release technique. I think his concerns are with the visual but also the emotional levels that can be depicted without the over-use of text or obvious dramatics…how it can effect an emotional space for the audience, and this really speaks to me."
About his other collaborator for 2003, Paul Selwyn Norton, Walsh says, "He begins with content and crafts an almost geometrical abstraction within his various choreographic systems. This includes setting up improvisations directly associated with the various themes he's presenting so that the dancers play a significant role in the discovery of the material. As an audience, you feel a solid theme beneath the immediate physical presentation."
Of his own audience, Walsh says, "I like to leave space for people who may have experienced very little, if any, sophisticated dance. At the same time I present vocal or visual ideas that may confront or cause them to squirm in their seats, re-adjust their protective body language one minute and perhaps have a good, limbs-akimbo belly laugh the next. If someone comes up to me and confesses how much the performance spoke to them, and they tell me they've never seen dance before, and that they live at the edge of suburbia (where, by the way, life is truly abstract but emotions are very real), then I feel at my most gratified for doing what I'm doing! Same too for having academics or colleagues giving me the thumbs up or offering helpful criticism. But ultimately my work is directed from a real space in reference to my life…challenged or not by other people's points of view."
Barbara Karpinski is a journalist, playwright and film director. Her award-winning documentary, Night Trade, about love and war, screened at Chicago, Rio de Janeiro and Melbourne International Film Festivals.
RealTime issue #52 Dec-Jan 2002 pg. 21-
© Barbara Karpinski; for permission to reproduce apply to realtime@realtimearts.net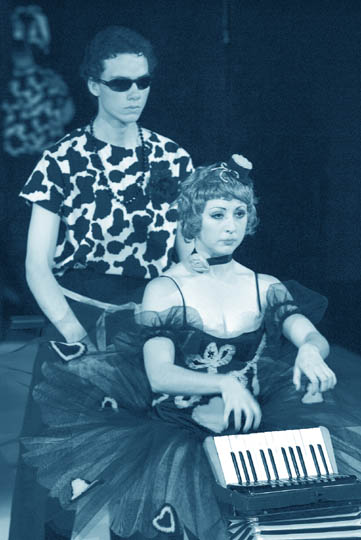 photo Phil Hargreaves
Ramsey Hatfield, Lisa O'Neill, Doll 17
I feel that strong emotion must leave its trace; and it is only a question of discovering how we can get ourselves again attached to it, so that we shall be able to live our lives through from the start.
Virginia Woolf
This statement not only encapsulates the strong residual 'feel' of Frank Company's Doll 17, but also connotez Frank's distinctive performance concerns. It simultaneously defines the task for the actor; the dilemma facing the characters; and designer John Nobb's aesthetic referencing of Ibsen's A Doll's House as much as Ray Lawler's Summer of the Seventeenth Doll.
Pink, 50's boudoir pink, was everywhere: scintillating in the costuming and the fake fur-lined wall denoting an arch female 'interior' from which exits and entrances took place via a revolving mirror door signifying an anterior reality, not a conventional 'exterior.' The audience was circumscribed by mythic time, witness to eternal recurrence rather than linear exposition. In Olive's space, time was the enemy: "If I could hold back time…", "It's nothing to do with our time" and no realisation that "There's a time for sowing and a time for reaping" as the Chorus had proposed. The clock was set at 3 minutes to midnight, and at the end struck 12 as if winding up for a repeat performance of this inverted Cinderella story.
Doll 17 styled itself as a theatrical fantasy based on Lawler's classic Australian play from the 50s about 2 cane-cutters, Roo and Barney, who live it up in the lay-off season in Melbourne with their girlfriends, Roo's 'girl' for 17 years, Olive, and a stand-in, Pearl, for Barney's former partner who has opted for marriage instead of relying on the good times. Olive's outraged refusal of Roo's similar offer of marriage stood out in this performance with the shocking force of a mirror shattering, contrasted with Roo's clearly demarcated descent into stupor and melancholy following the smashing of his dreams. Frank's ironically bitter sweet production emerged as a dark triumph—as the 'essential' Doll. It had not gone in search of new interpretations. Not quite a fantasy, it imaginatively and skilfully re-membered the original in a torpedo-charged, wittily theatricalised version which maintained its theme of memory versus nostalgia, doubly so if you had encountered more naturalistic readings. Frank's achievement was to reaffirm The Summer of the Seventeenth Doll's 'classic' status.
This is in large part due to director Jaqui Carrol's dramaturgy which indelibly conveyed the fragile emotions underlying the tawdrily fabricated recollections sustaining the protagonists. Strikingly, characters often fell asleep, creating an ambiguous mood that recalled Rilke: "We were thinking of something quite different, invisible, something we held at arms length from you and from ourselves, furtively, with vague anticipation, something for which both of us were in a way only pretexts. We were thinking of a soul, the soul of the doll" (Rainer Maria Rilke, Dolls, "On the Wax Dolls of Lotte Pritzel"). The Doll portrayed by Lisa O'Neill was "a device", as Jaqui Carrol says, "to let the terror out." The terror was realised in the whirring clockwork time of O'Neill's lacquered, tour de force, mechanistic precision, an automaton almost out of control; a sideshow Doll embodying Roo's gift to Olive each year; a pink tulle creation on point who can only repeat with fractured ferocity the sentimentalised jargon of popular love songs; the Doll with which Olive finally fuses. Like the ballerina in a musical box O'Neill's Doll is artfully modulated between 'thing' (prop, set piece) and live performer.
Caroline Dunphy's Olive inhabited her dollhouse world like an orchid of steel, precise, nuanced, brittle, perfect. Pearl too was presented with great elegance and control by Leah Shelton, never letting her equivocating role descend into fussiness. It was the men who seemed scorched. Roo's classic lines rang with hollow portentousness when mouthed by the Chorus: "No more flying down out of the sun, no more eagles. This is the dust we're in, and we're going to walk through like everyone else for the rest of our life." John Nobbs manfully realised Roo's succumbing to gravity, while Conan Dunning evinced nuggetty integrity as his true-blue mate. The Chorus of 3 Kabuki-style prop manipulators egregiously mocked on.
Frank's cross cultural performance style seemed more relaxed than usual and with its first engagement with colloquial speech succeeded in evoking a hedonistic 50s Australian suburbia run amok. This was especially so in the New Year's Eve scene when inflatable plastic armchairs from Crazy Clark's transformed into dodgem cars and there was a distinctly Pina Bausch touch in the choreography to Perez Prado's Guaglioni, a mambo with a wicked undercurrent. Doll 17 was a big success at the Energex Brisbane Festival.
Doll 17, Frank Company, director Jaqui Carroll, designer John Nobbs, actors Conan Dunning, Caroline Dunphy, Ramsey Hatfield, John Nobbs, Lisa O'Neill, Emma Pursey, Leah Shelton, Meridah Waters; Visy Theatre, Brisbane Powerhouse, Sept 18-28
RealTime issue #52 Dec-Jan 2002 pg. 35
© Douglas Leonard; for permission to reproduce apply to realtime@realtimearts.net
Crickets clack and distant babies cry, the room is quietly dense with tropical night sounds. Five huge 19th century cameras almost fill the small gallery space for the performance installation, Troppo Obscura: they look the real thing, bulky, long-legged, wide-eyed. They are fantastic reconstructions, one is even winged, and they incorporate authentic components, but also come with earphones attached. Beneath one, oddly, a pair of legs in tights is visible. When I look into the view-finder I don't see the room; instead I'm seduced by the articulate gesturing of dancing fingers, the gently elegant moves of a crowned head and the beckoning of brilliantly bright eyes that pierce with such face to face proximity. It's as if I have my own camera and am shooting in extreme closeup a court dancer from Java or Bali. Forced to move on by keen queuers, I squint into another camera to see old black and white footage, perhaps from the 20s, of village life and court dancing, children at play in water, the eruption of a volcano and the disturbing recurrence of the image of a westerner gazing sternly at me as he stands by his own camera.
Looking into the winged camera I see more film of engrossing traditional dance. I hear, however, contemporary Australian female voices intimately recorded, chatting, sometimes raucously and wickedly, about relationships they've had with Indonesian men, the pleasures and compromises. In another camera, I witness recent footage of an old woman sitting cross-legged, gesturing with a dancerly expressiveness as she tells the story of her first husband, a policeman who wouldn't let her dance, and the second who was "stupid but obliging." Her characterful eagerness and dancing hands counterpoint the horrors that spring from her lips of grim privations and dying children.
From above another camera rises the upper torso of a young man (Teik-Kim Pok), a red flower tucked behind his ear. He peers obsessively into a hand mirror. A peep into the machine reveals a different kind of dancing: a kitschy, naked, western blonde 'tattooed' on the boy's belly gyrates to Bob Marley's "No woman, no cry" and Garuda Airline airport announcements, making for a nicely droll postcolonial mix.
The piece de resistance of this already absorbing Troppo Obscura is a large projection onto one wall of the gallery, It's a film in silent movie mode of the work's creator, Monica Wulff (encountered also as the dancer in the camera), appearing as an Edwardian woman in white hat and long dress who plays with Indonesian masks and dance gestures and whose clothes disappear layer by layer and piece by piece. For all her adoption of an exotic otherness, a piece of old peep show trickery reveals her to be very real, naked and white, until the film reverses and dresses her again. Sam James' filming is another example of the artist's virtuosity (as witnessed in Julie Ann Long's Miss XL) and his ability to perfectly complement and expand his collaborators' visions.
Troppo Obscura is a marvellous visual, aural and dance creation, a performance installation that not only seduces with its immediate magic but leaves you wanting to see more of the remarkable archival film that Wulff found in the Netherlands and to know more of the lives overheard. The installation's wit and inventiveness evokes and subverts a world of photographic colonialism with more than enough contemporary hints that post does not mean past or finished, and that the orientalisms of dance and music that sprang primarily from the 19th and early 20th centuries are still with us as we struggle to nurture meaningful cross-cultural hybrids.
Monica Wulff devised the installation and performed (dedicatedly, her head in a box for hours at a time), Hedi Hariyanto from Indonesia created the wonderful objects, Sam James the video, RealTime's Gail Priest the embracing ambient and other recordings, and Deborah Pollard was a very active artistic consultant. Troppo Obscura deserves to be seen more widely.
Carnivale & The Institute for International Studies, UTS, Troppo Obscura, Performance Space, Sydney, Oct 10-19
RealTime issue #52 Dec-Jan 2002 pg. web
© Keith Gallasch; for permission to reproduce apply to realtime@realtimearts.net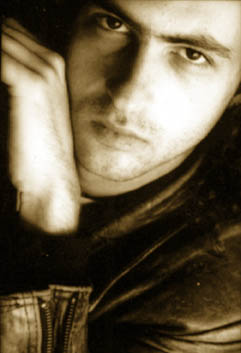 Max Lyandvert
Max Lyandvert is keen to talk about the ideas that drive his vision for his new work for the 2003 Sydney Festival, Close Your Little Eyes, but not so eager to give away details about what his audience will experience in the theatre. At the end of the interview he offers a few intriguing clues. There will be chairs: chairs you can't sit in; chairs that have had lives; chairs from many places. The audience will be moved around a little. There will be projections. Things will happen above and below. A string quartet will play from the 4 corners of The Studio. Singer-performer Melissa Madden Gray will fly. Her voice will be processed: "she's partly based on Walter Benjamin's Angel of History." Clearly this is a work that will reorient its audience's notion of theatre as part of Lyandvert's agenda to have them join him in re-thinking our cultural heritage.
Publicised as "a homage to the suffering of innocent children in time of war", this work for a choir of 16 children, female singer and string quartet, finds its particular impetus in how we think about the Holocaust. The show is not a performance about that event, but for Lyandvert it is central to how we deal with the unspeakable, how it is represented and remembered…or forgotten.
Composer and director Lyandvert has been a musician all his life. However, the desire to become a theatre director and to synthesize that role with his particular musical aspirations and philosophical concerns has been realised through an interesting set of associations and events. Close Your Little Eyes represents the first stage of that synthesis.
Lyandvert was born in Russia and migrated here with his family when he was 6. Although bored with piano lessons as child and, he admits, too lazy, he nonetheless gravitated to fellow musicians at school. The focus in his teenage years was at first on rock music but with improvisation becoming a dominating interest. Lyandvert grew up with musician friends Oren Ambarchi and Robbie Avenaim: "In a way we taught each other music…Through the extremes we saw that rock and jazz were connected…We took in Miles Davis, John Coltrane, Cecil Taylor and the whole world of free jazz…and Cage…and we formed the What is music festival."
However, a chance development had long before opened another, intially non-musical path for Lyandvert. "A friend was doing an acting course at the old Drama Studio in Darlinhurst and I picked up a flyer about a one year diploma director's course. Because I'd been overseas I had most of that year to kill before I could get into university. I got passionately involved and did much more than required. Soon after I started a company with some of the actors I had befriended and we did really weird work, Grotowski-inspired, Artaud-inspired experimental stuff. We even did a show called Theatre of Cruelty in 1989. A number of directors like Neil Armfield, Lech Makiewicz and Rodney Fisher came to see it. In 1993 I was directing a play at Downstairs Belvoir for Makiewicz's company, Auto da Fe, a version of Dostoevskys's Notes from the Underground. Rodney was directing a version of The Idiot at the Crossroads Theatre as a cooperative venture and he asked me to be his assistant director. A week before we opened he had a brainwave about all this underscoring he wanted, all the way through the production with loops of contemporary music by Gorecki, Reich, Glass, Pärt. I said, "I'm a musician, I can help you with this. I haven't got much to do as assistant director." It all went well: Lyandvert had commenced a succesful career in sound design especially with Fisher, then Legs on the Wall, Kate Champion, Benedict Andrews and others.
However, sound designing and composing for theatre was "becoming obsessively a career…and stressful" for Lyandvert, "and I started getting a little frustrated that my directing was taking a back seat." As important as his directing impulses were there was also a feeling of unfinished business with regards to his music. "I went to New York for 6 months for mostly musical reasons. I got to know Shelly Hirsch, hung out at the Knitting Factory It was then that I discovered the Wooster Group and Richard Foreman and other work. It had a double effect. It rekindled a desire to compose but, more than that, now I was seeing performance fused with other artforms in an unconventional way. It rekindled my hunger for directing. I wanted to direct works that I conceived. New York opened me to Heiner Goebbels and Heiner Muller, Wilson and Glass and music theatre where music is a core element rather than background…"
Lyandvert found himself especially attracted to the work of Richard Foreman. His excellent production of Foreman's My Head was a Sledghammer at Belvoir St Downstairs (2001) achieved some of Lyandvert's dreams for a synthesis of his work, though he was still working with someone else's script. While working on …Sledghammer, Lyandvert started a Masters Degree at the School of Theatre, Film & Dance at UNSW. His studies, he says, are integral to the work he is doing now and for the next few years. Some key inspiration has come from the Stefan Heim novel, The King David Report, a satire on East German censorship that, at the same time, speculates on the origins of the Bible and how we establish cultural fundamentals, in this case the Judeo-Christian tradition that pervades Western life.
At the same time Lyandvert was taken by artists like Romeo Castelluci (see page 4), Daniel Liebeskind (the architect of Berlin's Jewish Museum) and the composer Olivier Messiaen, all of whom respond to received culture very personally but also very systematically. Of Castelluci he says, "He takes theosophical knowledge and uses it as a structure through which he can express his concepts-—through a sound, through a light, the use of the Kabbalah and it will be consistent with his floorplan, movement and everything else in his production." Inspired by these and other artists, Lyandvert is creating a trilogy of 3 works, "not connected in a narrative way and not all are performances", designed to be presented eventually in the course of one day. Part 1 will be about the establishing of our culture, Part 2 about representation and Part 3 about faith. Close Your Little Eyes is part 2 and will be seen ahead of the other works in its Sydney Festival premiere.
Although it deals with difficult material, Lyandvert says that Close Your Little Eyes will not be an occasion for despair. "Like Castelluci's Genesi or walking through Liebeskind's Jewish Museum in Berlin, you don't feel that you've seen Auschwitz. You walk out believing that there's a light at the end of the tunnel. There is hope, as hard as it is to nail it down." Not surprisingly then it excites Lyandvert that his work is premiering in a festival celebrating on stage, in film and in conference, the works of Samuel Beckett with Lyandvert himself working on the sound design for Benedict Andrews' production of Endgame for the Sydney Theatre Company.
Sydney Festival 2003, Close Your Little Eyes director, composer Max Lyandvert, performers Melissa Madden Gray, FourPlay, Sydney Children's Choir, designer Gabriela Tylesova, lighting Mark Pennington; The Studio, Sydney Opera House, Jan 20-25, 2003
RealTime issue #52 Dec-Jan 2002 pg. 10
© Keith Gallasch; for permission to reproduce apply to realtime@realtimearts.net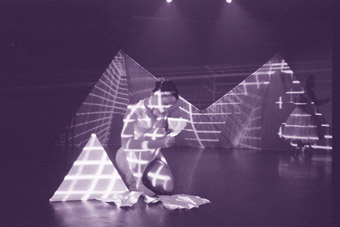 photo Kate Callas
Elise May, Ada
Do you believe nature is written in numbers?
I have my hopes.
Ada Byron Lovelace was the daughter of the romantic poet Lord Byron and a pure mathematician, Annabella Millbank. She is considered the mother of the digital revolution as she wrote the first computer software (for Charles Babbage's "Analytical Engine") some 200 years in advance of the hardware that is only now being developed to adequately utilise it. Ada also prophesied electronic music, artificial intelligence and a calculus of the nervous system. These prophecies are the theme of a dance work, Ada, as is the fact that the software named after her is both the code used by the US Defence Force to fly fighter jets and to control satellites and run nuclear reactors. So the destructive nature of this historical character's namesake is also problematised.
Ada represents a yoking of Sarah Neville's interest in the cyberfeminist investigations of Sadie Plant and VNS-Matrix to her own classically-trained background in dance. The work has undergone 4 previous developmental processes (3 in Adelaide, 1 in Brisbane) before this presentation playing at the end of a 5-week Fellowship at the Choreographic Centre. This version sustains a straightforward narrative on the life and character of Ada, mixing 19th century costume, dialogue and images of early calculus and maps of the human brain with a contemporary interactive technology, which in the long run aims to have performers controlling the sequence of sound and projections via their costumes as they perform. At present, a cyberdoll webcaster figure (Wendy McPhee) calls the shots whilst stop-start digital projection plays over bodies in an essentially conservative and hieroglyphic sequence of re-enactments between Ada (Elise May) and Babbage (Chris Ryan). Choreographically, Ada's movement sequences are well-performed, with May exhibiting a fine, if traditional, technical ability, but do not extend the dance alphabet, rather, sustain what one would easily call to mind in assocation with bodies and computers.
The webcaster commands repeats and reverses of sequences. These are executed with great precision, but I'm not sure to what effect. These movements display the mechanics of structure and the discipline of obeisance to it. When I put my mind to it, after the event, I suppose they raise the question of whether the human mind determines patterns of interaction, or patterns of interaction condition the emotional mind; but the coolness of this production does not give any particular bite to this strategy in real time. Even more problematic for me is the "slightly futuristic" webcaster's angular and restricted cyborg movement vocabulary: it's hard to tell whether the limitations are of concept, direction or performer input. Certainly, McPhee presents as a much quirkier persona just seeing her walk by offstage. There is something particularly unhappy for me in this aspect, the webcaster's blunt-cut wigged, barking, control-gun toting role recalling opening credits of early James Bond films (with a hint of S&M) and belie the feminist questionings to which I hope and feel the rest of the production aims.
Aesthetically, little catches the poetry of movement in the first sail-like lifting of the fabric canopy beneath which the performance then evolves. But maybe that is not the point. The presentation at this stage seems to me caught between aesthetics in a problematic yet highly stimulating way, raising particularly sticky questions about the dance-technology interface.
What we do see is the grace, restriction and precision (tensions between control and liberation) of the 19th century bodice, mirroring Ada's struggle to be counted as a mathematician and be taken seriously as a woman. Interestingly, one of the problems of contemporary studies in artificial intelligence is how to replicate the creative waywardness of the human body and mind. The production attempts some of this in its narrative (Ada's forwardness and her obsessive genius) and in the choreography around her hysterical fits and collapses (she eventually suffered death by cervical cancer). These collapse sequences are adequate, if but cyphers to a truly affective representation, failing to capture a sense of those overwrought nerves she sought to map out into calculus. Although Sarah Neville speaks of the work as "still (and after all) a tragedy of character," the performance is curiously unmoving.
For all the work on character, we are left not with a particular character, but a generalised representation of "genius" (as per the narrative) and "collapse" (as per the falling movement). Surely in logging a calculus of the body there is not just the calculus of parts but the force and charge of overall patterns, and, as repeated often by "Ada", her aspirations towards the cosmic or "sidereal"—which to me suggest a force or forces beyond our measurements—just as the interior of her own body could not finally be measured, but multiplied and divided itself away.
Still, one of the strongest aspects of the production is its subtle suggestion that the body can know, and dance in response to, its own mathematics. Neville's idea of the "creative/destructive" nexus is also interesting: perhaps the idea of a calculus is implicitly destructive (and perhaps politically pertinent to consider in our time). The binary restricts impulse into opposition: if not one, then zero; if not zero, then one. To calculate is to act from a particular perspective that sees opposition as enemy, self as righteous. Perhaps to digitalise is to see "other" as authoritative, self as problematic, as was perhaps her own body (or as was perhaps "woman;" or as is perhaps dance). To find the choreography to reflect this quandary would be a great achievement. I wonder if this might be an aim of the production.
At this stage Ada is not yet adequately a "tragedy of character", but this is not the main quandary I am left with. Should the cybercoat costume come to fully-workable fruition, what would be achieved in the end? The illusion of a performer in control of wayward elements, her own conscious director, self-actualising and responding to what she actualises as she goes? I find myself thinking: at some, any point, the performer could well ignore all her own directorial choices. And no-one in the audience would ever know.
Ada, choreographer Sarah Neville, performers Elise May, Wendy McPhee, Chris Ryan, sound design/score Nic Mollison, set design David Worrall, costume design Elise May, Summa Durie; wearable architecture Aaron Veryard, Elise May, vIdeo Matt Innes, programming Benn Woods, Talbet Fulthorpe; Choreographic Centre Canberra September 25-28, October 2-5
RealTime issue #52 Dec-Jan 2002 pg. 23
© Zsuzsanna Soboslay; for permission to reproduce apply to realtime@realtimearts.net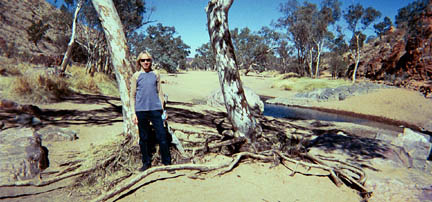 Gary Champion
Colin Black
In Colin Black's The Ears Outside My Listening Room there is a piece about a city-jack-hammer percussion intercepted by reflective voices, string lines arhythmically mirroring the speech patterns. In one section there is a man's voice I know. But who is it? There's a soft intonation, an accent, a subtle huskiness…Voices are burned into my auditory memory rendering them unforgettable long after the names and faces have gone. It bugs me for days.
Ears Outside My Listening Room was created by Black during his 6 month residency with ABC Classic FM's The Listening Room. The original inspiration came from a recording he had made of his grandfather. "He was talking about his life and he passed away a few years ago and you listen back to this tape, to his voice and in some way it preserves his character. That's what I wanted to do with all these characters…create a patchwork sonic quilt, something to be passed between generations…the words and voices of the ghosts of tomorrow. Like fingerprints and DNA each of the voices was unique and my hope was that my work would help the detectives of tomorrow understand the spirit of their forefathers. I wanted to create a work that testified to how it feels to be Australian and to live now."
The 50-minute work is made up of 18 tracks. Each piece is based on a series of interviews conducted by Black, often using ABC remote studios around Australia and ABC archives including Haywire from Triple J's recordings of stories from young people in regional Australia and old broadcasts. Black has pieced together vignettes around themes—wishes, home, city, weather and sport. What emerges is a comprehensive work made of suggestion, mood and voiceprint character studies that gives a tangible, inclusive and unselfconscious impression of Australian-ness and its many voices. On another level, it highlights the fragility of people, technology and landscape. Black concentrates on "the sub themes of rivers and mortality and trying to preserve things."
Compositionally the work is particularly interesting in its use of texts and voices as the starting point for the score. Black says, "I composed music around the voices in differing ways…what the people spoke about and how they spoke—the tone of how they said things set up the parameters." Loops of speech are used as both melodic and rhythmic scores for the instrumentation to follow. The most striking example (and the hit single if there was to be one) is Tony, Kate and Lockette, a retelling of the moment when AFL player Tony Lockette kicked his 1300th goal and the crowd flooded the SCG. Deftly matching the announcer's voice with a dance beat, the trebly string line sawing and hacking to the melody of the commentators screaming "Lockette! Lockette", the piece conjures the spirit of the event (even for this dedicated sports cynic). This has a beautiful companion piece in the melancholic reflection of an old man speaking about listening to Donald Bradman playing cricket on the radio—musically conveyed by a slow string adagio.
When the text is used less figuratively, the effect is more atmospheric. Australian Summer Solstice is composed from processed voice samples, creating an audio haze and shimmer like a distant oasis glimpsed on a tarred road. These overlaid with the unfiltered voice of a 70-year old woman talking about her experiences farming the land. A similar effect is achieved in the beautifully abstract Why in which a child describes her love for her doll. The phrase "'cause she speaks" is processed and looped into a kind of pulsing mantra reflecting the childlike (and perhaps not so childlike) desire to bring life to things.
Reinforcing themes of mortality and preservation are the segues between tracks with Ben, a sound archivist simply talking about methods to assist with the hydrolysis of tapes, the preservation of vinyl, and most hauntingly, of being given tapes to digitise containing a recording of his mother as a teenager. These pieces are delicately overlaid with subtle tape hiss, fastforwards and reel noises.
Colin Black hopes that Ears Outside My Listening Room has a continuing life. "I think that people from other countries will find it fascinating, that difference in perspective on what they think is Australian and what they hear from these sort of pieces." Summer Solstice has already been performed at the 32nd Festival Synthese Bourges 2002 in France and Literature Sound Barrier 2002 in Vienna. He also hopes "to see it incorporated with some visual element, whether it's dance or visual—audio-visual in the old sense or the new sense of the word, a CD ROM or multimedia event."
Ears Oustide My Listening Room concludes with The River, composed for vibraphone and the only work not based on vocal lines. The rippling repetition of Jeremy Barnett's (of the group Prop) vibraphone merges into the concluding statement from the sound archivist about fast forwarding a tape and the air filling with a fine cloud of oxide from the disintegrating tape Ears Oustside My Listening Room is both a celebratory and a melancholic work about the fragility of existence. In its attempts to capture the essence of people and moments in time, it also highlights the desperate futility of trying to preserve what must one day turn to dust.
Colin Black, Ears Outside My Listening Room, made during his New Media Arts Board/ABC Radio Listening Room Fellowship 2002. www1.tpgi.com.au/users/cydonian/outside/ears.html
RealTime issue #52 Dec-Jan 2002 pg. 36
© Gail Priest; for permission to reproduce apply to realtime@realtimearts.net
What kind of work does an artist produce when she spends a great deal of her time immersed in a landscape and culture imbued by the world's oldest stone structures–megalithic buildings from Malta's Temple Period, 3600—2500 BC? Maree Azzopardi, like other Maltese descendents living in Sydney brings with her a rich heritage. As well, she draws on the influences of Vermeer, Catholic iconography, Islamic mosaics and the advantages of new media technology. Her latest show exhibits a range of both colour and black and white photographs and digitized paintings on stretched canvases.
Azzopardi's images focus on domestic interiors, but she creates a sense of space suggesting intimate temples. She places the female nude in settings with props symbolic of rituals that order life: baptism, the partaking of wine and bread in communion, and the cleansing and shrouding of the dead body. What is eerily subversive is that while the images appear at first romantic, and even nostalgic, there is a distinct absence of signs of life. The beautiful basin and the turquoise water jug do not appear to actually hold any water. Is the reclining female dead? The limp feet on the cold floor by the fallen jug suggest that there may have been a hanging. The lone figure, standing in a basin, holding onto a shroud suggests a final ritual. What story is Azzopardi telling?
Azzopardi's previous and most celebrated body of work, her Chrysalis series, comprise a series of photographs of HIV patients, both in the process of dying and post-mortem, when she was artist-in-residence at St Vincent's Public Hospital, Sydney, 1995. It seems that the artist is preoccupied with this ambiguous space, the delicate balance between life and death. The images in this show are less confronting seeming staged, set in a distant place and the female figure anonymous.
There is as well is an odd juxtaposition between these otherwise warm interiors with photographs of sculpted cherubs with their arms raised in joy. Perhaps Azzopardi wishes to convey a sense of triumph, even ecstasy over the sense of loss implied–as in Catholic portrayals of martyred saints? Meanwhile, the viewer is sated with the rich sensuality of Azzopardi's materials, palette and preoccupation with pattern, light and touches of the Baroque.
Maree Azzopardi, Celeste, curator Jonathan Turner, Michael Carr Art Dealer, Sydney, Nov 5—24
RealTime issue #52 Dec-Jan 2002 pg. web
© Lycia Danielle Trouton; for permission to reproduce apply to realtime@realtimearts.net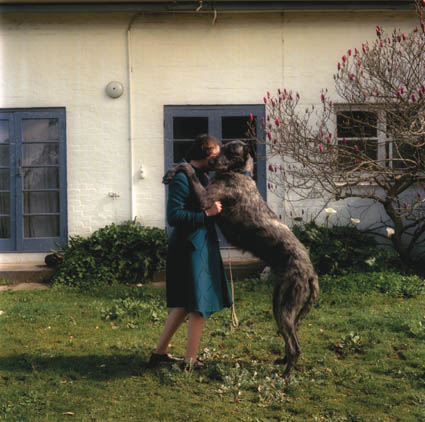 Rebecca Ann Hobbs, Complex Social Groups, Digital inkjet print, 95 x 80
The photographs of Rebecca Ann Hobbs border on the unknown and the unsaid. Suck Roar (2001) is a series of 7 self-portraits in which Hobbs pictures herself with a range of creatures from different species. The photographs have been digitally manipulated to intensify their colour thus imitating the hand-colouring of another era, and though they are inkjet prints, when they are exhibited they are framed with great formality. Each highly staged photograph sets up a relationship and suggests some communication between a human and another species—birds, possums, a dog, a squid, a stuffed fox, snails and a spider. The relationships become increasingly strange and attenuated. Hobbs began the series planning to picture herself as a homeless person, but the imagery of cross-species relationships took over with all its metaphoric potential of investigating and depicting hierarchies of eroticism and power. In the title of the series, Suck refers to the feminine element, while Roar refers to the animal element. In each photograph Hobbs appears in the centre wearing carefully chosen old clothes with a stylish awkwardness. It is almost as if she has restaged documentary photographs of an isolated weird scientist in the 50s or earlier, caught on a Freudian threshold of misunderstanding.
Stephanie Radok
Reproduced with permission from the 2003 Anne & Gordon Samstag International Visual Arts Scholarships catalogue (University of South Australia)
Rebecca Anne Hobbs (Victoria) is one of 7 Samstag Scholars announced in November who will take up their scholarships in 2003. The other recipients are Samantha Small (South Australia), John Meade, Callum Morton (Victoria), Maria Kontis (NSW), Anke Kindle (Tasmania) and Simon Pericich (WA). Thanks to the generous bequest of Gordon Samstag and the scholarships established in 1992, each artist will receive 12 months living allowance of US$28,000 as well as travel expenses and the cost of institutional study fees in the US or elsewhere outside of Australia.
Townsville-born Rebecca Ann Hobbs graduated with a Bachelor of Fine Arts (Honours) degree in Photography from the Victorian College of Arts in 2002. In 2001 she won a National Gallery of Victoria Trustee Award, a Proud Friends of the VCA Acquisition Prize, and was runner up for the Photo Technica New Australian Photo-Artist, Australian Centre for Photography. Hobbs had 2 solo shows in 2002: Suck Roar, CCP Melbourne, and To April Love May, Linden-St Kilda Centre for Contemporary Arts, Melbourne.
RealTime issue #52 Dec-Jan 2002 pg. 11
© RealTime ; for permission to reproduce apply to realtime@realtimearts.net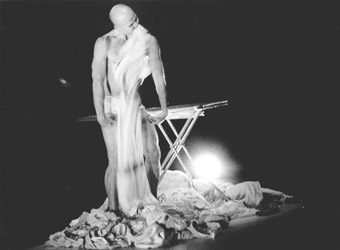 photo Heidrun Löhr
Dean Walsh, FleshMemo
Dean Walsh is a sublime mover who's not afraid to open his mouth; a dance artist with an impressive physicality and a provocative way with words. Moments from some of his past works—Toffee Apple (1994), Testos/Terrain (1997), Retro Muscle Song (1999) and Subtle Jetlag (2000)—resonated for me in this latest work Flesh: Memo. The stilettos are gone but the memories linger on.
Flesh: Memo is in 2 parts, the first (unspeakABLE: acts) dealing with the Father, the second with Mother. As the audience enters Dean Walsh dances in a shadowy corner, grooving in headphones, his movement loose then tightly coiled. We admire his naked torso and, at the same time, read the inner conflict written all over him, crawling under his skin. Walsh rants and raves, whispers and confides his memories of family, father, step-father, of unspeakable acts of sexual violence. At times grim and depressing, the story is also unabashedly personal and often moving. Walsh makes effortless transitions in performance style and energy. His relationship with his audience shifts as he moves from displays of feline ease, precision and speed to macho posturing and aggressive face to face outbursts. There is a terrific whispering sequence performed with a whistle in his mouth, a finely honed 'fighting moves' physical phrase and some startling leaps between pain and humour. (I note that Andrew Morrish is listed in the credits and wonder how much, if any, is improvised.)
A lip-synched rendition of Cat Stevens' Morning has Broken (a Walsh family favourite) sees Dean swinging from the balcony. This echoes a scene I'd witnessed earlier in the evening at the opening of the Cerebellum exhibition at Performance Space: the incredible Leigh Bowery in a Charles Atlas film Teach, lip-synching Aretha Franklin's Take a Look, with a pair of pouting plastic lips safety pinned to his cheeks.
Simon Wise's lighting design conquers the bleakness of the concrete brick walls and gloomy performance pit of the Seymour Centre, subtly illuminating flesh against grim surroundings (a floor strewn with nails, a steel ladder, an ominous empty chair)—all in keeping with the dark memories being reworked. New media artist Rolando Ramos provides a landscape of domestic detail projected on floor, screen and wall. I'm caught between enjoying the video's texture, colour and line and frustration at its lack of definition.
The second act, Maternal Tattoo opens with a soft, kinaesthetically languid floor sequence. This time Drew Crawford's hypnotic score embraces and supports Walsh's fluid limbs. Using Butoh-based physicality and evocative gestural language, Walsh again wears this story on his flesh for all to see. He sure knows how to play this audience.
Some of the most powerful moments occur in the final 10 minutes. As he pegs a load of dripping washing to a line crossing the space, Walsh tells us a story about Saturday afternoons when "all the violent men were out of the house" and the boy and his mother would turn the stereo up full blast and sing their hearts out. Wearing a sodden petticoat and lip-synching to I just don't know what to do with myself, the dancer moves from a puddle on the floor, slipping, reaching out, into a beautifully articulated balletic sequence, finally dancing to an aria from Glück's Orphée—a mesmerising body in motion, intensely self-absorbed but without narcissism.
Flesh: Memo, Sydney 2002 Gay Games with One Extra Dance, choreographed/written/performed by Dean Walsh; dramaturgy David Sheridan, Nikki Heywood; lighting Simon Wise; music Drew Crawford; new media Rolando Ramos; Downstairs Seymour Centre, Sydney, Nov 30-Dec 8
RealTime issue #52 Dec-Jan 2002 pg. 23
© Julie-Anne Long; for permission to reproduce apply to realtime@realtimearts.net
A cool spring evening wrapped itself around the Judith Wright Arts Centre in Brisbane's Fortitude Valley as the human traffic on Brunswick Street began increasing for the weekend. But it all seemed a thousand miles away from the centre's insulated theatre space as we waited for the Australian premiere of Liza Lim's composition, Machine for contacting the dead. Originally commissioned by the Ensemble Intercontemporain, the piece was first performed in Paris in 2001 in conjunction with an archaeological exhibition of artifacts from the burial site of an ancient Chinese aristocrat. Included in the exhibition were numerous musical instruments found within the tomb and it is primarily these, and the imagined fate of the 21 royal concubines also interred, that inspired Lim's composition.
However, before the main attraction, an appetiser: Elision's Ben Marks performs Xenakis' Keren for solo trombone. This is a demanding piece that uses a host of virtuoso techniques such as multiphonics and microtonality to push the timbral qualities of the instrument to extremes but is tempered with classical precision and deceptive restraint. Marks seems to have made this a signature piece and he approached it with confidence and skill. He shifted easily from muted ostinati to natural harmonics until the last guttural gliss that seemed to descend into the quietness of a tomb, paving the way for Lim's piece.
In this performance, the ensemble for Machine for contacting the dead consists of 27 musicians drawn from Elision and The Queensland Orchestra with Franck Ollu, the French conductor who is currently involved with the Ensemble Modern Orchestra and the Ensemble Intercontemporain. As the composer explains during an introductory speech (complete with slideshow), she has grouped the orchestra into smaller clusters of instruments and each cluster is treated as an instrumental unit that plays to produce a new instrumental timbre. Without representing them directly, these "meta-instruments" evoke the spirit of the ancient Chinese artifacts dug from the tomb. The key to this is Lim's metaphorical treatment of the original instrumental sounds—she is not attempting to recreate them but rather to veil them. In an accompanying article she describes the meta-instruments as dug from the ground in a ruined state, creaking and exhaling as they are played. What issues is not the sound of strings and brass but fragmented cries and susurrations as if the ensemble were a medium channeling the voices of the dead. At times bewildering and erotic these fragile and aggressive voices seem to emanate fitfully from the meta-instruments as they squawk and cry, inhale and exhale.
Though Lim's introduction and accompanying essay outlines a very structured piece, this is not necessarily evident on the surface. The movements flow together and interference patterns echo across the work as the elements interact. I found myself wishing I could read the score as the piece unfolded to tease out the threads of mourning cloths or hear the laments of ancient lovers. This complex work owes some of its labyrinthine qualities to traditional Chinese territorialisations of space where a matrix of multiple pathways and gateways is explored. Instead of drawing from the Western idea of structural development and final revelation, Lim's method allows glimpses of fragments, as if half seen through a passing doorway.
Rosanne Hunt's cello and Carl Rosman's bass clarinet were the focal points and lead voices in the performance: both musicians extracted strange and riveting sonorities that melted into the timbres of other instruments or were punctuated by haunting percussive sounds. But the high-point was a group lead by Mark Knoop who took to the skeletal body of the lidless piano with lengths of fishing line and by sawing at its strings produced a great, polyphonic, ritual cry of loss.
The most obvious comparison for this work is George Crumb's Black Angels with its startling transformation of string timbres, otherworldly sonorities and darkly mystical inspiration. Lim seems to echo Crumb when she describes one section as "subterranean, ruined harp music", but her aesthetic language is definitely generated from her own culturally and musically hybrid perspective.
As I emerged into the Valley's lively revelry, my final impression of Machine for the contacting the dead was of a strange and complex work with a hauntingly poetic heart.
Liza Lim was awarded Best Composition by an Australian composer for her opera Moon Spirit Feasting at the 2002 APRA-Australian Music Centre Awards. Lim's latest work will be premiered by the Los Angeles Philharmonic. Her essay on Machine for contacting the dead can be found at http://elision.org.au/repertoire/notes/19850.html
Raising the Dead: Keren for solo trombone, composer Iannis Xenakis; Machine for contacting the dead, composer Liza Lim; Elision ensemble and members of The Queensland Orchestra, conductor Franck Ollu; Judith Wright Arts Centre; Brisbane, Sept 6-7
RealTime issue #52 Dec-Jan 2002 pg. 36
© Richard Wilding; for permission to reproduce apply to realtime@realtimearts.net
A drunk, gesticulating with his beer bottle, repeatedly yells "Fuck the…what the…?" at the big pulsing screen with its speedy mix of pre-recorded and live feeds. Only occasionally he takes rare notice of the dagsters who slo-mo swarm about him on their hour long, voguing weave through a contemplative audience stretched out on the grass beneath stars blurred by bushfire haze. Some are like picknickers with their eskies and kids, some in proud Gay Games team clusters. Others are bypassers, more than momentarily seduced by these odd sirens who look less a danger to the audience than to themselves in their obsessive-compulsive staggerings and bizarre fashion model posturings on wire mesh podia that they drag about with them. The drunk is on the edge of the crowd, barely heard, but a security guard hovers, iterating, "I told you, no swearing", as four-letter abuse words slide across the screens and leap from the argumentative exchanges that envelope us in Barbara Clare's engrossing dance club musical score. "What?" the drunk rallies, his sense of justice wounded, "But this…this's homos!!" The guard looms, the drunk retreats into his bottle.
You can slip in and out of Shiver, as it moves close by and into the distance, the gaggle of performers followed by video cameras, photographers and the manipulators of portable lighting, like a media pageant or a fashion shoot. Or you switch to the screen, or shut your eyes and go with the music. Whatever, it does have a curious grip, sending even the odd shiver up the spine as the performers surround you, whispering with the soundtrack, "I'm alright. Are you alright?", hanging over you with a curiously langorous urgency like half out-of-it Kings Cross junkies caught between the pleasures of the last hit and the need for the next. They are almost stylish in their ragbag collection of wigs, high-high heels and dense makeup, for all the world drag queens. But the duration of the performance and the proximity to the performers allows you to fix on these faces to do your own bit of obsessing about what's under the makeup, what's glimpsed beneath the clothes, what's behind the voices. Four of them are women, but the longest-legged, a most elegant if uncertain mover, says someone afterwards, "is a boy." You can still be surprised, even at this late date. Two of the group are counter-tenors in long blonde wigs. They often frame the action, moving slowly through the crowd, the meeting of their long locks providing a curiously ritualistic climax to an inexplicable, often hypnotic event. The pre-recorded video makes much of their tresses. The 4 who dance vary their formula slightly track to track, performing with conviction (sometimes on the edge of parody), regrouping, slowly forming exotic tableaux vivant, and loping to the stage (a walk reminiscent of the latest horsey ambulations of fashion models, the soundtrack complementing it with solo neighing) where they briefly line up to make a stage act.
I can imagine Shiver making a greater impact in a dance club–where it would be another, if subversive, part of the overall ambience–rather than in a city park on a balmy evening where it is entirely responsible for creating the requisite atmosphere and where its audience can only observe and are unlikely to move move. Nor is its duration and minimalist variation right for theatre spaces, unlike the earlier parts of the trilogy. Nonetheless, the furious drive of the live editing of the intersecting double video projections pitted against the slower, possessed movements of the performers, the quality calibre of the sound system and the in-yer-ear realism of the vocal recording, and the conviction of the performers make for a sometimes engrossing and curiously memorable experience. But what exactly was the experience? While the multimedia dimension of the show had a thoroughly contemporary feel (the projection of gnomic texts aside), the rest was like virtual reality display in a museum visit: not to say that its protagonists were stuffed, on the contrary, but they read like the detritus of glam rockery and 80s new romanticism, prisoners of the cliches of cross-dressing, but with fervour still, over and above an air of pathos and faded brilliance.
–
De Quincey Co, Shiver, November 7 & 8, The Hub Hyde Park.
RealTime issue #52 Dec-Jan 2002
© Keith Gallasch; for permission to reproduce apply to realtime@realtimearts.net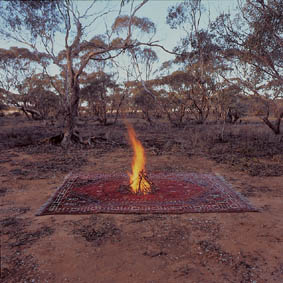 Hossein Valamanesh, Longing, Belonging, courtesy the artist and Sherman Galleries, Sydney
Moving from the safe boundary of my home I unwittingly undergo extreme border disorder. I am lost, but I keep going, hopeful. I take all the wrong roads ending up going north. I want to go south. I swerve to the far right. Pulling up in no-man's land I attract the attention of the toll attendant. I ask the good-looking Pakistani working the border post, "Can I do a U-turn on the Harbour Bridge?" He looks around and furtively suggests, "as long as you do it quickly and no one sees you. Be careful!" Borders are artificial and arbitrary. It is only through transgressing the boundaries that we learn them and how to avoid them. Borders are there to be broken. There is no need to panic if you do it quickly.
Borderpanic sought to bring together artists, media makers, activists and thinkers who question geopolitical and metaphorical borders. It was an exploration of cultural and intellectual responses to the current border crisis and refugee dread. The idea was to examine the increasing symptoms of 'borderpanic' and to investigate possibilities of resistances to the increasingly permissible racist discourses and manufactured security hysteria. The project was to document responses to the depravity of government policy and the new racism and act as a catalyst for ongoing transnational social, cultural and artistic resistances.
Curators Deborah Kelly and Zina Kaye explained that the term 'borderpanic' is a description of the "tangled pathology of anxieties peaking after Tampa and following the escape of 70 people from Villawood Detention Centre in July 2001 and, of course, the brilliantly engineered extrapolation of this 'hysteria' in the federal government's 2001 re-election campaign." Suvendrini Perera makes the important observation that this has also entailed the gendering and sexualising of borderpanic with a focus on 'the right kind of maternity'. Since October 2002 borderpanic has mutated into an alarmist Code 3 security psychosis based on 'credible intelligence' of al-Qaeda on Australian soil.
Connections are constantly being formed in government discourse between incomparable issues such as asylum seekers and '9/11'; JI and the infiltration of terrorists masquerading as Indonesian refugees; chadors and bombs; suspicious activity and the ubiquitous al-Qaeda. Although these associations appear ridiculous, through repetition they are gaining a strange popular legitimacy. In response, the Borderpanic project sought to unravel these wag-the-dog connections by drawing together a broad range of activities, responses, exhibitions, talks, performances and people to challenge the prevailing dominant discourse.
In the current political context it is the job of artists and cultural workers to do something, but what is to be done and why do you do what you do? Participants in the Tactical Media Lab (TML) which was part of the Boderpanic event claimed a variety of motivations: "I do art because I am scared," "I desire to challenge displacement and disillusionment", "I don't want to witness fellow human beings behind razor wire", "I am working through successful-migrant guilt", "I want to get people to talk and think about what they are doing", "I want to create something for tomorrow", "I do what I do because there is no point doing anything else"… In these admissions few asserted that they were activists. Rather there was a longing to be active. Borderpanic offered a forum, bringing artists together to counter the disgust with government policy felt in isolation. As a creative meeting process the Tactical Media Lab was extremely effective. The concept originated from a series of conferences and festivals organised in Amsterdam since 1993 under the title Next Five Minutes. The Sydney TML is one of a chain of such events that are taking place in different parts of the world (www.n5m4.org).
TMLs are creative colloquiums with no leader or set objectives, but myriad ideas and incredible organisational demands. They avoid the Chekhovian dread of grand ideas by focusing on small-scale, practically achievable projects. These involve ways of working with old and new information technologies to produce easy, accessible, low cost forms of social intervention and communication practices. Lead by the dynamic Alissar Chidiac, the Sydney TML generated 5 creative clusters focused on Media Jamming, Cultural Actions and strategies for the WTO protest, Public Mischief and Performance.
Artists shared their techniques and achievements in speaking to a wider community and challenging the prevailing hysteria and Islamaphobia. Cultural workers reported on what alternative processes were going on in their states. There is a surprising amount of grassroots activity and connectedness between church groups, such as the Aboriginal Catholic Centre, and refugees. Serafina Maiorano pointed out that "activism is occurring in many forms—from the streets, to the church halls, to the picnic areas of our suburban and city squares, to academia, to the galleries, to people's homes and online." These responses are the unique cultural statements and practices of people challenging the status quo, educating others and making do within the available resources of their immediate communities without fanfare. The TML was an occasion to share these moments of resistance, as the border between activists and artists gently faded outside the confines of institutional imperatives.
Some of the ideas that came out of the Media Jamming cluster cannot be discussed publicly. However the general focus was on strategies that included: producing alternative statistics; creative, fictive rewrites of Government Policy; tackling talkback radio; pursuing media hacking opportunities; extending ideas like Mickie Quick's Refugee Island street-sign alteration kits; and creating a culture-jamming network. Participants were adamant that art can create change, but there was an equally strong awareness of the limitations of preaching to the converted. It was clear too that traditional forms are no longer as effective as media jamming and cultural pranks. The customary form of theatre, for example, lacks tactical culture jamming's jagged immediacy, the diversity and breadth of its audience reach and its mingling in the everyday. Subsequently, I saw Citizen X at Sidetrack Theatre. This was an overly earnest production playing to small sympathetic houses. Its ideas would not cross over into the mainstream, whereas events such as No One is Illegal's Rethinking global eviction action placed more than 200 chairs at the front of the Department of Immigration and Multicultural Affairs in Melbourne. There was the welcome mat for Sculpture by the Sea with "Go Away" printed on it, and there have been various street theatre protests. All appear to be far more appropriate, democratic and effective as national actions.
Borderpanic had a strong global focus with a number of informal international guests. The German activist group, Kein Mensch ist illegal, demonstrated that the power of art in challenging corporate and government actions remains robust. Deportation.Class is an online and travelling poster competition that drew attention to Lufthansa being used for the deportation of asylum seekers whilst allegedly making huge profits from it. Lufthansa attempted legal action and tried closing the exhibition, claiming enormous losses from the campaign. But internet providers from all over the world have offered to mirror the exhibition (www.deportation-alliance.com).
At the Borderpanic symposium Nikos Papastergiadis contextualised some of the artworks at the Performance Space exhibition. He discussed Hossein Valamanesh's 1997 installation Longing/Belonging in terms of Gaston Bachelard's Psychoanalysis of Fire. The vacillation about what being-at-home means is characterised in the photographic image of a Persian carpet in an outback clearing with a campfire burning at its centre. This symbol of a domestic gathering place in another space appears uncannily homely in the rug's woven geometry integrating into the spidery arms of the eucalypts. As Valamanesh claims, "where one belongs or what our longings are is not that clear cut." The fire does not destroy the carpet, but purifies and fuses it to the landscape. The image is symptomatic of the longing for home that is constantly changing, transforming fire into light through a process of idealisation.
Another speaker, Julian Burnside QC, made a convincing argument against the current regime of border protection based on the idealisation of Australian national character, accusing the Howard government of "betraying our ordinary human decency and stealing our reputation as a decent and generous people." He detailed the illegality of the scandalous 'Pacific Solution' that debauched the sovereignty of island states and denied basic rights to the asylum seekers. He provided a stinging criticism of the amateurish, politicised Refugee Review Tribunal with its assumption of guilt, perversion of facts and inability to lead inquiries, illustrating this with a gut-wrenching account of horrendous injustice done to a child. He argued passionately that the concept of border protection is not relevant because asylum seekers do not threaten our way of life. In contrast, the government's reaction to the Tampa crisis and refugees in general "turns Australia into a place where we no longer want to live." However this commonsense appeal to national pride was justifiably challenged with a reminder that it is dangerous to fight overt nationalism with nationalistic appeals to "core values."
Meditating on the theory of borders, Ghassan Hage paralleled Burnside's argument in suggesting that borders are a mechanism for defining ourselves—they are designed to stop the disintegration of what they protect and we have to live up to that image. Hage reasoned that borders protect the 'good life', but they also can lead to claustrophobia that destroys this life by preventing communication with the outside world. "We lose touch with the good life that we are protecting and become attached to the defensive mechanism. In that moment we lose touch with what it means to care. We have transferred care into worry about everything and this has become pathological. Relax a little! But somehow we cannot relax. The nation is meant to look after its citizens, but what happens when it stops caring about all of its citizens—worrying replaces caring."
The focus of the Borderpanic project constantly oscillated between, on the one hand, what we can do to challenge government actions by raising awareness of the refugee issues and, on the other, our focus on ourselves in this action. There was an important reminder that the artwork and interventions are not about activists, but about refugees. As activists we need to challenge the notion of helping refugees. So often it is not we who help them, but they help us to rediscover ourselves, our lost courage and fading generosity. As Deborah Kelly sentiently stated, "Borderpanic is not enough, it's not a solution or even a proposal. The point is, it's worth starting somewhere. How are we to participate in the history we are standing in?"
Borderpanic, curators Deborah Kelly, Zina Kaye, project initiated by Performance Space, co-produced by the Museum of Contemporary Art. Sep 6-22
RealTime issue #52 Dec-Jan 2002 pg. 12
© Grisha Dolgopolov; for permission to reproduce apply to realtime@realtimearts.net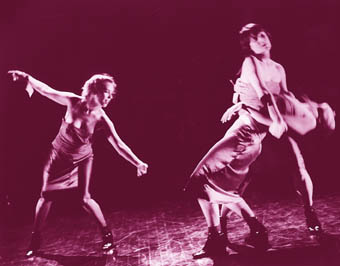 photo Heidrun Löhr
The Fondue Set, Blue Moves
There's plenty of static between the channels in the first of Antistatic's 2 curated programs of short works by mostly emerging choreographers, fuzzing as it skips between a familiar aesthetic mix of the re-modernist, avant-grunge, retro and pomo. The styles segue between the boundaries of dance, physical theatre, multimedia and contemporary performance. This format works well, giving floorspace to performers working outside company structures and nudging along possible interstate touring models for contemporary work (here between PICA and Performance Space).
Simon Ellis, devisor and performer of the first work, Full, seems antipathetic toward modernist myths of progressive accruals. He uses as one of his motifs of resistance the voiceover of an old woman. It often strikes me that we think of older people as somehow belonging to the past, as not being in the present cultural moment, similar to the way anthropologists view so-called 'primitive' cultures. As if people(s) come adrift, like the old man lost in a boat, with Ellis incorporating from far up in the seating, the action of trying to start a motor. The piece is very 'being and nothingness', full of filmic after-images ghosting in corporeal memories and transitory states, light projections, smoky screens and inscriptions. The claustrophobia of the present is represented by Ellis' spasmodic movements in the back corner of the floor, though I'm weary of the suit as shorthand for the cloned (and here quite chiselled and 'modern' in the 'old' sense) office worker. Overall the work seems both too ethereal and too mannered at once.
What is interesting is that the dancer's body (while seamlessly attenuated within the work) isn't necessarily primary. Nor is vision privileged especially. Full's multimedia layering harnesses the technologisations of sound, in a way which becomes just as materially suggestive of the labour of the corporeal. In Jacqueline Grenfell's sound design there's real exhaustion in the sounds of Gestetner machines breathing their copies, it feels throughout as if something is going to give. "Full is an old woman with no space left to go. The work examines the internal world of an 87 year old woman who is uncertain whether she is 'walking or being pushed'" (program note).
The Fondue Set (Emma Saunders, Jane McKernan and Elizabeth Ryan) are more idiomatic. Yet they come pre-figured, dressed in red, like Frumpus in heels (or perhaps the 3 Charmed sisters). We see them first at the courtyard bar, propped up against it, trying to get a drink. This is a gestural theatre endemically choreographed at bars throughout the city, their drunken lunges soon morphing into the guttural grunts of a form of karate. The Fondues return later with Blue Moves in the theatre: it's cheesy and getting gloopier. During a stumbling act, all trembling red lips and intoxication, I glimpsed the little red punctum of a punctured knee. The first piece is succinctly abbreviated stand-up, the second piece suffers more from its logic of exhaustion, repeating itself to a slightly drawn out arbitrary standstill.
Helen Omand's Rapt has a retro aesthetic, her set laid with artefacts from the 60s. It's a dance theatre piece so visually heightened that the voice work is something of a shock. Her use of recorded material is more transporting, from fragments of Neil Diamond songs to the pop psychology of 'how to build a magnetic personality' on the record player. Omand's analogue world seduces us and she seems to penetrate its affective level, without it turning into kitschy housewife camp. Hers is more an excavation of dusty histories, an homage to your mother—halcyon moments of modernity now lost, yet astoundingly recaptured (by someone too young to remember?).
The 2 dancers in Twosomely seem too inscribed by their dance training to really investigate the ideas set up by the piece. "There is a power in duality that arrives through tracing subtle differences between two individuals, whilst also acknowledging the sameness inherent in their core" (program note). Young and emerging out of a crate, the dancers lack the more dance degree zero form in which I've seen these same ideas exquisitely examined. Choreographed by Felicity Morgan, from Western Australia, the piece nevertheless stands out for its simply honed minimalism, gently steeped in the aesthetics of wrap around muslin pants and yogic flexibility.
Branch Nebula's (Lee Wilson and Mirabelle Wouters) Sentimental Reason is a more primal and incommensurable pas de deux. Lee Wilson is irritable, pouting and sullen, while the half harnessed Mirabelle Wouters canters around him. She starts to generate a real flow for the piece, using the equivalent of the metonymic in movement in her 'becoming horse.' A cross between Iggy Pop and Equus, Wilson's masculinity eventually explodes into a frenetic mosh-pit-of-one movement followed by some buff aerial work. That Wouters then gets nekkid is predictably feral perhaps, but adds an incarnate sense of flesh. Their base chakra exploration of the psychosexual in physical theatre works towards the form's potential for embodied performance, with neither the male or female (horse or human?) subsumed or captured by the other.
Antistatic, program 1, Blue Moves, The Fondue Set, Emma Saunders, Jane McKernan, Elizabeth Ryan (NSW); Mobile States 1: Full, deviser, performer Simon Ellis, sound Jacqueline Grenfell (VIC); Rapt, performer Helen Omand (SA); Twosomely, choreographer Felicity Morgan (WA); Sentimental Reason, Branch Nebula, Lee Wilson and Mirabelle Wouters (NSW); Performance Space, Sept 25-28
RealTime issue #52 Dec-Jan 2002 pg. 24-
© Keri Glastonbury; for permission to reproduce apply to realtime@realtimearts.net
Wednesday. Gotta start my RealTime article. Working title: The demise of New Music in Sydney, or possibly New Music is Dead. Where to begin?
Thursday. Still gotta start that article. Saved by a phone call from the Sydney Morning Herald asking me to attend a concert. Just Aark bills itself as "not quite classical, not quite pop, something a bit different." Sounds like new music to me.
Friday. Tried to get to Lindy (the new Moya Henderson-Judith Rodriguez opera about the Lindy Chamberlain case) but the traffic on the Bridge was solid. Hopefully they were all going to the Opera House.
Saturday. Off to the Conservatorium for the Song Company's Six Hermits. The 6 singers were joined by the Chinese Virtuosi, 5 musicians on traditional Chinese instruments, playing new commissions. Some of it I found totally unfathomable and some immediately fascinating. All of it I'd like to hear again.
Sunday. Won't start my article today. Every writer needs a rest.
Monday. Off to the New Music Network's annual Peggy Glanville-Hicks Memorial Address.
Never-ending challenges of inadequate funding, inappropriate venues and indifferent audiences—that's the common perception of new music in Sydney. But a quick scan of the Sydney concert calendar in October 2002 suggests a buoyant, even heady environment: mainstream chamber music groups such as the Australia Ensemble and the Australian String Quartet have new, old, Australian and international repertoires. There are newbies: Aark Ensemble with their first concert, the Song Company with an extraordinary Chinese collaboration, and the Chinese National Orchestra touring a program of music all composed in the last 50 years and a piece by Australian Constantine Koukias. And as for the big end of town, cosy Musica Viva presents Ensemble Absolute, complete with sampler and backbeat and Opera Australia is finally giving the world premiere of a new Australian commission.
And yet, something's missing in this feast of the new: what has happened to the black-clad, cash-strapped musicians of specialist ensembles such as the Seymour Group, Sydney Alpha Ensemble and austraLYSIS, who dominated new music in the 90s? It depends who you ask.
Mark Summerbell, artistic director of one of Sydney's oldest dedicated new music ensembles, the Seymour Group, says, "I find it interesting…that Australia is in the grip of a massive drought and is swept with duststorms because it seems to be an analogy of almost biblical proportions to the other unspoken of drought, ie that which is occurring in the arts. Australia is a cultural wasteland at the moment, at least in the small to medium arts sector, especially in music."
He cites the introduction of the Australia Council's triennial funding as a defining moment for small to medium arts organisations. Implemented in 1997, the program gave a few companies guaranteed funding for 3 years, allowing them a degree of financial security. However, fewer, larger grants inevitably meant more competition and more artists turned away empty-handed. You were either in, or out.
Of the 12 founding members of the Sydney New Music Network (as it was known in 1997), only Synergy and the Song Company were granted triennial funding. Since then, austraLYSIS and ELISION have also been favoured. However, others continue to lurch from project to project or, in the case of Sydney Alpha Ensemble, have packed up and gone home.
Roland Peelman, Vice-President of the New Music Network and Artistic Director of the Song Company, is circumspect. Like Summerbell, he acknowledges the recent dearth of activity and the loss of some long-standing contributors. He agrees inadequate funding is an ongoing problem but identifies several other factors: "…the context for new music changes. And perceptions and attitudes continue to change. Pursuing a London Sinfonietta model…established in Europe in the 1970s, is not the way to go in a different culture 30 years later. It was a lofty ideal, but an outdated model. [The] new music scene is not the privilege of the old guard. Room has been made for new blood."
So what is the reality? Feast, famine or re-birth? Themes begin to emerge.
Everyone agrees funding challenges are here to stay. Money is tight and will stay so in the current political climate, forcing artists across the spectrum to fund their activities in increasingly inventive ways. Traditional concerts, presented by an independent ensemble with its own core audience, are out. Collaborations and contracts are in.
This could mean hitching your overheads to a larger entity: the Seymour Group for example has a partnership with the Tasmanian Conservatorium of Music and Elision has a similar arrangement with the University of Queensland. It could also mean programs are built around festival appearances (such as the Seymour Group's Bach Project, part of the 2002 Gay Games, or Elision's programs for Totally Huge and Agora). Indeed, many groups fund hometown activities, including ongoing artistic development, by seeking lucrative contract performances overseas, which pay fees in US dollars.
Sydney cannot support the diverse activity it once had. Whether it's to follow the dollar, chase the audience or simply see the world, the groups surviving are those who are prepared to move. Roland Peelman alludes to this when he singles out two Brisbane-based ensembles, Elision and Topology, as successful models. "Elision has had to come to terms [with the domestic funding situation] and has evolved. It has very successfully reidentified itself as a relevant player on an international level and within [the] Asia Pacific context. It has incorporated improvisation and radical, innovative elements…backed up by serious thinking."
ABC music broadcaster, Andrew Ford, observes that the 2002 glossy brochures from the major players (Sydney Symphony, the Australian Chamber Orchestra, Musica Viva and Opera Australia) reveal a lively menu of commissions and 20th century standards among the mainstream repertoire. He writes, "there is every sign that most of our state orchestras are taking new and local music very seriously indeed" (Sydney Morning Herald, December 2001). A quick scan of concert programs in Sydney in October 2002 confirms this.
Peelman concurs; "Sometimes it can seem tokenistic, but overall they are quite genuine. For example, the SSO has harnessed the Synergy buzz; they have hired the Song Company. And it's typical of the big players to harness ideas produced in smaller companies."
Whether this is happenstance or a genuine trend remains to be seen, particularly with the imminent change in leadership at the SSO and the unfortunate slam-dunking of Simone Young at Opera Australia. Likewise, economic realities decree that choices of repertoire are likely to be more conservative and less relentlessly confronting. However, it seems the gap created by a decline in independently produced homegrown new music is being partially filled by major organisations.
So is it a case of new music is dead—long live new music? Certainly, in this funding climate semi-permanent ensembles presenting their own concert series are largely gone. Special events, projects, collaborations, festivals and informal happenings are the norm. However, the good news is that most agree the new model, while financially and personally draining, can work artistically. Musicians talk with pride about their excursions outside Sydney's limited venues and of complex, intensive collaborations. Of Six Hermits Peelman says, "Projects like that change…our outlook and change the way we make music."
And what of the newest players? On October 24 this year Sydney's new group Aark Ensemble took to the stage with Just Aark. Founded by Jeremy Barnett, Matthew Bieniek and Paul Smith, Aark is a loose collective of mostly recent graduates from the Conservatorium, formed initially to make music but more importantly, to explore new modes of presentation. According to Bieniek the aim "…is not just to put concerts on. We want to build awareness and credentials. We want to get out of the music ghetto and try and embrace new audiences."
To a hoary old arts journo it sounds suspiciously familiar: Just Aark? Just another student ensemble trying to reinvent the wheel? From the evidence of their concert, the jury is out: no radical experiments, but lively, challenging music for a surprisingly large and receptive audience. Despite a collaborative, everyone-gets-a-go approach, the energy and quality were consistently high and James Nightingale's Bo for solo saxophone was spectacular: an affirmation of the power of new sounds to reach out and grab the senses.
If new music in Sydney is dead, it's a very lively corpse
RealTime issue #52 Dec-Jan 2002 pg. 37
© Harriet Cunningham; for permission to reproduce apply to realtime@realtimearts.net
Choreographer Lucy Guerin has established a reputation for herself as a master of minimalistic abstraction with works like Heavy (1998), which dealt with sleep states. Her dance has a kind of devilish funk; of bodies turning into and out of themselves according to a subliminal logic which can nevertheless be very affective. Guerin has also explored explicitly dramatic scenarios through her work–notably with The Ends of Things (2000), which followed a series of endings initiated by an introverted, shy man. Her latest production, Melt, is in some sense a return to her earlier, somewhat more abstract approach, using, as she says: "the relationship between temperature and temperament as a starting point for the movement."
Guerin explains that she is "rebelling somewhat" against the linear, narrative ambience she adhered to for The Ends of Things. "I felt like that show really made sense. It was closely structured and it didn't have any lose ends. In terms of what was going on, everything was there for a purpose and a reason." The sense of some kind of implicit logic unfolding within the choreography has always been a strong element within Guerin's work, of dancers aligning themselves to each other according to rules scored in the physics of planetary bodies or some other unseen force.
She does however observe that, "often I find that when I'm making a work, I craft a number of sections. Once they are put together though, this other amazing thing might happen. So it's really not just about those elements being strung together, but that they make up a greater whole–especially in terms of the tone or mood of the piece. And that's really exciting, to find something that I wasn't expecting unfolding within the studio. So I've left a bit more room for that in this production." For all of the apparent precision and geometric logic of Guerin's choreography, it remains rich in evoking the sense that something more has been set into play, shifting from deadpan comedy to weirdly affective distance, gentle rhythms and more. There is always room for audiences to bring their own concerns and feelings to the work and so interpret it in their own fashion.
Guerin observes that this has influenced her in her selection of music (composed for Melt by sparse, atmospheric glitch-funk master Franc Tetaz). "I have tended to choose that kind of music because it allows the emotionality of the dance to influence it," she explains, "rather than the other way around. If you present an audience with something sparse and simple, then they will bring their own emotions to it. That's not to say that I don't want to direct what those emotions might be. Personally though, I find that if I am bombarded with overtly dramatic or hysterical dancing or music, it leaves me as an audience member with nothing to do. I can acknowledge what the dance is about, but that's all really. Whereas if something is more subtle, I can go looking." Guerin may therefore use ideas like states of temperature or sleeping as an inspiration for her choreography, but her work cannot be simply reduced to such references. It has the same kind of richness which one can find in some of Kraftwerk's music, Mondrian's painting, or the clipped dialogue of film noir.
Guerin's style lies unambiguously within the realm of contemporary dance, drawing on the post-World War II styles sometimes classified as postmodernist. Her choreography nevertheless has the sharp, minimalistic precision and the attention to clean lines which was the defining characteristic of influential New York City Ballet choreographer: neo-classicist George Balanchine. I suggest to her that there is therefore some kinship between her work and that of Balanchine's successors, such as NYC Ballet choreographer Christopher Weeldon (whose Mercurial Manoeuvrers featured in the recent Australian Ballet trilogy United). Although Lucy points out that "I haven't actually seen a lot of Balanchine myself," she nevertheless concedes that she is also: "very interested in purity of form and in starting from a very clear, structural idea, and Balanchine's work does have a very clear style or overall aesthetic. Even so, my work doesn't really look anything like his."
The body shapes which Lucy herself tends to focus upon have much more in common with the pointed articulations and spiky dynamism found in the work of companies like Gideon Obarzanek's Chunky Move or Philip Adams' balletlab (with both of whom Guerin and several of her dancers have collaborated). "In Melt, I'm working with a lot of very intricate hand movements and finger details," she explains. "I always have looked at that in my choreography"–as with her commission for Chunky Move's Bodyparts (1999). "I'm interested in how joints and bones intersect, and fingers are very good for that kind of exploration. So there is a lot of connecting of fingers to elbows, to knees and to each other to form these lattices." Although Guerin tends to eschew the break-dance influences found within Obarzanek's work, her dancers can nevertheless be found on occasion tying themselves into intricate origami on the ground.
Even so, Guerin's own choreography has a more lingering, almost photographic style of pausing and rhythm than either Obarzanek or Adams–a quality which she explains helps to create "a certain tension" in the movement and the emotional dynamics produced by it. The extremely fast, aggressive shifts which one can observe in the movement crafted by her peers–"that random, crazy sort of chaos," as she describes it–is not a feature of her own style. "I enjoy watching that kind of material," she observes, "but generally things in my own choreography are more well-defined. When I work on that kind of stuff myself in the studio … it's just not me!" Like thawing ice, Guerin's crystalline choreography proceeds at its own pace.
–
Philipa Rothfield's response to Melt appears in this online edition of RealTime.
RealTime issue #52 Dec-Jan 2002
© Jonathan Marshall; for permission to reproduce apply to realtime@realtimearts.net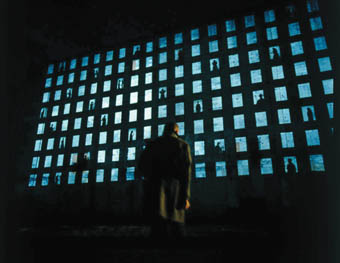 Russel Garbutt, The Projectionist, Michael Bates
With the launching of The Projectionist Australian filmmaker Michael Bates is able to put to screen his most elaborate and finely produced piece of work so far. This captivating exploration of a projectionist's final night is the latest in a line of exciting and award winning short films, including Etecetera in Paper Jam (1993) and Famed (2001), that utilise the process of pixilation, or 'human animation.'
Pixilation animates human bodies in the same way that puppets or drawings are worked on in stop motion animation. It is a painstaking and time-consuming process, with the actors having to move extremely slowly. Bates explains: "The actors are photographed one frame at a time. The camera exposes a frame. The actor takes a step forward and resumes their pose. Another frame is taken and so on and so on. Instead of allowing the camera to run at normal speed (24 frames a second), it is stopped every 24th of a second to allow a change in the scene, the movement of an object or of an actor between frames."
The effects are startling, creating a surreal and fantasy-like appearance without the use of any digital technologies or after effects. Actors seem to glide or fly through the settings, and backgrounds are saturated with intense colours and shadows.
The technique is intrinsically connected to the skills and abilities of the performers, therefore Bates works with experienced movers. "People need to have skills at being able to change tempo, knowing every part of the movement they're creating, which elements need to be slowed down or sped up. Russell Garbutt [who plays the projectionist of the title in the new film] has a great deal of experience working in physical performance." Garbutt, Julian Cope and Carlos Russell worked with the group Etcetera and appeared in Etcetera in Paper Jam, where the 3 are virtually held hostage in a corporate office, stalked by a psychotic photocopier and other office paraphernalia.
Bate's history as a filmmaker goes back to working professionally as an animator for studios such as Hanna Barbera in traditional 2D cell animation. In 2001, he spent a year at the Australian Film and Television School workshopping his technique of 'human animation' for his Masters Degree. "I needed that whole year to fully explore, test and workshop; and that was revolutionary. I knew that when I went into the film school I didn't simply just want to make a film, I wanted to explore the technical installation. I knew it would be complex in terms of the way it was going to be shot, the cinematography, execution, process, in terms of the kind of 'look' we were hoping for, I ran a series of workshops where I had a number of actors come in. I then created the short film Famed." Famed went on to win the Sydney Critics Circle Award for Best Animation (2001) and the Kodak-Australia Award for Best Cinematography in a Student Film (2002).
Despite the level of control inherent in most forms of animation, the attributes of pixilation often lie with elements of chance and accident, especially when it comes to nature. Bates explains, "Part of the appeal of live action animation and what gives it such an edginess and feel, is the fact that it is incredibly risky! Because it's so slow to shoot, you can't see the end results in an [on location] video monitor. Watching the rushes is extremely exciting, you get such a buzz! For example one of the scenes in The Projectionist took 23 minutes to shoot, and we couldn't go for a second take because it included the sunrise. It's the final image you see in the film." With pixilation, the environment is more than just a background to the action, at times having a life of its own: "You end up with inanimate objects coming to life…there's an energy that fills every image and it comes through in the colour saturation as well. And to a degree humans become more robotic and more lifeless…I think particularly in Famed you see the crossover…and that lends an alien quality to the film."
Bate's affinity with music is apparent in all his films just as sound plays an integral part, creating a rhythm for the action as well as guiding the story. The technical process means that sound can never be recorded at the same time as the live action. So how does Bates work on his scores? "I have a great love for classical music, soundtracks and film scores. I think to a large degree I am often thinking music and hearing music. Walking through life I hear music, it is there all the time. Sometimes I'll use music to assist me in creating the images and to get a sense of the rhythm. For example, for Etcetera Insurance (1998) it was a piece by Dvorak, so I knew I had to really hit the button to get the kind of imagery that would accompany it: the rhythm and pace, not so much of every scene but of every shot. In Etcetera Paper Jam the music was 'written in' afterwards, but the music I had in mind when dreaming of the film is nothing like the music you hear."
This kind of inspiration can be seen in The Projectionist where Sergei Rachmaninov's The Isle Of The Dead creates a haunting and melancholic backdrop to the story. "I don't know what came first, the music or the concept, but I do know that the Rachmaninov and the original artwork [Arnold Bocklin's painting of the same name that inspired the composer] connected strongly with the story for me. I was always fascinated by the idea of projection, Jungian projection, the theory that we are constantly projecting ideas and impressions about people onto them…So I was fascinated with that and the idea of someone who had passed through life, seen and done a great many things and has certainly suffered, but that his life is invisible to anyone else but himself." In the film the projectionist leaves the cinema where he works and mentally projects images from his past onto the cityscape.
These ideas were developed even further with producer Anna Messariti, performer Russell Garbutt and production designer Jennie Tate. "We wanted to make sure there was something solid there, even if people don't necessarily follow the story from A to Z. They would get a sense of the projectionist's personal history through the attention to detail. Jennie was asking me many questions throughout the filming, such as, 'The man who appears in the door is a violinist, why is he a violinist?' and I would say, 'The violinist is part of the ensemble where the projectionist played the piano, the violinist played the violin, and the projectionist saw the love of his life on the dance floor.' We had to think about those things very, very carefully and much of the imagery is drawn from dark corners and brought out into the light."
Literally and figuratively, Bates's use of the hidden and dark corners of Sydney, especially round The Rocks area, is astounding. "I actually love the fact that these places are decaying. I think it's absolutely fascinating and I still believe to a large degree that because of development they are killing the Rock's ghosts. There's no law against killing ghosts."
Categorising Bates's work as animation hardly does it justice given the range of techniques involved. It certainly sustains the spirit of experimental filmmaking in a remarkable way.
See Keith Gallasch's review of The Projectionist.
RealTime issue #52 Dec-Jan 2002 pg. 13
© Joni Taylor ; for permission to reproduce apply to realtime@realtimearts.net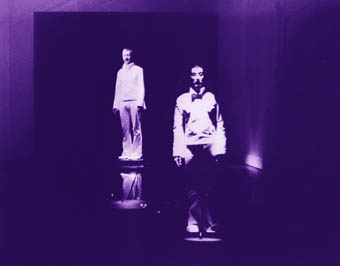 photo Heidrun Löhr
Paul Gazzola, Spin Double
The second program of performances at the Antistatic dance event opens with some of the audience spilling into the theatre space, performing inadvertent social moves for others who've chosen the raked seating. In dimly lit tableaux in the space are pieces of furniture and intimate displays of photographs from a family collection. Emerging from the crowd or appearing in a distant window or on stage (depending on your perspective), performers Eleanor Brickhill and Jane McKernan are like odd party-goers, dressed for dancing who've forgotten why they came. Alternatively pulling focus, they slice through the crowd wildly or cut a path carefully, molding the surrounding space and time to suit their mood. Brickhill moves tentatively and curiously toward a mirror or edges across the stage, maintaining a held-breath kind of tension until she finally bursts into the space, disturbing the peace we have settled into. McKernan's susceptible and surrendering gestures evoke other figures invisible to us, moving backwards as though repeatedly tapped on the shoulder, perched on a chair and tapping her feet as if waiting for her turn on the floor, reaching out with eyes closed to grasp something that keeps evading her. Intriguing and curious, Waiting to Breathe Out is nicely complemented by Rosie Dennis' improvised staccato vocalising.
Michael Whaites' Driving Me is clean, sharp and good-humoured. Carli Liembach's images projected onto 2 screens and onto Whaites' white coveralls evoke the sensation of movement through space, like footage shot from a moving vehicle. Trees, lights and road markings are abstracted to create symmetrical patterns unified by a linear thematic. Whaites' playful movements are surprising, the fluidity and consistency of force creating a kinetic rhythm that you can ease right into. Sliding down a wall, squatting, moving into and embracing the space, using various planes of action between projector and screen, Whaites moves between detailed, broken up movement and larger sweeping themes.
Jeff Stein finishes the first half with a play on perception and physical discomfort in Mini-Me, a piece that pushes spectators to meet him halfway. A screen directly above the seating shows the performer in a cramped space, lighting cigarette after cigarette and setting them up in rows. The live video feed reveals Stein's presence below us just as we detect the column of smoke rising through the seating structure. Smoky air and craning necks force the audience into a shared discomfort with the sweating Stein who now appears on screen in a new location. Though actually seated in the dark before us, we can only see the performer on the screen above with the aid of Denis Beaubois' infrared camera. Stein alternates between sitting and staring blankly into the camera, sweating, panting and dancing/crashing around in the dark, all accompanied by Martin Ng's hectic improvisations. Evoking Ishmael Houstoun-Jones' In the Dark (Antistatic 1999), the focus shifts from visual to aural and sensorial creating a new kind of dance spectatorship evoked through a dislocation of presence and image.
During the break, Paul Gazzola's installation Spin Solo in Gallery 1 entertains in the tradition of an ancient wind-up tin toy. Dressed in an Elvis suit and standing on a wooden disk that spins by means of a rope and motor, Gazzola's dinky apparatus is as charming as his casual banter with the audience. Fielding questions about the work, Gazzola offers us a turn on his machine and then projects his own image into the space he had occupied while he has a rest (Spin Double). This DIY entertainment in an arcade style set-up has the kind of magic that only simple, comprehensible technology can.
Back in the theatre, Rakini Devi's Claustrophobia #3 begins with cellist and composer Liberty Kerr seated centre-stage behind a scrim, performing simple gestural strokes on her instrument. When Rakini appears, she evokes an other-wordly, intensely feminine force as she moves incredibly slowly across the performance space. Kerr's cello accompaniment adds an eerie quality, its dramatic swells creating a counter-point to Rakini's steady action.
The final piece, Cazerine Barry's House, presented here in excerpt, I have written about previously in RealTime: "Constant transformation is the outstanding element of the work…The visual aural and cultural sidetrips on this journey take full advantage of the mutability of virtual environments, while directly reflecting the central theme of the work, 'a dislocated sense of home and place', and the Australian dream of home ownership (RT46, p25). House works effectively in the space and tops off a night of well-crafted and mature work from NSW, Victoria and WA—a rare treat which emphasises the increasing need felt by dancers and audiences for the touring of independent dance.
Antistatic 2002, Program 2, Spin Solo and Spin Double installation by Paul Gazzola; Waiting to Breathe Out, deviser and performer Eleanor Brickhill, performer Jane McKernan, improvised text Rosie Dennis; Driving Me, choreographer, performer Michael Whaites, video artist Carli Liembach; Mini-Me devisor performer Jeff Stein, deviser video Denis Beaubois, sound Martin Ng; Claustrophobia #3, performer Rakini Devi, sound Liberty Kerr and Magnus, video imagery Nancy Jones; House choreographer, sound and video artist Cazerine Barry, associate director Rachel Spiers; Performance Space, Oct 3-5
RealTime issue #52 Dec-Jan 2002 pg. 25
© Erin Brannigan; for permission to reproduce apply to realtime@realtimearts.net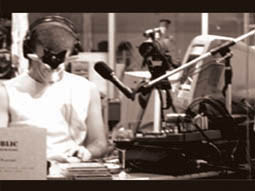 photo Aaron March
Jason Sweeney, Stereopublic
Stereopublic is an ongoing series of public radio performances conducted by Jason Sweeney, greeting audiences throughout Australia and Canada from café windows, footpaths and at Newcastle's Electrofringe festival. Stereopublic combines broadcast media, spoken word, music and sound art, prodding at the invisible shoreline of the public domain which is perennially refashioned by the wavering ownership of intellectual property, social orthodoxy and censorship.
Stereopublic's return to Adelaide has taken place in collaboration with the performance and new media company Para//elo. Over 4 days during September and October in the Lion Arts complex of Adelaide's West End, the latest iteration of Stereopublic's 'happenings' heralds the first manifestation of POP (Para//elo Open Platform), an experimental artists-assistance program, launched this year.
On the day I chose to visit, the performance space was set up much like a radio station: DJ's soundproof glass cubicle replete with computers, microphones, a minidisk player and a large television looping images of local waterways. Sweeney was perched cheerily in his booth, a converted ground floor window of the Para//elo offices, mixing tracks from what I gathered to be the Brit-pop melancholia of SlowDive and maybe some Depeche Mode. I waved but didn't drop in, discovering later that I was free to do so. Watching the foot-traffic of university students, skaters and office staff, I was pleased and bemused at this short-range transmission of music, OK Computer-esque bot monologues and weather reports unfolding for a small and preoccupied audience.
Amidst the random, abrasive and sometimes banal radio, Sweeney dropped in some John Cage moments of silence. Commercially owned media spaces dread dead airtime that can cost them thousands of dollars in lost advertising revenue. This fear highlights the power of unstructured spaces in the commercial arena. Membership-based media activists Adbusters recently fought a legal battle for the right to bring 30 seconds of silence to mainstream American television. Remarkably they won, planting a small but potent message for millions of television viewers.
Staring at the television screen as Sweeney delivered a repertoire of found texts, I experienced a brief moment of audiovisual Zen. Watching handheld footage of flotsam as it swam over ripples in a shallow pool, pinned by a tendril to the rotting pillar of a small wooden bridge. I was captivated by a senseless contentment. It may have been a non-existent bird that I heard pipe up as the wind scuffled across the minidisk's microphone…soundscapes snagged in a trek alongside nearby riverbanks.
The audible presence of unseen running water and bird calls is both enigmatic and pacifying, letting you know that your surroundings are fruitful and secure. Of course there is savage appeal in the technique of softening aesthetes' ears, before yelling in them. Jason Sweeney toys with his audience by volleying them between meditation tape nature-sounds and a punk aesthetic of abrasive signal testing. As the stormwater reports and sardonic news readings progressed, I was alert enough to pick out some useful solutions for water run-off, discovering that it was National Water Week in the process.
Narrowcast media and public performance play an important part in the development of uncensored 'do it yourself' radio spaces, the content of which is driven by the audience and the performer alone. Stereopublic is gathering the strength and the wit to do this with increasing voracity. For the moment—and perhaps I'm missing the point—I don't feel Stereopublic is publicly pervasive enough. I look forward to the refinement of visual materials that accompany Jason's random radio outcastings and their synergy with each new performance location.
Stereopublic, Jason Sweeney, Para//elo, Lion Arts complex, Adelaide, Sept and Oct.
RealTime issue #52 Dec-Jan 2002 pg. 38
© Samara Mitchell; for permission to reproduce apply to realtime@realtimearts.net
The middle class, male mid-life crisis is at the dead heart of this new opera from playwright and novelist Joanna Murray-Smith and composer Paul Grabowsky. The friends Edward and Roger no longer love and admire themselves, and their wives' affections and care for them are no solace. We learn little of these men's lives, personalities and feelings, and even less about the other characters in Love in the Age of Therapy. The bland wives, Alice and Grace, only become interesting in Act II when new loves take them from their husbands and they are allowed to indulge in romance, lust, hypocrisy and, in the case of Grace the therapist, seriously unethical behaviour. Edward and Alice's daughter Rebecca, loved by Rory, a radical young poet, and adored by her godfather Roger, is barely realised at all. Rory only adds up to the cliches he mouths, sounding more like someone from the 1970s than the first decade of the 21st century, an indication of how just out of touch this work is.
But all is not lost. Many passable and sometimes good operas have been written to execrable libretti. In this case Grabowksy's rampant and fluent polystylism (which he calls "avant lounge") kickstarts the heart of the work and engenders distinctive voices and hints at possibly complex personalities, and the singers rise to the occasion. While the text relies enormously on abstraction and aphorising (nothing Wildean to report, I'm afraid), the music is richly textured, highly animated and framed with a moody, cosmopolitan jazziness. There's care not to mock characters or to simply parody musical styles. When, a la Puccini, George sings his love to Rebecca, there's pathos but not bathos, and great commitment in the singing; or when Edward, pressured by Alice, has his first session with Grace, the music is an anxious, restrained, steely shimmer that refuses to dramatise what is already evident. However, the angular, wobbly bebop trumpeting that follows is a bold move that lifts into the open the tension surrounding Edward's potential release. The music of Love in the Age of Therapy is energising, the sometimes jazz-based phrasing of the libretto undoing the awkwardness and banalities of everyday dialogue (few composers past Britten have managed this) or Murray-Smith's dogged impulse to aphorise–"Marriage is the art of irony"; "We forfeit the wilderness of passion/For the white picket fence of affection"; Alice: "How do you teach a child what love is?" Edward: "Love them well./Eventually they will recognise the truth/Of its absence"; and so on and on.
There is one other character in this opera, Henry. He lives on the street wearing an old greatcoat and with his possessions in a supermarket trolley. He's an ironic observer of the lives of the well-to-do middle class: exactly how he sees into their lives is not entered into. He's a mere device performed with a gruff and engaging physical vigour and musical mock-baroque verve. He's funny, some of his observations are acerbic, but why is he there at all? The pretensions of the characters are already gently undercut by everything they themselves say. Henry has little to add. There's also something terribly old-fashioned, cliched, even offensive, about this fantasy of the insightful outsider (homeless or savant or mad).
Halfway into Act II, the work becomes more interesting, even engaging, thanks to the accleration of plot, the intensification of the comedy of sudden reversals (Lyndon Terracini as the irascible Edward showing fine comic mettle), the acuity of Richard Greager's realisation of Roger and the rapid interplay of sung lines. I felt a lightening of the burden of the ponderous unfolding of Act I. Judiciously edited, Love in the Age of Therapy could make a better, long one act opera.
Also ponderous, Dan Potra's set represents a monumental middle class bunker (at odds with the several references to the, surely metaphorical, white picket fences in the libretto), appropriately stark and vacuous. Its walls and windows double as screens revealing shots of traffic, skylines and trees. It's all nicely done but, a few moments suggesting subjective states aside, achieves very little beyond setting mood and background (a predictable mainstream response to the potential of new media).
Love in the Age of Therapy is a cosy bourgeois entertainment, its judgment of its subjects just too kind. There is nothing unfamiliar in their world–they never encounter the likes of Henry. The strangers they meet are themselves until they renew their lives by shuffling relationships: Edward pairs with therapist, Grace (wife of Roger), Alice (wife of Edward) with her daughter's Rory, daughter Rebecca with her godfather, Roger. One of Henry's few worthwhile barbs is a comment on the middle class confidence with which they've done all this, "This bunch could reorder the seasons/Given half a chance!" Other lines, like "Whoever thought swinging went out in the 70s/Had better think again" are less bracing.
In her introductory note in the program, Joanna Murray-Smith writes that "contemporary culture has diminished the glory and elegance of love, of true love", but Love in the Age of Therapy itself does little for love other than to intone the word at every turn. The opera facilely abandons all old loves en masse for new. Yes, the characters get another chance at life, but is this enough, especially for a comedy that self-consciously wears Shakespeare and Mozart on its sleeve? There is nothing here to suggest the disturbing complexities of the same playwright's Nightfall. Musically, Love in the Age of Therapy is a treat, assured, beautifully and distinctively orchestrated even if its many referencings occasionally threaten to overwhelm the sense of a singular and memorable voice that wittily and dramatically fuses and juxtaposes disparate musical languages. If nothing else, Love in the Age of Therapy has given Paul Grabowsky the opportunity to ably compose for dialogue after working on the one man opera, The Mercenary.
RealTime issue #52 Dec-Jan 2002 pg. web
© Keith Gallasch; for permission to reproduce apply to realtime@realtimearts.net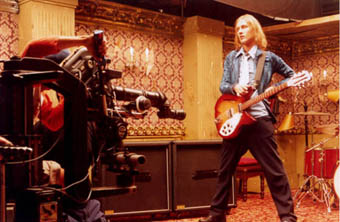 Daniel Johns, The Greatest View, Silverchair video, Squareyed Film
"There's a great sense of community in Brisbane, which is of course directly related to its size," says Sarah-Jane Woulahan, one half of the successful production company Squareyed Films. Since scooping the pools at the all-important Queensland New Filmmaker Awards with Stanley Ovation PI, Woulahan and partner Sean Gilligan have embarked on innovative personal projects including activist documentaries and videoclips for the bands George and Silverchair. They're passionate advocates of the positive aspects of Brisbane's small-town mentality: "almost all the filmmakers here know each other and you can feel the community getting stronger and more independent and confident as the months go by."
"Brisbane is a small place and it's pretty easy to keep track of what everyone is up to, so there's a sense of us all being in the same boat," agrees Anthony Mullins, whose 6-part documentary series The Show recently screened on ABC TV and whose absurdist short STOP was the only Australian film at Cannes 2000. This sense of community, Mullins says, "might come from the fact that no one is opening Swiss bank accounts on the money they make in the independent drama/doco business here."
Most emerging Brisbane film/video-makers cite the city's low production and living costs as critical factors in their work. It's hard to find a new filmmaker discussing the 'paid professional' side of the craft. On the contrary, many of Brisbane's budding media makers are refugees from professional stints on the Gold Coast where 'hired gun' work is plentiful, if not always creatively or emotionally satisfying. Gilligan attributes the initial impetus to set up Squareyed to a stint on "US slave labour camps at the Movie World Studios, churning out mediocre fare…I just wasn't satisfied with being a cog in the machine."
Others share this ideology of choosing to remain on the margins of industrial production, in exchange for creative freedom and practice. "It's really important for me to be doing what I love," says Tina Blakeney, award-winning experimental filmmaker and multimedia artist, "and that means honouring my creativity, doing the projects that stimulate and challenge me artistically…If that means working 3 jobs, working nights to produce something the funding bodies don't like or don't think will sell, well, stiff shit—I'll find a way."
Historically, this romantic sense of antagonism toward institutional film bodies tends to characterise self-conscious independent production and it's particularly pronounced in Brisbane where, despite a burgeoning state-funded sector, much innovative and diverse production emerges from outside institutional boundaries.
Squareyed warn against the 'culture of dependence' that inevitably results from "filmmakers who are taught to construct stories that suit defined funding guidelines", rather than pursue unique personal visions. They're critical of the creative vacuum that they see resulting from too many Queensland filmmakers going through the 'sausage machine': "the filmmaker constructs their personal tale in order to be successful and in the process creates something that is untrue and unrepresentative of them as an artist." Squareyed particularly rail against the way that strings-attached funding often disempowers individual filmmakers.
They describe a disturbing picture of interference with funded productions, the installation of interstate and foreign 'professional' talent at the expense of local filmmakers learning their craft, interventions with stories including last-minute script changes and consequently, creatively bankrupt, hollow productions and makers. "What has been left by the wayside is creative collaboration and instinct, experimentation, initiative, learning through mistakes, trust, responsibility—everything that is important to the filmmaking process."
That wayside detritus finds a natural home in the independent sector where the rejection of hegemonies is not only standard operational procedure but the motor for experimentation and innovation. Brisbane's thriving independent media culture, facilitated by activist and grassroots organisations like indymedia, active.org and ecojammer, is witnessing an explosion of creative collaborations: happenings, installations, talks, screenings and events. The legacy of systemic repression, Brisbane media makers' unapologetically anarchic, anti-institutional approach has led to powerful cross-fertilisations of talent and ideas; recent examples include the popular multimedia arts festival Straight out of Brisbane. Successful experimental screen nights featuring works such as Pixel Soup by Sean Healy and Jesse Sullivan and Brat Jam, a video zine by Jesse Sullivan and Thea Baumann, show that Brisbane audiences are hungry for original, challenging local fare.
Not all the up and coming Queensland film talent insists on self-marginalisation. Many new Queensland filmmakers have benefited from institutional support, including Anthony Mullins, who credits Pacific Film and Television Commission project support for his start in filmmaking, and teaching opportunities at Griffith University for enabling his continued development. The romantic image of the lone artist up against the establishment isn't applicable to other emerging talents, like the Spierig brothers, whose career has benefited from institutional and industrial assistance; specifically, mentorship from commercial production elder Dick Marks. After many successful shorts and commercials, the brothers have embarked on their most ambitious venture: the self-funded zombie-genre feature Undead, for which they are currently in the process of securing international distribution.
Particularly in a town as interconnected as Brisbane, there are plenty of bruised ego stories. However, many argue that the operation, character and mood of film production here is what contributes to the success of Brisbane's emerging filmmakers. Independent writer/director Stuart Mannion, another key figure in Brisbane music clip production, says "Brisbane sets are close-knit affairs—a lot of people are happy to work for free or in return for you helping them out, most people multiskill and there's a real sense of the network, of working together, that isn't as obvious in the bigger cities." Squareyed have benefited from "extraordinary support" from industry partners who have "continually backed our projects, supporting high risk ventures" scorned by funding bodies, such as the successful The Irving Hand Prophecy.
Despite the opposition to "organisations whose priority is favourable press for politicians and giving grants to mediocre American producers who see our state like a Mexican backlot," many new Queensland film/video makers are reaping benefits from relations with funding bodies. Others are carving out niches in the independent world, however all benefit from the tight, powerful networks of this small town. Woulahan and Gilligan are unrepentant about their decision to pursue personally challenging projects over profits: "Safety pays well but destroys the soul. We'd rather do what we do our way and be a part of strengthening and developing our community, to help Brisbane become known as Australia's capital for independent filmmakers—filmmakers who are working for the love and progression of their art rather than searching for the next dollar."
RealTime issue #52 Dec-Jan 2002 pg. 14
© Danni Zuvela; for permission to reproduce apply to realtime@realtimearts.net
Sue Healey and Louise Curham sit on the floor surrounded by Super-8 projectors. Their combined choreography of movements flicking the machines on and off translates into projections that, in turn, transform the gallery space into a colour box. Shona Erskine dances through a linear string sculpture in the centre of the room and to the precisely timed appearance of flickering moving images around the walls. Erskine's delicate, exact and perfectly poised gestures tip-toe silently through the maze of material and illusory objects to the rhythms of the noisy machines.
Curham's hand-painted and scratched films create primarily linear patterns that jump around the framing squares of light, dancing in counter-point to Erskine's angular moves. At one point Erskine crouches in a 'niche' of the space, holding the room in suspense as the clattering projectors animate the space. A delicately and finely honed work evoking the magical transformations of proto-cinematic effects.
–
Antistatic 2002, Program 1, Niche #2, choreographer, Sue Healey, performer Shona Erskine, film artist Louise Curham, composer Darren Verhagen; Performance Space, Sept 25-28.
RealTime issue #52 Dec-Jan 2002 pg. 25
© Erin Brannigan; for permission to reproduce apply to realtime@realtimearts.net
Beneath the noise and the corporate slurry, a self styled boy-band from Brisbane hunkers down amongst the vertical-linkages and value-propositions to bring us AMPidextrous Hearing at the Brisbane Powerhouse. The band, COMPOST, is a project-based collaboration (formed in 1997) between 5 composers from the Queensland Conservatorium: Damian Barbeler, Julian Day, Luke Jaaniste, Freeman McGrath and Toby Wren. Now dispersed across Australia, they get together once or twice a year to commission a new set of performers and put on a show.
In AMPidextrous Hearing Jaaniste has his turn as creative director. Underlying the project is the thesis that instrument design influences the practice of composing. COMPOST explore this idea over 2 nights by setting up duelling concerts: before and after electricity. On Night 1 it's early instruments: recorder, oboe, lute/theorbo, viola da gamba and harpsichord. On Night 2 it's the all-electric jazz rock combo: sax, guitar, bass, drums and keyboards. The scores are similar on both nights so the audible difference throughout the 2 concerts is mainly the instrumentation and playing styles, not the 'music as text.'
The first night, preAmp, begins with Whisky by Wren. It starts with a simple 2 note recorder figure, goes to variations and the occasional let's-all-join-in, until everyone is synched up. Generator by McGrath is next: flashes of humour and love's mellow groove. I think of a happy Addams Family, Lurch at the keyboard.
The third piece of the night, by Jaaniste, is strictly from the recent isms; texture and what-listening-is rather than line and structure. A sound mass of trills from the harpsichord becomes overlayed with a quiet drone from the other instruments. Then silence. But somehow Jaaniste conducts across this silence to keep it active and expectant. This process is repeated 3 more times with slight variation (more so in the last section) to produce a sense of profound, desperately restrained fury. This is the highlight of the first night, on which the early instruments and the compositional intent seem perfectly suited.
Next comes Day's Apology for Letter to Dead Girl. Martyn-Ellis impressively plays the fiendish-to-tune and beautiful to look at theorbo (think giraffe and lute). Low, 3-4 note chromatic figures sound like the plucking of deep piano strings. The last piece of the night is from Barbeler. Harpsichord clusters and interlocking lines (something across most of the pieces that evening).
Night 2, and plug in for postAMP. Warning signs plaster the theatre doors "This is going to be loud." Now I'm a big fan of ethics in performance and don't see why tissue damage should be a part of the audience experience, but it's not all that loud after all and suits me fine. The stage is slightly different, darker, and with the performers set out in the traditional rock band format (sans singer).
Couldn't start better than with Barbeler's reworking of Generous music from the Night 1. Chords fade in and out, clicks and glitches, file readouts, samples from the previous night. Then it's Freeman's excellent Generation (a carbon-copy of Generator from the night before). If only progressive rock and jazz had gone legit so well.
Jaaniste's Static was the treat of the previous night, now it's the electro version. Subtle texture is lost as the harpsichord is replaced by a keyboard randomly cycling through the General Midi (GM) sounds that come bundled with every soundcard and keyboard on the market. Good, but not the standout of Night 1.
Day resurrects Dead Girl. Smarmy bossa nova on the guitar. Funny, and much like its previous incarnation, but this time the electrics carry the rolling rhythms in a way that the unamplified instruments could not.
Last is Wren, with Iceberg. Very slow build up. Gentle consistent drums punctuate the slab guitar, cold samples rummage about the space, meandering call and response across the instruments. Ice breaks and cymbals bow.
On the retro Night 1 the pieces by Barbeler, McGrath, Day and Wren don't work for me in a big way. The musical language doesn't really suit the instruments, maybe the lack of sustain in those old instruments can't hold the larger structures together. Come the second night, though, and the complex writing of Barbeler, McGrath, Day and Wren exploits the amplification and sustain to the max. Great playing, great music. Jaaniste's Static is quite different: perfectly suited to the harpsichord, with the early instruments rich and balanced in the drone. But the arid keyboard sounds of Jaaniste's amplified version prove no match for the texture of the harpsichord.
So the boy-band from Brisbane is right. Before and after, pre and post. The physical counts with great ideas like these.
AMPidextrous Hearing, COMPOST, Damian Barbeler, Julian Day, Luke Jaaniste, Freeman McGrath, Toby Wren; Visy Theatre, Brisbane Powerhouse, Sept 13, 14.
RealTime issue #52 Dec-Jan 2002 pg. 38
© Greg Hooper; for permission to reproduce apply to realtime@realtimearts.net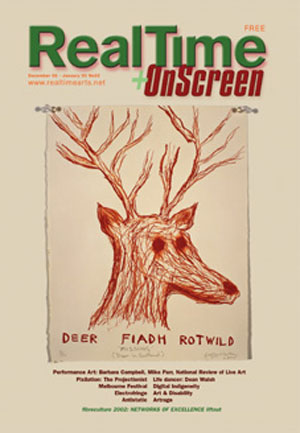 Reproduced with the kind permission of the artist
Missing (Deer in Scotland), 2002, Lithograph on paper, 38cm x 28cm.
While the deer on our cover may signal Xmas, he's actually with us because Greg Fullerton's drawing has been staring at us in the RealTime office with those deep, dark eyes for most of the year on the card announcing the winners of the 2002 City of Hobart Art Prize where Missing (Deer in Scotland) was Highly Commended (judges Peter Timms, Benjamin Gennochio, Grace Cochrane). We've grown very attached to this deer and thought we'd share him with you. The artist aptly describes the lines in his drawing as frenetic and the antlers as almost like trees: it's this organic quality which appeals to us, as well as admirable fusion of cartoony vigour and something more serious.
Greg Fullerton is currently based in Melbourne, though he's lived in many places and was Visiting Artist at the Edinburgh Print Workshop in 2000 when he created Missing (Deer in Scotland) as an anonymous intervention, protesting the diminution of the deer population, printing it in poster format and sticking it on trees and buildings in Scotland, Ireland and Germany. He describes Missing (Deer in Scotland) as "a protest, satirical, and a bit personal." Part of the personal is Fullerton's great admiration for Joseph Beuys, artist and interventionist, in whose adventurous life and work the stag magically figures.
To our readers, subscribers, advertisers, editorial team members, our many writers, funding bodies and the innovative artists whose works thrill and propel us, have a Merry Xmas and a Happy New Year. See you in 2003!
Virginia Baxter, Keith Gallasch, Gail Priest
RealTime issue #52 Dec-Jan 2002 pg. 3
© RealTime ; for permission to reproduce apply to realtime@realtimearts.net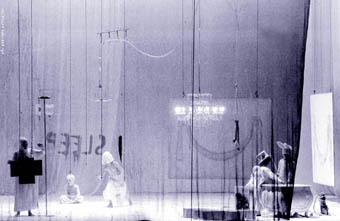 Genesi
Romeo Castelluci's Genesi: From the Museum of Sleep arrived in Melbourne at the end of a bleak week for world theatre.
Early this year I wrote an article for RealTime on theatre as Terror (RT 47 p4). Now, as the year grinds down, we have seen, in the Moscow Chechen crisis, terror in the theatre itself. A 2-act drama of pure horror. The prologue was innocence itself—a musical romance entitled North-East. Interval, one imagines: the relaxed chatter, coffee, wine, Kream-Betweens, with little expectation of the change about to happen. "After an intermission, theatregoers headed back to their seats for Act II…Suddenly, masked attackers in battle dress burst into the building. Some fired into the air, while others raced onto the stage shouting, 'We are Chechens!' and 'We are at war here!'" (Time, Nov 4). What was it like, that terrifying point of transition from pretence to reality? How long did it take for the realisation to dawn that this was not a 'reality effect' but 'reality' itself, intruding into the space of make-believe? It was reported by one of the hostages that members of the audience applauded the violent spectacle of the unexpected entrances.
The dreadfully protracted First Act was played out between the always already desperate Chechen terrorist fighters and the might of State Terror. In that battle, the audience-turned-participants ('hostages') had no chance. They would always be sacrificial victims in an unresolvable plot. Meanwhile, the State forces, due to dominate the bloody final Act, were rehearsing their role in another theatre. "For days they had been secretly practising at the Meridian Theatre on nearby Profsouznaya Street. Plainclothes policemen had been deployed to guard the perimeter and keep curious onlookers away" (The Weekly Telegraph, October 30). The final Act was triggered, like a classical movie, by a child: "'Mummy, I don't know what to do anymore', he shouted. Then he threw a bottle at a Chechen woman guarding him and fled toward the exit" (Weekly Telegraph). The shot fired at him by the terrorist was the signal for the state troops to burst in through the walls and the sewers—preceded of course by the deadly nerve gas.
In the end the theatre was full of dead and dying bodies—the end of a Shakespearian tragedy, "littered with bodies of dead and unconscious hostages" (Weekly Telegraph). There is a press photo of a Chechen woman, dead in one of the theatre seats, slumped easily, as if she has fallen asleep during a bad play. "Take up the bodies," says Fortinbras. "Such a sight as this/Becomes the field but here shows much amiss." Amen to that.
It is the lasting power of Genesi that its response to the "destiny of the inhabitants of the world" (Castelluci, festival program) is so tough-minded, so terrifyingly lyrical, so unpredictably indirect in its creativity and so openly and quietly scandalised by the tragic consequences of the original act of creation.
The beginning is simple enough. In the dark, the sound of the word in the theatre, the chatter of voices, as if a replay of the hum of voices that fills the auditorium as an audience settles. The chatter builds in intensity as the lights reveal a group of men and women in 19th century formal attire, gathered at the back of the stage, listening to an orator on a podium—an original act of theatre. From here theatre's problems begin. What should happen next if on this empty stage of possibilities anything can happen? The theatre director/writer's challenge is in essence no different to that of the god of Adam. "In the beginning was the word." Well yes, we've had that, now what?
Divine creation unleashes the problem of possibilities. It creates an open sea of possibilities. That is terrifying. Castelluci, festival program.
And so before us unfolds in Part 1 a roll call of images that seek not to tell the tale of the Book of Genesis but to track its path anew. A naked man squeezes through a tiny gap in the scrim to enter the front area of the stage—what is that gap: the gates of Eden, the eye of the needle, the mouth of the womb, the stage door? Images may resonate with familiarity (a burning sword, a circle twirling, something revealed from the sand) but they are revealed not as sequential events in a narrative history of the spirit but as if all already there—truly revealed, all of them, it only takes the power of the light to bring them to our consciousness. The theatre mechanism at work is the layers of scrim with which the stage is filled, like veils to protect us from the terror of too much reality. We are given glimpses of the horror of juxtapositions we do not want to see: a man (a contortionist)—Adam?—coming alive in a glass cabinet, whilst next to him in another glass cabinet a horse's head is crushed in a vice and across the stage 2 mechanical sheep fuck. Conception, birth and death in a triptych of image and noise. I broke out in a sweat.
The intervals felt, at first, intrusive, unnecessary. We have learned from Moscow that intervals can be catastrophic. Both Parts 2 and 3 involved huge shifts of focus and style. What they lacked of Part 1's rich tapestry of image and sound they made up for in sustained intensity and conceptual daring. In Part 2, 5 children, trapped in a world of white, practice the signs, the symbols, the attitudes and the deadly games of the adults, witnessed in embryo in Part 1. The visuals are entirely uninflected, only the soundtrack maintains the emotional intensity. I was reminded of Francis Fergusson's discussion of young animals utilising their 'histrionic sensibility' to prepare for the serious stalking and murder of the jungle. It is a place of sleep and dream, of silence ("The word 'infans' means to be out of language"); a place where a child in a bunny suit plays out the lament of lost life. Only finally, after a child (like a terrorist?) screams incomprehensibly at us from the stage, do we witness the showers (of Auschwitz horror) and the flickering of the camera light of the old documentary.
In Part 3, the group of children is reduced to a pair of men (Cain and Abel?) and then finally to one existentially lonely man (Cain) and the dead body of his victim, whilst huge dogs roam the stage, sublimely uninterested in the stupidity of human violence, sniffing out the scent of death, eating up the flesh that lies around.
It is a devastating sequence. The first act of murder, so quiet, so protracted, so definitive. How many such acts have happened in the real world since? How many bodies have lain on stages in theatre's futile attempt to reflect the stupidity back to the world? And now finally (post-Moscow) how can we tell the 2 apart?
–
Genesi: From the Museum of Sleep, Societas Raffaello Sanzio, creator & director Romeo Castelluci; music Scott Gibbons; State Theatre, Victorian Arts Centre, Oct 27
RealTime issue #52 Dec-Jan 2002 pg. 4
© Richard Murphet; for permission to reproduce apply to realtime@realtimearts.net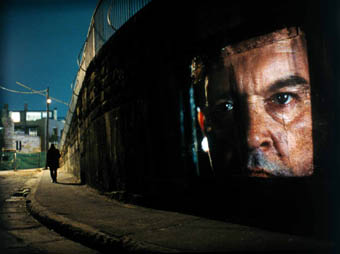 The Projectionist, Michael Bates
An aged projectionist leaves an empty cinema for a long walk home, perhaps his last, late at night. The streets are empty, but they are also full—of memories, many of them painful, cumulatively suggesting the life and losses of a refugee. These are realised as silhouetted, moving figures at windows or richly textured images of people, including younger versions of the projectionist himself, flickering on the walls of buildings and tunnels. He never stops to look at them. Some appear though to see him: they are puzzled, or reach out, or slam a door. But we sense he is aware of them: they are, literally, projections of his past, and the sounds that accompany them come from that same distant but still urgently alive space. As he makes his way through the old part of his city the images grow in frequency and sometimes monstrously in scale. The narrative of his past is not told or explained, it is suggested rather by our interpreting of the images—family and school scenes, labour, militarisation, flight. But if these images can only be read impressionistically, the film is much more precisely and sublimely about the act of remembrance as a kind of haunting, in which one place and time is projected onto another.
Michael Bates' 20 minute film is made with an animator's precision, drawing on skills honed in earlier works. This is not hand-drawn animation and it is certainly not digital. The performers and the locations are real and the projections are on-site. However, Bates pixilates the movement of his characters (see interview p13), so that they have the presence of animated figures. In Etcetera in Paper Jam the outcome is comic, reminiscent of the movies of Chaplin or Keaton. In The Projectionist however pixilation is used to more serious effect, amplifying the age of the protagonist and the doggedness and sometime hesitancy of his passage through the city in contrast with the more fluid images of persons remembered, and also with the speed of clouds or a passing train, reinforcing the sense of the projectionist inhabiting another temporal space.
As sombre as all this is, Bates' night-time world is full of colour and incandescent moments from the very beginning when we are caught in the projector's glare through to an abandoned factory that sparks into life, the glow of the Harbour Bridge, the ghostly fireworks on old buildings, and the rows and rows of lit windows that evaporate leaving a huge, blank, brick wall, emptied of life. As the old man walks, another wall transforms into a plain across which refugees trudge and the woman who recurs in his fantasies stops and turns to us. Strangest of all is an image of the same woman in an arched doorway, as if viewed from above. She is clothed, but lying in water, serene, even sensual. She looks towards us and reaches out—but the projectionist has moved on. As he walks through a tunnel, ghostly doors are opened or slammed shut by briefly glimpsed figures. The decimation of his former life is graphically portrayed when images of his beloved, of the playing of a piano and of the act of writing burst into flame—film on fire. As the projectionist's grim reverie leaves him he emerges into bright daylight and a broad postmodern boulevard along which he trudges, isolated and out of place.
Rachmaninov's tone poem, The Isle of the Dead, plays for the course of the film, with Bates' choreographing his action and emotional peaks and nuances to the music, in itself no mean feat. The film's production design (sparely and effectively realised by Jennie Tate) suggests the 30s and 40s, a period when Rachmaninov's brand of late romanticism held sway. It's a conservative choice but given our subjective position (seeing what the projectionist recalls) and the totality of the composition, it suggests perhaps that this is the kind of music the projectionist knows, has even played as images of piano and violin flicker by. Paul Charlier's edgy sound design, with its female whispers, distant sounds of homely companionship, escalating rows, the grinding spark of oxy-acetylene torches, the barking of dogs we never see and a vivid storm, is finely orchestrated with the Rachmaninov.
For Sydney-siders increasingly used to seeing their city as backdrop to Hollywood and now Bollywood movies, The Projectionist is a radical alternative, a loving evocation, rather than exploitation, of The Rocks area below Sydney Harbour Bridge. The projectionist's sadness parallel's our own as this elderly part of Sydney dissolves into tourist enclave and new residential developments. Bates uses locations in other parts of the city (the State Theatre as the cinema, an abandoned powerhouse), but his tight tonal framing yields a consistent sense of place.
The Projectionist is finely realised at every level, the film a tribute to its maker and his collaborators' persistence with carefully developed and tested, labour intensive techniques at a time when digital technology offers shortcuts. A digital version of The Projectionist, however, could not achieve the look and intensity of this film's romantic realism, of real film projected against real walls and buildings in a very real place. Its achievement is to evoke a singular subjectivity, working psychologically and metaphorically, absorbing us into the way memory operates, and with visual and aural acuity. It's a short but thoroughly memorable experience.
The Projectionist, writer, director, editor Michael Bates, producer Anna Messariti, cinematographer Anthony Jennings, sound design Paul Charlier, production design Jennie Tate; Much Ado Films. Montreal Festival of World Cinema, 2002; Official Selection, 40th New York Film Festival 2002.
RealTime issue #52 Dec-Jan 2002 pg. 15
© Keith Gallasch; for permission to reproduce apply to realtime@realtimearts.net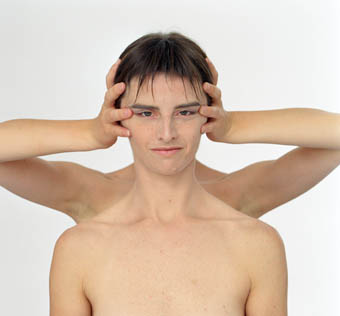 photo Virginia Cummings
Ros Warby, Melt
The promotional imagery from Lucy Guerin's dance work Melt was quite dramatic, suggesting molten states, seismic shifts in movement and emotion and rapid change. Perhaps it was this that provoked the diverse opinions about the show—a work of 2 very different halves. Some people liked one and not the other. Such are the results of mixing expectation with revelation and the fact that Guerin's recent works differ in appearance and emphasis regarding narrative, theme, timbre and use of space.
Part 1 of Melt was performed in a small square inside a larger space. Ros Warby and Stephanie Lake's bodies were inscribed by the motion graphics of Michaela French and bathed in Franc Tetaz' sound score. A duet, or a foursome perhaps, the result was a tightly interwoven, sensory compendium. Dressed in tight long skirts, Warby and Lake used inventive arm gestures. Lit simply by the projection itself, their movement was precisely executed to complement painterly backgrounds (cyber-Klee and Kandinsky) and right-angled, linear tracings. The result was a 3-D shadow puppetry that transgressed the flatness of projection. Warby and Lake were connected like Victorian love seats: one facing the front, the other to the back. Their bodies were centaur-like, grounded and circumscribed. Sometimes they were upstaged by their shadows and then their flesh would emerge in a rare display of facial expression. Sculpture was contrasted with speed. The molten theme in this part of the work arose from changes of quality, tempo and character, the compositional experimentation from spatial constraints, a dialogue between movement, projection and the faint imagery of emotion.
Part 2 included all 5 performers, traversing the larger space. The women were dressed in green tops, orange kilts and socks, the 2 men in subtler tones of grey. A spy-cool trio (Robinson, Mills and Kremerskothen) entered along the wall, settling in a corner. They worked nicely together, moving through material that was recognisably Guerin: a play on turnout, strength and length in the lower limbs, an archeology of ballet's compass, an overlay of invention. Several relationships occurred among cameo performances by an able cast, creating momentary images. A circle dance wove around Warby, the centre of the dancers' attention. An unwilling recipient, she crawled off sideways, vulnerable. Lake performed a balletic turn on her haunches. Eyes rotating slowly. There was a kind of neutrality to this quirkiness, a sense of time taken in its development, making room for little things to emerge. For example, I remember someone sitting down, just letting their legs sweep the ground. Nothing much. Unadorned yet unusually elaborated.
The squarish space of the Chunky Move Studio (beautifully converted) was covered over time in a broad sweep from a wall-hugging dance toward the back, down and across into the space. In the beginning of this section the corner became a dwelling of sorts. Later, other spots were inhabited rather than simply passed through. Because the dancers did not equally cover the room with their movements, there was an asymmetry about the use of space. There were also asymmetries of quality (for example Stephanie Lake did a series of introverted Lady Macbeth movements, while Mills and Kremerskothen were smooth swans, graceful and aerial). Some danced whilst others dwelt.
I emerged from Melt with a sense of creative patience; despite a great deal of dancing and collaboration, Lucy Guerin gave herself room to compose. Peel off the story, the theme, the sound and the fury and an evocative formation remains (distinctive, captivating, exploring movement, finding moments). The imagery and bodily composition of Melt were its imaginative aspects. When new movement material is found, this is the vision at work. Nothing big. It's only the movement of bodies. That's what I was left with at the end. A sense of quiet composition, of a sketchbook developed over time into a work.
–
Melt, Lucy Guerin Inc, choreography Lucy Guerin, dancers Kyle Kremerskothen, Stephanie Lake, Toby Mills, Phoebe Robinson, Ros Warby, motion graphics Michaela French, sound Franc Tetaz; Chunky Move Studios, Melbourne, Sept 19-29
See Jonathan Marshall's interview with Lucy Guerin
RealTime issue #52 Dec-Jan 2002 pg. 26
© Philipa Rothfield; for permission to reproduce apply to realtime@realtimearts.net
Morton Feldman's music owes much to John Cage, who in turn owes much to Erik Satie. Feldman wrote For John Cage, for violin and piano, for his friend and mentor in 1982, a year after his extraordinary Triadic Memories for piano. Feldman's later works tend be long, and For John Cage is well over an hour. They are also intensively notated-every detail of the music is exactly prescribed, including some wavering microtones for the violin, making them doubly challenging for the performer. There are many threads for the listener to unravel—structural form and detail and their development, nuances in the rendering, the meditative feel of the work and the tone and timbre of the instruments.
Stephen Whittington (PATU Director) and James Cuddeford (Australian String Quartet) gave an absorbing rendition of For John Cage. The music is based on sequences of irregularly repeated short phrases and patterns that change subtly as the piece progresses. Delicacy and nuance sustain the work and one quickly learns to listen for them. Lacking melodic development, the work could be entered almost at any point. Its delightful little twists and turns are teasing rather than dramatic. Instead of entering an emotional or analytical state, the listener relaxes into quiet joyousness, the music sustaining a unique level of awareness and a sense of gentle motion. It suggests the combination of form and time, like watching the creation of the abstract paintings that enchanted Feldman. The music is typically Feldman, rather than Cagean. Despite the lack of linear development, it's highly complex. The listener may well be oblivious to the discomfort presumably experienced by Feldman in recording his ideas and by the musicians who deliver them.
By contrast, Cage's homage to Feldman, Music for Piano No 3 for Morton Feldman (1953) consists of a few brief piano notes, the pianist's right hand on the keyboard, the left on the strings, a kind of musical haiku that in one moment contains many subtle moods and tones. Cuddeford's performance of Cage's Chorales for Solo Violin (1978), a series of 9 short movements for solo violin based around carefully devised microtones, is engrossing, as is Whittington's powerful rendering of The Seasons(1947), written during Cage's exploration of chance and numbering schemes.
Whittington's August 9 program included more works by Cage and some rarely heard composers influenced by Satie including William Duckworth, Peter Garland, Terry Jennings and Philip Corner. (Satie was also featured). Duckworth's energetic Imaginary Dances (2000) inserts country blues idioms into postminimalist structures. In contrast with the late modernist, idealistic compositional sensibility of Cage and Feldman, Duckworth's post-modernism combines contrasting musical styles and traditions. Whittington also performed his own Custom Made Valses, a tribute to painter, customs officer and composer Henri Rousseau, in which he alternately read texts on the artist's enigmatic life and played works evoking his eccentricities.
Cuddeford is a prolific champion of contemporary music. At ACME's November 5 concert, he gave us Pierre Boulez's Anthemes for solo violin (1992), a comparatively approachable work (for Boulez) in which pizzicati and slurred notes engage conversationally. Cuddeford's own sublime and engaging composition, Kodoku, for solo violin (2002), performed by ASQ leader Natsuko Yoshimoto and based on 32 overtones of A and E, perhaps owes something to Cage and Feldman.
In the cavernous St Peter's Cathedral, after warming up with Shostakovich's 1934 Cello Sonata, Gabriella Smart's Soundstream Ensemble launched into Henryk Gorecki's immensely challenging Lerchenmusik, recitatives and ariosos for clarinet, cello and piano (1984). Stark and austere, Lerchenmusik is more typical of Gorecki than his legendary gentler and more accessible 3rd Symphony. This well-played 40-minute work is based on repeated patterns of a few notes during which slow, quietly sonorous, prayerful passages alternate with intensely loud, dramatic moments. The wide-ranging dynamics and metre emphasise the spare melodic lines. Fragments quoted from Beethoven's corresponding trio briefly punctuate the final movement, as if Gorecki is looking back with post-cathartic relief on European (musical) history.
For some reason, Adelaide's contemporary music season is largely squashed into the second half of the year. It also included The Firm's 7-concert season showcase of excellent, though sometimes conservative, new work. Craig Foltz, Sarah Pirrie and Erik Griswold brought Permanent Transit to PATU. And ACME's sole concert also included Director David Harris' new works. This year's Adelaide's contemporary music scene has grown in diversity and quality of performance.
Stephen Whittington, Performing Arts Technology Unit, University of Adelaide, Aug 9; with James Cuddeford, Nov 8; ACME New Music Company; ABC Studio 520, Nov 5. Soundstream; St Peter's Cathedral; Oct 25.
RealTime issue #52 Dec-Jan 2002 pg. 39
© Chris Reid; for permission to reproduce apply to realtime@realtimearts.net
Must be the season of the witch. October in Melbourne. Just before the magical or lacklustre work of the 'leading creative artists' installs itself into the major performance venues around town for the Melbourne International Festival, the Fringe and the fringe of the Fringe occupies the nether regions. It is as if the very spirit of theatre (I speak here only of theatre–though the Fringe gives expression to all art forms) spreads itself out into the warehouses and barns of the city and suburbs and energises them. The Fringe is a field of energy across the metropolis. The works and artists involved both feed and partake of the energy. Any one of them is somehow integral to, but less than the whole. What is truly amazing is the variety of works, performance spaces and audiences that weave the witch's spell.
Red Stitch Actors' Theatre is not strictly part of the Fringe, though they do have a play on during this period. Unlike the vagabonds, the fly-by-night groups, the one-off soloists and the duets that make up the bulk of the Fringe, Red Stitch has been around all year–though that is as long as they have been around and where they appeared from and how and why is a mystery. They are an actors' group with no resident director, which sets them apart from most of the other groups that have emerged recently in Melbourne. This means that the focus in the choice of material seems to be to provide solid, meaty acting experiences for those in the cast. They put out the feelers for directors and have had almost as many as the number of plays they have mounted. Their commitment at the start of the year was to present 15 new shows in the first year. This is an enormous task for a non-subsidised group but they are keeping to their promise and by the time I saw their show in September they were up to their 10th–of which I have seen 4.
Psychopathia Sexualis by John Patrick Shanley is, if it is fair at this stage to so define them, a typical Red Stitch show–contemporary, urban, neurotic characters caught in a situation which confronts them sexually, socially, psychologically, a sort of black comic dark night of the soul. Except that on this occasion there isn't much soul. The performances in Psychopathia Sexualis are relentlessly large; too large I think for a space as small as the company performs in and for an audience so close. It is as if the thinness of Shanley's script draws from the performers the need to overcompensate, to give the audience the hit that they have come for, through the sheer weight of performance energy. At times this provides moments of delightful modern grotesquery but overall there is a sense of unnecessary expenditure of energy to little purpose. The fault lies not so much in the production as in the material chosen. Red Stitch is charting a path down the middle of Off-Broadway. I wonder if this path will lead them very far. They have their audience's entertainment firmly in mind. But with actors as strong as these, a lot more thought could be given to the quality of the work chosen. They need to really get their teeth into something. From all reports, the following play, Howie, aims to do just that.
Red Stitch performs in a small space in St Kilda–a converted office or small factory, I presume. James Brennan and his company GoD BE IN MY MouTH choose even more marginalised spaces. Last year's Piglet (the winner of the best Original Work in the 2001 Fringe) took place in Brennan's inner suburban garage, converted for the occasion. The venue for this year's The Glass Garden–upstairs in an old Bakery in West Melbourne–was so off-limits that we had to receive directions by phone (which adds to the mystery of course). The completely non-theatrical nature of the spaces suits Brennan's work, which opens the door to the magical from within the fabric of the everyday. Brennan wrote, directed and took the central role in both works. They were vehicles for his fearless and unique performing talent. In him, the artist and the child fuse. He enters the world confronting him with all the awe, curiosity, fear, trust, joy and vulnerability of a young boy, but the edge of his performance style, its wit and its wisdom, are not simply childish. In Piglet, his guide and companion was a stuffed piglet toy. At the end of his pier, he caught in his net an entrancing, serpentine woman. He was duly entranced and transported into a Wonderland nightmare of cotton wool and fatness, where the woman became his adversary and the toy his sacrificial victim. Words cannot do justice to the sheer transformative power this show possessed. It was a gem, perfect in its pitch and exhilarating in its access to the creative spirit.
The Glass Garden is also about a journey. Confronted with the news that he has breast cancer, the journeyer leaves his job in a bookshop and is gradually drawn into a world without definition where, as he says, in his childlike attempt to understand it all, the signifiers and the signified do not match. The tree you are looking at may not be the same thing that I am looking at, may in fact not even be a tree. Again his seducers are women, mute but physically expressive. Here they are guides as well as seducers. Quite where we are left at the end of The Glass Garden is unclear. This is the first part of a trilogy. I could have done with some of the quality of verbal text that so enhanced Piglet. This one felt too dependent upon spacey movement, music and smoke. But when Parts 2 and 3 emerge, I'll be there, ready for another disturbing dose of GBIMM witchery.
Finally, a group of Melbourne's best improvisers (Impro Melbourne) presented 2 nights of long-form improvised Shakespeare. That's right! One hour of spontaneous iambic pentameter, rhyming couplets to end the scenes, and in particular, a deep and witty understanding of how the unfolding structure of a Shakespeare play is the skeleton upon which any tragi-comic romance of lords and ladies can be hung. The night I went, the wittily suggested title from an audience member–Blind Venetian–set the group of 5 off into an intrigue of physical deformity, the transformational power of courageous love and the revelation that the princess' physical ugliness was but a manifestation of her parents' moral turpitude. It was apt that the highlight of a 'high' evening came when one of the actors mistakenly referred to the princess he was wooing by the name of a former lover. Then both 'he', the actor, and 'he', the character, were truly at one, engaged in an act of survival in iambic verse, while the audience and princess awaited with barely hidden hilarity the success of his endeavour. What we are witness to in theatre like this is the fallibility and criticality of every moment on stage and the sheer miracle that anything gets on at all in this raw laboratory for the power of the creative.
Psychopathia Sexualis, Red Stitch Actors Theatre, by John Patrick Shanley; director Janice Muller; Red Stitch Space, Sept; GoD BE IN MY MouTH, The Glass Garden, writer, director, performer James Brennan; music UBIN; with performers Patrick Brammall, Mia Hollingworth, Brooke Stamp; secret location, Sept 25-27; Impro Melbourne, Nights of Contemporary Theatre, improvised Shakespeare, directed by Kate Herbert, Carlton Courthouse, October.
RealTime issue #52 Dec-Jan 2002 pg. web
© Richard Murphet; for permission to reproduce apply to realtime@realtimearts.net
Robyn Archer's first Melbourne Festival, Text, lived up to expectations in its bold choice of works engaging with language in playscripts, performance and dance texts, new media and improvisation. It also offered Genesi and Fire, Fire, works where text counted for little, but the words spoken about them for much. Romeo Castelluci's Genesi was the festival highlight and an exhilarating, sometimes daunting visual and aural challenge for many. Fire, Fire got many hot under the collar over its less than intimate placement as awkward spectacle at the State Theatre, or, conversely, indignant that the show should be anywhere but there at the centre of the festival. Reinvigorated by the 2002 Adelaide Festival, issues of whose art, whose festival and what place excellence look set to be with us for years to come, not just as debate but as core consideration for the programming of festivals. It's interesting then to note that Archer and her team have managed to secure an additional $4m Victorian State Government funding for her next festival: $3m for international works and $1m to expand the festival's community arts development program. Presumably that means Archer will still have this year's level of funding to make Australian content the greater part of the festival once again, which was one of the several reasons why this was such a very good festival.
On these pages Richard Murphet, Philipa Rothfield, Jonathan Marshall and I review a small selection from the extensive festival program. Some performances, like Kate Champion's Same, same…But Different and Sandy Evan's Testimony have already been reviewed and praised in RealTime and were enthusiastically received in Melbourne. You can read about Back to Back Theatre's Soft, one of the hits of the festival, on page 33. Reviews of the Opera Australia's Love in the Age of Therapy and Chamber Made Opera's Motherland and a second review of NYID's K appear on our website. KG
Lifeline
Lifeline is a marvel of non-digital interactivity. As you approach the Victorian Arts Centre's BlackBox you are surprised to see a shop window jutting forth beside the entrance. In it is the body of a young woman lying face down, dark blood seeping from a wound to her head. It's a real body in a black dress against a white floor. Like those dodgy fashion ads from the last decade of models splayed and made up like murder victims, this image is both stylish and disturbing. Inside BlackBox are 4 elegant, circular, open-ended booths, each holding someone who knew the victim, one of them possibly the murderer. Each of them sits on a chair waiting to be asked about the circumstances of and the motive for the crime.
The audience is eager, crowding in, moving from booth to booth, quizzing the performers, some seeking simple answers, some probing, perhaps pushing the dextrous performers to their improvisatory limits (though a silence can handily read like refusal or emotional distress) or into John Howard-style evasion: "I'm not getting into hypotheticals." The audience is also improvising, drawing from an arsenal of interrogatory tactics learned from TV courtoom and detective shows, mystery novels and popular psychology. Some are persistent and only appear to leave when they have exhausted their line of questioning, others humbly turn-take, patiently picking up their thread when they find space, some work like teams. Some are kind, some are blunt, most are respectful. Some want to know everything, and clearly enjoy the probing, in search of the truth and testing the performers' skills. Others are more easily satisfied once they know who the murderer is. You can discover that in a few minutes, but you want confirmation and motive.
That's what Lifeline is mostly about, not who dunnit, but the web of relationships and complex desires and frustrations that have created a murderer. She is culpable, but without this particular set of circumstances she might never have killed. As the 4 people tell interlocking and conflicting stories (not as plain narratives but as answers to questions) about the dead woman, themselves and each other, you construct a picture of a volatile situation and enjoy the texture of revelation. The process is more interesting than the story, though that has its pleasures.
Lifeline was created by German festival guest Uwe Mengel with local actors absorbing his scenario and improvising to it under his direction. Vanessa Case, Ming-Zhu Hii, Hamish Michael and Eva Parkin give impressive performances, with a calm that bespeaks trauma, with flashes of anger, moments of distraction and tearfulness: no easy task for 2 hours of audience comings and goings. The 4 confessionals designed by Monash University Architecture course students (Amelia Attrill, Ellen Pan, Lucilla Smith) house the interrogation admirably, yielding a strong sense of isolation and of the emotional distance between those being quizzed, the grimness of the situation countered with the brightly coloured interiors and nicely textured exteriors of an increasing number of modern government facilities. Kathleen Murphy does a good, still dead body. As another of the festival's explorations of very intimate theatre-going, Lifeline proved an intriguing success on a number of levels, most of all in offering a place for its audience to improvise.
Lifeline, created & directed by Uwe Mengel; BlackBox, Victorian Arts Centre, Oct 18-22.
RealTime issue #52 Dec-Jan 2002 pg. 5
© Keith Gallasch; for permission to reproduce apply to realtime@realtimearts.net
It might not be in the TV guides, and it might be hard to find on your TV, but community television is alive and suddenly much more healthy. After 8 years on temporary licences, broadcasting on a shoestring in centres around Australia, it has gained some security with new federal legislation allowing permanent licences, rewarding the commitment of volunteers and community groups all around Australia.
The Broadcasting Legislation Amendment Act (No 2) 2002 was developed after extensive consultation with the community television sector and the Community Broadcasting Association of Australia (the umbrella body for all community radio and television). It will provide a new licensing framework, increase sponsorship levels and improve the corporate governance and accountability requirements of CTV licensees. The current spectrum will be available for CTV until the end of 2006 after which CTV broadcasting will go digital. The Australian Broadcasting Authority will allocate permanent licenses next year, at last giving CTV, says Communications Minister Richard Alston, "a certain and viable future."
A hard road
CTV has been broadcasting, on a trial basis for 8 years, but its history goes back to the establishment of video access centres by the Whitlam government, which inspired the idea of community access television. Over the following 20 years the possibilities of cable, satellite and subscription television were explored, including some form of community access to the proposed models. When Pay TV finally arrived Optus re-broadcast Channel 31 in Melbourne and the Gold Coast until 2001. Channel 31 is now the only free-to-air channel not re-broadcast on Pay-TV. But Foxtel has plans to include a community channel once digital is introduced in 2006.
Currently CTV stations broadcast in every mainland capital, on UHV Channel 31 and in Lismore on Channel 68. It's been a long hard road since the 1992 Broadcasting Services Act recognised community television. Community-based broadcasters delivering community, cultural and educational services through non-profit organisations, are considered the essential base from which to service disadvantaged and marginalised communities. However, in 1994, CTV applicants were allotted temporary narrowcasting licences to be renewed each year and Channel 31 was assigned for community use in the mainland capitals, Hobart, Bendigo, Lismore and Fremantle.
The centres have had a chequered history: both Sydney and Melbourne operations experienced financial difficulties (although both are now in good shape), Hobart relinquished its licence due to lack of funds, Bendigo lost its licence because it never got to air, and the Fremantle organisation dissolved. Adelaide's ACE TV is under investigation by the ABA (for not having enough community access, or delivering a proper community service), but there are active and committed local groups waiting in the wings. Briz 31 in Brisbane and Access 31 in Perth are doing well, and Link TV in Lismore is back on air after a patchy history. Link has an active community that includes many film and videomakers in northern NSW and University of New England media students.
The government, which doesn't provide any funding, has finally recognised that it costs 10 times as much to run TV as radio (it's estimated to be at least $500,000 per year). Acknowledging the importance to CTV of sponsorship it will allow the broadcast of 7 minutes of sponsorship time in an hour, an increase on the previous 5 minutes. Sale of airtime is allowed, but there must be a balance between the revenue-raising requirements of the CTV sector and its community commitments. For instance Renaissance TV broadcasts on CTV in Sydney and Melbourne between 8am and 4pm daily. "This was a dead time for us", Melbourne C31 Chair Ralph Mclean explains. "For those followers of Fishcam, it's now shown from midnight to 8am, accompanied by independent Australian music." Renaissance TV broadcasts specifically to older viewers, with programming made up of its own productions on such subjects as how to manage your finances and the bowls program, Jack and the Green Talk, as well as old black and white movies and TV material no-one else wants to re-broadcast. When the federal government sold its transmitters to commercial operators and the rents went up enormously, Renaissance loaned the CTV channels the money to cover the increases and to upgrade their transmitters, improving both quality and coverage. People could suddenly find Channel 31 on their TV, and viewer numbers have been improving substantially.
From Tiger TV to Songlines
Programs on CTV channels are quite eclectic, dependent on the programming groups and what they contribute. They range from arts-related programs to educational and training work, from short films and documentaries from local film and videomakers, student productions, contributions from many ethnic groups, to much more idiosyncratic fare from special interest groups. In Perth the range is from Flicktease, a movie news and reviews show, to a program that helps people who are doing up old cars. Melbourne has Tiger TV, a football show put together by the fans of the Richmond Football Club, Public Hangings, an art show in which the presenters go out into the streets looking for artists, and if they find any, take the camera into their studios to display their work on air. There's the Koori music show, Songlines, a talent show, Jaanz Live, and Dawn's Crack, a program of arts-related news and views put together by RMIT students—it recently won the Tony Staley Award for community access. "Because of the increasingly nationalised commercial networks", explains Jan Macarthur, Policy Officer at the CBAA, "there's much more of a role for Channel 31 in each centre to provide local news and interview programs, and they do."
Access 31 in Perth commenced broadcasting in 1999. They were fortunate in that they could learn from the other channels, and set up a model that incorporated educational as well as community commitments. WA TAFE broadcasts its educational and training programs and student productions. They have a lot of volunteers from students to mature age helpers, and the state government has been supportive, providing some indirect funding through the broadcast of government announcements. Access 31 Station Manager Andrew Brine says, "In our business plan we have 2 areas of revenue: sponsorship from small and medium-sized businesses, and the sale of airtime to organisations who want permanent spots. We sell 20% of airtime to subsidise the 80% we give away to local community groups—and that works. And we program more than 20 hours a week of truly local content—that's more than all the other free-to-air channels in Perth put together—and that's what community TV is all about."
Getting a licence
The Australian Broadcasting Authority plans to call for applications for permanent licences early next year, probably in February, and will provide a generous application period, probably conducting the process across Australia at one time. If there is more than one applicant for any licence, it will be granted on merit, either on the submission papers or in a hearing. When there is only one applicant, the ABA will have to be satisfied that the application meets all requirements of community access and corporate governance (applicants must be not-for-profit companies limited by guarantee and provide annual reports). The current 12-month temporary licences will be extended for a further 12 months in January, and the ABA hopes the application process will be completed by the end of the year, with the permanent licences in place for 2004.
Melbourne's C31 Chair, Ralph Mclean, is a relatively recent convert to community television, and he says that working to put it into a healthy state is the hardest work he's done in his life. "It's even harder than the arts sector for complications and expense. You combine ego, creativity and finance, and it's not easy—but this makes it worthwhile!"
RealTime issue #52 Dec-Jan 2002 pg. 17
© Tina Kaufman; for permission to reproduce apply to realtime@realtimearts.net
Sleep was performed for 3 nights as a movement/installation in the white space of the Canberra School of Art Gallery in September. It comprised a continuous soundscape by Mary Finsterer, video and projections by Dean Golja, an oversized roll-out mattress by Kate Murphy, and ideokinetic movement by Wendy Morrow (floor) and Trevor Patrick (suspended in a harness in the gap between 2 angled blank walls). Video and projections play across their bodies and the walls, and along the length of the room in front of the audience. Held together by tone and shifts of intensity rather than narrative, each element held equal weight for the work's 25 minutes, making a democratic, subtle and open-ended psychic journey for the audience
He: hangs, suspended in a space between walls (where 2 walls fail to meet, or have just parted), an illumination from behind his body, from whence he's come; his bony cheek rests against the vertical precipice, he contemplates the beginning or the end of his life. There are shuddering moments, moments more muscled than others; a glimpse of emotion cooking through to the surface, then dissipating, gone. Why does he sleep? Who does he sleep with? Is it this woman; himself? Is his body so alone, except for the surface of the winding sheet? The projected face turning against the longer wall, his momentary lover, or not? I fall, I fall. Babble beneath the white noise. What time, are we sleeping? White knights, sleeping-in, no time, (no) endgame.
She: jiggles, once. More, leans against the wall. Perhaps frustrated, perhaps emptying herself of the day, perhaps failing to gear up for another. Her dark curls more prominent than her legs. Where are her thighs? Where has she gone? There is no mattress here. A long-standing punitive. (What.) Slumping body. Sometimes I forget about her.
There are hints here of inter-relationship: between bodies, minds, twitches; strangers keeping their distance; lovers who that night forgot to nod and touch. Am I responsible for this shadow, passing, trying to come. My neurones dislocate and rewire. Is this world after all the more important, sifting, sorting, conditioning the more conscious one? Amongst all my comings, doings, namings…this is a piece (of dust, to which I will return) that is yet the confluence of all my streams (of thought and substance). Masterful, as is the petal pushing open the flower.
–
Sleep. A post-modern nocturne, direction, concept, movement Wendy Morrow, movement Trevor Patrick, visuals Dean Golja, sound Mary Finsterer, sculpture Kate Murphy; Canberra School of Art Gallery, Sept 19-21
RealTime issue #52 Dec-Jan 2002 pg. 26
© Zsuzsanna Soboslay; for permission to reproduce apply to realtime@realtimearts.net
The NOW now festival was first held in January 2002, growing out of the fortnightly concerts of improvisation at Space 3 Gallery in Redfern, Sydney. The festival and Melbourne's Make It Up Club have recently received a grant from the Music Board of the Australia Council for MAKE IT NOW, a mobile festival including both Sydney and Melbourne improvised music festivals and 6 interstate tours of national artists over the course of 2003. In this edited interview RT talked with Clayton Thomas (festival co-director with Clare Cooper) about the ethos behind the of the NOW now festival and the growing interest in improvised music.
A scene is born
We couldn't find a venue so we did a concert in a basement garage and the people who ran Space 3 said why don't you come and do a concert next month at our gallery. And we [Matt Ottignon, Felix Bloxom and Clayton Thomas] did our little trio and 150 people came, which is pretty unheard of for a free jazz gig in Sydney. Then I went away for 3 months to New York and became involved in the free jazz community there. That really initiated a whole lot of ideas in terms of how easy it is to form a community just through effort and, hopefully, if what you're doing is positive and has the right spiritual aims people will gravitate towards it. For a few months there it was a little too focussed on the people Clare and I knew but gradually it's ballooned. In January this year, everyone knew about The NOW now festival—the jazz scene, the electronic music scene—and suddenly there's 100 new musicians we didn't know. An important part of it was to break down cliques. So we have jazz musicians playing with experimental noise artists…that's happened before but not with the same kind of open energy…the impact is creating new music. There's not really a doctrine. Well there is, but it's not like an aesthetic doctrine. We're pursuing what happens when you improvise. So one night it'll sound like a free jazz gig, like the Ornette Coleman Trio, and for the next set it might sound like somebody rolling a truck down a hill. Next week these artists will be collaborating. It's just been the most organic thing.
What's on
First we have the return of Jim Denley who's been in Belgium for most of the year. Cor Fuller is coming from Holland. He's a piano player and electronic musician. Mike Cooper is coming from the UK and he is a dobro slide guitarist, Polynesian music specialist and improviser. We have a contingent from New Zealand—Jeff Henderson the baritone and alto saxophonist is coming with drummer Antony Donaldson, one of the elder statesmen of the free jazz scene in Wellington, and a bunch of younger musicians. From Melbourne we've got bassist David Tolley [part of the MAKE IT NOW initiative], saxophonist Tim O'Dwyer, percussionist Will Guthrie and Tasmanian guitarist Greg Kingston. The country's great improvisers are going to be here and all of them are going to be collaborating with Sydney musicians. One of the highlights of the festival will be Mike Nock the pianist playing with Anthony Donaldson and David Tolley, like no piano trio anyone's ever heard. They've all been wanting to play together for 20 years. Then we'll go down to Melbourne. It's a mobile festival with 6 tours throughout the year of musicians from around the country doing the Sydney-Melbourne-Canberra leg and maybe Adelaide if possible. It will involve musicians from everywhere.
Connections – Make It Up Club
I guess Make it Up Club is an identical situation to Space 3. They do a regular series of improvised music concerts and a community has formed around a venue. If there's a venue that's specifically oriented towards something then people will find out who's involved and suddenly you've got a community. They've been doing it for a couple of years. Tim O'Dwyer was up here doing a tour a couple of years ago and we met and shared some musical visions and through him we've met a whole bunch of Melbourne-based musicians. Just basically through our activities a whole bunch of people have become involved, either they relate to the Tasmanian scene or the New Zealand scene. Jeff Henderson runs the Space in Wellington–the exact same model as ours. It basically functions because of his energy. Three years ago he said we're going to have an improvised music scene and he played there every night for 8 months and slowly people and his band got a little following and more musicians turned up and now it's a 7 day a week venue. And it's the creative hub of Wellington. Just through that the Wellington International Jazz festival is probably one of the most progressive jazz festivals in the world–there's a community that's looking for great music. I've just come back from 3 weeks there and it was mind blowing. The high level of music and creative content in such a small town is like frightening. And it's all because the space has kind of demanded that everyone play—so they're all teaching each other.
Why now?
I think we're living in a really complicated time with the threat of institutionalised decision making, Like America deciding that everything is open to attack. I think improvised music and improvising in general, and the freedom to bring to your ideas and expression and 100% of your energy to something, is really important. People are looking for that challenge: music as a model for life. It's liberated and difficult and disciplined.
the NOW now festival, Space 3 Redfern Sydney, Jan 13-18, 2003. For full program details go to www.thenownow.net
RealTime issue #52 Dec-Jan 2002 pg. 39
© RealTime ; for permission to reproduce apply to realtime@realtimearts.net
Melbourne Fringe 2002 had a strong music and sound program. The Ennio Morricone Experience for example was presided over by new music champion and playful percussionist Graeme Leak and trumpeter cum smooth, Hispano-lounge raconteur Patrick Cronin (Texicali Rose), who enlisted seriously mugging bass-player Daniel Witton (Desoxy, Blue Grassy Knoll), orchestral percussionist David Hewitt and pianist/oboist Boris Conley.
A doyen of 20th century musical avant garde-ism, Morricone scored everything from The Mission to Once Upon a Time in America and the Mediterranean schlock fields of Spaghetti Westerns–most famously the Sergio Leone/Clint Eastwood trilogy. Although eccentric favourites like The Good, the Bad and the Ugly were featured, Morricone's 1960s-pop title-songs were also resuscitated (sung with tongue-in-cheek passion by Witton). These were punctuated with games involving both abstract or eerie sound effects and directly representational ones (Witton sounded out a hiding gunslinger using baby Blundstones on sand, while Cronin strode about with aggressive, amplified-Cornflake-crunches as the Man With No Name).
Leak and Hewitt employed inventive instrumental transpositions to amplify the dry yet active humour of their creative interpretations. Leak's trademark homemade "string-cans" appeared, as did a bowed-saw. The choreography of multiple instruments was often dazzling (Leak mastered an extended drum-kit, whistle, hand-bell, chimes, drum-pads, and vocal "hoo-hahs!", all in 2 bars). Restrained comic understatement reigned throughout, paradoxically enhanced by Witton's uniquely exaggerated facial expressions. Minor gestures and nuances thereby became highly charged, conveying the performers' idiosyncratic characters through minimal means. It was like peering through glass into a 1960s recording booth at a group of eccentric musicians amusing themselves between takes.
Margaret Trail meanwhile voiced poetico-sonic musings on the alluring shadows that lie beneath our superficial culture. Four Nights in a Dark Room employed text, performance art, sonic-layering and free jazz in a fashion whose best known precedessor is Laurie Anderson (a sample of whom was hidden within the soundscape).
Lunar transformations, lycanthropy and wolf symbolism provided Trail's thematic foci. In a closely measured yet remarkably unaffected style, she related tales of the unknown creeping into daily banalities. Trail eschewed the precise gestural vocabulary which underscored her earlier work, K'Ting! (2000), preferring here a simpler physical presence to support the evenly paused, rhythmically open, spoken-word and recorded text. We heard the story of a bizarre break-in, in which thieves stole her wolf recordings, and the subsequent police investigation, leading her friend to conclude: "We're in a horror movie! This explains the full moon, the disappearance of your werewolf sounds and the unusually attractive police."
Chris Lewis co-produced the dark, crinkly soundscapes sprinkled throughout Four Nights, at one point performing an impressive drum-kit-noise solo–an absorbing representation of the dialectic between control and disorder, meaningful allusions and meaningless chance which Four Rooms explored.
Eleventh Hour was Fringe's dramatic highlight. The company mounted an inaugural season at a former church hall, with peeling walls rich in atmospheric drama. Unlike Melbourne's actor-driven companies (Red Stitch, Hoist), or writers' companies (Random Cow, Ranters), Eleventh Hour comes from the profoundly dramaturgical vision of two directors–William Henderson and Anne Thompson–overseeing sparse staging and restrained acting nevertheless deeply rooted in the texts' rhythms and nuances.
The splicing of Beckett's Krapp's Last Tape with Sarah Kane's Crave into a single night was an invigorating experiment, but Brecht's Fear and Misery of the Third Reich was the more successful of the 2 evenings. Fear and Misery… was indeed the antithesis of Melbourne Workers' Theatre's Fever (see review). It was, by contrast, firmly located within a specific historical situation (Germany under the Third Reich) yet nevertheless eloquently conveyed the lessons this period offers today. In both Eleventh Hour shows, the company exemplified contemporary Brechtian performance: characters and emotions were strongly present on stage, yet without the suggestion of theatrical 'illusion', producing moving theatre which slipped between objectively (Brecht) and poetically (Beckett) depicting anguished human histories.
At one point Brian Lipson acted a playful commentator who spoke of "the Old" marching forward and presenting itself as "the New", while the new itself was dressed down as the old. Abject surges of political rhetoric flourished in the face of obfuscation, historical amnesia and the lack of denunciation. Our silence and forgetfulness ensured our compliance. Who else but Brecht could today speak of the fascists' rise as not the product of a collective, Satanic "madness", but rather the reasoned collaboration of wealthy industrialists and ruthlessly efficient right wing populists, of the disenfranchisement of the workers within daily politics as being not only a cause of World War II but its lasting legacy?
It will take artists employing both the tools of the new and "the old" (Anthill, the APG, Brecht, socialism) to bring forth again these forgotten yet vital truths, as war's simplistic drumhead floods our ears again.
The Ennio Morricone Experience, North Melbourne Town Hall, Sept 27-Oct13; Four Nights in a Dark Room, performer, deviser, composer Margaret Trail, performer/part-composer Chris Lewis, Erwin Rado Theatre, Oct 10-13; Because of the Increasing Disorder: Brecht, Beckett, Kane, alternating program of Krapp's Last Tape/Crave and Fear and Misery of the Third Reich, Eleventh Hour Theatre Co, co-directors/composers Anne Thompson, William Henderson; stage design Adrienne Chisholm; lighting Nik Pajanti; performers Brian Lipson, Tom Considine, Heather Bolton, David Tredinnick, Fiona Todd, Eleventh Hour Theatre, Sept 26-Oct 13.
RealTime issue #52 Dec-Jan 2002 pg. web
© Jonathan Marshall; for permission to reproduce apply to realtime@realtimearts.net
As the great Bill Irwin is to clowning, so Ronnie Burkett is to puppeteering. In a brilliant blend of traditional narrative and postmodern interruption via a puppet show within a puppet show, Burkett sustains the conventions and craft of his art and wryly and often uproariously takes them and his audience apart. The story, a homage to the Nazi-persecuted puppeteers of 30s Czechoslovakia, is dense with dialogue, movement and costume changes (differently attired marionettes for the same characters; there are 8 Tinkas). The marionettes populate a carousel which comprises the rotating set and which Burkett also inhabits, his hands and legs visible, his face not really lit until later in the show when he comes face to face with characters from both worlds he has generated. Even within the framework of convention Burkett takes gentle and affecting liberties, the barely knee-high marionettes resting against one of his legs as if he were a piece of furniture, or the setting of characters either side of him and out of his reach as he delivers the dialogue with turns of his head. Burkett does all the voices.
In the totalitarian regime of the Common Good, the old puppeteer Stefan stages his popular but increasingly policed Franz and Schnitzel show. Carl, his rebellious apprentice, takes these characters into a proscribed underground cabaret world, producing a rich comic power play between the domineering Franz and the put-upon, gentle Schnitzel, and much acerbic political commentary, thereby dooming himself to imprisonment and death. His ally is his sister, Tinka, and his enemy is Fipsi, a fellow puppeteer who runs with the Common Good and in turn appropriates Franz and Schnitzel for the state's humourless ends. The great, inventive leap that Burkett makes is to portray Carl's Franz and Schnitzel as contemporaneous with us, inhabiting a totally different time and space from the 1930s resonances of the main plot and its period costuming.
The audience quickly adjust to this sleight of hand and the pleasure too of Burkett's company as he appears first as Carl at work with Franz and Schnitzel and subsequently addresses us directly as himself, quipping about everything from Archer's avant garde festival ("Bea Arthur?"), to a classically difficult Saturday night audience the day before ("all married to their cousins"), Melbourne-Sydney tensions, gay politics, S&M and George Bush as God. Meanwhile Schnitzel wants out ("I want a mike in my wig and a battery pack on my arse"). Franz derides his ambition: "Do you want to end up as a Muppet with someone's hand up your arse?" Crudely and sometimes subtly paralleling Carl and Tinka's tragedy, the comics jibe about left and right wing politics, freedom and power. Schnitzel senses something more than Franz is manipulating him. "What is up there?" he cries and scales the curtain to come face to face with Burkett. Of manipulators and the manipulated, John Howard too makes an appearance as Howard the Bear, Schnitzel's toy companion—allowing for a string of puppet-of-the-US jokes (Burkett is Canadian).
Schnitzel's identity crisis, and his curiosity as to whether or not he's a sentient being, resolves anxiously "in a nasty thought." Typical of Burkett's play with our emotions (this a puppet show for adults in which we are prompted to feel and behave like children), the seriousness or sentimentality of the moment is often brutally undercut. Here, Schnitzel looks out at us and confesses that "the nasty thought was…that I was just like you." Pathos, postmodern banter, satire and a dash of metaphysics are kept finely balanced, and nothing undercuts Carl's refusal to compromise and his impending death, another moment where creator and marionette come painfully face to face.
Listen out for the Radio National recording of the interview Robyn Archer did with the affable, jocular and loquacious Burkett in the Spiegeltent. It's very revealing about his origins as an artist, puppetry in North America, the scale of his work and timeframe (6 months a year in the studio, then tour), government funding traps, the role of repertoire, and his other puppet-free lives as actor and playwright. As in performance, he's a deft improviser and joker—about choosing a career path, he quipped, "If I'd known about Puppetry of the Penis, I could have merged my 2 great interests."
Ronnie Burkett Theatre of Marionettes, Tinka's New Dress, created & performed by Ronnie Burkett, music, sound design Cathy Nosaty, lighting Leo Wieser, Brain Kerby, George Fairfax Studio, Victorian Arts Centre, Oct 17-27.
RealTime issue #52 Dec-Jan 2002 pg. 5
© Keith Gallasch; for permission to reproduce apply to realtime@realtimearts.net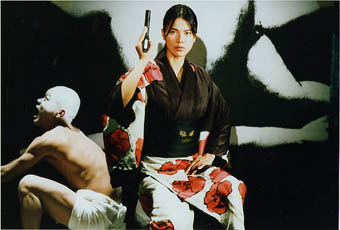 Suzuki Seijun's Pistol Opera
Not since the 60s and 70s has Adelaide enjoyed the exhilaration, global contact and screen culture continuity that come with hosting an international film festival. In those days new Godards, Chabrols, Bergmans, Truffauts and Kurosawas appeared with thrilling regularity alongside films from the Hungarian and South American new waves that astonished eager audiences. The Adelaide Film Festival fell foul of internal wrangling and censorship and a valuable tradition was lost, quite in contrast to the provocations and longevity of the Adelaide Festival of Arts. Let's hope that SA Premier Mike Wrann's enthusiasm for this film festival is long-lived and that Artistic Director Katrina Sedgwick creates an identity that will differentiate it from the standard model and give due place to innovation and local content. Certainly the fact that it's to be a biennial event creates interesting curatorial opportunities, not least the time to take in and round up some of the best films available and to engage with the digital impact on filmmaking and distribution. Sedgwick asks, "If cinema was the artform of the 20th century, what will the 21st century bring? Screen culture will continue to dominate our lives but in what forms?"
The 2003 program offers more than 80 films: features, documentaries, shorts, new media, music video, a celebration of Hong Kong Cinema, animation and computer gaming. Free forums will include local, national and international filmmakers, critics, industry representatives and patrons.
Winner of the best British Feature at the 2002 Edinburgh Film festival, Dominic Savage's Out of Control (UK) is one of 8 international films premiering at the festival. Savage's wholly improvised film explores peer pressure and poverty, following the lives of 4 boys on a South London housing estate. Another first screening in Australia will be the French film, Fellini: I'm a Big Liar, directed by Damian Pettigrew—an in-depth interview with Fellini plus contributions from friends and collaborators. Also premiering are: Christopher Roth's award-winning Baader (Germany), an independent feature on urban terrorist Andreas Baader; and Abouna (Chad), the story of 2 young orphans by Mahamat-Saleh Haroun. The program also includes Japanese experimentalist Suzuki Seijun's Pistol Opera, a theatrically extravagant tale about a female assassin.
The Australian silent classic Kid Stakes will be accompanied by The Adelaide Symphony Orchestra; there'll be a free Deckchair Cinema in the East Parklands; a Spaghetti Western retrospective and a kids' animation program with workshops.
The Festival's gala opening night marks the 30th Anniversary of the South Australian Film Corporation and will be followed by a party at Adelaide Town Hall featuring WOMAD guest stars The Temple Of Sound (UK). The full festival timetable will be announced in February 2003. RT
Adelaide International Film Festival 2003, Feb 28-March 7. For details see www.adelaidefilmfestival.org
RealTime issue #52 Dec-Jan 2002 pg. 17
© RealTime ; for permission to reproduce apply to realtime@realtimearts.net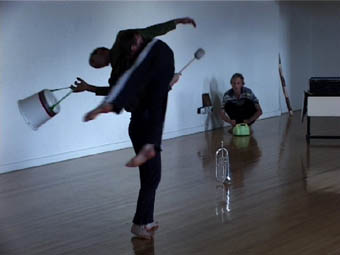 State of Flux, Diane Reid (Hip Sync)
An instigation, an investigation, a tool, a practice, a performance, a form in itself, a community—any of these terms can describe improvisation. Referring to a dance as 'improvised' merely suggests what it might be—some prefer not to use the word to describe their work because of its lack of specificity. Nevertheless, perhaps because of its impulsive and mysterious qualities, in Melbourne this year we've seen prolific use of improvisation by performers making it their own.
Adding to the diverse range of regular and one-off improvised performances available in Melbourne, the Cracking It Open series (informal showings at Dancehouse in April, July and October this year) presented solos mostly from the dance community. In its attempt to show and discuss, the series fell between performance and forum. Improvisers offered a short performance then variously pondered, acknowledged and opened up about their use of improvisation. The series highlighted an abundance of approaches and a rich display of dance aesthetics.
Peter Trotman's improvisation moved very quickly from the simplicity of a man with a chair in an empty space to a persona colliding and converging with an unseen world. Like the protagonist of a suspense story, he held poignant stillnesses within interweaving narratives of movement, made tangential references to a catastrophic event and played with the patterning of movement and gesture. His responses were sometimes mercurial, sometimes skittish and unexpected. I enjoyed the irony of his prop—the chair that might have been responsible for the apparition but by the end provided a perverse safety. Trotman describes his improvisation as often dreamlike in its behaviour—visual not vision, an attempt to find the dance's heart within emotional, aesthetic, compositional and structural layers. Inside this complexity he finds opportunities for deeper moments and rich detail, "…holding back and layering, rather than always looking for something new…takes you to places you don't expect."
Lynne Santos suggested the natural environment by exploring the qualities of animal movements. Interested in creating a sense of the animal rather than its pantomime, she offered a mesmerising combination of the lyrical and propulsive. In not mimicking any particular animal but surrendering to the more amorphous qualities of movement, she created a watchful mood and a 'bodily state' of vulnerability with instinctive physical power. This creation of a sense, a state or mood within the improvisation enables radical possibilities in performance.
Simon Ellis' improvisational score was also concerned with bodily states. By isolating body parts and exploring their movement possibilities and patterns, he implied disembodiment and dislocation. Ellis chose not to impose a compositional structure, instead treating the improvisation as an investigation into movement. From this a larger picture can be produced and framed in different contexts. Once the 'seeds' of the improvisation are derived, collaborations with sound, text or video are used to inform a larger body of work. The improvisation's spontaneity—the changeable 'here and now' quality—creates a fluid dialogue between the dance and its supporting media.
Ros Warby's participation in Cracking It Open might also contribute to a larger body of work. In her "spontaneous composition", Warby corrupted familiar dance motifs—the ballet 5th position for example—with decisive shapes and a swift dynamic. She contrasted the clean lines and broad inclusiveness of classical movement with a tightly focussed centering. Warby's current practice is informed by years of dance experience and a profound education in improvisation (with Helen Herbertson, Russell Dumas, Deborah Hay and others). Dance's primary drive—once considered simply (unconscious) instinct and impulse—is now more objectively viewed in terms of its intellectual, physical, emotional and psychological layers. Methodically combining, building and accumulating these layers with rigorous training moves the dance beyond a draft to a more consciously crafted work capable of pushing the form.
Also notable in Cracking It Open were performances by Tim Davey, Sally Smith and Suzanne Hurley. Davey's pensive and articulate series of scores were interrupted by bursts of energetic, swinging and contorted movements. These included a range of movement motifs and progressions that were repeatedly revealed, then discarded. A film soundtrack (mainly in French) instigated movement possibilities and directions rather than driving the performance.
Smith staged an hilarious flirtation with her character—an opera singer/dancer straight from German Tanztheater. She swept about in a Baroque dress, spoke in gibberish German and led us through the hills and dales of 'serious' opera. She fluffed her moves and then, with true German grimness, reclaimed them. The inspiration for her improvisation came from the dress she wore, memories of her time in Germany and from playing with the idiosyncrasies of the language.
In the first showing of the series, Suzanne Hurley's dance oscillated between the abstract and gestural. She punctuated smooth, coordinated and grounded movements with discordant gestures. Dancing in silence, Hurley experimented with the way movement through time creates musicality and rhythm. That the performance is the practice is central to her approach. "I haven't sat for 6 months and considered what I'm about to do…I've practiced for 6 months in a performance arena…I expect people to be open, receptive and supportive of [my] choices…and what I appear to be…There is a fantastic sense of support within the community…[which] comes from the fact, I believe, that people are up there doing it as well."
Building a community around improvisation in order to explore the form has been the focus for State of Flux (Martin Hughes, Janice Florence, Wendy Smith, Jacob Lehrer and David Corbet). United by the desire to make contact improvisation performable, they ask: how do you maintain a deeply embodied internal focus in dance while performing contact improvisation? How can you do this and relate to the audience? Their interest in meshing theatricality and choreography within contact improvisation prompts their experiments with states of movement—pedestrian, abstract, narrative—and gives their work an epic flavour. With Five Square Metres, they formed Conundrum 7 years ago to provide monthly performance opportunities for the improvisation community. Something of a legacy from Al Wunder's substantial contribution, Conundrum hosts international practitioners and provides workshops, classes and jams and has diversified the dance community.
The Cracking It Open organisers also see the importance of building community—particularly for performers who use dance as their primary expression. In this spirit, they're planning to continue the series next year.
For more on improvisation see Eleanor Brickill's national survey in RT45 (p11, 2001) and Zsuzsanna Soboslay's review of the final program in Precipice at the Choreographic Centre, Canberra in the online edition of RT51.
Cracking It Open, Peter Trotman, Lynne Santos, Simon Ellis, Ros Warby, Tim Davey, Sally Smith, Suzanne Hurley, Dancehouse, Melbourne, April, July, October.
RealTime issue #52 Dec-Jan 2002 pg. 27
© Christina Shepard; for permission to reproduce apply to realtime@realtimearts.net
Director Julian Meyrick's program notes explain that the 4 stories in Melbourne Workers' Theatre's Fever constitute "possible" or "future…worlds", reflecting contemporary politics "as in a magnifying mirror." Political allegory is an underdeveloped form within Australian arts. Its theatrical master is John Romeril–our Swift–whose work is distinguished by a precision of metaphor; the bizarre mendacity both writers depict springs directly from specific political milestones.
Fever's authors by contrast throw their net so wide that the plays often have no intelligible connection to political touchstones. Christos Tsiolkas, for example, sketches a blighted landscape where displaced inhabitants launch a civil war to unseat more recent homesteaders. The first indigene we meet is black, suggesting kinship with Australian Aborigines or black Zimbabweans, but he is later revealed to be Muslim, implying parallels with the Palestinians, the Lebanese or Turkish Cypriots. An additional conflict emerges however when he verbalises the sensual, homoerotic feelings he harbours for his former neighbour-turned-enemy. Further references to sexual mutilation and opposing forces on either riverbank draw comparisons with the Balkan wars. By throwing these disparate historical references together, Tsiolkas explicates nothing. To liken the Australian Aborigines to, for example, Muslim Kosovars is at best simplistic, and at worst a misleading conflation. Whatever point he intended to impart is overwhelmed by the poorly integrated points of reference which the narrative details evoke.
More successful was Andrew Bovell's tale of an injured black rebel captured by a white homesteader and tied to a chair. An excellent dramatic 2-hander, the shifting power relations approached (though did not attain) those of the play Death and the Maiden or recent Keene/Taylor projects. As he sits, bound, the homesteader explains her love for her grandfather's handcrafted chair–a symbol of the patriarch as a pioneer homebuilder. He however adds that the leather seats were in fact made from the hides of massacred Indigenous people.
This vividly conveys how different historical actors interpret the same symbol in radically opposed ways. The specific reference though is again less than ideal. While trophies such as skulls were commonly scavenged by Australian settlers, there is, to my knowledge, no recorded instance of whites producing objects from black corpses. This reference can only therefore be compared to the infamous lampshades made from Holocaust victims' skin. These hateful relics are however ambivalent for other reasons. They are not only extremely rare, but also sometimes of dubious providence, becoming entangled in particular debates on authenticity, as well as the extent and even existence of a Nazi policy of extermination. Although the comparison of Australian settlement with the Holocaust has a rhetorical force, it is largely unjustified due to the predominantly non-systematic nature of mainland frontier war atrocities. Further, engaging in the necessary defence against Holocaust denial in the context of Australian race relations is unlikely to clarify issues. Bovell's work is therefore theatrically astute, but politically problematic.
Similar dualities mar Melissa Reeves' Absurdist Savant, dealing with a delightfully oversized infant (a plain-talking, smoking Rodney Afif, dressed in a giant baby-suit, interjecting: "But Mum, I'm evil!") born to the daughter of a depressed group of Pinter-esque losers living in a blighted, country town. Though there are fine moments, the finale with Afif directly haranguing the audience reduces this strange, surreal work to crude agit-prop, likely to convince no one.
The gem is Patricia Cornelius' Blunt. A group of women attired in slightly-dated, patterned dresses, lie listlessly upon sand-filled sacks, drearily illuminated by the gloaming as they moan in clipped, intercutting exclamations: "We're fucked." They watch the diseased river running through their barren lands–they too are barren, we learn–before one woman ventures into the ooze to claim an abandoned child (abruptly whisked onstage via a pram on a string). This is a post-apocalyptic version of the story of Moses, the male and female cast playing, in deadpan fashion, unsexed maids from a horribly polluted world where noone cares enough to even try to find a moral or political leader. The unsympathetic women inevitably become disquieted about their sister's rediscovery of maternity as a political protest, stifling the child and any hope left, before they collectively sink back onto the heap, of which they have become a part.
In this case, the absence of specific cultural or political markers within Cornelius' text renders it far more amenable to political readings: a metaphor for the loss of Australian political initiative and compassion, fear of the outsider and of change, and other general themes of which the play speaks eloquently and amusingly (shades of Ionescu's Rhinoceros). While it is satisfying to see MWT continuing in the vein of Tower of Light (1999) to employ more abstract theatrical symbols than in Who's Afraid of the Working Class (1998), Fever is an ailing venture which requires aggressive dramaturgical medication.
Fever, Melbourne Workers' Theatre , director Julian Meyrick; actors David Adamson, Rodney Afif, Tony Briggs, Daniela Farinacci, Eugenia Fragos, LeRoy Parsons, Pauline Whyman; lighting Paul Jackson; set and costumes Louise McCarthy; sound David Franzke; music Irine Vela; Trades Hall, Melbourne Sept 18-Oct 5
RealTime issue #52 Dec-Jan 2002 pg. web
© Jonathan Marshall; for permission to reproduce apply to realtime@realtimearts.net
Space is constantly and magically reconfigured in The Light Room, a reverie of recollection and projection, a theatre of sublime simultaneities and hectoring distractions, of remarkable transparency and numbing opacity. Light, images, sounds and bodies are captured and refracted on and through the glass walls of a room as abstract as it is palpable, a hard-edged modernist construction made fluidly contemporary by all that flows through it. Curiously, however, it is the word that dominates; sounds, images, singer and dancers come and go but the words flow on and on, ritually intoned throughout, demanding but increasingly losing our attention. There is, similarly, a superfluity of images (some quite inexplicable), as if produced in fear of a visual vacuum. The Light Room can create astonishing spaces, evocations of the entwining of biography and architecture, but it has yet to resolve its own performative time and space. None of this is suprising for a work of such ambition and collaborative complexity (RT 50 p21-22) in its first realisation; hopefully its creators now have an adequate distance from the work to enable them to edit and open it out.
"This could be a planetarium", says writer-performer Margaret Cameron early on. She's right. The very space where a table or a chest of drawers is mined for its associated memories, or litanies of everyday objects recited or their images projected tumbling through space, can transform into something cosmic: a glass jetty reaching into the stars, resonating with the analogy between sea and outer space heard in the text. Along this jetty in 2 key scenes, dancer Ros Warby moves, curling down and curving up, standing on one leg, reaching as if for transcendance. At the end of the work, she calmly surveys the universe from the end of the jetty (her view of it projected on the huge screen behind) before walking into lines of light and the stars, no mere fade, but absorption.
The constant sense of transformation is amplified by the passage of spoken text into song, aural parallels (the wrap-around wash of flowing water), the tenor (Alan Widdowson) bending and curving a huge grid of light, the pulsing mutations of the music, and the way images, once seen, live on in other spaces as miniatures or distant reflections. The orchestration of the often beautiful filmed and computer-animated images, text and movement is masterly, dense and competitive though it sometimes becomes. Memory and the spaces we inhabit, from the domestic room to the stars are, like The Light Room itself, fluid and resonating with each other, suggesting a deep interconnectedness. In this planetarium of the memory, as in that of the stars, we can be awed or defeated by sheer volume. This makes the scene in which projections of a Renaissance library fill the room a reminder that the book is a form of memory. The Renaissance also prized architecture as a memnonic for life. (Incidentally, it would be nice if the substantial quotation, beginning "In my child's eye..", from The Poetics of Space by Gaston Bachelard, the great theorist of architecture, space and memory, was acknowledged.)
The Light Room is an impressive work-in-progress, building on many talents. The dancers are their idiosyncratic selves. Michael Whaites provides a fluent dance of semaphoring as Margaret Cameron rummages through imagined drawers discovering even the first memories of sounds. Whaites and Rebecca Hilton tangle in a fast duet with sudden reversals of power, seemingly taking up the struggle for equilibrium evinced in the text. Ros Warby's idiosyncrasies and sense of interiority are best at exemplifying interaction with the space and its transformations. Cameron, always a fine writer, provides some excellent text, even if it inclines too much to abstraction and its frequency and tonal insistency mean that we rarely get time to sit back and absorb it. I look forward to a more lucid Light Room.
Company in Space, The Light Room, concept, direction Hellen Sky, interactivity design & VR environments John McCormick, text & dramaturgy Margaret Cameron, Hellen Sky with performers, sound design & composition David Chesworth, sound spatialisation Nigel Frayne, image & light design Margie Medlin, architectural design Tom Kovac, VR worlds & animation Marhsall White, spatial design Simon Barley, costumes Leon Salom; Australia Gallery, Museum of Melbourne, Oct 15-26
RealTime issue #52 Dec-Jan 2002 pg. 5-6
© Keith Gallasch; for permission to reproduce apply to realtime@realtimearts.net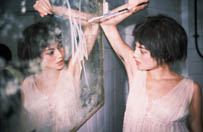 Six Days: DJ Shadow, Wong Kar-Wai
The Australian Centre for the Moving Image (ACMI) is finally open in Melbourne, and with it the only digital cinema projector in Australia. The intimate cinemas are magnificently equipped with big screens, enormous sound systems, high-backed seating and steeply raked auditoria so that everyone has an ideal relationship with the screens.
The initial screening program is aptly titled Digital Cinema and in December and January viewers can see a program curated by Claire Stewart.
The Indigent collective was established in the US in 1999 and inspired by the ideas of Dogme 95 and John Cassavetes. It was financed by the Independent Film Channel (IFC) to produce 10 low-budget digital feature films, 5 of which can be seen this month at ACMI. These include Tape which is set in a hotel room in Michigan and shot on 2 consumer-model digital cameras, and Ethan Hawke's Chelsea Walls, another hotel inspired drama. There are also films from the Danish Dogme clan, including lesser known features such as Mifune screening alongside The Idiots and Italian For Beginners.
The Garage Thrills program offers a selection of American films based on the DIY approach such as The Last Broadcast, a precursor to The Blair Witch Project and American Movie: The Making of Northwestern.
On the digital front, Resfest is an annual festival that showcases current digital creativity. Works screening from this year's program includes Cinema Electronica, a collection of innovative music videos, and By Design, a selection of short films that, curiously, take their inspiration from the corporate world.
A highlight of this first ACMI season will be Digital Projections, showcasing 15 Australian-produced short fictions, animations, music videos and experimental work, including Ectoplasmic Fat Provider Baby by Ian Haig, Purgatory by Michael Frank, You and Me by Tina Gonsalves and Broken by Victoria Batchelor. RT
Digital Cinema, The ACMI Cinemas, Federation Square, Flinders St, Melbourne, Dec 5 2002-Jan 18 2003. www.acmi.net.au
RealTime issue #52 Dec-Jan 2002 pg. 17
© RealTime ; for permission to reproduce apply to realtime@realtimearts.net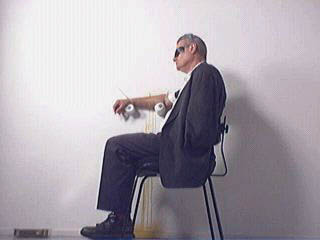 Mike Parr, Malevich
It is not always easy explaining the difference between 'seeing' and 'watching' to a non-native speaker or child. Television is 'watched', although movies, no matter where they are, are 'seen'; in a cinema you operatively 'go to see' a film, as you might go to see a performance, as opposed to just 'going to' a concert. Sometimes choosing from these differences is as confusing as deciding whether soup is either eaten or drunk—did I 'see' or 'hear' that concert I went to last night? When defining media, we have to sort out the relationship between context, the 5 senses and intellection. This may be true for all things perceived, but in the case of media, these basic human factors that transmit and support information are visibly in play—and at stake. While such distinctions as watching and seeing are elusively, perhaps even cunningly, embedded within our language, they have been shaped into persuasive axioms by Marshall McLuhan in juxtapositions like 'hot' and 'cold' media; television for instance is cold and film hot, measured by the amount of input the viewer has to make. Whether you are an adherent or not, this is media doxa; what I would like to do here is begin a discussion about where we critically situate performance art projected over the internet.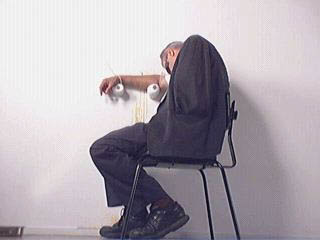 Mike Parr, Malevich
From May 3 to 5 this year Mike Parr staged his performance Malevich at Artspace. He nailed his arm to the wall and stayed there with tape over his eyes, drinking, not eating, urinating onto the floor through his pants and deprived of all sensory stimulation short of the goings-on around him. The performance was broadcast over the web and in the first 24 hours alone received more than 250,000 hits. At any time, day or night, all you had to do was boot up your computer, log on to the internet, call up the address, and there he was, a few instants away from present time. He had already essayed something like this a year before. For Water from the mouth, 10 days x 24 hours, Parr sequestered himself in a room, again at Artspace, without food for the said duration. Thanks to webcam, anyone could witness this orgy of privation, at any time.
Performances such as these, which are dramatic in the way they both formalise and ritualise discomfort, as well as frame the scene of deprivation, have a distinctly different effect when they appear at home on the screen. What is most disturbing is the simultaneity of impotent deadness and uncomfortable proximity; the world wide web has on the one hand reduced this insane feat of bodily and psychological distension to the median level of cybernetic sameness, and on the other brings the performance so close to you and your living space that it invades it, infiltrates it. Just think: you can watch the body perform, and suffer, do whatever it is doing or not doing while you do the housework, talk to a friend, fix a bicycle, enjoy a bottle of vintage wine—or have sex. For the webcast performance, the cliche of being both everywhere and nowhere at once has never been so true.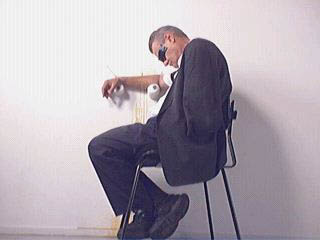 Mike Parr, Malevich
Traditionally, performance art is about absolute presence. As an art form it can be extremely supple, capable of drawing from standard practices of painting and sculpture—including those age-old conventions of the pictorial tableau and the tableau vivant—while possibly availing itself of literature and music, and of course every form of theatre, from ancient to modern. Structurally and conceptually, performance art can be reduced to 2 often interrelating domains—improvisation and orchestration. History has seen the body reduced to a mere site of mechanistic forces, or on the other extreme elevated to hyper-sensory heights. One says that my body, however special it is to me personally, is still just matter, the other says that it is unrealistic to exclude subjectivity. But when the dynamic force, that presentness, of a performance is mediated via something like a screen, the differences tend to be flattened, the viewer becomes more of a voyeur, protected by distance, and the spectacle becomes more horror-cabinet, or more hysterical, or just innocuously cute.
The origin of performance art can be located in 1917 in Zurich at the Cabaret Voltaire, where Hugo Ball, his partner Emmy Hennings and several other notable Dadaists, spouted nonsense verse to accompany nonsense acts to protest the Great War and the preciousness of art in general: no more cute art in frames, no more static art that only makes the philistines richer. From its beginnings, then, a critical part of the content of performance art has been its ephemerality. Once performed, or in fact at any given moment during the performance, it can never be the same again.
This element of sovereign uniqueness brought the genre a specificity that seemed a natural and necessary strategy during the protest era of the late 60s and 70s. Gleaning from all kinds of foreign rituals, violent and conciliatory, performance art suited an artist with a political edge to the nth degree. A performance could not be bought by a goon in a suit. But photos could, and artists need to survive. Since the 70s a transition gradually took place where the photograph as mere record became a substantive genre, today exhibited alongside other forms of photography. This modification has vitiated, as well as invigorated performance art. Crucially, though, the assimilation of dynamic, unrepeatable performance art back into the market of static commodities spelled its critical death. While performativity is universally understood as a vital component of all artistic labour, and is characteristically transitional, anticipatory and impalpable, performance art is now very much a genre unto its own, with its own history and major exponents, and can no longer claim to be the rogue art form it once claimed to be.
Webcast performance forces the whole concept of presence to be rethought. Its closest relative is of course the web broadcast, where the idea is to present the events as they occur. The delay is something of an issue, though, with performance art. We might say that the hotness of the performed event as it once was, in all its dynamism and physicality, has become cool, distant and, in the manner of the idea of cool, inviolable. Gone is the possibility of disrupting the performer, to spit, to shout and to yell abuse. In traditional performance art the performer actively acts out him or herself, engendering a feedback that radicalises the role of subjectivity and self. That thrilling all-at-onceness of so many factors is magisterially displaced when projected over the internet.
The primal, fundamental interactivity of being consciously in the presence of an event changes into a different form of interactivity, having more in common with that of the telephone, because what you as a viewer are doing is ringing up the performance, ringing up that not-quantified presence. And what you get is some vague cybernetic echo. Until systems become more powerful in the future, the webcast animated image is of a figure (or whatever) whose movements at intervals shift slowly, stroboscopically, as the screen recalibrates. This visual reverb can be curiously poetic, and increases the isolated pathos of the performing figure, as the digital apparatus seems to convulse together (in reply to?) the movements of the performance artist.
Internet performance art is located mid-way between the telephone and television. In stock McLuhan, the former is hot, the latter cold. The telephone is still the most interactive instrument we know, few are capable of resisting its ring, and we are all guilty of staying on the telephone when there is no more left to say. Cool television is the most inscrutable medium in the world; it goes on and on regardless of what you do. You can have it on all day, and it chatters on aimlessly unperturbed. It does not need interaction in any form; it does not want thought. It relishes disengagement, pure vegetation.
So when Parr locks himself in a room for 10 days, or nails his arm to the wall, you are welcome to 'phone in', and the body dumbly replies by stating that is where it is, then and there. You are present to your own watching, and by booting up and hitting, you are part of the performance. What has changed is that once performance art wanted to restore ritual—pure integration and absolute interactivity—to the Western capitalist consciousness, and now the most widespread ritualisation the world has ever known is interacting via machines on the internet. Performance art over the internet must also deal with having already been surpassed by chat-rooms, which are more about the cheap thrill of interaction than actual communication.
As Parr's recent performances have shown, the only way to counter the increasing spread of lobotomised drivel and ill-considered noise everywhere is not through horror but pathos. And these days, the realms of pathos are not just that of the inner, tortured plight of the subject, they have to be matched by the sometimes unthinkable terrible plight of others. By default or by necessity, internet performance art has the political body (and the body politic) insinuated into it like never before. Internet performance art has transformed surveillance and technological imprisonment into a genre that is as medieval as it is futuristic. It is no accident, then, that a performance like Parr's Malevich, which deals with Australia's current racial shame, incorporates a third party: there is the performer (the ersatz victim), there is you the sporadic, interactive voyeur, and there is the true victim, deprived of the luxuries of performing or interacting.
Adam Geczy is collaborating with Mike Parr on a series of performance-installations to tour nationally 2003-4.
RealTime issue #52 Dec-Jan 2002 pg. 28
© Adam Geczy; for permission to reproduce apply to realtime@realtimearts.net
Legs on the Wall's latest creation, Runners Up, is full of the physical virtuosity and endurance we have come to expect from them, but is short of the distinctive organicism the company developed across various ensembles for over a decade and lacks the provocative inventiveness of the best in its recent seasons of short works for Belvoir St's B Sharp series. It's a show of bits and consequently a bit of a show, falling far short of the suggestiveness of its title. It seemed such a good idea–what is the impact on the runners up in a Australian sporting culture fixated increasingly on lone winners and less and less on team or on having done one's best. Coming less than first is only a virtue in international competition when Australian sportcasters can't be bothered telling us who the winner was, giving out Australian names and positions first. But Runners Up offers no coherent vision of what it means to lose (bitterness, denial, guilt, shame), beyond a generalised, vaguely satirical account of a culture where sport is pervasive and which the show mildly mocks and applauds. However, director Debra Batton's program says it all, and too much: "Runners Up is not about losing. It draws equal inspiration from the play of the backyard, the competitive sports arenas and the circus and live theatre worlds, it questions the difference between theatre and sport, and celebrates our commonality; the body in action."
Physical theatre has gotten better and better over the years in its dealings with language, but here stiff, unfunny pre-show voiceovers inadequately mimicking sportscaster lingo (long ago decimated by Roy & HG), and the litany of sadly past-use-by-date female athlete woes delivered mid-show in an unconvincing line-up, are proof that physical skill has to be matched with verbal felicity and aware writing, or else. Similarly, taking on film as a part of performance, and at a time when the interplay of virtual and real is reaching new levels of integration in the work of other artists (and in the sports arena!), needs to be addressed more seriously, otherwise it simply feels like fill.
Kind-of framing the show with a dextrous singing and dancing MC is another bad move, since all it can say is what has been said too often and without impact, that sport is just another form of showbiz. The conceit with the most potential for sustaining Runners Up is promptly and brilliantly established and then inadequately sustained. It's about the sports watcher, at home with his TV, totally immersed in the action, feeling it in every muscle. The home viewer's imaginative experience is made brilliantly visceral when he is joined on his suddenly mobile armchair by hurtling athletes who integrate him into their vertiginous acrobatics while his gaze stays fixed all the while on the TV screen. Actor Kerry Casey looks just right for the role, and though without quite the skills of his fellow Legs, is perfectly integrated into the action. The audience ache for more, but it's gone, and nothing subsequently matches it: his strange little dances of participation merely opaque. What better way to work through the culture of win and lose than to lock onto the player-audience relationship and run with it. We almost had an on-stage surrogate! And how better to deal with the ways public attitude determines how sports men and women deal with coming less than first.
The final image of the performers as kids skidding and sliding on their bellies across the wet of lawn sprinklers is wondrously evocative of the innocent pleasures of playfulness that precede the law and order of competitive sport. However, like the earlier, tough headstand scene that exudes very real stress and competition, it gains little weight without a governing vision. Memorable moments, of which there were plenty, and great performers are not enough.
Legs on the Wall & The Studio, Runners Up, director Debra Iris Batton, design Kathryn Sprout, lighting Damien Cooper, composer Carl Polke, audio visuals Kristi Street, performers Claudia Alessi, Kerry Casey, Alexandra Harrison, Ingrid Kleinig, Rowan Marchingo, Kirk Page, Telford Scully; The Studio, Sydney Opera House, October 10-25
RealTime issue #52 Dec-Jan 2002 pg. web
© Keith Gallasch; for permission to reproduce apply to realtime@realtimearts.net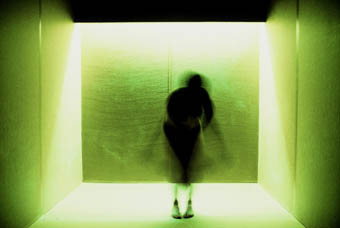 photo Rachelle Roberts
Helen Herbertson, Morphia Series
Helen Herbertson's Morphia Series is a work in miniature. An audience of 12 is driven to a mystery location then offered an edible object which is more artwork than food; after washing it down with a floral dessert wine they are seated in the darkest of spaces.
The unknown nature of the location and its hidden interior leave us at the edge of the visible. Eyes adjust to the blackness as a woman emerges from a clouded box. The cube is illuminated as if by daylight. A yellow light shines around a figure whose outline is in shadow. She performs an infinitesimal roll along her spine. Her ribcage incrementally shifts sideways. Gunfire sounds a rat-a-tat-tat to her Tai-Chi style shifts in weight. Hand gestures shoo an invisible insect. The box is flooded in red, awash in sea sounds. At one point, the seating for the 12 observers shunts forward jerkily like a ghost train. Losing our bearings, we are exposed to ourselves, in close proximity to a body now naked. She scrabbles into the sand, searching for some buried memory, evoking old sores, settling old scores.
Morphia is a female version of Morpheus, the son of the god of dreams. But it feels less like a dream than a poetry reading consisting of bodily writings, haiku maybe. Ben Cobham's set design and lighting are integral to the work, producing a fine sense of perspective. The cube is small, seen at a distance in a well of darkness. Each section has its own lighting and soundscape. Thus the box and its body are able to create different tones. At the end of Morphia Series, the jury are driven home, left to deliberate if not concur.
–
Morphia Series, choreographer, performer Helen Herbertson, artistic collaboration Ben Cobham; Oct 29-Nov 9
RealTime issue #52 Dec-Jan 2002 pg. 6
© Philipa Rothfield; for permission to reproduce apply to realtime@realtimearts.net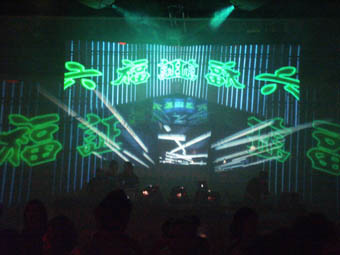 Jackie Wechsler
The Light Surgeons at Hardware House
Electrofringe 2002 to me is a kind of blur, induced, not as some may think by the fabulous local ginger beer, but by a kind of escalating atmospheric oscillation. Take a horde of people from across Australia with a smattering of international guests, all involved in new media arts in its many manifestations—sound, music, video, graphics, hypertext, net art, gaming—and get them lapping a block in Newcastle's Civic centre for 5 days of workshops, forums, discussions, performances, demonstrations and exhibitions (and 6 other concurrent This is Not Art festivals) and gradually a kind of conceptual electromagnetic field develops. This charge induces a subtle but relentless interference-like speaker hum—from which I now try to extract the essence of Electrofringe and a smattering of Sound Summit events.
Earlids
The opening forum, Musician's Journeys, with Anthony Pateras, Robin Fox, Adrian Bertram, Julian Knowles and Bruce Mowson was a highlight because it plunged straight into ideas, issues, visions—the conceptualisation of how and why artists work. Discussion began with each artist's progression from a variety of backgrounds—classical music, sound engineering, bad guitar and super overdrive pedals—blossoming into a rich conversation. The (for some) well trodden territory of performativity and laptoppery, the focus on micro-gesture, the influence of improvisation in both acoustic and digital modes, the importance of defining contexts for sound art and music were all thrashed out, concluding with the spatial and physiolgical nature of sound and speculation from Pateras as to why we lack earlids. With exception of Bertram, the artists then gave us examples of their work: Pateras & Fox's fast and frenetic multi-tooled, live effected car key jangling onslaught; Knowles' solidly satisfying, all enveloping spatial audio; and Mowson's unrelentingly minimal and perceptually disorienting looping. These fellas practice what they preach.
An interesting foil to this forum was Women in Electronic Music as part of Sound Summit. Day 3 and I had not seen many/any women on sound-based forums so I was eager to hear what Kate Crawford from B(if)tek, Kristen Erickson aka Kevin Blechdom, Riz Mazlen aka Neotropic, Sofie Loizou from Southern Outpost, Kaaren Overliese, and Ruby Grennan from Inertia distribution had to say. Disappointingly not a lot. When asked about the concepts behind their work, with the exception of Crawford and Loizou, they seemed appalled by the very idea. Neotropic declared, "I don't believe in concepts." Now I view sound art and music as inhabiting a similar terrain—based on concepts and investigations, but also guided by instinct and emotion. Perhaps these electronic music artists don't consciously work from a conceptual base and that's okay, but when Neotropic argued that, "Concepts are cold, I work from emotion", I became perplexed. Why can't working from emotion be a concept? What kind of paradigm is the either/or duality buying into? To my relief, in a later session where these women talked about production techniques they all were much more forthright and the examples of their work were impressive. Interestingly, Kevin Blechdom believes women can't visualise and dream themselves as electronic musicians, because they see so few examples in the media. Maybe when planning for next year and the question arises "Do we still need a Women in Electronic Music forum?", the answer will be no, because there will be far more women (and they are out there) integral to electronic music culture.
Eyecandy
The Visuals Worldwide forum brought together The Light Surgeons (UK), John Dekron (Germany), Kirsten Bradley aka Cicada and Cindi Drennan/Tesseract Laboratories to talk about visual performance/VJ-ing in both Australia and internationally. Light Surgeons use Super8 and 16mm film, slides and digital video to create highly layered works with a strong design aesthetic. Their promo video has stunning images from the very tools they use—close-ups of slide carousels, keyboards, film canisters and a beautiful shot of a scanner's laser easing back and forth across the screen. Live at Hardware House (the Saturday night party organised by This is not Art) their work seems a bit too designed, too slick. At the same venue, John Dekron's work, based around found and filmed footage mixed and effected in realtime has a more dynamic and dramatic quality with its chunky silhouettes and monochromes. Cindi Drennan talked about Video Combustion, an immersive audio visual event at Performance Space earlier this year (RT 50 p27) incorporating multiple-user jamming. This event was interesting not only for its scale but for attempting to find new contexts for visual performance out of the clubscene. (An excellent example in Electrofringe was Kirsten Bradley and Nick Ritar's Birdcage situated by the railway line with live audio and visuals projected onto the walls of a warehouse off Hunter Street. The set with Cicada and notsusan's delicate and minimal visuals of feathers, stones, and string, accompanied by Ben Frost's almost painfully beautiful sound was a real highlight.)
The main debate that arose during the Visuals Worldwide forum was about the eyecandy issue. With so much happening visually is there anywhere left to go? Is there a space where less can be more? Is the continuing opposition to narrative hostile to linearity or to meaning in general? Has the technology changed but is still giving us the same old eyecandy (as some artists muttered)? Are artists really doing things that have not been done before? John Dekron admitted that potentials of the medium have barely been tapped making it all the more exciting an area to investigate.
Scalene (SoundSummit)—an international collaboration between 3 sets of sound and visual artists from just about everywhere—is based on the architecture of 3 cities, Manchester, Montreal and Sydney. The artists had to "sample" a building and then make 3 works within different parameters. Each video and sound piece was then swapped and remixed by one of the other groups. The results were made into a double CD (see www.realtimearts/earbash for Jean Poole's review). Missing them at Hardware House I caught part of their set at Frigid in Sydney a week later. With beautifully constructed visuals and audio that seem to forge a real if not always harmonious interplay, Scalene add some interesting ideas to the narrative vs eyecandy debate.
Erotecha©
I love tech talk. I like letting it float around me, even if I have no idea what is being said, grabbing snatches that will hopefully become clear somewhere along the line. My mission for Electrofringe was to leave with some understanding of the mysteries of Max/MSP. Sitting through the Patcher workshop, where 6-7 artists attempted to network at least 6 different computers, all using patch-style software like Max/MSP, Reaktor, Nato, Jitter etc for realtime sound/video mass manipulation, including panning parameters, was satisfying on many levels. Massive and unpredictable, the workshop didn't quite shed light, but suggested multiple possibilities. By the time I had tuned into a masterclass with Wade Marynowsky on his synaesthetic audio/video patching and felt my way through the magnanimous John Dekron's session, the step by step process of creating a video patch with Max/MSP & Nato, which he later made available as freeware, the basic principles were beginning to sink in. This kind of hands on revelling in technology makes Electrofringe really engaging.
Erotecha of a different kind was found in the almost controversial Cam Girls forum hosted by Susan Hopkins author of Girl Heroes (Pluto Press). Cam Girls are young women (often girls) who have self-dedicated websites with live footage or 'performances', daily diary entries and wishlists where people can buy them things in return for their, well…just being. This phenomenon appears to be one of those glitches in popular media culture that finds its way into new media art and cultural theory—the argument being that these women are taking control of the media and their image and then exploiting both. Zofia Szeretlek is certainly a young woman in control, pushing her work beyond the facile towards an arts practice, with attempts at deconstructing her own image in ways not dissimilar to Cindy Sherman. On the whole it appears to be a practice almost too obvious to argue from a feminist perspective though a valiant attempt was made to create debate (with men the most vocal feminists in the room) but the general consensus was ambivalence—the defining factor coming down to matters of taste and substance.
Szeretlek was also part of the Public/Private Surveillance Strategies forum with Josephine Starrs and Leon Cmielewski discussing paranoia and their Paranoid Poetry Generator. The PVI Collective showed excerpts from their A Watching Brief, a fascinating interplay between surveillance technology, reality TV and performance art. Disturbing but interesting was Jason Gee's evolving work playing with the ideas of inverting/exposing/embracing/developing voyeurism; it's based on a growing library of webcam portraits secretly captured from websites.
Polarities + –
The concluding event of the 5 day talk-teach-tech-fest was Mutant Electronica (a This Is Not Art event) at the Cambridge Hotel where the pull of the aforementioned magnetic field was at its strongest. With 3 rooms dedicated to different music/sound styles, the event was massive. Kevin Blechdom delivered her obsessively programmed, quirky electronic pop and innocent/obscene hysterical vocals (a performance that could only be topped by her karaoke version of Harry Belafonte's Banana Boat Song which I was privileged to witness back in Sydney). English maniac VVM tortured classic pop favourites from behind his pig mask and Toydeath performed their push-button heavy-death cuteness. There was so much it couldn't be absorbed, creating a joyous though almost crushing force.
Maybe this force is a yield of the polarities of tech and concept. Electrofringe is full of satisfying tech talk and stimulating concepts in its forums, but the 2 were rarely discussed together. Is it possible to talk of concepts and technology simultaneously, in terms of each other? Sometimes the concept is the technology—let's talk about that. Electrofringe is an indispensable event in the development of an ever expanding new media culture in Australia, bringing together established and emerging artists, bombarding them with stimuli, slamming them up against other This Is Not Art festivals like Sound Summit. Maybe a challenge for the next Electrofringe is to encourage this melding of tech and concept so we can talk smart and dirty at the same time.
Electrofringe 2002, managers Shannon O'Neill, Joni Taylor; Sound Summit, managers Seb Chan , Mark Pollard; This Is Not Art, manager Marcus Westbury; Newcastle, Oct 3 – 7.
RealTime issue #52 Dec-Jan 2002 pg. 18
© Gail Priest; for permission to reproduce apply to realtime@realtimearts.net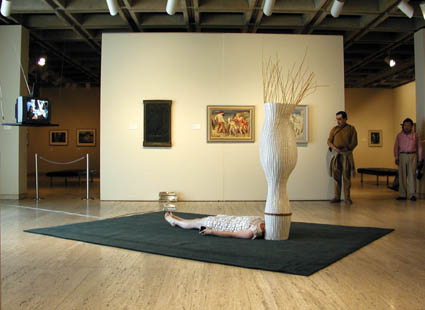 photo Russell Emerson
Barbara Campbell, The Midday Movie and the History of Australian Paintin
Flesh winnow…I love the way that phrase rolls off my tongue. It's languorous, sensual and playfully suggestive while also connoting a certain violence. Just as, of course, Marcel Duchamp would have demanded. The title of Barbara Campbell's performance retrospective is after all in direct dialogue with the French prankster's Fresh Widow, a delightful proto-conceptual object comprising a French window whose panes had been fitted with black leather with instructions that they be polished every day…
Campbell's work, like Duchamp's from whom she continues to derive inspiration, is full of subtle wit and intellectual play. Her performances are carefully orchestrated debates with art history, contemporary culture and gender politics. At the same time, they are beautifully wrought tableaux vivants, each element chosen for maximum visual effect and coherence.
Take The Midday Movie and the History of Australian Painting, performed at the Art Gallery of New South Wales amongst, naturally, the gallery's Australian collection—not the icons of Australian identity, but some 'lesser' pieces from the 1920s and 30s portraying both family scenes and fantasy figures. The viewer enters this sun-filtered room to find the artist outstretched on the floor, a large, lopsided wicker basket (by Paul Saint) masking her face, a remote control in her hand. The white crochet of her dress melds seamlessly with the weave of the basket, catching the white of small marble sculptures on white plinths that share the gallery with her.
Suddenly, the reverential quiet of the art gallery is ruptured by the drone of an American movie on TV. The viewer is perplexed, torn between intensely watching the artist for signs of 'performance' and the seduction of the midday movie that will remain annoying background noise unless given full attention. Yet as the channel is about to go to a commercial break, the artist switches the remote to 'mute' and begins a muffled monologue that the viewer must strain to catch. Perfectly timed to begin and conclude in synch with the commercial break, the monologue is a history of iconic moments in Australian art, delivered with all the measured cadences and inflections—and tidbits of personal anecdote —that are the stock in trade of the professional tour guide. As soon as the commercial break/art history tour is over, the artist switches back to the next instalment of the midday movie, and again the viewer is thrown into conundrum: 'Should I watch and enjoy?' 'Shouldn't I be exercising my higher faculties here in the midst of fine art, and not giving over to trash TV?' 'What if I miss something?'
This is an exquisitely measured performance, economical in its elements, but fertile in its provocation of ideas and emotions. The key response is a preternatural awareness of time: the time in our everyday lives that we spend walking through a gallery, pondering the meaning of art, as against the time we sit transfixed in front of The Box; our changing perception of the rate of time passing depending on our level of intellectual activity and emotional engagement; the carefully manipulated duration of time-based media built as it is upon marketers' consensus about the average attention span of 21st century Westerners; the parcelling up of time over which we have little or no control.
This evocation of a hierarchy of time also sets us thinking about that familiar cultural hierarchy that postmodernism claims to have disturbed, but that remains even as High Art incorporates elements of popular entertainment and mass media to hold its viewers' attention. This irony is well handled in Campbell's work; her performances betray a sophisticated awareness of the Catch-22 of contemporary art while affirming the importance of the artist still attempting to claim a position of critique and intellectual provocation. The high/low culture divide is also evoked in the performed art history monologues, which are pitched to a general audience in the tradition of popular understandings of art history as the story of individuals' lives, of their talent and genius (here exclusively of male artists). Given the critical tradition from which Campbell's practice emanates, this has a comic effect as much as causing us to ponder the irony inherent in contextualising contemporary art for a general audience.
Both art history as a discourse and spectatorship are also key elements of Inflorescent. In this performance, as in many of Campbell's works, site is essential. Here, the artist performs in Sydney University's Macleay Museum, a small, wood-panelled, vitrine-lined 19th century den that houses one of the most significant natural history collections in Australia. The viewer must walk past Indigenous artefacts and taxidermic specimens of Australian wildlife, some extinct, before arriving at a dimly lit, curtained chamber. Already, therefore, what we are to see is contextualised as exotic, rare, historically significant if perhaps also archaic. Gradually it becomes apparent that the artist is arranged Olympia-style on a chaise longue, languorously fanning her naked body, the only light emanating from fluorescent markings on her skin which ebb and flow according to the subtle waving of a fan. These markings could be tattoos, or even the veins pulsating through the artist's body. Their frond-like arabesques and curves cause the body to resemble variegated leaves, so that the human comes in line with the vegetal in a kind of elemental sensuality. Anais Nin, in her notorious soft-porn stories The Delta of Venus, once described one of her most sexually attuned heroines as "purely a plant."
The scene is captivating. As in The Midday Movie…, Campbell compels us to intensely scrutinise her, so that in that fixed moment of regard questions arise that take us outside the spectacle to our position as spectators, as voyeurs, as consumers of art. Similarly we become aware of the way our looking is prescribed by different conventions, of how so much of what we 'see' is actually not so much observation as confirmation of prior, assumed beliefs. This is particularly the case, Campbell reminds us, with a woman's body, overexposed and overused in contemporary consumer culture as much as in the hallowed halls of Great Art for its connotative value. Campbell's incarnation of these representational conventions, her making flesh of the 'word', brings them into sharp focus. Her admiration of her own body-text and her direct gaze at the spectators, as well as her very real-time presence, force a re-positioning of conventional practices of looking.
Also in the Macleay Museum is video documentation of the performance Cloche. Campbell is shot from the waist up against a black background, wearing a cream silk negligee, methodically clipping her head free of a white, beaded, skull-hugging cap. The soundtrack features the crisp tones of scissors snipping hair. The artist's face is intent as she concentrates on the labour-intensive task of cutting off her own hair, painstakingly slowly, through the 'crawlspace' between the cap and her scalp to which it has been glued. The act has the air of self-mutilation, or even self-sacrifice—reminiscent of de Maupassant's heroine who cut off her hair to buy her lover a gift—an act practiced with astounding restraint and sang froid. Campbell's 'crowning glory' eventually falls in a damaged clump in her lap, the violent and fetishistic sexuality of disembodied hair cupped by the delicate purity of the beaded cap.
The retrospective Flesh Winnow offers us a singular opportunity to consolidate a body of work, that by its very nature as performance art, has remained diffuse and under-documented. This intense presentation of works made over a period of years is very useful for tracing the lines of research and investigation in Barbara Campbell's oeuvre, and, accompanied as it is by a well-written and researched catalogue with essays on each of 5 key performances, provides a valuable testament to one of Australia's most important contemporary artists.
Flesh Winnow: Barbara Campbell, Six Performances 1997-2001, presented by the University of Sydney, October 2002. The catalogue, Flesh Winnow: Barbara Campbell, is co-published by the Department of Performance Studies, University of Sydney, and Power Publications, University of Sydney.
RealTime issue #52 Dec-Jan 2002 pg. 29
© Jacqueline Millner; for permission to reproduce apply to realtime@realtimearts.net
Pedro Calderón de la Barca's's 17th century Spanish classic, Life is a Dream, is a play I read long ago and itched to direct. It's a remarkable work, sparely written, sharply imagistic, richly dialectical and, above all, curiously contemporary. A number of Australians directors had it on their wishlists in the 70s and 80s, but it's rarely been done. Jean Pierre Mignon did it in Melbourne and now Benedict Andrews and Beatrix Christian have freely adapted it, without ever dimming its hermetic essence, for Andrews' production for the Sydney Theatre Company.
Life is a Dream is the tale of a prince of the Polish court, Segismundo (Joe Manning), locked away from birth in a cave by his father, King Basilio (Frank Whitten), because of a prophecy that as a ruler he would wreak havoc and murder. That the adolescent does so on his release is the brutal pivot of the play's delirious spinning between the real and the fantastic, for the prince is drugged and convinced that his embrace of power has been a dream. The metaphysics of 'life as a dream' hover eerily over these plot machinations and the oedipal dynamic between prince and king provides another over-arching tension. An entwined secondary plot of a woman, Rosaura, fighting for her honour (the wonderful Paula Arundel, striking in masculine disguise and mezzo musicality) offers striking parallels with Segismundo's plight. She too is constrained by the power of others, by courtly and gender codes, she too is palpably dangerous. The king, caught between fear and compassion, between superstition and logic, has put not only the life of his son at risk (should he now have him executed for murder or locked away again?), but his whole kingdom, as the issue of inheritance threatens civil war and invasion.
Indeed it's the king as social scientist, working logically from a false premise and creating the very monster he lives in fear of, that links the play with our own times and with the body of work that Benedict Andrews has cogently built in his 2 years with the Sydney Theatre Company–a feat astonishing for its rarity and vision in Australian theatre.
Life is a Dream comprises another in the Andrews' works for STC focussed on the bewildering complexities of the construction of human identity, the others being La Dispute, Attempts on Her Life and Mr Fireface and, in some respects, even the farce Mr Kolpert, where in an indifferent society identity and motivation are reduced to acts of violence that assume a relentless, consuming logic of their own. At a time when we are daily faced with issues of genetic engineering, bionics, robotics, race and ethnic cleansing (the final act of the Andrews-Christian The Three Sisters evokes the Serbian-Bosnian war), it is vital to be see works which continually pose questions (and frightening resolutions) about identity (as engineered, as fiction, as embedded in or beyond culture).
As in those other productions, the design here conjures a tightly framed world that one way or another suggests a laboratory (even as glittering as this one is, a marble-walled corporate office foyer with its huge central airconditioning vent). The effect in Andrew's productions (regardless of the designer, but most effectively, as here, with Justin Kurzel) is often of peering into a horizontal slot or looking at a wide screen, a tightly focused view of the world, often with no point of obvious access or exit, correlating with unpredictable outcomes and moral confusion in a claustrophobic world that prefers containment.
That wisdom prevails in this grim fable is not due simply to optimism (in this case, the king deciding to again test rather than execute his son) but also the Kaspar Hauser-ish capacity of the deprived prince to understand and utter the essence of his plight (King: You repel me. Segismundo: You who made me, repel me."). to catch the contradictions of courtiers and to recognise beauty when he sees it. Joe Manning plays Segismundo with the requisite mix of brutishness, flashes of psychotic power, moments of painful insight and tenderness. Outside Manning, Arundel and Whitten (the perfect, nervy embodiment of strength and doubt), the ensemble playing is neither quite as physically nor vocally taut nor as evenly cast as I've come to expect of Andrews, but the production is always vigorously paced, suspenseful and sensitive to the Calderon's strange poetry and vision–a fine addition to the body of work Andrews has created for STC.
It's entirely appropriate then that Andrews' production of Beckett's Endgame for the STC in the 2003 Sydney Festival will mark his exit from the company. He'll later do the Brecht-Weill The Threepenny Opera for Company B at Belvoir Street. The rest of the 2003 STC program looks tame without Andrews. Along with Barrie Kosky, Michael Kantor and Jenny Kemp, Benedict Andrews is one of those rarities among Australian theatre directors, an artist with style (a hated term in this country but it's vitally about the honing and perfecting of an idiosyncratic theatrical language) and vision (a persistent and personal working through of a set of significant questions).
Pedro Calderón de la Barca, Life is a Dream, adapted by Beatrix Christian & Benedict Andrews, director Benedict Andrews, design Justin Kurzel, costumes Fiona Crombie, lighting Mark Truebridge, sound design Max Lyandvert; Drama Theatre, Sydney Opera House, opened Sept 5
RealTime issue #52 Dec-Jan 2002 pg. web
© Keith Gallasch; for permission to reproduce apply to realtime@realtimearts.net
To review Helen Herbertson and Trevor Patrick side by side seems right. Both dance alone in works that are also collaborative, both operate with a clarity and finesse that suggests a coming of age. Like Morphia, Cinnabar Field is also concerned with memory but disrupted by an urgency and passion of autobiographical dimensions. In the first half Trevor Patrick dances in a succession of delineated, lit squares, moving along the Great Wall of North Melbourne constructed in wood by Ben Cobham. Patrick moves through these beautiful articulations accompanied by spoken lists of the everyday relating to his youth (including meals eaten). The evocation of a rural childhood is palpable, the dancing fluid, precise and polished. Toward the end of this passage, questions of identity arise. Sex, the desire to be otherwise, is spoken, forming a pivot, a hinge between a life coloured by memory and one which is less amenable to order.
While thus far the dancer has rendered himself visible through dance and words, dressed in white shirt and black pants, now a figure in a black dress and wig appears, emerging through a gap in the wall. This is no less Trevor Patrick than the boy who ate lamb chops and potatoes. Hartley Newnham stands nearby, singing to a series of Patrick's entrances and exits, sandwiched between images of and moments in movement.
The face is a crucial aspect of subjectivity. It is hard to see Patrick's face in his dress and wig. Without a face, things become less clear, less secure. The black high heels typify the precarious nature of this dance. Performed without losing balance, another kind of vertigo is played out. Rather than evoking memory, this is a rendition of the present. I left Cinnabar Field with questions about the meaning of the last half, wanting to fill in the gap, while knowing that without it, there would have been no room for such a dance to emerge.
Cinnabar Field, choreographer, performer Trevor Patrick, musician Hartley Newnham, design Ben Cobham, sound Livia Ruzic, composition Luke Tierney, lighting Jen Hector; North Melbourne Town Hall, Oct 24-27.
RealTime issue #52 Dec-Jan 2002 pg. 6
© Philipa Rothfield; for permission to reproduce apply to realtime@realtimearts.net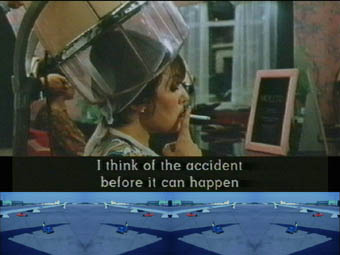 Linda Wallace, Eurovision
Three international juries recently announced the nominations for the transmediale.03 media art awards. Berlin's transmediale is one of Europe's leading and most innovative new media art festivals.
Five projects were shortlisted in the two categories Image and Software, from about 900 entries. eurovision, an interactive video by Sydney-based new media artist and curator Linda Wallace was nominated for the Image Award. OnScreen asked Wallace to fill us in on the work.
"One idea I investigate is the compositional variety multiple streams could take into a single frame. The work is also to do with narrative, the logic of the repeat and notions of materiality in the digital environment. In terms of its subject matter, eurovision speaks to the kind of legacy left by global European cultural and science/technological media exports from the late 50s to the late 60s, as seen framed by Eurovision 2000.
"Each channel in eurovision is like a time machine: my time, when I shot the digital still images in Europe in 2000; the broadcast time of the Eurovision 2000 Song Contest; the 2 films I was using for tests (and ended up getting obsessed with, dissecting their narrative structure)—Bergman's 1957 The Seventh Seal and Godard's 1967 Two or Three Things I Know About Her—and the final element, Russian space technology images of the 50s/60s, from a television documentary aired in 2000.
"Each channel, each time machine media element, has its own unique materiality inside the digital equaliser. Deleuze and Guattari consider art to be a time machine, a machine for making thought travel, so here we have a multiplicity of time machines, working in concord." RT
www.machinehunger.com.au/eurovision
www.transmediale.de
RealTime issue #52 Dec-Jan 2002 pg. 19
© RealTime ; for permission to reproduce apply to realtime@realtimearts.net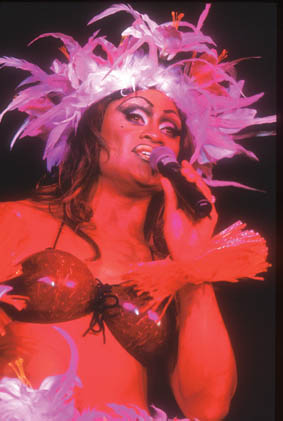 photo Lukas Davidson
Buckwheat, Pasifika Divas
If there is a gala event on the national visual arts calendar, it has to be the opening of the Asia Pacific Triennial in Brisbane. For nearly a week, the events encompass artist talks, performances, symposia and the remarkable opening night party. The Queensland Art Gallery celebrates this major exhibition in style, with an infectious sense of generosity and bonhomie. It is with this spirit in mind that Pasifika Divas were programmed to perform on the opening weekend.
On a balmy September evening, 1,000 people crowd into the spacious QAG courtyard (an apparent legacy of Joh Bjelke-Peterson who insisted that the new gallery have an outdoor courtyard for parties). The guest list is a combination of artworld people and the general public—the gallery publicised the free event widely. Maori grandmothers brush up against Australia Council bureaucrats amidst the colourful ambience of party lights, bamboo huts and oversized paper flowers surrounding the central catwalk.
Hailing from Aotearoa New Zealand, Pasifika Divas is a collective of performers, dancers, musicians and DJ's. Led by the Samoan chanteuse Buckwheat, the group combines traditional Islander culture with contemporary fashion, sounds and imagery. Probably more at home in a nightclub than in a gallery, the aim of the group is to highlight the talent of the glamorous fa'afafine. Familiar in Samoa, fa'afafine culture is "an intrinsic but largely under-recognised sector of the Pacific community. Fa'afafine translates as 'like a woman' in the Samoan language and denotes a complex gender identification" (Maud Page, Associate Curator, Contemporary Pacific Art, QAG).
The Pasifika Divas performance is very much centred on the persona of the fa'afafine and more broadly on the image of women in Islander culture. Comprising a series of vignettes, each Diva presents a short piece combining song, video graphics, dance or performance. Diva Shigeyuki Kihara is gentle and almost sombre in her dark Victorian attire, performing a Samoan maiden dance to a backdrop of historical images of Islander women in colonial dress. In contrast, Buckwheat adorned in what looks like a massive bouquet, performs to a Dana Bryant song about women at prayer on a steamy day in the Deep South. A video backdrop shows Samoan ladies in church, dressed in white, fanning themselves underneath straw hats. These contrasting images of historical and contemporary Islander life are both a celebration of the role of women and the influence and impact of colonisation and Christianity.
A Pasifika Divas performance is much more than drag, as it explores what it means for a man to be coded as 'female' and the representation of the 'dusky maiden' in the Western imagination. In a delightful and celebratory way, we are presented with ideas of transgression and ambiguity which boldly pronounce 'we are here, we are loud and we are proud.' In some respects, this performance seems out of place in the courtyard of QAG, the audience milling around and crowding around the bars seem somewhat perplexed with what is happening on the stage. However, it is this unfamiliarity which makes the presence of the Divas so pertinent. They are here to entertain, yet they do it at their own pace and within their own parameters. The audience most engaged are the Polynesian families, clapping, dancing and singing along with devilish smiles of enjoyment.
The presence of the Divas at APT adds depth to the underlying themes and directions of the exhibition, especially in relation to several participating artists. Lisa Reihana (who collaborates with the Divas) is presenting a series of large-scale photographs depicting mythic Maori female characters; Nalini Malini's paintings and projections speak of Indian deities, sexuality and taboo; and even Yayoi Kusama's Mirror/Infinity room, Soul under the moon 2002, conveys a sense of the liminal, or transgressive space. In this context, the programming of Pasifika Divas into the APT displays an astute curatorial process—on the surface the viewer is presented with a flamboyant carnival, but beneath this lies a critical and political intention to speak about mythology, sexuality, gender identification and colonisation.
At every major art event there is a usually a shining personality, at APT it's Buckwheat. For the duration of the opening she is everywhere, 6 and a half feet tall (in heels), gigantic afro wig, dispensing thousands of air kisses. The fa'afafine had arrived in Brisbane, creating non-stop entertainment but always with a twist, a determination to be visible and dynamic and convey, in the words of QAG Director Doug Hall, "…a particular kind of Pacific humour, its subversive content dealing with what it might mean to be a Pacific Islander in 2002."
The Pasifika Divas are Buckwheat, Lindah E, Sha-ne'ne', Shigeyuki Kihara and Phylesha Brown-Acton. Performance conceived by Lisa Taouma.
Pasifika Divas, Asia Pacific Triennial, Queensland Art Gallery, Sept 14, 2002-27 Jan 2003.
RealTime issue #52 Dec-Jan 2002 pg. 30
© Julianne Pierce; for permission to reproduce apply to realtime@realtimearts.net
It's unusual, in the theatre or cinema, to encounter the dramatised life of an artist you might have heard of but whose work you've not experienced. It's usually the other way around–the well known artist's glory and travail travestied, little attempt made to convey the creative process and too much done to synch it with his or her assumed psychological progress. In this case, Sidetrack's The Bookkeeper of Rua dos Dourados, we get a life of Portugal's great modernist author, Fernando Pessoa (1888-1936), but on his own terms.
Pessoa is primarily represented by one of the many personae who populate his writings. In other words, this is no literal attempt to convey a life, but is an expression of it, drawing directly on the writer's own fantasies as realised in the character of an intensely private bookkeeper who reckons the inner life to be richer than the public one. "Because I am nothing, I can imagine myself to be anything…", "…the play I am watching is myself…How many people am I?" This is a man who revels in a tedious job for the oblivion it offers ("Am I ever awake?"), spies on his boring fellow workers and imagines remarkable things for them, is wary of the flesh (kissing is "slimy"), caustic about social life and gnomic about reality: "we are stories telling stories…nothing."
His mother's death when he is one year old, his father's suicide when the boy is 3, and a flash of anger at the recollection of toys taken away, suggest the sources of his condition, but the play focuses on outcome not cause, celebrating the feverish inventiveness of a remarkable imagination that takes apart social habit and religion with a mix of aphoristic whimsy and epigrammatic, even Blakean verve. Scenes alternate between office and bedroom, with the bookkeeper's dream-world soon consuming both, the office desk transformed into a pirate vessel which he commands with a sadistic, imperial drive. This has been "a night of sublime sensation" for him, but of the senses not touched but dreamt–the power and the pathos of living by the imagination alone. The bookkeeper crowns himself with a tiara and spins into the night.
Arky Michael plays Pessoa's persona with a gruff directness, just enough of the poet, and an escalating obsessiveness, making the man's apparent ordinariness frightening. Carlos Gomes' direction is brisk and inventive with a carefully graded progression from the spoken poetry of interiority to the stage mechanics of a full blown fantasy. The Gomes-Don Mamouney collaboration on the script is the source of much of the production's strength. Intrigued, now it's time I read Pessoa for myself.
Sidetrack Performance Group, The Bookkeeper of Rua dos Dourados, adapted from the writings of Fernando Pessoa by Don Mamouney & Carlos Gomes; director, designer Carlos Gomes, music Hope Csutoros, performers Arky Michael, Adam Hatzimanolis, Georgina Naidu, Silvio Ofria; Sidetrack, Sydney, Aug 21-Sept 14
RealTime issue #52 Dec-Jan 2002 pg. web
© Keith Gallasch; for permission to reproduce apply to realtime@realtimearts.net
The 2002 Melbourne Festival opened with Fire, Fire, Burning Bright (Marnem, Marnem Dililib Benuwarrenji), a 2-act presentation from the recently formed Neminuwarlin Performance Group from the east of the Kimberley region of Western Australia. The first act was a fascinating contemporary mix of stylised pantomime and everyday 'non-performance', narrating the poisoning and murder of black seasonal workers early in the 20th century by a white station owner as retribution for the killing of a bullock. The second was the dance cycle (initiated after World War I) which inspired Fire, Fire…, relating the spirits' journey from their burning corpses, up the local hills, across country of other Koori peoples and then to the coast near the Port George Mission where many Kimberley people later moved.
The 2 acts were distinct in form and content and the reason they were collared together remained unclear. Indigenous people watching the original dances would have been familiar with the broad history of the massacre: the dances are largely unconcerned with questions of cause and character. Rather, they were a densely coded form of spiritual mourning, the Kimberley people using their language and mythos to make sense of events such as the effect of white settlement on geographic mobility and economic relations. The production did away with the patronising assumption that Indigenous culture is 'ancient and unchanging.'
The abstract, iconic language of Kimberley Aboriginal forms was particularly alluring. Woorranggoo—standards of coloured wool stretched over crossed sticks—were gently rotated during one sequence, then later used in a stabbing motion or held high behind the back, evoking flames, the sunset into which the spirits first moved, and the rifles which the Aborigines were bemused to see shouldered by white soldiers departing for the Front.
By playing their former bosses in whiteface, the black stockmen added a particularly intriguing, Brechtian sense of performative inversion. These 'whitefellas' offered only torrents of abuse to their black employees, while another more sympathetic gubba who fed the hungry spirits later reflected: "Who were those men, that I gave fish to?" Whites never truly saw or talked to black Australians. Moreover the black authors perceived a far more multicultural bush than is generally recognised, an itinerant Afghan and a Chinese man both warning the men not to return to their vengeful boss. The repetitive action of Act I placed it firmly within the realm of mythic time—but it was no less historic for this.
Ultimately though, there were too many repetitions and the continuous, successive performance of both acts was too taxing for theatre audiences. Indigenous song cycles often run all day and although it was interesting to settle into another sense of time, the production was eminently unsuited to the tightly focused attention of Western theatrical presentation. Unnecessarily literal bush sound effects and projections and endless interruptions for explication further sapped the performance of theatrical power, giving it a static quality akin to museum display. Fellow gubba critics I spoke to consistently acknowledged this, but few were prepared to publicly critique a Koori performance. The simple addition of a meal break or alternating night performances of the 2 acts might have countered some of these dramaturgical weaknesses.
–
Fire, Fire, Burning Bright (Marnem, Marnem, Dililib Benuwarrenji, Neminuwarlin Performance Group, writer-director Andrish Saint-Claire with Peggy Patrick and cast, associate director, designer Tony Oliver, lighting Philip Lethlean, audio-visual design Chris Knowles; State Theatre, Oct 17-20.
RealTime issue #52 Dec-Jan 2002 pg. 6
© Jonathan Marshall; for permission to reproduce apply to realtime@realtimearts.net
You enter an empty room to a cry, guttural, male, primal. It's hard to know where it's coming from. You stop. You move. Another cry. A chorus of cries, syllabic utterances. You sense you're making the noise. It's not that it is yours, but somehow you determine it. Now you play it, treading back and forth, scattering the triggering laser beams and alert to the row of holes in one wall, the constructivist, circular images behind glass that seem to correspondingly jerk into fracturing spins, reassembling themselves into unique concentric arrangements. They are almost the red and black of glowing coal, beautiful in stillness, wild in their agitation and accompanying vocal outbusts. (A closer look at them in action on the CD-ROM that comes with the catalogue reveals that the process of their transformation is wonderfully 3-dimensional.) On the other side of this wall there are more of these 'portholes' into some strange otherness. The cries, sighs, moans yield new syllables and grow densely choral, male and female.
In one corner of the room a plinth bears a Henry Moore-like sculpture, a horizontal limb, rising, bulbous at one end. A helpful man says, "It's a theremin. Move your hand here to increase the pitch and here to alter the volume." The compositional power of your presence is suddenly increased, as you create additional sound and seem to further manipulate the rumbling choir. "It's better if there are at least 2 of you", says the man as he leaves. I try to imagine this. On the other side of the wall of portholes hangs a brightly lit microphone. Apparently if you reproduce some of the vocabulary of cries you've heard into the microphone, another level of sound will be produced. Either it's not working or I haven't the mimic's knack. Even so, I leave West Space gallery much taken with Poly-Articulate, its spooky play with modernist certainties, the excellent quality of the recorded sound, the manipulability of the finely articulated whole and the sense I had of being implicated in a newly articulated, but as yet unintelligible world.
Poly-Articulate, Justin Clemens (writer, poet), Chris Henschke (digital artist), John Meade (sculptor), Andrew Trevillian (typographer, designer); West Space, Melbourne, Oct 4-26
RealTime issue #52 Dec-Jan 2002 pg. 19
© Keith Gallasch; for permission to reproduce apply to realtime@realtimearts.net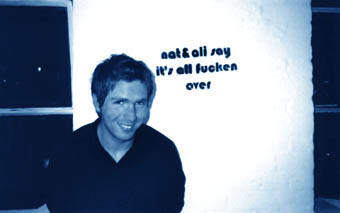 photo Tina Inserra
David Rosetzky
The artworks almost out-numbered the crowd for a change at the massive swansong exhibition for Melbourne's celebrated and much-loved 1st Floor Artist and Writers Space, which shut its doors in November after 8 years. The final exhibition featured 49 works from artists associated with the gallery, an impressive collection of some of Melbourne's top emerging and established contemporary artists.
A tiny oil on glass by David Jolly (Mt Hotham) hung beside a framed wallpaper panel, Sowa by David Noonan, next to a little untitled Tony Clark. Sharon Goodwin's 2 decapitated Ronnies (Now it's goodbye from me and it's goodbye from him) looked down on Jacinta Schreuder's Video stills while one of Kate Ellis' (untitled) wax poodle paws pointed at David Rosetzky's recent coloured pencil video still Everything.
It was a remarkable show not only in the number and calibre of artists involved, but also because it was a retrospective survey of 1st Floor's art and it was all so different. The eclectic collection was an evocation of a certain critical lament that contemporary art's field of practice has lost coherent direction, instead fanning into a multitude of ways and meanings, ever more individual and personal.
American critic Lane Relyea's succinct statement is particularly relevant to 1st Floor: "We'd like to imagine our practices as unified by social rather than institutional or discursive forces. We don't read postmodernist theory any more, and we don't critique institutions, what we do is hang out." (Relyea, 'It's the End Of Art Criticism as We Know It (And the Art World Feels Fine),' lecture, Museum of Fine Arts Houston, October 10, 2001).
We certainly did a lot of hanging out at 1st Floor. In the absence of any one formal or stylistic trademark, the one characteristic that will identify 1st Floor's project in the future is the scene that developed around the Fitzroy gallery. 1st Floor's fortnightly openings quickly became a fashionable hang-out where artists and writers mixed with designers, architects and DJs. Criticised more than once as being 'cliquey', the scene was not a vacuous add-on, but rather strategically cultivated through an exhibition program which from the outset aimed to extend the definitions and audience for contemporary art.
Gertrude Contemporary Art Spaces director Max Delany says, "I wouldn't undervalue the critical or theoretical role it has played because in fact it was quite a sophisticated program that was certainly interested in formal practices and…in the politics of representation, but it was very much understanding of late 20th century practice."
Opening in 1994, 1st Floor had an aggressive mission to put postmodern mantras into practice. Through collapsing binaries between art and life and bleeding boundaries between creative fields in exhibitions such as the yearly Fashion Festival which attracted hundreds of people, 1st Floor's practitioners mined the ever-more visible space between art and culture that emerged in the late 20th century. Shows like 2000's Mayonnaise where people could visit the gallery, read magazines and listen to records, encouraged viewers to examine the crossover between fashion, lifestyle and consumer culture through art.
"[The 1st Floor artists] were probably as much interested in the reception of art as they were [in] the production of art…they were interested in how art was perceived and understood by different audiences in different contexts and also how different people identify with cultural practice and position themselves culturally," Delany says.
The successful courtship of wider audiences produced a sophisticated and hybrid creative sensibility that had not previously existed in Melbourne. As the gallery's founding members and exhibiting artists' practices continue to develop and are canonised through critique and private and museum collection, the wider cultural effects of hanging out and making the scene at 1st Floor will linger in the cultural fabric of inner city Melbourne. Many non-art projects—businesses, bars, fashion design—continue to crop up in the niche between art and mass culture carved out by the 1st Floor crowd who stood around smoking and drinking VB every second Wednesday.
While we may now take it for granted, it's worth reflecting on the 8 years during which 1st Floor found and developed a real-live, new cultural space.
1st Floor Artist and Writers Space Final Exhibition, Nov 6-30 2002
RealTime issue #52 Dec-Jan 2002 pg. 30
© Lucinda Strahan; for permission to reproduce apply to realtime@realtimearts.net
In dance-starved Sydney it was great to have Antistatic back on theboards of Performance Space with greedy audiences enjoying performances, installations and forums. This small but incisive festival of independent dance featuring performers from most states is a true rarity in this country. It's the lack of such events that has prompted Robyn Archer to focus her 2003 Melbourne Festival on dance, so it was good to see her in the audience for both Antistatic dance programs and chatting with artists in the Performance Space courtyard.
The range of participating artists and the variety of work, including new media, turned out to be impressive. The integration of Mobile States#1 (works by young artists curated and toured by Performance Space and Perth's PICA) into the program gave valuable attention to emerging forces. A daily yoga class and a choice of workshops in improvisation (Andrew Morrish), voice (Carolyn Connors) and working with projected images (Wendy Houstoun) complemented the sense of community developed over the course of the festival.
Installations included 2 works by John Utans; the sensuous IMMERSED, and the screen poem, on second thoughts. Chunky Move's physically interactive new media installation, Closer (RT#51 p23), generated some sweat and a bit of heat from those who were technologically under-whelmed or grumpy at the very idea of tossing a woman around on a screen. It's a bit like walking into a gym that specialises in Pilates but in which the reformers are vertical—big leather quilted pads torso-high on stands and facing various directions in a room dominated by a screen where a dancer (Nicole Johnston) waits to be activated by you pushing or hurling yourself against the pads. Your action also triggers sounds, so you compose and choreograph at once. It's not a finely nuanced system as yet, so you don't get to feel that your creativity is being fully realised, however it looks and sounds good. As you fall onto the pads, so the dancer twists and turns and falls through space, and you can orchestrate quite a lot of activity using repeated movements and darting between pads (though the further you go the less certain you are of what you're achieving). Sharing the action with a couple of other participants is better. This early contribution to the growing field of audience-centred performance is variously frustrating and engaging, but I suspect that's the way it's going to be for a while, but worth the wait. By the way, a scary bonus for the persistent player was a quick zoom into the mouth and down into the guts of the onscreen dancer and out again.
In the dance programs there were a number of impressive works. For me the most memorable were Eleanor Brickhill's Waiting to Breathe Out and The Fondue Set's Blue Moves. This was my second experience of Waiting to Breathe Out with its strange states of being and unseen presences. The Fondue Set (Emma Saunders, Jane McKernan, Elizabeth Ryan) has the ability to move from frenetic comedy (a ritualised battle to get a drink at a crowded bar) into the slow motion ugly humour of a falling-down-drunk dance and on to the dark pathos of attempted seemliness, revealing a winning capacity for complexity supported by precise timing and great presence.
As well as throwing myself into Chunky Move's Closer, I participated in Carolyn Connors' week long voice workshop. I'm not a dancer but have watched with interest the increasing number of dancers speaking as part of their performances. Dancers work in disciplined and deeply trained ways with their bodies but often much less so with the voice, which they sometimes fail to see as part of the body. Connors' approach was to restrict movement over the first few days in order to focus on the voice. As the week progressed, body and voice became more interrelated, largely through improvisation with a set of rules which entailed awareness of breathing, voice preparedness (in the pause before the voice emerges) and techniques (harmonics and multiphonics) that alerted us to rich vocal possibilities. While the workshop stopped short of dealing with prepared text (a whole other workshop) it did reveal the serious groundwork required to speak effectively in dance. KG
–
Antistatic 2002, Closer, Chunky Move, choreographer Gideon Obarzanek, visual & interactive design Peter Hennessey, composer/sound designer Darren Verhagen, dancer Nicole Johnston, cinematographer Cordelia Beresford, Performance Space, Sept 25-Oct 5
RealTime issue #52 Dec-Jan 2002
© Keith Gallasch; for permission to reproduce apply to realtime@realtimearts.net
Mil Quintientos Metros Sobre El Nivel De Jack (155 metres above the level of Jack)
Lights on! A man, holding an aged woman to him falls backwards into a bathtub with a mighty splash. If that's not surprising enough, he's dressed in black underwater swimming gear, goggles and all. The surtitles above the grubby tiles of the bathroom are as lateral as this Spanish language Argentinian play's opening image, but we're soon piecing together an abrupt but fascinating tale of a wife and her son grieving for a drowned husband. Instead of abhorring murderous water they have taken to it, a sublime act of death-wishing identification perhaps. Whatever, the bathroom is central to their lives, especially the mother. It's also where they socialise. The son brings his reticent girlfriend and her neurotic teenage son (traumatised by his father's abandoning exit on a ship) to visit. Before long they are all wedged into the tub (the boy horrified, resisting but finally accomodating), a situation whose grievous totality cannot prevail, as if the absurdity of it all has freed them. The 2 sons exit as if bonded as new father and son. The incisive brevity of scenes, a certain lack of affect in the playing alongside sudden outbursts and reveries, and a refusal to explain, make for as nice a companion piece to Beckett's Endgame as anything I've seen about the inability to move on, and a tad more literal, and hopeful. (Wasn't the Wilson-Glass version of that play to be staged in water?)
Mil Quintientos Metros Sobre El Nivel De Jack, written and directed by Frederico Leon, a co-production with the Teatro San Martin; Black Box, Victorian Arts Centre, Oct 25-Nov 2
RealTime issue #52 Dec-Jan 2002 pg. 6
© Keith Gallasch; for permission to reproduce apply to realtime@realtimearts.net
Sydney-based media artists Ross Gibson and Kate Richards began collaborating in 1997 on the suite of works, Life After WarTime (LAW). Based on Gibson's extensive research into the crime scene photographic archive held at the Justice and Police Museum in Sydney (managed by the Historic Houses Trust of NSW), the first work in the suite was Crime Scene. This photographic print exhibition, with Chris Abrahams' sound design computationally composed by Greg White, an additional database of images with Gibson's research notes, plus an interactive oral history database of interviews with forensic detectives, ran for 12 months to popular and critical acclaim at the Justice and Police Museum. It is now touring regional NSW.
The parent project of LAW is a CD-ROM. Due for release in early 2003, LAW CD-ROM is a story engine with which users can construct an infinite array of narratives circulating around various characters and locations in a portside city immediately after World War 2. A small section of this work has had limited exposure in the form of an algorithmic story engine called Darkness Loiters.
Gibson and Richards have devised a live version of LAW in which they improvise storytelling using images and texts from the CD-ROM. Performed in a synaesthetic relationship with jazz minimalists The Necks, LAW Live with the Necks was performed at the 2002 Adelaide Fringe Festival. It premieres in Sydney at The Studio, Sydney Opera House on February 8 and 9, 2003. Gibson and Richards are also developing an immersive installation, The Bystander Field, based on the same material.
The suite of works was conceived as a series of interrogative responses to the data-based archive of crime images and Gibsons' texts.
RealTime issue #52 Dec-Jan 2002 pg. 19
© RealTime ; for permission to reproduce apply to realtime@realtimearts.net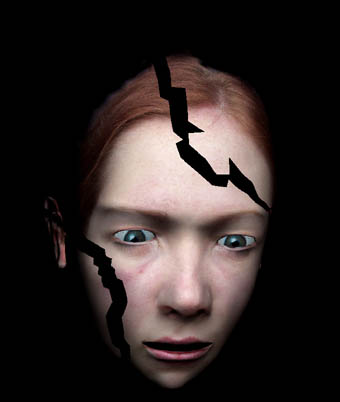 Wojciech Pisarek, Lilly,Virtual Lives
In part 2 of our ongoing survey of new media and multimedia performance and dance, the themes of Part 1 (RT#51) recur: the interplay of the past and possible futures. the integration of live and virtual performance, the generation of performance spaces, and a desire to escape the inflexibility of the conventional screen. Wojciech Pisarek adds to these themes the role of the digital animator as puppeteer in productions where live performers and animated figures co-exist. Teresa Crea and Samuel James address distance and the role new media has in diminishing but also exploring it, whether between countries, cultures and artists, or between city and rural youth in Australia, and generating new models of performance and collaboration. Since the publication of Part 1, Company in Space and NYID have mounted the productions anticipated (see pages 6 and 7) and Tess de Quincey & Co have performed Shiver for the Gay Games Festival (see www.realtimearts.net).
Wojciech Pisarek
Adelaide-based puppeteer and animator Wojciech Pisarek writes: "The subject of my PhD study is to examine coexistence of virtual and live actors in theatre performance and to develop a unique language of expression for acting avatars. To conduct my research I have created a low cost interactive computer system to create digital masks, using readily available 3D software. The virtual actor can be as simple as a cube or have all the complexity of the realistic image of a human being.
"As opposed to using a motion capture suit and facial tracking devices, in my research digital input hardware is based on puppetry—controlling devices—the human animator is connected with his character, a digital puppet, through electronic strings. Virtual actor motion and expressions are created or generated in real time by a digital animator in response to character emotions and stage action. In this sense, the animator acts as puppeteer for his digital character. A combination of mouse, joystick, keyboard, MIDI keyboard, MIDI pedals and digital gloves comprise virtual strings linking the 3D character with the animator.
"One outcome was Virtual Lives, at the Australian Performance Laboratory, Flinders University, the first Australian theatre performance where virtual actors animated in real time performed together with their live partners. The purpose of this creative development project was to see if digital characters created in front of the computers work in real theatre space and with live actors. Samuel Beckett's Play was chosen for the production simply because in this ingenious piece of theatre only the heads of acting characters are visible."
Kate Champion
Kate Champion is the creator of Same, same But Different (RT 47 page 6), a successful multimedia dance theatre work (Sydney & Melbourne Festivals 2002) that very effectively combines live performers with their virtual selves. Champion use a forestage wall of black, sliding surfaces that can receive images and also open to capture pockets of framed live movement (eg a series of falls or figures dancing). A large screen to the rear shows the whole company meeting itself in a frenzy of flirtation. For this production Champion worked with lighting designer Geoff Cobham, filmmaker Brigid Kitchin (who worked with Champion on About Face, RT44, p36) and projectionist Sydney Bouaniche (also a significant contributor in Michael Bates' The Projectionist, see page 13 & 15).
Champion and collaborators (Force Majeur) are presently at work on the earliest stages of a new work with the working title ZOOM. She writes that she has "a keen interest in continuing to integrate video/film (multimedia) as a signature of our style. I think integration is possibly the key word. My main concern is with incorporating film in as physical a way as possible, ie as interaction with live performance where the media work in tandem thematically and physically."
She emphasizes that this is a very different experience from showing the images in a cinema—in the theatre "the live element gains an almost magical effect that would not be possible without the images." For Champion, "the most challenging task is striking a balance between the live and the projected [image which] can be so seductive and often consumes live bodies dancing in front of it."
Champion described to us the challenges of creating this kind of work, revealing that story-boarding came as a breakthrough. Even so, the logistics of Same, same.. were sometimes restrictive: the order in which the set had to be operated was often locked in and images had less of their area exposed than hoped for. Not surprisingly, she's attracted to the possibility of live editing in ZOOM. The set-in-concrete nature of film has also meant that cast members have had to maintain haircuts over a very long period (not always easy for freelancers) and when one performer was not available, re-shooting had to take place—a costly venture. For the filmmaker, she thinks, the process is not always exciting or creative given the large number of functional and logistical demands, let alone re-shoots.
For ZOOM, says Champion, "I would like to move away from flat, square screens and projection points. I want to experiment more with making moving images more 'moveable', and, as always, push the subtextual as subject matter that avails itself when the mediums interplay." She feels that this approach will be less cinematic than Same, same… and will allow more sleight of hand. The virtual performers, she hopes, will be able "to move more, shrink, reappear, work with furniture." Champion here recalls performing with the UK's DV8 when they projected onto a steamed up perspex box and against veils of water.
para//elo
This Adelaide-based company with its Australian multicultural focus and radical approach to cultural globalisation, is very much a new media outfit. Artistic Director Teresa Crea and her collaborators have created multimedia works, some of them site specific, online raves (between young people in Italy and Australia) and conferences, and are now adding to their output solo and group works from a range of artists (including Jason Sweeney, see Stereopublic review).
The company's current work is the distance project, which began as an online/web work, writes Crea, "involving European and Australian artists responding to the notion of distance and the sometimes strong emotions that this provokes in migrant cultures." After exchanges for 8 months, the artists submitted short digital works (text, image/sound) which were curated online. "We are now looking at how to weave this content and the kind of 'navigational flow' that it offers into a live performance."
For Crea it is the capacity of new media for community building that is paramount. "Now that we have all gotten over the first 'evangelical' response to technology, I think that reality is proving to be far more intriguing. Sometimes the simplest of exchanges are the most profound, for example the ability to set up a community of artists across the world to essentially do creative development and research…" The convergence of media and artistic practice through the collaboration of a wide range of practitioners is, Crea thinks, also significant: "this phenomenon (rather than what you do with the software/hardware) is what will really drive the development of a new aesthetic."
Samuel James
Samuel James plays an increasingly significant role in contemporary performance, dance and youth theatre in Sydney. His elegant, inventive video work (for Julie Anne Long's Miss XL), manipulation of projected images (for Monica Wulff's Troppo Obscuro) and the transformation of spaces (PACT Youth Theatre's Replicant Hotel) keep him in demand. His approach is uncluttered and very effective. In the recent Heartland for City Moon Vietnamese Australian Theatre and Powerhouse Youth Theatre, his evolving images glide above us along the length of a humble community hall ceiling in a prelude that meditatively lifts us out of ourselves, anticipating Heartland's youthful and admirably intense contemplation of place and belonging.
James writes: "Both Heartland and Wide Open Road (Outback Theatre from Hay and Pact Youth Theatre from Sydney, The Studio, Sydney Opera House, Dec 6-7) use video as an integral part of devising and performance. Both involve creating a unified performance work over long distances. Video helps this process greatly.
"For Heartland we took 3 field trips out of the metropolitan area, to the desert (Broken Hill), the farm (Albury) and beach (Kiama). A visual and sensory study of these places led to performance workshops in these sites with, initially, video acting as a documentary device, recording a real experience of performers and place. This material then went through a transition from experience and diary to performance. The combination of reality video and theatricality creates a new kind of theatrical realism.
"Wide Open Road is a collaboration between regional and urban youth theatres which combines the current experiences of young people living in South West NSW and Sydney. The process began with 30 second video postcards being sent by email, making introductions and trying to describe young people's experiences of growing up in 2 very different environments. Bridging this distance through new media with brief compressed impressions (spoken word, drawings and short films) is an efficient and effective way of producing material for hybrid performance." James points to how the pre-physical contact stages of building a work are different from in-house performance making because they engage with the very idea of distance. "New Media is in this case tangibly able to bring distant spaces and experiences into the theatre."
He also thinks that "new media performance offers an alternative for filmmakers", enabling them "to create work that doesn't brainwash the audience with the hypnotising experience of 24 frames per second in the dark…As a real performer enters the space and upstages the film, the audience can make decisions about the material being presented. There are many more choices to be made in a live space." He also thinks that "the proliferation of the video aesthetic…has stripped back the romanticised beauty of theatre and it means performance makers have to be more conscious about ideas first before images."
Part 3 of this survey will appear in RealTime 53 (February-March 2003), featuring Cazerine Barry, IGNEOUS, Keith Armstrong and the transmute collective, Tess de Quincey & Co, Hill & Nash, and skadada. The work of Sarah Neville, the Adelaide-based dancer working with new media, is discussed on p27 of this edition.
RealTime issue #52 Dec-Jan 2002 pg. 32
© Keith Gallasch & Virginia Baxter; for permission to reproduce apply to realtime@realtimearts.net
the ghosts of old buildings are haunting parking lots
in the city of good neighbours that history forgot.
Ani de Franco, subdivision, 2001
By the time I had parked my car on someone's manicured lawn, it was 8pm and in the distance the circa 1970s Rhodes Hotel had already begun its transformation from site of abandonment to spectral and terminal presence, snaking its various tendrils of sonic pulsation, red smoke and the blue glow of multiple TV sets into the night sky. Hundreds of shadowy figures accumulated on its balconies and stairwells, turning its secretive insides out.
The project Hotel6151, initiated and curated by Heather Webb, Christian de Vietri and Ben Riding, inhabited the entire Rhodes Hotel in South Perth on the week beginning Friday November 1. Its premise was ambitious on paper, but in reality it delivered one of the most inspirational installation and multimedia events in the history of Western Australian contemporary art practice. The new generation of artists represented amid the 'guest' list of over 50 participants showed the kind of resourceful, inventive and independent drive to produce a multi-levelled, complex experience that ran the gamut from immersive to truly terrifying.
I was among some 2,500 visitors that signed-in at the hotel lobby during the evening, ushered through its front doors by a baby-blue uniformed Tom Müller as concierge and 3 bell-hops into a throng of rapidly inebriating punters. Throughout its spaces artists had created works which drew on structural features, furniture and objects that still remained in the building prior to its imminent demolition. These included Dawn Gamblen's paperclip chandelier, Bruce Slatter's reconfigured dart-boards, Rick Vermey's evacuation-based stairwell pastings and the collaborative work of Christian de Vietri and Ben Riding, employing 2 of the original Rhodes cleaners in the proper maintenance of a single room.
The Atlas Group's smoking lounge and bar reduced the entire third-floor to a claustrophobic shoebox through the use of false walls lined with burgundy and gold flock-wallpaper. Its single elevator access provoked enough uneasiness to imagine the towering inferno as merely a stray match away. Working with similar repulsion/attraction dichotomies was Seddon Pepper's Smoke and Mirrors that pumped smoke through an emptied room, allowing the air to clear just enough for visitors to make out their reflected images. Tess McNamara and Monique Powell further explored augmented space in their labyrinthine closet where its 2-way peekaboo dress-up room could only be accessed by crawling through and shifting piles of clothes.
Darker narratives of desertion and regret were pursued by Sarah Contos whose circa 1980s Miss Havisham hurled abuse, rancid cake and dining crockery at visitors whilst wallowing in a wine-stained wedding dress, repeatedly showing slides of her ersatz nuptials. Annabel Dixon's re-presentation of a hotel-based porn film transposed to slide caught her visitors lingering within the seduction of inevitability, while Simon Pericich's oasis fabricated from carpet and hotel junk could be peered at only through a hole in the door that vented the overpowering stench of hospital-grade loo blue.
Both Matt Hunt and Jarrod McKenna sought to locate the hotel trope within recent media representations of detention centres in Australia. Hunt's work occupied a bedroom, its roof jacked up by industrial props, with the word TAMPA chiselled in reverse on its main wall, as if in time it could begin to reveal itself to other guests. Meanwhile McKenna set-up a conversation desk in the games room to offer the Rhodes as a possible site of refuge. Outside the venue, Kate McMillan's trench played upon the tenuous relationship between digging a strategic hole, and finding oneself in active warfare. It is no accident that the hotel it stood to protect now lies in rubble.
Hotel6151, concept & curation Heather Webb, Christian de Vietri & Ben Riding, Rhodes Hotel, South Perth November 1-8
RealTime issue #52 Dec-Jan 2002 pg. web
© Bec Dean; for permission to reproduce apply to realtime@realtimearts.net
US-based pianist/performer Margaret Leng Tan wisely divided her substantial recital with a long interval. The first suite was performed almost entirely on toy piano: essentially a clunky, key-operated xylophone with limited notes. Although the pieces were diverse, the instrument's small range transformed the evening into an extended Steve Reich-like event. The metallic notes had a weirdly percussive, hard-edged sustain which accumulated and hung about in gently piercing sheets long after each note was first sounded, while the jarring movements of the hammer mechanism added another scraping sonic element. In a lovely Dada percussion sketch by Jerome Kitzke, The Animist Child (1994), Tan played what she described as "the contents of my New York kitchen" (except the specified tuna tins, since she does not eat tuna), in which discretely sonic events, just barely out of time with each other, realised some other, hidden time—God's perhaps.
The second suite consisted of more expansive, delicate works for prepared, bowed or plucked piano. Aside from some more sonically dense moments (notably within Somei Satoh's Cosmic Womb, 1975), much of this section was characterised by the highly gestural quality of much post-World War II/post-John Cage music: single notes, harsh and soft and short, gentle flows, all lightly dispersed within a wide temporal field, suspended, clashing or gently coalescing. A classic (albeit dated) example closed the recital, with Cage's score for a short 1950 MOMA film profiling Alexander Calder's abstract, metal, hanging sculptures. It had a light, almost decomposed-orchestra feel and a gentle Cagean humour.
Tan's work with Cage in his final years has generated the slightly disconcerting accolade of "most convincing interpreter of Cage's music" (can one be a leading interpreter of compositions designed to thwart single interpretation?). Her performance of mostly post-Cage material however proved that the deceased avant-gardist's ideas remain fresh and pliable. My favourite was Alvin Lucier's Nothing is Real (1990), in which a blurred, tonal recording (actually the Beatles' Strawberry Fields Forever) was played back through a gently steaming teapot. Tan shaped the tone by lifting the lid and one could actually see the sound.
Margaret Leng Tan, Concert Hall, Victorian Arts Centre, Oct 21.
RealTime issue #52 Dec-Jan 2002 pg. 6-7
© Jonathan Marshall; for permission to reproduce apply to realtime@realtimearts.net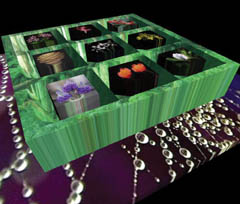 Rea, Artificial Garden
In the last issue of RealTime, I wrote about the capacity of the world wide web, digital media and other new technologies to transform the visual arts and artistic practice on a global scale. In particular, I examined a fascinating and timely website (www.mq.edu.au/house_of_aboriginality -expired) that focuses on the question of the appropriation or outright plundering of sacred Indigenous imagery and iconography (mostly for commercial purposes).
A growing number of Indigenous Australian artists are skilled practitioners in new technology. I will be discussing the work of 3 artists who are incorporating digital media into their work in innovative, though contrasting ways.
Rea, Jenny Fraser and Christian Bumbarra Thompson are all at different stages of their careers. Rea is currently completing a Master's Degree in Science, Digital Imaging and Design at the Centre for Advanced Digital Applications (CADA) at New York University. In undertaking this study she aims to hone her present technical and digital skills and learn new ones to better realise future artistic projects. Writing from her base in New York, she states that she prefers technology-based art forms because of the challenges these present and because she actually conceives her projects in this form.
Rea's interest in digital media can be traced back to her childhood in the small, predominantly Indigenous community of Coonabarabran, NSW where she was born into the Gamilaroi nation. "My mother first taught me and my siblings about our history by showing us her collection of black and white and sepia photographs that she kept in a biscuit tin covered with red roses. I carried these images in my memories until I went to art school. I then asked my mother if I could have the photos to work with. I began to create coloured photos from my black and white memories so that they would become more real to me. This is where computers came in.
"It was just the right time for me, and my ideas and the first year (1992) that access to digital processes became available to photography majors at the College of Fine Arts, UNSW. Once I realised how much I could do and that the ideas were limitless, [digital processing] became the main focus of creating and exploring new ideas.
"I also felt because it was so new no one could categorise it or me—it gave me the freedom and potential to be an artist, not a lesbian artist, not an Indigenous artist, not even a woman artist, but an artist. So it became the way I allowed myself to explore my medium and the content I was working with as something that was mine with no labels—all mine.
"Now that artists and theorists have begun to create labels and define the process and the medium, there is more of a focus on individual artists and their processes and styles. It was once called 'digital photography', then it became 'digital processes,' then 'new media', then 'interdisciplinary practice', now 'new technologies' and there will be a million more [labels] until another process comes along and shifts the focus…"
Rea is best known for the equally significant and impressive works Look who's calling the kettle black (1992) and Don't shoot till you see the whites of their eyes… (1999), acquired by the Art Gallery of South Australia. The 10 small prints comprising the 1992 work were created to acknowledge the suffering of stolen Indigenous girls forced to work as domestic servants for the colonisers. Rea was inspired by her grandmother to create these, adding a distressing coda: "Many of them never…found their way back home and died in custody. My grandmother was lucky—she found her way home."
Don't shoot till you see the whites of their eyes… is a powerful and provoking installation comprising 5 images of gun targets superimposed over the artist, "…5 images of One Pound Jimmy [from an old postcard depicting a traditional Aborigine] with gun scopes on his body and 10 abstract glass heads that sit in front of each work on perspex plinths. The soundscape is of my mother singing hymns and me talking about my personal experiences of dealing with death, especially with dreaming my uncle's death that happened a week later, the exact same way that I dreamed it—he died in custody."
While it may be too early to predict the next chapter in Rea's creative life, she is excited about returning home, applying her new skills and entering a new phase of her life and career. She aims to "…go back to my community and do more workshops and skills sharing so that together we can create work about our culture and community."
Jenny Fraser, a young artist based in South East Queensland is studying for a Master of Communications at CQU on Indigenous New Media Arts. Her work has been exhibited nationally and internationally and she has won numerous awards. Fraser is the founder of cyberTribe, an Indigenous Online Gallery (www.fineartforum.org/ Gallery/cybertribe.html – no longer live) and was part of the curatorial working group for conVerge—where art and science meet—at the 2002 Adelaide Biennial. Fraser's works are intelligent and witty, with a wicked sense of humour that belies the seriousness of her approach. For example, her deeply iconic Faster Foods critiques the fast food industry and consumerism, references Australia's choice of national symbolism and the QANTAS logo, and raises questions about the appropriateness of hoofed animals in Australia and this country's entrenched eating habits. Because her image taps into so many existing representations of the kangaroo, both literal and metaphorical, it's possible to read it on many levels, despite its surface simplicity. With Faster Foods Fraser has succeeded—very cleverly—in appropriating the appropriators.
When I asked Jenny Fraser whether she could identify special reasons why Indigenous artists might deploy new media in their artistic practice, or if this was simply a matter of personal preference, her response was "Why not?" (Touché!) New media is attractive because of its "instant" qualities, she writes, and she also enjoys the collaborative nature of working in this currently under-explored terrain.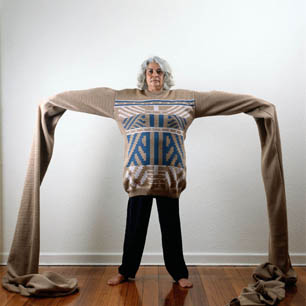 Christian Bumbarra Thompson, Untitled (Marcia Langton), Blak Palace Series, Tiwi Jumper
Christian Bumburra Thompson is a Melbourne-based photographer, installation artist and curator with a background in sculpture doing a Masters in Fine Art History at Melbourne University (see cover RT#49, also RT#50 p4). Thompson describes his most recent work, Blak Palace, created for the Melbourne Fashion Festival, as his best. "I constructed 3 kitsch jumper designs from the 1980s…the Ayers Rock (Uluru) Jumper, Tiwi Island Jumper and the Kangaroo and Boomerang Jumper. I extended the sleeves to about 4 or 5 metres long and employed 1950s colour. I then took photographs of Indigenous arts workers, academics and curators wearing them. I think it was my most effective work because it combined…elements of performance and sculpture but also was [based on] quite a simple, tangible concept of iconic reclamation."
Drawn to new media because of the hybrid approaches, forms and technologies with which he can engage, Thompson writes: "I think that it is consistent with our (Indigenous peoples') artistic philosophies. Whether it is sand sculpture, or traditional cultural painting there has always been that element of experimentation. I can also relate to the ways in which new media can accommodate the performative."
Like Rea and Jenny Fraser, Christian B Thompson regards his artistic work as inseparable from his political statements. It does not seem a coincidence that all 3 artists are advancing their skills via tertiary courses. New technologies are metamorphosing at such a dizzying rate that it's incredibly difficult to keep up with new developments in the field.
These 3 cyber-navigators are among the vanguard of a small but growing band of explorer-pioneers in this expanding dominion. The Empire Strikes Back.
RealTime issue #52 Dec-Jan 2002 pg. 20
© Christine Nicholls; for permission to reproduce apply to realtime@realtimearts.net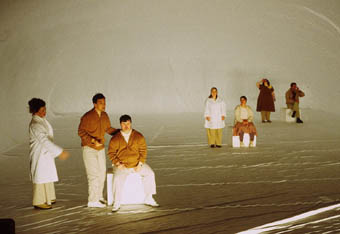 photo Jeff Busby
Marcia Ferguson, Darren Riches, Mark Deans, Nicki Holland, Sonia Teuben, Rita Halabarec, Jim Russell, Soft, Back to Back Theatr
The number of artists with disabilities who are working professionally is noticeably on the increase, with individuals and companies playing not only in their home cities but also touring nationally and internationally. They participate in international festivals specifically focused on and celebrating the achievements of artists with disabilities. And now they are appearing in more broadly based international arts festivals. Such a company is Back to Back Theatre who enjoyed critical and popular acclaim for their recent Melbourne Festival production, Soft. In her survey of artists, companies, support networks and disability in the arts issues, Lalita McHenry begins with Back to Back Theatre, discerning in their work and aims some of the key concerns in the field.
Back to Back Theatre
Geelong-based Back to Back Theatre's latest work, Soft, performed at the Melbourne Festival, tackles the practices of genetic engineering and the ideologies that fuel the motivation to correct differences, deemed anomalies, in human beings.
While most of Back to Back's work hasn't directly commented on disability, Artistic Director Bruce Gladwin says, "This play is really trying to analyse what it means to be human in the year 2002 and not what it was like to be human when Shakespeare wrote his plays. I feel like it's a quest for new stories and new narratives and I think that what is happening to people with disabilities in regard to genetic technology is really pertinent for the rest of us as a community."
Back to Back's exploration takes place in a stage space shared by audience and actors for most of the performance—a delicate, tissue-like enclosure, a giant white bubble that comes alive (through sophisticated multimedia technologies) with colourful imagery of mutating cells and energy. We see and hear, however, from the inside out as if we, the audience, are not yet formed, not yet human. Wearing headphones that deliver exceptional sound quality provides an interesting dimension of temporality and layering to the complex existential realities of the drama.
The narrative interweaves contemporary and futuristic scenes that stage the quest for embodied perfection—a canine competition; a couple's purchase of the ultimate motor vehicle; the tender and angst-ridden contemplations of the same couple over whether or not to abort a foetus with Down's syndrome, all the while attended by medical practitioners who themselves embody (both actors and characters) the same genetic condition. This is a bold casting move that only works because these actors are well established in their craft and the company has numerous successful works behind it. The final scene involves the interrogation but eventual friendship between a forensic geneticist (presumably with police powers to eradicate the imperfect) and the last surviving human with Down's. I found the ending clichéd in its over embellishment of the humanistic qualities of people with Down's syndrome. Delivered with playful candour, it does nevertheless sustain the elements of a fine piece of art that evokes, rather than simply describes.
Back to Back, now in its 15th year, has a diverse repertoire of original work including Mental, Dog Farm, Back Scratch and Porn Star, which was made into a short film. The company has a full-time ensemble of 5 actors who, as its promotional material suggests, are people perceived as having an intellectual disability. The term "perceived" indicates the power relations involved in constructing the category of intellectual disability.
Gladwin says the deployment of the term 'disability' for the performers, "…serves as an effective marketing strategy as much as it hangs like a weight around their neck…maybe one day we won't have to identify ourselves as a company with disabilities. But at the moment we probably get more mileage from it in terms of how the media read us, which is our access to the general population."
For merit or pity?
Performances by Indigenous Choir and Elizabeth Navratil, a local stand-up comedian with cerebral palsy, opened the 5th National Performance Conference in Brisbane. American critic, theatre director and playwright Robert Brustein followed, delivering the Richard Wherrett Memorial Address. His argument focused on the familiar distinction between high art and popular culture. The former, he claimed, was suffering a serious demise in American society because of confusion between art and politics. The arts are called upon more and more to do the work of politics: "cultural institutions are being asked to validate themselves not through their creative contributions but on the basis of their community services.
"The most significant advance for solving America's more urgent social needs has been to increase the cultural representation of minority groups. This kind of democratic representation often occurs without regard for quality, a policy that threatens to sacrifice hard won achievements for the sake of evangelical gestures."
These controversial issues are particularly complex when applied to the area of disability in the arts. DADAA (Disability in the Arts, Disadvantage in the Arts, Australia), funded by the Australia Council, is the national peak arts and disability networking and advocacy body. Its member organisations include Access Arts (Queensland), Accessible Arts (New South Wales), Arts Access (Victoria), Arts in Action (South Australia), DADAA WA, Arts R Access (Launceston) and DADA ACT. All operate with a strong commitment to people with disabilities and those disadvantaged by their social conditions.
These organisations are committed to increasing access to the arts and facilitating art practice. They reflect a passionate belief that difference makes for an enriched and more vibrant community. Navratil, who has performed in numerous plays and tours regularly (most recently in Caca Courage, part of the 2002 High Beam Festival, hosted by Arts in Action) tells the conference that if not for Access Arts' support, she would not be a performer today. It seems that art can only be apolitical when it does not need to struggle for cultural space. It's timely to remember Cultural Studies theorist Stuart Hall's dictum that popular culture is not about the 'low' stratum of aesthetic practice, but is rather "a social zone of contestation."
While artistic practice can be politically concerned with 'access,' 'social justice' and 'developing community', artists with disabilities in the arts also want to produce work that has 'artistic merit'. This is not to reinscribe the weary binaries of art/politics and high/popular culture, nor to suggest that political concerns are without artistic merit. At the level of funding, however, the distinctions between social justice and artistic merit derive from different motivations.
Performing more than disability
The 3 full-time ensembles, Back to Back Theatre (Geelong), Restless Dance Company (South Australia) and the Australian Theatre of the Deaf (NSW) want to be funded on the basis of the artistic merit and not out of considerations of social justice or equity with regard to disability. Restless is one of Australia's leading youth dance companies, involving people with and without disability. Their most recent work In the Blood was performed at the High Beam Festival. Australian Theatre of the Deaf is the only professional company of deaf artists in Australia and is bilingual, offering a visual style accessible to both deaf and hearing audiences.
Scholar and performing artist Petra Kuppers writes that when people with disabilities perform they are often primarily seen not as performers but as disabled people ("Deconstructing Images: Performing Disability" Contemporary Theatre Review, 11, 2001). To avoid such reductive readings, many performers and companies believe that to be taken seriously as professional artists their work needs to be separated from disability issues, or at least, from the often didactic ways in which issues are represented.
Elizabeth Navratil says that forging a career as a professional actor outside the context of disability is an ongoing struggle. In an interview in another context, she said, "I can't go on stage or appear in a movie where my disability is not seen." Nevertheless she is adamant that she comes to the stage playing a character, "not a disabled person trying to portray particular truths about disability."
These issues recurred throughout the National Performance Conference session "Performing Outside the Square", with Tony Strachan (Artistic Director, Australian Theatre of the Deaf NSW), Sonia Teuben (Back to Back Theatre, Victoria), Sofya Gollan (film director, performer, NSW), Michael Russell (Access Arts Brisbane) and Kiersten Fishburn (Accessible Arts, NSW). Strachan declared that the Australian Theatre of the Deaf made strategic decisions to do 'mainstream' work in order to be taken seriously. While debate exists about how the language should be delivered in performance, Strachan says, "it is primarily gestural and visual,[but] they are not 'deaf stories'." He described how the company moved from being a theatre for the deaf to a theatre of the deaf, a shift that culminated in 1979 with the company becoming a professional entity.
Sofya Gollan, the first student with a hearing disability to be accepted into NIDA, spent 10 years with the Australian Theatre of the Deaf before turning to filmmaking. Gollan spoke about gaining entry into NIDA not as a result of fulfilling the 'marginalised quota' but on artistic merit. She grew up in a hearing family and early in her career positioned herself as an artist who wasn't going to be pigeonholed as a deaf person performing issues about deafness.
Festivals
Disability in the performing arts cuts across mainstream and community arts contexts, encompassing solo performers, disability arts festivals and theatre and dance companies. Australia has a number of disability festivals including the High Beam festival in Adelaide, hosted by Arts in Action; Rewind in Perth, hosted by DADAA (WA), its 6th biennial festival to be held in November 2003; and the 2002 Paralympics arts festival (RT40 p11). Next year Access Arts hosts the 7th Asia Pacific Wataboshi Music Festival at the Brisbane Powerhouse.
Several Australian artists have recently returned from international festivals. Back to Back were the first Australian company to be invited to the International Festival of Artists with Disabilities in Almagro, Spain, during which Mark Deans performed his solo production Cow. Brisbane-based dancer and co-director of Igneous Inc, James Cunningham, recently undertook a residency at Dance 4 in Nottingham and performed Body in Question at Visions 2002, the biennial festival of visual performance in Brighton UK. Dealing with Cunningham's experiences in India where he retreated after paralysing his arm in a motorcycle accident, Body in Question explores how perceptions of the body differ from culture to culture. His experience made him realise "that the body and disability are not fixed but rather malleable and changeable." Igneous is Cunningham's multi-media performance group, whose other works, unrelated to disability, include Hands Project and Thanatonauts.
Jane Muras from Adelaide performed Bananas at the Paralympics arts festival (RT 40 p11), the Kickstart Festival in Canada last year and toured Sydney and Adelaide this year. Another notable performer, dancer-choreographer Marc Brew from Melbourne, worked with Infinity Dance Theatre in New York. His most recent works include Focus 4 (Lalita McHenry, RT 49 online, www.realtimearts.net) and Take a Seat With Me an autobiographical solo dance theatre performance.
Maturation
The diversity of solo and company work in dance and performance, the engagement with new media, the latest in sound and often radical design, and the proven quality of works that often tour, all suggest a wealth of talent and commitment and a strong sense of continuity in the disability arts arena. The sheer popularity of a show like Soft in the Melbourne Festival confirms that there is an audience for work that often takes audiences outside the usual range of their experiences. Work that tackles pertinent issues through a cultural imaginary more concerned with the production of new stories and actualities, and less with pinning down the 'truth' of disability, suggests a maturing of artistic vision and practice.
Soft, Back to Back Theatre, director Bruce Gladwin, devised and performed by Mark Deans, Rita Halabarec, Nicki Holland, Darren Riches, Sonia Teuben, Jim Russell, Marcia Ferguson, sound Hugh Covill, lighting Efterpi Soropos, animation Rhian Hinkley, set Chris Price, Dave Morison, costumes Shio Otani, dramaturgy Melissa Reeves, puppeteer Mark Cuthbertson; Melbourne Festival, Docklands, Oct 19-26.
Expanding Horizons, 5th National Performance Conference, Queensland Performing Arts Centre, Brisbane, Sept 20-22.
RealTime issue #52 Dec-Jan 2002 pg. 33-
© Lalita McHenry; for permission to reproduce apply to realtime@realtimearts.net
Jonathan Marshall
Although the festival's aesthetic highpoint was Romeo Castellucci's extraordinarily polymorphous, living tableau of the anguish generated when form becomes matter in Genesi, the theatre program's political gut-kick was NYID (Not Yet It's Difficult) Theatre Company's K. NYID has a mixed performance history, but this is no criticism since Artistic Director David Pledger is not interested in mounting glossy, fetishised theatrical product to funnel into the maw of the international festival circuit. He is concerned with using the stage as a laboratory for ideas and practices (as in NYID's remarkable collaboration with Gekidan Kaitaisha earlier this year). It was nevertheless gratifying to see NYID staging a show with the assurance and precision demonstrated in its until now most cohesive work Sports Edition (1997).
Marcuse and others have argued that we do not read cultural products, rather culture reads us. We are bathed in culture, even before our consciousness forms. How can one enunciate genuine political or moral alternatives when even the terms of what might constitute opposition lies already coded within political discourse and language? K was a compelling, fiercely satirical exploration of what these ideas might mean for today's televisual, hyper-commercialised world.
K's chief irony is the same as that of 1984—even in a world of incarceration, observation and policing, it is ultimately the individual who must accept and internalise repressive values for them to be fully effective within the wider social context. The stage was an open, anonymous studio, its margins sharply delineated by dark, mirrored screens across which were scanned the copyrighted products: LoveTM, EmpathyTM, Lung CancerTM, PoliticsTM. Beyond these boundaries sat the audience, entering the venue via a complex set of back passages, before being placed into this non-realm outside the performance space itself—a metaphor for contemporary political engagement if ever there was one. David Pledger maintained a precisely demarcated dramaturgy in which closed corridors of light marked out the main peripheral circuit. Along these corridors strode Luciano Martucci as the entrepreneurial impresario of political control and product development, while the middle of the stage acted as either a constricted centre (where K himself stood, confined), or a blown-out platform for vibrantly superficial, commercialised, televisual performance, streaming in all directions.
The show presented an horrific, Fellini-esque carnival of logical conundrums and double-talk: the empathetic torturer who insisted on 'feeling your pain' as he assaulted K, the televisual host made flesh of Vivienne Walsh, exhibiting a range of tics and wide, hyper-sexual, swinging-legged stances which made both Lara Croft and Hugo Weaving in The Matrix seem like plausible human beings. K was imprisoned, reprogrammed and let loose only to become even more intensely unfree, pedalling a cynical, deflated version of political disengagement and DemokracyTM. As long as the individual is not consulted about isolated political decisions (rather than electing "a representative") and is unable to set the actual terms of debate, the ancient Athenian word 'democracy' remains brutally corrupted by the forces Pledger identifies. The madness K depicts is indeed no more incongruous than one in which private pharmaceutical companies patent our genes. As Pledger explained in his guise as 'Company Man': "You'll really feel it when I fuck you up the arse! I am the Prophet/Profit!"
For another view of K see Keith Gallasch's response at www.realtimearts.net
K, NYID Theatre Co, direction, design, text, performance David Pledger, design,production management Paul Jackson, lighting Shane Grant, dramaturgy Peter Eckersall, video & film Mark Atkin, Michael Williams, Paul Hosking; Melbourne Museum, Oct 23-Nov 2.
RealTime issue #52 Dec-Jan 2002 pg. 7
© Jonathan Marshall; for permission to reproduce apply to realtime@realtimearts.net
If Umberto Eco is right, there is no way that we can say "I love you," without cultural overload. How then to address Goethe's landmark of German romanticism, the novel The Sorrows of Young Werther? Poor Werther falls in love with a young woman who ultimately rejects him. How could this be when, on their first meeting, she quotes a poet whom he also admires? Having burst into tears at this sign of their mutual destiny, Werther is literary witness to his emotional deterioration.
There are countless adaptations of ill-fated, romantic tragedy. When Peter Brook decided to mount Bizet's opera, Carmen, he claimed that it was a layered work consisting of 2 stories: one he considered central, the other a manifestation of Bizet's social milieu. Brook chose to pare away the Parisian narrative to make theatre with the underlying drama. Belgian director Michael Laub went the other way with Total Masala Slammer. Apparently fond of playing with multiple genres (musical, soap opera, theatre, dance) and inspired by the ballads of Bollywood, Laub added complex Indian cultural dimensions to this project.
The cocktail called the Alabama slammer is spoken of in different American accents. There is disagreement about its ingredients, some of which are not grown locally. It's a nice metaphor for the hybrid mixture of elements in Total Masala Slammer which draws on both Western and Indian traditions to render the Goethe text. Versions of the tale are read, sung or suggested. Other versions of other tales are also played out, for example, much of the Indian dance performed classically refers to elements of the epic, Mahabharata.
Players sit on chairs and benches and watch their fellow performers, while a video screen signals and translates the use of narrative. The many short pieces include: reading and singing from Goethe's text in English and German; a series of Classical Indian dances performed by men or women, largely Kathak in style, to live tabla music; Indian singing to pre-recorded music; a soloist in a red sequinned dress using voice and movement; a trio of "modern" dancers performing phrase material; and 2 Indian actors ironically acting out love scenes between an ardent suitor and an uninterested starlet. Both actors refer to scripts: "We'll make love like foreigners."
According to Christiane Kühl's program notes, Taub's guiding principle is that "depth comes about purely through chance." As chance would have it, the juxtaposition of myriad styles and traditions is no recipe for success. While the Indian dancing is exquisite, the first half is a bit like channel surfing. In the second half the Indian and Western teams mix it up more, creating an interesting focus, especially in the performers' ability to adopt the styles of other traditions.
Laub is purportedly interested in the slim line between fiction and realism. If not pure fiction, there is little sense of the real here either. Moments perhaps: a woman in a zippered sari imitates Bollywood accents on her Walkman, casually reading from a dog-eared copy of Goethe; or videotapes from auditions conducted in India. The back wall is covered with layers of coloured silk. Each layer successively falls, finally revealing a bare wall.
Young Werther's moment has come. Women run across the stage in and out of period costume. A Hawaiian-Indian dream sequence wafts from left to right. The pistol is pulled out. But no, one of the Indian dancers models Werther's period dress on an imaginary catwalk. Death is deferred. In fact, I can't even remember whether he shot himself. I suppose he did. That's bad isn't it? Is that because I have seen too much death on TV? Or is it because Total Masala Slammer is always outside Werther's tragedy? Eco might be right that the expression of love is hackneyed but is love also hackneyed? And what of tragedy?
Total Masala Slammer was pretty much critically slammed in Melbourne. I can see why. Taking a punt on the concept that depth is created from chance is risky, especially when cross-cultural elements are added. In a way Michael Laub's right though. It's not possible to control the creation of stunning theatre, theatre that rents the fabric of fiction. Unfortunately, the groundwork didn't seem to be there. Was it the structure, cultural dichotomies, the rehearsal process? Or perhaps Laub didn't want to touch us, but rather to stay within the irony of a work he subtitled Heartbreak no.5.
Total Masala Slammer, Remote Control Productions, Hebbel-Theatre, Berlin, directed by Michael Laub, Indian crew led by Kumudini Lakhia & Sunayana Hazarilal; State Theatre, Victorian Arts Centre, Oct 31-Nov 2
RealTime issue #52 Dec-Jan 2002 pg. 7
© Philipa Rothfield; for permission to reproduce apply to realtime@realtimearts.net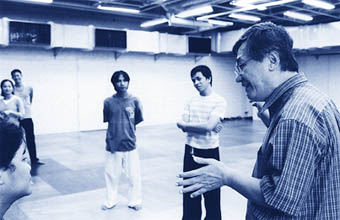 Kuo Pao Kun (right)
Kuo Pao Kun died at the age of 63, September 10, 2002. When a spirit such as his passes away, the soul of the world weeps. He was a multi-lingual writer, theatre director and teacher who had an innate ability to work deeply with people. As the artist Tan Swee Hien's calligraphy said next to his coffin, "From the mountain cave comes a thunderous cloud." He leaves a large legacy and a unique vision.
Born in Hebei in China in 1939, Pao Kun witnessed the Japanese invasion and the Peoples' Liberation Armies takeover of Peijing (Beijing). As a boy in 1949 Pao Kun travelled to live with his father in Singapore. He came to Australia in 1959 to work as translator for Radio Australia. He matriculated from Melbourne University and studied at NIDA in 1963. When he returned to Singapore in 1965 with his wife Goh Lay Kuan, he set up a performing arts school, a theatre company, Theatre Practice, and later created the alternative theatre venue The Substation.
He mastered Chinese, English and Malay and became a well know dramatist, educator and cultural activist. In 1976 he was imprisoned by the Singaporean Government for 4 years for his writings and activities, but in 1990 the same government awarded him the Cultural Medallion. In 1996 the French Government conferred on him the Chevalier de l'Ordre des Arts et des Lettres.
His links to Australia were significant and many Australian writers, actors and directors have been influenced by both the man and his ideas. His theatre experiences in Australia and South East Asia helped shape his very particular worldview. He was able to live with the contractions, ambiguities and multiple connections of the east and the west and sit comfortably in both traditional and contemporary artistic practice. He did not identify with, or make academic comparisons but absorbed and fused them, continually standing on the threshold of something unknown and inspiring. Through him, so many of us in Australia were informed, challenged and able to access and find a deeper meaning in our association with Asia and Asian artists. He gave direction to our place in Asia.
He began writing in 1968 from a socio-political position; later his plays took on a deeply reflective and spiritual tone. The immensity of and the esteem for his work was apparent to me at the launch of his collected works, Images at the Margins: A collection of Kuo Kun's Plays in May 2000—his plays were in production in Japan, Malaya, Indonesia and China. In the Middle East, Asia and the West he is one of Asia's most important, most performed and most studied contemporary playwrights.
Pao Kun had an ability to discover and foster the potential of young Asian artists. Fifteen years ago he brought together many writers who at the time were unknown or unpopular. One was Gao Xing Jian who was later awarded the Nobel Prize for Literature, and the other, Danny Yung, became one of Hong Kong's key arts and cultural planners. In Singapore there is not a major performing artist who has not at some time been influenced by the teachings or work of Pao Kun. When he died he was still involved in the Theatre Training Research Program (TTRP) aimed at finding a distinctly Asian contemporary acting methodology. Through his contribution Singapore has become a strategic cultural centre.
The man was clear, honest and compassionate, deeply and continually fascinated with people's complexities. Commenting on his 4 years of solitary detention, he held no malice. He saw it as a furnacing process forcing him to look reality straight in the face; he said the purging effect was total and deep.
Pao Kun made culture manifest. He was a creator, a discoverer, a selector, an organiser, and a friendship weaver. The task of condensing his life into a few words is daunting: the nature of the man and size of his deeds defies words. I see him now in his sarong and white singlet, sitting, looking over the rim of his glasses, tilting his head and saying, "Why do you waste your time writing about me?"
Many people in Australia have loved this great man and will mourn his passing. The thunderous cloud remains. Wherever we are from, many will stand, face south and take a deep bow. "We miss ya already PK."
In writing this I am indebted to A Centurial Role Model: remembering Kuo Pao Kun by Qui Yu (Shanghai), and Goh Lay Kuan and Chee Keng (TTRP Singapore). www.ppas.edu.sg
RealTime issue #52 Dec-Jan 2002 pg. 34
© Robert Davidson; for permission to reproduce apply to realtime@realtimearts.net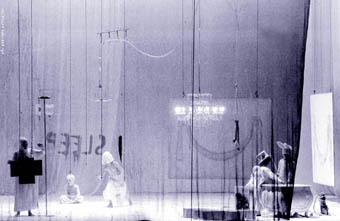 Genesi
This interview with Romeo Castellucci, Artistic Director of the Socìetas Raffaello Sanzio Theatre Company from Italy, and director of the company's Melbourne Festival production, Genesi: From the Museum of Sleep, was conducted shortly prior to the opening of the show. Castellucci's original, unedited Italian text has been translated by Paolo Baracchi, with French translation by Baracchi and Marshall. Comments in brackets are by Jonathan Marshall. An excerpt from this interview first appeared in IN Press.
Introduction
An elderly, naked woman, possibly Eve (who has had a mastectomy), traverses a diagonal line towards the front of the stage and clumsily fondles some white thread. A monstrous spindle-machine starts behind her as her hair drops from her head and we realise that it is this which is being spun.
This is but one image from Romeo Castellucci's staging of the Genesis myth–complete with elements from the Apocrypha (the non-official Bible) such as the Fall of Lucifer from highest angel to a hideous, deformed mimic of God who facilitates the chaos that underlies all of Creation. Like Antonin Artaud and the Theatre of Cruelty tradition which the former-painter-turned-director is steeped in, the stuff of Castellucci's theatre is stuff itself: matter, that which you and I swim in, yet which becomes strangely amorphous, slippery, weirdly sexual, deformed and impenetrable in his hands.
The story of God lovingly creating the universe, after which Man committed the first sin and was expelled from the Garden of Eden, is well known. Less familiar however is the mystic, Judaeo-Christian version found in Gnosticism, the Kabbala and Rosicrucianism. It is this version which Castellucci portrays through the use of sound, physical performance and massive, spectacular effects. Castellucci is tapping into the same traditions which served as the inspiration for artists such as Baudelaire, Antonin Artaud, Peter Brook (The Mahabarrata, Marat/Sade, etc), Carmello Bene, the master of Italian avant-garde cinema Pier Passolini, Jerzy Grotowski, the founder of the Japanese avant-garde dance form butoh Tatsumi Hijikata, and others.
In this darker version of Genesis, the act of Creation is not one of love, but a horrible mistake. The Kabbala for example talks of the universe being created when the sacred pots carrying the Word of God were dropped, exploding into millions of imperfect shards. The act of Creation is therefore a violent transgression against the laws of the universe–and hence all of Creation contains within it the seething chaos of a proto-universe just prior to the act of Creation itself. It is not Love which rules this universe, but Cruelty. It is not Man who sinned, but God. All of art, theatre and history therefore constitute a retelling of this initial act of primal violence, in which events like the Holocaust, September 11 and the destruction of Afghanistan are the norm, rather than the exception.
Castellucci's essential thesis in Genesi: From the Museum of Sleep is that in the shift between an idea, a thought or our conception of any given thing, to its actual manifestation, something monstrous has taken place. We have violated cosmic law, become like God (or Lucifer) and tried to create something. Castellucci's theatre is therefore one of cosmic dreams and nightmares, of temporal shifts and suspensions, such as the incredible second act set in Auschwitz, bathed in an unsettling yet warm, white glow, where literally nothing happens–as though the Holocaust has somehow killed time. Genesi strives to be very nearly, if not actually impossible to consciously understand, a work which one must apprehend, experience or perhaps merely endure. It exists in a radical, Dionysian realm beyond tragedy, beyond description and possibly beyond language itself. It is a work as complex as it is compelling, as bizarre as it is raucous. Operatically boosted by an incredible electroacoustic score by Lilith [Scott Gibbons], it shifts from dense screams to low, crunchy disturbance. It is a work as full of piety as it is full of sacrilege, as dense with allusive meanings as it is a deliberate staging of the absence or failure of meaning.
Why do you use the performers that you do? What is it that these performers offer that formally trained actors do not? Could you also tell me about the use of the body in your performances, and the choices that you have made in casting performers with various physical attributes? I am particularly interested in your casting of Cain.
In truth, every body is worthy of being on stage. For me there are no deformed bodies, but only bodies with different forms and different beauties, often with a type of beauty that we have forgotten. I believe that each body expresses something–any form of body. The age of an actor is important, as is how much actors weigh, how they twist their neck one way or the other, what their hands are like: these are all fundamental elements, much more interesting than the actor's profession or professionality. Actors, in the moment when they let themselves be truly seen, are always the worthiest beings, and in this respect they represent the only possible form of performance. So, it is no longer a question of graceful or unpleasant, of professional or not, of fat or thin, of being a child or an old person. It is about sharing problems of art with these people. It is about interpretation, and not the presentation of reality. When one attempts to represent 'reality' on the stage, this always transforms the spectator into a voyeur. But here, in my theatre, performance is not about making a 'theatre of truth' or 'social-theatre', in the older sense.
Often, moreover, non-professionals attain an amazing 'truth' in their acting because they retain a capacity of surprise and a naturalness which many professionals have lost. The choice of actors is therefore based primarily upon the discovery of the beauty that is present within each of them and upon the necessities of the theatrical production. My theatre is open to all experiences and I always learn a lot in my work with the actors. I assign the characters and then I give the actors the freedom to act how they feel. I do not have a 'method' as such, but rather proceed according to the show, relying on the qualities and the gifts of each performer. For example, the actor who plays Adam in Genesi is a contortionist, and that makes him a perfect presence for this production. The actor who plays the role of Lucifer is a singer. We have worked on rhythm, on voice and with the sonorities of the Hebrew language. [Act I opens with Lucifer in Marie Curie's laboratory, reciting from the Torah, accentuating various cutting, consonant sounds, as he traces characters from the text in the air. Adam later appears in Act I as part of a museuml tableau, in a glass case, a mounted crocodile suspended above him, violent electroacoustic cracking sounds accompanying his contortions.]
For the choice of the actor that plays Cain I have taken into consideration the fundamental fact that the fratricidal act had to be, in some way, innocent, infantile. For this reason I searched for an actor with one arm shorter than the other. The un-grown limb immediately suggests childhood, and the homicide becomes more complicated by adding to the violence of the act itself the ambiguity of a game that has, unfortunately for Cain himself, become definitive or irrevocable. The shorter arm bears witness to the fact that this is a game which, unlike all other games, cannot be started again, because its result has been fixed once and for all with this act that causes death, in the same way in which the arm has remained fixed in its childlike size. [In Act III, Cain embraces Abel about the neck with his withered arm and Abel collapses, dead, after which Cain gently attempts to coax the body back into life before he lies on top of his brother.]
Could you tell me a bit about the use of sound in the production? Why have you and Gibbons used the granular synthesis of images to generate sound, in which the digital mapping of various images from the history of visual art and iconography (the classical statue of "The Thorn-Puller", Massaccio's painting of "The Expulsion From Paradise", etc), as well as turn of the century photography and science (Henry Fox Talbot's early photography, Curie's laboratory, Étienne-Jules Marey's cinematic studies of motion, Francis Galton's studies of atavistic racial physiognomy, X-ray diffraction patterns of DNA, etc) are transformed into sonic patterns? Can you really translate images into sound, or does this process in fact create something else, something perhaps more comparable to an unimagined sound or what French composer Pierre Schaeffer described as music for the "astonished ear"?
The sound is an integrative element within my shows. It has a body that is born out of its own dynamic, under the impulse of the alternation between din and silence. In general, the sound is not derived from any particular visual, sculptural or linguistic figure because it constitutes, in itself, a figure. The quality of a work may often be conveyed in a clearer fashion through the use of sound than by means of images. Sound opens perspectives and prepares the [scenographic or dramaturgical] field for creation. It is like a stream that carries forms. Scott Gibbons' "granular" music transforms the sounds in such a way that they seem as they would, if they were perceived by the ear of an embryo.
Gibbons has developed sounds using a numerical technique called "granular synthesis" which he applied to various photographs I sent him every week from my home. Scott has been able to transform them into sound impulses. [In the program, Gibbons notes that this involved such transformations as "height mapped to pitch, color to stereo position, brightness to amplitude, etc".] Some were anonymous photographs dating from the end of the 19th century, as well as some other things which I found in old manuals. Gibbons has thus been able to give voice to certain images which I felt were intimately connected with the show. From this, some scenes were born with sounds, and other sounds were born from certain scenes. Here too, it is one single emotional wave. There is no distinction made between these elements.
What is the role of text in your work? Do you think that your work is more eloquent than traditional, scripted, text-based theatre? It is has been suggested that most of the spoken words in Genesi are predominantly there to create musical effects, rather than to impart specific information, specific meanings, or to relate details of character and plot.

All of the scenic elements have the same importance. The process is comparable to the one employed in developing photographs. There is a dark room and a bath of acid. All the components of the image (colours, forms) emerge at the same time. The different elements are not placed in an hierarchy–simply because the human organism perceives emotional waves in a global fashion. For me, an initial text cannot prevail over the other elements, because then everything that comes afterwards would be an illustration, and illustrations only release a compensatory force which does not interest me.
Nevertheless my theatre is based upon the strongest of all possible relationships with the text and its words. This is a relation of struggle and antagonism. If the text remains an essentially literary product, then this means that the theatre has become nothing more than an illustration of this text or, at best, a recontextualisation of it. Within theatre itself however, the text must be definitely brought out of the literary container and allowed to transform itself into a literal, carnal power. Words are not essentially spiritual things. No, the word is first of all a muscular contraction, something physical. The word must be a body which it is possible to weigh, to illuminate. It is necessary for the word to have a body [even if only to be spoken]. In this way, the word is treated technically. It is treated exactly as every other element of the scene, each of which also has a body, just as the word does. And each time words are framed, this is only really possible within the dramaturgical frame. [Castellucci is implying that the embodied actions of theatre constitute a superior and more profound realisation of textual material than any other form.]
Would it be fair to describe Genesi as a Medieval Mystery play (the Medieval works depicting stories from the Bible and the Apocrypha) for the post-20th century world?
It is an evocative question, because the Middle Ages offer important suggestions–not, however, in the theoretical field of dramaturgy, but in the sense that this representation is neither born nor develops within the context of the ecclesiastical pedagogy which was typical of the Medieval theatre. Nor does this version of Genesis communicate the revealed truths of [religious] transcendence. Rather, this production remains totally within the immanence of the human condition, not transcending it, which situates this production particularly within the condition of the artist. The dramatic morphology on the other hand, although it remains distant from the action-followed-by-consequences structure of previous sacred representations, may nevertheless be said to have a certain connection to the Catholic model of spiritual 'stations.' Genesi too is effectively structured according to such thematic pictures. [The 14 Stations of the Cross are a series of devotional paintings or sculptures representing the Passion of Christ. The Stations mark His progression towards martyrdom and Transfiguration.]
You have stated that "Genesis scares me more than the Apocalypse" because it represents "the terror of endless possibility." This would seem to draw heavily upon the writings of Antonin Artaud and Herbert Blau, as well as the Gnostic and Kabbalistic doctrines which Artaud himself was influenced by. Would you agree with the ideas usually associated with this cosmology? For example, Artaud contended that a terrifying chaos existed prior to Creation, and that this remained forever present, latent, or immanent within everyday existence. He argued that this "chaos" is the logical "double" of theatre. Is theatre's highest aim and greatest virtue therefore that it can represent–or at least come close to representing–this chaos through live performance?
There is a tradition of Western theatre that is totally forgotten, cancelled, repressed: the tradition of pre-tragic theatre. And it is repressed precisely because it is a theatre that is closely linked to [the transformation of ideas, thoughts or ideal forms into] matter and hence with the anguish of matter itself. This form of theatre is linked moreover to a primal presence or power that is doubtless female. It is necessary to understand how the female aspect (in the mystery of the gestation of life and in the wardenship of the dead) is an aspect that is also involved in artistic expression, which has in turn found in this female component a relation with real life. This 'female force' runs from birth to burial.
If the great domain of open possibilities belongs to God, the fact that certain possibilities are joined together and made to happen must therefore belong–according to some Kabbalistic traditions–to the weight of the body itself. God must transform Himself into something "of the flesh" so as to be able to manifest possibilities that would otherwise remain unrealised within an inconsistent world. It is possible [according to these traditions] to experience possibilities through the invocation of material, carnal elements, and, through a conjunctions of these, to experiment with them.
Theatre is not something that must be 'recognised': "I-go-to-the-theatre-to-recognise-the-Shakespeare-studies-that-I-have-completed". It is not [or should not] be like that. Theatre is rather a journey through the unknown, towards the unknown. What myself and those of a similar mind have tried to do over the years has been to hold high the scandal of the stage and to keep it constantly vibrating. Even the word "theatre" itself has to be continually re-invented, because it is a word that has completely lost its radical meaning. The stage is in fact a place of alienation, and nothing must be done to anaesthetise this alienation. The 'problem' of the author, of the text, of the tradition of narrative theatre has always been, in actuality, an attempt to solve this 'problem' by filling in the scandal which theatrical creation represents with various discourses, by forcing the actor–and therefore the actor's body–to become nothing more than a repeater of these elements, diminishing the energy of the stage itself.
In this regard, I believe that the thought of Antonin Artaud is of fundamental importance for the whole consciousness of Western form. It plunges the problem of form [as in what form should an idea, thought, or aesthetic act take once made manifest within the material universe] into a bath of violence that re-awakens that which supports a true theatre. It is then that form becomes spirit. One is, in fact, here talking about the alchemy of transformation, of the transmigration of one form into another. There is of course an aspect of Catholicism which influences, and inheres within this type of theatre, which is connected to the moment during the Eucharist when the Host is transformed into the Body of Christ. This Eucharistic fact also is an idea that we find within Artaud: this idea of transforming a body, of donating a body, of cutting a body to pieces, of liberating a body from its organs: these are all elements that derive from such a Christian conception.
The terror that you were alluding to from the Beginning derives from the fact that one no longer recognises language [at this moment when one encounters the chaos], and this causes terror. One no longer recognises that which connects us to each other within the human community [that which allows us to communicate, to think and to express ourselves]… Words become disconnected from the things we know and precipitate within this undifferentiated state. But only from there can "your" true language be born again.
Do you think that these type of ideas have taken on a particular relevance in the light of 20th century events like the Holocaust, and indeed more recent events such as the Yugoslav Wars, September 11 and the decimation of Afghanistan?
The events that you have recalled, the massacres, the genocides, the disasters that humankind has experienced in its recent history, constitute an abyss which is necessarily connected with the experience of Creation. During Creation, it is the Word of God that creates; in these events however, there is His silence. The theatre is called upon to comprehend the heights and the abysses of human experience–but not through illustration, nor by means of the production of information. The experience of abomination is too deep to be consumed on the surface [or through such superficial means as by the representation of mere appearances]. It is necessary now that we should all begin to consider the term "tragedy" so as to collectively rethink the destiny of humanity. The theatre is called upon to address this task through the radicality of its form, which is that of a living art.
Following on from this, would you agree that all creative acts constitute an act of violence, or at least a violation of the taboo against creation? I have in mind here your suggestion that the fallen angel Lucifer is the first artist with whom humanity can identify.
Naturally, the theme of Genesis highlights the problem of the Beginning. At the Beginning each artist knows that the empty stage is an open sea of possibilities. This is also what constitutes the 'terror of the scene.' This is not–as far as I am concerned, in any case–a terror or fear of emptiness per se, but rather a terror of fullness: there is too much world. Quantity submerges us. Matter is obscure. Therefore, every time the artist elaborates upon this chaos so as to make something come out of it, one reconnects these possibilities. Lines and constellations are then created… by parthenogenesis, almost independently of one's personality. With respect to the Beginning and the End, it is evident that theatre has in itself, ontologically, within its deep textures, this problem of the Beginning and the End–because they are co-penetrated. Theatre is a corporeal art par excellence which, by definition, when it "is really here", in front of the spectator, it is also ending at the same time. Theatre is born at the same time as it dies, and vice versa.
What meaning does it now have to repeat those words which are the first words of Genesis itself and so are, indeed, the things themselves, the world itself? Are these words from Genesis the words which made the world happen, and so also those which have given rise to the stage? The only person who could bear the weight of these originating words is he who first spoke in a 'double form', he who first assumed the costume of another–namely Lucifer. Throughout the history of humanity, Lucifer has always made himself felt through disguises and costumes, assuming the words of someone else. He did this also at the Beginning, assuming the skin of the Serpent and the language of the Serpent. He duplicated for the first time the words of someone else, saying: "Is it really true, what God said?", hence creating a form of mimesis, a form of duplication of language. He is indeed the first to work in the superabundance of language, to exploit the theatre as an energy, and hence also giving rise to art. Art finds in this originating nucleus its privileged relation to evil. Evil is moreover the extreme aspect of the freedom that God has conceded to all beings. Lucifer lives in the condition of his condemnation which is, quite precisely, to live in the region of non-being. In order to return to the state of being, Lucifer is forced to assume someone else's disguise, someone else's voice. Art becomes necessary when one is no longer in Paradise. In this sense, the only person who could endure the act of speaking again God's words, let alone in their original language of Hebrew, was Lucifer.
In Genesi, Lucifer's conference is held on a little table, in the study of Mme Curie, in a drawer of which is contained a little stone of radium. Radium is, among other things, a stone that emits a light of its own [Ital. luce]. Radium is therefore mysteriously close in etymology to the word "Lucifer." The true radioactive nature of radium's glow was not known at that time. It was nevertheless a light which penetrated bones; it had something evil about it. It was also however the light of knowledge, which one could relate to the games which art plays as well–this exposing of oneself continually for one's own ends.
Could you tell me about the evocation of time within Genesi? You have suggested for example that both historic acts of violence–and indeed their representation in the theatre–are only possible because of a "foetal amnesia" in which we forget the history of violence which this production is itself designed to depict. The Holocaust therefore repeats the murder of Able by Cain, just as the sacrifice of Christ repeats Abraham's sacrifice of the lamb, or Marie Curie's discovery of radium repeats the discovery of the Tree of Knowledge, and the actions of humanity repeat the sins of Lucifer (pride, creation, the desire to become like God, etc).
This would seem to suggest that both the content and the style of Genesi are designed to create a very strange sense of time and temporality–or possibly a state in which time does not seem to pass at all. You have yourself described this as a "state of suspension" which "annuls time."
How is this achieved and is what I have described above what you are in fact trying to convey?
This question of time in the theatre refers to the experience of another time which theatre founds. I mean the flowing of time. I am not referring to a chronology, but to the quality of time itself. The final lapis of this alchemy which defines theatre is time itself. All of the transformations which I was suggesting before are not designed to do anything other than to modify time, to inaugurate another time. [Lapis is Latin for a smooth stone, as in lapis-lazuli, an ingredient for many alchemical preparations.]
Theatre is, by its nature, an operation performed upon time. Dramaturgy can be defined as the art of modifying the flow of time. Time constitutes a material for the theatre worker, just as colour is for the painter or marble is for the sculptor. Time is a primary raw material to be worked, to be developed according to its dynamics, to be dilated or–on the contrary–to be condensed. This show embraces different qualities of time, which are proper to each of the 3 acts, yet without placing them into any kind of dialectic per se.
The first is derived from Bere_it [first Hebrew word of the section of the Torah dealing with Genesis, meaning: "In the Beginning"]. It corresponds to a reality outside of time. The Creation occurs before the invention of time. The initial relationship of God with the Elements occurs in the obscurity of the darkness and in the absence of time. The second act, which has the name of a town, Auschwitz, precipitates the action into a historical time. The last act, Abel and Cain, evokes a mythical time. These 3 approaches revolve around the fundamentally intertwined themes of creation and destruction. The dramaturgical work therefore consists in making visible [through the action of the stage] the differences which these temporal structures effect upon one's perception of the flow of time.
The first part ideally unfolds outside of time, and this is rendered symbolically by the obscurity that reigns upon the stage. But Genesis is also a frenzied act which is accomplished amongst the chaos. The stage starts to quake: one sees apparitions of lightning, lateral entrances, entrances from high and from below [several objects are flow in and off stage, including a clear tank of bubbling water, which may represent the unleashed power of radium and Creation], rotations, cacophonic machines that suddenly begin to shake [there are at least 2 of these: the first a flattened, bucking, metallic insect, which the program describes as "Something bronze that is writing"; the second an unadorned mechanical armature at the side of the stage which intermittently applauds the action], bodies that burn, cords which stretch across stage [literally in the case of Eve's hair], objects that fall from the air, and ground that [literally] swells, which breathes… As if God was surprised by what he was doing in the process of creating.
The flow of time then becomes mechanical, fragmented. [At this point a naked black man appears and plants two carrots into a mound of soil; the Avenging Angel Gabriel appears and grasps the handle of sword suspended in the air, whose blade is aflame; etc.]
Auschwitz, on the contrary, evokes a sense of extermination–even of time. A time which relates to a historical moment seems suspended, swathed in the wadding of a nursery and the unctuous melodies of Luis Mariano. [Act II is set in an open white space where children play at serious, often symbolic games. One enters on a toy train, for example, a yellow star on the back of his jacket, and takes down a series of rubber, human organs suspended above the stage, placing them into the carriages, before departing.]
Abel and Cain however returns to the original homicide. Here, time becomes music. Cain is the first man to face the dramatic duel between the 2 fundamental polarities of human action: the Beginning and the End [ie this first act of human violence nevertheless contains within it the End of all things and hence serves as the final tableau in Castellucci's exposition of Genesis]. The essential problem of the Creator, of artists, is their permanent confrontation with the void, with chaos. Each act of Creation presupposes a prior act of destruction. Creation becomes then a re-creation, and each phase which precedes this re-creation must be a systematic destruction of all acquired habits [if it is to be true act of novel creation]. It is therefore necessary to destroy the habits associated with words. The same holds true for the word "Creation" itself. It is a word which no longer means anything, as is also the case with the words "stage" or "scene." These are words whose meaning has been forgotten, falling into oblivion, into inertia. The first task of the artist is to destroy this "tiredness" of words, to re-awaken their sense.
It is also necessary to destroy the habit of acts. It should never be a matter of habit to perform a show. Each time one performs a show, presenting it to view, it must be a scandal of reality. Each performance is a threat or provocation, a suspension of reality, a fissure in the real. The word "creation" is too strong a term if one reads it in the light of reality. One must rather read it as evoking this sense of re-creation.
It is this way that the act of creation and Genesis may be brought together. The only Genesis that I can conceive starts from the idea of this crisis of creation. I can only capture and hold onto such images as might, at least in my opinion, interest someone like God–a marvellous and unique God. The figure of the artist moreover is only extreme within the context of the monotheistic religions–and this is because it is within these religions that the price of shame is greatest. The artist, as creator, has a special relationship with God and the Book of Genesis because it is this Book that puts onto the stage the essence of artistic work or creation. The artist himself can only therefore be a Re-creator. The most violent aspect of this relationship which the artist entertains with this God (who is, above all, the only true Creator) is his capacity to be exposed to ridicule. Each artist is in effect a little Creator or God, but the artist's creation is ridiculous when placed alongside the work of God. It is a false artefact.
I am not saying however that artists must measure themselves against God. To compare oneself to God is not only impossible, but, in the strict sense of the term, it is unthinkable. God is born incessantly–I tell you this above all as an artist, and there is nothing mystical about this. My show, Genesi, is not only a representation of the biblical Genesis, but it is a Genesis which brings to the world (using the stage) my rhetorical pretensions to remake the world. It puts onto the stage the most vulgar aspect of my being–namely that of the artist who wants to steal from God the last and most important of the Sephiroth. This is the secret of Polchinello too: to steal from God. [The Sephiroth are the 10 mystic attributes identified in the Kabbala as they key to the communion between the Finite with the Infinite. Polchinello was mischievous peasant character, highly disrespectful of his social betters, from 17th century French marionette theatre. Punch is a later, English derivation.]
In short, Genesis frightens me much more than the Apocalypse. The terror of pure possibility is there in this sea open to all possibilities. And there I lose myself in form. The Angel of Art is Lucifer. He is the first Being who puts on and assumes the costume and the clothes of another in order to Be. He has duplicated language and has translated it. The art of transformation is for him alone. He comes from the region of Non-being. The only way for him to return to the zone of Being is to write the name of another with his voice, with his body–and this is what the theatre is. This zone of Non-being is the genital condition of each act of creation. It allows the destruction which is necessary to ward off and avert all superstitions. [Castellucci is highlighting the paradoxical nature of the Judaeo-Christian mystical tradition he is heir to. If one communes with the divine by becoming like God, one also comes to doubt in the unique power of the divine. This is the condition of the director too.]
–
The author would like to thank the staff of the 2002 Melbourne Festival–especially Andi Moore and Ally Catterick–for making this interview possible and for providing translation services.
RealTime issue #52 Dec-Jan 2002 pg. web
© Jonathan Marshall; for permission to reproduce apply to realtime@realtimearts.net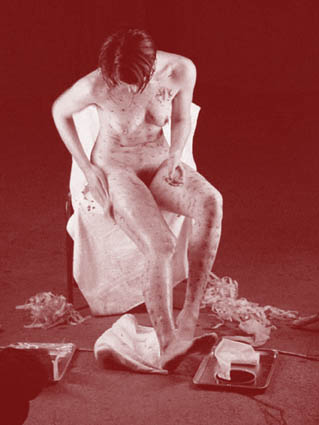 Kira O'Reilly
For 4 days, Brisbane's Powerhouse offered free access to work by leading British performance artists selected from the annual National Review of Live Art's roster of commissionees, artists-in-residence and programmed artists. For the background to this organisation and annual event established in 1983 and, since 1988, based in Glasgow, see RealTime 50, and for an account of the scale and range of this year's NRLA, a more diverse field than performance art, see Edward Scheer's "From ice-cream wars to retro-futurism" in RealTime 49, p27.
The NRLA contingent was lead by Nikki Millican, Artistic Director of the event since 1984. With her were Kira O'Reilly, Michael Mayhew, Richard Layzell and Robert Ayers, who all presented works, and Mary Brennan, a Glasgow journalist for The Herald and a great supporter of live art.
By all accounts the NRLA has played a key role in maintaining the traditions of performance art and helps some artists to make it central to their careers. The event is the largest of its kind and attracts interest throughout Europe and is well archived, with other work, at Nottingham Trent University. Audiences for NRLA are consistently large and, the visiting artists told us, the event is a popular one. On the downside, they regretted that there was no UK magazine consistently reporting and responding to live art. This is certainly odd given the form's currency and the NRLA's success. RealTime, with its strong focus on contemporary performance (though less so on performance art whose fortunes in Australia have been less evident) was regarded with admiration and envy, they said.
This 4 day, mini-NRLA provided a rare opportunity to glimpse aspects of UK performance art and to engage in several long open discussions about the work. On the final afternoon, a group of Brisbane artists from performance and dance gave brief presentations. They included performance artist Richard Oman, whose recent receipt of a government grant had been met with hostility by Brisbane's Courier Mail.
Hopefully, this visit and its Perth equivalent will encourage future exchanges of UK and Australian artists, as Nikki Millican has already demonstrated she can organise and with great commitment. Millican, with Robyn Archer, through her 2002 Adelaide Festival, and with Australia Council support, curated a major choreographic workshop at the festival and managed the subsequent visit of some 30 Australian choreographers and dancers to Glasgow as part of New Moves (new territories). From that event, Millican invited Brisbane's Lisa O'Neill and Melbourne's Cazerine Barry to the following NRLA and has programmed Melbourne's Helen Herbertson for 2003. The O'Neill and Barry works had been Powerhouse commissions. Powerhouse Artistic Director Zane Trow saw his hosting of the NRLA in Australia as contributing to a developing exchange of art and ideas. With the almost concurrent presence of Robert Pacitti and curious.com here for the Time_Space_Place workshop in Wagga Wagga (see RT#53), Blast Theory at Sydney's Artspace (RT#51, p24), 32,000 point of light at Performance Space (Dec 6-14), and the recent visit of the Akram Khan Dance Company (who conducted a workshop in Western Sydney through UNSW), the connection between British and Australian contemporary art seems ripe for development. It offers more opportunities for redefinition of our perceptions of each other's cultures than visits of the Royal Ballet or Royal Shakespeare Company.
Kira O'Reilly: Sssshh…Succour
The skin being cut — (neither here nor there)
Like breaking the surface tension of water
Kira O'Reilly sits naked on a white chair on a white towel. Her body is white, her hair black, cut in a Louise Brooks bob. The floor is covered with a fine layer of brightly lit white sand. Next to O'Reilly is another chair and towel. In the small gallery space the audience tightly frame the artist. From the 3 metal trays of packaged scalpels, medical tape and gauze in front of her on the floor she selects a hand mirror which she peers into, angling it to catch each of us eye to eye as a prelude to the work. Throughout the 40 minute performance the tempo is regular, more deliberate than matter-of-fact, a quiet ritual, as O'Reilly tapes her left leg from the ankle to top of the thigh in perfect circles and then with long lines down the leg, creating small rectangles of protruding flesh. She unpacks a scalpel and carefully slices a red diagonal across each space. Only here and there does the flesh release a trickle of blood, the rest glint in clean red parallel lines. O'Reilly's head is lowered, focused on the task, hair across the eyes, the body accepting its own ministrations without resistance or visible reaction. The sheer symmetry of the grid and the colour that fills it, the artfulness and calm yield a strange contemplativeness as if we are witnessing a writing which is not immediately intelligible so much as deeply suggestive.
O'Reilly stops, but only momentarily before taking up new rolls of tape and this time creating these curious longitudes and lattitudes on the upper body, from above the pubic hairline to just above the breasts. Again she cuts shallowly, into abdomen, against ribs, into the breast, but only on the right side of the body (later she tells us she is saving the right leg and left torso for Perth's Artrage the following week). She puts down the scalpel. She slowly removes the tape. She picks up the sheets of gauze, pressing them one by one gently against the skin to receive the thin lines of blood and lays them out on the sand. She is briefly still, her body a picture of living fine red lines and random dark trickles. She takes a towel and wipes herself down with a perfunctoriness that suprises some of the audience, blurring the lines, reddening the skin, a moment of mess, beauty smudged, erased ("Very real" someone says). She takes the mirror, looks steadily into it at us, then stands and leaves.
This is a very long, intense 40 minutes in which the mind autopilots on a number of unpredictable emotional and aesthetic trajectories of varying durations. Among many other associations (amidst the usual theoretical standbys surrounding some 40 years of performance art), the performer's essential stillness evokes the life model, the taping of the body recalls the butcher's preparation of a brisket with string (see the artist's curious choice of 'tenderised' in the next paragraph), the bright whiteness and clinical equipment suggest the care and hygiene of the surgeon. As the blade cuts into the upper thigh or the breast, images of accidental cuts to one's own flesh are triggered. However, most of all it feels as if it's about the artist meticulously and skillfully at work, and for that reason is less disturbing than I'd anxiously anticipated, but is no less rich.
O'Reilly writes in the program notes that, "This action begins where words fail me…Using processes of measuring and cutting, the skin is (re)marked, like a text or a drawing, etching a history that can be followed on the surface of the skin, like a palimpsest. Tenderised, it brings sharply into focus a visual and visceral vocabulary that invokes notions of trauma (a wound) and stigma (a mark) towards a 'spoiling' and opening of the body to explore an alterity or otherness."
O'Reilly is not telling what that trauma might be (if indeed it is specific) nor what is precisely entailed in "investigating the unruly and chaotic materiality of my substance and the disparate narratives within." Queried by an audience member in a forum she displays no interest in psychoanalytic readings of her work and offers little or nothing in the way of autobiographical clues. A documentary on the NRLA has O'Reilly describing another of her works as "inspired by the 19th century idea of hysteria that women unleashed, mixed with my own life" and the "violent mysogynist texts written by my [novelist] father" and "act[ed} out on my body." We catch a glimpse of another work where she has leeches attached to her back, drinking their fill and falling off, leaving 2 black holes, which Mary Brennan, the Glasgow reviewer (a rare and passionate appreciator of the whole gamut of live art) experienced as a range of intense associations. "Images washed through me: Man Ray's woman as cello, various taboos and rituals, mediaeval history, stigmata, the audience drinking the spectacle, leech-like." Brennan says that if she left an NRLA show "feeling alright, it wouldn't be the NRLA."
O'Reilly recalls her first motivation to perform arising from being impressed by seeing male artists "opening their bodies" and thinking why shouldn't women do it. She doesn't, she says, experience catharsis in executing the work: "It's research. It will stop when it's time to move on. It's never the same." She mentions that the work has carried over now into her drawings where she "cuts buildings." She declares that "most body art is not sensationalist, it's very responsible," quipping that "if I wanted to push boundaries, I'd go to the gym." As for what she experiences during the work, it's fear, reverie, joy and, now, an interest in the look that passes between her and individual audience members. She likes the way they gaze back: "It's like a camera, and I could see behind me." This was the first time she'd used a mirror, having seen a fellow artist working with one.
It was interesting to hear that she'd wanted to perform not on sand but on sugar, liking the way that it drinks up blood and is edible (but there were logistical problems). We were curious about the second chair and towel: "That was for someone from the audience, if they chose to sit there. I don't know what I would have done if they had."
If O'Reilly's performance was immaculately made and staged, her 3 male companions in NRLA Artistic Director Nikki Millican's mini-program for Australia were purveyors of the more familiar informal mode of performance art. Michael Mayhew and Robert Ayers presented 3 hour pieces which were visually and verbally discursive but with a mysterious sense of purpose which we guessed at in our own comings and goings—to and from another performance, or a forum, or a lively and informative online discussion (led by QUT's Brad Haseman) with Barry Smith, director of the enviable live art archive at Nottingham Trent University.
Keith Gallasch was a guest of the Brisbane Powerhouse for the NRLA season.
The National Revew of Live Art UK, curator Nikki Millican, Brisbane Powerhouse Centre for the Live Arts, Oct 15-18
RealTime issue #52 Dec-Jan 2002 pg. 31
© Keith Gallasch; for permission to reproduce apply to realtime@realtimearts.net
In one of the festival's series of intimate performances, this one with audience and actors sharing the stage of the Playhouse, performers from Canada's STO Union and Candid Stammer Theatre sit at a large ring of a table with us, narrating, interviewing, staging simple enactments and a dance in the centre of the circle. A century, the 20th, in the life of a family flickers by, the years are announced (or not, many don't get a look in, either suggestive subtext chasms or empty times). A sentence commenced in one year is completed in the next (as if it took that long for something to be worked through), a spare dialogue crosses several years, or an emotional eruption represents a whole year. Characters come and go, strange events and synchronicities leap out of the ordinary, as in a Paul Auster novel, and actors play generation after generation—the co-author and actor Nadia Ross relieved, she tells us, when she finally gets to play herself instead of her forebears.
The century for this family is scattered with curious encounters and sometimes startling revelations brought on by war, sundry separations, the birth of idiosyncratic twins, the murder of one in 1947 by fellow workers hostile to a lesbian, interracial relations and the increasing domestic isolation of that century. There is the sense, in all these intense sketches and fragments of realities, of an often atypical family struggling with typical yearnings, especially love and happiness. The first courtship, 1901, has the grandfather-to-be describing love as that which allows one "to endure, to be more", but we see how hard that will be to realise in the face of religion, insanity, capitalist fantasies, unconventional sexual proclivities, mediums and strange visions (one twin's fantasy that her mouth is a black hole which reflects the world). The conclusion of the performance entails a desire to see life as simple, but everything we have witnessed in 100 years at just over one hour says no. Low key, quietly intense performances and the intimacy of the actors' presence, the refusal to fill in the narrational gaps, and the way north American performers hymn their delivery all make for a poetic evocation of a century at once terribly familiar and utterly strange.
Recent Experiences, STO Union & Candid Stammer Theatre, written & directed by Nadia Ross, Jacob Wren, set design Paulk Mezei, lighting Steve Lucas; Playhouse stage, Oct 22-27
RealTime issue #52 Dec-Jan 2002 pg. 7
© Keith Gallasch; for permission to reproduce apply to realtime@realtimearts.net
A broken tree, each segment labelled with a number. Standing among them Koon Fei Wong silently accounts for each piece on her air calculator. Pale and willowy in little girl dress, the performer is nevertheless powerfully present. Plagued by nightmares, trauma of collective memories, she strives to embody her visions in fragments of language and gesture. The tiniest of wrist actions takes our attention, it animates an arm that floats out from the torso. From the side of the stage Liberty Kerr on cello and Barbara Clare sampling sounds, underscore or interrupt with their own murmuring utterances. Images spill onto the stage. A pile of bodies, dead arms reaching out to be held. Fei chops at her arm, repeats "Long or short sleeves? Or sleeveless?" She stands on a dismembered trunk, "I'm great. I'm terrific." A proud little smile dances on her lips, in the corners of her eyes, while those same muscles reveal the lie. She speaks of bloodied bones in snow, the colour moving between elements, red to white to brown. In the elusive way of dreams, events drift apart from physical sensation. Remembering her child self as helpless witness to violence, she detachedly describes events in voiceover. Meanwhile her naked body grasps at the sensation in ineffectual movement, shuffling awkwardly on her buttocks from one side of the stage to the other. Finally she falls and falls and falls. And exhausted, she re-assembles the strewn fragments of the tree.
Koon Fei Wong came to Australia from Hong Kong 5 years ago to study Aeronautical Engineering. Thankfully, she lost her way and wound up at the School of Theatre Film and Dance at the University of NSW. Fei was also a participant in Tess de Quincey's Triple Alice project in Central Australia, a profound experience which triggered some of the thoughts on dislocation and identity she explores so powerfully in this performance.
Teik Kim Pok in generic T, BVDs and white crew socks ponders his place on the map of cultural identity. Whether in Singapore or Australia, clearly being Teik Kim is not enough…"In a past life, I may have yelled 'Long Live Chairman!' Today I yell, 'Long Live (fill in name of Western popstar)'." And why have his parents only ever called him Daniel, a moniker officially registered nowhere? Taking stock of his upbringing and its effect Teik Kim tosses round possible identities, re-modelling himself, parading for us on a black and white runway. It's a nicely judged performance, a blend of seriousness and fun that keeps the audience guessing. Along the way, he asks us to take a look at each other, to shake hands while resising eye contact. Finally uncomfortable in the suit, he discards it for a clearer match for his cultural confusions, where else but in the enigmatic persona of Michael Jackson-the black man who could pass for white, maker of his own idiosyncratic moves. Teik Kim flicks the switch to vaudeville and at last, utterly convincing to himself and his audience, with jutting pelvis, single glove, hat concealing features, he slides a slippery moonwalk to "Billy Jean."
These 2 impressive short works were created as part of Teik Kim Pok's and Koon Fei Wong's research as Honours students in the School of Theatre Film and Dance at University of NSW. Both have also engaged with the contemporary performance community in Sydney for the last 2 years with earlier works seen at PACT Youth Theatre, Urban Theatre Projects, Performance Space and Belvoir Street.
Dis(re)membered, performer Koon Fei Wong, sound liberty & bc from magnusmusic, project supervisor Clare Grant; Post-Op Chamber Piece, performer Teik Kim Pok, sound Michelle Outram; Io Myers Theatre, September 25-28.
RealTime issue #51 Oct-Nov 2002 pg.
© Virginia Baxter; for permission to reproduce apply to realtime@realtimearts.net

Daniel Crooks' Time Slice
Two recent shows at the Centre for Contemporary Photography explored the way time and space are constructed and mediated by photography and video. Daniel Crooks' Time Slice, an extensive instalment of video and print works, challenged the traditional logic of the photographic still and the video sequence, blurring both the enclosed frame and the succession of multiple frames. The momentary pause of the photo is widened and the continuity of the video is disrupted, edited, literally making more or less time, more or less space.
Crooks' digital printouts Train No.1 & 2 rework an understanding of landscape. Over 3 metres across, they show time-lapse collapsing into elongated stills that scan multiple zones along railway lines. They are panoramas, but of varying speeds recording the push and pull of the city. A stationary camera is put in opposition to a tracking one. Static No. 1 is a more psychedelic spread. Against a warped backdrop of horizontal lines and jammed magazines and posters stand people, vertical, just recognisable. There are bodies as waves, bodies carrying the extent of their journey within their own skin, and bodies as modulating blobs. Figure and ground seem to rush across each other in separate directions. In the video Static No. 5 there is a similar frenetic quality, in this case a photograph becomes animated, a violent cutting and pasting constitutes movement. Crooks creates a kaleidoscope or rather the scope to collide.
This transfers vertically well with works like Elevator No. 1, one of the most abstracted works, depicting a graphic falling, the apparent velocity turning an elevator shaft to flowing ribbons. In Elevator No.3 a whole building is morphed, levels contract, storeys expand. Even architecture is subjected to a radical ride. Elevator No.4 has the most 'special effect' though, where a lift door becomes a liquid peeling, the metal door unzipping itself to allow fluid, drunken figures to enter and exit.
The theme of motion in art was vigorously pursued early last century by the avant-garde, whether it was Duchamp's descendent Nude, the Italian Futurist Balla's attempts in paint or El Lizzitsky's early photomontages. Crooks' work in part carries this kind of energy, what Paul Virilio would call kinematic' as people and vehicles begin to flare, shunt, refract, becoming unhinged at the intersection of time and space. Crooks puts forth a poetics of public transport, using tramcars and train carriages, perfect units to play with at the junction of time and space. The artist's work has a scientific methodology, the various videos and prints the outcome of invention. The data is both evidence of process and finalised works, thus they travel well.
If Crooks' work is experimental then Jo Scicluna's is experiential. A more packaged, measured and scaled work, the viewer encounters Scicluna's timespace 04: timelapse 2002 behind a black curtain, a darkened room lending the work a more intimate, even cinematic reception. All is silent. Both artists at the CCP choosing to deal with time and space in purely visual terms with an absence of sound. Perhaps because the sonic would allow the viewer to ascertain another sense of time, a tempo or rhythm.
Scicluna's work is in triptych with a single projection divided into equal frames, side by side. The first screen on the left shows a clock, cropped to hang above an undisclosed space. It is LCD perhaps, more digital than analogue yet it flickers, counts illegibly. Not counting down but away. The middle screen shows an entrance to a busy building, a revolving doorway, with suits coming and going, a security camera angle on fast forward. Or an escalator, its metal steps producing a dizzying, blurred optical effect. Or a lift with its floor by floor sequence. These are mechanised, automated yet unreliable vehicles. The final screen shows the face of a clock tower, a Warhol-like fixed shot in slow motion. An almost blank countenance: is it moving at all? The clock format of hours: minutes: seconds is echoed in the screen layout of real time: fast forward: slow motion. The viewer confronted with 3 different representations of time simultaneously is made to feel anxiety: panic: boredom. The work challenges the viewer's sense of time and how it is shaped.
The work asks questions, positing an ever-increasing corporate time (time is money) against an outdated and outmoded State/Municipal time with an individual's personal time being caught between the two. Vito Acconci, witnessing this paradigm shift, noted, "There was no need anymore for time to be installed on the street; no need for time to be set in place where you happened by, when all the while you were on your own time. Public time was dead; there wasn't time anymore for public space; public space was the next to go" ("Public Space in a Private Time", WJT Mitchell ed., Art and The Public Sphere, University of Chicago Press, Chicago and London,1990).
As an act of resistance and an adjunct of this, the last instalment of the timespace series by Scicluna, was her use of a still from the digitised clock made into stickers and applied to street surfaces in Melbourne and Vienna. These were then re-photographed. The stickers challenge the specifics of site as it were, they are 'stuck' in time in various places, proposing the artwork could possibly exist 'anywhere' but not at 'anytime'.
Both Crooks and Scicluna use interventionist strategies in their art (posed, timely) being directly reinserted into life's flow (chaotic, unconscious). And real time and real world variables are bought to bear in the so often atemporal assertion of gallery space offering some exciting and stimulating alternatives, both paused and at high speed.
Daniel Crooks' Time Slice, Jo Scicluna timespace 04: timelapse 2002, Centre for Contemporary Photography, Melbourne June 14-July 6.
RealTime issue #51 Oct-Nov 2002 pg. 27
© James Robertson; for permission to reproduce apply to realtime@realtimearts.net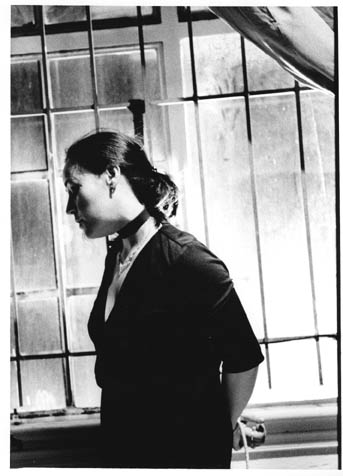 photo Heidrun Löhr
Alicia Talbot, I Love You xxx
From the time we first meet Alicia in her dressing gown in the foyer, being asked if we have any 'special requests' for the evening, and are then moved upstairs to be presented with her naked body in a display cabinet with a brown paper bag over her head, we're apparently being offered this woman for the fulfilment of our fantasies. She's the faceless female behind the glass, like a sex worker in Amsterdam, although already preparing for her 'final exit.'
We then move into her intimate and plush boudoir, kitted up like a brothel complete with silken cushions and a real fluffy puppy. She's now the charismatic fox we're all watching as she firmly coerces us into paying more for the show. Soon we are slipping coins and notes into her purse like men in a strip club—competing for the privileges of her sexual attentions and our public face. The hostess tells us that she will play out and indulge a number of fantasies for the gentlemen and for our entertainment. She excites the audience before it is clear, perhaps,what the full implications of this relationship will be.
Any initial embarrassment born as a reaction to her sexual showcasing manifests itself in spunky flirtations from the men she chooses for short role-plays. It seems like this is the show for everyone that's ever wanted pillow talk with a prostitute, but has been too PC and theatre-going. The dominant stance is soon dropped and in its place a pervasive romanticism drives the feminine role into instant surrender on the slightest exchange. She gets an audience member to ring her mobile phone and then gushes a power-draining exposé of her obsessional thinking. Asked what word comes to mind when we think of 'love', we answer 'intimacy', 'close', 'sex', though this soon contrasts with the more Lacanian notion the show has in mind of 'offering something you don't have to someone who doesn't want it anyway.' Alicia won't ameliorate any longer; Joni Mitchell soon segues into Leonard Cohen. The men are still talking dirty on command, stroking her hair, complicit as ordered. Meanwhile she's demeaning herself further and further, becoming more and more abused and debased in ever more submissive roles—as she demurs, "I hope this was the experience you wanted?"
After her hands are tied behind her back and her collar latched to window bars she tells a story of a birthday present to a boyfriend in which she promises to reply "I will with pleasure" to every his request. The boyfriend gets two of his mates over to use her as a piece of sexual furniture, for oral and anal in a classic pornographic menage a trois pose. He stands and watches, while she considers her ultimate act of love without realising that he will instead leave her, presumably because of the depravity of her self-sacrifice. After this Bataille-like monologue she asks if someone from the audience will come and untie her. A man rushes over, tenderly loosens the ropes and releases the catch—male roles leap out on cue.
The show ends with a demonstration of the limits of this audience/performer interaction. Closing her eyes Alicia asks if anyone in the audience will love her, put their arms around her? There's an awkward lull, a sudden complicity with all the other rejections—it would take a bigger masochist than Alicia to stand up at this point. What if a woman did? The show has so far been hardcore hetero, the relationship has always been orientated.
If there is a linearity to this narrative of romantic decline and victimhood, then as the audience leaves after the performer has not returned to bow for her applause, Alicia as sex worker remains indifferently talking on her mobile phone outside the studio room. Perhaps sex work is suggested as the character's only way to become a defiant operative in the sexual exchange. This never-ending performance is vintage Talbot, and memories from her other performances remain—monologues on oral sex in utes, the audience eating chocolate from between her thighs, and a blurring of the boundaries of performer/performance when she once showed her (real?) scars. Talbot's work often seems to re-suggest formative teenage experiences of sex, where 'healthy' boundaries and lines of respect are not clear. Part self-destructive relationship spinning in the same old tight cycle and part, almost glorious, homage to the psychosexual, I Love You xxx mines heterosexuality along its glimmering schisms—where masochistic female strategies and sadistic male rebuttals are not in fact a perfect match. Explicit about the potential violence and possible arrestations of such desire, the performance leaves it up to the audience to consider any reconstructive possibilities for themselves.
I Love You xxx, writer-performer Alicia Talbot, director Nigel Kellaway, lighting Simon Wise, Performance Space August x – September x. I Love You xxx was created by Alicia Talbot and John Baylis as part of a Performance Space residency in 2000.
RealTime issue #51 Oct-Nov 2002 pg. 43
© Keri Glastonbury & Christen Cornell ; for permission to reproduce apply to realtime@realtimearts.net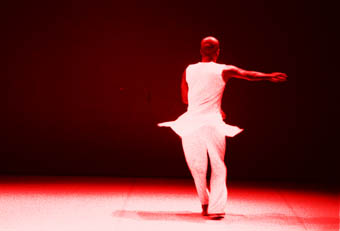 Akram Khan
The paucity of international contemporary dance companies touring to Australia (a handful at arts festivals aside) was brought home by the visit from the UK of the Akram Khan Company and the excitement and dialogue it generated. The company was also resident at the University of Western Sydney and presented different programs at the Sydney Opera House and Brisbane's Powerhouse.
In her handy summation of Khan's career and philosophy, "Clarity within chaos" (Dance Theatre Journal, Vol 18, No 1, 2002), Preeti Vasudevan reports that the 28 year-old Khan was born in South London into the Bengali community there, dancing from 3 years of age and beginning with kathak, classical dance from northern India and Pakistan, at the age of 7. At 21 he decided to train in contemporary dance and, subsequently to work at its integration with kathak. Khan says in the interview, "What I'm exploring is kathak, the dynamics and energies of kathak. It is kathak that informs the contemporary." He conceptualises this classical dance as clarity and contemporary dance as chaotic-not in a sense of formlessness, but, somewhat akin to Chaos Theory, in terms of the invisibility of its borders. "It is an unfortunate misconception that [contemporary dance] has no boundaries. the difference is that you cannot see them…[but] you know [they] are there…"
Khan continues to perform kathak in the UK and India, but his fame has primarily emerged from the contemporary work with his company, a powerful perpetual motion motor whose collective speed reminded me of nothing less than the minimalism of Steve Reich and Philip Glass-with their enormous, continuous flow of notes that for all the rapidity of their playing conveys a transcendent, subtle shifting of states. There are significant changes of pace and form in the 3 sections of Kaash (the 2002 work presented in Sydney), but the overall impression is of a mesmeric totality incorporating intense solo moments (Khan, reciting and demonstrating movement instructions from kathak focused on its gestural vocabulary) and remarkable collective harmony (a precision rarely seen in this country). From within this flow, which like Chaos Theory's companion Complexity suggests a system working at optimum but ever on the edge, come strikingly memorable moments as dancers rapidly traverse the stage, spin and come to a sudden, curiously unabrupt halt, a sheer stillness, or, a little later, with the rhythms of the movement still in their bodies, an almost indiscernable rocking.
The contemplative blend of unleashed energy and overarching form is embodied too in Nitin Sawhney's musical composition for Kaash. The dance corresponds closely to its rhythms, ecstatically in the bursts of tabla-driven propulsion. The viscerality of the percussion is layered with sustained notes sounding like they have been scraped from the edges of small gongs and cymbals, sometimes reverberating in harmony with the pulsing, barely stilled bodies of the dancers. It's a composition that, like the dance, fuses the classical and the contemporary with confident ease.
The context for Kaash is an open performing space forward of a huge work of art by Anish Kapoor-a painting of a framed, huge black hole. In the Kapoor manner it's often difficult to see where this emptiness begins, the line between presence and absence constantly shifting and blurring, a state amplified by transformations of colour and density wrought by a superb lighting design.
This is no mere backdrop. Not only does it provide a parallel to the shifting energies of the dance, but it also reflects the thematic preoccupations of the choreography. Khann says, "'Kaash' means 'if' and I am basing it on the concept of Shiva. Shiva in Hindu religion is the destroyer and restorer of order. Shiva in Hebrew means the number 7. Seven is close to the rhythm and music modes of Indian classical that works with energy…What if you put a dancer in an ice cube and then the energy is released when the cube melts? That's what Shiva is about" (Vasudevan).
Nor is Kapoor's painting ignored by the dancers. In a work that is otherwise highly formalised the opening and closing moments of Kaash have the kind of abstract theatricality you'd expect from Saburo Tehsigawa. We arrive in the theatre to find a performer gazing into Kapoor's creation, in turn therefore directing our own gaze, initiating the contemplation that follows. At the end of the performance one of the dancers becomes totally preoccupied with this vast, beautiful but disturbing portrait of sheer flatness and depth, his body swaying left to right, almost as if to fall, to be caught by his comrades in this dangerous reverie. Blackout.
I hope that this visit will inspire a producer or an arts festival director to bring the company to Australia again; in the meantime we can only be grateful to the Sydney Opera House, the Brisbane Powerhouse and the British Council for giving us a rare glimpse of a work of bracing and contemplative totality and cultural resonance.
Akram Khan Company, Kaash, The Drama Theatre, Sydney Opera House, Aug 20-24
RealTime issue #51 Oct-Nov 2002 pg. web
© Keith Gallasch; for permission to reproduce apply to realtime@realtimearts.net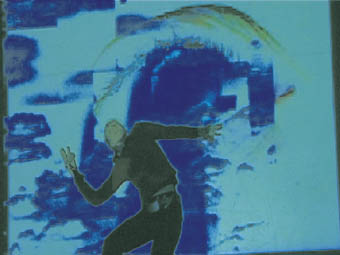 Danielle Micich in Lindsay Vickery's your sky is filled with billboards of the sky
One of the ways technology works in Western culture is to call attention to itself when new, for at that moment it has no social life. After a period of use most technological artefacts are normalised into everyday life and are no longer seen as technological at all.
Timothy D Dale, Strange Sounds, Music, Technology & Culture, Routledge, 2001
Technology is so interconnected with the production of sound and music it seems as necessary and unconscious as breath. From the earliest instrument-making through to digital recording, a feedback loop involving technological advancement and the pursuit of new sounds has been in constant play. Is the development of technology an artist-driven exploration or does the technology drive us to explore? Has the glut of new digital tools created a sonic lexicon of sameness? Have we missed something along the way? This survey looks at a collection of artists, by no means comprehensive, working with sound in various manifestations, and their relationship to technologies, both new and old.
Sounds/objects/space
In Sound Sculpture (Fine Arts Publishing, 2001, see RT49, p33), Ros Bandt gathers a selection of Australian artists working at the intersection of sound, sculpture and space. Much of the work in sound sculpture does not simply utilise emerging technologies, but is often at the forefront of developing them. Bandt herself developed the SSIIPP (Sound Sculpture Interactive Installation Performance Playback) system in the 80s which allows for 8 track playback triggered by movement sensors and used in Australia and internationally. One of Nigel Helyer's latest works has seen him in residence at Lake Technology and then UNSW developing the Sonic Landscapes Virtual Audio Reality system—an immersive 3D sound environment using GPS (Global Positioning Satellite system) to create a sonic realm that responds to the positioning of the body within a specific landscape (RT50 p26). Investigating the sonority of electrical energy, Joyce Hinterding has developed the electrostatic sound system which, in combination with her magnificent aerials, can tap into atmospheric emissions and then be sonically manipulated and shaped. There is also the relational sonic/spatial investigations of Michael Graeve. Most recently he curated the Gating exhibition, involving visual and audio explorations of the "gating" technique. Artists like Rodney Berry, Iain Mott, David Haines, Ross Harley, John Drummond, Stelarc and others have also been involved in explorations of sound/object/space and in the adaptation of technology for aesthetic ends.
Lawrence English is a Brisbane-based artist working with sound in many forms. In his recent installation, Poles, at Brisbane Powerhouse during the REV festival, he used what he calls "virtual signification." He describes the process as "taking virtual elements that represent an environment or area, such as photos, web documents, text and using…those segments of data, converting them via various sound applications …processing them further to create interesting textures and scapes or rhythms of some form…"
These manipulations are then reintroduced to the natural environment. "In some ways, it completes the loop between the digital and the organic, the virtual and the real." He says that the need to stay portable has made him pare back his equipment and push the boundaries of the technology (laptop and software) to squeeze as much out of it as he can. He believes that one of the key challenges facing sound artists and musicians is "using the technology and driving it, not the reverse. It's almost too easy to sit down with a few VST plug-ins and a sound editor and create something abstract and electronic sounding…I really feel it's up to the user to inject some personality and character into the technology."
Camilla Hannan works primarily in the area of installation and surround sound composition. She was one of the co-producers (along with Nat Bates and Bruce Mowson) of Liquid Architecture 3 in Melbourne this year (see RT50) which incorporated various modes of sound art—installations, a surround sound concert, live electronic music events, audio visual screenings and presentations with an emphasis on the investigation of ideas. Hannan states that "for many people concepts and ideas can be a lot more difficult to express than technical formulas. As a result, many sound practitioners hide behind technology in explaining their work. We wanted to encourage artists to look beyond the technical interface." Her interests lie in "ideas of space both conceptually and compositionally" and her installation works use both 'authentic' sonic spatialisation (environmental recording using DAT and binaural microphones) and processed spatial structures, the finished product often ending up on DVD format. She sees collaboration and a sense of community, as can be found in the ((tRansMIT)) sound collective, as vital to the development of her work.
Phillip Samartzis is a sound artist, lecturer at RMIT and, recently, curator of Variable Resistance—10 hours of sound from Australia, an exhibition of Australian sound art at the San Francisco Museum of Modern Art. He sees the spatialisation of sound made possible by 5.1 DVD surround sound as a real development and challenge to sound art today. Artists have been working with customised versions of surround sound for the last 20 years, but the increasing availability of 5.1 technology has "allowed sound artists to stop just thinking in stereo and think more about how they can choreograph space with sound. It's such an under explored area…considering that we've been listening to stereo for 40 or 50 years. What does it mean, those couple of speakers at the rear and that speaker at the front? We're all discovering new ways of exploring, remixing balancing sonic gestures in space."
Samartzis sees the greatest challenge to sound art is to make these explorations accessible to a wider audience. For him these adventures in surround sound are "one way of extending the cinematic experience by removing the image but still having that immersive, tactile…sonic experience." In his own work he tends to invest time and money in the "transducer that's at the coalface of the sonic phenomena"—the microphone—making environmental recordings that, through simple editing techniques and surround sound technology, can create "sophisticated renderings of environments and real spaces" and "hyperreal experiences."
Julian Knowles, sound artist and lecturer in electronic music at University of Western Sydney sees that the recent affordability of 5.1 surround sound technology for both production and distribution provides the opportunity for artists who have already been working in surround sound to finally distribute their work for domestic listening. An international DVD release through Extreme Records of his spatial sound explorations is in the pipeline.
Sounds/visions/bodies
Andrée Greenwell is a composer who explores the area of music/sound and video/film. With her 1997 work The Medusa Head she worked with animator Paul Butler to make a richly textured episodic aria for video. Writing the score specifically for the video production, she was interested in fighting the "exploitative way" in which music is used in traditional screen narrative. Her desire is "to use music, and/or sound design to drive narrative. Or to have a very strong narrative input." Recently she adapted her hour-long live performance Laquiem (libretto by Kathleen Mary Fallon) to a 6 minute film. With sound design by Scott Horscroft and mixed for Dolby stereo by Julian Knowles, this work achieves a stunning fusion of vision, music and sound design including an exquisite underwater sequence.
Greenwell says that she writes music in a "timbral way" leaving space for other elements and subverting the hierarchies so that "the music is working very much as sound design—the sound design and the music are equal." Her approach to technology is matter of fact. "In a certain kind of territory it's inevitable that there will be certain amounts of technology. I think you can hardly avoid it…I start with a concept and then figure out the best way to realise it." Her next work takes her back to performance with a semi-documentary music theatre work, Dreaming Transportation, which will involve projections.
WA artist Lindsay Vickery has also been investigating the fusions and interactions of sound, video and body. He has been exploring the Yamaha Miburi Midi jumpsuit and its interplay with STEIM's Image/ine software. The suit consists of flex sensors on the limbs, pressure sensor shoe inserts and handgrips. Vickery's system has several triggering configurations, but basically uses Max/MSP (a software system for the patching together of other software components) to trigger sounds. The Image/ine software manipulates video footage in realtime, incorporating both prerecorded data and live feeds. In your sky is filled with billboards of the sky, developed for the REV festival, a dancer could manipulate both audio and video elements. Vickery has also used his system in skadada's dance work Scan (2002) with images supplied by Tissue Culture and Art (Oron Catts, Ionat Zurr and Guy Ben-Ary), audio samples by John Patterson with the choreography of John Burtt and Katie Lavers.
The integration of video and sound in realtime is also the preoccupation of Tesseract Research Laboratories, producers of Video Combustion, a large scale collaboration between VJs, sound artists and performers to create an immersive, improvisational multimedia environment. (RT50). Tesseract refer to the feedback loop of technology and artistic exploration: "We are investigating our areas of interest [live group performance and video jamming] whilst developing and exploring the technology to do so, which actually further develops our knowledge of the artistic preoccupations." They have developed a network of hardware including "obsolete broadcast video matrix switchers and modified video mixers" and software which includes "group communication tools for developers and performers, and routing tools for live distribution of video and audio."
The development of of the Max/MSP environment which Knowles describes as "a programming environment which allows the user to build instruments for processing audio, video and MIDI signals" along with other software such as nato 0.55+ and Jitter has allowed "image processing [to] be intimately connected to the audio processing by data flows from one to the other." This can be seen in the work of Wade Marynowsky aka Spanky and also lalila.net who explored the live video/sound/performance matrix in Cycling Hildegarde as part of their residency at Performance Space in August this year. Knowles also sees the use of gaming tools—"using environments designed for games authoring and hacking them to make real time instruments"—as another avenue for development.
In the area of sound design in performance, one of the most innovative artists is Garry Bradbury. His sound scores for works such as Nikki Heywood's Burn Sonata and Inland Sea seem to exist in their own space and yet also intersect, drive and support the performance. Most recently his massive and monstrous sound design for Benjamin Winspear's Macbeth (Sydney Theatre Company) was for me the core of the work.
Bradbury says, "Though I have a love/hate relationship happening with my PC (or rather a kind of nauseating co-dependence), I find myself increasingly drawn to older technologies (I always have), player piano (new work in progress), turntables (ongoing Sanity Clause project with Ian Andrews), percussion (I feel like hitting something), and voice (I'm singing again after 15 years, as well as doing lots of text cut up)." Bradbury uses styles and technologies developed for live 'pure' audio to create interactive or relational sound scores for performance. Other sound artists working with performance are Liberty Kerr and Barbara Clare (magnusmusic), Darrin Verhagen and Boo Chapple. Tasmania-based sound designer Chapple, who is presently working on is theatre ltd's White Trash Medium Rare, says of the feedback loop between technology and artistic concept: "New technologies in sound allow an exploration of sonic elements that do not exist outside of these technologies, thus, determining the world within which concepts, ideas and preoccupations can develop."
Sounds and…well, sound
Mitchell Whitelaw calls it "inframedia audio", a new zone in media space where sound is a "media artefact." It is the manipulation of emissions of electronic signals—sometimes digital in origin but not always—actively avoiding "content" and leaning towards processes and improvisation. (Whitelaw, "Inframedia Audio", ArtLink Vo1 21#3, 2001). In Sydney this kind of thinking is exemplified by impermanent.audio. Caleb K, producer of impermament. audio's monthly evening of experimental audio moments defines it by what it's not: "not beats…not background music…not dance music…it's not multimedia…not narrative. It's not very often loud." The performance of this form creates "a sound object rather than a physical object—but the sound is physical itself—so we've still got a physicality going on, but instead of 100% relying on our eyes we let our ears to do it."
Many artists are using computer-based digital technologies, like d.Haines, Vicki Browne, and Ai Yamamoto, but many others are resisting the upgrade trajectory or they're rediscovering older technologies. Jasmine Guffond, half of Minit with Torben Tilly, has been led into sound art by her desire to explore "less conventional or traditional musical forms, structures, sounds and instrumentation. Our music-making process has involved a very limited range of technologies over the last 5 years which has allowed us to focus on certain ideas and musical forms without getting too distracted by new technology for technology's sake." Using a sampler, mixing desk and FX pedals, Minit create beautiful undulating soundscapes that incrementally shift through textures and spatial orientations. At the extreme end of the scale is Peter Blamey who requires only a mixing desk which he patches so it generates the sound he then sculpts. Philip Samartzis suggests that artists are rediscovering and reconfiguring these technologies "because of a different perceptual process, a different way of listening" that has developed from our new media immersions.
This trend is also apparent at Small Black Box, a monthly sound event that takes place at Metro Arts in Brisbane. Greg Jenkins, sound artist in endophonic and one of the organisers of the event (along with Andrew Kettle and Scott Sinclair) says: "There's a sort of hand-tooled aesthetic behind SBB, a lot of it's down and dirty." But there is also a mix between the use of older and cutting edge technology. On the same evening in June they had Liv Bennett who used 1/4 inch tape machines playing loops of varying lengths, some reaching into the audience, and then Adam Donovan who used hi-quality audio output devices and the German made visual tracking software eyecon to control the audio. Jenkins says of his own methodology "I deliberately limit what I use…because I simply don't have enough time to learn everything that is out there and learn it to such an extent that I can be usefully creative with it." Jenkins sees that, between Small Black Box and Lawrence English's regular sound event fabrique at the Brisbane Powerhouse, the sound scene is thriving in Brisbane.
Sending sounds
Primarily, this survey has been about the influence of new media technology on the production of sound and music. Delivery and distribution have also been incredibly influenced by new media developments. MP3 technologies and streaming have revolutionised the global distribution of audio art and created communities across virtual borders. www.laudible.net and radioqualia have made Australian sound art available to a global community. South Australian artist eyespine has a complete net-based approach ranging from methods of delivery, streaming MP3s and access to hardcopy ordering, to the creation of a Shockwave-based interactive online mixing system (and he is one of many taking this approach). And of course traditional radio, such as ABC's The Listening Room cannot be ignored as an important supporter, commissioner and disseminator of new media-based audio arts, supporting the likes of Colin Black, Sophea Lerner and Robert Iolini.
When I commenced the research for this article, I unwittingly set up a determinism/voluntarism polarity which, as with most dichotomies, has proven itself too inflexible to be of value. The reality is that people will continue to hunt for their sonic substances in the areas that are available to them, some old, some new. Perhaps it is best to approach new media with Heidegger's view of technology—"not as a tool or machine, but rather a process, a dynamic of 'revealing'." The older media supply the foundations for the new and the new creates perceptual shifts and ways of reconfiguring the old. And the loop goes on…
–
Gail Priest is a sound designer for performance. In 2001/2 she was artist in residence at ABC Radio Performance & Features creating Music Theatre for Radio.
RealTime issue #51 Oct-Nov 2002 pg. 19
© Gail Priest; for permission to reproduce apply to realtime@realtimearts.net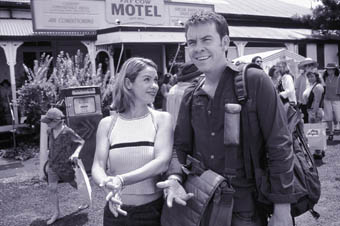 Kate Atkinson & Brendan Cowell, Fat Cow Motel
Digital technologies and new forms of media delivery are dramatically changing the nature of documentary production, form and distribution. The audience can be a correspondent or a participant, not only a viewer. Digidocs
It eats technology
The cinema is a great cultural survivor. Whenever a technological threat has appeared which might diminish the grip movies have on the consciousness and hip pockets of their audience, the industry has taken advantage and turned into a parody of its own flesh-eating monsters, absorbed the new technology, gaining enrichment in presentation, audience attraction and ultimately, a new lease of commercial life.
This has happened because cinema has a fetish for gadgets and processes. Its history is littered with examples, some more successful than others, of using new technologies to create greater appeal.
The history of these special effects starts in 1902 with George Méliès' A Trip To The Moon. His films created the legacy of the marvellous or fantastical which cinema has never relinquished. There is arguably a direct history from Méliès to the digital artists of the current cinema, both in the look of the image and its effect on the structure of narrative. The science fiction genre was born with Méliès, but the impact of digital technology goes far beyond the depiction of the scientifically wondrous. It is now, as films like Mullholland Drive, Timecode, Memento and others attest, a presence in all genres of storytelling and film forms.
After an initial panic, the cinema also successfully made a series of accommodations in response to its biggest threat, television. This has meant film and TV companies have absorbed each others archives, turned TV shows into movies and the reverse. The novelty of open-air screenings continues to be popular around the world despite being the antitheses of the passive darkened room. Even the width of film stock has expanded and shrunk in response to the handiness of the technology which uses it. No matter what size the camera, the process of constructing stories and recreating projected realities has continued unabated.
The digital is yet another cross-roads for the film industry. This time, some say, the issues are truly different because there has never been anything as fundamentally 'new.'
Broadly speaking, there are 3 schools of thought on this: one is that digital technology is primarily an enhancer of effects, a tool which offers heightened presentation; the second says that digital is another dimension altogether where not only the look but the very structure of story and audience/subject relationship is fundamentally changed; the third is what might be called a whole-of-industry approach, embracing both the look and the structure of film.
Digital is now the norm across all media. Everything is on-line or else it appears to belong to yesterday. Increasingly, television shows and many films have a website, a chat room and on-line products for sale. This is being extended to include additional story involvement, as in the multiplatform TV series Fat Cow Motel (RT 50), formally launched this week by the Queensland Minister for the Arts, Matt Foley.
The look of it
For the general audience the impact of digital technology is in the effects— bigger, cleverer and ever-present. Two examples define the early boundaries. Remember the look of the screen in Peter Greenaway's Prospero's Books (1991) when he experimented with the digital density of the image. The film had layers of beautiful, elegant images which were more like lithographs than moving screens, whose purpose was to elaborate rather than drive a story forward. Greenaway is a director who believes in the centrality of the image and has no interest in cinema's link to classical literary narrative.
In the same year, writer/director James Cameron in Terminator 2: Judgement Day (1991) used digital effects to enhance story, permitting concepts such as the resurrection of a character from shattered pieces of chrome, a digital character who never dies because the bytes are smoothly re-arranged in the way cartoon characters emerge unscathed from explosions.
It is clear that the magic or spectacle of cinema will be further dramatically enhanced by digital technology. Ironically, this may bring about a return to the origins of cinema, to the place where the wonder is there for all to experience. This is an important issue for all those who make and critique films. The audience no longer runs from the theatre when the train comes into the station. We have seen so much that so much more needs to be on the screen to get us to react with anything like the innocence of early film audiences.
This does not apply to today's children, however, who now encounter the digital experience literally pre-birth. It is not something they have to learn, or use as a replacement for an older analogue way of thinking. This will fundamentally affect the development of their imaginations and their creative acceptance of the image experience on a variety of screens. Digital says films today should be effects perfect, like Lord of the Rings or Babe. Children now watch Walking With Dinosaurs (2000) on TV (a program which is generations better that Jurassic Park (1993) in terms of the quality of its effects). The 'spectacle' of Spielberg has become 'infotainment' on the small screen for all ages, and the voice-over gives the program an added educational authority which no parent can refuse. It is likely that applications like this explaining the complexities of science or ecology for example, will be as important for the digital presence as its use in classical storytelling on the big screen.
Download it now
There are assumptions in the digital sector which have to do with the fetish of the new. Our equipment, and therefore the depth of our experience, is either cutting edge or out of date. You have Flash to access an on-line program or not. If not, then the viewer has a sense of being disenfranchised. The new dimensions of wealth and poverty in the digital age are very much about access to technology and the information which flows from it. Ideas now seem to be contained within the digital flow. It's not human thought but electricity which is the platform.
This will change with some speed. Whilst it seems an absurdly wasteful use of technology to buy a bottle of Coca Cola with a mobile phone, the recent inclusion of digital camera capacity in mobile phones which can then email images directly is ground-breaking.
Convergence automatically creates access which would otherwise be difficult or expensive to acquire. This will dramatically affect the capacity of program makers and storytellers to be viable in the new age. Development and production funding, along with the financial edifices which have grown up around them, will be competing soon with more practical needs like equipment acquisition and training.
Digital technology has also had a profound effect on the sequence of production. What has been established as a set of roles for 100 years is now reversed. Editors are now involved in pre-production and designers in post-production, cinematographers too. This has forced a new flexibility onto the process of producing films which will change the way creativity connects to narrative structure and presentation.
How big is my story?
Stories have always been the engines of spectacle and the basic rule of story construction since the origins of narrative cinema has been containment and simplicity. However, the potential branches of film stories have usually been denied in favour of a focussed narrative of no more than 2 lines, ie a major thread plus a sub-plot.
This structure has dominated cinema largely because the audience was passive, receiving the text in a darkened room. The situation of cinema determined that essential relationship. For a director like Hitchcock this meant he could give the audience information (by showing who is hiding behind the door with a knife), send the character to their inevitable death and leave the impotent audience whispering, "Watch out, Watch out!" to an unresponsive screen.
The interactive possibilities of digital technology suggest other relationships between story and audience, removing the sense of being informed yet powerless. Dave Sag of Virtual Artists suggests 'yellavision' where the audience alters the fate of a character by shouting at the screen. Writers in particular need to consider what this might mean for their carefully constructed storylines.
One such opportunity will soon be provided by the Digital Media Fund of the South Australian Film Corporation (www.safilm.com.au) who are proposing a digital think tank next year—a week's retreat where change and chance (multiplatform and interactivity) can be explored. This is a welcome opportunity especially for writers who rarely travel the whole length of a production as true collaborators. If that bridge is crossed then "Once upon a time" might translate into "Sometimes it goes like this…"
For SAFC, allowing filmmakers to join forces with professionals working in digital media in the hothouse of a creative retreat, builds on the accords already negotiated with ABC On-line and SBS New Media which are intended to produce a range of projects including animation, on-line documentaries (see, for example, A Year on the Wing, on-line documentary, www.abc.net.au/wing) and short fiction. It is not certain, however, if these projects will be for the large screen or smaller ones such as TV or computer where they will be competing for audience attention with interactive game shows and T-commerce facilities. Nevertheless, these initiatives suggest all kinds of interesting possibilities.
Meanwhile, AFTRS (Australian Film Television & Radio School) is developing digital technologies specifically as tools for special effects in films. Exploring the plasticity of the image through digital effects is part of the drive behind the best experimental short films, where the compression of time and image makes the wondrous especially effective. Physical TV's ATOM award-winning short dance film, No Surrender is a good example (www.artmedia.com.au/ physical_tv.htm). Director Richard Allen calls it "a digital age story" where the camera (cinematographer Andrew Commis, editor Karen Pearlman) is a malevolent presence on screen, forcing the audience to question the intention of the technology used to construct the narrative. This too is a form of interactivity, but more subtle and ultimately intelligent. No Surrender points the way to the possibilities that abound when collaboration occurs across forms and new technologies are integrated into the totality of the vision.
Opening quotation from Cutting Truths: Convergence, Interactivity & the future of documentary. Digidocs, www.reangle.com.au/digidocs
RealTime issue #51 Oct-Nov 2002 pg. 28
© Hunter Cordaiy; for permission to reproduce apply to realtime@realtimearts.net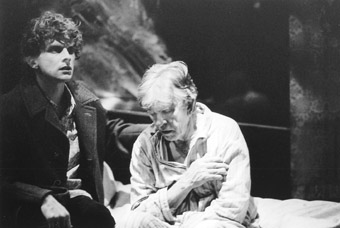 photo Robert McFarlane
Leon Ford, Martin Vaughan, presence
Two young people on the street, alone, separate, voices in the night. He (Leon Ford) has a secret. When he was child he killed his father. Did we hear this? We're not sure, especially when nothing more is made of it in the first act. An urban boarding house. A sad landlady (Lynette Curran) addresses someone who seems not to be there. An old man (Martin Vaughan) is forced to share his room with a newly arrived country boy (Damon Herriman). The boy introduces himself to the reticent old man with the probing speed and bite of the baddies in Pinter's Birthday Party. The young man on the street stalks the young woman (Rita Kalnejais). They meet. He exudes a quiet malevolence, equating himself with "a reptile, sunning itself." She wanders because she fears sleep paralysis. She is searching for her demons, "to kill them." The old man conveys to the country boy his hopeless dream of youthful independence as embodied in his Ford Mercury, his loneliness in his mysogyny—of the landlady he says, "she sucked my life out." The 'ghost' she addresses is her dead husband, the father of the young man we first saw on the street. The country boy meets the young woman in the park, they fuck, he loses his wallet, she finds it, gives it to the old man who removes the money in order to educate the country boy in the evils of womanhood. By now I feel like I'm watching a Daniel Keene play with a plot. And the plot is not very good and gets creakier in Act Two.
However, I'm enjoying van der Werf's way with language, a grim poeticising spiced with blunt wit, and also the manner in which he builds his night cosmos so that we must work a little at putting together characters and events. However Act Two loses the play's sense of mystery as plot takes over. The business of the wallet is worked over. The old man collapses and dies, finding brief conciliation with the country boy. The young man reveals he killed his father. Well he didn't really, but perhaps he could have prevented the suicide. It's far too late to treat this revelation as thematically or dramatically significant. Once again in an Australian play, the outing of a secret stands in for the real need to get it out in the first place and then explore the consequences. Young man to his mother: "I couldn't speak for months, don't you remember?" She doesn't appear to. As for the young woman, she doesn't seem that important in the end. In the language of dramaturgy she hasn't really been given a trajectory of her own.
For all my irritation with the way plot sinks Presence, the production is nonetheless quite an experience. The play has something and that something has been realised by strong performances and fine direction. Van der Werf's expertise in creating exquisitely uncomfortable, tense exchanges between pairs of characters is a great strength. The dialogues between the old man and the country boy (excellent performances from Vaughan and Herriman) generate a very real feeling that words will run out and violence ensue. Ros Horin amplifies this with a carefully choreographed awkardness, a sense of personal space invaded, a failure of intimacy, something that goes beyond this shared room into the lives of all the characters. It's a claustrophobic night world, well and truly cut off from all the other realities we deal with in everyday life—a deadly, closed circuit. Presence has real presence, though I was never sure to what end. Cast and director clearly believed in it, bringing great conviction to bear, a reminder of just how powerful the Griffin theatre experience can be.
Patrick van der Werf, Presence, director Ros Horin, actors Leon Ford, Damon Herriman, Rita Kalnejais, Martin Vaughan, Lynette Curran; Griffin Theatre Company, The Stables, Sydney, Jul 5-Aug 3
RealTime issue #51 Oct-Nov 2002 pg. 44
© Keith Gallasch; for permission to reproduce apply to realtime@realtimearts.net
"I ain't goin' bionic!"
( Chuck D)
Fiona Cameron has for some time been one of the most striking presences within Chunky Move, her tall, statuesque pose breaking down into low, complicated, interwoven positions with disarming ease. She has produced several of her own works, notably Looking For a Life Cure (2001), in which she explored the near schizophrenic internalisation of contradictory states within modern life. Her latest project is a pair of duets dealing with urban alienation and the distance between individuals, performed at various informal locations (indoors and outdoors) within Melbourne.
As always with these much in demand dancers, Cameron and partner Carlee Mellow move with such elegance, poise and confidence(as well as with a touch of self-deprecating humour(that their merest physical inflection is eminently satisfying. Cameron is all jagged discomfort to Mellow's absent-mindedly musing traveller, the knots they tie each other up in taking on a mood of accidental combat. Composer Luke Smiles adds a sense of sonic complexity, jumping from hip-hop loops to hyped techno flourishes, as well as more abstract digital fields and soundscapes (horns, motors, coffee-machines; a cacophony of urban samples).
The dance itself is somewhat slight both in terms of overt content and choreography. It is predominantly the performers' dramatic nuances that bring it to life. The first piece is an extended joke of how when one is on public transport, one can end up with one's foot over the ear of a neighbour, despite one's best efforts to avoid physical proximity. This is a fun little dramatic sketch, but that is all.
The second dance is more provocative, depicting Cameron as a city dweller who has learnt the physical regimes and moves one must go through to avoid chance encounters. To draw on Public Enemy's hip-hop terminology, Cameron's character has been rendered "niggatronic," or robotised in body and psyche (if not race, given that Cameron is white). Like break-dancers, her character moves to the subliminal beat of contemporary, urban capitalism(yet unlike B-boyz, her character (as opposed to Cameron the choreographer) does not consciously manipulate these movements and feelings so as to dramatise her condition. Mellow by contrast seems to follow John Cage's exhortation to consciously react to the random sounds and textures which surround one in urban life. Not so much stopping to smell the daisies, she pauses to hear the music of the city and pay attention to the other individuals who move throughout it.
Cameron's dance-theatre scenario of 2 movers who respond very differently to the barrage of Smiles' sounds encourages such reflections(particularly for those familiar with hip-hop preachers like Chuck D or Kodwo Eshun. It is nevertheless an uncomplicated work in itself, depicting a simple exchange between the characters leading to a comic resolution in which Mellow leaves Cameron reluctantly holding the hands of 2 co-opted spectators. The production was disappointing in the limited way it interacted with or was consciously situated within the spaces it was staged(beyond dealing with the broad theme of urbanity. Overall Inhabited was a thoroughly enjoyable, interesting, short performance which nevertheless did not amount to anything substantial. One hopes therefore that this curious divertissement represents a taster for more impressive full-length works to follow.
"I ain't goin' niggatronic; smart enough to know that I ain't bionic."
Chuck D, from Public Enemy, Muse Sick-N-Hour Mess Age (NY, Def Jam, 1994)
Inhabited, director/choreographer/performer Fiona Cameron, performer/co-choreographer Carlee Mellow, co-choreographer Nicole Johnston, music Luke Smiles. Various locations, Melbourne, Aug 2 -Sept 1
RealTime issue #51 Oct-Nov 2002 pg. web
© Jonathan Marshall; for permission to reproduce apply to realtime@realtimearts.net
New Media Scan 2002
This edition of RealTime is mostly devoted to our annual survey of new media and multimedia arts. While this encompasses a wealth of recent and forthcoming work in all artforms it puts page space at a premium. Consequently you'll need to turn to the web to find a number of reviews of recent shows (see page 47). You'll also find in this edition our Prizes & Projections preview of the annual film industry Emirates AFI Awards.
More new media arts & issues in RT 52
New Media Scan 2002 flows over into the next edition of RealTime with Part 2 of both our new media performance survey and Christine Nicholls' overview of the Indigenous new media arts scene. In a significant development RealTime will host fibreculture's 2002 publication of essays and reviews. Last year they produced an impressive book, this year there'll be a 24 page fibreculture insert in RT 52 (December-January). A limited run, stand-alone edition will be launched a few weeks before at fibreculture's annual national conference at Sydney's MCA (see page 18).
Dancing on a knife edge
The results of the last funding round of the Dance Board of the Australia Council confirmed just how appalling the situation has become for the small to medium dance sector, not least in New South Wales. Triennial funding has been put on hold as the Board meets to work out how to handle what is clearly a crisis. Meanwhile the report from Rupert Myer on the Federal Government's inquiry into the contemporary visual arts has finally been released, recommending a raft of proposals including an additional $15m a year for artist grants and infrastructure support as well as tax concessions. The latter could have ramifications for all the arts. Now the hard work really begins in persuading the Federal Government and the States through the Cultural Ministers Council (and presumably in partnership with the Australia Council) to agree to the proposals, or to see if they realistically add up to sufficient support. We'll look at the issues and developments in RT 52. KG
RealTime issue #51 Oct-Nov 2002 pg. 4
© RealTime; for permission to reproduce apply to realtime@realtimearts.net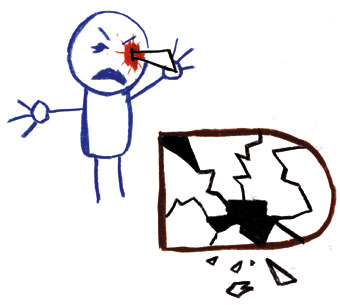 Shhh…
It's curious how often a bunch of film finalists can display striking thematic similarities although stylistically they work in very different ways. Without having access to the rest of the short animation field for these awards it's hard to tell if you've witnessed a trend or a manifestation of the unconscious desires of the judges who made the final selection. Whatever, these films shared as their subject the evocation of childhood subjectivity—whether recollected, in first or third person, intimately or ironically—with some very interesting visual outcomes.
Into the Dark (6 minutes; also short-listed for this year's Dendy Awards) is a brief moment-of-death reverie strung tautly between the poles of guilt (a boy shoots a bird in a huge backyard tree) and pleasure (the boy's imagined moments of naked flight, lifting off from a pool of water on a bathroom floor). The shooting of the bird has a furtive quality, mostly done in a detached, objectifying silhouette, while the sustained bathroom scene has a pronounced sense of interiority. It commences from the boy's point of view with the sharp black and yellow of the bathroom seen through watery distortion, one of the best graphic moments of the film. This subjectivity, reinforced by first person narration, alternates with another identification strategy as we find ourselves face to face with the boy, leisurely and sensually towelling himself dry, or about to float up. The firmness of line in the bathroom scenes contrasts with the smudged charcoal rawness of the journey to death on a hospital gurney, our only point of view that of the dying man. The operating theatre staff are giant silhouetted birds, there is a stoush with a dog. In the bathroom, the boy flies, but the dog and birds fight outside and a small bird, like the one the boy shot, flails and thumps like a giant against the window. The oscilloscope beep of life drains away into a sustained signal of death. The frame is filled with the same deep sepia photograph of a boy we encountered eye to eye as the film opened. The inclusion of the dog aside (a role never firmly established, you feel you might have missed something), Into the Dark is demanding, placing the viewer in an intensely subjective position while feeling at all times that this is someone else's life. On second viewing I was less than happy with the use of the photograph with its suggestion of biographical reality and of time long past. The animation can stand on its own without this. In terms of manipulation of point of view and the merging of visual styles, Into the Dark manages to be both pleasingly coherent and nightmarish: a common childhood act staying, like original sin, with its perpetrator until death.
The wickedly inventive Sssh… (5 mins), is in no doubt that all human ills are born with us, or at least that's how it can feel when a baby cries despite every attempt at consolation. This time the view is determinedly adult though that's a position the film plays with very cleverly. The great thing about Ssssh… is not just its virtuosity and wit, but the framing of its lateral narrative. A baby drawn onto the screen by the filmed hand of the animator cries raucously and endlessly. The animator rapidly provides numerous, hilarious solutions (most playing with cartoon animation transformations) but none is effective—the companionship of another baby briskly sketched in yields 2 screaming kids, all mouths, and brutal erasure of the newcomer. The baby is spun around, the artist's nib opens the back of the head and we are plunged into baby-world-view. Slick, lively Chuck Jones style animation is suddenly supplanted with aggressive animated stick drawings of all kinds of mayhem, funny and increasingly grim, including a potted history of the attempted genocide of Aborigines (the blood around the base of an Australian flag pole briskly cleaned up in an act of 'forgetting'). The incision is bandaided and baby calmed. In contrast to reflective, lyrical animations with metaphyiscal musings, it was a pleasure to see an animation with political drive, focussed inventiveness, satirical wit and a vigorous playfulness with its own conventions. The switch to the style of children's drawings is a bold one that works well, a rough ride from innocence to experience.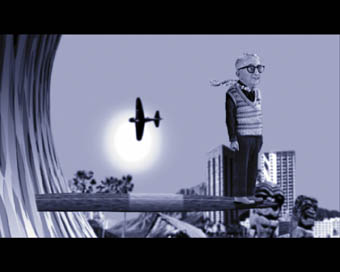 Neil Goodridge, Pa
Pa (6 mins) starts out innocuously with an actress playing Grandma working her way through her huge collection of photographs, including many of her husband, Pa, while a boy's voiceover informs us that the grandson never met his grandfather. The animation proper commences with a photograph of Pa's grave, the site sprouting colourful flowers as the boy recalls his imaginings of what Pa might have been like from the odd bits of information he has gleaned. And it's then that the film springs to life in its dextrous collaging and creative distortion of largely black and white photographic images that conjure Pa's fantastic world. While reminiscent of, among others, Terry Gilliam working on Monty Python, director Neil Goodridge's handling of the collage style is taut, consistent and makes the most of the juxtapositions the form allows while keeping the narration simple—the relative innocence of the words up against the heightened imagery. The boy fuses Pa's love of chooks with his passion for cricket, and so conjures a cricket match played by Pa and his chooks in cricket gear, chooks watching from the the grandstand, and Pa beheading his team mates as his bat becomes an axe. Similarly a love of fish collecting and walks in the bush merge into a fantastic journey astride a huge fish through a forest. And it gets wilder, and wittier—Pa milking a snake as if it were a cow and spiking a guest's drink with the poison. Pa, the canary fancier, joining the bird on its swing. Pa dreaming of going to Hawaii, the boy imagining him as surfing a huge wave (a striking scene) until he crashes, falling prey to cancer. We sense behind these astonishing visions a man who enjoyed many rather ordinary passions, but who was also a bit of character, and is sorely missed by the grandson who never knew him, hence the power of family lore and the photograph album. The film's opening, with the grandmother, and its ending, with the face of the boy popping out of the head of the canary, are cumbersome and twee devices for a film of, otherwise, such drive, threatening to throw off-balance the engaging play of toughness and whimsy. As in Sssh… there was also a nice sense of the film emerging from our own culture.
Strangely, after the delights of familiar graphic forms, the 3D computer animation of Mark Gravas' Show and Tell (5 mins) seemed almost traditional, so familiar and commercial has the style become. It's set in a futuro-gothic, out-sized classroom juxtaposed with a richly coloured world of child fantasies, those of a despised boy who collects junk on his way to school and uses it as the subject of his show-and-tell. The rhyming couplet narration (adult, third person) nicely matches the boy's growing success as he seduces the class (and demolishes his teacher) with a tale of a magical journey to "the mutant bat's grave", while producing from his bag mattress springs, roadkill and a one-legged dog called Max. It's all too easy a journey to success, the teacher is a cliché, the dog under-used, but it has a nice, droll fabulist's sense of wicked inevitability, expertly realised figures and a marvellously vertiginous play with perspectives.
The 5th contender Dad's Clock (writer-director Dik Jarman; RT 50, p24) didn't make it into the final 4. It's an expertly crafted, melancholic reverie that juxtaposes a simple narrative told by the son of a dying father, with images of the man's fantasy construction of a fantastic boat. Dad's Clock is as expertly crafted as any of the above animations and shares not a few similarities in theme.
If these animations are indications of the health of the art, then there is no shortage of really expert craft, seriousness that transcends whimsy and a great capacity to play with psychological and visual point of view. In the end it was the feverish wit, visual inventiveness, lateral narrativity and political edginess of Shhh… that won me.
Into the Dark, writer-director Dennis Tupicoff, producers Fiona Cochrane, Dennis Tupicoff; Shhh…, writer-director Adam Robb, producers Paul Fletcher, Andi Spark; Pa, writer-director Neil Goodridge, producer Andrew McVitty; Show and Tell, director Mark Gravas, writers Bradley Trevor Grieve, Sandra Walters, producer Sandra Walters.
RealTime issue #51 Oct-Nov 2002 pg. 29
© Keith Gallasch; for permission to reproduce apply to realtime@realtimearts.net
The latest initiative from Hobart's is theatre ltd, Boiler Room, was the culminating performance following a participatory 4 day multimedia event that featured workshops and cross-art collaborations. Improvisational artists including the avant-garde music collective the Freedivers, Ryk Goddard, Helen Omand and Jo Pollitt, performed extended improvisations in an interactive space designed by installation artist Sean Bacon. As a pilot project Boiler Room aligns Hobart with current national trends which are re-orientating and re-energising improvisational practice.
Improvisation connotes a movement away from the constraining frameworks of delineated performance while denoting an absence of closure. This apparent paradox is partially resolved through the resonances established by the improvising artists as they modulate space and time to explore the tensions between structure and freedom. What emerges ideally are performances in the moment that enable insights into the vicissitudes of our contemporary culture.
The improvisation practitioners modelled both technique and a finely honed capacity to maintain or relinquish the impetus for an idea. Text, sound or movement was generated from their open-ended presence in the space. Boiler Room was accessible as performance. For the spectator, the insights and understandings are both negotiated and generated through entering and exiting at any point in the space-time continuum.
Sean Bacon's design incorporated a large screen that split the space with performers traversing either side of the divide. An aluminium can rolls and the subtlety of the sound spills into the silence. A small digital camera captures drummer Josh Green scratching and riffing on metal kegs from behind the screen. He is unseen, yet we apprehend his presence through the digital images before us.
In front of the screen, Jo Pollitt moves against her projected image accentuating the here-yet-not-here aspects of her virtual/actual presence. This interplay between the visible and non-visible generates a fascinating conjunction between the 'kinematic' potency of the image, with the dancers' and musicians' corporeal presence and absence separated by a scrim (skin) of screen.
Ryk Goddard, through a combination of language and physical improvisation, provides a paean to genial craziness. His verbal skill with its blend of nonsense, paranoia and humour provides a wry social commentary that is politically informed yet without party line divisions. He cunningly reveals our addiction to the 10 second grab line which re-presents the world as a fiction. Despite his verbal ad-hocracy, Goddard offers enough of an obscurely nuanced through-line to chart the terrain of his particular journey.
Mathew Clare provided a visual highlight with a lipstick camera placed inside the bell of his saxophone, projecting a series of chiaroscuro images. Dancer Helen Omand simultaneously explored the rotating rim of gleam surrounding the bell's silent black void. Perhaps this sequence provides a summation of is theatre's Boiler Room and the opportunities for improvisational artists to move onto new ground and into the realm of each other's practice. Here is the moment. Sounds from silence. Movement from sound. Dare to dive.
is theatre, Boiler Room, [email protected], Hobart, Aug 25
RealTime issue #51 Oct-Nov 2002 pg. 44
© Sue Moss; for permission to reproduce apply to realtime@realtimearts.net
Phillip Adams' Amplification (1999) was an intensely focused study of damaged physicality and desire. His new work, Endling, however is stylistically closer to Adams' Upholster (2001), employing a jump-cut, mixmaster approach to develop something akin to an absurdist opera. Musical references identify which aesthetic tropes are evoked and assaulted in each of Adams' scenarios: bucolic neo-classicism for ballet, Modernist dissonance for empty angst, Ligeti for 2001-style fantasies of rebirth.
Adams treats culture and art history as a bazaar, plundering them for ironic details and unlikely, kitsch amalgams. While Upholster is ultimately little more than a choreographically-complicated, funny and sexy divertissement, leaping from the Karma sutra to furniture upholstery, the grab-bag historicism of Endling charts a more coherent and thought-provoking path through the detritus of high and low culture.
Thematically, Endling deals with issues of animality, with the dancers both applying anthropomorphisms to the biological elements they engage with (a fox stole looks back, quizzically, at Stephanie Lake after a brief, sexualised encounter) as well as becoming animal themselves. The early section has an almost hysterical energy, flinging bodies rushing from one scenario to another with a pathological illogicality reminiscent of Lake's own Love is the Cause (2001). This explosion of themes and movement soon stabilises into a more measured approach however, with Adams increasingly framing and posing his events into lightly moving tableaux.
The comic bizarreness of Endling had me thinking of Grand Union dance theatre or 'the World's First Ever Pose-Band' from the 1970s. Adams has remained close to a maniacally Pop-art sensibility. The Pop reference is also significant in that the humour he develops, while strong, comes from a sense of irony more akin to Warhol's flat persona than the Chunky Move productions he and several of his dancers have worked on. This is intensely serious play, the characters attempting new rituals for a world where animality-whatever it may signify-is at best attenuated and difficult to encounter. The performers stretch out a massive cowhide between them like a trampoline and rearrange glass-eyed fur wraps upon it, as though testing a form of neo-paganism-but like everything else in Endling (as opposed toAmplification) no desire, satisfaction or 'primal force' is evoked. These are rituals which fail to produce a religion. Like Adams' own approach to culture, the characters of his drama burrow through material without settling anywhere.
Endling can therefore be read as a critique of Martha Graham's primitivist works such as Into the Labyrinth. Unlike Graham (or even Stephen Page in reappropriating Graham devices), Adams is not suggesting that references such as bullfighting allow us access to a primitive, pre-civilised state. Animality is finally seen as nothing more than a mirror held up to humanity, a projection of human concerns, and not "Nature untamed." For Adams' characters, to be animal metaphoricises social marginality, sexuality, or (in a lingering duet between Byron Perry and Toby Mills) homoeroticism. Ultimately the stuffed animals the dancers play with, or the projected footage of the last Tasmanian tiger, preserve a distance from both performer and audience, remaining objects which play in our (human) imagination.
Balletlab, Endling 'Self-Encasing' Trilogy: Part #1, choreographer Phillip Adams, primary design Sally Smart, lighting Paul Jackson; performers Michelle Heaven, Stephanie Lake, Toby Mills, Byron Perry, Brook Stamp, Joanne White. Dancehouse: Balletlab, company-in-residence, Melbourne, June 12-16.
RealTime issue #51 Oct-Nov 2002 pg. web
© Jonathan Marshall; for permission to reproduce apply to realtime@realtimearts.net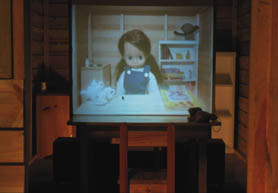 Van Sowerwine, Play with me
The great thing about new media art is the way in which it can draw on a whole range of inputs and sensibilities from multiple areas, resulting in works that can't easily be broken down into one medium. This should produce weird, idiosyncratic and hard to define hybrids. However what seems be happening is that new media artists are producing work with themes that can be too easily categorised, compartmentalised and pigeon-holed, the inverse of much of the promise of new media arts as a shape shifting medium of hybridity.
Bio-technology, artificial life, the impact of technology on nature, surveillance, genetics, the nexus of science and art etc etc… Such topics are probably music to funding body ears and you can bet the next curated new media event you attend will have some poetic piece about the impact of technology on nature (yawn). While there is no doubt some interesting work is being done in these areas, I for one would genuinely like to see some new themes emerge in new media art beyond well established agendas.
Revenge of the nerds
There was a time in the mid 80s when artists fanatically quoted lots of French theory, mostly Baudrillard and the hyper-real. This was more than just art, it was art informed by the discourse of contemporary critical thought and Postmodernism. These days new media artists often talk about their work like those artists talked about theory, badging and validating what they do with cultural and social value with one word—science. It's more than just art, it's all about the convergence of art and science. I am all for taking new media into new and interesting terrain, but at times it seems that art-science collaborations are the only game in town (think, ConVerge and BEAP as recent examples. See pages Rackham and Jones).
Sure there's a lot of weird shit going on in the real world of bio-technology like cloning and gene therapy, but real life is a hell of a lot freakier than most things new media artists come up with. When Stelarc grows some new internal organs from pig tissue, give me a call.
The nexus of art and science reaches its extreme in Artificial Life, so much of which takes itself far too literally. The notion of creating 'worlds' is always a bit problematic. All this mimicking of life-like behaviour hurts my brain. I failed science and maths at school so maybe I am missing something here. If you're going to create life, don't just illustrate reality as a technical demonstration or an illustration of your programming skills. Do something interesting with the concept. After all, reality is cheap real estate, it's everywhere.
A safe bet
Recently I attended ACMI's (Australian Centre for the Moving Image) presentation of visiting US artists Amy Youngs and Ken Rinaldo. Some of the work was really playful and interpreted Artificial Life in unusual and interesting ways. But then it hit me as their presentation unfolded, new media art often seems to implicitly be about informing and educating its audience of the important 'issues' at stake. This pedagogical tendency embraces the idea that art must be responsible and all about producing objects of virtue, from Bill Viola to local artists like Patricia Piccinini, or in critic Dave Hickey's words, "Art that is good for you" (Air guitar: Essays on Art & Democracy, Distributed Art Publishers, 1997).
After reading a bunch of statements by new media artists waxing lyrical my brain starts to hurt again. The argument that themes of biotechnology, synthetic nature, genetics etc are culturally significant and compelling ones is not the problem. What worries me is that new media artists are using basically prefabricated and already culturally validated themes to begin with, in other words, safe bets. It's an exciting time for new media art, it can redefine the game, once it can get beyond the conventional modes of thinking about the inherent 'goodness' of art and realise that art doesn't have to pay lip service to the 'important issues' or be socially redeeming to be interesting.
Please don't call me a new media artist
These days the visual art crowd are picking up all manner of technology (that's if they can get gallery assistants to turn on the power). The recent Biennale of Sydney had a variety of interesting works that could loosely be described as new media. They didn't all plug into a wall, but many resulted from collaborative processes and often straddled myriad media forms, including digital animation, plasma screens and CD-ROM. Many would argue this is not 'true' new media, as it doesn't connect with current discourses and research areas. So what? The looser and more open the definition of new media art the better.
New media art at various international institutions has finally come into its own within the parameters of the visual arts: San Francisco's MOMA with its 101010 Art in Technological Times show of web work; the Whitney Biennial has a Net Art section and web art featured at the last Venice Biennale.
Meanwhile much new media art is locked into a very specific way of thinking about technology, art and its cultural value. This is odd for an area that is still developing. Exhibitions curated specifically around new media tend to ghettoise artists and artforms. Favourite international new media art events like Ars Electronica, ISEA and Siggraph embody the problem. Having participated in some of these events in the past, I am simply not interested in presenting work in such a narrow context. There's also a conservative sensibility at such events which sees artists as more interested in the advances in technology than in advances in art (they are not the same thing).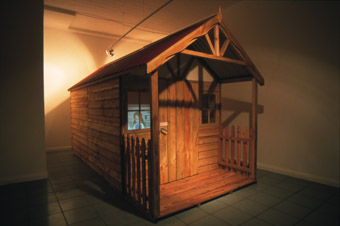 Van Sowerwine, Play with me
Something wicked
Artists taking new media arts into exciting dimensions and beyond familiar territory include Vanessa Sowerwine with her installation Play with me (Next Wave, CCP). The work is an interactive video installation where the user, sitting inside a cubby house, controls the actions of an animated child. Adult bodies hunch over a screen and make the kid drink Drano or provoke a hissy when choosing the wrong response. With its freaky overtones, the user becomes implicated in the actions of the child. It is a refreshing angle on interactive art, perhaps a perverse and screwed up parody of Artificial Life.
US artist Charlie White's highly memorable and totally mutant, digitally composited photographs depicting a haggard alien crashing parties in suburbia, could also be seen as a trashy version of Artificial Life, but with none of the baggage that is often associated with the area. While not strictly new media, but worth mentioning here, is Austrian experimental filmmaker Martin Arnold, known for his hyper-edited films such as Alone: Life wastes Andy Hardy (1998). Arnold's work-in-progress involves developing software to erase actors from famous movies scenes, the inverse of the Hollywood wet dream of bringing actors back from the dead. Arnold plans to kill 'em off once and for all.
With the Australian Centre for the Moving Image about to open in Melbourne, it's a great time for the media arts in Australia. Hopefully ACMI can function as a showcase for this kind of work. While ACMI have clearly spent lots of money to keep the interior designers happy, I hope it has the vision to present not only the prestigious international movers and shakers, but also work that doesn't easily slot into curatorial agendas—work that is problematic and hard to characterise; that's new media art for me.
Thanks to Darren Tofts.
RealTime issue #51 Oct-Nov 2002 pg. 5
© Ian Haig; for permission to reproduce apply to realtime@realtimearts.net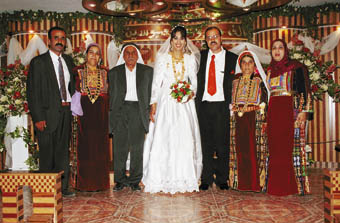 A Wedding in Ramallah
Four films are brought together for an awards ceremony and, inevitably, comparisons are made, similarities emerge, lines are drawn, like is compared with like but also with not alike.
A Wedding in Ramallah and East Timor—Birth of a Nation: Rosa's Story are the 'straight' guys. They tell stories about ordinary people struggling with mundane realities—family, marriage, domestic life—in abnormal circumstances (the Palestinian Territories and East Timor). They like to look at life in the microcosm and see what it says about the bigger picture. There's a subject who stays in front of the camera and a film-maker who follows them about. They're revealing, touching, funny at times. They're careful not to preach while still having something worthwhile to say.
The Diaries of Vaslav Nijinski and Rainbow Bird and Monster Man are the 'arty' ones, telling stories of unimaginable pain and personal suffering with great imagination and energy. They like symbols and motifs, re-enactments and dramatisations. Much of the telling is in the cutting and zooming, panning and fading. They are evocative, elliptical, edgy, looking for new ways to say something that can't always be said easily.
A Wedding in Ramallah (90 minutes) is perhaps the funniest of the bunch but also has the most depressing air of hopelessness, its subjects seemingly trapped by circumstances, leading stifled lives with little possibility of genuine change. Director Sherine Salama has an eye for dry humour, a mildly sardonic appraisal of Life's big-little ironies, such as the Palestinian bride who longs to be with her husband in America and, sure enough, winds up living in a suburban condo purgatory. Be Careful What You Wish For….! Not that the newlyweds have much of a say in the matter; the groom is only in the US to avoid being in an Israeli prison.
The film works by shifting the focus away from the familiar narratives of bombings and reprisals to show us something positive about Palestinian culture rather than simply viewing it as being 'not us'. At the same time, it doesn't try to airbrush the Palestinians into appearing 'just like us'. It's clever, cluey and revealing, thanks mainly to an astute decision to film the preamble to and aftermath of an arranged marriage. This is an event totally at odds with Western notions of romantic love but meaningful in its own context. (There are some wonderful scenes of the couple sitting silently together with nothing to say; you can almost hear Sherine Salama thinking out loud as she films, 'Boy, this is terrific.' And it is.) The link between ritual as a marker of identity and cultural/national autonomy is never articulated but seems obvious nevertheless.
Rainbow Bird and Monster Man (52 mins) is the grimmest tale of all, a soul-stretching story of child abuse and its consequences, as if somebody has taken all the macabre horror of a fairytale and said, no, really, this is what Life is like. It's also the most affirmative viewing, a remarkable survival story. It starts with an anecdote about a man, Tony Lock, making music after a murder, in the police van, and then, later on, writing poetry in prison. And somehow that sets the tone, a sense of release suffusing the nightmare. The film's strength is Tony Lock himself who, apart from a few re-enactments, narrates his own story with incredible clarity and insight. It's an extraordinary act, not in the sense of a performance but of a deed accomplished, something created and offered to us. The film's imagery, evoking different stages in Tony's life, must do justice to his story and, for the most part, it does.
Rosa's Story (55 mins) is another survivor episode, following the efforts of a young East Timorese mother to collect her children from various places of safe keeping. Rosa's attempt to reunite her family for the first time is complemented with footage of Xanana Gusmao endeavouring to do likewise with the new nation, like Rosa travelling around the country to collect support and build a new life. It's tentatively hopeful; the spirit is willing but the odds are not good for a single mother in a poor country.
Paul Cox's The Diaries of Vaslav Nijinski (95 mins) gave me the best drift for some time, some dreamily dreamy daydreams and sub-conscious streaming. In fact I may even have been asleep for some of the time. It has some fine dancing too and the best performance of L'Apres-midi d'un Faune I've ever seen. It's the only performance of L'Apres-midi d'un Faune I've ever seen, but I'm sure it's very good.
In essence, the film is a visual accompaniment to readings from Nijinski's diaries tracing his mental disintegration. It's illustrated with trademark Cox motifs drawn from nature—fire, water, blood—and especially the play of light—shadows, silhouettes, reflections—to create a visual dance characterised by rapid movement, interspersed with a lingering stillness. Above it all there are Nijinski's ramblings—fevered, obsessive, dogmatic, dismissive, expansive and always the voice—incessant, repetitious, loopily looping the loop, the Artist at odds with Society, childish and narcissistic, seemingly omnipotent but fearful of everything that opposes or diminishes his powers. I'm not sure if I learnt anything about Nijinski in the process but, as a performance, the film succeeds on its own merits.
So that's it for this year—some madness, a marriage, children lost and found. Do we still have to pick a winner at this point? If so, I'm going for A Wedding in Ramallah simply because it hardly puts a foot wrong and, as Nijinski would no doubt agree, not a lot people can do that.
A Wedding in Ramallah, writer, producer, director, cinematographer Sherine Salama; East Timor—Birth of a Nation: Rosa's Story, writer, director Luigi Acquisto, cinematographer Valeriu Campan, producers Luigi Acquisto, Stella Zammataro, Andrew Sully; Rainbow Bird and Monster Man, writer, director Dennis K Smith, cinematographer Kevin Anderson, producer John Lewis; The Diaries of Vaslav Nijinski, writer, director Paul Cox, cinematographers Paul Cox, Hans Sonneveld, producers Paul Cox, Aanya Whitehead.
RealTime issue #51 Oct-Nov 2002 pg. 30
© Simon Enticknap; for permission to reproduce apply to realtime@realtimearts.net
On the internet you can now listen to radio from anywhere in the world, anytime of the day. While this offers occasional treasures, such as a lost fragment of Glenn Gould, it does not have the same kind of mystery you find on radio that comes via the airwaves. It is sometimes reassuring to return to a familiar institution like Radio National and re-discover the pleasures of programming that goes beyond international and covers instead the weird expanse of Australia.
For those unable to live in the nation's 'centre', Radio National connects us with its worst and best. On week nights, the arts chat-show The Night Club is inflated with that chummy Oxford Street bravura that reaches for the popular jugular, leaving the subtleties (and ratings) behind. But on Sunday evenings, The Night Air reflects a more Glebe-like way of engaging with history, surfing the archive for odd turns of meaning. For those who'd prefer to visit Gomorrah, rather that live in it, The Night Air is a weekly dose of the readerly Sydney sensibility.
As well giving us a Sydney fix, The Night Air has re-invented the medium in a bold and visionary way.
The Night Air is valued-added radio. It draws from primary sources such as Radio Eye and the The Listening Room, to produce themed programs such as "Going Bush", "The Biff", "For the Birds" and "I can't go on. I'll go on." The Night Air is broadcasting for the Google age: each of its themes is fed into the radio search engine like an encyclopaedic I Ching that creates mysterious combinations.
The Bastille Day episode illustrates the power of the program as an audio envelope. "Liberty" began with "Fugitive Promises" produced by John Jacobs and Cathy Peters. This segment was drawn from otherwise predictable sources, including a Martin Luther King speech, the Mabo decision, recordings of demonstrations. But these elements were deftly contextualised by music and cross-fades. Following this was a sermon by the Australian film maker Paul Cox on the importance of art. To younger ears, Cox can sound smug in his distaste for the mainstream. But with The Night Air treatment, a futuristic sound track was heard in the background, making his words seem more explorative and less Cox-centric. Similarly, an episode on the 'Marsellaise' by Kaye Mortley would have seemed quite breathy if isolated in a Radio Eye time slot. But linked with items like Robyn Ravlich's East Timor recordings and other freedom songs, it added to a chorus-like political theme.
"Liberty" was a substantial achievement. Often in public media, we become so attuned to flippant ironies, that calls to action can seem embarrassingly naïve. The Night Air managed to present a serious message in a way that was palatable to sophisticated 21st century ears.
The Night Air can take occasional wrong turns. The choice of music can sometimes be too literal. A recent program "Poison" featured rather too obviously the Alice Cooper song of the same title. Whereas the Sunday morning Background Briefing producer Tom Morton shows how effective music can be as a subtext that adds a new dimension to the main theme, rather than a throwaway cliché.
One of the dangers of an archival program is that it settles for retro kitsch (Skippy soundtrack) rather than go all the way to the past 'as another country'. In these cases, The Night Air is often saved by Brent Clough, whose mellow voice invites the listener into the mystery. Rather than beef the program up with a radio personality, The Night Air links items with 'sound bridges'. Signature phrases like "breathe it in" help relieve the sometimes manic crossing of themes.
The ultimate The Night Air experience for me was during their "Going Bush" episode. After the 9 o'clock news break, the program re-commenced with a Gregorian chant. At the time, it seemed an ecstatic moment of programming genius. The idea of putting something medieval into the Australian bush had real imaginative daring. It was only when the next Gregorian track started that I realised they had begun playing Mary Nicholson's excellent musical program Nocturne, which normally begins at 10 o'clock. It was a mistake. Naturally, I felt disappointed. But looking back now, it seems more a positive reflection of The Night Air's power to charge otherwise familiar material with new possibility. Perhaps The Night Air could follow where chance has led them.
The Night Air reminds us that radio can be an art in itself. With time, I hope it will gain a little more confidence in that art and treat its themes a little more dialectically. There's a lot of air left in the night.
RealTime issue #51 Oct-Nov 2002 pg. 45
© Kevin Murray; for permission to reproduce apply to realtime@realtimearts.net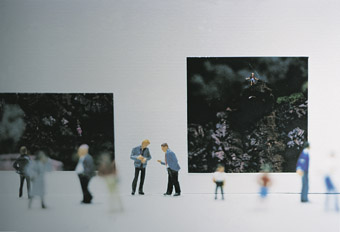 Rebecca Ewer, The Gallery #2, 2001, c-type photograph
The setting is familiar and so are the people. Someone fills your wineglass and asks if you're having a good time. Faces you recognise stop and say hello, while new acquaintances smile as they pass by. You even look at the art every now and then (just to remind yourself why you're there). We expect it all to mean something but it rarely ever does.
Memories create the basis for illusion and constructed landscapes offer limitless possibilities. Nothing is ever as it seems in the photographs of Rebecca Ewer. Closer inspection will reveal the truth. Simple scenes are sometimes just that, but reality is always open to interpretation. Watch this space.
Works from Ewer's The Gallery series have recently been shown in the 5UV window and Adelaide Central Gallery.
RealTime issue #51 Oct-Nov 2002 pg.
© Leanne Amodeo; for permission to reproduce apply to realtime@realtimearts.net
The world wide web, digital and other new technologies have the capacity to transform the visual arts and artistic practice on a global scale. This has already begun happening in this country and in other parts of the world. Consider Patricia Piccinini's high profile in the international art world on the basis of her digitally modified creature-compositions. There is a rapidly growing literature responding to the utilization of new technologies in contemporary artistic practice, most of which enthusiastically embraces this phenomenon. Much of what is written borders upon evangelical in tone.
Like the globalization of capital, with which these new media are imbricated, technologies have the potential for positive and benign outcomes but also for less socially beneficial consequences. These new technologies certainly have the capacity to liberate—for instance, the www can inexpensively provide hitherto unknown artists with instant, large audiences for their work. Similarly, minority groups, for example Indigenous peoples all around the world, are able link up in ways that have not been possible in the past, thereby advancing their political, social and cultural agendas. But the same technology also has the capacity to facilitate theft of the intellectual property of others on an unprecedented scale. This has implications for art generally, and for Australian Indigenous art especially, because of its disproportionately high level of return to the Australian economy by comparison with other Australian art. The vulnerability of Indigenous art to copyright theft is exacerbated by the remote location of many of its practitioners.
"Borrowing" imagery from Indigenous art is not new. For years now, considerable numbers of non-Indigenous Australian visual artists, both professional and amateur, have been influenced or inspired by Indigenous Australian art, and have been incorporating Aboriginal imagery or motifs, media, colours or quasi-Aboriginal "styles" into their work. The same applies to (predominantly) non- Indigenous business people, especially those in the textile, clothing and floor covering industries. Usually the influence or appropriation stops short of the actual theft or straight-out copying of Indigenous imagery. Often the influence is as vague or generic as incorporating an Aboriginal 'look' into a work, by including quasi-Indigenous imagery into the designs of carpets, tiles, T-shirts or even bath mats or teatowels, resulting in an indeterminate 'Indigenous' influence that can not be attributed directly to any specific regional artistic tradition.
Throughout Indigenous Australia, particular designs, patterns, iconography and imagery are owned by Indigenous artists, and therefore subject to the strict rules of Indigenous intellectual copyright. Up until comparatively recently Indigenous art was considered by unscrupulous non-Indigenous business people as ripe for the pickings, and Indigenous artists had comparatively little legal recourse in the event that their sacred imagery was appropriated or stolen for commercial advantage.
Outright theft of Indigenous imagery iconography still occurs. The underlying motive for this is usually financial gain. In response to this situation, Vivien Johnson, working with a group of students of Indigenous art at Macquarie University, has assembled a website and CD-ROM broadly relating to this subject. These accompany and extend Johnson's earlier catalogue, Copyrites: Aboriginal art in the age of reproductive technologies: Touring Exhibition 1996.
Initially one enters the House of Aboriginality online or via CD-ROM. The house has been constructed as a literal, and also in a sense, figurative domicile. One visits each of its rooms in turn (for example, the bathroom, lounge room, bedroom) encountering a plethora of Indigenous imagery and designs on bedclothes, bathroom décor, and even on objects like coasters and ashtrays, which the web design enables you to scrutinize more closely. The contents of the house exemplify the full gamut of appropriation of Indigenous imagery. The House of Aboriginality makes a powerful visual statement that strongly reinforces the pervasiveness of the practice of "borrowing" Indigenous imagery. It seems that no object is too banal, nothing inviolate, nothing that can't be value-added via visual expressions of Indigeneity.
On the same website, there is also a good deal of hard information and excellent, accurate background material on comparatively recent court cases that have been fought and won by Indigenous artists whose imagery has been stolen and reproduced on, inter alia, banknotes, carpets and fabric. The work is educational, entertaining and really drives its point home. Vivien Johnson's excellent research and the clarity of organization underpin the success of both website and CD-ROM. They would be particularly useful as resources to use in secondary schools as they cover a range of subjects, from the social sciences, to Legal Studies, Australian Studies and Indigenous Studies.
Indigenous Australian artists are themselves skilled practitioners of the new technologies, and now becoming increasingly comfortable working in new media. This in turn may eventually help to address the more negative practices highlighted by Vivien Johnson and her team. Artists who have been working in the area for some years now include the Warlpiri digital artist Simeon Ross Jupurrurla, Jenny Fraser, Christian Thompson, Jonathan Bottrell- Jones (who has just won a major NSW travelling grant), and Brenda L Croft. Most notable of all is the remarkable Rea, whose pioneering work in this area deserves an article of its own. Part 2 of this article (RT 52) will survey the work of these and other Indigenous new media artists.
This year, the second intensive workshop of the National Indigenous School in New Media Arts (NISNMA) is being held in Adelaide at the Ngapartji Multimedia Centre (Sept 23 – Oct 11). The school aims to provide an intensive learning environment for Australian Indigenous artists to acquire skills in new media and multimedia production, catering for a wide range of students from beginners to those with advanced skills in the new media.
In an email interview, overall organizer of the school, ANAT Director Julianne Pierce, described the long-term purpose and benefits of the projects as providing Indigenous artists with the skills to consolidate and advance their practice. By creating an environment that is responsive to artists' needs, she says, the school will ensure that an optimal learning situation is achieved. Participants will learn skills that they will be able to develop, as well as gaining confidence in the practice of new media arts. However, the focus of the school is not only on technical skills, but also on the generation of ideas and interest in the field of new media arts.
Pierce goes on to explain that participants have quite different expectations regarding outcomes, ranging from a desire to tell Indigenous stories from a variety of global sources in innovative ways, to the telling of personal stories via emerging media forms. Some participants are motivated by the aim of networking and meeting with other Indigenous artists, or combining new media with traditional media such as printmaking and textile design.
The 3 week school covers areas including digital photography, building a website (html, Dreamweaver), graphics, video and sound for the web and webcasting. Sixteen Indigenous artists from all over Australia are participating in classes run by 5 instructors, some of whom are Indigenous, with expertise in a range of areas including Flash, computer animation and multimedia art.
It is expected that a similar school will be convened in 2 years time in Queensland. In addition, ANAT has recently embarked on a partnership with Tandanya to support new media arts practice and is looking at other potential partnerships to provide opportunities for professional development and for the creation of new work in what is an exciting new way of ensuring the continuity of the world's oldest artistic tradition.
–
Vivien Johnson, The House of Aboriginality CD-ROM; Copyrites: Aboriginal art in the age of reproductive technologies: Touring Exhibition 1996, Catalogue National Indigenous Arts Advocacy Association and Macquarie University, Sydney.
RealTime issue #51 Oct-Nov 2002 pg. 6
© Christine Nicholls; for permission to reproduce apply to realtime@realtimearts.net
The 14 feature films contending for this year's Australian Film Industry Award constitute a bumper crop of impressive variety ranging from Ivan Sen's powerful Beneath Clouds to Phil Noyce's Rabbit-proof Fence and David Caesar's Dirty Deeds. The lesser-known category of Short Fiction (under 30 minutes) displays notably less diversity, with the 4 finalists (out of 65 contenders) each playing out variations on a theme: male-angst-on-the-move. Two are set in Melbourne and 2 in Sydney.
Several of the finalist directors are products of film training institutions: Eve of Adha is written and directed by Leonard Yip from the Victorian College of the Arts (VCA), and follows a young Muslim man (intensely played by Paul Rene) facing a range of tormenting ethical decisions; the only film not to locate its angst within the confines of a modern, luxurious lifestyle. Into the Night, directed by Tony Krawitz from the Australian Film Television and Radio School, purportedly reflects the life of a street rent boy, but the first sweep of saccharine music, the principal casting, and the film's main location within a sumptuous apartment suggest otherwise. It is unadventurous but slick and technically proficient, bearing the stamp of AFTVRS as an industry training ground, just as the VCA film, Eve of Adha, demonstrates the creativity associated with its art school genesis.
Eve of Adha opens with a quotation: "Everyone begins the morning by trading with his soul; he either wins it or ruins it." The daily dilemma and existential loneliness of the main character is evoked and enriched through the use of an exceptionally good soundtrack featuring Middle Eastern inflected music composed by Justin Ryda and M. Nasir. Location sounds are withdrawn from the sound mix as Rene's character prays, at home on his prayer mat or in an empty mosque, creating moments of clarity and suspension of time. While the minimal script is slightly awkward, subtle use of colour and textured surfaces in the interior sequences, and tightly framed shots create a compelling atmosphere, mirroring the protagonist's mix of calm moments amidst inner turmoil. At times, it is the most visually interesting and provocative of the 4 finalists.
Roundabout, the directorial debut by Rachel Griffiths, also makes creative use of sound design and music (David Bridie is screen composer), and the flair of cinematographer Tristan Milani (The Boys) drives its narrative about an alienated businessman cracking under pressure. The film is cleverly structured and also concerned with the disruption of the flow of time. Roundabout features the protagonist's car trip—the driver departs for the city from a stark cube in a wealthy suburb and gradually spirals out of control on the freeway in a series of imaginatively conceived and executed shots. But like a polished advertisement it slides over and away, the credits rolling as copiously as a feature film.
The longest of the 4 finalist films, The Host, is shot in chic black and white, its story again played out against luxurious contemporary architecture (which could have inspired the film—it comes to feature as a silent character in the story). Director Nicholas Tomnay (a past graduate of the College of Fine Arts, Sydney) sets up a host of expectations and stereotypes, only to cleverly turn them on their head. This is a film with a great deal of quirky humour, and despite its play upon illusion and decadence, it achieves a sense of veracity, partly though its casting and performances. The Host elegantly realises the potential of the short film medium through its finesse of form, exploiting the dynamic of this medium through skilful and beautifully paced editing. Robert Moss's music creates a joyful thread throughout, working at times in counterpoint to disturbing events on screen.
The high level of skilful filmmaking in these 4 short films, and the (mostly) welcome integration between sound and image, with the music working as an integral part of the affect rather than a last-minute add-on, are strong indications of the vibrant state of filmaking at the moment, notwithstanding the difficulties associated with distribution and actually reaching audiences. I am left wondering however about the male angst; is this the post-Lantana theme of the early 21st century?
Eve of Adha, writer-director Leonard Yip, producer Chris McGill; Into the Night, director Tony Krawitz, writer Cath Moore, producers Melissa Johnston, Rachel Clements; Roundabout, writer-director Rachel Griffiths, producers Louise Smith, Jason Byrne; The Host, director Nicholas Tomnay, writers Nicholas Tomnay, Krishna Jones. producers Nicholas Tomnay, Alison Clentsmith, Linda Ujuk.
RealTime issue #51 Oct-Nov 2002 pg. 30
© Cassi Plate; for permission to reproduce apply to realtime@realtimearts.net
Lordy, Lordy, Praise be to Jesus. Cut your throat now life doesn't get any better than this. Topology. Corridors of Power. Brisbane Powerhouse. On the program tonight is a collection of Aussie tangos circa 1997—The Keating Tangos—initiated by Russell Gilmour after the political demise of the Blacktown Domingo. These tangos are short, a couple of minutes at most, and are delivered in pairs between the longer pieces. First up, only some mother from the wrong side of the House couldn't love The Scumbag Tango, lyrical and perhaps even a tad sneaky. Or straight out of a Leunig nightclub comes The Sweetest Victory Tango, busy sax with a doodley piano solo to demonstrate heartfelt emoting.
With a couple of tangos under the belt Topology move onto Sing Sing: J. Edgar Hoover by Michael Daugherty (US). Sing Sing is clever. Daugherty drops in cliché after cliché: glissando strings like sirens, the most appalling saccharine Home of the Brave/Battle Hymn of the Republic maudlin nightmare trash. Except it's not cliché, maudlin, or trash. It's witty and resonant. Beautifully played. Clever. And over the top is the voice of Hoover, our father.
Post Sing Sing and it's another couple of tangos. Richard Vella's Tango for micro-economic reform is sad, majestic, a little furtive and world weary. The Mabo Tango: The Lizard of Oz from Robert Davidson is up. Poppin' bass. Slab piano. Following is David Lang's (US) Cheating, Lying, Stealing. "Ominous funk" it says on the score and that's what it sounds like. There's low down staccato sax for starters and then a piano figure. Up the register and oriental mourning breaks in courtesy of the viola and sax. Spatial percussion on car brake drums either side of the stage and the piano carries on regardless. A friend leans over and says "Hate to lose my place in the score." That sort of piece.
Even more tangos. Tango Republic is all salon music, God Save the Queen, ABC themes and cucumber sandwiches. The Placido Tango is slimy, themed for Lotharios of regret.
Next is a Topology rendition of Pat's Aria from Nixon in China by John Adams. It's a gem, and I keep noticing what a great touch Kylie Davidson has on the piano.
Last before the half time break is another piece by Robert Davidson, Big Decisions: The Whitlam Dismissal. Davidson is a master at capturing the rhythm and pitch of spoken voice, and using it to structure music. In this case a bunch of statements from various worthies presiding over the last gasp of Crash Through Or Crash. So the piece is chunky, where a spoken phrase is a chunk. And it's polite. "Well might we say God Save the Queen …" as drawing room farce. Kerr's Cur as strictly fairground.
Polite and farcical. And looking back, giving The Dismissal a bit of the Then and Now, it's true. No-one stormed the streets, threw TVs through shopfront windows, or overturned cars and set them on fire. It was raised voices and heated discussions and going home to crash into failures that have stood the test of time.
After the interval is Airwaves. I've reviewed this before. (Topology and Loops, Queensland Biennial Festival of Music, RT 45, p31). Good to hear it again.
Corridors of Power, Topology, Aug 17, Brisbane Powerhouse.
RealTime issue #51 Oct-Nov 2002 pg. 45
© Greg Hooper; for permission to reproduce apply to realtime@realtimearts.net
The phenomenal growth of communication systems promotes somewhat idealistically the view that geographical and social boundaries are dissolving. However, negotiating interpersonal relationships is still fraught with miscommunication. Contemporary existence relies upon disentangling systems of social, historical, political and personal bias and can leave us subject to preconceptions and psychological instabilities. It is the fragile dynamics of human interaction that tends to undermine our conscientious desire to get along, leaving us, potentially, a bit myopic.
At times then, it seems necessary to adopt a particular viewpoint and defend it and Ricardo Fernendes, writing in the exhibition catalogue on the work of Singaporean artist Mathew Ngui, acknowledges that this can have a polarizing effect. He states: "Everyone chooses his position, be it conniving or rebelling." The slipperiness and fallibility of systems of communication is demonstrated in Ngui's cleverly devised installation in Adelaide's Contemporary Art Centre. As in previous works it is layered with complex metaphors for human activity and the subjectivity of perception.
Precisely planned out in its choreography of materials, Ngui's installation uses technological devices to negotiate and invert perceptions of the real. Two video cameras on tripods at opposite ends of the room are trained on a forest of PVC pipes inscribed with hand-painted and unintelligible markings. Innocuous looking scraps of timber are placed against one wall and along the gallery floor. When the viewer looks through the video eyepiece the forest of pipes appears as a flat wall and the markings form into a coherent text describing the action of sitting upon a chair. When viewed from a precise vantage point the apparently random bits of wood suddenly coalesce into a chair or rather a perspective 'drawing' of a chair in space.
In an empty gallery the PVC and text are coolly totemic. However the static image through the eyepiece is interrupted when visitors pass between the pipes as they navigate their way through the room. This destabilizing of perception is further heightened when the viewer moves to the back room. Here, the relayed wall of text, together with taped sounds from the video cameras, is now projected directly onto the gallery wall. In a performance video Ngui observes, interacts with, and seats himself upon the representation of the chair as seen in the first room. Under surveillance, the viewer has participated unknowingly in the work and becomes an integral part of it.
Multiplying possible viewpoints through the use of multisensory devices and strategically placed clues, Ngui reminds us that reality is a construct, subject to flux and interpretation. Electrical conduits and PVC piping suggest systems of conveyance but interpretation of the objects requires a willingness to 'see' beyond the obvious. The viewer is led by recognition and misrecognition of vision, sound and text to investigate the 'logic' of spatial and social realms. Trompe-l'oeil illusionism provokes shifts in pictorial space by introducing ambiguous imagery that appears to fluctuate from the real to fictive. Ngui's work provides metaphors for the perception of multiple physical realities and provides a parallel invitation to explore the complexity of the emotional realm. The transmission of the personal and the emotional are equally susceptible to misinterpretation. Fernendes underlines this emotional capacity in the exhibition catalogue stating, "It is an open space for poetic, logical and metaphysical interventions."
Mathew Ngui, Tell Me Where I Stand, Contemporary Art Centre of South Australi , July 12-Aug 11
RealTime issue #51 Oct-Nov 2002 pg. web
© Katrina Simmons; for permission to reproduce apply to realtime@realtimearts.net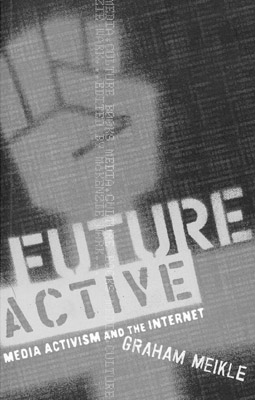 I like the internet. I think Graham Meikle likes it too, perhaps for similar reasons: we can explore our favourite mudwrestling webcam sites, meet other fans, keep in touch. Graham's position as author and mine as reviewer also imply a healthy respect for the expanded research methods the net allows, the online communities we can be part of, the e-mailing of stories at the last minute. This shared respect, I suspect, finds us both very curious about how the wrestling of public and private interests will shape the internet's development.
Imagining Graham's desk
Pens, paper, a Compaq (?) laptop, dictionary, thesaurus and a gleaming crystal ball sitting to one side into which Graham gazes periodically with an optimistic pragmatism, rather than tech-utopian drool. Above the desk a mirror—reflecting bookshelves creak-heavy with politics, postmodernism and the entire cyberculture canon. And a good deal of print-outs, because net-dissectors still like to underline words with a pen. From this very desk, Graham has conveniently chronicled the most famous political uses of the net in recent years, pored over interviews with many key outspoken online activists and authors, grouped the different shapes of net activism into useful categories, and offered some perspectives on ways the internet may continue to be developed in an open form. I'm thinking it's a nice old wood.
Imagining Graham's Internet
Some of its key features include openness, resource sharing, communication, conversation and collaboration. While these are features celebrated by the early digerati such as Howard Rheingold and John Barlow, Graham is careful to debunk 'cyberhype' during a quick tour of the net's early years and evangelists. He maybe spends a little too much time translating the hyperbole around the net as 'market boosterism', but is sharper in critiquing 'interactivity.' Usefully, he outlines transmissional, registrational, consultational and conversational forms of interactivity, and proposes that Tim Berners Lee's 'intercreativity'—solving problems together—as a better challenge to aspire to. Throughout the book, an open, conversational, intercreative internet is described as a Version 1.0 internet. A Version 2.0 internet, Graham proposes, is one where we move to the closed system preferred by entrenched corporate interests, a broadcast rather than many-to-many model. By the way, the book is riddled with characters doing their utmost to steer us away from a version 2.0 internet; I fancy Graham's down with numero uno.
Some of The Riddlers
An English couple being taken to court by McDonalds, launched the mcspotlight.org website in 1996. Dragged through the British legal system for distributing a critiquing pamphlet, they found with a website a way to match their wits rather than budget with the legal muscle of a multinational food giant. In subsequent years, millions of visitors viewed the original pamphlet and much supporting material, but as Graham reveals, it was the astute site development and understanding of online community and information navigation which made mcspotlight one of the more successful online political campaigns.
Future Active similarly traces many popular political campaigns such as the B92 radio station's celebrated use of online radio to spread news during the Bosnian war. Much of the work is in documenting what happened as events unfolded and how the net was used, but this is supplemented with plenty of insightful quotes from both campaign organisers and relevant theorists. Graham diverges from the media theory pack a little though, by exploring ways some nastier groups have used the net.
Web Nasties
While careful to point out he doesn't endorse, merely analyses, the net strategies of deathnet, godhatesfags.com and the North American Man Boy Love Association, I don't understand why Graham didn't use the same sort of caution in detailing his flirtations with the Labor Party, Liberal Party and One Nation websites. To his credit, he thoroughly exposes the major parties' lack of engagement with their constituents online, speculating that it's not that the major parties don't get it—but that they don't want it. Prefer they the broadcast or Version 2.0 model rather than a community-based model with lack of hierarchy or control. In contrast the web-Hansonites are shown to have embraced and harnessed the qualities of the internet effectively. Although One Nation sitemaster Scott Balson's claim that "Hanson was the first cyber-politician on the internet," is slightly dubious, their integration of e-mail lists and bulletin boards was apparently commendable.
Other Commendables
Veering into newer political territory, one of the book's better sections links together the 'free software' movement, the growth of the indymedia online publishing centres, globalisation, and the role of 2 Sydneysiders in making this happen—Matthew Arnison on code and Gabrielle Kuiper. The free software and open publishing movements are becoming increasingly influential in many spheres and their development is well described here. With his encouraging tone and enthusiasm for the topic however, some chances for exploring the issues and difficulties currently being experienced by open publishers have been missed. This is my only problem too with the near closing pieces on 'culture jamming' and 'tactical media.' Fantastic coverage of interesting projects, people and events online, but scarcer on-the-ground is any critique of the limitations of their approaches.
The book for you?
Depends. Maybe you're a sociology, communications, cultural studies, art or media theory student looking for a good, brisk overview of recent online skirmishes, blossomings, battles? Perhaps you're interested in understanding more about our transforming society and ways the net is being tactically used? Maybe you don't share the same bookmarks as frequent indymedia visitors, or the nettime/fibreculture/rhizome etc mailing list members?
For me?
I liked it, although much of the terrain was familiar. Wished occasionally for more criticisms of people being celebrated, but admired the collation, the crisp, want-to-communicate tone. A broader 'media activism and the internet' might have covered more artistic strategies online, MP3s and more software development. Like Naomi Klein's No Logo, this is a fine book which may end up being in the right place at the right time.
Graham Meikle, Future Active: Media Activism and the Internet , Pluto Press, Australia, 2002.
RealTime issue #51 Oct-Nov 2002 pg. 8
© Jean Poole; for permission to reproduce apply to realtime@realtimearts.net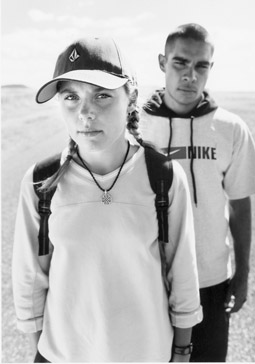 Dannielle Hall & Damian Pitt, Beneath Clouds
The AFI Awards roll around every so often like a funeral for a distant uncle. Time to take stock and try to find something nice to say about the old bastard. It's not been a notable year for Aussie movies with domestic box office share sliding back into the 4% range. It is increasingly clear that Australian cinema rests on a star system that has overshot a local production base. The best analogy might be soccer, where fans are more interested in Leeds United than the local league. Forget the 'telling our stories' rhetoric—the nationalism Australians draw from the cinema is the nationalism of being acknowledged internationally.
It's ironic, then, that a lacklustre year has produced one of the best Australian films for a long time. In a just world, Ivan Sen's Beneath Clouds would walk away with this year's award. Where most Australian films are formally conservative exercises full of Actors reciting Dialogue, Sen can use silence to build to a powerful emotional experience. It's a film of enormous courage which doesn't try to aestheticise pain or set it into a comfortably discredited past. It stands out as a film which successfully asks you to feel something.
If Beneath Clouds has been the major achievement in our cinema's recovery of the courage to deal with Indigenous stories, Rabbit-proof Fence has been the popular success and will probably start favourite for Best Film. It's a film with some fine moments whose importance is in telling us what we should already know about the Stolen Generations. While the emphasis on the strength of young Aboriginal women is a timely intervention, the film falls back on the comforting convention of racism as outmoded bureaucratic insensitivity. Rolf de Heer's The Tracker situates racism as melodramatic villainy, though it does this to grapple with the problems of making our ugly history into aesthetically pleasing art.
Paul Goldman's Australian Rules is another matter. It appears to have survived the bad odour caused by lack of consultation with the Indigenous community and is now draping itself in the mantle of liberal politics. All this for a collection of clichés: the regressive male hero of Black Rock (and a hundred other Aussie films); and the country town as hell. Although it's about standing up to your father, its drama is built around the paternalistic assumption that the courage of white liberals is what's important.
It's all very well having aesthetic victories around the margins, but a healthy film industry needs a sniff of the multiplexes. Three films have had wide commercial release this year: The Man Who Sued God opened on 233 screens, Dirty Deeds on 183, and The Hard Word on 162. Rabbit -proof Fence was the closest thing to a crossover hit opening on 95 screens and then holding around 50 screens through a 5 month roll-out.
David Caesar's got Kerry Packer's money and Broynbrown in Dirty Deeds and yuz can all get stuffed if you don't like it. You've got to admit that the money's on the screen. Every shot is brutally art directed, every line of dialogue polished to a state of rough perfection. Each image strives to be a fragment of cultural DNA from which you could reconstruct the entire zeitgeist of late-60s Australia.
Alex Proyas has got Rupert Murdoch's money in Garage Days. I suppose it's this year's Moulin Rouge, given that it proposes the triumph of visual bombast over quaint pre-postmodern conceits like characterisation. The musical has become the quintessential genre for these self-consciously flashy films. The puzzling innovation here is that although the film appears to champion the cause of live music, all the music is non-diegetic. Being a musician is a hip fantasy, not a matter of performance.
As its title indicates, The Hard Word grows out of the sharpness of its dialogue. There's Guy, Rachel, and a caper which provides the pretext for hardboiled bon mots, though the wheels fall off during the third act. After seeing Claudia Karvan struggle to be a femme fatale last year in Risk, and Rachel Griffiths defeated by the same task here, I'm wondering whether we've got the dark relish of treachery within us. Our politics suggests that the evil in this country is much more banal.
The Man Who Sued God (Mark Joffe) is the kind of compromised, dishonest crap that gives commercial filmmaking a bad name. The impulse to populism manifests itself in over-produced music, helicopter shots, the kind of blue heelers you see in TV commercials, and the kind of Billy Connolly you also see in TV commercials. The film tries to kid you that it's got something to say until the whole pile of shit finally caves in on itself and the only way out is to sell us the old one that love conquers all, even insurance companies. Tell it to your agent, Billy.
Back over in the art cinema margins, theatrical influences still hold sway. Tony Ayres' Walking On Water is this year's Soft Fruit, a film conceived in terms of individual scenes, each leading to its chunky moment of confrontation. The problem is that you get confrontation after confrontation right up to the moment when there has be to Resolution, which has to come out of nowhere. (Russell Mulcahy's Swimming Upstream hasn't been available for preview, but I fear we are in for a similar bout of Performance.)
Where Garage Days is hip that the surface is all, Till Human Voices Wake Us (Michael Petroni) is the complete opposite. Characters are intensely introspective and quote TS Eliot. Piano and cello are played sensitively. This is one of a number of films brought out of limbo to round out the field—but that's part of the value of the exercise. The history of Australian cinema is littered with lost causes, tragically flawed films whose primary interest is in the ways they go wrong, the contradictions they can't reconcile.
Let's consider Paul Cox's 1999 Molokai, a film about lepers with a famously troubled production history. It is tempting to reach for the obvious metaphor and see the film as something of a leper. Given its episodic nature, it is obvious that bits have already dropped off. David Wenham is hunkered down into his accent and declines into the clutches of the make-up artist, Kate Ceberano drops by to give us a tune and Chris Haywood goes blind from drinking whatever Kris Kristoffersen and Peter O'Toole were having in their dressing rooms.
I can see why Cox wanted to make a film about Father Damien, another European wandering in a beautiful but blighted wilderness at the other end of the earth. But it's a hagiography whose time has past, in that it shares with Australian Rules the assumption that it is the white man's burden to save the poor indigenous victim.
Like Molokai, Julie Money's Envy was made in 1999. It's another of these games of get-the-yuppy in which Sydney filmmakers seem to delight. I guess having a 3 generation mortgage will do that to you. Who is the audience for these films? It certainly isn't the yuppies who are caricatured, and the rest of us can hardly be too traumatised by seeing Tuscan kitchens invaded or the paintwork scratched on the Beemer.
After a few festival screenings last year Willfull has had to wait for its brief swandive to the floor in commercial release. Rebel Penfold-Russell concentrates on the design of the film, but seems to have learned about directing actors from watching sitcom mannerisms. But then, the tragedy of the ghostly mother is that life is more complicated than simply being stylish.
Finally, the real suspense this year doesn't concern the films so much as the AFI itself. Given that the organisation has been pared back to something that no longer does much more than this, the Awards are under pressure to produce and I fear that the sparseness of the field won't help.
–
Emirates AFI Awards 2002. Dates to be announced. www.afi.org.au
RealTime issue #51 Oct-Nov 2002 pg. 31
© Mike Walsh; for permission to reproduce apply to realtime@realtimearts.net
At a LaBasta! gig, someone is deliberately butchering Beckett's Waiting For Godot with her ultra-dry, self-interrupted delivery. Before the shadow puppets come out, someone else forces a What Is Music? flier into my fist. What Is Music? When is that? Somehow, I get to an under-promoted, but nevertheless packed gig at an old, rock'n'roll pub. Toshimaru Nakamura's superb No-input mixing board CD is ringing in my ears.
W.I.M? festival co-director Rob Avenaim is first up, making scratchy noises and false-foley work. It reminds me of Pauline Oliveros' latest CD (In The Arms of Reynolds, Lowlands Distribution, Belgium), but not as good. He drapes his long hair off stage to be replaced by Tetuzi Akiyama, who takes a metal bow with custom microphone pickups on either end to a static acoustic guitar and begins to saw. Zzzz, zzzz. Wow. It all builds to this high-pitched nastiness as he provokes things with his free hand, holding blunt knives and plastic brushes. Almost too many (dis)harmonies. Luv those Japanese minimalists.
Next up is Julian Knowles, having a subdued, fun time behind his laptop—dull to look at, great to listen to. He takes us on a wild ride, from the gritty atmospheres of contemporary digital soundscapes (what would we do without Pro Tools?), then sheets of aggressive, sparkling, scintillating neo-electroacoustics, asymmetrically off-the-beat drum'n'bass, fluttering bass-drones, and more. I haven't heard such a stylistically expansive palette since Battery Operated toured.
The big deal of the night is up next. I'm not keen. I'm not an Oren Ambarchi fan, his guitar hum is too damn quiet. Same problem with digi-man Phil Samartzis. They're joined by Günter Müller, who, by rubbing 2 microphones together, or skimming them across cymbals, kicks up quite a din right from the start. Ambarchi and Samartzis respond in kind. Did I just see Ambarchi play an actual note? His guitar sounds particularly dark tonight, ghosting the styles of his peers, while deep, resonant hums emerge from Müller, and Samartzis caps it off with loud, crinkly, micro-exclamations. I remember Pierre Schaeffer's statement of composing for "the astonished ear." Well, my ear's feeling pretty astonished.
After that unexpected delight, Nakamura takes ages to set up. A technical problem? We never know, but an icy draft in the pub is making the audience decidedly restive. When he finally plays, he proves disappointing. Sure, it has a rough aggression lacking in his CDs, a playful expressiveness, but these short phrases seem a bit like pointless noodling. Where are the exquisite, ringing loops captured on CD (No-input mixing board, Tokyo: Zero Gravity, 2000)?
My blood is slowing to ice as the last act, Voicecrack, set up, in the middle of the room, a table covered in cheap electronic doohickies: toys, bike-lights, clapped out scanners, and a heap of photoelectric contraptions. In near darkness they start manipulating the number, intensity and periodicity of light sources flickering onto the light-sensitive devices. A huge wall of industrial noise emerges; the kind of sound that would make Merzbow proud. The Swiss duo's work fits well into Nietzche's Germanic ideas about Dionysian chaos uniting life and death. I listen for 20 minutes, but their annihilating sound hasn't warmed up the pub. I scatter for home before I turn into a pillar of salty ice.
What Is Music?, Corner Hotel, July 16; Waiting for Godot, versioned by LaBasta!, Meyers Place Bar, July 7.
RealTime issue #51 Oct-Nov 2002 pg. web
© Jonathan Marshall; for permission to reproduce apply to realtime@realtimearts.net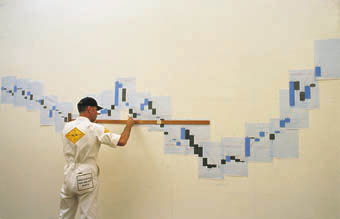 Michael Goldberg, Auriferous – The Gold Project, 2001, Bathurst Regional Gallery
By their very nature, 2 new shows at Sydney's Artspace tell us that something strange is going on in the world of art. Distributive justice (also showing at Documenta11 in Germany) and catchafalling knife.com take us well outside the parameters of our usual gallery experiences, even in these halcyon new media days. In one the gallery-goer becomes a participant in an international polling of national attitudes to social justice, in the other we witness a share market trader-cum-artist gambling $50,000 of his anonymous sponsors' very real money on Newscorp shares for 3 weeks. The seriousness of both works is immediately evident, but a sense of playfulness, of art cogently querying opinion and money making pervades. Both can be experienced in situ or online, though it's the gallery which provides something more substantial, but is it art?
Distributive justice
I met the Croation artist Andreja Kuluncic, creator of Distributive justice, just before her show opened here. The project is multimedia and multidisciplinary. Kuluncic says that "it lives on the internet but comes into direct contact with people during big exhibitions like Documenta." She calls the work "a social laboratory where the audience actively influence the content, the duration and the results of the project." The open installation is an inviting forum—the curve of the furniture provides desktop space and room to sit at computers (where you play games) and monitors (watching interviewees from other showings talk about their share of 'the common good') or to read books, documents or a social economy map or to simply fill in questionnaires, to meet other people and the human guides to the work. "It's not just a mouse and keyboard show, besides the galleries still do not accept virtual arts as true value…Web art pieces still encounter the resistance of curators."
The show's catalogue describes the virtual space of the work as an internet game "in which participants…freely distribute material and non-material goods, building a society that undergoes dynamic changes; several types of society emerge as a result." The combination of online game, questionnaire results, recorded interviews, a newsletter, associated lectures and forums with philosophers and sociologists involved in the project, and statistical analyses, add up to an intriguing survey of intuitive and objective responses to the notion of social justice and its distribution in a nation. All of this is integrated on the web in a permanently open forum.
I ask Kuluncic about her artistic input into the work. "I am managing the project like a visual artist, trying to create the platform or the frame for other people to join. There are now around 15 people working with me: 7 people more or less continuously, though not every day—2 philosophers, a sociologist, web designers and a programmer. I talk with the designers…Sometimes it's not easy, you have to fit the different ideas in. It's like working as a film director. The concept is not so much visual as that art can open up barriers and make a good platform for discussion, to be somehow much more alive, near to real problems and life."
Kuluncic describes the work's travels: "The work has been to the Torino Biennale, Documenta and is on its way to Innsbruck (Austria), Berlin, and Minneapolis (Walker Museum), sometimes all of it, sometimes as in Sydney, just 2 or 3 parts. In the US I would like to add a new part. I don't know what it is yet, something about how the US approaches global distribution. They have a big share in it compared with us in Croatia with 4 million people."
Has the work been shown in Croatia? "We did the initial surveys and discussions there but the finished work will go to Croatia later. That's the idea, the Croatians will be able to see the different models of social justice. This piece comes from Eastern Europe. My grandmother was born in a kingdom, then there was socialism under Tito, there was a war and now we have this wild capitalism…It's not clear what kind of capitalism we are going to have. We want to raise this question to the people because they still don't take enough part in political life. In socialism someone would care about everything for you, your flat, your education. Now it's my flat, my education…but it's not easy to resource and resolve this." One thing that pleases Kuluncic is the arts funding from the Croation government and the city of Zagreb that has allowed a provocative work like Distributive justice to be realised, along with the international galleries and biennales showing it.
Distributive justice has the potential for provocation, but what kind? In the catalogue, Nevena Tudor comments: "There's no so-called direct action that results in something visible, aggressive. It's about the use of intellectual activism, establishing a network of relations to function as a platform every act can rely upon…The action is without provocation, the action that actually means contemplation: gaining space for contemplation."
catchafallingknife.com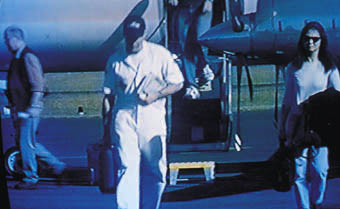 Michael Goldberg, Auriferous – The Gold Project, 2001, Bathurst Regional Gallery
Michael Goldberg is a Sydney-based artist and a former share market day trader who says, "I see stock as a living, breathing organism." What grabbed you? I ask. "Greed!" he jokes. When did it start? "I was sucked in by the Telstra sales share and was a day trader for a while. I enjoyed the click of the button, the knife edge." Goldberg researched candlestick charting which was originally created to monitor stock ("Rene Rivkin thinks it's a joke") and thought it looked very much like art making.
As for his role in his daily dealings and his appearance at Artspace, he is emphatic: "I am not being a stock trader. I'm playing one. I'm going to work like a day trader for 3 weeks at Artspace." He adds, "I am not a performance artist."
Of course, performance artists are usually themselves. Goldberg will be himself. Performance artists work in real time, and often see the sustained duration of that time as significant. Goldberg will respond to market movements, trading his sponsors' $50,000 in Newscorp shares for 3 weeks. If it was his money the performance artist label might fit—the whole event could turn into a financially self-lacerating misadventure. Or it might turn a profit for his anonymous backers. "Catching a falling knife" is stock trader jargon for taking especially risky trades.
Goldberg initially put the idea out on the web, provoking responses like "You're an artist, you're mad", until people realised he was serious. His backers declared a long held interest in being patrons of art. But, they asked, what are your skills as a trader? To prove himself he had to make some convincing market predictions. He did. The anonymous syndicate came good with the money. Goldberg himself will not make money out of the performance, which is the way he wants it. Australia Council funding will look after installation and other costs (he usually teaches at the Sydney College of Arts).
The installation at Artspace will be, he says, "virtual site specific, taking place in the cyber world of the stock market." His focus will be on Newscorp shares only, "riding the stock like a horse. It's a trading project, not investment. It's very short term, minute by minute, In 2 to 5 minutes you can buy big chunks of Newscorp at any time, play it up or down. It demands absolute concentration…80% of share traders don't make any money."
Goldberg says he will become "an agent of risk and reward; my investors know the odds, they're big gamblers who can afford it. The added value for them is the involvement in the arts." He will report to them every day, which involves "a stressful accounting procedure, with public access via the project website." In Artspace you'll be able to see him at work (he'll commute from home) in the mornings, trading (in the afternoons he will have his portable electronic trading system with him, clipped into his belt), posting charts, watching the Bloomberg channel.
I ask what if something major happens, a new Gulf War? Goldberg retorts, "People won on 9/11, bet on the stock going down." At the time he posted a message suggesting that these winners donate some of their earnings to Red Cross.
As for art, "There's an aesthetic in the markets, otherwise there is no point in doing this. Art has to emerge as in the Deleuzian rhizome…like an organism." The candlestick chart patterns will build up. The Japanese names for the movements are lyrical and translate, for example, as 'paper umbrella' and 'dragonfly'. "Each pattern represents a probability—it feels analogous to martial arts, where you look at the probability of moves and move with them."
And, yes, Goldberg will be available to engage with the public, which reminds him of his last installation where he monitored gold share movements (there's an open cut gold mine outside the city and the show at Bathurst Regional Gallery was part of the Auriferous project). He had to put up a disclaimer saying that he couldn't offer investment advice. For that installation Goldberg commuted daily from Sydney, stopping off at the Stock Exchange. He then travelled by small aeroplane to Bathurst to his scaffolding roost in the gallery. There he was surrounded by mats he could fall onto if there was a big dip in the market. In this work he saw his art as portrayal of the "relocation of the value of gold from the dusty hinterland to the stock exchange." The difference this time, he says, is that he's very anxious, working with real money.
Distributive justice, Andrja Kuluncic and collaborators, Sept 19-Oct 12, www.distributive-justice.com; catchafallingknife.com, Michael Goldberg, Oct 17-Nov 9, www.catchafallingknife.com [expired]. Artspace, Sydney.
RealTime issue #51 Oct-Nov 2002 pg. 9
© Keith Gallasch; for permission to reproduce apply to realtime@realtimearts.net
Existing almost purely in the domain of festivals, competitions and private video release, short film's barely existent commercial screening life means that funding one most always involves independent means. As educational tools, short films are an important stepping-stone in the life of aspiring filmmakers. Whilst functioning as vignettes of creative experimentation, they also exist in a practical capacity as advertisements of the filmmaker's skill.
The Young Filmmakers Fund (YFF) was established in 1996 by the NSW Film and Television Office (FTO) to encourage creativity and new talent in the film industry and in essence address the lack of funding for short films. In July this year the FTO announced the recipients of the 11th round of YFF grants bringing the total number of projects that have been assisted by the fund to 67. Each grant offers a NSW resident aged 13-35 up to $30,000 to produce a film (short or short feature) in any format or genre. The virtue of having the fund in place to cultivate local talent has been demonstrated in the success past YFF assisted films have enjoyed. Many have won selection and accolades at national and international festivals and have gone on to be sold to distributors and broadcasters worldwide.
The recipients of the 2002 grants demonstrate the diversity that the FTO supports. The 4 projects range in both content and style spanning black comedy, experimental and short drama. What comes across in discussion is each director's solid sense of vision for their film and a keen sense of teamwork on their production.
Danielle Boesenberg's The Easter Tide, produced by Sam Meikle and Rachel Clements, is based loosely on the marriage of the filmmaker's grandmother, examining how love endures the pain of losing a child. Structured around a series of flashbacks the modern setting will have a "really contemporary look with lots of fluid camera" while the flashbacks will consist of more abstract shots that play with shallow focus to replicate the uncertainty of memory. "[The style is] very much flashes of memory and memory breaking up. With memory you remember certain details and everything else is a bit blurry."
Boesenberg was pleasantly surprised she got funding for the film, musing that "Particularly in Australia there is a tendency to try and make a funny film. [The Easter Tide] is a little story. It's not solving the world's problems or making people laugh or trying to be anything other than a sweet little story." The fact that all 4 of this year's YFF assisted films are not characterised by glaring punch-lines is recognition enough that there are many 'little stories' out there yet to be told by young filmmakers.
Whilst Boesenberg has been harbouring the idea for her film for quite a while she sees it as a nice symmetry that she is able to start production in the year that her grandmother died. Having already made a few self-funded short films with her husband, screenwriter Meikle, Boesenberg is grateful she doesn't have to go down that route for The Easter Tide. "The only way to make films without funding is to beg, borrow and steal and I think we've pretty much used all the calls we can make on that."
Stray Heart, directed by Jason di Rosso and produced by Paula Jensen, was shot on a characteristically low short film budget and made use of the YFF grant entirely in post production. The story follows a lonely kleptomaniac who seeks solace in the shared experience of owning objects. Shot on a Bolex using nearly all natural lighting sources, the experience forced di Rosso's team to be extremely disciplined in their filmmaking. Having scoured for locations where the natural light source "was as good as if we'd had all the trucks and money in the world" di Rosso concedes that "in actual fact we've ended up with a film that anyone would say looks stunning."
The YFF grant then allowed them "pretty much all the resources we wanted" in post production and they finished the film on 35mm. "It was a different learning experience of not necessarily making ends meet but of learning to work on a professional level in an area of the industry I hadn't had much experience in."
Referring to the "dark shadowy edges" of the film's images, di Rosso says the story was created specifically for the camera. DOP Sean Meehan wanted to do something that would lend itself to the look of the Bolex so "I immediately thought of something dark that dealt with the psychological and the metaphysical."
For Louise Fox it was the resonance of a true story she had read that inspired her to write. A Natural Talent is about a woman living in central NSW in the 1850s who gains celebrity status by claiming she has given birth to rabbits. "I was pregnant when I wrote it and surveyed all the pregnant women I know. At some stage they'd all had weird dreams about giving birth to animals. It seemed to be quite a universal anxiety."
As both an inward examination of grief and loss and a black comedy, Fox wants the audience's attitude to shift through the film. She describes it as a "funny, strange and dark" drama and was intrigued by what could have driven a woman to create such a fabrication. "I'd been reading about women in that period and their level of loss (at birth)—5 out of 10 children—and what that did to an entire generation when there were no ways of speaking about it."
Set in the "really dry but very beautiful" region of Wolca NSW, the visual style is influenced by the pastoral image of The Drover's Wife. "I thought about the difficulty of raising children in that world and that iconographic imagery of Australian women in the bush through that period of painting."
For Fox and producer Tamara Popper who are endeavouring to raise more money to fund what will be a short feature (26 minutes) the FTO grant has "engender[ed] a lot of faith in a lot of people" who may not otherwise have had confidence in relatively inexperienced filmmakers.
For Adam Sebire (Le Violon d'Ingres) the grant has allowed his production team to experiment with a new medium. "My background is documentary and this gives me the chance to step into a highly stylised visual and aural realm way outside of that. It will push all the crew in that sense and if it doesn't I guess it won't have succeeded."
The film is a surreal exploration of Man Ray's photograph Le Violon d'Ingres. The famous photograph depicts a nude sitting with her back to the camera, f holes super-imposed on her skin so that she looks like a cello. Using one long tracking shot around the photograph, the film is set to the music of Satie's Gymmopedie No 1 and also references the poem said to have inspired Satie. According to Sebire it will be a "concentrated mix of music, poetry, light and sensual and surreal shapes all coming together in a tapestry."
Sebire's concept works against the view that Man Ray's photograph places the woman as a passive object of desire. "In this film she comes to life and gazes directly and intensely at us, she sings us this poem and eventually metamorphoses into her cello 'other'." Yet rather than dealing with notions of the male gaze, Sebire is interested in debates about the depiction of 'reality' in photography. "I think Man Ray was playing with the idea of whether a photograph can be trusted to represent the truth. He has this very surreal image where we're not sure if she's a woman or a cello."
Conscious that the idea of photographic manipulation has topical relevance, Sebire wants to "experiment with a type of 21st century surrealism to play with the illusion that Man Ray set up. Perhaps people will start to think about how we can look at an image and be sure that it's telling the truth."
The Easter Tide, director Danielle Boesenberg, producers Sam Miekle and Rachel Clements. Production to commence in Jan 2003. Stray Heart, director Jason di Rosso, producer Paula Jensen. Production completed. A Natural Talent, director Louise Fox, producer Tamara Popper. Production to commence in December 2002. Le Violon d'Ingres (working title), director Adam Sebire, producer Fiorenza Zito. Production to commence 2003.
RealTime issue #51 Oct-Nov 2002 pg. 32
© Ghita Loebenstein; for permission to reproduce apply to realtime@realtimearts.net
It is opening night at the Schauspielhaus in Vienna's 9th district. The foyer is packed with vibrant yet reserved Viennese for the second season of Paul Capsis' Boulevard Delirium. Viennese are a very diligent theatre going lot with the city boasting 45 theatres for a population of 1.7 million. There is no need for programs to develop new audiences or to attract young people—it is a core aspect of a culture that has spawned the likes of Mozart, Strauss and Klimt to mention but a few. The minister for culture, who was in attendance on opening night, is the third most powerful man in Austrian politics. It is not surprising that one of Australia's most challenging and talented directors Barrie Kosky has taken up residence there as the director. With an annual budget of just under 3 million (AUD), a core staff of 10, a box office income expectation of just 5% and 3 month rehearsal periods he says it's like a dream come true.
The house lights dim and Capsis appears spot lit in front of a lush red velvet curtain, his burlesque character in total harmony with the theatre's historic ambience. Top hatted and tailed, he launches into a sumptuous rendition of 'Windmills of My Mind' which segues seamlessly into the wrenching 60s classic 'Anyone Who had a Heart.' The audience is transfixed.
From this intimacy the curtains part to reveal the full complement of the musical ensemble. Capsis is in his element, he is singing the blues-and how! The songs are raunchy, and the Viennese bristle. Relief comes climactically through the heartfelt ballad 'Little Girl Blue'. Capsis then evokes Garland and we are her audience in Carnegie Hall. Kosky's delicate orchestration allows us an intimate insight into this vulnerable persona. Through classic standards such as 'The Man that Got Away' and 'Get Happy', Capsis is able not only to interpret Garland but also to add layers through his unique renditions, from pop to punk and back again.
The Viennese swoon to Marlene's appearance in their native tongue, only to be caught off guard by a strident Streisand attacking them with 'Don't Rain on My Parade.' And before our next breath, we are praising the lord in a fervor of gospel evangelism.
With a twist of his hair and the placing of a flower, Billy Holiday makes her entrance. Close your eyes and the similarity is remarkable, the characterization sublime.
A Capsis show is never complete without Janis hitting the stage; her reckless hair and loose presence throw us into a free love euphoric Woodstock affair. The audience go ballistic. Capsis and Kosky cleverly exploit this dynamic by catapulting us into a sensational version of Queen's 'We are the Champions', the poignancy of the rock 'anthem' touched the heart and soul of the audience. Capsis exits leaving us chanting for more. We are appeased by a beautifully stark rendition of 'Summertime' before he concludes with the edgy and provocative 'Home Is Where the Hatred Is.'
Broadway Delirium is the culmination of the Capsis experience, combining his favorite characters over the years in a fresh interpretation. Kosky's clever staging, lighting and direction create a richly dramatic journey, the essence of which lies in the brilliant placement of songs. Backed by a very agile and tight band led by musical director Roman Gottwald, the electric combination of Kosky and Capsis results in a dangerously sophisticated and stylized cabaret. The Viennese loved it.
Paul Capsis, Boulevard Delirium, director Barrie Kosky, musical director Roman Gottwald, Schauspielhaus, Vienna, Sept 6.
RealTime issue #51 Oct-Nov 2002 pg. web
© Alex Galeazzi & Panos Couros; for permission to reproduce apply to realtime@realtimearts.net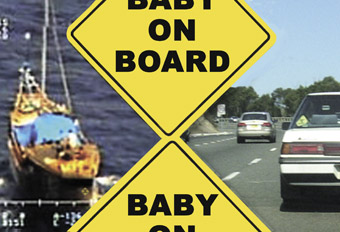 Simon Anders, Summer Holiday, shortlisted entry to the BORDERPANIC postcard competition in association with Avant Card
Conscious of the growing involvement of artists in political protest through their art and the utilisation of conventional and digital media technologies, RealTime's editors approached media theorist McKenzie Wark to comment on where he sees Tactical Media fitting in the bigger picture of power and media.
For there to be such a thing as tactical media implies that there are also strategic and logistic media. These terms go together, and describe 3 different levels at which contestation can take place. If the tactical is local and contingent, the strategic involves planning and coordination. The logistic would then refer to systematic, global and long range organisations of forces.
Paul Virilio argues that in military affairs conflict has passed from dominance of the tactical to the strategic and on to the logistic. These days the whole planet is organised on the basis of a logistical ordering of production and communication. The casual way in which a war against Iraq can be talked up on the global stage, in a way convenient for the Republican Party in the United States in an election year, points to the underlying logistical militarisation of the whole of society. It is simply taken for granted that there is a force ever at the ready.
As Friedrich Kittler argues, the design and layout of the silicon chip bears the imprint of its military origins. The logistical principles of organisation can be found just as readily in the communication and media spinoffs from military organisation as in the war machine per se. We might speak of this society as a military entertainment complex, in which the same logistics apply to the traversing of the sky by bombs and by data.
The principles of this logistics are not complex, although their effects may be. Information has, since the telegraph, moved faster than people or things. The telephone, television, telecommunications, not to mention the radio, the internet and the cellphone, are all part of the unfolding of the key logistical principle–telesthesia, or perception at a distance.
Telesthesia makes it possible for information to move faster than people or things, and thus to become the means of organising the movement of people and things. This is what separates the American logistical empire of the air from its great predecesssor, the English strategic empire of the sea of the 18th century. The latter was not able to organise all that effectively at the logistical level, as it lacked the means of communication to marshal resources in depth and monitor events on a global scale in realtime.
The organisation of power is increasingly logistic, and yet the current rhetoric about alternative responses is about 'tactical media'. This seems a strange state of affairs. Surely we should be talking about strategic media, even logistic media. It may be somewhat self defeating to think only on one of the possible levels of organisation for counter power.
It's worth taking a look at what the rhetoric of tactical media is meant to achieve. It has become a popular term. Ironically, it is even mobilising strategic resources. Institutions are putting resources into it, supporting the beginnings of what could be a coordinated network of resources with some depth and continuity. From talking to people at various foundations here in New York, I get the impression that Tactical Media is turning into a handy way of classifying programs of experimental media that otherwise cut across accepted categories of activity.
One of the richest sources for the rhetorics of tactical media is Geert Lovink's new book, Dark Fiber (MIT Press). As one of the original promoters of the term, Lovink has a subtle sense of just how it can be deployed to mobilise resources. It's interesting just how much semantic freight Lovink tries to get this term to carry. Tactical media, he writes, is to "combine radical pragmatism and media activism with pleasurable forms of nihilism." But it is also "into questioning every single aspect of life, with 'the most radical gesture'."
Tactical media plays with "the ambiguity of more or less isolated groups or individuals, caught in the liberal-democratic consensus, working outside the safety of the Party or Movement, in a multi-disciplinary environment full of mixed backgrounds and expectations." It is also "about the art of getting access, hacking the power and disappearing at the right moment." While "tactical media are opposition channels, finding their way to break out of the subcultural ghetto" it is also "a deliberately slippery term, a tool for creating 'temporary consensus zones' based on unexpected alliances."
"What counts" with tactical media "are temporary connections between old and new, practice and theory, alternative and mainstream." But it is also "a question of scale. How does a phrase on a wall turn into a global revolt?" Tactical media may intervene within a movement, but it may also link a movement to social groups. Or perhaps it is even a "virtual movement", with no existence outside of its network expression. Then again, "perhaps we are just a diverse collection of weirdos, off topic by nature."
What I find interesting about this collection of quotes from Dark Fiber is that the most tactical thing about tactical media is the rhetorical tactic of calling it tactical. It's a way of short-circuiting the theoretical debates of the 70s and 80s, which put enormous emphasis on getting the theory of representation aspect of alternative media together, to the point that the practice of creating media was often strangled at birth by wranglings over the signifier.
Tactical media is a rhetoric for bypassing the theory of representation, if only to sneak up on it from behind. By claiming no strategic leverage for a particular subject doing the representing, or a certain methodology for doing the representing, or even any particular veracity for the representation, tactical media unblocks the flow of practice. But it does so at the expense, not so much of issues of representational strategy, as issues of communicational logistics.
At best, we could think of tactical media as a tactic of compromise on representation. Let a thousand flowers bloom. Try lots of different tactics. Borrow from art history, from media theory, think of it as a temporary activity which need not make overarching claims or defend its legitimacy. See what works. But the unresolved problem is how to 'resource' such a field of practice. How are resources to be allocated? How are networks to be sustained?
For all their diversity, rhetorics of tactical media tend to assume much the same analysis of the overall situation of what I am calling the military entertainment complex. There's a background image of it as monolithic and pervasive. The tactical appeals as a way of getting into the cracks. The tactical is a 'rhizome', a 'temporary autonomous zone', an instance of the 'multitude'. In other words, it seems to fit with the popular theories of the day.
The problem is that the popular theories of the day are not media theories. A media practice is being deduced from theories that for all their sophistication in other respects, tend to have somewhat simplistic views of media. Worse, they tend to see media as a mere add-on, rather than as a central object of concern. If we are indeed living in the shadow of the military entertainment complex, then the technics and techniques of telesthesia need to be organising principle of the theory.
I am not suggesting, however, that we need to get the theory right before anybody starts trying to make media. That would be to return to the old arguments about 'representation' that still haunt the more atavistic corners of the cultural studies establishment. Rather, it's a question of doing theory and practice together. Perhaps we need tactical theories to go with the tactical media practices. Tactical media may derive some of its energy from simplistic theories of media, but it gets a lot more from immersion in issues, in working with technologies, in creating competences and skills among people, and so on. It's a question of turning theoretical attention toward what tactical media workers are doing. An excellent example would be Graham Meikle's new book, Future Active (Pluto Press), which does exactly that.
Some may object that in even speaking of media in these terms, I am buying into a militarised rhetoric. (I remember a book reviewer who objected to my use of the terms 'culture wars' and declared an intention to sit those wars out in the coffee shop.) The objection has some force. However, I don't think one can so easily exempt oneself from what may be a systematic mobilisation of forces. I have certainly been more struck by this since moving to the United States. Even if one wanted to work in a way that refused the rhetorics and practices of conflict, one would need to think through just how such a practice might work in a militarised environment.
Tactical media has been a productive rhetoric, stimulating a lot of interesting new work. But like all rhetorics, eventually its coherence will blur, its energy will dissipate. There's a job to do to make sure that it leaves something behind, in the archive, embedded in institutions, for those who come after.
Geert Lovink, Dark Fiber: Tracking Critical Internet Culture, The MIT Press, 2002
See also Bec Dean's "The artist and the refugee: tooling up for action" (RT49), Jean Poole's review of Ian Meikle's Future Active and Grisha Dolgopolov's report in RT 52 (Dec-Jan) on the Borderpanic events and conference in Sydney in September.
RealTime issue #51 Oct-Nov 2002 pg. 10
© McKenzie Wark; for permission to reproduce apply to realtime@realtimearts.net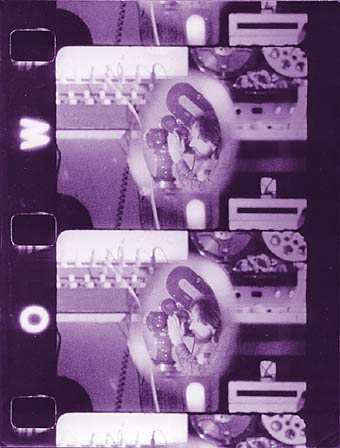 Crosswaite, The Man with the Movie Camera
The insertion of a major retrospective of experimental films from the U.K., Shoot! Shoot! Shoot! into the Melbourne and Brisbane In International Film Festivals brings into focus the way marginalised work is received and perceived here, how it relates to our own history and also triggers current concerns about technical resources.
Mark Webber, freelance film curator and writer (and guitarist with British band Pulp) sifted through hundreds of 60s and 70s 16mm films from the London Filmmaker's Co-operative (LFMC) to curate Shoot!…. After taking 2 years to assemble, the films were initially screened at the Tate Modern in May this year. Webber was a guest at both Australian festivals.
The selection, he stated, is by no means definitive but does fairly represent the period. Some of the better known works have been overlooked in favour of the rarely seen. Those of us starved of access to films from this era from the National Library of Australia's National Film and Video Collection (once accessible, for example, through the National Cinematheque and Experimenta screenings, and those organised and researched by Peter Mudie over the years) certainly appreciated this approach. In Melbourne, where I saw Shoot…, Experimenta presented the single screen films at Greater Union Russell Street as part of MIFF and the Multi-Screen Events at gammaSPACE in Flinders Lane.
Though some of us were re-visiting this subversive artist-centred era of cinematic practice, the bulk of the audience seemed to come to this work for the first time. Hopefully, for them, the program put some of the current concerns in new media about speed, repetition, structure and collage within an historical perspective.
gammaSPACE most closely replicated the intimate and transient spaces where such works first surfaced. There the audience responded disarmingly and directly to Anthony McCall's Line Describing a Cone (1973 30min b&w silent). This film was simply a white circle drawn slowly over 30 minutes on a black background and projected through a smoke generating machine. The cone which thus materialized was touched, broken, examined and delicately interacted with by the audience, enveloping them into the film's performance.
There was also a panel discussion at the MIFF Festival Club where Webber was joined by Simon Field, Director of the Rotterdam International Film Festival, and Simon Gammell, Director of The British Council (Australia). Talk was nostalgically centred around the empowering energy of independence, its politics and the artist-based nature of the self-contained LFMC which incorporated production, distribution and exhibition under the one roof.
The rigour of the Marxist theoretical stance emanating mainly from the writings of Le Grice and Gidal, the oppositional, formalist and conceptual nature of the work was at one point described reverently as Anti-Film. Such a comment underscores how "film" continues to be defined from the theatrical /story-telling end of the filmmaking spectrum, its dominant entertainment arm. It is worth looking at ES Small's Direct Theory: Experimental Film/Video As Major Genre (Carbondale, Southern Illinois Univ. Press, 1994 ) for an argument that such marginal experimental filmmaking is a form of theorizing in and of itself. Even more important is looking at the films themselves, given that so much has been written about them over the years.
Even the films presented in the section entitled "Structuralist/Materialist" were experienced as quite unassuming, delicate, playful, open and inviting. Unlike the theoretical/political discussions around them these films do not in themselves deliver any sense of ranting rhetoric. The program delivered a sense of a vulnerable human conversation between equals.
Shoot… allowed me to re-experience the pull of that film community, that international yet local film project. Each film in this program was like a sentence about film made in conversation with the surrounding work. Artists were talking to each other and their audience about film through film: as texture, flicker, material, repetition, crackle, time, landscape, dance, diary, multimedia, performance and so on.
This was a conversation into which many of us coming into film at that time felt unassumingly drawn. Many Australian filmmakers including Corinne and Arthur Cantrill, James Clayden, Marcus Bergner, John Dunkley-Smith and Albie Thoms were marked by such an impact and in their travels their work has found its way to a screening at the LFMC. While in London Dunkley-Smith collaborated with Guy Sherwin (represented in Shoot… by At the Academy (1974, b/w sound 5min). More needs to be made of such connections when importing blockbuster programs from overseas. Sure, this LFMC film work is outside the main game but here in Australia the local work experiences the schizophrenic reality of being outside the outside. Perhaps this is no different to those who came after this acclaimed "golden age" at the LFMC itself. As former transitional Londoner Paul Rodgers pointed out to me, that group has had to fight for the survival of the co-op itself as they watch their own work get marginalised even further.
My experience of the program was positive, though there were disappointments. Mark Webber himself was understandably affected by some of the unfortunate technical incidents that occurred during the Melbourne screenings. This culminated at gammaSPACE with him withdrawing David Larcher's Mare's Tail (1969, colour, sound 143 min) from the program after the projector's take-up reel failed. It was a pity because the only other screening in Melbourne of this film had been in the mid 70s at a seminal screening of British Avant Garde film at the Melbourne Filmmaker's Co-op in Lygon Street (yes, we used to have an artist run film co-op here too). Experimenta's Executive Producer Fabienne Nicholas pointed out that it was a hard decision to cancel the screening but given the difficulty of sourcing acceptable film equipment it was prudent to not risk damage to a precious, stretched 30 year old film print.
We are indebted to BIFF for getting such a demanding and satisfying program to Australia, and to Experimenta and MIFF for getting it to Melbourne. Yes, it is disappointing that technical issues relating to projecting film in gallery settings remains an issue here. This is despite film's growing importance within fine art communities internationally. It should be a solvable issue given the growing technical complexity of new media performance and installation amply evident at Prototype, an exhibition of New Media installations at another successful Experimenta presentation (see Lisa Gye).
Nor was the MIFF immune with some of the films in the final Diversifications section of Shoot… having to be shown silent because of equipment failure. It is hoped that Festival Director James Hewison, who has delivered a very successful festival, will show the leadership necessary and persevere in screening experimental work. As the festival discussion panel on 'Global Film Culture' noted, experimentation and the retrospective could be 2 of the stated cultural objectives of a progressive film festival.
Shoot! Shoot! Shoot! ,Brisbane International Film Festival; Experimenta, Melbourne International Film Festival & gammaSPACE, July 2002.
RealTime issue #51 Oct-Nov 2002 pg. 33
© Dirk de Bruyn; for permission to reproduce apply to realtime@realtimearts.net
Like the best of modern dancers, Bebe Miller watches movement intently. At her Melbourne workshop presented by Dance Works in June this year, the New York choreographer asked the participating dancers to "take the idea of weight being at risk and allow an interruption to happen." She wants them to avoid the familiarity of their known dance vocabulary, or its beauty. "How does an interruption become a staccato pattern? Why is that dissolving gesture a continuous thought rather than a break with form?" The dancers struggle with these ideas in their improvisations. Katy McDonald has one foot curved under while another foot is flat, then she flips her body over like a tensile cat. Miller responds with a series of strategies to intervene in the phrasing of movement-hair-pulling, visual or aural distraction, speaking in one ear, manipulating body-parts.
Later in conversation, Miller explains this idea of interruption, as both an aesthetic and political act. She is interested in the 'civilian body', a body available to the dancer outside her training but which becomes buried in the habit formation of dancing. "It is only when we know that we have habits that we can use them. Why is the habit of 'light touch' always about the same temperature and the same weight in relation to the task at hand. If you change that, then what do you feel? Or resist it? And what if you follow through?" This habit change involves utilising the pedestrian to interrupt the codes they have as dancers.
Political dimensions of being seen as dancers with civilian bodies are linked to interruption. "Studio practices have myths about equality and about mood as if you accomplish what you need to within given rules. But I'm not here to make everything equal. Two men together carry a charge, 2 women, black and white – we live in this world where those things are real so I try to let that be visible."
I ask Miller where choreography is going in the 21st century? "I think we're in the middle of a 40 year shift and time is not on our side. I feel there is a path towards relevancy. I went to Eritrea in Northern Africa a couple of years ago for 3 weeks. I'm in a foreign environment and I had this sense of them looking at me intently while I'm looking at them intently. They are looking at someone foreign inside something familiar, so we have a different point of view in terms of intensity. What is that about? Is that something that I can capture in dance? As I work on it, it occurs me to that that difference of gaze is political. It shows up in Ohio, it shows up in Pakistan and Palestine. What seemed like a foreign adventure is in fact localised. So the choreography is about how I can use the home environment, not recreate an African experience. It is not just about race, it is about vibrating in a different way. That is the ultimate test of globalism, can you allow that body vibrating differently to be next to you."
Her voice in class says "go-girl"and "Yeah! Yeah! "and "oh, hello" when she sees an interruption that vibrates. In watching, Bebe Miller shares this potential for dancing to create physical or psychic change even though she does not know where the choreography of civilian bodies might go in the future.
Bebe Miller workshop, Dance Works, Melbourne.
RealTime issue #51 Oct-Nov 2002 pg. web
© Rachel Fensham; for permission to reproduce apply to realtime@realtimearts.net
I refer to Solrun Hoaas' "An Australian Blindspot " in RealTime 50. As the Festival Programmer for REAL:life on film I feel it is important to respond to some of the criticisms raised by Hoaas in relation to the dearth of Asian programming at this year's festival.
Since its inception in 1999, REAL:life has attempted to redress the balance of anglo-centric programming within the Australian screen culture industry with a culturally diverse program of documentary films in terms of origin, content and style. While I agree that documentaries from the Asian region did not adequately feature at this year's festival this was by no means due to a disregard for the promotion of the cultural, social, political or personal issues represented through Asian documentary or the styles and sensibilities of Asian cinema. This was, in actual fact, a result of the limited submissions received from Asian filmmakers both internationally and locally.
Out of the 10 international titles that screened at this year's festival, REAL:life featured documentaries from the USA, UK, Japan, Iran, Romania and France. While most of these films were co-productions with UK or USA-based filmmakers it is important to note that over the past 3 years REAL:life has showcased documentaries from all over the globe including India, Israel, Lebanon, China, Slovenia, Ethiopia, Slovakia, Poland, Lithuania, Taiwan, Cuba, Egypt and many more. The 13 Australian titles selected to screen in 2003 featured culturally diverse stories from the parochial to the international. A number of these addressed issues within the region including the aftermath of the East Timor declaration of independence, the impact of the 1984 Indian Sikh riots on an Indian-Australian family and Korean-American cross cultural identity.
With the growth of the festival, greater resources and better access to international titles, REAL:life looks forward to featuring more Asian documentaries and is currently researching potential titles for inclusion at the next festival.
Kind Regards,
Natasha Gadd,
Festival Programmer REAL: life on film
RealTime issue #51 Oct-Nov 2002 pg.
© Natasha Gadd; for permission to reproduce apply to realtime@realtimearts.net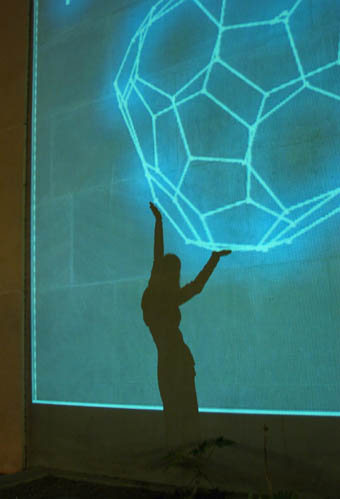 Victoria Vesna & Jim Gimzewski, [email protected], nano dreams and nightmares
The first Biennale of Electronic Arts Perth (BEAP), directed by Paul Thomas, had an ambitious multi-threaded program encompassing 3 exhibitions, along with several conferences, forums and symposiums, seeking to both present electronic artworks and investigate their theoretical and philosophical aspects.
BEAP's themes, including biotechnology, consciousness, locality, virtual reality, and alternate and experimental modes of projection sparked debate, with many artists and theorists at the CAiiA-STAR Consciousness Reframed Conference focusing on notions of reality and how interacting with electronic arts alters consciousness. But what does this actually mean in practice? Immersion, curated by Christopher Malcolm at the John Curtin Gallery, responds by showcasing electronic installations from both Australian artists and Internationals (mostly associated with CAiiA) whose practice deals with interaction, artificial intelligence, portals and alter-realties.
The main gallery was dominated by the elegantly simple [email protected]: nanodreams and nitemares, a collaboration between Victoria Vesna and nanoscientist Jim Gimzewski (both USA). The artwork's interactivity is based on the way a nanoscientist manipulates an individual molecule billions of times smaller than common human scale but projected on a massive scale. The viewer stands in front of a tonal projection casting a larger than life shadow which activates the software nano-molecules or buckyballs. These respond via sensors to the movement of your shadow, changing shape and direction so that you can manipulate the molecule through the interface of your body. The resultant human interaction is incredible: normally staid audiences lose their self-consciousness and jump, dance, and move their arms and bodies to shift and alter the projections in a truly immersive virtual shadow play.
On the opposite end of the scale of ethereality is Ken Rinaldo's Autopoiesis where we are spatially engaged by 10 giant metallic and vine branch robotic arms or tentacles suspended from the ceiling, moving in response to gallery viewers and each other's movements. The artwork/organism modifies its behaviour over time. It's silent when the gallery is empty, however when one enters, the arms jump into action like synchronised swimmers, or Star Trek borgs communicating with each other via audible telephone tones. Rinaldo's work also places our bodies in dialogue with what seems to be alien intelligence—bringing into focus the symbiotic relationship between biology and technology.
Nigel Helyer injected some contemporary political content with his subtly minimal sound installation Seed. The gallery audience utilises headphones attached to land mine detectors to hear the exoticised Arabic music emitted from small mines placed on mini Persian carpets. Other Australian works included Chromeskin, the result of a 3-year collaboration between west coast artists Richie Kuhaupt and Geoffrey Drake-Brockman, and Lynne Sanderson's Somnolent Fantasies. Stelarc was well represented, from documentation of his 1970s skin piercing performances through to his current technologically augmented practice, with the sculptural metallic Exoskeletons of his performances on display—works that make it obvious that electronic arts have antecedents in performative art practice.
Skylab was another collaborative work, a 3D video installation by Biennale advisor David Carson with 3-D video artist Brian McClave (UK) and George Millward, a UK based atmospheric physicist and experimental electronic musician. Dealing with regional issues, it was viewed through 3D glasses, evoking a cosy retro cinematic feeling. The large-scale back projection created a mesmerising Turell-like space, where image and text free-floated with astronauts, combining NASA footage with local media snippets detailing the fear of space junk falling onto Perth.
Even more locally based was Screen, an exhibition of WA artists curated by Pauline Williams situated over 6 locations across the city, as well as tucked into a long corridor at John Curtin Gallery. This limited space on the way to the toilets was utilised to great advantage by Rebecca Dean, Paul Caporn and David Fussell with their blue lagoon video, performance and text installation, documenting love gone wrong against a background of idyllic palm-tree wallpaper scenes in individual toilet cubicles.
Screen also previewed the new CD-ROM (strangely categorised as an "interactive film") from Perth producer Michelle Glaser (see RT48) and a talented production team. The psychoanalytic Dr Pancoast's Cabinet de Curiosities has a 1920s illustrative aesthetic reminiscent of a medical textbook. The viewer is quickly engaged by exaggerated mouse movements, either pulling phallic-like objects or rubbing the mouse furiously to move to new screens, find more information, or stimulate sex organs. Via this voyeuristic screen frottage we enter the doctor's intimate arena of naïve erotica viewed via keyholes and peep shows. His phantasies immerse his patient, a certain Miss Smith, in a carnivalesque atmosphere of exquisite caricatures and evocative soundscapes. It feels nicely naughty, and again on the collaborative thread, is best viewed with a friend.
BEAP was not without teething problems. The geography of Perth and the scattered locations of events, as well as the CAiiA conference being held in 2 venues, meant a lack of cohesion, some confusion, and hours of daily travelling for conference delegates. Additionally, the restrictive opening hours of John Curtin Gallery meant it could not accommodate the large audience for the major drawcards, Canadian Char Davies' Osmose and Ephémère, the best-known Immersive Virtual Environment works available today. These ground breaking breath-navigated, individual head-mounted display worlds from the mid 1990s rarely travel because of the expense and the logistics of their installation. Simply extending gallery hours, or at least opening on Saturday, would have made them more accessible to both local and visiting audiences.
Then there was the glaring divide between the space and resources allocated to installation and screen-based work. BEAP Director Paul Thomas' belief that net.art doesn't belong in a gallery meant this medium was not well represented. This was unfortunately demonstrated by the staging of Robert Nideffer's (USA) online proxy.com and creepycomics.com as a short series of slides projected high in a tiny room. Proxy.com (http://www.nideffer.net/homey.html) is a great online work, however it takes time for individual set-up and to acquire the skills to play. I highly recommend viewing it online as it immerses you in a world of electronic characterisations and interactions. However it was a poor curatorial choice in this context, as it does not lend itself to casual gallery viewing, which many other online interactive pieces are specifically designed to do.
Overall BEAP was a very successful event celebrating electronic arts and developments in science, technology and philosophy. It did bridge the ambiguous spaces between the audience and the artwork, providing alternate modes of interaction and engagement. As well, the focus on interaction is a timely reminder that, as galleries and museums start to acquire electronic works, they are best valued by their shared experiential potential rather than as discrete objects. By coming to terms with its staging problems and omissions BEAP in 2004 should be an event to look forward to.
Biennial of Electronic Arts Perth (BEAP), July 31-September 15, www.beap.org
See also Stephen Jones on BEAP.
RealTime issue #51 Oct-Nov 2002 pg. 11
© Melinda Rackham; for permission to reproduce apply to realtime@realtimearts.net
New Moon, director Marilou Diaz-Abaya
The third Sydney Asian Pacific Film Festival gave the impression of a cultural event nascent with possibility. Despite the abundance of work to source, the program comprised a promising sample of films from across the region combined with popular cult offerings.
Opening night featured festival guest Zhang Yimou's Happy Times. While Yimou's earlier works, Ju Dou, Raise the Red Lantern and Shanghai Triad are saturated in colour, allegorical period themes and immaculate stylisation, Happy Times focuses on contemporary Beijing and those marginalised by China's economic miracle. Zhao (Zhao Benshan) is a retired factory worker struggling against the stigma of poverty in his longstanding yearning to marry. When he finally locates a prospect through a dating agency she demands an expensive wedding, the first indication of her new China greed. Zhao's friend suggests they raise money by hiring out an abandoned bus to young lovers, The Happy Times Hut. Zhao, embellishing his standing by masquerading as a successful hotelier, is persuaded by his fiancée to take care of her stepdaughter Wu Ying (Dong Jie). Zhao becomes increasingly protective of the blind Wu Ying as their friendship evolves through shared feelings of loneliness and abandonment. Despite at hinting the possibility for greater intimacy, Yimou crucially frames their mutual need within the overwhelming dispossession of a new class unable to define its place, making the comedic and humanist touches seem whimisically misdirected at the film's emotionally demanding resolution. While Wu Ying escapes to make her own way in the new world, Zhao's future is as forebodingly open-ended as China itself.
Demonstrating much about modern China's reading of western individualism, Quitting is an autobiographical account of Jia Hongsheng, a prominent actor whose career is derailed by drugs. After months of smoking pot, Hongsheng becomes convinced he is the progeny of John Lennon and is committed by his family to a mental asylum. This is not the kind of hedonistic depravity the world's alternative press might latch on to as an example of vertiginous chic, and audiences jaded by the west's fetish for chemical excess in film (drug porn) will find the film's earnestness naive. With Honsheng's elaborate confession to authorities the key to his redemption, it's little surprise Quitting passed Chinese censors despite its taboo subject.
In contrast, Tekashi Miike's Dead or Alive (Japan) is a vision of surfeited postmodernity. Its opening montage is a machine-gun paced exposition of Tokyo at the moment of apocalypse. A prostitute jumps from a high-rise, a man greedily snorts a 5-metre line of cocaine, hit men pull automatic weapons from a convenience store's frozen food section, a Chinese crime lord erupts ramen noodles as a gluttonous feast ends with an assassin's bullet, and for a further 10 minutes violent imagery cascades in a tsunami of perversity and power. Miike's disintegrating world is constructed from images without origin—the same diaspora and rootlessness that defines his characters. Crime fighter Jojima (Aikawa Sho) and gangster Ryuichi (Takeuchi Riki) share a profound longing for connection and place. Jojima is alienated from his family and Ryuichi is the offspring of 'Zanryu Koji'—children left in China after WWII who returned unwanted to mainland Japan. Feeling no debt to Japanese society, Ryuichi and his small group muscle in on the Shinjuku underworld. The searing final confrontation between Jojima and Ryuchi suggests anything is possible in Miike's films. Apart from the lead actors, the sequel to Dead or Alive is a complete departure. Sho now plays Mizuki the hit man and Riki his mysterious rival. Escaping from the yakuza the two share a ferry-ride home to a small island far from Tokyo, rekindling a childhood friendship. With the spiritual hollows of the Tokyo underworld behind them, the island gives rise to a nostalgia for lost innocence. Refreshed and purposeful, the killers leave to revive their careers, pledging to donate future profits to help suffering third world children. Despite a brief period of renewed professional gratification, the team discover the yakuza have long memories and hit men aren't a rare resource in Tokyo city. Using a formula of chaotic imagery heavy with pastiche and satire, Miike takes the yakuza genre firstly to a limit of excess in DOA I, switching to a far more mercurial sense of possibility in the sequel. With his prolific average of 4 films a year, the crammed and sometimes vocal audience was evidence of Miike's revered reputation in Japanese cult cinema.
Hong Kong's signature action films were absent from the program, but flights of HKs irreducible cinematic imagination were on offer in the animated children's film My Life as McDull. McDull is an animated piglet and he's impossibley cute. He's also a failure in the eyes of his mother, and seeks to prove his worth by becoming a master in the ancient art of 'Kung Fu Bun Snatching' (no really). My Life as McDull is scattered with many Desiderata-like platitudes to assuage the gravity of average inadequacy, but a blending of disparate animation techniques and an almost random inventiveness from image to image is enough to overcome a lack of ballast.
Sandy Lives (Vietnam) demonstrates how the cinematic image has the power to place us in another cultural reality, if only as tourists. Set just after reunification, a husband and wife reunite after a 20-year wait, only to find their lives are now irrevocably disconnected. Memory, desire and the lingering horrors of war shift together and apart like the transient shores upon which their riverside village is built.
Entertainment as myth disguising social and economic contradiction is at the core of Heart's Desire, the smash hit of 2001 Indian cinema, providing the festival's best taste of popular Asian cinema. Set in Mumbai's equivalent of Bel Air, 3 baby-faced young men sing, dance, laugh and cry through 3 hours of gushing Bollywood optimism and coming-of-age romantic longing. After their summer of discovery, Aakash and Sameer are matrimonially bound. Siddharth, the inquisitive, sensitive young artist almost derails the friendship by falling for Tara (Dimple Kapadia), an older woman with a child and a drinking problem. From the ensuing fallout we learn that young Indian men are strongly discouraged from relationships with older women who like a drink. Thankfully for the buddy motif, Tara dies of cirrhosis, allowing the trio to blossom to manhood accompanied by more socially acceptable partners. Despite occasional thematic reservations, it's impossible not to enjoy this Mumbai 90210 epic with its sprightly performances from Aamir Khan, Saif Ali Khan, Skashaye Khanna, and Preity Zinta, and especially the scenes shot in Sydney.
For me the festival standout was New Moon, a contemporary dramatisation of the resistance of Mindinao Muslims in the Philippines. Akmad (Cesar Montano) is a Manila doctor who returns to rescue his family from attacks by state-sanctioned Christian militias. As Akmad is drawn deeper into the conflict, director Marilou Diaz-Abaya subtly subverts an obvious moral resolution, emphasising the complexity of history and tolerance. The mostly expatriate Filipino audience connected deeply with the deft storytelling, sighing in epiphany at twists in the sentient narrative, demonstrating how the collective experience of engaging with film transforms according to viewing culture. Cesar Montano's introduction of the film increased the generous and intimate audience fervour. Leaving the session, I was repeatedly asked if I enjoyed the film by enthusiastic strangers. How often does such openness occur in Sydney's film-scene citadels?
Unsurprisingly, New Moon and Heart's Desire shared the audience award for most popular film. The Short Soup short film competition winner was Tree by Eliza Johnson, an impressionistic and simple play of colour in which a young girl protectively remembers her dead mother through elaborate rituals. Ballad of the Praying Mantis by Naoki Tsukushi, a fatal affirmation of queer identity over family duty was the winner of the SBS eat carpet award. Also promoting a sense of Asian community were seminars on co-productions and the special challenges facing filmmakers in developing unique Asian-Australian voices, a retrospective of formative and hitherto suppressed Chinese animation, and a 'meet the filmmaker' session with cinematographer and Wong Kar Wai collaborator Christopher Doyle.
Despite room to grow the program, directors Juanita Kwok and Paul De Carvalho have succeeded in bringing the vast voices of Asian cinema together in best possible spirit. While Australia's view of Asia is so often founded on economic opportunism rather than a desire for cultural understanding, festivals such as the Sydney Asia Pacific Film Festival are vital in promoting greater regional awareness. With screenings mostly well-attended audiences can only hope for an expanded festival in 2003.
Asia Pacific Film Festival 2002, Dendy Martin Place, Aug 8-17.
RealTime issue #51 Oct-Nov 2002 pg. 34
© David Varga; for permission to reproduce apply to realtime@realtimearts.net
Fortyfive Downstairs, once a gallery now a gallery and performance space, hosted a winter collaboration between art and dance, entitled Focus 4. During its season, the space was arranged by placing 4 installations side by side, and nightly cameos in a vestibule. Its audience was led into each constructed situation to bear witness to the dancerly component which brought alive each installation. Dancers and artists integrated their work to differing degrees, with some constructions necessary to the dance, some complementary, some autonomous and others a hindrance.
Stephanie Glickman's movement bore great allegiance to Michael Sibel's large, steel sculpture (a conical monkey bars). Glickman sought inspiration from the limitations of bounded space, climbing, weaving, and swinging from steel bars. Here, installation offered an aesthetic puzzle, which provoked Glickman towards a bold clarity of exploration. By contrast, Benjamin Gauci and Louise Rippert seemed to mirror each other: both working in a minimalist sense, whether with white ceramic shapes and flour, or repeated circular movement leaving floury traces. Together, a sense was created of gentle but insistent assertion. Marc Brew's collaboration with a wheelchair produced some beautiful inversions, where it could have been either chair or body as installation. Brew's dialogue with his own body suggested the kind of play with structural givens that Glickman found in Sibel's sculpture.
Glickman, the curator of the show, wrote that the dancers and visual artists did not know each other before working together. As might be expected, such a risky venture is likely to lead to contrast as much as integration. Naree Vachananda's very personal and moving work was framed by but not particularly connected to Anna Finlayson's mural collage, whilst Benjamin Gauci's strong, balletic composition positively crashed through Louis Rippert's hanging fabrics.
The variety of relationships between artist and dancer taken collectively offer food for thought as to the range of ways in which one form might collaborate with another. Not forgetting that Merce Cunningham's own option was to combine at the very last minute, allowing different elements—music, lighting, sets-to freely juxtapose.
Tracie Mitchell's recent work, Under the Weather, was quite different in texture to the above. Although it combined video and dance, there was a sense of an authorial aesthetic, emerging from a single perspective. From dark beginnings, a video triptych blinked and winked, creating a powerful portraiture of urban existence. Dancers emerged from the shadows singly or together, drawing elegant lines. The set fanned out from a recessed centre, suggesting that something was being aired, turned inside-out. Dancers ventured then retreated, hidden again by shadow.
There was a section where each dancer performed solo. Carlee Mellow's work was striking, precise, quirky, repeated just enough to gain familiarity with her vocabulary. It was also enjoyable to watch Mia Hollingworth and Shona Erskine move through what appeared to be their own material subjected to Mitchell's careful direction. Sadly, the piece ended before the 3 dancers were able to come back together. So much had been created and established that a desire was born for hiatus and closure. Instead, the piece gently fell into shadow, leaving an opening where before there was none.
Focus 4, Stephanie Glickman & Michael Sibel, Nicholas Mansfield & Andrea Meadows, Benjamin Gauci & Louise Rippert, Naree Vachananda & Anna Finlayson, Marc Brew, and Amelia McQueen, at Fourtyfive Downstairs, Flinders Lane Melbourne, Jul 26 -Aug 4
Under the Weather, choreographed and directed by Tracie Mitchell, performed by Shona Erskine, Mia Hollingworth and Carlee Mellow, music by Byron Scullin, Gasworks, Port Melbourne, July 23-27
RealTime issue #51 Oct-Nov 2002 pg. web
© Philipa Rothfield; for permission to reproduce apply to realtime@realtimearts.net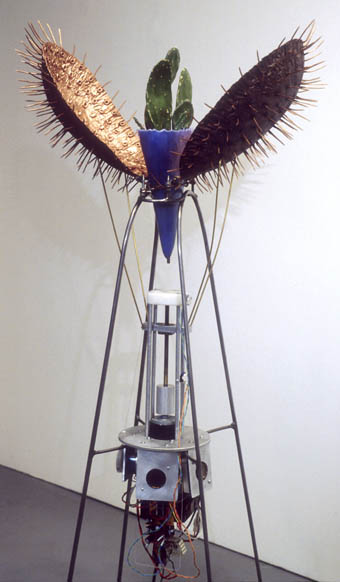 Amy Youngs, Rearming the Spineless Opuntia
What is art doing in the biology lab, the genetics lab? Bio-technology is the future and artists want a say in it. This is art as philosophy, as investigation, not as decoration. The works in BIOFEEL and the symposium The Aesthetics of Care, part of the Biennale of Eletronic Art Perth (BEAP) offered a window on the world of the laboratory, an attempt to expose contemporary social and technological issues to the public in formats that might stimulate new thinking. The artists in BIOFEEL argue that the issues exposed by genetic manipulation and animal experimentation for commercial and medical purposes are matters that should not be left solely to scientists and entrepreneurs.
BIOFEEL
BIOFEEL was curated by SymbioticA, an artist-run space in the School of Anatomy and Human Biology, Unversity of Western Australia. It was established to "act as a porous membrane in which art and bio-medical sciences and technologies could mingle" (Oron Catts, BEAP Catalogue). The group researches the potential for artistic creativity in biological science, providing a laboratory environment for artistic production and offering residencies that support interdisciplinary work and critical interaction to explore and present new pathways in our biological future. Among the projects run by SymbioticA are tissue culture and bio-cybernetic studies.
You will remember the ear that seemed to be growing out of the back of a rat (Patricia Piccinini made multiple photo-composites of it accompanying photographic models). It was made through "tissue engineering" and then surgically installed into the rat where it continued to live. In tissue engineering a scaffold of degradable biopolymer is built in the shape of the organ to be engineered and then the living cells that will become that "semi-living" object are seeded into it. Oron Catts and Ionat Zurr carry out their tissue engineering work in bio-reactors set up in a small laboratory in the gallery. You can look in through the small portholes of this bio-containment facility and watch the artists 'feeding' their cell-cultures. They presented the results of 2 works in documentation and micro-sculptural objects. Worry Dolls, "objects" to tell your worries to, are tiny constructs of bio-scaffold and surgical suture grown over with skin, muscle and bone cells. Their forms are imprecise and unique, glutinous looking and vaguely humanoid. Once grown they are fixed in formalin and shown in small sample jars, here in a hanging spiral or to be examined through a magnifying lens. Pigs Wings explores the chimera, a hybridisation of animal forms (pigs might fly!). Also grown on a bio-polymer scaffold, this time the cells (pig bone tissue) take the form of wings, bird, bat and pterosaur. Once grown, they too, are presented in documentation and as beautiful objects. I liked best the 3 paradigm versions embedded in ostrich eggshells in glowing coloured light.
MEART – the semi living artist is an internet mediated collaboration between a culture of embryonic rat neurons growing on a Multi-Electrode Array of silicon (at Georgia Tech in Atlanta) and a pair of elegant robot arms set up as a plotter in the gallery. Sites of activity in the neural array drive the pens back and forth across a sheet of paper. There was said to be a feedback from the gallery to the neurons, so that they might learn, but its operation was not at all clear. The project has obvious relevance to artificial intelligence and the development of the cyborg, but endlessly, tediously drawn lines from the robot arm plotter pens make for something like abstract expressionism done by an obsessive compulsive Jackson Pollock. The only beauty in the project was the pair of robot arms built in Perth by Phil Gamblen.
Marta de Menezes' studio is the biological laboratory. Her work takes on the techniques of micro-biology: microscope and magnetic resonance imaging, fluorescent dye marking, and brings us inside the body or the cell. Her Functional Portraits involves a video projection of a woman's head onto which a series of transverse functional Magnetic Resonance Imaging [fMRI] slices of her brain are superimposed. This travels from her face to the back of her head as she carries out an activity that is representative, attempting a portrait of both the person and her brain. Proteic Portrait is a digital image, printed onto canvas, of the 3-dimensional conformation of a protein formed by mapping the letters in the subject's full name (which, being Portuguese, is very long) onto the one-letter codes for the 20 amino acids that make up proteins. 21 small pictures of the stringy stick figure-like molecular arrangements and the details of the coding make up the print.
Of the other works in BIOFEEL I will mention only Rearming the Spineless Opuntia. Amy Youngs' wonderfully shy small cactus grows in a conical blue pot resting in a quadrapod supporting a motor and a pair of ultrasonic sensors. As you walk over to look at the piece sitting in the corner of the gallery the motor switches on and it draws up its pair of copper shells that act as an armour for this defenceless hybrid. The most accomplished work in the exhibition, and the most humorous in the way it defeats one's attempts at close examination.
Aesthetics of Care
To what extent are the ethics of care towards humans and animals (and the planet as a whole) relevant to the kinds of problems traditionally associated with art? Here, where art is an experimental medium, exploring many areas drawn from science and new technology, why should we not engage with the problems brought to society by bio-medical technologies? If the future is to remain ours (not simply rented to us by Microsoft and Monsanto) then we must grapple with the modern eugenics of selecting special gene sequences from the supermarket shelf.
Lawyer Lori Andrews, brought from the US to give the keynote speech at Aesthetics of Care, is right on top of her material. Obviously knowledgeable about all the ethical and legal issues she gave a talk that showed a depth of knowledge of art engaging with bio-tech that put all of us to shame.
Stuart Bunt, cofounder and scientific leader of the SymbioticA group, spoke about the ethics and licensing principles used for research on live animals and enquired how appropriate the application of these principles might be to art. As he pointed out, biological materials have always been used in art but recent work using live animals raises issues of how we judge the value of the creatures and the ethics of our relations to them. KD Thornton surveyed the use of animals in art, mentioning Eduardo Kacs Alba and Chinese expatriate artist Xu Bing's animal performance installations among other works.
Many other artists spoke but ultimately the symposium was a rather confused affair that left me feeling that, though there were some useful presentations, by the time the forum arrived in the evening so many issues had become conflated that it really ended up discussing nothing. Crossovers between questions of the ethics of animal use in laboratories and the effects of genetic manipulation on people (both directly and through food and medicine) followed upon one another willy-nilly without any attempt to draw out the serious distinctions between the two.
Biennial of Electronic Arts Perth (BEAP), July 31-September 15, www.beap.org
See also Melinda Rackham on BEAP.
RealTime issue #51 Oct-Nov 2002 pg. 12
© Stephen Jones; for permission to reproduce apply to realtime@realtimearts.net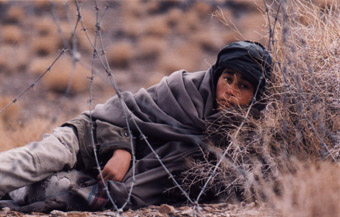 Kaeem, Alizadeh, Delbaran
The breeze at dawn has secrets to tell you. Don't go back to sleep. You must ask for what you really want. Don't go back to sleep. People are going back and forth across the doorsill where the two worlds touch. The door is round and open. Don't go back to sleep.
Rumi
Brisbane International Film Festival 2002 was characterised by the bold and timely 1001 Voices: Cinema of the Middle East and Islamic worlds. The program extends Brisbane's renowned Asian film programming, giving voice to stories from a region at the forefront of global consciousness.
There's no better time than now to try to understand the cultures of the Middle Eastern and Islamic worlds when we've been saturated with select, managed images of the region. Images, some information, but very few stories. The newsmedia have propagated images of extremists grappling with modernity, but generally we've been denied access to detailed accounts of everyday life.
Stories from the Middle East can go some way towards filling this vacuum. For all its social relevance, though, the BIFF program largely resists the temptations of propaganda. Artistic Director Anne Demy-Geroe's choices tend toward broad humanism and away from highly politicised expression. This task is more difficult than it sounds, naturally, given the intensity of the conflict in so much of the region. It would be hard to imagine, for example, a documentary such as Palestinian Rashid Mashharawi's latest, Live' From Palestine, about the lives of people at the Voice of Palestine radio station achieving 'apolitical neutrality.' In that film's chilling postscript, occupying forces raze the station. A bomb placed in every room, every studio, and everything—lives, careers, hopes, dreams— is destroyed.
Mashharawi's previous fictional works, Curfew (1993) and Haifa (1995) dealt with the hugely topical issue of refugee camps, as does Asmin Aslani's tragic The Mourning Book for the Land of the Meridian, set in Afghanistan and popular at this year's festival. Though the content is inherently political, the real power derives from the level of engagement with the stories of the people—bewildered refugees, traumatised children, shattered journalists whose lives we momentarily enter.
Iranian Abolfazls Jalil's well-known concern for orphaned children is beautifully realised in Delbaran, the story of Kaim, a refugee boy nurtured by an old couple at a truckstop. With its sudden, poetic moments of kindness, cruelty, beauty, humour and the bizarre, Delbaran, is infinitely stronger for the director's rewriting of his original script to incorporate the Afghan nationality of the outstanding child actor he had discovered, Kaeem Alizadeh. His films eschew advocacy or stridency, yet depict the complex and heartrending social reality of the region in powerful ways. They raise questions about representation and the extent to which a culture's stories can be separated from its politics. Considering the fusion of church and state, it would seem futile, if not artificial, to expect most films from the Middle East to be empty of political content.
Despite this, most of the films in 1001 Voices are more contemplative. Indeed, rigid ideologies are often problematised, such as in the superb Under the Moonlight, Iranian Reza Mir-Karimi's story of a young mullah awakening to the different and difficult world away from the seminary. The film argues for the acknowledgment of the difficulty and necessity of somehow reconciling fundamentalist and reformist elements.
Though the films of Kiarostami were noticeably absenct (perhaps to give others a chance to shine), Iranian cinema featured strongly, ranging from the lush lyricism of Farhad Mehenfar's mystical The Legend of Love and Alizreza Ghanie's The Wind Game, a tribute to the works of Rumi, to the deliberate innocence of Hamid Jebelli's White Dream, to Mazar Bahari's surprising and touching documentary, Football, Iranian Style, about the nation's unifying passion.
Babak Payami's democratic farce, Secret Ballot (also translated as "Void Votes"), set on the remote island of Kish, is an absurdist treat. The determination of the plucky female electoral agent (Nassim Abdi) to collect every single vote on election day, regardless of the soldier's (Cyrus) petulance, is endearing. The film's seriocomic narrative is at its best in the scene where the young girl complains of the irony of being "old enough to marry, but not old enough to vote." Payami leavens the didacticism with just the right amount of absurdity—the stoplight in the middle of nowhere is a prime example). Characters represent the themes: he, patriarchal tradition, incompetence and the law of the gun; she, progress, modernity and, ultimately, hope for a better future. Visually mesmerising, Secret Ballot's tenderly-delivered message, about the need to resolve ideological differences for the sake of progress is all the more powerful for its comedic embodiment in two memorable leads.
In addition to the outstanding Iranian program, other masters from the region were also represented in the BIFF program: Youssef Chahine with the exhuberant, irresistible Silence! We're Rolling, a loving tribute to the MGM musical, and Amos Gitai, with his accomplished Wadi Grand Canyon, made in the style of Michael Apted's 7-Up series but with deeper political resonance. Gitai, whose oeuvre is characterised by explorations of relationships between ethnic groups, returned to the canyon of the title (a disused quarry on the margins of Haifa) at 10-year intervals from 1981 on. The result is a cumulative portrait of a group of individuals of mixed ethnicity across time. The depiction of the effects of time on the relationship between Miriam, a Jew, and her Arab husband Scander, is particularly moving.
The stories of the Middle East experienced in the boldly programmed 1001 Voices provide a unique and valuable access to an under-explored and generally misunderstood world. The program's range of voices—poignant, tragic, funny, bizarre, beautiful—entice us to open our eyes and ears; to throw off our mediatised somnolence and apathy, and to awaken.
2002 Brisbane International Film Festival, Artistic Director Ann Demy-Geroe, Greater Union Hoyts Regent, Myer Centre Cinemas & State Library of Queensland, July 9-21.
RealTime issue #51 Oct-Nov 2002 pg. 34
© Danni Zuvela; for permission to reproduce apply to realtime@realtimearts.net
Hold that deadline. Other cultures from ours experience time and the detailing of events, and hence, meaning, differently. In particular, there is a concept of "thick time", a Balinese term for when events and significances line up in a particularly dense overlay of resonances (John Broomfield, Other Ways of Knowing, 1997). I begin to wonder whether, in improvisation, "thick time" becomes a condition of performance: from the initial, tentative setting-up of an idea, or partnership, through to the layered, richly-confluenced zone of thought and action that looks and feels expanded, hugely spacious, where the span of a single breath is wired to so many options (and organs), words, shudders and slides, that one is not holding, marking time, but that it holds you. Helen Omand says: "The best improvisations are when it seems like the score has already been written in space/time, and the body makes it manifest" (RT 45 p11).
To improvise is to enter a zone approaching the infinite that is yet bounded with finitudes: muscle, step, language, wind. In their finer moments, the most seemingly divergent practices-from Grotowski's "shedding of resistances" to the classical acterly "training up" to form-also whisper each other's virtues, hugeness meeting the particular (or vice versa) in multitudinous intimacy. I observe the final session of Precipice in Canberra-not, alas, the fall of the incumbent rulers from their parliamentary spire, but a 4-day improvisation jam, now in its 9th year-and reflect on some of the "givens" of the artform.
Trust. Trotman and Santos in partnership reveal an intimacy that is verbal, physical and structural, with structure a distinct body with its own edges joining in the play. Their interplay seems helix-shaped, diverging, converging, holding their differences in a brilliant interweaving. Santos, glowing-eyed, 'redeems' them from the edge of chaos, insisting on the unity of their 'two becoming one" whilst Trotman falls off a cliff with the other billion into which they have already multiplied. Two gaspingly beautiful moments where their two distanced bodies turn as one.
Ghosts. They show their training, as performers do when they improvise. Trotman and Rees-Hatton through Al Wunder's Theatre of the Ordinary sharing a tendency to separate words from movement in alternation. Trotman's words left gasping, arms grasping; peculiar and particular, a quaintly-disjuncted relationship to impulse recognisable as a TOTO influence, yet here ignited with a special resilience and wit. Rees-Hatton belies her maturity with hops and skips, an adult dancer partaking in an all-day lollipop.
Hitching on the glitches. Ryk Goddard plays tag and chasings with patches of light which cut out just as he arrives. An at times harrowing biographic discursion on finding and keeping home, of an identity teetering and lurching away from stable balance. Both verité confession and postmodern artifice, the bravely darkest and most personified piece of the session.
Possible vs impossible, known vs. unknown. Barnes and Bonnar tease out the tango form, decaying, redeeming, querying and quarreling with it as their feet wickedly flick and sashay. A delicious turning-over of a form that already leaves itself open to unturn, tickling at (in)competencies and (in)complicities. His solid body helps her into a backbend, drags her metres across the ground; their roles reverse, she's surprised to be caught in an impossible expectation to do the same.
From intensified abstraction…. In a butoh-based slaughterhouse blues, Pemberton, O'Keefe and Hunt alternate slack-hipped mimickry of cattle-men with Body Weather incursions into the muscles of slaughtered bovine souls. Blood on the hay, buttocks jammed in corridors. Kimmo Vennonen's soundtrack veering from literal to a blood-journey through the internal nightmare.
…to dissolution. We emerge in late-afternoon wind and light to Alice Cummins' silver hair reflecting the agedness and deepgnarled beauty of the courtyard's central tree. At times her relatively still body seems to sprout from it, at times nearly fall like a leaf, or suspend from within it like a limb; thence dance along its skin, a difference of time and density. Cummins afterwards expresses her consciousness of being the final performance of the weekend. In what way might such consciousness interfere? The show must go on, but performances stop, do they? Cummins' performance aptly softened the rhetorical edge of the season's title with a grace and heart that rendered time thick and thin as water.
Precipice, Peter Trotman, Lynne Santos, Lee Pemberton, Anne O'Keefe, Victoria Hunt, Kimmo Vennonen, Sarah Bonnar, Gary Barnes, Ryk Goddard, Noel Rhees-Hatton, Alice Cummins; lighting: Mark Gordon. Australian Choreographic Centre,
RealTime issue #51 Oct-Nov 2002 pg. web
© Zsuzsanna Soboslay; for permission to reproduce apply to realtime@realtimearts.net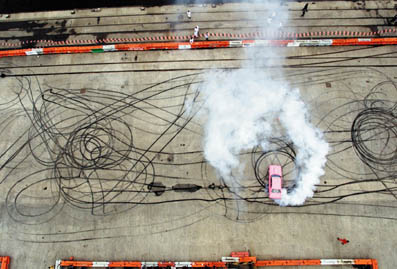 Ben Morieson, Burn Out 200
It's not unusual, while strolling around the arts precinct at Southbank in Melbourne, to be assaulted by the sometimes ear-shattering efforts of aspirant divas. Many of the students from the nearby Victorian College of the Arts use the tourist precinct as a place to busk their wares in exchange for much needed public funding. However, when the sounds are found to emanate from a businessman with a briefcase attempting to shatter the various objects of Stephen Barrass' Op Shop installation by singing in a public place, it is surprising, and delightful.
Barass' installation is part of the Experimenta's Prototype exhibition featuring 13 predominantly Australian, new media installations and digital works along with 6 short videos and animations displayed on a DVD jukebox. A richly eclectic collection, the exhibition itself exceeds the catergorisation implied by its title. The term 'prototype' seems to suggest that these works represent a mere stage along the way to a more justifiable (and scientific) 'somewhere else.' But this is more a function of the necessity of framing funding applications for exhibitions in terms of the greater good. As Ian Haig argues (p5), there is an inherent danger in badging and validitating new media art within the discursive frameworks of science and technology. To be fair to Experimenta, though, one can only imagine with what consternation a funding application would be met if it claimed to be setting out to exhibit works that are, as Haig prefers, quirky, perverse, weird and very good fun!
But this is precisely the territory that Prototype explores. Take, for example, the ultra-cool installation Burn Out 200—Part II The Game. Ben Morieson's Daytona-inspired installation is the continuation of a performance project that began with a spectacular event held at Melbourne's Docklands in which local drag racers, choreographed by the artist, created a drawing in burnt rubber that was then photographed aerially. In Part II–The Game, participants sit in a car console, familiar to anyone who has played car racing games at Timezone, and can select 3 cars with which to do burnouts. The pictures created by the user are then archived (for possible inclusion in the artist's gallery) and are printed at the rear of the console for the user to take with them. Morieson's argument that "the game mimics the rhetoric of super-charged emotion and spontaneity associated with modernist painting" may have been lost on the queues of young guys lining up to have a go but it certainly didn't detract from their obvious enthusiasm for the work.
Barrass' Op Shop was also popular. Using a microphone placed in front of a video-projected virtual environment that depicts floor to ceiling bric-a-brac, participants are invited to use their voices to smash the objects on the screen. While I was there, a small crowd formed around the microphone and there was some competition to see who could cause the most damage. Each new breakage was met with cheers and high 5s all round. You gotta admire an artwork that makes people feel like that.
Finished with testing your driving skills or your vocal range, you can try to get a couple of uppity Canadian girls to invite you to a party. Talk Nice, by Canadian artist Elizabeth Vander Zaag, uses Speak and Yell (SAY) software to analyse the pitch of user's voice as they engage in conversation with 2 onscreen teenagers who attempt to teach the user to 'talk nice.' Talking nice means mimicking their Valley Girl intonations and phrasings as they run you through a series of questions like, "If you were offered drugs at a party, what would you do?" Astute 12-year-old participant Lucy was promptly issued an invitation when she responded, "I'd ask you what to do". The invitation, however, was subsequently withdrawn when Lucy refused to ignore someone who wasn't part of the girls' social set. I felt like I was back in high school! Incidentally, despite numerous attempts, I never cracked it for an invite.
The in-ya-face interactions of these exhibits contrasts nicely with works like Richard Brown's Mimetic Starfish, Chris Henschke's Tonal Field Navigator, Jane Crappsley's Untitled Drawing in Space and Martin Walch's Over Written, Under Written. Each of these continues the inventive use of interface that characterises many of the exhibits in Prototype, but in subtler ways. In Mimetic Starfish, for instance, the user caresses a projected starfish controlled by neural net technology and gesture sensing, and the starfish responds to the speed and force of the user's interaction by extending or withdrawing its tentacles. Henschke's Tonal Field Navigator rewards the user's intervention, through the placement of their hand in a projected hologram, with a shifting, immersive visual and aural landscape.
That's if you can get the sound of screaming rabbits out of your ears! The squeals that emanate from Pet Sounds, by Isobel Knowles and Haima Marriot, come from 2 seemingly innocuous stuffed rabbits. As you squeeze the adorable little animals, they emit strangely synthetic yowling noises. The more you hug and squeeze them, the more they howl. It sounds as though you are causing them great anguish but it is really hard to stop doing it. It's like being at a perverse kind of petting farm.
There are other works, like Iain Mott and Marc Raszewski's Sound Mapping installation, Simon Norton's Testimony: A Story Machine, Bruce Mowson's Flesh Antenna and a number of videos and animations that deserve to be mentioned but space doesn't permit. What should be said, however, is that it's gratifying to see such a breadth and scope in these works, such a sense of playfulness and joyousness. If works like these can be produced and brought together in exhibitions like Prototype under a funding regime oppressed by the short sighted and utilitarian policies of the current Federal Government, then there really is hope for a vision of new media arts that is more than worthy; it's actually fun!
Experimenta, Prototype, Interact 2002 Asia Pacific Multimedia Festival, BlackBox, Victorian Arts Centre, Melbourne, Sept 5-21
RealTime issue #51 Oct-Nov 2002 pg. 15
© Lisa Gye; for permission to reproduce apply to realtime@realtimearts.net