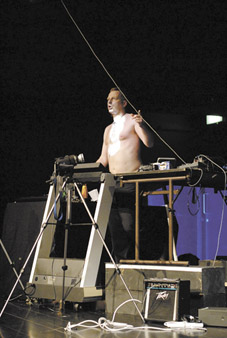 photo Adam Faraday
(nobelandsilver), Part 9
I've set up this sort of helpline for people confused and/or perplexed by the (nobleandsilver) show, Part 9. It's a freephone helpline manned around the clock by a team of trained volunteers. Whenever the phone rings, they've got this spiel they go through with the caller first, along the lines of "Don't be scared, I was scared at first, I know, calm down, no, shut up, stop crying, it's only a show," that sort of thing, then they proceed to tell the caller: "Consider this. See those parentheses around the name (nobleandsilver)? It's very simple. That's because Kim Noble and Stuart Silver are a contained set. They exist in and of themselves. OK? Let's use that as a foundation for your future understanding of the work of (nobleandsilver)." I think this approach is quite clever, and not at all pretentious.
Why did I set up this helpline? I think it was to do with the way Part 9 ended. After a hissy fit of Jennifer Lopez proportions brought on by mounting frustrations with the performance, Kim Noble stormed from the stage (pausing only to destroy some technical equipment and pick up a half-finished cigarette) then never returned, leaving the space empty. Do you understand the sheer terror of being stuck in a room with 215 people who don't know whether to applaud or not? Do you know what happens when you don't get a really nice round of applause? I'll tell you what happens. THE SHOW DOESN'T END. You don't get closure. The show walks with you, out to the bar, into the world at large, snapping at your heels. This is not what you want from a performance which is the equivalent of the synapses in your brain misfiring constantly for a week, a performance which finds Noble free associating electrical appliances and sexual relationships, getting obsessive about street leafleting, representing a world "full of beauty" with a 2-second clip of Abba's Dancing Queen dubbed over an image of Bruce Springsteen in concert, Silver talking about donkey sanctuaries and suicides, Noble interviewing his baffled parents about the moment of his conception, delivering monologues on the duo's working relationship from fitness equipment stationed in front of moving traffic at a busy junction somewhere in London, Silver asking random members of the audience out on dinner dates, or to make cheese sandwiches, or to join him in a singalong version of Respect by Erasure performed on a small guitar he can't play.
Like I said, it's a 24-hour freephone helpline, so do call, most of the staff are quite pleasant. They'll point out the parentheses around (nobleandsilver)—which will help to deal with the closure thingy—and following that, they'll point out that Part 9 is not about you, it's all about (nobleandsilver). Amidst the jamming, the noise, the dual, triple and quadruple streams of information spewed forth by video projections, soundtracks and games with the audience, there's actually quite a sad little tale unfolding of how people get bored with each other. I suppose it could also be argued that the show is about how people get bored with themselves, but I'm not going to say that on my helpline; what do you think I am, stupid? That would be disastrous. I'm not going to mention the sequence in which Noble subjects an audience member to a timeline of their life which he's "just constructed", consisting of "YOU WERE BORN…YOU WENT TO NURSERY…(extremely long pause)…YOU CAME TO THE ARNOLFINI INBETWEEN TIME FESTIVAL AND SAW THIS SHOW, YOU NOB", obviously intended to spark off unpleasant mortal reflections within everyone present. I'm also not going to mention the uneasy reminders of fading memory represented by (nobleandsilver) constantly re-enacting their first encounter as students in halls, replayed and retold over and over again, in unison, by voices onstage and onscreen, differing each time, unreasonably concerned with who borrowed what type of electrical extension from whom, and in what precise order. It's the stuff of life, yes, I grant you… but not necessarily in a good way.
I suppose there's much to get confused or upset about in Part 9, from the bursts of politically incorrect abuse to the uncertainties produced by exactly how authentic some of (nobelandsilver)'s video pranks are. I had one call to my phoneline, in the darkest hour of the night: "You know Kim Noble's little onstage multimedia centre?" the caller asked, "where he's running on a treadmill throughout the show? There's a little scrolling LED by him that says 'WELCOME TO THE FUCKING ARNOLFINI INBETWEENTIME FESTIVAL… THIS IS MY SHOW.' What does that signify?" I replied that I thought it was a handy summing up of Noble's onstage persona: a stream of constant, vaguely belligerent information. "But isn't the whole world a bit like that?" my caller asked. "Nah," I replied, "I think you're probably reading too much into it."
(nobleandsilver) is a multimedia collaboration between Kim Noble, Stuart Silver and assorted others. They won the Perrier Newcomers Award at the Edinburgh Festival 2000 and create performance for theatres, galleries, television, radio and public spaces.
(nobleandsilver), Part 9; Arnolfini Theatre, Feb 3
RealTime issue #37 June-July 2000 pg.
© Tim Atack; for permission to reproduce apply to realtime@realtimearts.net
The cygnets on the ornamental lake at the Royal Botanic Gardens in Melbourne were somewhat bemused. When not being enlisted by their long necked parents to drum up a little business from people throwing bread at the water's edge, they poked about the curious floating objects which have temporarily invaded their space. These objects, which sang and chirruped exquisitely as the cygnets cavorted around them, were part of Garth Paine's installation Reeds, for the Melbourne International Festival.
Reeds was a site-specific installation consisting of a series of reed pod sculptures (artfully designed by Christopher Langton) which transmitted and broadcast computer-generated music. The music was produced in response to data gathered by the pods on the basis of variations in the weather, light, wind speed and direction and solar activity. In this sense, the music was conducted by the natural environment with the aid of interpretive and generative software programs hooked up to the reed pods. The data collected by the pods was transmitted to a land-based computer which analysed and fed it into a sound synthesis software program designed to generate music in real time, producing 8 channels of digital audio. These channels were then broadcast back to the reed pods where Sennheiser EK300 stereo receivers, installed in 6 of the pods, received the broadcast signal. These signals were then separated into 2 mono components, fed into 2 adjacent pods and broadcast using amplifiers attached to the reed stems.
The reed pods were designed to blend almost seamlessly with the surrounding environment. Similarly, the music generated by the pods subtly mimicked the kinds of sounds you would expect to hear in this environment. You needed to constantly remind yourself that what you were seeing and hearing was, in fact, artificially constructed. The Botanic Gardens, an artificially constructed "experience" of the natural, are an apt setting for the work, highlighting an important theme of Paine's work. Reeds allowed the viewer to negotiate a number of tenuous oppositions, such as the distinctions between the natural and the real, the artificial and the virtual.
Reeds, positioned as neither for nature nor against technology, enabled the viewer to experience the symbiosis between the two. The processes enacted by the reed pods were akin to the photosynthetic responses triggered in the surrounding plant-life when they are exposed to the same stimulus. At a time when popular representations of technology tend toward hysterical denunciation and generate fears about its dehumanising properties, Reeds reminds us that the nature/technology dichotomy is itself entirely artificial as is the concept of nature.
The question of where the sound performance of the installation takes place also highlights this blurring of boundaries between the artificial and the real. As Paine points out in the Reeds catalogue, sound literally penetrates the body. In this sense, the presence of the human audience is as necessary a condition for the performance as all of the technologies that drive the installation. We can't separate the human from the technological—technology is, in fact, a necessary condition of humanity.
Reeds continues Paine's explorations of the responsive, activated space that began with such works as Ghost in the Machine, Footfall and Map 1. Like these, Reeds is thoughtful, eloquent, evocative and ingeniously executed. The only disappointing aspect of the installation is that it could not remain in the Botanic Gardens permanently. I'm quite sure the swans wouldn't mind.
Reeds, Interactive Sound Installation by Garth Paine, Melbourne International Festival, Ornamental Lake, Royal Botanic Gardens Melbourne, October 14-November 12. www.activatedspace.com.au/installations (expired)
RealTime issue #40 Dec-Jan 2000 pg. 18
© Lisa Gye; for permission to reproduce apply to realtime@realtimearts.net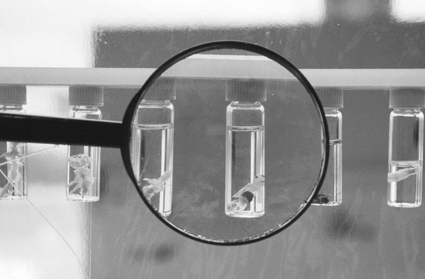 Oran Catts, Ionat Zurr and Guy Ben-Ary, Tissue Culture and Art(ificial) Wombs
"Test the power of your loins!" was the call for men to donate their semen for Sperm Race—one of the most publicised events of Next Sex: Sex in the Age of its Procreative Superfluousness, this year's Ars Electronica Festival in Linz, Austria. The festival sought to engage electronic arts, gender studies and queer theory to highlight the mechanisms of discrimination based on sexual preference, gender or heredity. Analysing men's semen for mobility and hence reproductive success, while giving women the opportunity to participate by placing bets on whose sperm they thought would be the fastest swimmer, seemed to reinforce rather than challenge these issues, but I tried to keep an open mind…
While the banks of the Danube resonated with To Rocco Rot from the outdoor sound stage, the very brown Bruknerhaus Concert Hall was hung with Dieter Huber's huge vinyl prints of irritating, unerotic, morphed double vaginas and multiple penises. Wander upstairs and you'd find a pink faux fluffy viewing lounge for Natacha Merritt's (US) web-published soft porn digital images of herself. Demonstrating the festival's prevailing lack of critical engagement, Merritt was sure her work was really "art" as she also had a print publishing deal.
In a simulation of sleaze you could follow some gaffer taped arrows down back corridors to find Shu-Lea Cheang's (US) The IKU Experience. The Blade Runneresque Experience has a variety of straight and queer couplings, a loose narrative of sci-fi viral cybersexual encounters, dialogue of the moaning kind, a sprinkling of sexy cinematography and 3D graphics—but I'm not sure how it ends.
The most rewarding installation was Sergio Messina's Brave New Porn which showcases amateur (rather than industry) porn images from similar-interest-groups on the net. Perhaps you are looking for a hiccupping lover, a play pony to ride, another clog worshipper, or you just want to swap pictures with some friends that delight in "plush sex"—the arranging and photographing of cuddly toys in erotic poses. Messina illustrates with both humour and respect the variety of human desire as these otherwise marginalised consenting adults get together online.
On the gallery level clear plastic tents housed a selection of bio-art projects that manipulate nature by processes like changing the spots on butterflies by cell modification or inserting synthetic DNA into living cells. Australians Oran Catts, Ionat Zurr and Guy Ben-Ary (Israel) were showing their ongoing project Tissue Culture and Art(ificial) Wombs, now being carried out at Harvard Medical School in Boston—growing skin, muscle and bone tissue culture on degradable polymer worry dolls in the artificial womb environment of a NASA developed bioreactor. The project questions our loss of innocence in the age of technological reproduction, but is not clear on the ethical issues surrounding the seam between tissue culture and the creation of an autonomous living entity.
The Next Sex symposium covered tired material such as disembodied cyber sex, contraception, and transgender operative procedures. Sandy Stone, a pioneer in the field of virtual sexuality, had nothing new to say either as she did the same performance I saw at Digital Aesthetics in Sydney in 1996. The controversy of the festival was neo-Darwinist Randy Thornhill's theories on rape as a natural evolutionary adaptation for survival, generating outrage from both men and women in the audience. However, there was no official platform for response.
Thankfully downstairs the independently curated electrolobby—a net event of streaming and sushi provided a haven from sex. Works included Sissy Fight, Eric Zimmerman's (US) engaging multi-user bitchy playground game of teasing and scratching and ganging-up strategies and Icontown from Bernd Holzhausen—a network community project based on the concept of the pixel as building material. Also featured was Leonardo, with Annick Bureaud, the artistic and scientific network that has existed for more than 30 years and has been slapped with a lawsuit by a French financial firm claiming violation of its trademark rights and etoy (Switzerland) who won their legal battle against retailer E-toys in a similar name dispute, by mobilising a global army of net users to electronically engage and defeat the corporate giant.
The parallel Cyberarts 2000 exhibit in the Ars Electronic Centre and the OK.Centrum venues hosted a variety of interactive and sound works. Borderland from Laurant Hart/Julien Alma is a variation of the Streetfighter genre, a game console with a choice of about 40 disparate and amusing opponents, such as a woman with a sink plunger, a man covered in cardboard boxes, a set of twins, gasmask guy, the backpacker who swings the backpack as her weapon. You also get to choose the backgrounds, from postindustrial urban wasteland to desert terrains. The control buttons are a semi-dismantled standard computer keyboard leaving enough keys to move your player, adding to the sense of hacked genres.
On the large scale was Rafeal Lozano-Hemmer's (Mexico/Canada) Vectorial Elevation, a stunning execution of public art with international participation facilitated by an internet site. Over a 2 week period you could design via the web a light sculpture to be made by 18 searchlights on top of buildings around Mexico City's main square, which could be seen for a 10 mile radius. Global participants were sent back webcam documentation of their implemented design, creating a tangible sense of technologically mediated remote intervention into public spaces.
Each evening a different performance event was featured—the most enjoyable was Scribble with Golan Levin's (US) Audio Visual Environment Suite software projected onto a massive screen in the concert hall where the mesmerising graphical interface generated soundscapes. Ars Electronica also ran a late night social club with themes of sex work, peep shows and beauty contests. These were supposed to be provocative, but hardly seemed to raise an eyebrow amongst the audience. The highlight was the wo-man gender morph night with two very differently paced acts—New Yorker Dred-Drag King Extrordinaire's sweaty hip hop and rap sets, and Sydney's norrie mAy-welby performing intelligent cabaret to the crowd's delight.
The Free Speech Camp squatted outside the social club in the Ars Quarter. This motley assortment of caravans and a corrugated iron cantina provided the only mention during the festival of the current Austrian political situation where organisations such as Public Netbase in Vienna and Radio FRO may lose their funding and ability to provide independent commentary against Austria's right wing government.
Being at Ars felt a little like playing shuffleboard on the Titanic, as eugenics and bioengineering were discussed without any reference to political contexts or social realities. Turning the ship around is unlikely as Ars Electronica is following the genetic theme again next year. Nearly everyone I spoke to expressed their dissatisfaction with this as well as the jurying process for the Prix and the lack of responsiveness to contemporary debates. In its larger context as an arts festival Ars Electronica is sponsored by global computing and telecommunications corporate entities that are perhaps unwilling to engage with these ethical issues.
Microsoft, one of Next Sex's main sponsors, may be excited by the possibility of a "genetic upgrade of mankind", however the rest of us may like to stay with our current bio-operating system as the hidden upgrade costs may be too high.
Ars Electronica 2000 and Cyberarts 2000, Ars Electronic Centre, Bruknerhaus Concert Hall, OK.Centrum, Linz, Austria, September 2-7, www.aec.at/festival2000
RealTime issue #40 Dec-Jan 2000 pg. 18
© Melinda Rackham; for permission to reproduce apply to realtime@realtimearts.net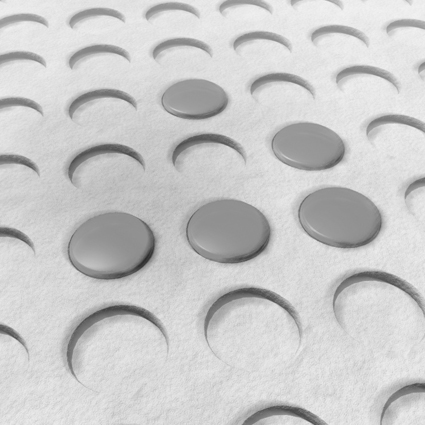 Jon McCormack, Eden
During that strange, sunny quiet of the Sydney Olympics, the train journey out to Casula had a tinge of the surreal. It was Spring, the natural time for New Life, the third "capsule" in the Cybercultures: Sustained Release program at the Powerhouse. Rolling through the balmy outer suburbs, you could feel the new life photosynthesising—an ongoing renewal of ancient, carbon-based forms. Inside the wonderfully cavernous gallery, the idea gets a twist; this life is new like a new car, a new TV. It's crawling around inside 'new media', conjured by artists and turned loose inside the computer.
Technosphere III, by British collaborators Jane Prophet, Gordon Selley and Mark Hurry, is one of the 'classics' of this decade-old microgenre. The plot is simple: you create an artificial creature from a set of off-the-shelf parts (head, body, mouth, eyes, wheels or legs) and then release it into the wilds of the Technosphere, a vast artificial savanna where thousands of others roam. Life for a technocreature consists of the bare essentials: foraging, eating and procreating. Death is as close as the pointy jaws of the nearest 'carnivore.' In its original online incarnation, circa 1996, the Technosphere remained invisible; the system sent out regular emails detailing the artificial life of your cartoon creation. In this newer off-line version, we can follow the creature in real time, watch it shuttling around the plains meeting, eating and having sex with passers-by. This is life in 3D, with hardware acceleration; sharp-edged and fast-paced. Like a game of Quake.
Jon McCormack's Eden is a more restrained and complex artificial ecosystem. McCormack seems to be moving away from the lush 3D aesthetic of works such as Turbulence; Eden's visual surface is simple to the point of being diagrammatic. Flickering discs move through a flat matrix of cells, foraging on lichen-like patches of 'food'; every now and then one of them 'sings' an abstract refrain. Like many such works, Eden gets interesting in the longer term, as these artificial organisms adapt to each other and their environment. Equipped with virtual hearing, their behaviour becomes linked to sound—organisms sing to attract a mate, or (altruistically) announce the presence of food. While this sounds like an experiment in cyberbiology, it's also a manifestation of McCormack's reflective nature philosophy—in particular a concern about the human need to experience 'nature', and the gradual erosion of living environments in favour of their simulations. In this sense the work's title is highly ambiguous—this little world is complex and engaging, pleasant to see and hear, and like that fabled garden, it's whole, contained and ordered. On the other hand it's the merest tracing of the complexity and vitality of a real ecosystem, and it won't grow us food or generate oxygen; it's a kind of uninhabitable Eden.
Anita Kocsis' Neonverte is an electronic garden in a quite different form. Clusters of flickering LEDs line the walls of a darkened space, leading towards a video-projected image. An abstract, low-fi soundtrack meshes with the stuttering 3D wireframes of the video. Layers of meshed trees and flowers scroll by, a bird is frozen on a branch; the virtual space is discontinuous, dissolving into flashing pixel–grids and chunky texture-maps. There is a kind of poetry of digital degradation at work here which sits well with the idea of the garden; Kocsis has generated an electronic mulch which folds familiar nature imagery in with the blank, abject surfaces of wireframe 3D. The technical means are simple enough—no Artifical Life programming here, or complex interactivity—but the result is remarkably poignant.
In Neonverte pixels seem to decay and sprout; so too in Kat Mew's Muto, an interactive which plays out the fusion of biological matter and digital code. Like Neonverte, Muto does without the A-life processes of Technosphere and Eden; and this seems to leave more space for aesthetic invention. Muto runs in a circular domain, like the view down a microscope. Jittery animation loops slide through 5 elemental domains; cellular blobs fuse, clumps of code shed pixellated numerals; Steve Law's soundtrack is all funky bleeps. While this cyber-bio mix-up is a familiar story, what marks Muto out is attention to detail: Mew's animation in particular is intricate and energetic. Its presentation at the Powerhouse matched that level of detail, with video projected onto a weather balloon, wrapping perfectly around to push Muto's disc-world into a gently swaying, glowing sphere.
If biodiversity is important, perhaps cyberbiodiversity is too. New Life presented an enjoyable balance of approaches, and a mixture of technical and aesthetic concerns. While this stuff is hardly "new life", it offers imaginings, proposals, for how life and technology might come together—and in that sense diversity is crucial.
New Life. Cybercultures: Sustained Release, curator Kathy Cleland; Casula Powerhouse Arts Centre, Casula, September 30-November 12
RealTime issue #40 Dec-Jan 2000 pg. 21
© Mitchell Whitelaw; for permission to reproduce apply to realtime@realtimearts.net
Writers and new media authors appear to be well served by 2 organisations with ambitions to foster all aspects of electronic literature—the trAce writing community based in Nottingham and the more recent Electronic Literature Organization (ELO). Recently the ELO announced 2 new $US10,000 prizes for Electronic Fiction and Poetry in the first annual Electronic Literature Awards.
While notionally housed in Chicago, the ELO (yes, they've heard all the jokes) has an ambitious international mission to "promote and facilitate the writing, publishing, and reading of electronic literature." Scott Rettberg is Executive Director of the ELO (www.eliterature.org) and co–author of the hypertext fiction The Unknown (www.unknownhypertext.com/), which won the first trAce international hypertext writing prize.
trAce and ELO
trAce (www.trace.ntu.ac.uk/ – expired) is already well known in Australia, with Sydney writer Bernard Cohen a former writer in residence, a visit to the Adelaide Festival by trAce director Sue Thomas, and Alan Sondheim (a former trAce writer–in–residence) currently at the Australian National University. In what ways does the ELO replicate the activities of an organisation like trAce, and how does it differ?
Both trAce and ELO are focused on the expansion of the literary use of electronic media and both have an international focus. Both have very valuable web resources which are hubs for our community and for showcasing electronic literature, and both organisations are attempting to sponsor international electronic literature prizes.
One obvious difference between the two is that trAce has both an international focus and a local base in Nottingham and ELO has an international focus and more of a national base in the US. We're as active in New York, San Francisco and Seattle as we are in Chicago, and during these early stages of our activity, we're intensely focused on raising awareness of electronic literature in major US population centres. We're holding a variety of readings and other events, and we're facilitating more ongoing discussion of both the economic and artistic issues involved in electronic literature. We're acting both on the web and in person. As wired as we are, there's still no better way to draw people into the field than live interaction. Many of our programs are focused on facilitating that person–to–person interaction. We're focused on making this a bigger tent, and neophytes are welcome.
The other principle difference between trAce and ELO is that we're as interested in helping to develop new distribution models and markets for electronic literature as we are in fostering its artistic growth. So though we're most interested in forms of literature like hypertext fiction, kinetic poetry and interactive drama—forms designed specifically for the electronic media, that use the computer to do things which can't be done in print—we're also focusing attention on what's going on in electronic publishing. It's a tremendously exciting time in that arena. As a writer, I'd ultimately like to see publishing models that enable electronic writers to support themselves through their work.
Funding and independence
Most cultural support in Australia is state funded in some manner. How is ELO funded and how you ensure your independence?
The state of public funding for the Arts in the US is quite dismal. Recently the National Endowment for the Arts and the National Endowment for the Humanities have both been whittled to shadows of what they once were. I consider this a national disgrace, but regardless, to develop the kind of programs that we're trying to pull off, we clearly couldn't rely on public funding from the federal government here. Instead, we're reaching out to corporations, foundations, and individuals. Many internet and technology companies in the US have done quite well in the internet boom (even after the NASDAQ crash), and we're asking them to help fulfill the cultural responsibility that our government will not. It's a tough pitch of course, but many of these companies were founded and are led by people who do have something of a visionary impulse, who do want to better the world through technology. Though pure greed is quite rampant in the dot com universe, individuals and companies within the internet sector have not entirely lost sight of the idea that the internet is a global village, one which should have art and culture as well as a marketplace. Even more important to our fundraising strategy is giving from individuals. More than half of our seed money came from individual gifts, and I'm hopeful that our operating budget will also reflect that kind of grass–roots support.
As the founder of the organisation, I decided early on that the ELO will remain independent of the prerogatives of any single corporate entity or government institution. Our funding comes from a variety of sources. Additionally, we have three clearly separated boards—a board of directors, of internet industry advisors and of literary advisors. When they are funded, our prizes will be judged by the international board of literary advisors, who are not beholden in their judgment to either the board of directors or to our corporate sponsors. All this has made funding the organisation more difficult than it may have otherwise been, but that integrity is worth the hassles it entails.
The prizes
The ELO has announced a series of major electronic literature prizes for 2001. Could you describe what genres of electronic literature will be eligible?
At this stage the prizes are for Fiction and Poetry but we hope to eventually include Drama, Creative Non–Fiction and Children's Literature. The main criteria for judging the competition will be the innovative use of electronic techniques and the literary quality of the work. The fiction competition will be judged by Larry McCaffery, author of Storming the Reality Studio: A Casebook of Cyberpunk and Postmodern Science Fiction, and After Yesterday's Crash: The Avant Pop Anthology. Heather McHugh, Chancellor of the Academy of American Poets and author of Hinge & Sign and The Father of the Predicaments, will judge the poetry competition.
We're trying to focus the prizes on extending and enhancing the literary tradition, endowing them with both the monetary weight and the prestige of something like a Booker Prize or a National Book Award. We hope to raise the bar for electronic literature. We want the best writers and artists in our culture(s) working in the realm of electronic literature, and one of the best ways to do that is to sponsor a series of prizes that will in effect give the winners more time to work on new projects.
By putting together an international board of literary advisors including not only renowned experts on electronic literature, such as Sue Thomas, Michael Joyce, and Takayuki Tatsumi, but also print writers such as TC Boyle and George Plimpton, and leading critics and publishers from both the print and electronic side of things, we're seeking a different level of engagement from the culture as a whole. The prizes should do a great deal to validate the field, and bring more people into the tent of electronic literature.
What is electronic literature?
An interesting issue being discussed in the electronic literature and hypertext communities is just what constitutes electronic literature. For example does the ELO want, or see any need, to distinguish between print based poetry, the same poetry presented electronically (for instance via a web page), or poetry that can only be presented electronically?
These distinctions are tough to make, but our focus is on aiding and publicising the development of literary works which utilise the electronic media to accomplish things that could not be done in print. I'm a big book reader, and treasure the print form, but there are already organisations working to support literature in print. Electronic literature is the babe in the woods—it's what needs our help right now. Furthermore, it's the way that literature is going to reach a generation of readers who are more accustomed to surfing the web than they are to picking up a book. So most of my hopes and fears for literature in general are tied up in the idea that without some particularly literary innovation in the electronic media, the internet will move ahead without a literature native to it. Such a failure would be an horrendous missed opportunity. We don't want to see what happened to television happen to the web.
The meaning of Stephen King's e-book
Electronic literature seems to be entering the dot com universe with the success of things like Stephen King's recent offering. Do you see this as something good for the future of electronic literature?
Yes, I do. Even though King's e–book was essentially just a print novella made available for download, it served as proof–of–concept for the whole field of electronic publishing. The people, in effect, have spoken, and their overwhelming message to publishers was "we will and do read off our screens." For years, we suffered the likes of Sven Birkerts (The Gutenberg Elegies: The Fate of Reading in an Electronic Age, London, Faber & Faber, 1996) jawing on about how the electronic media is the end of literature. Then King comes along, and suddenly the nature of the discourse changes—electronic publishing just may be the future of the book, rather than its end.
The other tremendously important aspect of the King e–book is that it is actually necessitating that publishers re–examine their own publishing models and royalty structures. If we're able to remove the costs of printing, binding, shipping, warehousing and pulping the artifact, we're able to produce literature at a lower cost to publishers. As in King's case, a higher percentage of the profits should go to the writers, and a great deal of savings should be passed on to the readers. Even after constructing this more equitable model and passing on the savings, publishers will be able to reap higher profits as well. In my view, even pure print publishers will benefit. With the simultaneous evolution of print–on–demand technology, more books should be available in print and electronic format, as well as the literature that is created and designed for the electronic media.
The future
In 5 years time what would you like the ELO to have achieved? What would be different?
Wow, that's a tough one. Firstly, I hope that ELO is still around. Even accomplishing that is not going to be easy. Secondly, I hope that as many people spend as much time reading the web as they spend now playing DOOM. Thirdly, I hope that the international community of which you and I are a part will have expanded and will include many of the most talented writers and artists of our generation. Lastly, I hope that there is a sustainable market for the work that they produce.
Right now, when I mention electronic literature, people say, "Isn't that a contradiction in terms?" Five years from now, I'd like people to be able to introduce themselves as electronic authors, and to have that mean that they keep bread on the table by making great art happen on the internet.
When can we expect to see the ELO and The Unknown in Australia?
We're hoping to line up an International Day of Readings next year for ELO, and would love Australia to be represented in that. As far as The Unknown, we're waiting by the phone. We've encountered many Australians on our travels, and you folks celebrate in the style to which we are accustomed. Line us up some readings, Adrian. We'd love to come out there next year to tour the continent.
This is an edited version of an email interview with Scott Rettberg, Executive Director of the Electronic Literature Organisation, Chicago, USA.
RealTime issue #40 Dec-Jan 2000 pg. 22
© Adrian Miles; for permission to reproduce apply to realtime@realtimearts.net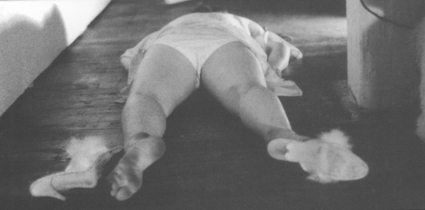 Uncle Bill, CD-ROM, Debra Petrovitch
Debra Petrovich's new CD-ROM Uncle Bill is an engrossing, multilayered work that explores, with thematic and formal inventiveness, questions dealing with childhood memories, sexual abuse, social class and space. Petrovich's distinctive, foreboding soundtrack presages its Gothic narrative of sexual violence, industrial chaos and repression. Set in Wollongong in the 1960s with the 'satanic mills' of BHP's steelworks, Uncle Bill's opening macroscopic aerial focus of Petrovich's childhood neighbourhood and its subsequent microscopic zoom into the intimidating spaces of a home, set the right frame of dramatic action for the user to navigate the work.
Uncle Bill displays a subtle use of still, moving and scrolling illuminated text images accompanied by pulsating images of a child threatened by drunken men sporting air rifles. Bored teenagers and leather-clad bikies milling around milk bars on their bicycles and motorbikes sometimes give Uncle Bill a Kenneth Anger look. Footage of crashed cars and roadside victims evoke a JG Ballard undercurrent. As we navigate the rooms and corridors of the home, the industrial sounds of Wollongong are a perfect aural metaphor for the traumas of a child in the care of sadistic, loveless people.
Uncle Bill's powerfully raw images and sounds form a stark, resonant work with aesthetic, cultural and formal roots in various feminist video and new media traditions exemplified by artists Lynne Hershman, Joan Jonas, Laurie Anderson, Dara Birnbaum, Sadie Benning and Carole Schneeman. The violent treatment of a child is acutely rendered by the recurring motifs of her playing in a tub of water and the frequent abrasive sounds of a barking dog (off-space). Both motifs underline Uncle Bill's chilling mise-en-scene of child sexual abuse.
In a tour-de-force section of the work, a collage of structured scrolling text attests to Petrovich's strong visual and sound instincts as an artist/narrator. Her graphic multimedia skills and unswerving motivation to create form out of chaos is ideally suited to the expressionist treatment of this subject matter. The CD-ROM genre suits Petrovich's atmospheric collage style of techno-creativity. As we follow our own navigational instincts, we can immediately experience the overpowering sense of "no escape" from the violent domestic and industrial cacophony that surrounds Petrovich's child protagonist.
The ugliness of the suburban-industrial landscape of the CD-ROM provides an apt metaphor for domestic violence. However, Uncle Bill is not a thesis—it does not set out to prove a point—but instead it reveals a tragic assemblage of ideas, gestures and atmospheres that vividly telegraph to us the traumatic horrors of child sexual abuse.
Ideally because of the expressionist stylistics used in Uncle Bill, it would be better exhibited as an installation (as it was at Artspace, Sydney in August). It is a large, bold and atmospheric work notable for its omnidirectional thematic and formal concerns around an issue central to our individual and social psychic lives.
Despite initial scepticism in certain quarters, CD-ROM is thriving in this country and overseas. Uncle Bill is an innovative, experimental contribution to the expanding definition of the genre.
Uncle Bill, written and directed by Debra Petrovich; interface designer Wade Marynowsky; producer Julianne Pierce, CD-ROM 2000.
RealTime issue #40 Dec-Jan 2000 pg. 20
© John Conomos; for permission to reproduce apply to realtime@realtimearts.net
Writers and ideas engaging in and with the relationship between writing and the internet came together recently at the incubation conference, organised by the trAce: online writing community at Nottingham Trent University, UK.
A text not only approaches the singularity of its writer(s) but also a community comprising each and every reader. If the reading audience inhabits the space between words, one hopes a comfortable space will be made by the text for its visitors (the writing of ambience). Considered as such, the text itself is structural, paradigmatic—a necessary and arbitrary formality whose contrivance abridges physical and ideological distances. This contraction apparent in language is a one whose design draws people together in the social space between signs.
The thread I know specifically as incubation and then generally as conference—itself a type of text—also functioned as a structural formality with its own set of social spaces. By providing opportunities for meeting or gathering—the rapture of the moment as a celebration—incubation was a success. Many delegates commented that incubation possessed a vibrancy not normally felt at conferences.
The gift to be found in conversation is perhaps to make possible in writing the passage and the place, the transient and the preserved, the singular and communal, the foreign and familiar, comfort and vulnerability without contradiction. Conversation that keeps the lines of communication open and plural, speaks of what it means for writing (language) to be interactive.
Linda Marie Walker and Michael Tawa consider the reciprocating contexts of language and structure as an endless modification and questioning of reality's perceived formal dimensions—or the validity of a finished product—by way of an email correspondence. Conversation approaches an inclusive space in which each participant's contribution is welcomed—"… so, to live is to live with strangeness, to approach without knowing, to touch without possessing" (Linda Carroli, speak, http://ensemble.va.com.au/speak/ featured in Salon, an exhibition of internet writing curated by Mark Amerika, http://trace.ntu.ac.uk/incubation as part of the incubation program).
How to find ways of being with others is the question approached infinitely through the practice of communication and writing. This motif recurs variously in the hypertexts of the writers featured in Salon.
incubation asked: "What is the value of the conference as a mode of communicating in the field of electronic media?" For me, its value lies with the understanding that television, telephone, mail, book, video, voice, conversation, music, song, sculpture, internet, conference and letter are all possible means of facilitating communication. There is room enough in the world for all mediums and means when one recognises that each moment of expression complements, enhances and accompanies the others.
It follows that if one considers how one writes; one will have also considered how one writes for the internet. Writing and the internet exist as social practices within a world of reciprocating contexts. Here I found the theme of writing and the internet sadly limited in scope in contrast to the experience of verve: the other writing, coordinated by Teri Hoskin for the 2000 Adelaide Festival of Arts, in which writing and writing technologies were considered expansively.
Something of the other writing was suggested in Dr Jill Seal's discussion of the Perdita Project—a growing online compilation of manuscripts by women that not only recovers their historical contribution through writing, but also includes often overlooked writing practices such as diaries, account books, vitalogies and devotional writings.
Voice and text messaging already articulate private and transient writing practices whose relevance and joy exist purely for participants. Panelist Mike Allison suggested that we are the last generation for whom the printed word carries implicit authority, and so perhaps the revolutionary practices he feels are so lacking on the internet are already taking place in the privacy of chatrooms, through mobile phone message banks and via email.
The internet's wider ecology of communication technologies and communicating possibilities were addressed by panelist Robin Hamman who spoke of television and mobile telephones as tools with the potential to broaden individuals' access to information and chatrooms over the internet. The chatroom—itself a transgressive writing practice—is a series of private and public overlapping texts made by a community of individuals. Independent of the formal channels of professional literary institutions, the chatroom, or MOO environment, reminds us that writing perceived at the level of its universal practice can be a truly liberating experience.
incubation: trAce International Conference on Writing and the Internet, director Sue Thomas, web design Simon Mills, administrative assistant Jill Pollicott, web editor Helen Whitebread, Nottingham Trent University, Nottingham, UK, July 10-12.
RealTime issue #40 Dec-Jan 2000 pg. 20
© Mark Stephens; for permission to reproduce apply to realtime@realtimearts.net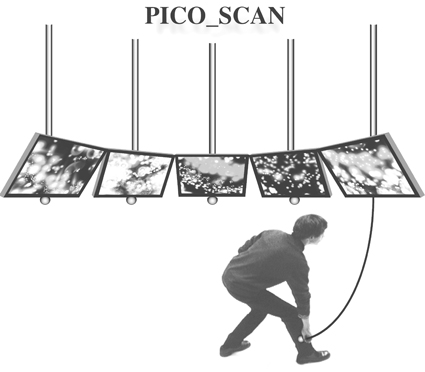 PICO-SCAN system, Laurent Mignonneau and Christa Sommerer
In the 1980s the place to be and be seen was SIGGRAPH. Its first Art Show was in 1981 in Dallas and it became the essential focus for the art and technology community. By 1990 ISEA was the young kid on the block, unfettered by convention and keen to take risks. But by the late 90s it had burned out. So now, at the dawn of a new decade, century and millennium there's Consciousness Reframed (www.caiia-star.net/production/conref-99/index.html – expired). Over its first 3 invocations (1997, 98 and 2000) Consciousness Reframed has established itself as one of the more significant international meeting places for the misfits who often slip between the cracks of conventional discipline boundaries.
The conference convenor is Roy Ascott, Founder and Director of the CAiiA-STAR postgraduate program that has attracted some of the top international talent in the arts field (www.caiia-star.net/people/RA.html). In his own plenary talks and presentation Ascott was anxious to reinforce his concept of the transdisciplinary nature of the art, science, technology and consciousness convergence. He also quoted another regular contributor, Australian Stephen Jones: "The term technoetic is the key. It refers to our use of technology in cultural production, and it also refers to the noetic, or how we understand the world and our processes of being in it. This suggests the exploration of how technology is changing our perception of the world."
Ascott proposes "Edge Life: technoetic structures and moist media" where "between the dry world of virtuality and the wet world of biology lies a new moist domain, a new interspace of potentiality and promise. Moist media will constitute the substrate of the art of the new century, a transformative art concerned with the construction of fluid reality. This will mean the spread of intelligence to every part of the built environment coupled with recognition of the intelligence that lies within every part of the living planet." Shades of de Chardin and Gaia as he continues: "This burgeoning awareness is technoetic: techne and gnosis combined into a new knowledge of the world, a connective mind that is spawning new realities and new definitions of life and human identity. This mind will in turn seek new forms of embodiment and articulation."
In his own talk Stephen Jones (www.culture.com.au/brain_proj/ – expired) describes cyberspace as a system that orders information objects according to their importance to each other or via their perceived value to an observer. This geometric space is very different from the perspectival space that orders objects according to their geographical location. As such cyberspace has more of a relationship with medieval organisation, (I was reminded of Eco's library in The Name of the Rose) than with the Renaissance systems that displaced them and have dominated our thinking since. The mind has a similar structure where myriad connections are rhizomatically made and remade allowing consciousness to emerge. He concluded that the real and the virtual are of the same nature. Fact and fiction converge. We face a continuous spectrum of experience differentiated only by the tools we use to observe this continuum.
Many of the artists speaking at Consciousness Reframed describe virtual artworks. Donna Cox (www.ncsa.uiuc.edu/People/cox/), the pioneer of 'renaissance teams' where artist and scientist work together to reveal knowledge via computational tools, has recently joined the CAiiA-STAR PhD program. Her virtual theatre is the Hayden Planetarium at the American Natural History Museum in New York and she talks about the global virtual team who created their spectacular digital tour of our local Milky Way Galaxy. She compares this to her personal research which looks at the way that different civilisations have merged scientific knowledge and artistic practice in order to understand the nature of the universe and consciousness.
From the other end of the budget, Sydney-based Melinda Rackham (http://empyrean.cofa.unsw.edu.au – expired/, www.subtle.net/) demonstrates her "Empyrean—soft skinned space." She says, "however I am the centre, I hold the axial position 0 0 0 in this space—that of the empyre builder." Her presentation playfully mixes her own poetic insights with quotes from the VRML manual to create a fluid frame of double meaning. "My words become flesh—my statements create mythology." Empyrean achieves a sensitivity that is unusual in the often clunky VRML world and will consolidate Rackham's reputation for work in the network domain.
Greg Garvey describes a split brain user interface that he developed during a residency at the Banff Centre in 1999. Using a headmounted display with both stereo vision and sound, he presents the user with the emotionally charged testimony from the 1991 Supreme Court Nomination Hearings where nominee Clarence Thomas faced Anita Hill who accused him of sexual harassment. The spectator simultaneously sees and hears the two protagonists—one via the left eye/ear, the other via the right. Like most of Garvey's work the simplicity of the concept belies the complexity of the ideas and emotions he juggles. It's a profound and challenging piece that sadly, since C-SPAN won't release their video rights, cannot be exhibited.
Michael Quantrill is a researcher and artist-in-residence at the Creativity and Cognition Research Studios at the University of Loughborough. He describes a system he has been developing with the centre director, Ernest Edmonds—one of the pioneers of the computational arts in the UK. It's based on an earlier work called SoftBoard which uses a large scale whiteboard interface that allows artists to communicate with a computer process by drawing standing as if at an easel and which allows greater flexibility of movement than a mouse or graphics tablet. Their more recent work extends this to more general movement detection where "the computer can become an extension of the individual, part of us, but not always under our direct conscious control."
The theme of human computer symbiosis continues with Laurent Mignonneau and Christa Sommerer (www.mic.atr.co.jp/~christa/ – expired) who describe their new PICO-SCAN system created for the Martin Gropius Bau in Berlin. The spectator faces an array of flat panel plasma screens each with an attached hand held scanner. When the scanner is picked up, artificial-life creatures come out of hibernation and the spectator can modify their behaviour and feed them by scanning in parts of their bodies. When the creatures acquire enough energy they can mate and produce offspring that inherit various characteristics from their parents, as well as minor mutations. The artists describe the work as an open system since it involves the external agency of the spectator and suggests that the creature-creature interactions coupled with the creature-spectator interactions create a complex adaptive system that links the real and the virtual.
During the 90s the Brazilian/US artist Eduardo Kac (www.ekac.org) established an impressive reputation and he has created several key works in the emergent genres of telecommunications, teleprescence and interaction. Now another member of the CAiiA program, he describes his most recent work in Transgenic Art—works that involve genetic engineering.
Genesis takes a sentence from the Bible: "Let man have dominion over the fish of the sea and over the fowl of the air and over every living thing that moves upon the earth." The genesis gene was created by first converting the sentence into the dots and dashes of Morse code. Kac describes his decisions: "This sentence was chosen for its implications regarding the dubious notion of (divinely sanctioned) humanity's supremacy over nature. Morse code was chosen because, as first employed in radiotelegraphy, it represents the dawn of the information age—the genesis of global communications." (In the same month that Kac described this work at Consciousness Reframed Morse code was officially retired from the telecommunication spectrum.) The next step converted this Morse code into a DNA sequence where: dashes were represented by the letter T (thymine); dots were represented by the letter C (cytosine); word spaces were replaced by the letter A (adenine); and letter spaces were substituted by the letter G (guanine). This DNA sequence was then synthesised and inserted into the genome of a strain of E-coli. This living bacterium was exhibited and grew, reproduced and mutated. After exhibition the mutated DNA sequence was decoded to produce the modified sentence: "let aan have dominion over the fish of the sea and over the fowl of the air and over every living thing that ioves ua eon the earth."
The relatively remote location of the conference, at Caerleon in South Wales, helps make the event small and intimate with plenty of opportunity for networking and socialising. Next year Ascott intends to focus on the non-ordinary, non-local and non-linear with an emphasis on parapsychology.
Consciousness Reframed 2000, The Centre for Advanced Inquiry in the Interactive Arts—CAiiA, University of Wales College, Newport, UK, August 23-26.
RealTime issue #40 Dec-Jan 2000 pg. 19
© Paul Brown; for permission to reproduce apply to realtime@realtimearts.net
Australian filmmakers and interactive media artists interested in challenging traditional forms of documentary can now apply for up to $100,000 to produce an online project. The Australian Film Commission recently established an initiative with the ABC to encourage documentary projects that "explore the online environment in innovative, challenging and original ways." Up to 4 successful works will be selected for production and housed on ABC ONLINE.
The initiative provides a vital space for Australian cultural content at a time when the Internet is primarily a site for commercial transactions, says the manager of co-production at ABC New Media. With the online documentary genre still in its infancy, Domenic Friguglietti says it's an opportune time to dedicate web space for the development and inclusion of Australian rather than North American cultural material.
Peter Kaufmann, project manager at the AFC, hopes this initiative will encourage filmmakers to redefine the boundaries of conventional documentary. The fund also provides a unique scope for documentaries to be instantly available to an international audience. Audiences can also have the opportunity to respond and engage in an intimate and idiosyncratic way with the content of the online works, making their own contributions. Kaufmann says the AFC definitely isn't looking to provide conventional documentaries with an alternative delivery and marketing system via the online environment, but is interested in new and radical approaches that explore what is possible within the documentary genre.
Recent Australian examples of the form include a chronicle of the life and work of artist Russell Drysdale compiled by the ABC and the National Gallery of Australia (www.abc.net.au/arts.drysdale – link expired), a work by Carolena Helderman on personal stories of HIV (www.hivaids.webcentral.com.au – link expired) and Fools Paradise, a history of the Melbourne International Comedy Festival documented by Peter Milne and produced by the ABC and the Performing Arts Museum (www.abc.net.au/arts/fools). See also Sharkfeed by John Grech and Matthew Leonard (www.abc.net.au/sharkfeed/index.htm – link expired), an exploration of the social and cultural after-effects of Sydney's 1960 Graeme Thorne kidnapping. (See Dean Kiley's response to the work in Working the Screen, page 3, and the authors' account on page 26 of OnScreen both in RealTime 38, August-September, 2000).
Kaufmann says these should not necessarily be seen as indicative of the kind of projects the AFC will produce, but rather as examples of the possibilities of the form. Filmmakers and new media artists often ask what type of online documentaries the AFC might fund, but besides limiting the content to material based on fact, Kaufmann prefers not to offer prescriptions and hopes people will design and assemble their own unique aesthetic.
Application forms and detailed guidelines can be found on the AFC website www.afc.gov.au (now http://www.screenaustralia.gov.au/)
RealTime issue #40 Dec-Jan 2000 pg. 21
© RealTime ; for permission to reproduce apply to realtime@realtimearts.net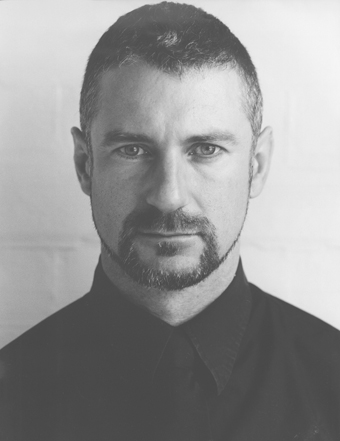 Garry Stewart
Twelve months into your Artistic Directorship of the Australian Dance Theatre in Adelaide, where are you at?
I don't know whether it was just naivete on my part or because I was so focused on the work but I didn't really think about the history of the company when I took the job. In every interview that I've given, up until very recently, the situation with the previous director, has been brought up. But for me, an organisation advertised a job, I applied for it, I was the successful candidate. I've always wanted to have a cohesive unit of dancers and a creative team to work with on an ongoing basis. Now I find myself in this situation, I'm really doing what I've always wanted to do. However there has been a change in the culture here. I've come into a company that's had a particular mode of operation and a particular way of presenting itself within the artistic and greater community. That's probably been the biggest challenge—to come in and shift the culture within this company. I feel my ideas have been embraced by the Board and the management although with every new idea I come up with they don't say, "Great! let's do it tomorrow!" They are governing the company responsibly by asking me to bring them more information and to talk it through and I really appreciate that.
Can you give examples of some of the ideas?
We want to push towards film and multi-media as part of our agenda. We plan to work in alternative spaces, not only virtually and digitally but also in real alternative spaces. We want to continue curating seasons of work by local, independent choreographers and support the local dance community. I want to try and open up rehearsals from time to time so that local dance practitioners and members of the public can walk into rehearsals and talk to the dancers and gain some insight into our rehearsal process. I want more sense of community ownership of the company. We want to throw open the doors and offer our studios for next to nothing to local choreographers who are underfunded. We have rehearsal studios that sit here vacant from 6pm every night and on the weekends and as far as I'm concerned they are not our property completely. They are the property of the community. Once a month I want to have showings in the Balcony Theatre and from that process works will emerge for a more formalised season that may occur once every 6 months. I've always felt that flagship companies should be more than just the director and the dancers and the touring of proscenium arch works. We certainly do have a charter of responsibilities and that is why we are funded to the level that we are—to maintain performance levels in particular spaces of representation. But we should also try to be dynamic and far-reaching in our relationships. I mean it's nothing radical. It's nothing new at all. But it hasn't happened. When I first applied for the job I envisaged ADT, these studios, as being a real nerve centre for dance in Adelaide, a hive of activity and not always from or about myself and my dancers.
Could you talk about your interest in multimedia? Why film/video? Why dance? Why the mix?
When I create I like to manipulate a very open palette. I'm interested in projecting a contrasting semiotic layer, something that's going to skew the image of the live dancing bodies, some other text which will create a new image and a new experience and allow a different reading of the performance. I'm interested in finding fresh aesthetics and meanings and experiences through incongruous juxtapositions of texts. If ever I employ any technology within a live performance it is there, as the platitude goes, to serve the idea of the work. Because this generation of artists is pioneering the use of new media in performance, much weight and time can be taken up by the technology at the expense of the ideas and the conceptual terrain of the work. I wonder if the artist should know what the technology can do but at the same time be separated from it when it comes to making the work, should let go of the need to have a "hands on" approach. I have. I've actually shied away from multimedia works because I think what you can do with technology in performance is still actually quite crude and basic. Unless the audience is armed with knowledge of what is technically occurring, they don't have the same impression of the work as the creators of the work do. I am interested in working with film and video technology but that's not new technology. If we're talking new technology, we're talking developments on the web and also digital broadcasting.
What I'm interested in and what I'm planning at the moment is doing a multi-platform work. It's one project but its delivery is on a number of different media platforms. Its working title is Mind Game. It will have an online delivery, a digital broadcast, a separate film that's a composite of the film within those works and perhaps a CD-ROM. although I wonder about the future of CD-ROM. It hasn't really taken off. This work is about the mind and paranormal phenomena. It started off as an interest in Jung but from there I've developed an interest in telekinesis and mind reading and these strange pockets of mental phenomena that can't be absorbed by science.
But why film and dance?
I have an interest in dance and in certain aspects of culture or civilisation so I want to bring the human body into dialogue with these. Using video and film in performance allows me to do this. I think it would be difficult to stage this dialogue with just bodies in space although I fetishise pure movement to a degree as a choreographer and uphold it as a totally valid point of view.
Could you talk more about what attracts you to certain movements?
It's a really strange connection between my subconscious desires and my body trying to fulfil those, which drives me into dance and hence choreography. And I don't understand that connection and I don't even know if biologists understand that connection. A fundamental desire of mine is to see bodies manipulate themselves through space at great velocity and in an ambiguous orientation. I remember reading an interview with Edouard Locke from the Belgian dance company La La La Human Steps about 12 years ago. He was saying when a dancer is spinning horizontally in space, like in a full twisting butterfly, it connects us to our dream state because floating in space is like dreaming. I really identify with that statement. I receive a great deal of psychic satisfaction from watching dancers perform those kind of phrases and those kind of movements. So I choreograph in this way for very individual, personal reasons. It's not that I think because it's spectacular and high risk that people are going to be drawn to it. It's not about that at all. It's a personal pursuit.
Your dancers seem really trained up in that kind of movement now.
Because they've had an incredibly steep learning curve with regard to movement, they are hypersensitive to the complexity of constructing a move. They have a heightened sense of how to regulate their own bodies to approach a move. They have developed this awareness from having to pick up a diverse range of skills in a relatively short amount of time. It's something they don't get too much relief from. We have a training program that's very constant and consistent. Not only do the dancers do release classes and ballet classes but they also do advanced yoga, and 3 training sessions per week in gymnastics, breakdance, martial arts and Capoeira manoeuvres. From these movement disciplines we have developed a vocabulary that is specific to this company over the past 12 months. There's a misconception about my process. What the audience sees on stage is really difficult, risky work which looks really punishing on the body. There's an assumption in the dance community that I just take dancers and force them to do these difficult movements that are way above their level of ability. That's not the case at all. We have probably the most well thought out, well planned, training regime of any company in Australia.
And you have a diverse range of bodies?
That's because I'm attracted to individuals. I get attracted to certain individuals that I meet and come across.
Any last word?
I feel incredibly supported in what I want to do with this company. It's not something you can do overnight but it's happening.
–
RealTime issue #40 Dec-Jan 2000 pg. 27
© Anne Thompson; for permission to reproduce apply to realtime@realtimearts.net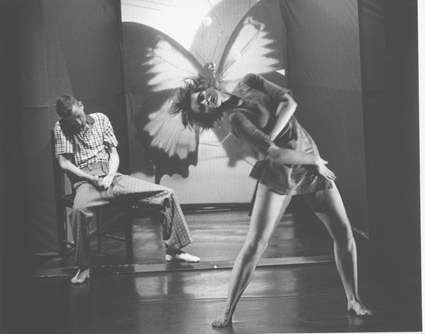 photo Jeff Busby
Trevor Patrick, Stephanie Lake: Lucy Guerin Company, The Ends of Things
I love dance works that use bodies to depict the landscape of the mind. Lucy Guerin's The Ends of Things swoops upon a moment in the life of a man (Trevor Patrick). This man is alone yet not alone—4 dancers populate his internal and external reality. At first they are outside. Maybe they are his thoughts, perhaps memories, metaphors, non-literal others. Then they move into his room, peopling his negative space, manipulating him, calling his agency into question. Later a party is thrown and they become people, you know, the ones who always seem to be having fun. Trevor is both visible and invisible. Hugely funny movements occur because of his flickering visibility.
There is humour despite the pathos. The man is pathetic but in the sense that he displays no self-confidence or sense of mastery over his everyday life. Yet neither is he oppressed by this fact. Patrick has a knack of moving with great simplicity. He does not need to look cool. And this creates quite a contrast with everyone else. Perhaps their skill should suggest a neutral kinaesthetic but this is just not possible. Ros Warby, Brett Daffy and Stephanie Lake are far too good, their movements too elegantly executed.
At one level, The Ends of Things deals with the abstract. The 4 dancers are aspects of the man's internal life. Like in an Edward Albee or Harold Pinter play, we do not know exactly what these figures stand for. Perhaps they are real; perhaps they are memories, or aspects of the mind. The Ends of Things explores its themes in several ways. It is sad and beautiful. Guerin's is a thoughtful work beyond the intricacies of her usual choreographic style. Sadly the inspiration for the work came from Jad McAdam who died suddenly this year.
Chunky Move's latest mix, Combination #3, shown at this year's Melbourne Festival, consists of 3 works by Phillip Adams, Gideon Obarzanek and Kim Itoh. Adams' egg-centric, Ei Fallen, hails from Humpty Dumpty. Its fluorescent lights, square dance patch and minimalist bench make the stage look like a battery farm on acid. The costumes are bizarre, padded, white egg shapes. Later, they are replaced and fake arms flap around dancing torsos. The dancers twist and turn in a courtly dance that reminds me of the ball scene from Roman Polanski's Fearless Vampire Killers. That's because there is a formal element in Ei Fallen. Formal with a twist. Ei Fallen concerns death but it didn't make me sad. Perhaps I'm hard-boiled.
Obarzanek's Crumpled is distinguished by the intervention of its curtain. The red drapes rise and fall independently of the action, which continues regardless. Perhaps you think this is a Brechtian device but it isn't because there is no particular message to be conveyed. There is a lot of physical interchange, precision, athletic strength and grace but no discernible meaning over and above the movement. Obarzanek describes this piece as "purely structural and formal." On occasion, individuals escape the curtain's divide. At one time, two men are in front, perhaps espousing a male gaze. They do a little comedy sketch—suburban boys trying to dance. At one point, fire breaks out. The curtain is an escape, a pathway to safety. The way in which the curtain breaks the viewer's access is a bit like TV ad breaks; a slash right across the middle of the action.
The last piece in Combination #3 was Itoh's Butterfly and Me. I found it difficult to view this justly after the first two works. Its style of movement was quite different, beginning with many rolls on the floor. There was also a section where people spoke, travelling pathways etched in light. One part had Luke George address the audience, incorporating elements of the here and now in his text. Although Obarzanek wrote in the program notes of an "imaginary world" shared by all three choreographers, I had a feeling that Itoh's world was quite different—both from the other two and from mine. I think I would need to see more of that world in order to enter fully into it.
–
The Ends of Things (for Jad McAdam), Lucy Guerin Company, choreographer Lucy Guerin, sound (original concept) Jad McAdam, composition Franc Tetaz, design Dorotka Sapinska. Combination #3, Chunky Move, Ei Fallen, choreographer Phillip Adams, set and lighting design Gideon Obarzanek, costume and set design Dorotka Sapinska; Crumpled, choreographer Gideon Obarzanek, composer Hugh Covill, costume David Anderson; Butterfly and Me, choreographer Kim Itoh, costume David Anderson, lighting Margie Medlin; National Theatre, Melbourne International Festival of Arts, Melbourne, October 19-28.
RealTime issue #40 Dec-Jan 2000 pg. 8
© Philipa Rothfield; for permission to reproduce apply to realtime@realtimearts.net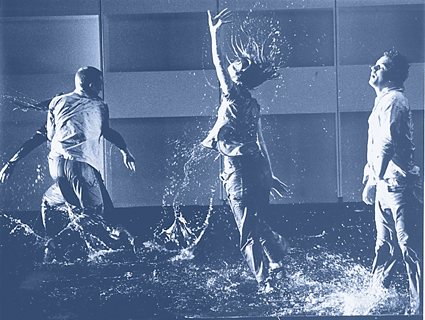 photo Jeff Busby
David Tyndall, Sarah-Jane Howard, Luke Smiles, Chunky Move, Hydra
According to anthropologist Claude Levi-Strauss, mythology is the means by which society expresses the mysteries of existence. These enigmas are not apparent to the naked eye. Rather, they lie beneath the surface of the stories we tell ourselves, locked in deadly embrace. If Levi-Strauss is right, then Chunky Move's Hydra is a work of mythic proportions. The name and its surrounding publicity suggest a mythical inspiration for the work, but it is also possible to interpret Hydra in the narrower sense suggested by Levi-Strauss—as standing for the irreducible conflicts that underlie human existence.
Hydra opens with twining figures who seethe through the shallows. These sexual creatures seem not of this world. Their wetsuit flesh suggests that they hail from the depths, whether of mind or matter we do not know. Their natural habitat is below, underneath the surface. Contrast these beings with what appear to be humans whose dress is urbane and whose movement tells a different tale. These mortals lurch through space, throwing themselves from situation to situation. They are not in control. They expend energy but life speaks through them, they do not speak it. Almost somnambulist, their lexicon of movement reminds me of B-grade zombie films.
The set of Hydra connects and separates the two levels of reality represented by each type of being. It consists of a shallow pool of water, covered by a removable wooden floor. As the work progresses we see land become water become land again, through a series of deformations and reformations. When the land level is lifted, the structure looks like the inside of Moby Dick—a large wooden ribcage.
The water creatures are pitted against the humans. There is no love lost between them. Yet, the humans must interact with the water. They fall into it, fall out of it, they lie across its boundaries. Although none of the beings in this landscape exhibit anything as explicit as consciousness, each will destroy the other if occasion allows. Some wonderful duets and trios occur betwixt and between these creatures.
Whatever Hydra is about, and not knowing is a strength of the piece, it is clear that it represents conflict. For Levi-Strauss, the inability to resolve the fundamental contradictions of human existence is the lifeblood of myth. Myth covers over that inability, somehow pretending a resolution; through what we might call narrative closure. At the end of Hydra, the wooden floor is reassembled. An uneasy peace reigns but not all is resolved.
The last section of Hydra involves a live performance by Michael Kieran Harvey on piano and Miwako Abe on violin. Repeated waves of musical consciousness lap the action, lulling us into stillness. The otherworldly temporality of the music breaks any sense that the end of the work is an earthly one. Rather, there is an ineluctable movement towards a truce, one which leaves everyone drained. The sense is meditative.
What then are we left with? Hydra can be seen as a battle between oppositional forces, perhaps where man=culture and woman=nature (not again). But it is richer than that. Firstly, the mortals' movements are complex; they are definitely skilful yet they manifest a human fallibility. Choreographer Gideon Obarzanek leaves the world of displayed virtuosity for something else here. Secondly, there are several fine kinaesthetic interchanges, duets and trios, which need not be reduced to a single storyline. I like the abstraction that washes over Hydra. It's thoughtful. If it is about the conflicts of myth, these dwell way beneath consciousness. It is not for us to plumb the depths of each and every mystery.
–
Hydra, Chunky Move, choreography Gideon Obarzanek in collaboration with dancers Fiona Cameron, Luke Smiles, Kathryn Dunn, Sarah-Jayne Howard, Michelle Heaven, David Tyndall, Stephanie Lake; musical composition James Gordon-Anderson, Darrin Verhagen; design Bluebottle, National Theatre, Melbourne, August 2-12.
RealTime issue #39 Oct-Nov 2000 pg. 39
© Philipa Rothfield; for permission to reproduce apply to realtime@realtimearts.net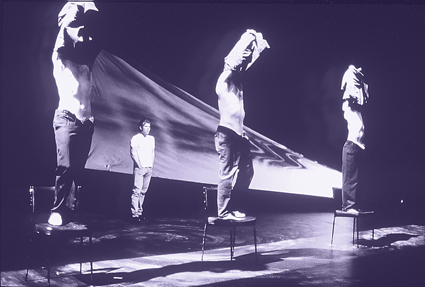 photo Alex Makeyev
Junction Theatre & Leigh Warren Dancers, Piercing the Skin
English playwright Martin Crimp's late 80's satire on Thatcherite conservatism, Play With Repeats, has been reprised in a quietly effective production at the ADT's Balcony Theatre. In a one-off production, director Chris Drummond guided his strong ensemble through the bleak netherworld of the central character Anthony Steadman (played with naïve fanaticism by Geoff Revell). Steadman inhabits a limbo of desolate urban spaces like some latter day Candide, energised by a kind of intuitive optimism that "everything is possible."
Steadman is an amiable, unambitious low-tech worker in a hi-fi factory whose blind faith belies the deep cynicism and depressive fear of most of the characters that he comes into contact with: embittered fellow travellers at the bar—Kate (Jacqueline Cook) and Nick (Justin Moore), and Steadman's harried boss Franky (effectively doubled by Cook). This white-collar subsistence world is stripped of meaning by economic rationalism, where cynicism is the strongest bulwark against despair. Steadman tries to further understand his world by employing the services of Lamine, a shabby, irascible clairvoyant (played with shuffling pomposity by Phil Spruce). But Steadman's utopian alternative to the post-industrial wasteland he inhabits is revealed to be a nostalgic neo-Victorian conservatism connoted by visions of grand houses and sweeping gardens. His real nature is finally revealed when he tramples the only real possibility for human warmth and companionship held out by Barbara (interpreted with fragile sincerity by Cathy Adamek).
With some great jazz by music director Julian Ferraretto, and effective, functional stage design by Gaelle Mellis, Play with Repeats still has metaphoric resonance today, giving us pause to reflect on what we have lost or gained through the past 10 years of fundamental economic change. Who has benefited from that change and at what cost to community values?
Community and attendant notions of connection and alienation are explored in 2 other recent arts events in Adelaide. Piercing the Skin and Body Art have peeled back epidermis Australis with striking results.
The human body as post-structural icon scarified by the twin forces of identity and power is a popular theme in contemporary arts and culture. "The body is both a playground and a battlefield; the site where the greatest tenderness occurs and the most brutal inequality is acted out," says Vanessa Baird of the New Internationalist-inspired Piercing The Skin, a performance collage of impressive quality and diversity performed last month by Junction Theatre and Leigh Warren Dancers.
The companies jointly commissioned 5 distinctly different writers (Rodney Hall, Stephen House, Eva Johnson, Verity Laughton and Paul Rees) to interpret Baird's sentiment. The result was a series of vignettes, each exploring broad connections of time and space, language and subcultures in an eclectic interplay of styles. Eva Johnson's The Body Born Indigenous 1 & 2 took the form of a piquant ode to identity and sense of place, while Paul Rees chose a monologue for Spare Parts (1&2), a mordant apologia for body-part farming (the ultimate rationalization of the individual?). Verity Laughton created a vivid poetic dialogue for Fox, a forensic whodunit spanning 1000 years. Stephen House's expressionistic Walk In the Dirt and Rodney Hall's The Self, a satiric examination of gender and difference, rounded out the conceptual kaleidoscope.
Rather than appearing a stylistic hotpotch, I thought Piercing the Skin achieved a real sense of playful connection—a spirit of co-operation that has spilt over into future joint projects mooted for the 2 companies.
Skin piercing took on a decidedly more permanent connotation in Body Art, an ethnographic survey of body decoration at the Museum of South Australia. Representations of traditional cultural insignia from Pacific nations such as Samoan tatua and Maori ta moto are juxtaposed with voyeuristic images of urban tattooing, piercing and scarification. While I appreciate the death of curatorial narrative, I found the thematic progress of the exhibition rather too open ended, relying on sensation (S&M, fetishism) rather than substantial analysis. Camp irony abounds in some of the contrasts, such as the comparison between tribal men wearing restrictive belts and Kylie Minogue sporting her version. In all, Body Art goes a long way in opening up debate surrounding the psycho-sexual pleasures in adornment and cultural initiation but I was troubled by its celebration of a particular stream of underground counterculture by making superficial comparisons with traditional images and material. I also wondered why cosmetic surgery was included, but not surgical scarring?
Ironically, in a small town like Adelaide, neither Piercing The Skin nor Body Art seemed to know of the other's existence! Better communication spells more lateral audience crossover, which is always handy when you're doing good contemporary theatre.
Play With Repeats, writer Martin Crimp, director Chris Drummond, lighting Mark Pennington, music Julian Ferraretto, design consultant Gaelle Mellis, Balcony Theatre.
Piercing The Skin, Junction Theatre Company and Leigh Warren Dancers, directed by Geoff Crowhurst and Leigh Warren; designers Kerru Reied and Dean Hills, music David Hirschfelder and Collage; The Space
Body Art, National Museum and the South Australian Museum, Museum of South Australia, July 15–September 30.
RealTime issue #39 Oct-Nov 2000 pg. 38
© Dickon Oxenburgh; for permission to reproduce apply to realtime@realtimearts.net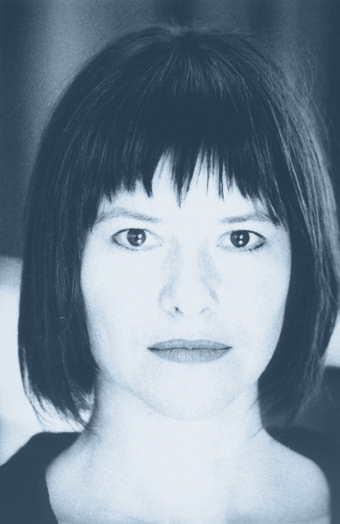 photo Ross Bird
Lucy Guerin
The Ends of Things, your new work for the Melbourne Festival has an intriguing title. Where did it come from?
Originally from a composer I worked with, Jad McAdam. It was his idea and it grew out of a sound idea really, to do with creating a score from sounds of finality. Like the end of a record or the tone after someone has hung up on you on the telephone, or when a film reel comes to an end and you hear a clacking noise. There are a lot of different sounds of things running out and ending and television going off the air. So rather than in a huge cataclysmic, catastrophic way it was more like that empty hollow sense of endings.
How have you chosen to work with that idea?
That was difficult because I did a development period on the piece earlier in the year and I thought that I would use all these gestures of finality and I'd set up these situations that had this emotional tone of endings. But it became extremely difficult. I realised that to create a sense of endings without anything going before it was almost impossible for me. Also I found it very, very draining and found myself not really being able to get into the process that much during the development period which was in January. So I let myself wander a bit with it and get off the track a little bit and just try out a few things, but that ended fairly inconclusively. Since then I've thought about it a lot and I've developed more of an overall structure, which will have more of a beginning, middle and end. And within that structure these little final moments will present themselves. So they'll set the emotional tone of the piece; but there will be a greater end as well, almost like the end of a narrative.
It sounds like it has the potential to be quite bleak.
Yes, well it does. And that was one of the other things that was worrying me about it, actually. I didn't really want to make a piece that was completely dark. But having thought about it, I've sort of made Trevor Patrick the central character. He has this very dry, interesting sense of humour and he's sort of like a character. It's almost like his life. The dancers represent more the workings of his mind or his past or his fears—they are more like his psychological state. So I think it will probably end up being fairly bleak in the final scene but there will be quite a bit of humour before that, slightly black humour, but it won't all be dirge-y and doom ridden.
Your work is often marked by that mischievous wit and dry humour.
Yes, I think that will be in there, definitely, especially in the first scene where we set him up in his little environment. Yes, but I won't give too much away.
Is there a narrative thread that runs through this at all or is it predominantly an abstract work?
No, it is actually quite narrative, much more narrative than works I've done previously. So I feel like I'm trying to have both worlds in this work. I do have this narrative character who is isolated pretty much for the first two sections of the work. We pick him up at a certain time in his life where he's become quite withdrawn from the world and he's obviously a fairly sensitive character who can't really deal with the pace of things outside of his own room. He's at a point where his isolation and cutting off from people is just starting to cause his world to disintegrate and he is losing connection with reality. Hence things running out. The Ends of Things ultimately relates to the end of control or reason, so he's losing it a bit. It is a bit bleak in that way.
It also sounds interesting that you are actually tackling that way of making work.
Yes, it's quite psychological.
Is that new for you?
I think I've always felt when I've made works that I was entering a psychological state or getting into a particular zone of psychology. But I haven't actually defined a character before as specifically as I am this time. Well, I suppose that when I did Robbery Waitress on Bail, I wanted that mood of the suburban teenager and that sort of frustration and hopelessness. But it was more through just an emotional tone. This time I'm being a little more specific with myself about who this person is. So I suppose it's more like a writer would research their character. And I don't know what's going to happen because I haven't worked this way before and it will be interesting to see if that's helpful or hindering when it comes to this next rehearsal period and creating the movement.
Is that specificity going to be clearly interpreted by the audience?
Yes, I want it to transfer to the audience, to be quite simple and straightforward, which is something I haven't really done before. I mean I think I was quite happy for people to enter a more dramatic realm but I wasn't too fussed if they got exactly what was going on. In fact, it wasn't necessary for me at all. This time I'm really interested in them knowing what the situation is. I still haven't quite figured out how I'm going to get people to realise that the other dancers are what's going on inside his head. Because, I don't know, maybe you need these really obvious voiceovers or signs coming down or someone coming out and making an announcement. I hope not.
Is this new interest something that's been prompted by making work in Australia?
It's partly to do with making work here in Australia because when I made work in New York my main audience were other choreographers and dancers or other people from the art world who really easily accept abstraction and don't feel threatened by it at all. If they don't understand it they're quite happy to make an attempt to engage with it anyway. And that was great except that you do start to work within a bubble in a way that's not really connected to anybody else. It's art for artists in a way.
There has been a lot of talk about making what we do accessible to a wider audience.
Yes, but I think a lot of that has to do with wanting to sell more tickets and create more income, which is not my main interest. I find it quite challenging for myself to actually be clearer about what I mean and not be afraid for people to know what it is. So that you are a bit more exposed, you are a bit more revealed if you actually say it straight out. I think a lot of artists are afraid of that. I think I have been.
–
The Ends of Things, choreographer Lucy Guerin, composer Franc Tetaz, dancers Ros Warby, Trevor Patrick, Brett Daffy, Stephanie Lake; design Dorotka Sapinska, dramaturg Tom Wright; Lucy Guerin Company, Melbourne International Festival, National Theatre, October 20-28.
RealTime issue #39 Oct-Nov 2000 pg. 37
© Shaun McLeod; for permission to reproduce apply to realtime@realtimearts.net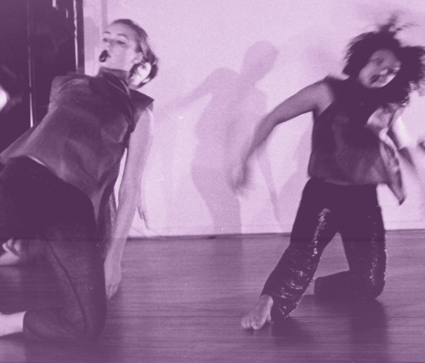 Rachel Pybus, Kyra Pybus, Oscillate Youth Dance Collective, Scarabs
According to the program for the 4 free performances given by Oscillate Youth Dance Collective, Hobart is Australia's only capital city whose university does not offer tuition in the discipline of dance. While there are private teachers and classes, for many dance students Year 12 is where the formal training and experimentation stop.
The consequent lack of resources and opportunities—and of avenues to perform and present "dance as an accessible conceptual medium"—are motives behind the formation of Oscillate (Kyra and Rachel Pybus, Jasmin Rattray, Jessica Rumbold, Tullia Chung-Tilley, Edwina Morris). The group acknowledges the inspiration and support provided by dance teacher Lesley Graham.
The dancers share a background in dance/contemporary movement/choreography studies (Years 11 & 12) at Rosny College and have recent experience in the Hobart Fringe Festival, plus individual work with dance companies Tasdance and Par Avion. Scarabs was danced and choreographed by all Oscillate members and devised in partnership with the Tasmanian Museum and Art Gallery that has, over the past few years, presented a number of innovative dance works with related exhibitions.
The 30-minute performance features ingenious costuming (inspired by the Museum's extensive beetle collection), a unique, custom-mixed soundtrack that is more an eclectic mix of sounds and rhythms than music ("stomachy sounds" as one dancer put it at the post-performance forum) and a simple and effective lighting design. The piece worked well as a site-specific dance installation, responding to its intimate gallery space.
The work is deceptively simple, with barefoot performers in costumes suggesting the iridescent winged surface of the scarab beetle. Each dancer enters with her back to the audience. As she turns, she is revealed to be 'gagged' by a beetle-shaped mouthpiece, its sexual and violent overtones inescapable, even if perhaps not part of the ensemble's intentions. The scarab beetle theme and the group's fascination with the museum's displays give this essentially abstract dancework a strong coherency.
Initially, subtle movements are made in synch; then the choreography expands with each dancer performing her own variations, while still reacting to and with the rest of the troupe. The collaborative choreography is, just occasionally, derivative, but overall the gestures and sequences are attention-getting—good, athletic contemporary dance. The beetle theme is well maintained, giving the performance an other-worldliness wisely free of movement mimicry.
The standard of dance is high; it is evident that some Oscillate dancers have experience in gymnastics and aerobics. A highlight is one dancer who has virtually mastered the knack of barefoot pointe dancing.
The printed program is a useful extra detail to a very professional work, the catalogue essay expanding on the dancers' concerns and inspirations. With its genesis in a 'brainstorming' creative process and the product of 4 months' collaborative work, Scarabs is a worthwhile project successfully brought to fruition and clearly much enjoyed by a responsive, standing-room-only audience.
Scarabs, performance installation by emerging choreographers, Oscillate Youth Dance Collective, Tasmanian Museum & Art Gallery, July 20 – 23
RealTime issue #39 Oct-Nov 2000 pg. 7
© Di Klaosen; for permission to reproduce apply to realtime@realtimearts.net
Triple Bill opened the Brisbane Powerhouse's inaugural l'attitude 27°5, an annual event of contemporary independent performance intended to showcase risk-taking fusions of dance, music, and installation art alongside forums, workshops and masterclasses. Curated by Zane Trow and Gail Hewton, the intention is to support independent artists and small companies by providing a platform to make new work, assistance to build networks including residencies with visiting overseas artists, and the connections to get their work shown beyond Brisbane. l'attitude 27°5 offers 3 weeks focusing on Australian dance and installation artists beginning with 3 new works by Brisbane choreographers.
Shaaron Boughen's Bleeding-A-Part is a moody exploration of love, desire, manipulation and obsession, sensuously danced by Fiona Malone with Tim Davey. Three scrim screens providing layering and texture initially veil the duo. She approaches, he rejects…they move to the next screen, each time she adds clothing items—layers—of separation. Susan Hawkins' deftly crafted soundscape of cello, piano, and spoken text gives body and substance to the whole. More layers—tips for young women from the Vogue beauty book, a manual on preparing rabbit carcasses, love scenes from Cole Porter, the laboratory dissection of a rat, erotic secrets of an imaginary lover—words juxtaposed against movement driven by the feminine point of view. Always the female wooing, the male resisting, rigid, passive. By contrast, his narrative is left unpenetrated. A prop for her to propel herself relentlessly against—towards—hurling her desire at him, recoiling from his touch.
The highlight: a haunting screen projection, dancing with the narcissistic ghost image of herself as her lover, a her-him, before the image dissolves into 'he' and therefore turns away from her once more. Artfully realised, Bleeding-A-Part seems resigned in its mild meditation on the ambiguity of a hunger for desire with no messy, juicy bits.
Fugu San. Space made tangible. Sliced. Shifted. Sculpted. Fugu San is not alone but in pas-de-deux with her environment. The first sound from the darkness is a rhythmic knocking beat. A shaft of light slowly reveals the pounding of crimson pink pointe shoes like pistons into the floor. Above, Lisa O'Neill, austere in black, and seemingly still. For 6 minutes the pointe shoe generator rumbles under black skirt, an engine building up a charge, whilst oblivious, the arms, torso, head explore the space they occupy. Behind her, Emma Pursey cuts a dramatic presence as the gothic mistress before a glass cabinet of sound, mixing live from her potions on vinyl.
O'Neill is a vital performer, more than just the pay-off of her disciplined training—Suzuki on top of an orthodox dance background. Absorbed in kinetic ritual we are absorbed in her absorption. She manipulates space and time with mesmerising nuances.
Disappearing down a hazy passage of yellow light. Emerging from another, icy blue. Symmetry informs the work, an architectural geometry in design of body movement and staging that is used to underscore mood. And the hint of a Japanese aesthetic? (The title, I am informed, is a nickname meaning 'blowfish' but does not bear directly on the work.)
It's not just a matter of body control and focus. Highlighting this, the third movement, a variation with grand pliés in first, momentarily loses that unmeasurable quality despite unwavering focus and control. A subtle shift, and I feel the movements are suddenly no longer satisfying her but made for us. Why…to extend the work, fill a quota?
Another exit: hip-rib-shift-elbow-leg heel-flick-land-look-pause….Eyes in her feet, in all her body parts. Querying, questioning, quirky feet. Despite the brief lapse, O'Neill's Fugu San is powerful, playful. With no agenda, it demands no explanation. One could charge O'Neill with conservative formalism, or banal decorativism, but Fugu San transcends that by the shamanic power of the performer. With a noble reticence to disclose her secret narrative, Fugu San does not invite us, she simply embarks on her mysterious journey, and I want to follow.
The set of Monster loosely suggests a Hammer horror, its gothic doorway, its drapes splattered in lipstick pink blood. A scream in the dark. Now he takes it back. "What, did you think I'd serve you up a monster just like that?…Fuck off!" Monster is a highly personal work for dance and text by Brian Lucas, supported by Brett Collery's eloquent soundscape, claiming to explore the iconography of Frankenstein's monster, the politics of the monstrous and the monster within, but weighted towards the relationship break-down that drives it, sparking the inquiry into monsters but never really descending into the deep. These are the monsters of bad faith. There are 10 ways to hit out at the lover who deserted you—stapling his trouser legs, hiding 6 pork chops around the apartment, outing the beloved to his father.
As if writer, performer and choreographer all knew each other, Lucas presents a hybrid performance piece where movement and text arise out of the same impulse; a self critiquing narrative that turns over and over, folding in upon itself whilst winding its way forward through love story, childhood reverie, the father's story, the lover's revenge. "One! Two! Three! Four!…such a Control Freak!" Lucas parodies his choreographer, himself. Dad-monster shuffles and swears—"Pigs Arse yer Cunt!"—his fingers wobbling.
The demanding range of performance skills is delivered with assurance, seamlessly moving between dance and dialogue, between multiple strands of narrative: creator/creature, father/son, lover/beloved, choreographer/performer. But skirting the truly monstrous, monsters of domestic pettiness prevail, pivoting on loss of self esteem. For me, only his monstrous father evoked the kind of revulsion and pity that challenged.
Is this self expression made art or an effort to make artistic capital out of a surplus of self? Is this monster a power-freak manipulating us into condoning and approving of his monstrosity? Surely perpetual irony cancels itself out. By setting up and pulling down, Lucas wants to have his cake and eat it too: brave, raw exposé and self-absorbed relationship therapy. Whilst compellingly performed, I feel Lucas relies on a sophisticated complicity from his audience, implicating us in his revenge tactic no. 5: to "analyse his relationship breakdown in a performance piece." How monstrously decadent!
Triple Bill, Bleeding-A-Part, director/designer Shaaron Boughen, writer Michael Richards, dancers Tim Davey, Fiona Malone; Fugu San, created and performed by Lisa O'Neill; Monster, created and performed by Brian Lucas; l'attitude 27°5, curators Zane Trow, Gail Hewton: Visy Theatre, Brisbane Powerhouse, September 5-17
RealTime issue #39 Oct-Nov 2000 pg. 39
© Indija Mahjoeddin; for permission to reproduce apply to realtime@realtimearts.net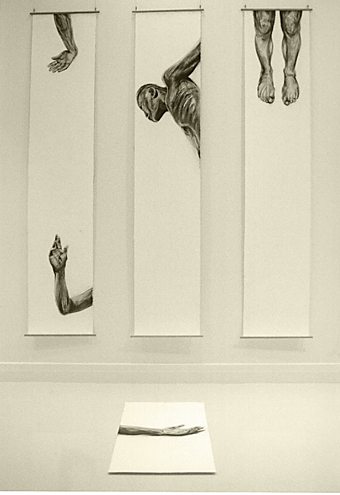 Michael Pearce, Flow
Michael Pearce is a well established stage and costume designer for dance and recently won a Green Room Award (his second) for the set and costumes in James Kudelka's Book of Alleged Dances (Australian Ballet). His latest solo exhibition, Flow, was inspired by an Asialink residency in Hanoi.
A series of drawings were hung on gallery walls, some overflowing onto the floor. They were shaped like Chinese wall hangings but their content was different. Most of the drawings were of body parts; feet, head, face, wrist, arms. Their vivid colours reminded me of the impressionists' deconstruction of white light into the spectrum but in this case, the subject was a body in movement. Even in stillness, the impressionists' concern was with the animation that makes a body alive. My favourite piece was a pair of feet, lapping the floor from the wall. In this interpretation, you could feel the history of practice that has formed this particular pair of feet, the uneven weight distribution, the irregularities of its toes.
Pearce used a ghosting technique to suggest a trace, a not-quite presence related to the very palpable flesh of his work. Even the parchment began to look like skin to me. I was reminded a little of this year's Sydney Biennale exhibitor, Adriana Varejao, but where her flesh is thrust in your face, Michael's very gently emerges somewhere between you and the work.
Flow, drawing installation by Michael Pearce, The Counihan Gallery, Brunswick, August 17 – September 3.
RealTime issue #39 Oct-Nov 2000 pg. 38
© Philipa Rothfield; for permission to reproduce apply to realtime@realtimearts.net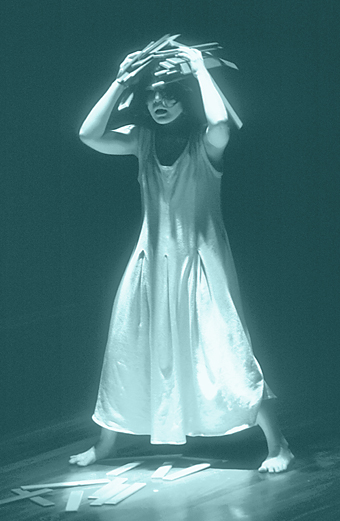 photo Brad Hick
Yumi Umiumare, INORI-in-visible
"I like smashing things," Margaret Trail confessed in K-ting!. It was a fortnight of 'smashing' in Melbourne, from Chunky Move's exploding set floor in their Hydra (shades of John Carpenter's The Thing) to Yumi Umiumare's evocation of the Hanshin earthquake in her Mixed Metaphor piece INORI-in-visible. Artaud's exclamation that "The sky has gone mad!" was repetitively rendered on stage.
The Mixed Metaphor artists were obsessed with language, or languages—their layering, mutual incompatibility and paradoxical similarity. Dancehouse was filled with projected text, surtitles, interrupted whispers, mangled soundtracks, bodies both literally and metaphorically inscribed in a way affective and yet impossible to fully know. Metaphors of likeness and unlikeness, these are works inhabiting a realm between holistic unity and irreducible multiplicity.
A new space is opened up in the creation of a performance which is like a performance (rather than 'like nature'); metaphors about metaphors. Susie Fraser for example, offered us the doubled spectacle of watching a mother watching her experience of motherhood, represented by diary entries, medical reports, home video and more. Her confession however left much unsaid. Similarly dancer/choreographer Jodie Farrugia projected a mysterious book above the dancers, containing poses that they appeared preordained to echo. A partial revelation of the inaccessibility of destiny as semi-unconscious accord.
Full revelation was perpetually offered yet denied the audience. Various texts bound these performances together whilst allowing one to glimpse through them towards something else—aporia perhaps. The performances were vertiginous in their very materiality, creating the possibility of a metaphoric conflation and conflagration of the word.
In this respect, Trail's K-ting! was the most absorbing, and frighteningly funny, work. Scored to a complex deconstruction and montage of pieces torn from some unknowable and apparently absurd conversation or conversations ("Are you really a fireman?" she remarked), the text was constantly interrupted by the sound of smashing crockery and other materials. Each misplaced phoneme shattered the veneer of normality, raising the almost literally hysterical possibility of social opprobrium and embarrassment ("What is…what is it…it is…this really quite unpleasant thing we do?").
Trail stood largely at ease in the centre of this vortex of mistakes, Freudian slips and alliterated nonsense, pondering and imperfectly miming under the spotlight. She acted as a performer performing someone not performing—not really, not in any overt way. The subject-hood of the scored 'characters' she interacted with was provisionally and variously defined by the name they answered to—"I'm super-model Margaret", "I'm fireman Jeff". Trail dramatised how all conversation and recognition occurs under the threat of potentially sublime linguistic breakage or meltdown ("k-ting!").
Lest one seek refuge in the idea of a pre-linguistic body, Trail exemplified the tendency of the performers to dramatise the body as a parallel, coded presence. Her physical performance consisted of a series of abstract yet implicitly communicative gestures: arms raised, hands spread wide and shaken in frustration, or fingers curled delicately as they described the space that bathed and sustained the subject. Though these actions 'touched' the recorded vocalisations, they never followed the same logic or pathway—meta-performance perhaps. The poses recurred and frayed, like old phrases becoming increasingly meaningless or overloaded through use. The body struggling against becoming a cliche. Of what? Of itself.
Compared to Trail's thoughtful, at times ecstatic, implicitly sexual linguistic farce, Yumi Umiumare's performance was immediately disturbing. Should one laugh? Is it okay to laugh at someone else's horror? Can an Anglophone laugh when berated in Japanese without appearing insensitive or culturally smug? Aural hieroglyphs from the perspective of the Anglophone, words transformed—transfixed—rendered as 'pure' sound or affect by cultural and geographic distance.
Umiumare entertained her audience, but she did not let them off lightly. She was, however, more reluctant than Trail to revel in smashing. The sticks she wielded acted as ambiguous talismans of the quake zone, memory and experience.
The core of the performance was Umiumare 're-enacting', trying to phone her relatives in Hanshin. "Hello?…Hello?…Hello?" Echoing calls degenerating into violent, hysterical shouts, and even a psychic space outside of this. An implosion of space, time and emotion. The venue becomes an abstract, mnemonic theatre in which Umiumare imagines an event she herself was denied. The walls' "shake" she mimed for us, breaking through language for a moment. Umiumare's adoption of an almost childlike, tragically playful performance mode suffused the space with an overwhelming sense of presence and absence, of felt pain and the impossibility of its recapture. One moved from Trail's almost orgiastic celebration of smashing, to Umiumare's ambivalent attempt to recapture it.
Mixed Metaphor, Separate at Earth, video installation Cazerine Barry; Stories From The Interior…Shedding, writing/direction/performance Susie Fraser, video Lisa Philip-Harbutt, dramaturgy Sue Formby. In Outside, direction/choreography/performance Jodie Farrugia, performer/collaborators Dylan Hodda, Rowan Marchingo, video Dermot Egan. K-ting!, writing/direction/performance/sound Margaret Trail. Operation in the Middle of Things, creation/performance Tim Davey. INORI-in-visible, creation/performance Yumi Umiumare, set Anthony Pelchen, sound Tatsuyoshi Kawabata. Lighting (all works) Nik Pajanti. Dancehouse, Melbourne, July 27-August 6.
RealTime issue #39 Oct-Nov 2000 pg. 38
© Jonathan Marshall; for permission to reproduce apply to realtime@realtimearts.net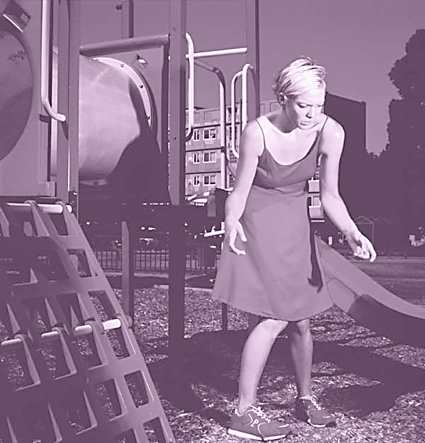 Kate Denborough, Birthday
Although Kate Denborough's Birthday involves 2 members of the crew's immediate family, it has a solo ring to it. This is because the feelings of the piece centre around Denborough's existential self-questioning. Birthdays can do that to you, sometimes creating solitude in the midst of celebration.
The set is small. A little bit of a house comes crashing down. A party is held. The audience are the party, that is, apart from Kate who does everything. She even plays her own party games amidst a choreography of excitement. Funny how sad it all seems. The bigger the gesticulation, the emptier the gesture. Finally, a headpiece is revealed, a sort of silver galaxy with orbiting blue lights. When the headgear is fitted, the piece changes from witty, funky, and sad to surreal. This is the largest danced section of the piece—a mixture of beautifully shaped legs and turns and tottering unknowingness, turned inside out. The walls of this small universe provide anchorage but not direction.
It takes Dad (Michael Denborough) to bring his daughter out of her existential nausea with cake and champagne. Unfortunately, he fades away, his mortality getting the better of him, leaving our hero alone again. The wall momentarily functions as an artificial partner, absorbing the betrayal of loss. But how good can a wall be? Luckily, youth saves the day and dashes across the stage to grab a mouthful of cake. We leave Kate seated by the young musician (Christopher Bolton), having her cake and eating it too. A thoughtful piece that comes from a deep emotional place. Three cheers.
Birthday, choreography Kate Denborough, direction John Bolton, performers Kate Denborough, Michael Denborough, Christopher Bolton, design Ben Cobham, Kristin Green, sound Franc Tetaz; CUB. Malthouse, September 14-16.
RealTime issue #39 Oct-Nov 2000 pg. 38
© Philipa Rothfield; for permission to reproduce apply to realtime@realtimearts.net

Nicola Loder, Untitled
Orbital was an ambitious exhibition of time-based media installations, simultaneously held in Melbourne and London. It featured 5 new media artworks by Australian artists Nicola Loader, Megan Jones, Nigel Helyer, Margie Medlin, Brook Andrew and Raymond Peer.
The first thing that struck me as I walked into the CCP gallery space (Gallery 1) was Nigel Helyer's Ariel, a luminous lime-green and lemon interactive sound sculpture installation described in the catalogue as "a sensor based ecosystem of mutant jellyfish-like radio objects which respond to the physical presence of a human interface." In the catalogue Helyer reflects on his work as "a sonic-mapping of voices lost in the ether, of song long settled in the dust." Fugitive sounds, with all of their associated resonance, vibrated and echoed in this labyrinthine soundscape.
Voices speaking to each other were affecting in different ways in Nicola Loder's monitor-based digital video installation. A wall of monitors simultaneously screened 5 sets of strangers interacting with each other in a neutral photographic studio space. This mise-en-scene of blank white background focused further attention on the people and their conversations. Each monitor had its own set of earphones which enabled a semi-voyeuristic listening-in to encounters which were variously polemical, topical, intimate, sometimes even indifferent. Positioned as an acousmetre, I had memories of Alfred Hitchcock's Rear Window, in its invitation to multiple intrusiveness.
Megan Jones' Sites of Interception, on the other hand, was clearly a work whose purpose was both educational and political. This multimedia installation invites viewers to look at satellite imagery of the Murray Darling Basin in the Sunraysia region of Victoria, to explore Quicktime VR 360-degree panoramic environments of the region. Megan's CD-ROM was created in consultation with the Salinity Management Consortium as a SunRISE 21 Artist in Industry project and explores the sustainability of the Sunraysia region in the 21st century. The pathways through these topographical images, however, often transcended their informational function. There was at times a poetic feeling of place in the images of vastness and proximity, in the comparisons of the parched and the lush landscapes.
In the second gallery space there were 2 installations, one on each side of the room, a space enveloped in images, flickering constantly. On one side Margie Medlin's monitor-based digital media installation, Estate, focused on the nexus between dance, film and digital media. A kinetic dancer traverses a montage of digital images of Australian and Asian cities. A dance of the figural, in the unlikely milieu of an ever-expanding urban vista.
On the other side was BIYT/me/I (BODILY INSTINCT YEARNING TECHNOLOGY/multiplying emptiness/Identity), a digital video projection-based installation directed by Brook Andrew and choreographed by Raymond Peer. The intention of this installation was to give Wiradjuri (Aboriginal) and Assyrian perspectives of an Australian landscape. A multiple madness of images is navigated through 3 Australian identities. These figures are an Aboriginal surveyor re-mapping a city landscape, an Assyrian business man locked in a twilight zone of a train station trying to scale the capitalist terrain, and a displaced German woman living out of a trolley filled with both European and Australian objects. These narratives intersect and parallel one another, creating a complex cityscape tableau.
Orbital's accomplishments were highlighted in the different conceptions and visions of Australia represented: from the sonic echoes of the past to the hesitant meetings of strangers; from the vast and sparsely inhabited landscape to the bustling city streets and metropolises. The invitation of this exhibition was to reflect on the many ways that we have, and continue to, imagine ourselves in the many places that we live.
Orbital: visions of a future Australian landscape, curator Keely Macarow, Experimenta Media Arts, an associated event of the Australia Council's HeadsUp Australia 100 festival, London, Lux Gallery, London, July 2-9; Centre for Contemporary Photography, Melbourne, July 6-29.
RealTime issue #39 Oct-Nov 2000 pg. 31
© Anna Dzenis; for permission to reproduce apply to realtime@realtimearts.net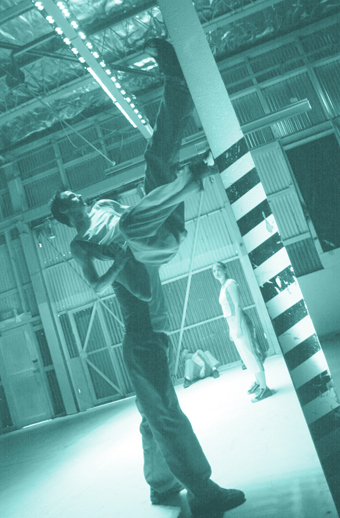 Stompin Youth, Primed
Stompin Youth's latest performance embodies the energy of dancers in the process of becoming primed for life. Artistic director Jerril Rechter has situated Primed in the Inveresk Railyards Tool Annex—a large and echoing workshop constructed from galvanised iron. Daylight chinks through gashes in the walls.
Primed is a site-specific performance that requires the audience to move to 4 locations. This would be a manoeuvre of (t)error for any director lacking Rechter's certainty. Stompin Youth effectively exploit the integrity of each space to perform a dynamically diverse, yet unified sequence of dance.
Site 1—Arcade. The beginning of Darrin Verhagen's sound score evokes a Tibetan prayer bowl resonating pure sound from its rim. Two skateboarders mirror this effect by circling a huddle of dancers lying on the floor. Four women enter, each with a flashing strobe attached to their belt. Chelsea Billet demonstrates stylised movements which build to a frenetic pitch as the dancers respond to her theme. They grip, release and fall, alternating a kickbox movement with a Zen bow-pull action of the arms. A strobe is dropped and lies displaced, winking at a red ball clamped in mechanical arms that hover menacingly. The dancers acknowledge this threatening presence with alternating gestures of homage, longing and uncertainty. Sixteen dancers maintain the focus and patterns of connection as Jan Hector and David Murray's lighting spills across dance to unrelenting dynamic and pulsing sound.
Site 2—Bedroom. Long strands of multi-coloured milk-crates dangle from the roof. Once released, the crates become seats for the audience. The area is in darkness and a slowed video sequence by Marcus Khan (from the original video Destination) establishes the elements of flirting, love and lust. Khans' languid images highlight an evocative interplay of limbs and bodies while handmaidens unroll red and blue quilt covers onto randomly slanted beds. The actions of 4 entwined couples counterpoint dancers who sit or move alone. In a world saturated with commodity images of sex, this uncompromising sequence evokes the permutations of sexuality and corporeal codes. Stompin Youth dance the space of desire with authority and maturity.
Site 3—Scanner. A corner of the workshop is dramatically steeped with white light. Sun seeps through the corrugated walls. Five male dancers revel in their strength and potency, testing their physical limits in vigorous duo and trio combinations. The work of Adam Wheeler and Cheyne Mitchell (in his first performance with the company) is robust and skilful. These dancers self-launch from the walls with ballistic force. The operatic voice emerging from Verhagen's score, and the tracking light grid accentuate the power of this performance. A feature of this site is the dancers' use of the corrugated walls and framework to enhance the percussive and choreographic effects. The dancers demonstrate a subtle combination of physicality and vulnerability. They realise something other than strength is needed to survive the whispering static of their own uncertainties.
Site 4—House. This site is the most enigmatic and challenging for a school audience. An empty carriage gradually reveals faces looking out onto dark ground. The train arrives, dancers emerge then re-enter the carriage. Each compartment reveals an upstairs and downstairs level. Hector and Murray's stunning lighting emphasises split panels that reflect and accentuate different body parts—hips, hands, heads and shoulders. When the lower level passengers exit there is an intriguing optical effect of surreal disembodiment.
Stompin Youth is a young company experienced in choreographic collaboration and working in multi-medial environments. Primed is a sophisticated production that successfully meets the demands of the workshop annex and the transitions across 4 sites. Launceston is fortunate to have a company that so effectively showcases the vitality and excitement of dance in a non-conventional theatre space.
Primed, Stompin Youth Dance Company in association with the Tasmanian Department of Education, artistic director/choreographer Jerril Rechter, choreographers/performers Cassie Anderson, Emma Anglesay, Sheona Anglesey, Claire Barker, Chelsea Billett, Rachelle Blakely, Mark Brazendale, Jo Briginshaw, Sally Anne Charles, Lilly Deeth, Elizabeth Elsby, Eve Flaherty, Sarah Hankey, Lauree Harris, Kylie Jackson, Tanya Lohrey, Kate MacGregor, Kathryn McKenzie, Cheyne Mitchell, Amalia Patourakis, Chris Philpot, Sandy Rapson, Ingrid Reynolds, Cory Spears, Lyndsay Spencer, Natasha Tabart, Nicola Watson, Adam Wheeler and Linda Voumard; composer Darrin Verhagen, designer Simon Terril, dramaturg Vanessa Pigrum, lighting Jen Hector & David Murray, video/documentary Marcus Khan; Inveresk Railyards Tool Annex, Launceston, August 31-September 2.
RealTime issue #39 Oct-Nov 2000 pg. 6
© Sue Moss; for permission to reproduce apply to realtime@realtimearts.net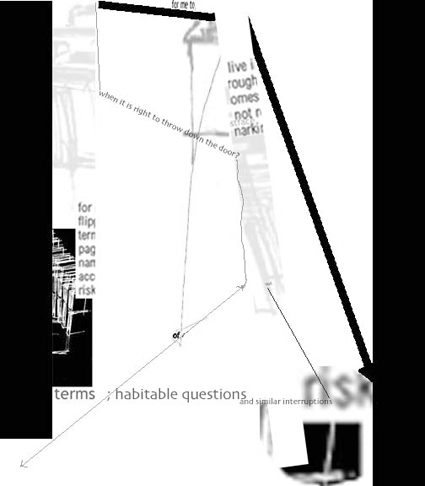 Acts of Language production, in the place of the page project Construction Phase 3
An Australian novelist reports on his UK residency to Incubation, an international conference on writing and the internet organised and hosted by trAce International Online Writing Community at Nottingham Trent University.
* * *
In this presentation I attempted to improvise a hypertext-like performance through a number of (also improvisatory) strategies. These were: 1. sitting among the audience facing forward and without making eye contact; 2. shifting restlessly from seat to seat (8 had been placed in an arc for an earlier panel) at the front of the auditorium; 3. reading to individual audience members and showing the place in the written text by following with my forefinger; 4. sitting on the knees of an audience member; 5. reading to individual audience members; 6. giving copies of my novels to audience members; 7. climbing over chairs stacked precariously at the rear of the auditorium; 8. crawling on hands and knees under the legs of rows of audience members, then springing into the air and shouting "Asparagus"; 9. teaching Israeli folkdancing (specifically, Havu Lanu Yayin Yayin—this involved the entire audience, and necessitated an interlude of about 4 minutes, after which I continued the talk somewhat out of breath); 10. wandering up and down the auditorium's centre or side aisles; 11. striding along the centre aisle patting audience members on the shoulders in time with the words; 12. informing a baby how my own 2 year old had insisted I go straight to Teletubbies websites and how I'd often have to switch back and forth between my work-in-progress and these children's sites if I wanted to get work done. These actions are indicated in parentheses where they occurred in the talk, as best as I can remember.
I was interviewed for the trAce Writer-in-Residency via videoconference (1). I sat in a room at the University of NSW and Sue Thomas and 2 other interviewers occupied a similar space at Nottingham Trent, although because of the camera framing, I could only see 2 of them at any time. During this interview, Thomas was quick to incorporate a definition of the word "flesh" widely circulating in this conference. Flesh is no longer a burden for our immortal souls to bear for a mere lifetime, but a guise which we may wear or discard at our discretion, alternating it with the virtual as a phase or layer or link in internet era identity.
I was flesh writer-in-residence at trAce from June to December 1999 (2). I shipped my meat to the UK by aeroplane, taking up space, eating aeroplane food from plastic aeroplane trays, leaving the plastic covers to become an international waste disposal problem, to become landfill in Singapore, Dubai and London where the plane touched down, sucked in fuel, emitted fumes and unloaded consumed and unconsumable international air traveller waste.
My friend McKenzie Wark (3), the writer and (I hope he'll excuse me for saying this) polemicist for the postmodern, borrows the term "vector" to describe flows of information, especially in relation to the operation of international media. The term implies both direction and mass (4). Anyone taking an international flight can observe the contents of their aerodynamic cylinder, 300 or 400 brain-boxes loaded with prejudices and ambitions with regard to the proper modes for conducting trade, government, travel and conversation, preconceptions and hopes for aesthetics, relationships and money schemes, as the flight arcs over irrelevant places (10), totally aimed at destination.
(8) There has been a lot of reference at this conference to the rhizome as a model for internet story-telling. I don't know if this theory holds water, but I'd like to suggest as an alternative, the sponge (3). The sponge is a collective of semi-autonomous cells, each of which has its own function yet contributes to the whole. It is possible to separate the cells by sieving. When brought near each other, they are then able to reconstitute the total organism.
I drove up the M1 from London to Nottingham, and I was in residence—or perhaps I should trace it back a little earlier—from the moment I saw the massive cement cooling towers of Nottingham's coal-power generators (7). Does a narrative place begin with the sighting of its iconic representation, even if one has not yet discovered that the landmark is iconic?
The flesh residency could be mapped along the length of this room: (11) June, July, August, September, October, November, and December. But to do that, I would need to remodel it in the Caesarean manner: I came, I saw, I overcame a number of minor technical difficulties and showed various people and groups in the East Midlands ways in which they might find certain aspects of internet culture and/or content interesting, useful, engaging, engulfing whereas others preferred other modes of research or creative production.
In June, I was overwhelmed with junkmail (3).
Dear Sir:
Having had your name and e-mail address from the Internet, we avail ourselves of the opportunity to write to you and to see if we can extablid (sic) your name and E-mail address from the Internet, we avail ourselves of the opportunity to write to you and to see if we can extablish (sic) business relations with you. We are Haimen Sihai Plant Extracts Co., Ltd., Jiangsu, China, specialising in astraglus extracts. We shall be glad to send you quotation and samples on receipt of your specific inquiry.
We await for your early reply with keen interest.
With best regards,
Yours faithfully,
Shirley ffield Sanford.
I was a relative newby, had built only 1 small and simple website, but had a longstanding interest in non-linear narrative, recognised by reviews such as this one of my first novel Tourism: "The back cover blurb calls it a novel, but you might as well call it a gazebo or a stirrup pump" (6).
If you'd asked me in June I would have said (5): I find the internet, in its unrestricted, ungated, chaotic, non-hierarchised, improper, uncatalogued, misspelt, garbage-filled, shit-strewn, amateurly built, poorly argued, jargon-ridden, linguistically overloaded, fanatical, self-important, trivial, pornographic, commercial, hit-driven, disorganised, memory-swallowing, time-stealing, left-branching, paranoid, unfocused, meandering, self-promoting, meta-generic, error-message-prone, window-popping, security-promising, satisfaction-guaranteeing, new-age-philosophising, loss-making, anything-goes, direction-finding, repetitious, unreliable, unbelievable, incredible, sex-life-saving, breast-expanding, money-throwing, pharmaceutical-flogging, comparison-shopping, bad-poetry-propounding, more-is-more-aestheticising, history-revising, spin-doctoring, repetitious, unreliable, neurotically generous and sometimes beautiful incarnations to be a useful resource for the understanding of otherwise difficult-to-imitate institutional languages, and their appropriation in my writing for various media.
I spent a good proportion of my residency travelling around the East Midlands (10)—the counties of Nottinghamshire, Derbyshire, Northamptonshire and Leicestershire, and the tiny breakaway enclave of Rutland—introducing internet possibilities to writing and other groups such as journalism students, recovering mental health patients, arts workers and librarians.
(9) One difference between online residency and flesh residency was that participants in the former were almost entirely self-selecting. They chose to participate in discussions on the webboard and for the most part chose to contribute to Christy Sheffield Sanford's My Millennium (www.trace.ntu.ac.uk/writers/sanford/my_millennium/presents.html – expired) or Alan Sondheim's loveandwar (www.trace.ntu.ac.uk/writers/sondheim – expired) or to my Speedfactory (www.trace.ntu.ac.uk/writers/cohen/speedfactory/speedfactory.htm> projects – expired) (10).
On that TV program-of-record, Sky News, it was reported the other night that although internet connection in Britain has doubled in the last Very Short Time (this story shows up on free-to-air every 6 weeks, every 3 weeks on Sky), some 15 million Britons have no intention of ever going on line and do not regard the internet as either relevant or necessary (5). I worked with many of these people.
While this produced some mutually frustrating interchanges, it also opened up surprising possibilities. One of the projects to which I had been most looking forward was the chance to work with retired and redundant coalminers. The East Midlands was a primordial site for the Industrial Era, the first resistance to it (by Luddites), and the major site of its end, hurried by the anti-union rabidity of the Thatcher government (3).
I was informed that a group of ex-miners wanted to write their history and stories online. Half way through the first session, a journalist rang to inquire how it was that an Australian novelist came to write a book about coalmining in Derbyshire (3). I was surprised by this project to say the least, but at this stage cannot entirely rule it out. The miners had been told I was conducting research for a book, and that it would be very useful for me if some would show up to assist with this (5). This meant that the most helpful miners, and some members of a writers' group composed largely of ex-miners' wives, chose to come along, but that none had any interest in the internet. So, in the manner of farce, I'd gone along to make their lives better and they'd shown up to improve mine.
We did manage to find material, 19th century coalmining poetry, coalmining and mining history discussion lists (3). More importantly, people brought out their archives, writing labours of love and 60 year-old catalogues of mining machinery. (Some of this is now online at www.trace.ntu.ac.uk/writers/cohen/front.htm – expired.)
Meantime in that refuge of calm, the internet, various people were teaching me more advanced skills. I'd been trying to make a MOO-based chatterbot say witty remarks, though it had come out more like Peter Handke's theatre piece Insulting the Audience (3). Later, trAce member Pauline Masurel and I constructed duelling sestina bots (12). (They're currently in the "trace" room at LinguaMOO www.lingua.utdallas.edu – [expired] and are named balagan and clamjamphrie.)
Christy generously suggested ways of improving my page-building skills, suggestions I abused to the degree that I became notorious for having built one of the ugliest pages in trAce (according to the Arts Council of England's Dispatches newsletter). Alan invited me to contribute to loveandwar. Instead (using a very simple Markov Chaining program), I remixed an Act from Shakespeare's Romeo and Juliet with extracts from The CIA World Factbook to produce what may be the ultimate in paranoid and bureaucratic Italian Romance (10).
In November, with Terri-ann White's assistance, I ran a superfast version of the collaborative e-mail writing exercise Speedfactory, a project devised in its long form by Wark and John Kinsella (5). In its original form, 1 partner e-mailed 300 words to a second, who had 48 hours to e-mail back. These exchanges seemed to sustain about 15 or 20 "rounds". In the trAce version, participants fired 50 words at each other 20 minutes apart. (The Kinsella/Wark/White/Cohen version will be published by Fremantle Arts Centre Press, hopefully within the next year.)
It's 7 months since the end of the residency, but I'm still involved with trAce (3), working with poet Mahendra Solanki, journalist Kaylois Henry and UK-based New Perspectives Theatre Company on another of Thomas's wild and hopefully achievable ideas, the HOME project, which, like me, is investigating various forms of dislocation.
Incubation, international conference on writing and the internet, trAce International Online Writing Community, Nottingham Trent University, UK, July 10-12.
RealTime issue #39 Oct-Nov 2000 pg.
© Bernard Cohen; for permission to reproduce apply to realtime@realtimearts.net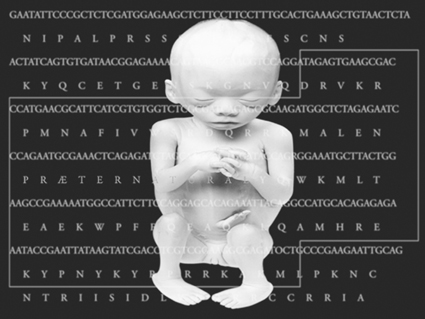 Michele Barker, Præternatural
I'm part of a large organising committee including people like Annemarie Jonson, and John Tonkin. I'm helping out with the exhibition components. I've recently finished by PhD which looks at artists using Artificial Life because essentially that's the theme of this futureScreen.
The right man at the right time in the right place. How is the theme realised?
It's been taken on in a broad way. Alife is a quite coherent little scientific discipline with its own conferences and papers and journals and there is quite a lot of art that draws directly on the techniques of that scientific culture. On the other hand, the idea of artificial life is much broader than that and embraces all kinds of re-engineerings of life including biotechnology and medical technologies; it also filters into artificial intelligence and robotics. All those things are broader than Alife as a discipline but all of them are involved in futureScreen 00.
How is it staged?
The core event is a forum that spans technoscience, creative practice and cultural thought. So in the last one, which was about avatars, we had technologists who were building software to make avatars and people who were building virtual worlds from the technology, IT and commercial industry point of view. We also had lots of artists who were doing the same sort of thing. Similarly with Alife, we've got people who are researchers in the field. We've done incredibly well and got Christopher Langton, the guy who basically founded Artificial Life. He's coming to give a keynote, which is fantastic.
When did he make the discovery?
During the early 80s. Alife defines itself by distinguishing itself from Artificial Intelligence. It came about through a hunch that AI was basically going about things the wrong way by trying to start with intelligence as the object that needed simulating. The basic intuition of Alife is why don't we start with something simpler and see if we can work out how living systems work. The key approach of Alife is to think that the intelligence will pop up out of the life once the life is put together in the right way.
Over the years we've seen life being generated and mutated on computer screens.
It's an obsession but it's also quite a well-established tradition in the electronic arts. This is quite a strong thread, which almost parallels the science. I think of it as a generative urge and an urge for automatism, if that's the right word, for the automatic, for the thing that does its own thing. I guess you can trace it back to kinetic art and systems art in the 60s if not well before that. To me that's what's fascinating about this. Artists are taken with it because they're interested in exactly those aims. So they take up these techniques from the scientific field and start tinkering with them…
It's so different from the idea of the static, finished artwork.
On the other hand there are things I have problems with about it—things like organicist ideas about the wholeness of the work or the work being some sort of perfect functioning unit or ideas about the "living" work. That's the whole modernist tradition which all of this stuff is really involved with, I think. But when it works well it sidesteps that.
In what way will it manifest itself in futureScreen?
All kinds of ways. We've got some beautiful robotic work. An American artist called Kenneth Rinaldo for many years has been building robotic systems. He calls them a "confluence" between technological and biological systems. They're robotic arms but the structural material is grapevines with delicate little wire and pulley articulations. The work's called Autopoiesis and consists of 14 of these arms; we've got 8 of them, each about 3 metres long. They hang from the ceiling, sense each other's location and sort of flock around. They also sense the location of people walking around in the room and they twist and turn and sing to each other, using telephone tones.
Sounds like a major piece.
It's huge. It's come fresh from the Kiasma Museum in Helsinki who commissioned it. It's a piece of straight Alife in the sense that it's using all of the basic techniques from Artificial Life to do with putting lots of simple units together and watching them interact in order to make something more complex, something emergent happen.
These things are generative—is there a chance element?
With Ken's work and a lot of the other work it's a kind of involvement of the environment, the work is sensing itself and sensing changes within itself. It's really the setting in place of a system that is richly interconnected both with itself and with its environment. So it's reacting and that is, I suppose, where the impression of life-likeness or autonomy comes from, from the complexity and the patterned nature of those responses.
Autopoiesis is at the Australian Centre for Photography. Also at the ACP is Michele Barker's new work Praeternatural which is a very luscious, interactive CD-ROM-based work about the engineering of a being, a build-your-baby scenario. There's also an Australian group called Tissue Culture who make tiny artworks out of bits of living tissue—tiny postage stamp sized bits of scaffolding with actual living stuff growing on it. That should be interesting to see.
Then opening during October at Artspace are 4 other works. Two of my favourite Alife artists, Erwin Driessens and Maria Verstappen, are relatively unknown in the electronic arts world because they come out of the contemporary European gallery scene. We have 2 works of theirs. One is called IMA Traveller, which is a computer-driven video projection piece, very very simple. It looks like you're diving into a field of multi-coloured clouds and the clouds advance towards you and keep differentiating and you keep diving in and in and in. It's a kind of zoom that never stops. But it's made by a little cellular structure. They call it "pixel consciousness"—each of these pixels looks around at its neighbours and then splits into a bunch of other pixels. So it's like a microbial mat of pixels.
What's it responding to?
Nothing apart from itself. It looks around in the picture plane. Each pixel looks at its neighbours. The work borrows an idea from Artificial Life called cellular automata, a kind of computational system involving cells which do things based on what their neighbours are doing. The classic is a work called The Game of Life by John Conway. This one is really great because it has cells but the cells actually split. Conventionally, they stay as static units, but these sort of split and push each other out. So it's a much more dynamic structure. It gives a beautiful result. As a sensual thing, it's gorgeous. I'm really excited about seeing that on a big projection screen. The other work of theirs, called Breed, uses similar cellular splitting process but in 3 dimensions. The artists are sending out some intricate little polyester resin computer manufactured forms. Their work is interesting because while it's very beautiful, it involves a kind of blankness, a total removal of artistic volition from a process of morphogenesis.
So, once it's going, it's going.
Yes. It's like the artists are asking how can we remove our aesthetic decision-making and just make varieties of stuff. One of the most complex works in the show is Life Space by a pair of European artists based in Japan, Christa Sommerer and Laurent Mignonneau. It's an artificial ecosystem where the creatures live in a thicket of vegetation and you can interact with them on a video screen. Interestingly, the way that you generate more creatures is by typing text into the system. You can send it an e-mail, which it will interpret —this is the genetic code for a new organism and based on the characters in your e-mail it will generate some new creature. Then other people can log into the site and see what the creatures are doing. You can encourage them to get together and have babies or stop your favourite creature from being eaten by the others. Stuff like that. It's a play garden.
Do you have to learn a code to do it?
No. All the interaction level is quite fluent, quite intuitive. Also in the exhibition there's a listening station for a site I'm curating called Autonomous Audio, which is a collection of audio pieces by artists using Artificial Life and other complex generative systems. Everything from conventional Artificial Life techniques of cellular automata and simulated genetics through to more open-ended physical feedback systems and other complex forms. That's at Artspace and we're streaming audio on line as well as mpeg downloads. It includes some interesting Australian computer music—academia-based computer musicians in the art music mode—and then some people who are more experimental media hackers but often using similar processes and coming up with stuff that in some cases sounds quite similar to old school computer music. There's a piece by Oren Ambarchi and Martin Ng who are local improv. merchants—a beautiful piece using feedback systems running through turntables.
Then there's the forum event—another all star lineup. There's Langton, as well as Tom Ray, another Alife pioneer who will be doing a remote presentation, and Cynthia Brezeal, who builds "sociable robots" with Rodney Brooks at MIT. We also have Steve Kurtz from the American group Critical Art Ensemble, who makes a strong political critique of biotechnology. There are some interesting AI people. There's Claude Samut, who was involved in the Robo Soccer Tournament with the winning team of Sony AIBO dogs; Sony's little artificial pets. There's also some good local people like Stephen Jones and Jon McCormack, an artist who has been working in this area longer than most people. Oh, and also, we have Don Colgan from the Australian Museum who's involved in the Thylacene project, hoping to clone or revive the Thylacene from preserved genetic material. That'll be fascinating.
dLux media arts, futureScreen00, Symposium, Powerhouse Museum, October 27 – 29, Exhibitions: Artspace, October 5-29, ACP (Australian Centre for Photography), October 20 – November 20, (www.dlux.org.au/fs00).
RealTime issue #39 Oct-Nov 2000 pg. 32
© Keith Gallasch; for permission to reproduce apply to realtime@realtimearts.net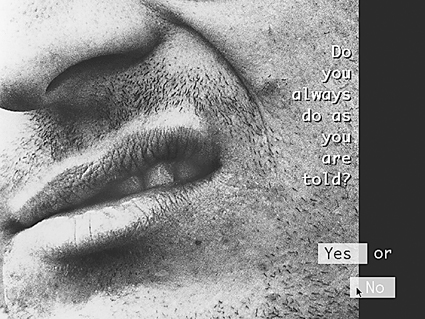 Josephine Starrs and Leon Cmielewski, User Unfriendly Interface
Tertiary institutions everywhere are setting up new media departments, their computer labs bulging with students eager to skill up for the 21st century in which it seems everyone wants to be a web designer.
Courtney Love, recently writing about music pirating, posted to a list serv:
I have a 14-year-old niece. She used to want to be a rock star. Before that she wanted to be an actress. As of 6 months ago, what do you think she wants to be when she grows up? What's the glamorous, emancipating career of choice? Of course, she wants to be a web designer. It's such a glamorous business!
Glamorous? Well certainly ubiquitous, the landscape is littered with URLs. Bus and taxi backs point to insurance websites, graffiti points to net.art sites, Telstra has back buttons on their billboards, the accepted interface norm dumbs down another notch. The web is the area where students know they can get work right now, in spite of some employers' proud boasts of huge burn-out rates; if you look remotely like a plug'n'play pixel monkey, you're in (for the moment anyway). We wonder about a time when every business has a website, there's a glut of people out there with web skills who can't get work and nobody knows how to bang a nail into a piece of wood, or use a welder.
According to Kathy Cleland, new media curator and lecturer:
There is a huge student demand for courses at tertiary institutions which have anything to do with multimedia and this is increasing exponentially. An introductory multimedia course I taught at the beginning of 1999 had 30 students; the same course this year had 95 students. There is also a tendency in full fee paying institutions to over-enrol students to maximise profits which leads to very large tutorial sizes and consequently to staff burnout with huge marking loads. I have been teaching at an institution (half university owned and half corporate) that has 4 semesters per year so there is also very little time for research and skills upgrading.
The difficulties in teaching digital media arise from the breadth and scope of the area. Due to its hybrid nature and links with cultural studies, communication theory, visual design, visual arts, computer science, film studies etc, new media projects typically require a vast skillset and cover a range of considerations which are not necessarily able to be delivered within the one faculty (as lines are currently drawn) or indeed by the one student. This is why it is particularly exciting for us that the School of Design, University of Western Sydney, Nepean is potentially merging with the Communications and Media School. Students currently can choose to undertake subjects across school lines, but it is difficult to "synthesise" school approaches. As new media becomes less new and more consolidated in its own right, we will see some of the moving targets come into focus enough to better track them.
The pedagogical dilemma is the fact that the 'mission statement' doesn't yet exist. There is no agreed canon. It's too early to be able to draw on a history of interactive media, as we have for film and TV. But then again, that's often the attraction. It's new and uncharted, with a plethora of opportunities for innovation.
There is a strong trend towards online education, which makes life easier, or at least more efficient for both students and teachers. List servs can be an extremely useful teaching apparatus, enabling the whole group to communicate their ideas to each other, and also for lecturers to give feedback easily. Online education is going to be a huge growth area and will ultimately challenge the traditional university structure. The fees charged for these courses are much lower than current student fees and you can do a course with the university of your choice anywhere in the world. There are also a lot of corporations looking at education as a vast, extremely lucrative untapped market—so education is not going to remain the exclusive property of universities for much longer. A friend who recently moved to Canada to take up a university teaching position wrote describing a rather dystopian vision of future online education:
Moving to Canada was a mistake because the university I came to is trying really hard to be like a corporate online course farm…I have to be managed and work in a cubicle.
Here it is often visual artists who are teaching digital media in design schools. Practitioners have a wide practical skillset acquired through an exploratory approach to self learning as well as from working in different roles on varied projects, and are experienced in collaborative working models. In our own practice, the aim is to teach people to integrate their creativity more deeply into the computer environment as well as to teach within a cultural context. We encourage practical teamwork as well as learning the toolset, which is an easier task in design than fine art. The fine art world, for all its postmodern rhetoric, is generally trapped in the modernist paradigm of artist as lone lone hero. Consider the promotion of young British artists (or YBAs as they are known) by the advertising firm/art collectors/government consultants, Saatchi and Saatchi, in London. These artists are like popstars, the more famous and controversial the more likely they are to sell their work. And now there are billboards at Heathrow airport of Tracey Emin selling Bombay Sapphire Gin. First artists become products to be promoted and, when famous enough, they can be used to sell other products.
New media artists tend to be critical of the current fine art institutions. We like to employ a hacker mentality in our approach not only to technology but systems in general, whether they be social systems or 'the media' themselves. Our interest in the area of new technologies is fuelled by a mixture of scepticism (who is excluded from technotopia and why would anyone want to live there anyway?) as well as enthusiasm for the playful possibilities of digital media. Our own work which includes the User Unfriendly Interface, Paranoid Interface and the Bio-Tek Kitchen game patch deconstructs current interface and game paradigms, subverting them to reveal that our experiences are being increasingly mediated by new technologies and that there are dangers hardwired into this trend.
At UWS we introduce students to different online and gaming cultures, cyberfeminism, hacktivism, and 'Tactical Media', which is the rather slippery term used to describe the practices of a loose alliance of international media theorists, artists, designers and activists. We also expose people to the enormous amount of interesting and playful work which is being made around the globe. Often what excites the students excites us and, as play and pleasure have always been an integral part of our work, we encourage people to do the same and sometimes get great results—work which can inspire and entertain us all.
Josephine Starrs and Leon Cmielewski are artists and lecturers in new media at the School of Design, University of Western Sydney, Nepean. Their latest work Dream Kitchen is an interactive stop motion animation CD-ROM. See Working the Screen
Thanks to Robyn Stacey and Sarah Waterson (School of Design, UWS Nepean) and Brad Miller (College of Fine Arts, UNSW), for their valuable input into this article.
RealTime issue #38 Aug-Sept 2000 pg. 8
© Josephine Starrs & Leon Cmielewski; for permission to reproduce apply to realtime@realtimearts.net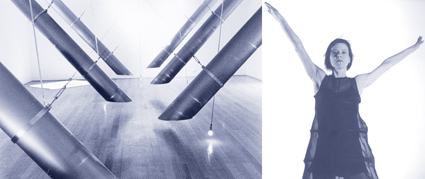 courtesy the artists
Lucy Guerin, 25 Songs on 25 Lines of Words on Art Statement for Seven Voices and Dance
25 Songs on 25 Lines of Words on Art Statement for Seven Voices and Dance is a collaborative work between artist Joe Felber, composer Elliott Gyger and dancer Lucy Guerin, each of whom is responding directly to American painter Ad Reinhardt's famous 25 Lines of Words on Art Statement. The 3 artists have created a theatre of response, reconsidering Reinhardt's seminal 1958 writing on abstraction, art and modernism through the creation of a work combining music, image, video and dance.
Involving interdisciplinary arts practice and new media technology, the installation runs from the Cubase program. The video, stills photography and text graphics were created on Adobe After Effects and Premiere. The Pendulums run on a 12 volt magnet call from 2 transformers.
Joe Felber is an Australian citizen of Swiss origin. He completed an architectural draftsman apprenticeship in Switzerland and Master in Art (sculpture) at RMIT. His is a pluralistic arts practice including painting, photography, video and new media art. He has exhibited internationally since 1985 in New York, Europe and Australia.
This work toured Australia and Singapore and will be shown October-December 2001 at the Minioriten in Graz and Landesgalerie, Ladesmuseum in Linz Austria. Australia Council for the Arts, Pro Helvetia, Switzerland, Credit Suisse Group, Singapore.
Working the Screen 2000 was a supplement in RT38 surveying media arts.
–
RealTime issue #38 Aug-Sept 2000, WTS p15
© RealTime; for permission to reproduce apply to realtime@realtimearts.net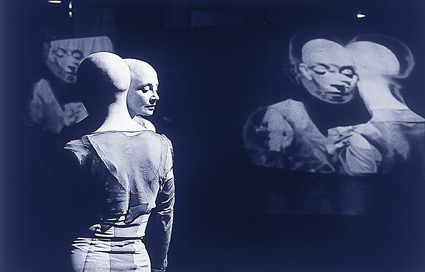 Company in Space, Escape Velocity
Across Australia, there are a significant number of artists and companies working with digital media and in multimedia, each in their own distinctive way, sometimes continuously, occasionally in one-off projects, exploring the relationship between live and pre-recorded performance, or between live and realtime mediated performance, or combinations. This list is by no means exhaustive, but it is indicative of the extent of the engagement: Arena Theatre, Trash Vaudeville, Bonemap, Back to Back Theatre, Sidetrack Performance Group, Urban Theatre Projects, Melbourne Workers Theatre, Nerve Shell, Salamanca Theatre, Dance Works, Heliograph, Doppio Parallello, Anna Sabiel and Sarah Waterson, Dina Panozzo, Marrugeku Company, Louise Taube, Snafu, skadada, Sam James, Mark Rogers, Brink Visual Theatre (Brisbane) and Cazerine Barry. The most dedicated and widely travelled (and broadcast) of groups committed to exploring performance and technology, and for the longest time, has been Company in Space.
In the first of the RealTime/Performance Space forums for artists about vision, training and practice, Company in Space co-Artistic Director Hellen Sky talked to Keith Gallasch, with questions coming from the audience when they wished. This is a small part of a much longer discussion available on the RealTime website. After a brief introduction to the work of Company in Space (John McCormick is co-Artistic Director ), Keith asked about the dancer's "relationship with the screen in performance, your awareness of the other dancer who is in another space?"
It's not like you're watching the screen all the time but a part of your eye, if you need it to, is going to the screen. In telematic works when you're dealing with different geographies, the screen is your conduit to the other dancer. No longer are you sharing a space, no longer can you hear their breath, their footfall. When working in any group choreography and looking at simultaneity of movement, your perception is already in the physical space, not just through your eyes, it's listening, you feel the people you're dancing with. There is this shared body thing. When you separate from that, you still have to feel that you're sharing that space, that you can get this sense of them being there. In terms of consciousness, this is very expansive—how might you perceive yourself being in the moment of the performance? But there is this thing which is the screen. And it changes depending on the circumstances. In January I was in Hong Kong and Louise Taube was in a nightclub in Melbourne. You can't always put the screen exactly where you want it to be in the performance space. It's not like you can always design it to have the privilege of your point of view going straight to your partner. And you don't want to be looking at the screen anyway. You actually want to be addressing all the other things that are going on in the space.
KG Here on video are 2 versions of Escape Velocity, one Hellen calls the "contained" performance, and then the telematic version performed in 2 locations.
HS This was done in 1998 in a non-conventional space. At this point, the hand and the head are orchestrating the sound. So very small movements of the body are creating the score. What you can't see is the little laser lights on the floor, a grid that doesn't emerge in the video. The movement is being motion-detected. The velocity of the movement is creating the score. The other sound is being mixed into the score because there's a ledge up there and we were out of the range of the camera and couldn't trigger the score. We're about 6 metres up in the air by now. You can see Kelly and Luke here. They're the ones down below who are stopping us from falling on our faces. Not only are they belaying us through all of this (controlling the raising and lowering of the performers) but they're also filming us from underneath and our images are being fed into the computer and an effect added and it's going across a whole cyclorama of screens at the back. This is their camera point of view happening in real time as they're belaying us and leaning backwards on the floor. The whole thing was about gravity and loss of gravity. Where is the body really when we have the possibility to exist in this virtual space where there's no gravity? What is meaning there? What is memory there?
Audience All the movement is set?
Hellen Skye It's set in that if we want it to go slow we can. In that section where we're pushing it, we still have the privilege of being with each other and hearing each other. The movement is trying very much to be in unison. If we were to hang back we would do so together and know that we'd brought the score to silence. So from night to night, there's some flexibility to deal with—'Hey, I really like it here. It's good to have it quiet for a bit.' It's quite flexible.
Audience The audience is not necessarily aware what is happening technically?
In a way I don't care if the audience knows it or not but it changes my relationship to it and, therefore, it changes my presence and the evolution of the piece.
Audience I can see that not knowing that the dance and the sound are connected wouldn't matter but the sound seems like a sea of sound. How does the technology handle specific or subtle movements affecting the sound?
HS When we were experimenting with it, I could go like that with my little finger and Garth Paine could make it a huge or a little sound or it could happen 4 minutes later. That's its potential. That's a nice thing to play with. I could put the camera on my face and just do a whole thing with my tongue. It's something more than choreography responding to music. It's an expansive experience. And, if we had the privilege of being able to educate ourselves with this stuff, it'd be an expansive experience for the body to learn.
Audience Those little movements, do they happen live or did they have to be pre-programmed?
HS Absolutely in real time. I could ask him to delay the data and it would be different. The collaboration then is what becomes of data. I have to know the possibilities. Those are the things that take time to negotiate. For Garth to be able to set up the parameters and the data it takes time but it's quite interesting. These animations and graphics are pre-constructed with a brief. Some of them I made and some of them I've worked with an animation artist. I don't work with 3D graphics. You can't do everything. That's great. Why would you want to? Other people do one thing really well. You don't have to multi-skill. When you're beginning maybe you want to just so you know. I worked with an electronics engineer and each of the laser lights had stepper motors on them so that when you broke the laser beam the light would shift. My idea was to have a 3- dimensional light space which enclosed the body but which kept shifting around it. Sometimes these things fail too. The stepper motors didn't always work but there's a sense that I'm changing the light around the body.
Now you can see the 2 dancers juxtaposed against this but then the camera choreography comes in and we're working with a duplication of ourselves in the video frame. Now Louise is in red and has an overhead camera with virtual objects in it. Her virtual body is breaking these objects, creating noises, constructing her score. You can see the little icons there on the field. So we have an overhead camera point of view which is giving her virtual body the option of being able to break a virtual video object which can change the background but also orchestrate the sound in real time.
Audience What's a virtual video object?
HS It's a video icon which you can call a button. That's one layer. The mixing in of the camera point of view is another layer. Then the animations under that are another layer. When this object perceives the breaking of the object from the virtual camera body, it triggers the sound. That's the system that John invented.
KG That's the video of the "contained" version. Here's the telematic duet.
HS This was between Arizona and Melbourne. And just to think about how you might set something like this up is a whole dialogue in itself. It's about pragmatic things, about finding overseas partners who understand what you're trying to do…and installing the link. Just getting the link right! That's me in Arizona chatting to the audience. It was a thing called International Dance and Technology that they held at Arizona State University (see RealTime 31, page 35). The other place is the Rusden Campus of Deakin University.
Audience How is it connected?
HS Through an ISDN. A single line. 264k ISDN so it's 128k point to point ISDN. ISDN is what they use for tele-conferencing in the corporate sector or in the medical and educational sectors more and more, when you have 2 or 3 talking heads.
Audience It's like 6 telephone lines.
HS And ideally you want to have 3 of them. But each time you do it between here and America it's like a $450 per half hour phone bill. So, the thing about budgets is interesting once you start working on it. So for me to do this work was to reduce it from about 45 minutes into a 20 minute performance where the 2 camera operators and 2 dancers are in separate locations. The negotiation of framing is very intuitive. They're having to watch the screen output and know that they're putting us in the right relationship. Also, the intelligent hub with all the computers and the camera network is based in Melbourne and it's a camera feed that's going through to Melbourne. On the way it's going through a whole lot of processes and it's being sent back and there's a 3 second delay. So there's this whole thing about time. Some people might see it as a problem. I think it's quite interesting that time is altered because you're trying to pipe all this visual and audio information through what can be a 2 way exchange. You can see here that the image is slightly degraded, my image moreso than Louise's. I like that. Something's happening in the conduit. I think that's interesting.
Audience I'm curious at what point, if ever, do considerations of more traditional screen arts and their processes and methods come into play?
HS A lot actually and maybe in our next work it's more obvious. Often when you're having to control the cross-fades between 4 or 5 cameras it's much more cinematic and cinematic in real time. Things like the duration of a cross-over, when you want that to happen. It's very much a part of the direction of the whole work. As a choreographer I always used to work with film. I've been a photographer and a lot of my work would have Super8 or slides or something to do with light. I guess when we first started to work with these computers, there was a way of actually having all these different things speak to each other through a hub which meant there was a duplicity of possible juxtapositions of meaning, and that keeps happening now but through more complex interfaces.
Audience Does it influence considerations of structure in the whole work?
HS It does. Is the image just happening on the screen? Is it happening in the space? How long will the image be suspended? I don't know if we're consciously thinking about filmic structures in terms of say scripting but we've discovered that we score things in quite a complex way. When you're thinking about which camera, what frame, what effect, what cross-over, I suppose we are. But I hadn't deliberately thought about working in the sense of say, story-boarding or something like that.
KG Trial by Video is interesting in terms of site. It was done at the Economiser Building and in the Old Magistrates Court in Melbourne where Ned Kelly was tried. It's been done in an old building in Glasgow recently. What's the importance of site in the work you perform?
HS I think they empower a work. I suppose that's my visual arts perspective—how you install a work, what you actually get from the physical space, how that can amplify the content, how can you construct things so that they're satisfying for people just to walk in as an installation before they become enlivened through the performance. There's lots of histories and textures, possibilities within the physical space we've worked in.
For Trial by Video we set up installations at PICA in Perth and at Performance Space and another space in Brisbane. Simultaneously, we were performing in an underground railway station in Melbourne. We had 2 cameras set up in the installation spaces with 2 cameras and an ISDN connection so that the viewers at this end could do certain actions and have an influence on the performance as it happened in Melbourne. They also became part of the visual environment of the performance work.
The tunnel was blocked at both ends so people were contained within the 2 screens at either end of the tunnel. In each of the spaces in PICA and Performance Space and here we had the screen, the cameras, a tray of sand (audiences could move the sand to trigger sound) and a giant book with black and white pages. We did it in 1997 when Pauline Hanson was so, um, "outspoken". It's a very political work deliberately looking at the technology and the power of the media to be able to manipulate the masses and what the potential offloading of that is on an individual.
KG A lot of it is about the language of political gesture.
HS All of the movement was done from John's research into gestures. Basically a person doesn't just have identity through language and appearance but the way they talk with their hands is a development of who they are. He gave us scores of gestures to use. I was the voice of dissent. He was a politician. It's a very strong work and even though it was done in 1998, no matter what context we do it in again, (we did it in Glasgow in March this year) the work becomes more sophisticated because we know more about the technology and possibilities. We change it according to the political environment. If you're actually looking at media power and politics, it's not ever gonna get out of history. You'll remember there was a strong anti-Asian immigration debate going on too. John's half-Chinese and he learned the gestures from A-Z of all of these different words and performed it like a language test. It was as if he was being tested in Chinese and English. There was also a little bit of text from a Pauline Hanson speech—another flavour to the oral content.
KG What have you seen of motion capture technology?
HS Merce Cunningham has done some great things with motion capture. I saw it at SIGGRAPH in 1998 in Florida. He has 3 screens and he's working with coming in and out of the frame. And it's Merce's choreography. You just know it's Merce's choreography but it's not a body. It's just this whisp of a line but it has weight because it's come from a body with weight. And it's beautiful, it's just beautiful. And I'm thinking I'm getting old too and perhaps I can keep going on too. That's a big thing about age and Australia. A lot of us want to keep on moving and there's not a lot of acceptance for older movers in this culture.
Audience I think technology has the potential to change what we experience as a real event. That's really going to change a lot in the next 20 years if they do away with the screen and write on the retina. So your experience will be like a waking dream. There's still touch and smell locking you back down to earth but…
HS At SIGGRAPH there was a wonderful woman called Gretchen from Paris. She's an installation artist working with 'a trip around the world.' It was much more lateral than that but the way you experienced it was on a little footpad that had pebbles. Depending on how you shifted your weight, you went on a journey. The materials were all very tactile but it was like this very haptic relationship to the technology that just grounded the body in this other experience. It was so beautiful. That's installation work but the thing of touch and so on are important to work about the interfaces—not just the eye and the body and the screen.
KG That's something that Mari Velonaki's doing in her work.
Mari Velonaki Yes, I'm trying to link the spectator with a projected digital person through objects, through smell, touch, breath…
HS In installation it's very much more a one-to-one relationship. Even though you might be in a room with lots of people and there might be devices that are making that more complex, the notion of engaging in the experience in an installation is still very much yourself with it. When it can be as haptic as possible that's when it's most satisfying.
Mari Velonaki When you can forget about the interface and just go through it.
Company in Space's new work Architecture of Biography (see Working the Screen 99, page 16) will premiere in association with Melbourne International Festival 2001.
RealTime issue #38 Aug-Sept 2000 pg. WTS16
© Keith Gallasch; for permission to reproduce apply to realtime@realtimearts.net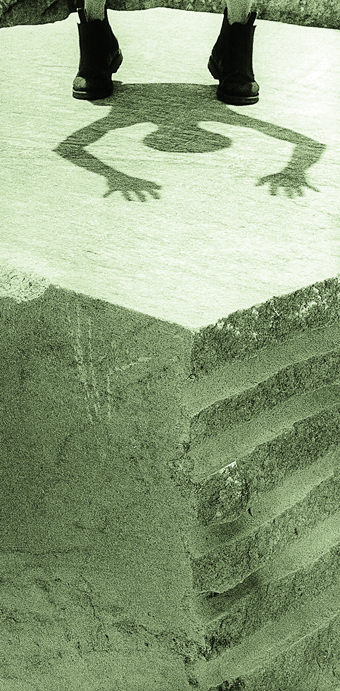 courtesy the artists
Bonemap
Bonemap the wild edge dance | screen | sound | image | object is a site-specific artwork emphasising the ephemeral body via the social and natural landscape. The artists interpret contrasts between the tropical Australian environment and the 'wild edge' of urban and built spaces. Exploring relationships of the moment and notations of identity and place sees performance, multimedia, exhibition, installation and sound composition merge into the wild edge. Available as discrete modules.
Challenges: reconnaissance and personal knowledge of sites; small crew multi-tasking in diverse and distant locations; meteorological and extreme environmental effects on technical equipment (sun, water, tiny insects inside camera lens); and stretching of human/technical resources.
Russell Milledge is an artist, curator and consultant. His performance, sculpture, installation art, interface design and multimedia work is collaborative and represented in the collections of Queensland Art Gallery and Cairns Regional Gallery. Rebecca Youdell is a choreographer and performer working in contemporary dance via site-specific collaborations involving multimedia, installation and performance. Collaborators: Glen O'Malley, Michael Whiticker and Paul Lawrence.
the wild edge has been presented in Cairns and Tokyo and will be seen in Townsville in August and as part of l'attitude 27.5º at Brisbane Powerhouse, Septermber 9 – 25. Australia Council, Arts Queensland, The Choreographic Centre (ACT), Cairns City Council. www.bonemap.com
Working the Screen 2000 was a supplement in RT38 surveying media arts.
RealTime issue #38 Aug-Sept 2000 pg. WTS17
© RealTime ; for permission to reproduce apply to realtime@realtimearts.net
In the 12 months since Working the Screen 1999 appeared it has been a constant point of reference in print and online for keeping track of digital media works-in-progress. Some of the works previewed in 1999 are com- plete and are reviewed in the pages of Working the Screen 2000, others are still being developed, such is the creative (and labour-intensive) nature of this work and the challenge of funding it.
Given the large number of requests for reviews and the paucity of review space in general for digital work, we decided to allocate space to reviews as well as previews in the 2000 edition. We couldn't review every- thing submitted, but we got close to it.
Working the Screen provides a unique and much needed resource. Our thanks to the Australian Film Commission for providing the initiative and their continuing support for Working the Screen.
Our thanks too to the artists and writers who have kept us up to date with work evolving across the country.
As in 1999, we hope that Working the Screen will encourage the keen anticipation and comprehension of new work and the breadth of activity in Australia, be it in video, film, installation, online or in performance and their ever-increasing combinations and permutations. The Editors
Cover image: Unstill life, from Spectrascope
Photograph of the Mari Velonaki and Gary Zebington installation Unstill Life, exhibited as part of Spectrascope, curated by Julianne Pierce and Jacqueline Phillips, Performance Space as part of the Sydney Biennale. For a response to Unstill Life.
I found myself returning to Spectrascope every time I went to see a performance at Performance Space in recent months, seduced by Mari Velonaki's offering of a real apple to manipulate a digital image of the artist herself; entranced by Denis Beaubois' hand-cam-surveillance camera view of the act of writing what he sees before him in an occasionally glimpsed public space; moved by the curious alchemy of the ever dissolving golden face of John Gillies' sister (her photos held before a camera, splitting into pixels as it struggles to focus); and, after these intimacies, unnervingly entertained by the spectacle of Adrienne Doig and Peter Spilsbury's to-scale-recreation of the Little Boy A-Bomb, its nose reflecting video projections of political low points and Doig playing "the cheerleader, the spy and the warrior…enact(ing) a form of complicity in the structures of power" (Julianne Pierce, catalogue). KG
RealTime issue #38 Aug-Sept 2000 pg.
© RealTime ; for permission to reproduce apply to realtime@realtimearts.net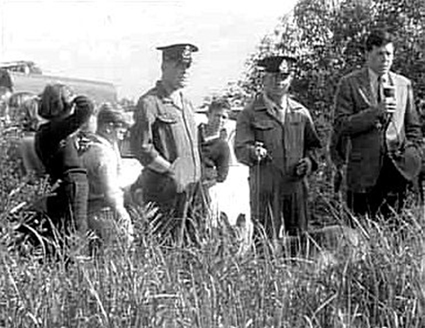 Sharkfeed, archival footage, courtesy ABC
In July 1960, a Sydney schoolboy was abducted and killed. His family had recently won 100,000 pounds in the Opera House lottery—the reason Stephen Lesley Bradley targeted the boy—which triggered cultural responses like 'stranger danger.' There have been a variety of readings of this narrative, and Sharkfeed is the latest, a new ABC website which highlights some of the challenges and possibilities for delivering documentary content on the internet. Here artist John Grech and sound designer Matthew Leonard discuss some of the issues raised in its production.
ML Attempting to bring the philosophy of the radio feature or documentary to the internet harks back to elements of the historical form after the Second World War. There is a real emphasis on writing again; and balancing this with the potential for carefully deployed images and sound. Both share a sparseness of texture.
JG There is a lot of scope for artists to transform their practices into new media. However, this presents the same problems that early filmmakers faced. For example, how do you make a movie like Metropolis when no-one's ever made a movie like that before? How many movie genres do we have today? Back in 1900, there were no such production discourses available. But artists must adapt their techniques to new technologies to utilise new media possibilities, not try to make new technologies do what old technologies do. Also, writing highlights the origins of documentary. As film theorist Bill Nichols pointed out, the distinction between writing as description (traditional documentary) and writing as narrative (fiction) is spurious. Writing a fictional narrative and writing a documentary description are both highly constructed, creative acts of storytelling.
ML Sharkfeed has enabled us to explore the subjectivities that surround these various acts of storytelling. Another interesting aspect has been the disruption of chronology which historically characterises 'classic' radio and cinema documentaries. Has this also had an impact on your approach to the visual material?
JG Visual art is basically a spatial medium. Although the web offers an unpredictable space, it still deals with time as time, not just by spatialising it as visual art does. The digital screen is a fascinating way of experiencing both time and space, but I'm not sure there is yet a very useful critical or theoretical framework on how people actually experience these.
ML Again, if we compare it with existing forms, the experience of hearing a radio program is driven by the durations of sound events, conversations, voices. This has a critical impact on the tone of a program, but part of the trick with the internet is being able to anticipate such factors as download time and server timeouts which strongly dictate the 'tempo' of the work. From a sound perspective, this is a critical difference.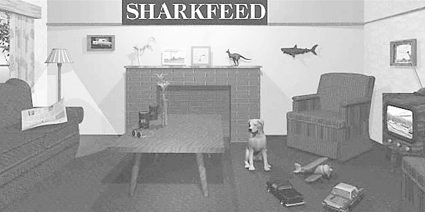 Sharkfeed
JG This probably represents the greatest limitation of the medium. But it is closer to how people experience an exhibition in a gallery—someone might walk quickly or haphazardly through a space, while another might tread very carefully along a more predictable path. One major difference between the web and a gallery is the fact that people in galleries still determine the speed and succession of events. On the web, these are determined more by technology. The web is still at an early stage of development.
ML The potential for synchronous sound on the internet is still at a fairly primitive level, and seems to require a high level of commitment and experience from the users to get the most out it. We agreed it was important that the site represent a mixture of period and contemporary interpretation in a way that leaves interpretation open for the audience. However, I feel that Sharkfeed has also become an interrogation of our own processes of understanding, particularly with the inclusion of a variety of commentaries in the experience.
JG That was one of the lies about conventional documentary. What gave analog photography the "aura" it had was the belief that it truly was the "Pencil of Nature" or that it created a footprint of the real world on a negative which was incapable of being interfered with by its maker. Thinkers like Walter Benjamin, Umberto Eco and Roland Barthes have shown that no image is neutral of its maker's subjectivity. If we eradicate our subjectivity from the things we make, they would become meaningless. Subjectivity gives meaning to things. Without subjectivity, everything is reduced to a flat and featureless landscape. It's the difference between noise and sound, although people like John Cage have played a lot with such distinctions.
Sharkfeed, Matthew Leonard & John Grech, www.abc.net.au/sharkfeed/index.htm (expired), was launched at ABC Radio Arts, Sydney, July 25. See review, Working the Screen, page 3.
RealTime issue #38 Aug-Sept 2000 pg. 26
© Matthew Leonard & John Grech; for permission to reproduce apply to realtime@realtimearts.net
Once again dLux media arts has played a notable role in the Sydney Film Festival, displaying interactive digital works in its d>art00 Exhibition at Customs House, Circular Quay (several of the works are reviewed in Working the Screen, see below) and screenings in the Dendy Opera Quays cinema. Both events were well-attended. While the interactive works offered various levels of pleasure, depending on your patience and the availability of computers, and pretty much looked how you'd expect digital works to look, the films and videos were another matter altogether and provoked some intense discussion.
There was more than a hint from d>art00 Project Manager Susan Charlton in her preface to the program that there would be an issue here:
What should we now expect a digital artwork to look or sound like? Have digital technologies become so pervasive that they are almost invisible…There is no question that artists are increasingly taking up digital technologies to create their works. But how are they using them right now?
This theme of invisibility and its ramifications is developed by Mitchell Whitelaw in an extension of a paper (Working the Screen) he gave at the d>art00 forum in which he proposed an end to the use of terms like new media arts and digital arts. Peta Tait's review of the new work at the Melbourne Planetarium by The Men Who Knew Too Much, Virtual Humanoids (Working the Screen, page 18), offers another perspective on the same theme.
The d>art00 screenings provoked 2 kinds of response. The first was acclaim, a response to the absence, pretty much, of conspicuous computer animation and pleasure in a return to avant-garde form—short bursts of serious, grainy, sometimes scratchy filmmaking, various discontinuities and ruptures and a shortage of Tropfest jokiness. The second was disappointment, surprise that this is where ditigal film and video are alleged to be going—backwards into the well-established conventions of Super 8 'experimentation.' A dispassionate viewing could sympathise with both sides, weary of slick digital animation but too familar with the film language, but the selection was certainly curious and there was a pronounced formal retro feel in many of the films. The works that offered most appeared to exploit new technology more visibly, and that feeling was doubtless exacerbated by the unadventurousness of many of the others where the mere flicker of an idea or a formal gesture seemed to have been enough to warrant a screening. Anyway, who was I to know where the technology was showing through? Clearly though, the technology is available to make your video look like Super 8.
Some works started out with promise. How to become a Film Freak in 7 Easy Lessons (Germany, Harrald Schleicher, video 1999) offered vaguely interesting floating full motion 'cut-outs' (backgrounds casually deleted) of mostly famous film actors (Bogart and Swanson repeatedly) delivering lines from movies about movie-making. Soon it felt like not much more than a nostalgic pick-the-movie trivia game. It wasn't as funny as it thought it was. Kerry Tribe's The Audition Tapes (video, USA, 1998) promised more than it could deliver, like a side show to something more significant as actors auditioned to play members of the filmmakers' family in a mock documentary. The director's sometimes confusing offscreen instructions and the hint of a dark family secret offered a certain frisson. But what was it doing in d>art00? Jim Finn's Sharambaba (video, USA, 1999) shifted from a conversation between a man and a woman (the sound as if fed backwards and against a rackety clicking, the framing unsteady, subtitles for the dialogue) to faded shots of dusty streets, perhaps from another time. Lots of layering, but adding up to little. A Sheep in Wolf's Clothing (Sam Easterson, USA, video 1999) has a camera attached to the head of a sheep. A bumpy run. The other sheep seem alarmed. Hardly a sheep's point of view and certainly not an example of cultural relativity. A slight video that has won a lot of unwarranted attention.
There were more engaging works that seemed to be pushing the limits of film by way of having something to say. Little Echo Lost (Armagan Ballantyne, Australia, 35mm, 1999) was the only film with any visceral punch, offering a widescreen, vertiginous, Rosemary Laing-ish landscape, and a potent degree of visual subjectivity in the breath-taking moment when 'we' emerge from our little hole in the ground into Blue Mountains spectacle with a sonic whoosh. Doubtless some thought it a slick AFTRS product. The technically adroit lovehotel (Linda Wallace, video, Australia 2000), a commercial for an inscrutable, sun-glassed global citizen, Francesca ("suck my code, baby") da Rimini, looked like it would be more at home on a computer screen and all the better for being manipulable—at least to get a better look and to attend properly to the gash girl's texts (see Working the Screen, page 6). Michiel van Bakel's Undertow (video, Netherlands, 1999), set in the columns beneath a freeway, intially appears to be a formal exercise, rearranging the columns by angles and various lenses. But a man is introduced, leaping into the air until he remains suspended between the columns, the camera circling him magically without interruption or edit. Of course Matrix did this kind of thing but without offering us the opportunity for a long, contemplative gaze. Auto-matic (Manu Gondeau, France, video, 1998) a brisk digitally animated anti-advertisment has its best moment early on in its 1'30 when a cut-out muscular young man coughs up a sleek motor vehicle, as if giving birth. Nought after that, unless you see flashes of "Static" and "Monomonia" as meaningful.
Somewhere between the traditions of the avant-garde and the new technical virtuosity (not that I know how she did it) is Festa Mobile (Moving Party; Valentina Coccetti, video, Italy, 1999), a visual feast, a bizarre animation with the key figure a bulbous black duck (an image from somewhere in modernist iconography) transforming into a mouse a la Mickey, a bear and an elephant and moving in and out of westerns, pornography and travelogues against a soundtrack shifting elegantly from romantic strings to jazz by composer Nunzi. Despite the lurching, earnest animation we know so well, there was a deftness of touch and a visual richness that underpinned this increasingly sinister reverie.
The d>art00 screenings were a very mixed bag. Whether they affirmed the curatorial thesis of the increasing invisibility of the digital is another matter (it would have been interesting to have more detailed technical program notes on each film—a future possibility?). While the truth of that invisibility is obvious in many respects (eg in action feature films) the argument does little justice to a different kind of distinctiveness, the hybrids emerging in places other than cinemas and screening rooms, like d>art00 in Customs House, in theatres and public places and events like Cyber Cultures. While it's pleasing to see film festivals embrace 'new media', it does position such work as an adjunct to the movie experience (while doubtless promoting an interest in it). Why, with a few inviting exceptions, did d>art00 place itself firmly back in film tradition? What exactly is its curatorial rationale, or are we really at some defining moment where the old forms rule again and film is film, dance is dance, theatre is theatre?
dLux media arts, d>art00 screenings, film & video, Sydney Film Festival, Dendy Opera Quays cinema, June 20, 22
See Working the Screen page 6 for reviews of Rebecca Bryant's TellTale, Linda Wallace's lovehotel, Tobias Kazumichi Grimes' Electronic Sound Remixer, Leon Cmielewski and Josephine Starrs' Dream Kitchen from the d>art00 Exhibition, Customs House, Circular Quay, Sydney. June 8 – July 2
RealTime issue #38 Aug-Sept 2000 pg. 25-
© Keith Gallasch; for permission to reproduce apply to realtime@realtimearts.net
Online
Johnny Ice, Digital Detective is a weekly multimedia comic about futuristic cop Johnny, "working with cheap clients and even cheaper technology." There are plenty of soundbytes and animations within the 13 edisodes, and more to come. www.secretcity.com.au/johnnyice/ [expired]
PreFab, curated by Shiralee Saul & Helen Stuckey, is an exhibition of VRML sites exploring the "pleasures and potentialities of the digital suburbs", allowing viewers to explore the virtual homes of architects and multimedia artists including Horst Kiechle & Jamie C Paynter. www.maap.org.au/maap99/prefab/ [expired]
Sydney@rt maps a maze of artists from non-English speaking backgrounds, using music, video, digital images, writing labs and animation to investigate Sydney life; some are incredibly confronting like the abusive woman who rings the Multicultural Arts Alliance with a diatribe against migrants. Real or fiction? Artists featured: Justo Diaz, Misako Sugiyama, Tiet Ho, Zoja Bojic, Vahid Vahed. www.multiart.org.au/sydneyart/ [expired]
The Fine Art Forum online gallery always features interesting digital artists, both Australian and international, and explores crossovers between arts and sciences, and the use of medical technology. An upcoming exhibition in August is eyesee where new Indigenous artists explore digital media. www.fineartforum.org/Gallery/navbar.html [expired]
Melbourne's Next Wave festival (see Alex Hutchinson review, RT 38) featured a wide range of web works under the banner Wide Awake: dreaming at twilight, including Matt Gardiner's temple of dreams, a virtual drive-in cinema, and fest on the net (http://arts.abc.net.au/netfest/ [expired]), online festival coverage including net radio, video of performances and reviews compiled by RMIT students. www.nextwave.org.au
University of SA's mag net (www.magnet.unisa.edu.au/ [expired]) promotes the work of students from the Department of Communications with a multimedia channel showcasing animation, interactive works and digital video, while design students at UWS have put together gleematrix, a nifty site commissioned by gleebooks, which looks at the art of writing in a digital context. www.design.nepean.uws.edu.au/projects/ [expired]
gleematrix: Juliana Wong's teasing site of manga gifs and text should keep you busy for a while. That's if you can find your way into the site. Persevere. Tiny glimpses, almost unattainable, offer frustration and fun. www.anu.edu.au/ITA/CSA/photomedia/wong/interface/ [expired]. KK
The Australian Multimedia Catalogue has been updated and is available on the website of the Australian Film Commission (www.afc.gov.au/resources/searchd/mm/ – expired]). The catalogue lists 740 interactive multimedia titles recently completed or currently being developed by Australian multimedia developers. The catalogue is produced from the Multimedia Projects Database maintained by AFC Research and Information. This database is also used to produce a hard copy version of the catalogue which is distributed free to distributors and at major international markets such as Milia and E3.
CD-ROM
Helen Grace's Before Utopia, A Non-official Prehistory of the Present is a really good read. That's something you can't often say of a CD-ROM. It's a multi-layered history of art, politics and visual art politics from the mid 50s to 1990 with the Art Workers Union (NSW) at its centre. Grace has done the editing, collating, curating and timelining—at the centre of the work is a string of years to click your way through, each marked by a choice quotation and an image—a photo or a poster. Then you click into the year of your choice to find a table of 3 columns—Art, Union, World—each with events, documents, interview transcripts and images. If you want to go further into the documents, you can and, beyond, into the extensive artist/writer bibliographies. The glimpses of Art Workers Union posters designed for parties and protests are powerfully evocative of more combative political times as are the often vigorous documents and diatribes taken from notes, minutes, jounals, catalogues, BUGA UP graffiti and the press. Grace hasn't written a history, she's facilitated the making of one. It's up to you to put it all together. It's an invaluable resource, easy to use, and, as she says, the CD-ROM format allows it to be sooner or later added to—something you find yourself often inclined to. One complaint—the single loop of music (it's all I got) could drive you mad unless you're addicted to the band, but even then… Turn off the sound. Before Utopia is not a whizz-bang CD-ROM but it does what it sets out to do and does it well. Media.Culture Books, Series Editor McKenzie Wark. Distributed by Pluto Press. KG
Uncle Bill, created by Debra Petrovich and produced by Julianne Pierce, forecast in Working the Screen 1999, is about to be launched as part of an installation at Artspace in August. A sneak preview revealed a haunting evocation of a disturbing relationship, shot in black and white and mixed in with historical/home movie footage. You work your way through a house and the surrounding landscape in a regional industrial town, triggering recollections and anxieties. KG
Kiersty Garbett's Parasite follows the journey of a parasite through the human body—a street system with road signs to vital organs. It was recently exhibited at the e-media gallery at the Contemporary Centre for Photography in Melbourne.
Events
Experimenta's Orbital, shown simultaneously at CCP and the Lux Centre for Film, Video and Digital Media in London, has just finished. It featured artists Brook Andrew, Raymond Peer, Megan Jones, Nicola Loader, Margie Medlin & Nigel Helyer exploring, through digital media, Australia's cultural and topographical landscapes and issues surrounding salination, biological & technological ecosystems, cultural identity & colonialism (see review in RealTime 39).
Octopus no. 1 at 200 Gertrude St Melbourne (until August 16) is the first in a series engaging with the "changing perception of objects according to the tenets of the digital, the virtual and the technological realms." Curated by Max Delany, artists include ADS Donaldson, Julia Gorman, Michael Graeve & Sandra Selig.
James Angus' new works at Experimental Art Foundation, Adelaide (until August 5), play with scale, using digital technologies to calculate and model shapes and objects falling from high altitudes at the moment of collapse. Chris Chapman, director, writes that "dynamics software, CAD and stereolithography [are used] to realise in actual physical terms an imaginary, or as the artist suggests, 'virtual event'."
Marrugeku Company, a collaboration between Stalker and Kunwinjki people from Kumbbulunya in the Northern Territory, is developing Crying Baby, a large-scale outdoor inter-cultural performance employing physical theatre, Kunwinjki dance, music, film, installation, weaving, sound art and composition. Funded by the New Media Arts Fund of the Australia Council.
Recent publications
Go online, slip in the ensemble logic CD-ROM, and you have access to a host of electronic Writing Research ensemble and associated writers. As editor Teri Hoskin says in her "post-face", "what this book wants to do is to open up portals, or spaces between projects/events—to restructure the structure without shifting a tag, sans touching a stone or a strut." A handsomely produced book of text offers a foretastes of the works. Contributors include Linda Marie Walker, Linda Carroli, Josephine Wilson, Bill Seaman, Sue Thomas, Mark Amerika, Katie More, Dylan Everett and more. http://ensemble.va.com.au
Artlink, Vol 20, no 1, Reconciliation? Indigenous Art for the 21st century, includes Susan Angel's "Remote area computer art: multimedia talent emerges at Yuendumu", focusing on the work of Donovan Rice.
Photofile #60, August 2000. Edited by Mike Leggett, this edition includes Darren Tofts on Murray McKeich; Les Walkling on the industrialisation of image manipulation tools; Leggett on the discontinued Photoshop 'rival', Live Picture; Edwina Bartleme on queer theory and digital aesthetics as she prepares Queer Transgressions for the Brisbane Powerhouse; Ricky Cox on internet opportunities for photographers; plus the work of the Perth-based group of media artists, Retarded Eye. The issue features work by Patricia Piccinini, Caroline Brunet, Marty Saint James, Xiao Xian Liu and Rebecca Cummins along with reviews of recent exhibitions. Published by Australian Centre for Photography. www.acp.au.com [expired]
ART Asia Pacific, Issue 27, new.media. For images and information alone, this is an impressive issue. It includes Japan's Dumb type; interactive art in Japan; Korean video art; Melbourne's Federation Square; electronic art in Malaysia; Taiwan-born Shu Lea Chang's provocative New York site and online works; and the boom in mainland Chinese video installation. Kathy Cleland writes about New Zealand's Maureen Lander and John Fairclough, Sydney-based artists Melinda Rackham and Justine Cooper, and Canberra-based, Hong Kong-born Juliana Wong. With assistance from MAAP, a selection of articles will appear on www.artasiapacific.com
Ashley Crawford, formerly Editor of the late lamented 21.C and new media correspondent has been appointed Editor of the New York-based Artbyte magazine. It's glossy and informative and occasionally glimpsed in Australian inner-city newsagencies. Congratulations Ashley. www.artbyte.com
RealTime issue #38 Aug-Sept 2000 pg. 18
© inhouse ; for permission to reproduce apply to realtime@realtimearts.net
Back to Back Theatre
Soft
A collaboration between Back To Back Theatre and Deakin University's School of Architecture, Soft is a performance merging architectural design, virtual and live performance, character animation and surround sound. Soft will take place in a purpose-built architectural structure and utilise a diversity of media to realise the performers' inner worlds. The venue will be a purpose-built, inflatable unit or self-supporting structure incorporating a 360 degree projection membrane with surround sound. It will include elements of virtual architecture with the capacity to respond to the actions of performers.
Established in 1987, Back to Back Theatre operates around an ensemble of professional performers with intellectual disabilities. Recent artistic work employs digital technology for pre-production, documentation, show control and operating technology.
Collaborators: Rita Halabarec, Mark Deans, Darren Riches, Nicki Holland, Sonia Teuben (actors/devisers), Bruce Gladwin (director), Julianne O'Brien (dramaturg), Hugh Covill (sound design), Professor Mark Barry with students of Architecture & Building, Deakin University, Geelong (physical and virtual design), Efterpi Soropos (lighting design), Anna Tregloan (costume design).
Creative development period July-December 2000.New Media Arts Fund, Australia Council; Arts Victoria.
Denis Beaubois
Group Stare #1 and #4
A situation is created where a group of strangers is divided into 2 groups, separated and invited to look at each other, each individual given a partner to look at from the other group. At any time they may leave the room and their partner choose to refocus their gaze on another person.
The group stare is a closed system which generates its own performative platform where the viewer is also the performer. The work is exhibited as 2 projections side by side. The initial impact in the gallery provides an impression of a crowd (possibly an audience) looking back at the viewer. This crowd appears to be reacting to something outside the camera's field of vision. As more time is spent with the work, a relationship can be derived between the people from the different screens.
Denis Beaubois' practice includes performance, video and photography. His works have been performed and exhibited throughout Australia, New Zealand, Germany, Spain, South America and the US. In 1998 he performed in New York and at the Cleveland Festival of Performance Art. He was the winner of Bonn Videonale 8 in Germany. In 1999 he was the resident guest artist at the Artist Unlimited Group in Bielefeld Germany and is currently artist in residence at the University of NSW. His work, Writing, is exhibited as part of Spectrascope at Performance Space (see page 2).
Group Stare is an ongoing project which has been exhibited in Bielfeld, Germany and was recently shown at BUNKER @ Linden Gallery in St Kilda as well as being performed at the Canberra Contemporary Art Space. New Media Arts Fund, Australia Council.

Bonemap
the wild edge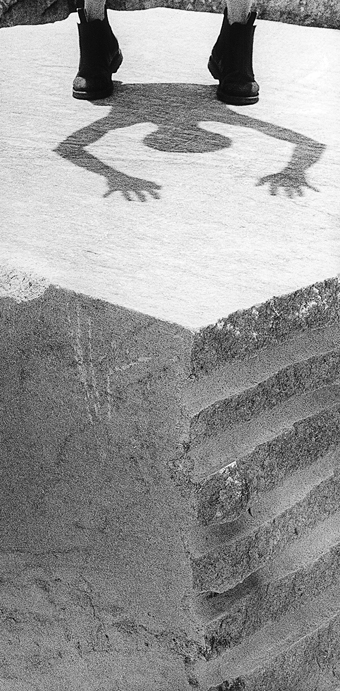 Bonemap
Bonemap the wild edge dance | screen | sound | image | object is a site-specific artwork emphasising the ephemeral body via the social and natural landscape. The artists interpret contrasts between the tropical Australian environment and the 'wild edge' of urban and built spaces. Exploring relationships of the moment and notations of identity and place sees performance, multimedia, exhibition, installation and sound composition merge into the wild edge. Available as discrete modules.
Challenges: reconnaissance and personal knowledge of sites; small crew multi-tasking in diverse and distant locations; meteorological and extreme environmental effects on technical equipment (sun, water, tiny insects inside camera lens); and stretching of human/technical resources.
Russell Milledge is an artist, curator and consultant. His performance, sculpture, installation art, interface design and multimedia work is collaborative and represented in the collections of Queensland Art Gallery and Cairns Regional Gallery. Rebecca Youdell is a choreographer and performer working in contemporary dance via site-specific collaborations involving multimedia, installation and performance. Collaborators: Glen O'Malley, Michael Whiticker and Paul Lawrence. info@bonemap.com.
the wild edge has been presented in Cairns and Tokyo and will be seen in Townsville in August and as part of l'attitude 27.5º at Brisbane Powerhouse, Septermber 9 – 25. Australia Council, Arts Queensland, The Choreographic Centre (ACT), Cairns City Council. www.bonemap.com
Joe Felber
25 Songs…

Joe Felber, 25 Songs, dancer Lucy Guerin
25 Songs on 25 Lines of Words on Art Statement for Seven Voices and Dance is a collaborative work between artist Joe Felber, composer Elliott Gyger and dancer Lucy Guerin, each of whom is responding directly to American painter Ad Reinhardt's famous 25 Lines of Words on Art Statement. The 3 artists have created a theatre of response, reconsidering Reinhardt's seminal 1958 writing on abstraction, art and modernism through the creation of a work combining music, image, video and dance.
Involving interdisciplinary arts practice and new media technology, the installation runs from the Cubase program. The video, stills photography and text graphics were created on Adobe After Effects and Premiere. The Pendulums run on a 12 volt magnet call from 2 transformers.
Joe Felber is an Australian citizen of Swiss origin. He completed an architectural draftsman apprenticeship in Switzerland and Master in Art (sculpture) at RMIT. His is a pluralistic arts practice including painting, photography, video and new media art. He has exhibited internationally since 1985 in New York, Europe and Australia.
This work toured Australia and Singapore and will be shown October-December 2001 at the Minioriten in Graz and Landesgalerie, Ladesmuseum in Linz Austria. Australia Council for the Arts, Pro Helvetia, Switzerland, Credit Suisse Group, Singapore.
PACT Youth Theatre
Replicant Hotel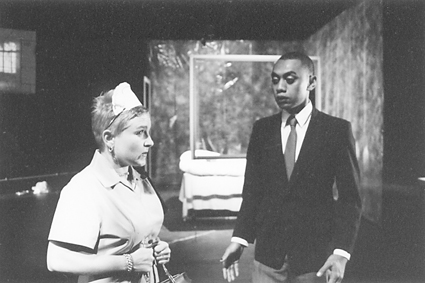 photo Heidrun Löhr
Replicant Hotel, PACT Youth Theatre
Replicant Hotel is a contemporary performance work incorporating collaborative writing and performance processes. The performance is layered with media archives or keyholes strewn about the hotel, a refuge for Replicants (read anything from Poe to Blade Runner).
Replicant Hotel centres on 5 figures abandoned by the 20th century. We have a Bell Boy (sometimes encountered in multiples) who is always intervening in potential wars with a calming soup. Voltaire, that populist journalist, is pronouncing revolution and croissants from his bedroom podium while cities crumble in the distance. Television Boy is locked to the Box, in love with the trickle of images that keep him awake at night. A painter is escaping his own portrait and a charming maid plays out movie scenes behind the curtains.
The challenges of this production include the integration of 5 distinct aesthetics supplied by 5 writers and the incorporation of pre-recorded "archives" (video, sound, film) based on the writing and performance making process. Novelist and dramaturg Mireille Juchau has been working with a small group of emerging writers: Shelley O'Donnell, Brian Fuata, Roanna Gonsalvez, Adrian Chiarella and Sarah Rodigari. Together they are plotting an intricate web of moments, each informed by a central figure that has fascinated them in the wake of the 20th century. This work is then fed into the performance group who interpret, rip and tear at the material to develop a performance labyrinth.
Collaborators: Caitlin Newton-Broad (director), Mireille Juchau (dramaturg & writing facilitator), Samuel James (space & media design), Gail Priest (sound designer), Richard Manner (lighting design).
Completion: August 2000. New Media Arts and Theatre Funds, Australia Council, NSW Ministry for the Arts, South Sydney Council.
Trash Vaudeville
Loose End
The focus of this new work is a process of experimentation using projected animation sequences and live performance. Animation, produced using clunky but vibrant analogue technology, is projected onto large screens and mixed with the live performer to tell a seedy story of finding desire and losing your mind. Two characters inhabiting the peripheries of gay life cross paths on the stroke of midnight. Loose End traces the ensuing havoc.
Trash Vaudeville
A work in development, Loose End is an investigation into the total integration of performer and projection. Animated sequences run across 3 screens. Some animations run solo, some involve actual highlighted spaces for the performer to become part of the animation and to interact with the projected characters. The work is quite literal in its methods of integration creating the effect of a cartoon character coming to life. The body/image integration works particularly well when the animations are used to stretch reality—when a cat transforms into a man, or the soul leaves a battered body and flies up to the heavens. The strength of the work is that the technology is used to expand reality, without losing the special vibrancy that can only be created by the presence of the living, breathing body on stage. Gail Priest
Direction, animation and performance Trash Vaudeville, sound & audio visual management Severin Sieben, set construction Chris Fox, lighting design David Darker. Performance Space, Sydney, July 15 – 17
The Men WHo Knew Too Much
Virtual Humanoids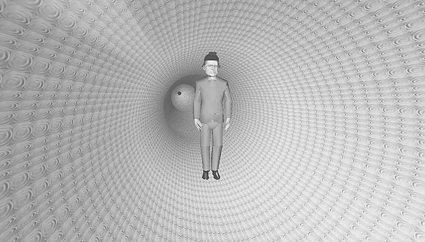 The Men Who Knew Too Much, Virtual Humanoids
Melbourne's Planetarium as a performance venue was an inspired choice by The Men Who Knew Too Much. In this space Virtual Humanoids was a wondrous meeting of interfaces; electronic art and absurdism, screen and stage, live and virtual, human bodies and computerised voices. The venue's white dome-shaped roof functioned as more than the computer screen: it enveloped audience bodies leaning back in their chairs angled towards the horizontal. Projected images floated across laid-out torsos and upturned faces. A disembodied humanoid voice as director seems almost a family familiar tucking us in for the night—Hal meets Star Trek's Spock.
Enter 6 male performers. Writer-designer Simon Hill, Patrick Cronin, Louis Dingemans and Richard Gray, live, vertical, human-like in dark suits and heavy-rimmed glasses delivering pithy lines. Peter Eckersall appeared on-screen, often only in ice blue, pinkish outlines of his head. Music and VR creator Adam Nash played the hacker, Setarcos, live, seated, driving the images on the dome screen and emailing longingly to the only visible woman, Yasuka Yohama, who emails back that she is virtual. Performance director was Susie Dee.
Virtual Humanoids is an early 21st century reinvention of the variety show: jokey, blokey, silly, amusing, beguiling, techno-savvy and clever. Larger-than life images of Man in evolution up to the stage of 'suits' ringed the dome, a blue-suited, headless virtual singer cloned as wall-paper, a Martian selling white-goods, gigantic table settings, a cyber housefly at the cyber fly port. The net refracted through domestic life. The show performed the aesthetics of the internet surf, short fast grabs seemingly at random, except that The Men's web search deliberately brought up cultural clashes and longstanding anxieties; dehumanised corporate men, robotic unthinking behaviour, a cross-dressed bride, an electronic maze.
Screen images alternated back streets and identikit houses, with abstract computer generated figures and patterns, several of which were sensationally beautiful mobiles and sensory tunnels. Hilarious web pages with extreme environmental messages pointed towards alienated ineffectualness—trees as information lists. If the show's gentle humour highlighted the deliciousness of human opportunism and games in the dotcom world, it's form linked the disembodiment of dotcoms to dehumanising corporate norms. The ideas are not new. They have a history as the nostalgic use of lines from 60s comedy attested. However, making connections between the web's illogicality and its market driven commercialism is a crucial message towards awareness of the consequence of social life mediated by on-line languages.
Virtual Humanoids' polished, stylised format integrated its digital imagery completely with live sequences. Electronic technology was used in the artmaking, not merely as the broadcast medium. I found myself silently disputing Philip Auslander's claim that the televisual invariably dominates liveness. My attention roamed equally between the performers' faces and screen images, perhaps because their bodies were in a life-like scale to my own in the second row but also because their faces were specially lit.
The production confirmed my view that much of the new media arts retains the distinctions of artistic disciplines. This work was clearly performed to and for an audience who like theatre, with even the obligatory participation when one spectator was singled out to be photographed and scanned onto a suited body in the virtual world. This approach is quite different to the stand-alone electronic screens in the visual arts where flat gallery walls become huge screens or miniaturised monitors are hidden in other objects or multiples function like mundane sculpture, for example the shopping-mall aura of Nam June Paik's latest work. Or where galleries overseas must employ attendants to encourage visitors to interactively click and scroll the artwork on screens like those they have at work. Because new technologies are already so advanced in corporate and game delivery, and webcam broadcasting seems to have been co-opted by the sex industry, innovation in electronic screen performance needs to generate more than technological presence in image display or more immediate script access. At least New York computer installation artist Toni Dove and dancers like Company in Space 'move' the technology imaginatively.
Virtual Humanoids also offers an innovative approach with its comic expressiveness and captivating spaces that expose the failings, foibles and duplicity of these new technologies we love. Peta Tait
Virtual Humanoids, The Men Who Knew Too Much, Melbourne Planetarium, Scienceworks, July 19-30
RealTime issue #38 Aug-Sept 2000 pg. 15,17,18
© RealTime ; for permission to reproduce apply to realtime@realtimearts.net
With access to funding more competitive and scarce than ever, the relationship between universities and dance artists seems to have gained new significance. The academy has been a traditional source of valuable employment for many dancers and choreographers but a new dimension has recently appeared where choreographers are engaging with the research paradigms of universities. Melbourne has seen a steady growth in the number of practitioners returning to do postgraduate studies in dance as a way of deepening their practice and extending their careers. The universities have also become more explicit in their demands that practitioners who are also lecturers/teachers become better qualified academically. This has led dancers to engage with theoretical constructs in ways that did not exist 10 years ago. But what sort of a marriage is it, this meshing of the academy and practice? And how do the artists themselves view the intersection of dance and theory? The relationship is in continual flux but talking to 3 Melbourne choreographers and a performance maker, some interesting themes emerged about this occasionally uncomfortable relationship.
For choreographer Anna Smith, who teaches technique sessionally and is a research associate at the Victorian College of the Arts, the relationship is clearly positive. She is appreciative of the support and access to resources the work gives her and is philosophical about the impact the teaching work has on her own practice. She often finds it problematic trying to separate her teaching from her choreographic practice, even though both require a different focus and intent. But she says, "I have to be pragmatic about it and value it for what it gives me which is space in the studio and a lot of support—not just financial support but also people walking in. I could grab someone in the hallway and say could you just have a look at this."
This appreciation of the support universities provide was echoed by all the artists I talked to. The job of teaching itself was also often a big attraction. Dianne Reid, ex-Dance Works dancer, choreographer and dance-video maker has been teaching technique, composition and theory at Deakin University's Rusden campus for 4 years now. Teaching for her is an extension of her skills as a performance-maker and an opportunity to try new ways of delivering the material, such as her highly performative lectures—a major hit with first year theory students. She loves the investigative environment of the university which leaves her free to experiment and tailor courses which reflect both her own artistic interests and the needs of the students. She is currently developing a dance-video unit for third year Bachelor of Contemporary Arts students, allowing her to combine teaching requirements with her passion for dance and the camera.
The downside of having an ongoing position is the loss of profile. Suddenly Reid has become strictly a dance educator not an artist, something that clearly rankles. "You tend to disappear in people's eyes when you are at a university."
The sheer workload for full-time teachers also has an impact. Multi-disciplinary artist Margaret Trail (not strictly speaking a choreographer but whose work is often seen in dance contexts such as Dancehouse) has been teaching full-time for 2 years at Victoria University of Technology in the Performance Studies course. While she loves teaching, the first 18 months of full-time work were challenging. Rocked by the demands of the workload and the new administrative responsibilities of the full-timer, she was left with no choice but to concentrate wholly on the job itself, to the detriment of her practice. "I do get enormously frustrated with the university and that's compounded by the fact that as a full-time staff member you can't walk away. You have to take the university on. You have to make a relationship with this bureaucracy which is often dysfunctional, which tends to undervalue teaching, which is increasingly driven by economic, not educational motives and you have to survive inside it and feel alright."
High profile choreographer Lucy Guerin did a stint of teaching technique and choreographing at the Victorian College of the Arts in 1999 and felt uncomfortable with aspects of the job. To be responsible for the training of students and to respond to their multifarious needs weighed heavily on her. "I'm really happy to go in and give people a taste of my work and my choreography and where it has come from—what its technical origins are. But in terms of teaching long-term and taking responsibility for people's development, I felt I couldn't really take that on in the way they needed."
However, Guerin saw the opportunity to choreograph as beneficial and a way to develop her ideas with a large group of dancers otherwise impossible for her to access. In so doing, she saw the process quickly shift from being exclusively about her ideas to also becoming a response to the needs of students. How could she achieve a common stylistic understanding from 19 dancers of different abilities and yet foster a personal investigation and embodied awareness of her choreography? She relates the almost rigid approach of some students to the legacy of dance training throughout Australia. Tired students are striving to reach a standard of technical excellence that is perceived to be appropriate for the professional arena. The demands of this kind of training leave little time to concentrate on investigation and experiential understanding of movement. "It's not the fault of the institution. They are very aware of these problems. It's just how to implement [the changes] within this kind of structure which is subject to all this history. The students come in with particular preconceptions about what they are going to be doing and it's quite hard to break them down."
Another major challenge for practitioners working within universities, and one with huge potential implications, is negotiating the vexed issue of theory and dance. Traditionally resistant to entering this domain, many dancers and choreographers, either through postgraduate degrees or as lecturers, are now being asked to rigorously confront theoretical frameworks and use these to analyse and inform their practice. It remains unclear how this will change the ways artists create or think about their work—the relationship between dance and theory is still nebulous and few choreographers currently write about their work. If the growth in practitioners doing postgraduate research continues, a major shift in approach will surely follow. But how do practitioners feel about the meeting of theory and practice? Although wary of the academisation of practice, Margaret Trail says, "I'm terribly interested in that cross-over because to me it has only ever been productive, although I do think they are 2 different ways to process information and I never take my Lacan down to the studio. Still, encounters with theory have only ever been exciting and wonderful and have opened things up in practice."
Certainly, doing justice to both the theorising about and making of dance work is difficult. It requires skill in juggling and expertise in very different forms of knowledge. Writing takes just as much practice as dancing, which can then interfere with the experiential nature of the studio work and even the needs of dancers' bodies. Research into dance has its own needs but the body of writing on dance research remains comparatively small and is still justifying its own place in many universities. Questions also remain about the balance of practice and research and the impact they will have on each other. But Dianne Reid, who has been granted research leave by Deakin University to take part in Luke Hockley's forthcoming project at The Choreographic Centre, sees the emerging relationship as moving in the right direction. As long as artists remain proactive and have clear plans about how to work within the institution, they can develop a positive relationship. "There's more and more understanding and support and inquiry into research into the arts which we used to just call working or rehearsing or process but really it's the same thing."
–
RealTime issue #38 Aug-Sept 2000 pg. 14
© Shaun Davies; for permission to reproduce apply to realtime@realtimearts.net
Abracadabra opens Reel Dance and, as with any good password to any good world of wonders, transportation begins immediately. Phillippe Decouflé's 1998 dance film (France) is an excellent password for this particular dance film festival, which goes right past mundane questions of 'is it really dance?' to the much more intriguing questions of how physical languages and cinematic languages might intersect. Abracadabra begins at the beginning of this question by linking dance to early cinema. A series of what film theorist Tom Gunning calls "attractions" are displayed. The word attraction partly refers to attraction as in circus act or novelty. Decouflé revels in this meaning, presenting danced oddities and bizarre displays with great glee. Then there is the attraction people have to the trompe d'oeil or cinematic trick of the eye. The viewer's eyes are tricked overtly and inventively through various devices in Abracadabra, such as the use of deep focus creating illusions of outlandish differences of scale between foreground and background objects and actions. The final vignette is an acrobatic display in which the dancers do incredible things which, with enough skill, could really happen in the real world. These displays then evolve into the hilariously impossible and the audience realises a cinematic trick is being played on them. Both senses of the word attraction apply here—the acrobatics are an attraction or an act, and the moving image is itself a trick of the eye that attracts our attention.
This combination of attractions is one of the things that Reel Dance seems to propose defines dance on screen: physicality far enough outside of the norm to present itself as an attraction, combined with the many cinematic conventions that have evolved through and since early cinematic tricks of the eye. It's not exactly a new form, but it's an intriguing combination—making use of the conventions of cinema with dancing rather than acting as a vehicle for conveying content.
This combination was explored throughout the weekend, with many of the films drawing on particular film genres and infiltrating them with particular forms of dance. Dancers from the Frankfurt Ballet were involved in an overlong but intriguing dance in the genre of science fiction called The Way of the Weed (Belgium). Wim Vandekeybus contributed The Last Words, a magic realist fantasy film driven by physicality rather than being about it. Nussin (Netherlands), brilliantly directed by Clara van Gool, referenced gritty, naturalist filmmaking, set in a run down housing development in the middle of an icy winter. Combining this cinematic style with the tango, a most elegant, precise and aristocratic dance, created a feverish heat and chilling beauty.
Not all films were equally successful in their intersection of the capacities of cinema with physicality although the 2 films that appealed the least shared the prize for Best Screen Choreography at IMZ dance screen 99. Margaret Williams' Dust (UK) felt like it drew mainly on the cinematic conventions of advertising with its beautiful but meaningless shots, textures, angles, cutting and sound. Her film Men irritated with its cute humanism, exploiting men over 70 and beautiful landscapes—just like a National Geographic documentary making the extremes of nature into comfortable TV.
On the other hand, La Tristeza Complice (Belgium), a film which exploited the cinematic tradition of verité documentary most subtly and poetically, was not an audience favourite. Perhaps people were irritated by the grainy degraded quality of the image and the odd marks and scratches which flashed by on the screen. However, these could be viewed as cinematic expressions of the subject matter, the elevation of the everyday, degraded and scratchy as it may be, to the status of image, and the manipulation of the dynamics of those moving images into an aria of the ordinary. Verité documentary often has odd flashes of beauty caught more by perseverance than by plan, and this film seemed to make a choreography of these images of dancers laughing, eating, smoking, arguing and passing the languages of their bodies and lives to each other. The film was itself a dance, made in the editing suite, and, since it is documenting a rehearsal, the editor's marks—the chinagraph pencil marks for dissolves and cuts—were left on the image as clues to the working process of making this film dance.
The selections representing Australian work in Dance on Screen, as finalists for the Reel Dance Awards, were surprising and intriguing, the films presented in the historical retrospective session a bit less so. It is certainly tricky to present a whole country's output (since the beginning of its engagement with the form) in one session, which perhaps explains why, in a festival that had a very strong curatorial vision throughout, the retrospective session seemed to lack focus and momentum.
However, in the Dance Awards screening, a much stronger through line appeared. There were very few well-known dancers or dance companies—almost none of the usual suspects. Instead, maverick filmmakers experimenting with the moving image through the device of moving bodies prevailed. There was a strong emphasis on the choreography which takes place in post production—after the dance has been danced and the film has been shot—through editing and digital effects. The tricks of the eye become trickier, more apparent, less illusory precisely because they couldn't possibly happen in 'real life.' But as manipulations of the moving body they are the definition of choreography. They are the manipulation of the dynamics, rhythms, shapes and causes of movement, even though a real body could never do these 'post produced' moves. They are dance attractions engaging with the new form of cinematic attractions—the digitally generated tricks of the eye.
Finally, there were even magic words uttered at the closing ceremony of Reel Dance. Annette Shun Wah, chair of One Extra, expressed the hope that Reel Dance (a One Extra event) would "inspire", and sent the spectators forth from this world of wonders, saturated with the potency of its images and ideas, to create next year's attractions.
One Extra Dance Company, Reel Dance, curated by Erin Brannigan, Reading Cinema, Sydney, May 19-21
RealTime issue #38 Aug-Sept 2000 pg. 15
© Karen Pearlman; for permission to reproduce apply to realtime@realtimearts.net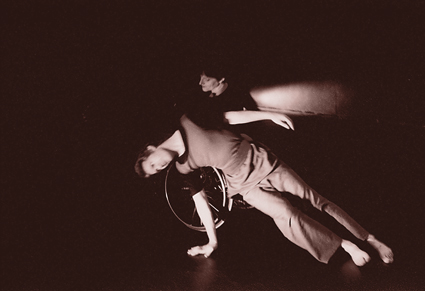 photo Ryk Goddard
David Corbet & Janice Florence
Improvisation in whatever artform is about freedom; freedom of expression at the most overt level, throwing off all the restrictions and codes of artistic practice and replacing them with a spontaneous exploration of the very process of creating art. That it is art in process and simultaneously 'in product' is what places us, as observers, in a new relationship with the performers.
In dance, improvisation as a mode of performance represents fluidity, play and impulse, in contrast to the often rigid structure and form of choreographed movement. Sally Banes, in her 1993 text Democracy's Body, describes improvisation's extremity best: "If all dance is evanescent, disappearing the moment it has been performed, improvisation emphasises that evanescence to the point that the identity of the dance is attenuated, leaving few traces in written scores, or even muscle memory."
In May, the Choreographic Centre hosted a weekend of improvisation, featuring the work of 4 groups that have embraced improvisation for the development of their performance. Familiar to Melbourne audiences, the groups were in Canberra as part of the third annual Precipice event.
Peter Trotman and Lynne Santos
Their improvisation starts with heavy movement—arms sweeping. Then it floats—the hands flexed. They are giving into their own weight, moving in isolation and yet there are moments of connection in the randomness. The pace increases and the movement becomes more abrupt, but there is still a seeming softness to their joints.
There are static moments; then they are leaning into and later onto each other, pushing away and falling upon. There is a fluttering of hands. "Heart beating pulse racing eyes blinking tongue licking," Trotman blurts out. There's a story to this performance, but where it ended up I have no idea…
State of Flux
The focus here is more on contact improvisation…physical support, touch, suspension of weight. The duet between 2 of the performers, one in a wheelchair, conveyed the honesty of contact improvisation. There are chance funny moments…he balances on her lap, shifts position his bum is in her face…and intimate moments…wheelchair discarded, rolling on the floor, moving over each other…and some pretty clumsy moments too…the uneasiness and heaviness of it all, bodies not intuitively sensing each other's next movement. Sometimes it seems like the distance between the individuals is expansive; at other times it seems like the group is a single entity.
Five Square Metres
There's a definite frivolity to this group; the 4 performers are expressive and frequently quite silly. The wit and chatter is all a vital part of the improvisation. The use of breath is another clever layer of the performance…sighs, deep inhalations and exclamations, all uttered on top of each other and set against equally staccato movement, such as shuffling in file and bumping into each other. There seems to be more of a narrative than in the other events on the program. The movement is but one element of the performance, and more driven by the group than the individual, almost a kind of expression of community.
Gallymaufry
Andrew Morrish brings out his mike, Madeleine Flynn plucks her violin and Tim Humphrey toots the trumpet. Morrish does most of the talking, absurd little phrases really, amusing as part of the situation, "I've been dreaming after hours." The music is cartoon-like in the way it complements his prattle. He steps away from the microphone, arms reaching, then stretching gently, he steps out into more dynamic movement. Humphrey is yelling, "Open that door and jump!" Is it a command for Morrish or for us? Madeleine goes to the accordion and Morrish is moving again. It's the funny mishmash of music, word and movement that gives the performance its meaning.
In an evening full of humour and more than the usual risk-taking, these groups created new performances and challenged us as observers to do a little risk-taking of our own.
Precipice: on and over the edge, The Choreographic Centre, Canberra, May 26-28
RealTime issue #38 Aug-Sept 2000 pg. 15
© Julia Postle; for permission to reproduce apply to realtime@realtimearts.net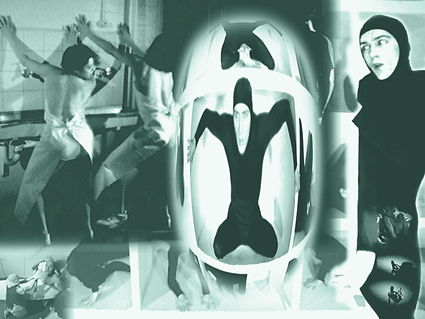 Stark White
The centrality of the abstract yet highly physical concept of the body in contemporary criticism renders our material form as the supreme subject of cultural, psycho-physiological forces. From Sigourney Weaver to genetic engineering, Artaud to dance music, the body has become a mesmerically omnipresent object which is gazed at, deconstructed, theorised, disciplined and choreographed. Choreography and criticism replicate a form of social violence which the body must routinely endure.
This insensitivity to the needs of the body as a living body—a critical-choreographic refusal of the soft body—is forcefully rendered in dance-maker Brett Daffy's film Stark White. Daffy formerly acted as the archetypal self-mutilating, queer 'hard-boy' of Gideon Obarzanek's early choreography and his independent dance proceeds from this precedent. With Stark White, Daffy's disconcertingly pliable anatomy is pulled apart and reformulated in horribly compelling, 'unnatural' ways. This happens both internally—Daffy choreographing Daffy—and externally—women pulling at his limbs, angrily manipulating his joints, and grabbing at his form, before these bodies too undulate under the influence of an internal, psychophysical aphasia. The dancer moves from the bewildered voyeur of others' psycho-somatic abjection to the primary subject of these forces, awakening to find himself enmeshed in an Escher-like landscape of physical and architectural repetition.
Brett Daffy extends this choreographic violence into the cinesonic language of Stark White. He and director Sherridan Green reject the tendency of dance film to sew together isolated frames so as to reconstitute a single, moving body. Image, sound and gesture are fragmented by the very processes of filmic production, and there is little attempt here to bring them back together. Stark White is not a montage of random material, but it does not conceal the brutality of its production. Like the protagonist, the audience is forced to recall its own position as producer of the cinematic experience—as flickering eyes and aural filters—fragmenting the film even as one attempts to draw it into coherence. Daffy, Green and composer Luke Smiles are therefore unconcerned by the body lying out of shot or gaps in the linearity of sound and image. The film jumps and shudders, creating something akin to a great, fleshy car backfiring crystalline apostrophes as it bunny-hops down a tinted, scratched subterranean road.
Daffy nevertheless prevents his work from becoming consistent with implicitly sadomasochistic, misogynistic or simply oppressively voyeuristic modes prevalent in advertising, painting (especially the nude), dance and ballet. He achieves this by placing himself and not the women at the centre of the literal and metaphoric technologies of the work. The cinesonic focus and choreographic violence spirals around his form and disorientation, his alienation and recovery. After seeing him both literally and metaphorically stripped and shaved, our gaze forces his body into the realm of sexual ambivalence and ambiguity. He is transfigured, a queer Christ perhaps. Like Calvin Klein's models, Daffy lies beyond the heterosexed. Unlike advertorial homoeroticism though, this transmutation (this crucifixion?) is achieved through ecstatically painful dismemberment, by cathecting bodily parts and gestures such that monsters are born. The finale leaves us with this sexual beast flipping through the axial patterns elaborated in Leonardo's Ecce homo, yet menaced by the possibility of psychological, sexual and physical hybridity that one sees in Hieronymous Bosch. A post-human for our age of monsters.
Stark White, writer/choreographer/ performer/producer Brett Daffy, director/ editor Sherridan Green, sound score Luke Smiles, Motion Laboratories, performers Sally Smith, Larissa O'Brien, Sharilee Brown, Lina Limosani, Ben Gauci, Larrissa McGowen, Paul Hickman, Kathleen Skipp, Anna Smallwood.
RealTime issue #38 Aug-Sept 2000 pg. 16
© Jonathan Marshall; for permission to reproduce apply to realtime@realtimearts.net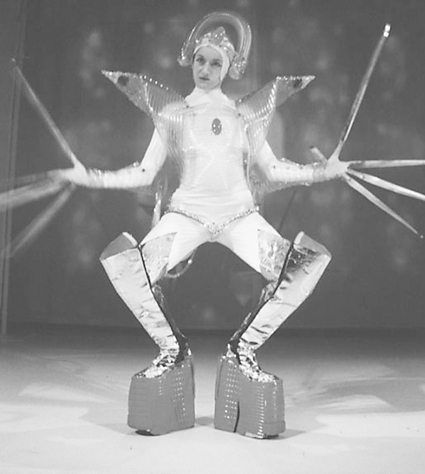 66B/cell, Cybermyth
Fusion, n. Fusing; fused mass; blending of different things into one; coalition
"…when two strange images meet, two images that are the work of two poets pursuing separate dreams, they apparently strengthen each other…"
Gaston Bachelard, Poetics of Space
Fusion was an evening of multimedia presentations, a part of the St. Kilda Film Festival program. Curator Sue McCauley successfully brought together a range of material with the stated aim of exploring the interactive possibilities of digital media. The program was scheduled to take place in 3 separate sessions. The first introduced several new innovative CD-ROM works; the second focused on the demonstration of a number of politically charged interactive documentaries; and the third showcased a variety of performance pieces which also incorporated digital material.
Curator Sue McCauley comments: "As the curator of the program for the second year in succession, I knew that the festival and particularly the venue was a fantastic opportunity to showcase the latest in CD-ROM and performance. It is not often that artists get this sort of opportunity. As a survey type, I felt that I could do 3 very different sorts of programs where artists could demonstrate their works for the general festival-going audience.
"I have recently also coordinated the digital arts program for the Next Wave Festival, Wide Awake Dreaming at Twilight. In both events I focused on creating contexts for the exhibition of multimedia works that did not rely on viewers looking at works on the computer. I was interested in getting away from the idea that the site of production was the exhibition platform. I want to give artist the opportunity to escape the box when showing their work. So works were incorporated in installation, in theatrical peformance or as installations."
It has become common practice to incorporate CD-ROMs into film festival programs. In the last couple of years at the Melbourne International Film Festival, exhibitions of multimedia works have been set up in foyers and adjacent gallery spaces enabling patrons to move between film screenings and the interactives. There were, however, several things that made the Fusion program quite distinctive. First was the diversity of material that was presented—a demonstration of the real range of work currently being undertaken. Second was the impressive way that a human presence was brought back to the centre of the multimedia stage. This took the form of the creators of the CD-ROMs actually presenting their work, taking the audience through some of the pathways of their creations, and answering questions about the work and the creative process. It also took the form, in the final session, of a number of manifestations of the performing body, from playfully acerbic monologues to high-tech choreographed dance ensembles.
The first session, Surface Tension, featured 2 CD-ROMs which could be described as explorations of personal spaces and the subterranean, shifting zones beneath the surface of things. Leon Cmielewski and Josephine Starr's Dream Kitchen is an interactive stop-motion animation. The space for this interactive is a pristine, gleaming kitchen setting. Cmielewski explained that the concept originated in a story from Japan where people put on VR helmets to see what their dream kitchen might be like. Once we start to explore this dream zone, however, we encounter 'eaky borders' which allow us to slip into the oven, under the fridge, down the sink. Here we discover debris, missing pens and pencils, and rodents: we are even able to administer electric shock to a rat. Each return to the kitchen space finds it in increasing disarray—dirtier, messier, falling apart. In comparison, the space for Matthew Riley's Memo is more personal and meditative. Riley's idea was to create an artist's diary full of hand-drawn, painterly sketches and scrawling text in a high-tech medium. He wanted this journal-like structure to incorporate his many observations of the relationships between popular culture and the everyday. And he felt that interactivity would enable him to suggest complex conjunctions of meaning between situations as diverse as phone sex, football, gambling, and shopping, with a focus on the different ways in which language works.
The second session featured a series of interactive documentaries with tough political and educational agendas. It became clear that interactivity has provided practitioners with many new opportunities. It was also evident from the work that the interactive form of documentary has become the site of close callaboration between the subjects and the storytellers. Filmmaker and activist Richard Frankland introduced the CD-ROM The Lore of the Land and spoke of the way Fraynework Multimedia's work supported Indigenous people in telling their own stories by not editing the material that they have collected. Similar sentiments were expressed by those who worked on the disturbing and poetic East Timor Identity, Resistance and Dreams of Return. The producers saw themselves as facilitators encouraging the stories of East Timorese refugees in exile to be told. The final documentary, Mabo: The Native Title Revolution, turned out to be an equally interesting hybrid that includes a re-edit of filmmaker Trevor Graham's Land Bilong Islanders with a new ending taken from his other film Mabo: Life of an Island Man. A great deal of extra material has also been gathered together into this CD-ROM to make it a valuable research resource with clear educational potential.
The third session was the most provocative and high octane. Live performers interacted with digital projections of pre-recorded images—a fusion of voices, bodies, and dancing limbs in a multimedia theatre-scape. Frank Lovece's Poopants was a voice-driven work dedicated to narrative. Lovece's fast-track monologue touched on issues of violence, the republic, race and class as his words and voice interacted with projected image fragments. A series of screens and structures were strategically set up on stage to further break up and fragment the images, and complicate possible readings or interpretations. The next 2 performances were Cazerine Barry's innovative dance works. Pony Girl took its inspiration from Girl's Own Annuals and Barry's prancing, energetic body took mock riding lessons from a 60s style projected voice. Lampscape was a more mesmeric piece with Barry dancing behind a large gauze screen shadowed by, and interacting with, images of herself projected through the screen—a theatre of the figural. The final performance was a futuristic work of alchemy which came from the Tokyo-based collaborative group 66b/cell's Cybermyth, a collaboration of Japanese and Australian performers. The work they presented was a remix of Goethe's Faust—a kind of Faust in Space—with characters plucked from the text free-form, clothed in graphically striking cyber costumes which intermittently flashed and created their own light shows, performing choreographed Butoh-inspired dance movements which also incorporated digital video projections. During question time, one of the artists explained that they had tried the piece with visuals alone but felt that it wasn't enough. The stage, they said, needed a human body.
This was one of Fusion's real achievements. Invoking McCauley's words, Fusion was a program which "escaped the box".
Fusion, St Kilda Film Festival, The George Ballroom, Melbourne, June 2
RealTime issue #38 Aug-Sept 2000 pg. 20
© Anna Dzenis; for permission to reproduce apply to realtime@realtimearts.net
Anyone interested enough to pass by the Stock Exchange building in Sydney a few months ago would have witnessed the spectacle of the dotcom crash, or "new media adjustment", as financial pundits would have it. Small-time investors and internet start-up owners stood, some with noses unselfconsciously pressed to the glass, watching their stock devalue minute by minute. Informed by the U.S. NASDAQ (the American financial index for new media stock) the electronic red ticker streamed a sorry story; some stocks nosedived to within a hair's breadth of their issue price, others simply entered negative figures.
The crash came at an interesting time. In internet years (roughly comparable to dog years in terms of development), the web was colonised by technology corporations a very long time ago. They are responsible for both interpreting the web as a rampantly commercial space (with all that that entails), and developing sophisticated platforms from which to serve what they call "content", a lazily defined term which means anything from editorial to a nifty, Java-scripted button on a navigation bar. Strategies ranged from providing millions of free email addresses and giving away software to skimming a percentage off the top of credit card purchases. Very few of them made actual money and the market eventually got nervous, hence the crash. Things, as they say, will never be the same again.
The development of the technology, however, continues apace. WAP (Wireless Application Protocol) will be coming to someone with a fairly hefty mobile phone plan near you very soon, delivering components of the web (news headlines, movie session times, sporting updates and of course stock reports) to the thing that just used to go ring ring. Interactive TV has already been introduced, and Pay TV viewers are familiarising themselves with the idea of fusing a website interface with broadcast programs—checking their email while the cricket is playing. All pretty handy.
So what's an article about a bunch of well-off wankers losing their money during a period of vastly accelerated technological growth and innovation doing in RealTime? Serving as speculation, mainly, about what all of this means for the way in which information we want to find and "content" we might very well create, will be disseminated in the future. These emerging technologies will indeed be handy, but who will be setting the agenda as to how they are used? In a post-crash environment, where the cash won't be flowing anywhere near as freely as it did before, the web as it spreads to TV and your phone will be economically rationalised. Internet service providers of all kinds now have a vested interest in keeping their subscribers within the walls of the content that they have purchased or aggregated. Some are giving away free access—you don't pay a cent, but you can't actually leave the network you're in to explore the rest of the web. So if you're forced to bank online because your local branch has closed down, and you can't afford to pay for an internet connection, welcome to the "walled garden." Others provide services exclusively to their paying customers; everything from 5 email addresses to animated short films and "superior" news coverage. Stuff the rest of the rabble will never see, unless they upgrade.
Of course it's all in the name of commercial good sense, but does it have to be inevitable that the medium that started as a tool for Cold War military communication, transmogrified into an academic language (Hyper Text Markup Language or HTML) and still boasts worldwide access to information about subversive and marginalised cultures, will become a segregated medium?
Firstly, to the culture. The internet industry workforce is home to some of the most brilliant technology heads outside of the science world. They are able to solve problems more quickly than it would take to explain them, and remain wisely apolitical within the sphere of the working day; a geeky empire unto themselves. But the industry is still bloated with counter-culture poseurs; under 35 year-olds with Palm Pilots and wardrobes full of utility chic couture, spouting new media pseudo ideology-speak as flimsy as the content they are responsible for publishing on the web. Attend a meeting with these kids and buzz phrases such as "synergy" (a greasy economic fit between 2 businesses) and "robust nature" (the ability for "content" to be pillaged for e-commerce opportunities and syndication models) will zap around the room like so much locally routed data. It is very possible you will witness them encouraging each other to "think outside of the square" (come up with ethically unsound solutions to content problems, such as sell the arts section of a website to a sponsor and skew the editorial in its favour). And if you're unlucky enough to suggest something which doesn't have a "fit"—even outside the square—it's possible you'll be told to "take it offline."
It is to these people that many writers and filmmakers will be entrusting their work. These are the people who will privilege sport and mainstream computer games over the arts because the stats tell them to. If you're lucky enough to find decent arts listings on a commercial website, it'll be a personal indulgence on the part of the producer who runs it.
Further up the food chain, however, are the heavyweights. The ones glamorised by IBM advertisements. Old tie private schoolboys, ex-lawyers, ex-traditional media and too bright MBA grads who, come lately or by right of birth, subscribe to the old capitalist school of dress and behaviour; they wear suits (jeans are allowed on Fridays, providing they don't have a meeting with the Telstra guys), make or tastefully ignore sexist jokes and earn a shitload of money for the privilege. Despite the recent dotcom 'adjustment' on the NASDAQ, these people still command salaries that start at 140k (even without equity) and just keep on getting higher. A polyglot of marketing executives, business strategists, e-commerce directors, CEOs and managing directors, these are the people who hold the purse strings. They are the people responsible for encouraging the syndication of content (ie that stuff we used to call editorial —the stuff it simply doesn't make sense to produce in-house) across as many portals (the gateway to the rest of an internet network) as possible, to whom the term "media saturation" is freely interchangeable with "cost-effective."
These are the people responsible for the hype surrounding convergence, who are currently shaping the "content" landscape on the web, setting the precedent for the licensing of short films from artists at rip-off rates, readily getting rid of web pages that aren't paying for themselves. These are the people who are excited by the prospect of an internet/interactive TV/broadband (expensive, fast access to the net) environment by which your capacity to surf is limited to the content the corporation owns.
Despite what the Information Technology (a strange misnomer if ever there were one) sections of newspapers would have you believe, convergence is a fair way off becoming a digital reality for most people. But by the time it is, getting the right kind of money from a web company who wants to appear credible by licensing your film, might be nigh impossible. Looking to your interactive TV for inspiring content will feel strangely similar to subscribing to cable TV. Only instead of there being 200 channels of rehashed crap, there will be thousands of sites shoving crass advertorial and e-commerce opportunities down your throat—and the 9 rebranded corporations that used to form Microsoft will have a finger in most of them. We'll look back with consumerist nostalgia to the time when advertising was actually distinguishable from the television show itself.
Maybe when the Coalition is voted out there will be more government subsidies and new media grants to ensure that interesting sites are built and web events take place. And hopefully, some of those projects will use the medium to critique the medium.
And hopefully most of us won't be sucked in by a website funded by a bank whose spuriously deconstructive sociopolitical agenda—or is it an advertising campaign?—is to "unlearn."
RealTime issue #38 Aug-Sept 2000 pg. 25
© Nadine Clements; for permission to reproduce apply to realtime@realtimearts.net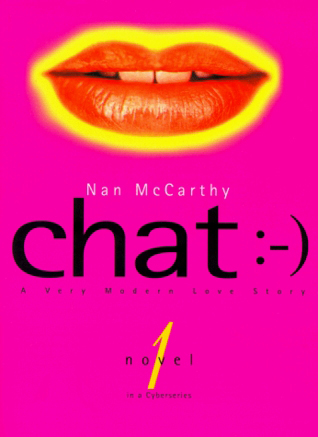 You're the cutest thing that I ever did see/really luv your peaches wanna shake your tree/Lovey dovey, lovey dovey, lovey dovey all the time/Oooey baby I sure show you a good time.
Er, sorry about that. Don't know what's wrong with me today. Must be that email I just got from Peaches. I mean seriously, do you know anyone called Peaches? What about Buck, heard from him lately? Unlikely as it may sound, this nomenclature resonates with literary gravitas and the portent of tele-communications historiography. Stay with me.
Since McLuhan's observation that new technologies are always inscribed by earlier modes and practices, media theory has insisted that its forms do not arrive unheralded. Cybercultural genealogy is awash with theorists peering further and further into the past. Commentators such as Margaret Wertheim (The Pearly Gates of Cyberspace: A history of space from Dante to the Internet, Doubleday, Sydney, 1999) argue that the idea of cyberspace is unthinkable without critiquing the changing metaphysical and scientific conceptions of space, and writers like Janet Abbate (Inventing the Internet, MIT Press, Cambridge Massachusetts, 1999) or Katie Hafner and Matthew Lyon (Where Wizards Stay Up Late: the Origins of the Internet, Touchstone, New York 1996) dispute the conventional myth that the internet's origins are limited to American military scenarios. But as these areas of inquiry are comprehensively covered, others remain somewhat under researched.
Electronic mail, while implicit in the cited studies, seems not to receive the same sort of sustained critique. One way to redress the gap is to historicise the email novel. This emerging genre can be traced to 18th century British and European cultures where an increasingly literate population and the technological advancements of the postal service give rise to the epistolary novel. Works such as Les Liaisons Dangereuses by Choderlos de Laclos, Jean Jacques Rousseau's La Nouvelle Heloise or Samuel Richardson's Pamela are narratives constructed from letters whose formal and thematic properties presage certain contemporary literary genres.
How to spot an email novel? Well, the title must include technological form, literary vehicle and a signifier of lerv. Cyber word, colon: love word. Consider, Chat: a cybernovel (Nan McCarthy, Peachpit Press, Berkeley 1996); Virtual Love: a novel (Simon & Schuster, New York 1994.); Safe Sex: An e-mail romance (Linda Burgess & Stephen Stratford, Godwit Publishing Limited, Auckland 1997); and Email: a love story (Stephanie D Fletcher, Headline Book Publishing, London 1996) and you begin to see the point. To a large extent, email novels function according to the generic principles of epistolary fiction. The exchanges are presented chronologically, framed by dates, salutations and signatures. In both genres there is a strong emphasis on the body's absence: correspondents are separated spatially and temporally and the missive is used as a means to negotiate this gap. And both narratives are informed by themes of love, seduction, adultery and betrayal. More specifically, one might draw parallels between 2 of the texts by comparing their articulations of subjectivity formation.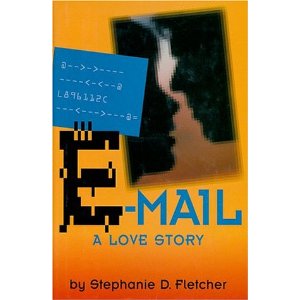 Both the 18th century epistolary novel Les Liaisons Dangereuses and Fletcher's E-Mail: A Love Story, for example, wrestle with the problem of women's sexuality in terms of the transgression of institutional ideology. Laclos' Mme de Merteuil is exiled because she dares to usurp the masculine privilege of the sexual aggressor and Katherine Simmons, the protagonist of E-Mail: A Love Story, is reformed at the novel's end by her return to legitimate sexual acts defined by the marital contract. The configuration of identity seems to concern both genres since the epistle form permits an opportunity to explore or radicalise questions of subject formation. Mme de Merteuil explicitly refers to her propensity for dissembling and reinventing herself and the correspondents in Fletcher's text regularly discuss the advantages of and need for the use of pseudonyms (hence "Peaches" and "Your cowboy, Buck").
While the 2 genres share some formal and thematic elements, there are of course points of departure. Part of the problem is to do with the awkward mimetic situation of email novels because they use the conventions of print technology to describe, represent and invoke the tropes of electronic communication. Email novels quote the digital sign. In place of the usual epistolary preface, E-mail a love story begins with 3 pages that reproduce the instructions for a fictitious computer based communications system called 'Luxnet' (based presumably on services such as America On Line or CompuServe): "to learn more about electronic mail simply click your mouse over the mail icon on the screen." Needless to say, there is no mouse, icon or screen.
This mimetic fissure is tackled by Carl Steadman in a fascinating internet based project called Two Solitudes, an e-mail romance (http://www.freedonia.com/ – link expired). Steadman (one of the co-founders of Suck) has written a novel dictated by the email interface rather than the print environment. One 'subscribes' to the story using similar protocols to Listserv discussion groups. What follows is a series of emails purported to be copies of the correspondence from the exchanges of 2 people of indeterminate gender (Lane and Dana) but amorous intent. The technological verisimilitude is so successful that it is quite possible to forget one is reading fake mail. It is a compelling literary experiment clearly informed by the epistolary theory of Jacques Derrida's The Post Card (1987).
Where Steadman's theoretically astute email fiction is overtly indebted to an epistolary past (and all that that implies about the author/reader dynamic of tele-communication), the email novels must also be seen within their literary heritage. Just because someone in Email: A Love Story signs his missives from a 'cyber Romeo', doesn't mean he can't grow up to be John Malkovich.
RealTime issue #38 Aug-Sept 2000 pg. 27
© Esther Milne; for permission to reproduce apply to realtime@realtimearts.net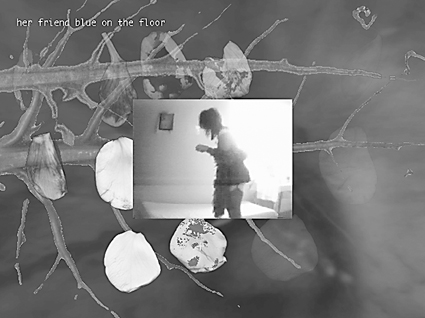 Linda Dement, In My Gash
It was but 6 years ago that the first works on CD-ROM by artists made their appearance, only 5 since the initial net art sites emerged. The rapid expansion of artists' sites in the last 2 years has eclipsed and diminished the desire to place work onto CD. The considerable range of skills needed to make an interactive CD-ROM and then distribute it have kept artists' attention on the improving quality and range of options available online—faster access times; browser and production software adapting to the desire for sound and movement; and an on tap means for delivering curated exhibitions to the audience (no freight, no installation, no need for a sustained level of funding).
Moving out of the notional centre (from the confined spaces of the gallery, from the vicissitudes of curatorial taste) into the digital highways and byways of cyberspace is becoming challenged, a la revenant, by the laneways and streetscapes of the analogue city. Drive by was a series of shop window projection installations by the Retarded Eye group for the Perth 2000 International Festival. (See RealTime 37, page 18). One of the works A throw of the dice (can never abolish chance) was made by Vikki Wilson with performer/writer Erin Hefferon as "an experiment in electronic writing to produce a work that makes a 'movie' on the fly with text, sound and video. The 'movie' is recognisably the same story but different in each version: a series of compressed serial-killer narratives—Perth-dwellers have been living with this story for some time." The work reiterates its storylines, building a collage of permutations over time and was developed from a narrative database engine (made by Cam Merton of Retarded Eye), holding movies, sounds and sentences scripted to combine into narrative sequences as the engine runs. A DVD delivered the piece to the projector installation and is accessible on the web (http://arc.imago.com.au/ driveby), indicating an inexorable movement by this group and a few others overseas towards forms of online cinema.
As a work distributed on videotape, Love Hotel anticipates these shifts, summarising in 7 minutes of linear exposition the impact of online culture and communities on gender politics. Linda Wallace (www.machinehunger.com.au) takes video collected from Japan and New York and layers it in windows and boxes containing the words of Puppet Mistress (Francesca da Rimini reading excerpts from Fleshmeat, her forthcoming anthology, www.thing.net/~dollyoko), vectoring meanings from the collisions of resulting images. Screened recently as part of d>art00, the project adopts the provisional location of the love hotel to materialise in the media guises of cinema, television, multimedia, internet and next…gallery installation?
Rosalind Brodsky in her time travelling costumes spans right across the 20th century and into 2058, the year of her demise. The space she occupies during this bungy-jump is, of course, the virtual space of the interactive multimedia computer and the encounter between each user and the rich imagination of the artist…No Other Symptoms—Time Travelling with Rosalind Brodsky. Rosalind (the alter ego of the CD-ROM's maker Suzanne Treister, see RealTime 34) delivers a monologue that ranges across late 20th century media studies discussion points from psychoanalysis to Mary Poppins, vibrators, sci-fi films, the Russian Revolution (complete with clips from Eisenstein's October), 60s euphoria and hope for the future. Stories of Old Europe—pogroms, revolts, émigrés—are encountered. They are central to her history. Rosalind wishes to be "…connected to (her) roots…" and interspersed are photos and videos of the Treister family members, as family and as players in re-enactments of historical moments and encounters with extensive figments of Freud, Jung, Klein, Lacan and Kristeva. Rosalind as a time traveller is able, of course, to warn Freud to leave for London…he does. She sees a lot more of him. And so can we…
Lisa Roberts time travels via the simple action of turning the hands of a clock backwards and forwards (I discovered eventually this had to be performed quite vigorously), until entry is given to the labyrinths of the CD-ROM Terra Incognita. The smoke and mirror possibilities of the authoring tool Director (in spite of inexorable pixel-dissolves) recreated the séance-like atmosphere of the magic lantern, with static images from the artist's experienced pencil and paint gestures flickering through parts of the writer Carmel Bird's fiction, the images forming "the basis for an interactive 'map' of the creative process" perceived by the artist in response to the writer's work. This is the work of a mature artist picking up and learning a complex multimedia tool.
Juvenate, from the Perth team of Michelle Glaser, Andrew Hutchison and Marie-Louise Xavier, also explores intersections of memory—"The beginning and the end reach out their hands to each other." The simple action of rolling over unmarked parts of the images stimulates sounds and successive images to emerge in a flow of snapshot and watercolour elements constructed around the domestic. Abrasions, lesions and drips intervene into the sound of children's voices as the user moves through the 36 scenes following a route that can be re-visited once learnt.
Linda Dement has recently completed her third CD-ROM, In My Gash. Like the earlier works, she creates a gentle correspondence between the user and the complex representations seen and heard, that in spite of the implication and threat of violence witnessed gives access through a real engagement to comprehension rather than the dead-end of the hopeless and intractable. As Anna Munster has observed: "Dement's 3D animated renderings of gashes seemingly offer up representations of the mysterious leap from the physical to the psychical, from the outside to the inside, from the beautiful to the grotesque that straddle our understanding of gender relations (Photofile 60, forthcoming)."
TellTale is the flipside CD-ROM, "a mixture of sweetness, courage, nauseating patheticness and romance" in the words of its creator, Rebecca Bryant. As an immersion into the world of a soapie-like group of 'characters in situations', it enables the user to terminate irksome storylines, back into a more promising combination of plotline options and when all else fails, simply read scurrilous footnotes about members of the cast. Whilst navigation is elegantly designed and effected, the flux that personifies the notion of the soapie is placed into a state of fixity when delivered as a CD-ROM. Internet narrative possibilities have advanced this option more recently, utilising streamlined vector graphics which, when coupled with graphic images of the kind in TellTale, simulate a cinematic experience. (Jonni Nitro at www.eruptor.com and Too Hot at www.toohot.com are examples of the form if not the content).
The use of the 360 degree virtual space linked via rollovers to movies and graphic sequences enables discrete narratives to be coordinated into the virtual installation of Cross Currents by Dennis Del Favero, investigating the sex slave trade of Western Europe (see RealTime 34), or the encyclopedic Lore of the Land from Fraynework Multimedia. A big budget project involving Indigenous and non-indigenous Australians mostly in Victoria, the multi-faceted chapters examine history, ecology, culture, law and land with an approach that encourages the upkeep of an integrated personal journal of the user's journey through the work, collecting images and notes along the way. A curious game of Discovery is incorporated (separately authored by Troy Innocent) which involves collecting artefacts from an uninhabited cave, egged on by an off-screen Aboriginal voice, before returning them to the ground. The goal of all this earnest activity is to move towards understanding, and the achievement of, reconciliation. The navigation system whilst easy to use keeps this rich resource at arm's length relying, like a television doco, on the personalities of the individual contributors to provide the spirit of the piece. The outcomes of individual journals linked through a website forum (www.loreoftheland.com.au) potentially close the gap between the user and the experience and process of assimilating this work.
User confidence is challenged in the elegant Electronic Sound Remixers by Tobias Kazumichi Grime, where the ubiquitous Director authoring tool enables the user to combine from a palette of attractive sounds a mix using a design grid with an attractive variety of visual slider devices. Is the mix actual or, as the user begins to suspect, the result of options only partially given by the author?
Virtual kitchens were a factor in the mix of the year's completed works. Dream Kitchen by Leon Cmielewski and Josephine Starrs submerges us beneath the smooth surfaces of the domestic laboratory to examine its seams and what lies hidden: fire-raising pencils and pens, anthropomorphised garbage, an opportunity to take the Interface Test and apply an increasing electrical voltage to a dead frog. Witnessing from a surveillance position behind the phone the S&M goings-on of the otherwise absent owners adds spice to this ingenious wunderküchekabinet. Michael Buckley's Good Cook dives beneath the psychic surfaces of the professional kitchen during a sleepless night for the chef. The user shares his frustration at not being able to shake off meandering thought and image recollections as the mouse threads our way from the trials of the previous night's work to childhood memories and the paternal pathways of songs and scriptures.
Delivered after a short gestation, the pixel, the byte and the inkjet are seamlessly integrated via the CCD and the chip into a contemporary practice that is again dissolving the artificial barriers to the possible erected by corporate culture and the ambitions of software engineers. Time-based technologies used to 'fix light to a time signature' are in ever more constant flux, again redefining the terms of hybridity, again continuing the development trajectory of the newer media within screen culture.
RealTime issue #38 Aug-Sept 2000 pg. 6
© Mike Leggett; for permission to reproduce apply to realtime@realtimearts.net
Drawing as it does on rapidly changing technology, electronic art is always looking out for the next wave, a new process, a new platform. As the technology industries continue to generate novelty—a mixture of promises and products—at a breathtaking rate, artists adopt and adapt both the rhetoric and the technology, slipstreaming behind the biggest, fastest juggernaut around.
So in the year when, as a child, I imagined the future would finally arrive, there is an interesting, subtle sense of pressure on the electronic arts—as if they too should be finally 'arriving,' coming up with the goods, delivering on their promises and aspirations, breaking into the mainstream. At the same time, the status of the electronic arts is undergoing perhaps its most serious challenge—because the future is arriving, in a straightforward, quotidian way, but it's arriving all over the place, indiscriminately and without regard for who's been waiting the longest. Here I want to discuss that challenge, and show how it may ultimately—in fact hopefully—bring about the end of 'electronic art,' 'digital art' and 'new media art' as they currently exist.
This challenge arises quietly, as a particular threshold is crossed—a threshold of technological saturation. Over the past decade, high-tech (and specifically digital) media forms have proliferated to the point of being ubiquitous in our everyday lives. Almost every manufactured image that we see—every laser-printed flyer taped to a pole, every book jacket, every billboard, every TV ad—is now a high-tech artefact, a product of layers of digital processing and production. Film, a uniquely persistent analogue medium, is embracing digital production. An overwhelming majority of the audio which we encounter is 'digital'—at least in its means of reproduction, though increasingly in its creation as well. At the same time, 'new' media forms (email, the web, console games, mobile phones) are threading themselves ever more tightly into everyday life.
A couple of years ago a new Coles supermarket opened in my neighbourhood, complete with an array of beautiful, flat LCD touchscreens which function as cash registers and point-of-sale advertising displays. When I first saw those screens, I was struck by their potential; I imagined somehow appropriating them for a lavish interactive artwork. They looked so incongruous; precious technological artefacts surrounded by racks of chewing gum and magazines. At some point since then, though, the screens changed: the supermarket assimilated them; now I just see cash registers with banner ads.
The saturation of our lives, and our culture, in media technology, is predictable enough; the process has been clearly underway for decades. What's more interesting here—and what the supermarket story illustrates—is that this process has finally reached a point where these media technologies are completely unremarkable. The 'digital-ness' of a CD simply doesn't matter (any more); nor does the fact that the titles for the evening news are computer-generated, or that this publication is digitally typeset. Even where the technology itself is unavoidable, the rhetoric around it now concentrates on basic utility value: the commercial, consumer web packages itself as a lifestyle-enhancer, a time-saver, an appliance, but never as a technology.
This process of disappearance or dissolution is facilitated by the increasing sophistication of digital media technologies. This is clear in Hollywood cinema where digital technique is crossing a corresponding threshold of perception; nobody remembers the computer graphics in Saving Private Ryan. Contrast this with the self-referential graphics of 10 or 20 years ago; remember the opening titles to the first series of Towards 2000? Glowing wireframe jet planes and spacecraft zoom out of the screen. The message was clear: "the future is technology, and it's coming right for you." Now that we're here, the glowing wireframe is a retro icon for a simpler time. Contemporary media technology is a shape-shifter—it puts on the skins of forms it's killed (film grain filters, lens flare effects, vinyl crackle plug-ins)—but can look and sound like anything, or nothing.
What does this shift mean for the electronic or 'new media' arts? In one sense, it means almost nothing, or rather, more of the same. As media technologies become more sophisticated and more accessible, the arts benefit; more room for experimentation and play, more potential, more power, more scope. These have always been the payoffs for riding with the technology juggernaut. In another sense however, this shift represents a significant challenge to the ways in which the high-tech arts construct and identify themselves.
Sparked perhaps by the reluctance of the established art-world to accept their work, artists using electronic media have gathered, over the past 2 decades, under such generic banners as 'electronic art,' 'digital art,' and 'new media art.' An active international scene has emerged, with its own institutions, events, stars, critics, and gossip, all organised around a common creative engagement with technology. This identification with a technological medium has been useful in many ways: technology is a drawcard, a (largely) positive cultural marker, often attractive to the powers that be. While often highly critical of its technologies of choice, electronic art has also been happy to borrow the progressive rhetorics of 'cutting edge' technoculture for self-promotional purposes.
That rhetoric only works, though, when the technologies involved are new and exotic, and digital media are no longer either of those things. Where does this leave (not-so-) new media art? Those with a hankering for the experimental will no doubt continue to seek out esoteric and emerging technologies; biotech art is already a reality, no doubt nanotech art is close at hand. Having been crowded out of digital media, the high-tech avant-garde might simply move elsewhere. However there is another option which is more radical, but also more interesting: what if artists working with technology stopped identifying their practice as 'new media art' or 'digital art'? How useful are these designators in a culture in which digital media are the ascendant status quo? What if the technology-based banners for this field were simply taken down, now that their age is starting to show?
Suppose for a moment that this were possible, and imagine the consequences. It might demonstrate that these generic labels have never been a useful way of thinking about, or engaging with, this practice. They lump a diverse range of work into a category which ignores the most interesting aspects of the work—its content—and concentrates on a set of technical and production processes. If that category were to dissolve—as it is dissolving in culture at large—we might find a more complex way of thinking about this work. All those clusters of shared values, approaches and aesthetics which already exist within new media practice would come to the fore—those groupings would be recognised, rather than subsumed. At the same time, the networks of trans-disciplinary influence and continuity which already run across the field would develop. These banners involve an act of differentiation, a declaration of a separate practice—yet among the richest zones are those where electronic media meet existing creative and discursive traditions.
The notion of 'new media' as some kind of radical move and/or critical problem will, with any luck, recede. That hoary old excuse for the uneven quality of new media practice—that it's 'early days', and that 'in X years we'll look back on this as the beginning of a new era'—will go with it. More space and energy will be left for a real engagement with the work, in all its cultural and creative specificity. Of course this is not to propose that the media themselves should be ignored, either by artists or critics. The process of grappling with the medium is part of doing creative work, just as the process of deconstructing, interrogating and analysing those media is part of critical work. In rapidly-changing domains such as the web, these processes are crucial, and certainly net.art plays an ever-more-essential role in offering alternative ways of thinking through that medium. Still, there's more to it than that.
What about those organisations structured around medium-specific banners? What of the funding bodies, who play an important role in the construction of those categories of practice? Without the banners of 'new media' or 'digital art,' and the sense of solidarity and legitimacy which they bring with them, artists may find it even more difficult to gain support for their work. It's these (important) pragmatics which will most likely ensure that this thought-experiment is never realised. Take it instead as a wistful vision; a sprawling continuum where high- and low-tech art co-exist and intermingle. Or better, a polemical jolt, a hypothetical. Either way, the wider process which sparked it is obstinately real; the 'new media' are becoming everyday, unremarkable, imperceptible, ubiquitous—and they won't be new for long. Similarly, the best thing that could happen to 'new media art' would be for it to dissolve—not vanish, but dissolve—and for the medium to give way to the work.
This article is a variation of a talk given at the Being Digital forum, chaired by Susan Charlton and organised by dLux media arts, as part of the Sydney Film Festival, Dendy Martin Place, Sydney June 15.
RealTime issue #38 Aug-Sept 2000 pg. 7
© Mitchell Whitelaw; for permission to reproduce apply to realtime@realtimearts.net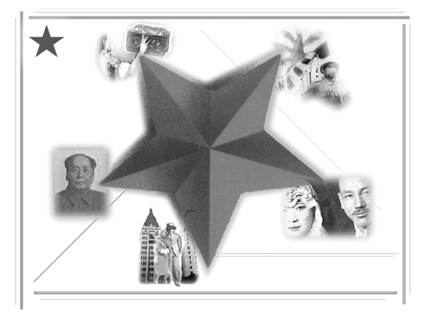 Tatiana Pentes, Strange Cities
Apart, of course, from C3PO's nervy variation on the loyal poof valet, the best thing about Star Wars (Mach I) was all those twee segues: the windscreen-wiper, the venetian-blind, the diagonal swipe, the horizontal shutter…later zombied back to life in PowerPoint.
In spite of the vistas opened by hyperlinks, much writing for multimedia—and especially for the web—never quite manages decent textual segues, something narrative or perspectival or dialogic that can ease or direct the wormhole transition between nodes. All too often instead you get chunked, clunky Lego blocks of text-as-data and interfaces standing in for connections. Not with these projects.
Tatiana Pentes' Strange Cities CD-ROM takes the segue and transposes it to a musical idiom that originates in, reconfigures and encases the unbelievable story of her grandparents, who were serial refugees and always-already aliens or exoticised expatriates.
The frame-story is told by the narrator, Sasha, who didn't believe all their outlandish tales until, after their death, she was about to incinerate a box of old memorabilia from Sergei and Xenia Ermolaeff. We open that box ourselves, and follow the sepia photos and ID papers back to Russia, to the Bolshevik Revolution, escape to China, the marriage in Tianjin, Shanghai's polyglot immigrant community, the decadent jazz clubs Sergei's band played, rubbing tuxedo-ed shoulders with Chiang Kai-shek and Charlie Chaplin, Xenia becoming a glamorous nightclub dancer, Mao's revolution, asylum in Australia and suddenly 50s anti-Reds paranoia, the claustrophobic suburbanality of permanent nostalgia. In and out of frame, as intro and closure, move press clippings, an evocative layered-n-textured Photoshop-ad's-worth of old photos, creaky newsreels and retooled recent footage, Trotsky speeches, Sergei's songs and the band's smoky jazz, contemporary radio broadcasts, un-artificial soundscapes, and narratorial voiceovers.
The effect is that of stretto, the fugue technique of overlapping and entangling voices and time signatures, where Pentes eschews the pull of Hollywoodising the admittedly-amazing story into linear cinematic re-telling, so it's less trajectory than transitional vignettes. These are composed as 'movements'—Prima Volta, Mordente and Lacrimoso—with multiple interfaces, menus, image-maps, differentiated mouse-pointer icons and situational identifying soundtracks. Pentes has exploited the ways in which expressive multimedia can parallel the modes, feel and mechanisms of memory-in-anecdote to memorialise her grandparents' lives in a work that at last makes musical structural metaphors something more than a branding exercise.
Los Dias y las Noches de Los Muertos (The Days and Nights of the Dead), a website from Francesca da Rimini (www.thing.net/~dollyoko/LOSDIAS/INDEX.HTML) with sound by Mikey Grimm and grafix and translations from a big gaggle of collaborators, is virtually nothing but segue, contracted to such a hyperkinetic attack it strafes you. Step 1: download the soundtrack and get its stripped industrial-electronica going. Step 2: um, that's someone crying isn't it? & someone screaming…moaning—disconsolate sobs and it sounds like—& feels like—torture…weird how I'm kicked out of viewer-ly complacency by war's fallout coming tinnily from my tiny speakers. Step 3: "click to start", a disingenuously clichéd invitation that ends up spawning a new window, ambushing my browser to set off a series of graphical and plain-text detonations.
It's all auto-refreshing, webpages replaced automatically by another without a mouse-click. Try clicking and you just get more 3-second-delay transitions. We're talking hypertext-as-70s-zapping in Greenaway split-screen TV here, 5 frames vertiginously kaleidoscoping between quotations from Napoleon on the art of war, press stuff from the Zapatistas, excerpts from the US Space Command's 'Vision 2000' policy (terrifyingly vacuous…but remember Reagan's 'Star Wars'?), Machiavellian directives for netwar and a slew of snippets posing as ICQ Logs strobing you in Exhibit-A flashes. In a kind of striking narrativisation of the Seattle WTO protest, globalising multinational capitalism is made to lip-synch the motives and pragmatics of war. So you get, for instance, EXXON announcing "death is nothing; but to live vanquished and without glory is to die every day"; or The Vatican Bank, or Shell, or Coca Cola, philosophising on battle. For anyone who's followed the harrowing online media accounts, the visceral experiences and pleas of the Zapatistas, colliding—often almost literally—with the blandly glib, spin-doctored policy statements on war and the vortex of imagery…it's wrenching.
Similarly disturbing, but uncannily, is Whoseland.com, an "inter@ctive documentary" (it's 2000: let's declare a moratorium on @) about the 1998 Africa-Australia Exchange on Land Rights for the Millennium (www.whoseland.com). It reads, from Howard's (un)sorry 2000 state of affairs, as an uncanny present-tense palimpsest of connections made and missed, hopes now boxed-up in apathy, and a productive international effort at recompense, equity, practical solutions and modest proposals. It generates its momentum from chronology: the inception of the project, its main press conferences (one by Ben Elton at his ratbag best), the experiences of the delegates from Maasai and Barabaig peoples in Australia and of the Kimberley Land Council in Africa, the 1998 Melbourne protest march, heading towards the Centenary Celebrations in 2000. Each section's colour-coded, crystallised in a spiral site-map and navigable by elegant icons, backed by extensive content varying from first-person accounts to full transcripts, a click-zoom-able map of tribal ownership and languages, and a useful collection of research papers.
The writing is taut and engaging throughout, exploiting the narrative drive and delegates' excitement, heavily and effectively illustrated by photos and vox-pop videos. Return exchange visits were planned for 1999 but—and this is more than the usual existential whinge—although the site promises to provide updated content up to 2000, it peters out at 1999, exacerbating the cross-wired time perspectives.
Sharkfeed, by John Grech and Matthew Leonard (www.abc.net.au/ sharkfeed /index.htm – expired; see RealTime/ OnScreen 38), extends such cross-wiring by looping round a 1960 kidnapping-murder case, and literalises it in 'rephotography', which makes a refrain out of re-framing photos with the same subject over disparate time and place locations. In June 1960 the Thorne family from Bondi won the Opera House Lottery (100,000 pounds!), which led to their son Graeme being kidnapped by Stephen Lesley Bradley (Istvan Baranjoy), a migrant Jewish-Hungarian WWII survivor, for a ransom. Graeme died, probably inadvertently but horribly nonetheless on the day of the kidnapping.
As with Strange Cities, the project is in focal flux from the main storyline outwards, bricolaging an album of traces from archival footage, old news media photos, recordings, interview/broadcast transcripts, sound files (from Paul Robeson singing in Sydney to the Police Commissioner's briefings), headlines, reconstructed evidence snapshots, sketches, photo montages, mixed-time-period panoramas, and crime-scene maps.
The project's creators explore the way the Thorne case inaugurated the long history of sensationalist quickie-trash true-crime books, yet Sharkfeed regularly falls into the same exploitative formulae, like: "Graeme Thorne was kidnapped on the way to school, a journey from which he never returned. Afterwards, nothing was quite the same again." Um, yes. Etc. The main navigation option ('continue' or 'about' as rollovers) is not exactly aesthetically or hypertextually exciting, but you also get regular 'detour' possibilities, a nice-if-superfluous VRML interface, and category menus; but it's the transitions that rescue it from TV-re-enactment, circling round from the compelling narrative-doco and true-crime-voyeur arcs into the wider disturbing social issues. Sure, it leads to some questionable philosophising—"as the lives of all those children were lost, they began another kind of life, in a mythical space from which they can never escape"—and gratuitous puns on 'corpus', but it'll absorb you and make you think, get you arguing and where's your kid right now?
In contrast to the centripetal pull of a main storyline, Archiving Imagination (www.archiving. com.au/archiving/index.html) is an unapologetically disparate sampler of collaborations between Robin Petterd (digital media artist) and Diane Caney (writer/web-author and editor of the Australian Humanities Review). Most of the works are brief and concentrated, surreal or haiku-ish poetic writing dramatised by video or made into rhythmical movements by minimal design, braided hyperlink arcs, discrete sound effects, muted terrace-house colour schemes and a beautiful line in fade-in-fade-out gif animations lushly mirroring the lyrical text…"and when I sleep my mind bathes in the memory of your skin." Often coyly unpredictable or navigationally unclear, the design forces cursor exploration: rollovers, image-maps, auto-opening links and floating windows are all used to pointed textual effect with surprises and hidden sections. And the writing itself, to which the focus always returns, is worth the hunt and the wait.
Alyssa Rothwell's From My Porch CD-ROM is three-in-one: Three Mile Creek, Getting Dollied Up and Pretty Aprons. The first 2 have only minimal writing components, so I won't cover them here. But Pretty Aprons! An absolute bloody gem, as its characters, or my ex-country-town Dad, would say. After some exquisite time-lapse sand animations, you're suddenly in front of a sketched old pedal-powered Singer sewing machine, a basket of cloth by your feet, teacup on the edge. You're on a farm, making aprons for Xmas gifts. Drag your cloth onto the Singer and fragments from sewing patterns or recipes or a faded women's magazine slide onto the screen: assemble them and the stories start, rendered in miniature-insert sand animations or in beautiful pencil sketches featuring a character wearing something made from the cloth you chose. You can drop in on an old chatty neighbour for eggs and stay for a nice cuppa, which you pour yourself, setting off a tangle of yarns about everything from onions as a baldness cure to growing up a tomboy. At one point the teapot just won't stop pouring and as the tide rises round the armchair you hear all about the '54 flood. Then there's the salesyard, the ballet lesson with the Mums sitting knitting but pirouetting inside, while a Prunella Scales voice harangues you "2,3,4…bottoms in THANK you"…but, oh, my favourite was the piano-practice, where you can either listen to someone practising (oops, wrong note) or play the piano yourself with the mouse (no, really). And if you stop playing for more than 5 seconds Mum querulously yells from the kitchen "Why've you stopped?!"
Each time you've had enough of a scene you can pull the pins out to return to the sewing machine and there's another finished apron hanging on the line. A young girl works throughout as the narrator, encouraging you to finish another apron, telling tales on her Mum and her passion for sewing, how once, when the cat finally made a mistake in its acrobatic provocation of the dogs from its perch up on the water-tank, Mum came home to find its insides hanging out, so she took a small needle and some thin fishing line and sewed it back together on the verandah. To this day she wonders if she'd used a bigger needle or a different stitch it'd be walking without a Karloff twist. Funny, real, addictive. For the first time ever I wanna buy a CD-ROM and give it to friends as a present, better'n a book.
Now, naturally, having begun by pontificating about textual transitions, it's become impossible for me to extricate myself by seguing gracefully to a neat close. So I won't.
RealTime issue #38 Aug-Sept 2000 pg. 3
© Dean Kiley; for permission to reproduce apply to realtime@realtimearts.net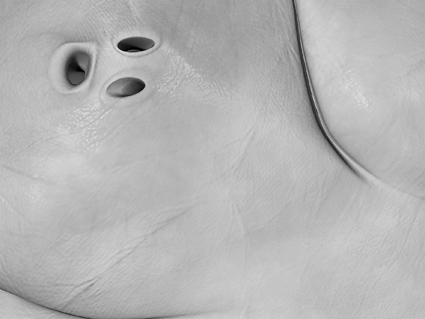 Patricia Piccinini, Breathing Room
With the increasing prevalence of new media work being shown in galleries, installation design is an important area of concern for both artists and curators. Because of the ease with which digital media can be modified and reconfigured, new media works can be exhibited in a variety of formats to suit different exhibition and viewing situations. While many new media works have been created specifically for the web or CD-ROM, these works often achieve parallel lives as gallery installations. On the other hand, the ease of distribution is a double-edged sword as artists relinquish control of how that work is viewed and used. As media artist Leon Cmielewski comments: "the jukebox format encourages people to skip to the next work. [CD-ROMs] take an extraordinary amount of time and effort to compose and I feel everyone's work deserves at least an even chance when it comes to presentation."
For this reason, and when given the opportunity, many artists prefer to exhibit installation versions of their work, most frequently using data projectors and sound systems to amplify the work and create a more immersive cinematic environment than is possible via a computer monitor with in-built speakers or headphones.
Spectrascope (Sydney Biennale, Performance Space) co-curator Julianne Pierce says: "Generally speaking, an interactive work exhibited in the context of projected installation is more directly engaging than the same work exhibited on a monitor. The projection will often enhance the image, giving it a more cinematic quality." Nevertheless, despite the current preference for projected work, bigger is not always better. The large screen experience can prove intimidating or embarrassing for individual users, particularly when they are not sure how to navigate the work or are being required to type in responses while being observed by other audience members.
Another more intimate option is to create custom built installation housings or kiosks such as those made by Ian Haig for his works Hack and Web Devolution, Haig writes, "…nothing is more unengaging than a Mac on a table or a plinth for displaying interactive work. Installations that house the work can give things a much wider context to operate in." In many cases the nature of the work itself will suggest a particular mode of presentation. Leon Cmielewski says of The User Unfriendly Interface (created with Josephine Starrs) that "in places it used a very intimate interrogation and so we thought a one-to-one kind of experience like that should be housed in a kiosk which precluded more than one person using it and also encouraged people to answer the questions without the embarrassment of having an audience watching their responses (or typing skills)."
Unlike works that are viewed privately, where it can be assumed that the viewer is reasonably computer literate and has a high degree of motivation and commitment, none of these things can be assumed in the gallery context. User navigation guides or help information (as a gallery sheet if not onscreen) can overcome some of these barriers. Time-outs, when the work returns to a home screen after a set period of disuse, or 'home' buttons are also helpful in orienting gallery audiences who will often not be entering the work where the artist intends them to start but somewhere in the middle—often at a tricky part that's hard to get out of!
Another consideration for artists and curators is the length of time audience members are likely to spend with a work in a gallery. Five to ten minutes with an individual work is probably a generous estimate; many will spend considerably less! Interactive multimedia producer and artist Kate Richards thinks that pieces requiring a short time commitment from the player (3 – 6 minutes) are coming into their own. "With Darkness Loiters (Sydney Suburb, in Museum of Sydney, 2000), "Ross Gibson and I have devised a piece that a player might spend only a few minutes to understand the interactivity design and scope. Then, if interested, they can continue interacting for quite some time and so get to understand a deeper layer of writerly connectivity and audio design."
In Darkness Loiters, audiences become voyeurs, viewing the work via a 'peephole' constructed of horizontal wooden slats which allow access to a projected screen at 2 eye levels . Using old crime scene photographs taken in Sydney in the 1940s and 1950s, Richards and Gibson have created an interactive story engine which generates endless paranoid narratives. Small photographic images fade in and out of view in the top half of the screen and when clicked on they flash up full screen before settling into the bottom section of the screen. Once 3 images have been selected, they flash up again in sequence with individual captions forming surreal narrative juxtapositions.
Patricia Piccinini's Breathing Room (Moet and Chandon 2000, AGNSW) created a particularly powerful and physically immersive installation environment. The work incorporated 3 large back projections of digitised human/animal/mutated skin which 'breathed' and pulsated in time to a soundtrack of human breathing. The soundtrack follows a cycle where the pace of the breathing escalates to what sounds like a panic attack before gradually calming and slowing. This work induces an intensely visceral and emotional response—I found it impossible to control my own breathing and heartbeat which also sped up as the pace of the breathing intensified. This visceral sensation was enhanced by innovative use of a mechanised floor which shuddered in time to the breathing.
Justine Cooper, in her new work Scynescape (which I viewed as a work in progress), also sets up a physically immersive environment via multiple video projections of magnified biological samples of the artist onto tensioned sheets of latex. The walls of latex form a maze that audience members navigate, adding their own shadows to the projections and (in the completed version of the work) activating aural components of the work via motion sensors. Cooper comments: "For me installation and projection are integral to the success of the work because I deal directly with issues of space—both body space and 'experienced space.'…So even while it is necessary for me to create the work sitting in front of a monitor, the last thing in the world I want is for the viewer to sit in front of a box, linked only visually to what is unfolding in front of them."
The use of 'sensitive' spaces where the movements of the audience act as input devices rather than a mouse or keyboard are some of the most fascinating and engaging examples of current new media installation practice. Garth Paine's Map 2 (viewed via video documentation) is an interactive sound environment that was exhibited as part of the Kunstfest Am Kultur Forum in Berlin (December 1999). Using CCTV cameras and customised software audience members' movements trigger musical notes and phrases. The area is divided into 4 zones which operate as 4 individual musical instruments allowing up to 4 audience members to participate at a time. In many ways the work is as much performance as installation, as audience members learn how to 'play' the work. Paine also collaborates with choreographers and dancers, for example with the innovative Melbourne-based Company in Space (see page 16) developing a new software instrument that will allow real time interactive input from both dancers and the composer. Information and short video excerpts of Garth Paine's installation works, MAP1 and MAP2 and his new Reeds installation for this year's Melbourne Festival, are available at www.activatedspace.com.au/installations.
Exhibited as part of Spectrascope, Unstill Life by Mari Velonaki and Gary Zebington also goes beyond the standard mouse/keyboard/screen interface using a video camera and artificial vision systems software (Chognacrome) to create an invisible interactive interface between audience members and a woman's digital portrait. The portrait is projected onto gossamer fabric creating a wonderfully luminous silvery image which contrasts dramatically with the traditional dark wooden frame that houses it. The Renaissance meets the 21st century. As the title of the work suggests, this is no ordinary still life. As you enter the gallery space, the woman observes and responds to your movements. A container of red apples acts as the interface and when an audience member approaches the container to pick up an apple, the woman becomes alert and excited.
Theoretically the more apples you eat (or appear to eat) the more animated the woman becomes. This work is still in development and the scope of the interaction is presently somewhat limited and unpredictable. Nevertheless, it is an exciting experiment and I am looking forward to seeing Velonaki and Zebington's future collaborations. There was a truly magical moment when I walked into the room and the woman sat up and looked back at me and I was transfixed but then she lost interest no matter how many apples I pretended to eat!
All quotations in this article are from personal email correspondence.
RealTime issue #38 Aug-Sept 2000 pg. 12
© Kathy Cleland; for permission to reproduce apply to realtime@realtimearts.net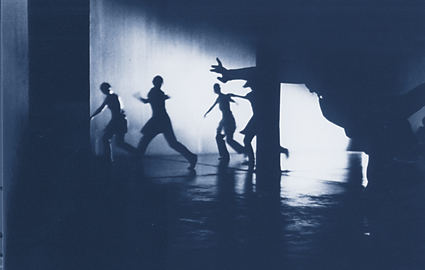 photo Heidrun Löhr
Accumulation
We've been watching Rosalind Crisp for a good while now. As a dancer-choreograher she's made more than her share of moves but always with a strong through-line and serious attention to research and careful development. We have followed her trajectory through many solos including a continuing persona in The Lucy Dances, dance theatre works like The Cutting Room, dance-music collaborations such as Proximity (with Keiko Takeya Contemporary Dance Company, Tokyo). We've enjoyed her evolving collaboration with composer Ion Pearce, her dialogue with dancer-writer Eleanor Brickhill. More recently she has concentrated her attention on choreographing for an idiosyncratic company of young female dancers and herself called stella b.
accumulation (1-40) showed us a further development of an ongoing work which we last saw at Artspace in January this year (The View From Here). In this latest version, as well as the core dancers, Crisp has opened the process to a broader range of bodies. An advertisement was placed for people interested in participating. 30 turned up and most of them appear in one magical sequence in accumulation. They arrive quitely en masse, lend a different weight and texture to the work with their graceful (mostly non-dancer) bodies, then leave. Watching them work in unison is a strangely moving experience.
Observing the evolution of this dance, you venture a possible direction for the next version. In accumulation, drama lurks at the edges of abstract scenarios. The program notes, "Two feet are visible in the half light, working the floor. In another space a solo dancer inverts a dance she knew before." Ion Pearce's score, this time recorded, seems a little less Zen, more obviously and insistently rhythmic. Richard Manner's lighting is quietely dramatic marking out evocative spaces. You sense it wouldn't take much for the dance to tip-toe into the theatrical without surrendering any of its choreographic seriousness. Some of the performers project identies, even palpable personalities. Being caught by Nalina Wait's intense gaze or watching Eleanor Brickhill's concentrated dance of tiny adjustments and changes of mind, it's hard to see them as purely formal presences. At the same time, this is a work about dancing—it's constructed in layers, it's arithmetical, cumulative. And all is revealed in the penultimate sequence when some of the intricate patterns are unpicked by the dancers in a line-up in which a series of interlocking, accumulative gestures slip in and out of synch. It ends with a solo of articulating joints. It's dance we could watch for hours. We await its further unfolding.
–
Rosalind Crisp, stella b. and guests, accumulation (1-40), the outcome of a Performance Space residency; choreography and direction Rosalind Crisp, dance and solo material Eleanor Brickhill, dance & treatment of material Nalina Wait, Kathy Macdonald, Danielle van der Borch, Bronwyn Ritchie, Laurie Foster, sound Ion Pearce, lighting Richard Manner. Performance Space, July 13 -16.
RealTime issue #38 Aug-Sept 2000 pg. 14
© Virginia Baxter; for permission to reproduce apply to realtime@realtimearts.net
Richard Adams
Clem's Big Scary World
This is possibly the world's first surreal encyclopaedia on CD-ROM made by a paranoid 93 year-old from Bluebottle Beach on the NSW Central Coast, and possibly the last one too. The big challenge was for one determined pensioner to produce a title with as much material and educational credibility as something like Microsoft's Encarta. Now Microsoft will no doubt have to hire another 500 researchers to ensure their title stays as informative as Clem's Big Scary World.
Clem was born in Bluebottle Beach 93 years ago and has never, ever left the place. His hobbies include toast collecting and worrying about a giant tsunami wiping out his town. This CD-ROM is his first brush with technology since buying his trusty old toaster in 1956.
Matthew Beer of Big Stick Productions (www.bigstick.com.au) provided the graphic design, most of the programming, and many of his own images. Richard Fox and Adam Hinshaw assisted with programming, Alex Davies assisted with sound, Robert Adams and Louise Fox provided Clem with his research.
Release July 2000. Australian Film Commission. Website early September: www.bigscaryworld.com [expired]
Keith Armstrong
t_lounge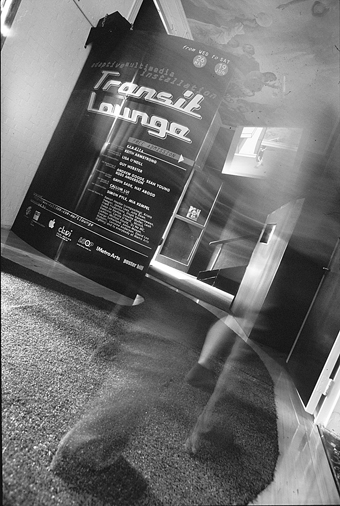 Keith Armstrong, t_lounge
t_lounge substantially reworks a low-budget interactive installation called transit_lounge (1) originally produced for Brisbane's Metro Arts foyer in mid 1999 (RealTime 32 page 29). t_lounge's installation space allows audiences to have important but indirect effect upon a dual screen continuous non-linear narrative. The work features 10 characters performed, at times simultaneously, by Lisa O'Neill.
This ongoing practice seeks to develop an 'open' framework for site specific 'new media space' design which fosters participatory, creative processes between audience and artists. Aiming to avoid direct causal interactivity, it acknowledges systemic or 'ecological' operations, and promotes a strong aesthetic and intellectual response.
Keith Armstrong is a Brisbane-based artist with a long history of producing site specific, new media installation and performance works for public places. His major collaborative works have been shown extensively in Queensland in places such as the historic Spring Hill Baths, Platform 1 of Brunswick Street Railway Station and the Metro Arts foyer. Collaborators: Lisa O'Neill (performance direction), Guy Webster (sound), Gavin Sade, Annette Muller, Sean Young, Callum Lui.
Artspace, Sydney, August 10- September 2.
Paul Bai
Greetings from Chinatown
Greetings involves 9 postcards which will be featured on the MAAP website in September as e-greeting cards. The work focuses on the collapse of physical distance between people made possible by modern communication technology while the cultural and social distance remain the same.
The challenge has been to use Macromedia Generator to turn the artworks into electronic greeting cards on the webpage, so people can write text on the e-cards and send them to others on the net.
Paul Bai arrived in Australia in 1988 and studied fine art at the Queensland College of Art. In his work he examines the cultural and political roles of the Chinese in contemporary Australian society. He has had exhibitions at Gallery 4A and the Institute of Modern Art, Brisbane City Gallery and a public installation in Brisbane city.
Arts Queensland. Site launched as part of MAAP2000 Festival September 1 – 17, www.maap.org.au
Tracey Benson

Tracey Benson, Dotty's tour of Oz
Dotty's tour of Oz
Dotty's tour of Oz is an online mystery maze, an Australian landscape through which the user travels as a lost tourist, Dotty, a Judy Garland-like figure trapped in an eternal childhood. The technical challenges are in expanding the web version into an interactive CD-ROM game.
Tracey Benson is a multimedia artist and curator whose work has been presented in the USA, England, Ireland, Netherlands and Russia. She recently exhibited work in the Experimenta Media Arts online gallery, N5M3 (Netherlands) and MAAP'99. She has been artist-in-residence with the Cowgrrls.com project at Cooloola Shire Gallery and lectures part time at the University of the Sunshine Coast in the computer-based Art and Design faculty. Collaborators (CD-ROM): Danny Guinsberg (multimedia artist), Ross Barber (sound artist), Linda Carroli (catalogue writer). traceyb@thehub.com.au
Completion September 2000. Evolution can be viewed at www.bigbananatime/dotty.htm [expires]
Paul Brown
chromos
chromos shows the complete expansion of a set of 4 marks over time. The work is created on-the-fly and so does not show any repetitive behaviour and is different every time it is viewed. It exists on the screen of a computer as either a web-based Shockwave piece or a free-standing CD-ROM application. chromos also includes a set of 8 prints known as The Book of Transformations. To date, the work has consisted of tedious hand-crafting to create the display engine. Ways of building on artificial intelligence or artificial life processing in order to give the piece some behavioural intention are being investigated.
Paul Brown is a New Media Arts Fellow of the Australia Council and artist-in-residence at the Centre for Computational Neuroscience and Robotics and the School of Cognitive and Computer Sciences at the University of Sussex. He is based in Queensland. Collaborator: Gavin Sade (lingo code).
Completion late 2000. New Media Arts, Australia Council.
www.paul-brown.com/GALLERY/TIMEBASE/CHROMOS/INDEX.HTM
Anthony Christou
Yenam
The goal for this crazy, deconstructive and surreal cartoon is to create 3 movies at least 5 minutes long that break the boundaries of what people imagine cartoons to be. The movies are Flash animations for the internet, some 3 dimensional and some 2-dimensional.
Anthony Christou is an emerging visual artist who works in digital media and is a Flash website designer.
Completion December 2000. The storyline and characters can be viewed at www.arcomnet.net.axu/~christou/yenamweb%20pages/yenam.htm [expired]. A series of animations deconstructing Yenam are at www.arcomnet.net.au/~christou/yenam.html [expired].
Martine Corompt
Wild boy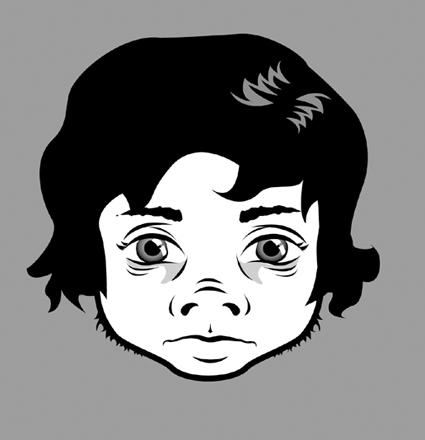 Martine Corompt, Wild Boy
This installation combines sculpture, animation and a pop song, drawing on the yearning and sense of loss that is the hallmark of the sad pop song/ballad. Exaggerating this sentiment, the singer is an animated singing head in the form of a 'wild' half human/half beast. This 2 dimensional character without a body and presumably also without a soul, is all the more tragic for its Frankensteinian predicament, being 'brought to life' (via animation and song) without history, purpose or consent.
Martine Corompt's work combines elements such as drawing, video, sound, sculpture automata and, sometimes, computers. Works include Sorry (1996), PetShop (1998) and Dodg'em (1999) which is touring Perth, Brisbane and Sydney this year. She currently works at Media Arts RMIT, lecturing in Experimental Animation and Interactive Installation. Collaborator: David 'HoneySmack' Habberfeld.
Wild boy will be exhibited at the Centre for Contemporary Photography, Melbourne, November 23 – Dec 16, 2000.
Daniel Crooks
inside-out; control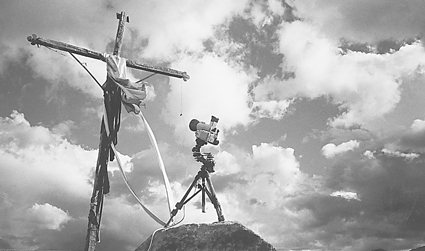 Daniel Crooks, inside-out; control
The aim with this installation is to use the data streams (the rhythms and patterns) of our environment as the direct means of spatial and temporal camera control. The flow of a river modulates the pace of a track-mounted camera. The temperature of a decaying animal controls the frame rate of its own timelapse. The endless flow of numbers tapped and rerouted offers new perceptions of the processes by which they are generated.
The major technical challenges are primarily due to budget constraints. Cheap, custom developed options are usually a little more tricky to get up and running than the expensive, off-the-shelf variety. Learning a programming language is harder than paying someone else who already knows it.
Daniel Crooks trained as an animator and graphic designer. His short films, video and interactive work have won several major awards, including a Dendy Award, an ATOM Award, and the City of Stuttgart Prize for Animation. Following an Australia Council New Media fellowship at RMIT in 1997, Daniel's work has become increasingly focused on temporal manipulation and motion control, exploring the nature of time, space and environmental actuation.
Exhibition early 2001. New Media Arts Fund, Australia Council. dlab.com.au
Ross Gibson, Kate Richards
Life after Wartime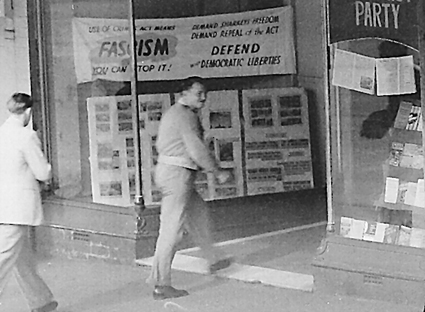 Ross gibson, Kate Richards, Life After Wartime
Life after Wartime is a CD-ROM which brings to light the legacy of a city's recent past. A story engine produces countless montages of thought and feeling from mysterious forensic photos, evocative captions and musical sound effects. As we follow our curiosities and compulsions, we piece together larger patterns of stories and historical notes that offer ways to account for the photographs. The challenge is in using archival material so that it suggests its own interpretations; straddling documentary and fiction; creating fast, malleable faux 3D space as a metaphor for the consciousness of the story-recipient.
Kate Richards is a freelance multimedia producer and artist. She has exhibited nationally and internationally and is currently a Research Fellow in New Media at UTS. Ross Gibson is a writer and media artist who is currently the Creative Director of Cinemedia's Screen Gallery, Victoria. Collaborators: Kate Richards (producer), Ross Gibson (writer/director), Greg White (programmer), Aaron Rogers (designer), Chris Abrahams (composer).
Completion, August 2000. UTS Internal Research Grant; Australian Film Commission.
RealTime issue #38 Aug-Sept 2000 pg. 4-5
© RealTime ; for permission to reproduce apply to realtime@realtimearts.net
Ian Haig
Anti ergonomic hump machine
An installation designed to produce bad posture and humps in the backs of its users with continual use, this work looks at the inverse of ergonomics, where the adverse effects of computers on the human body can be seen as desirable body modifications.
The challenge is to deliberately produce a work that is regressive and self consciously wrong in its thinking—an alternative orthopaedic device for reshaping the human body, which explores the theme of devolution and rethinks our relationship with technology as something which is not always intrinsically 'progressive.'
Ian Haig is a media artist working across video, installation and animation media. Recently his work has been seen in The New York Digital Salon, Visual Arts Museum, New York; Transmediale Festival, Berlin; and FILE, Museum of Image and Sound, Sao Paulo, Brazil. Recent works include The Super Human Factory Online, Psycho Samba and Web Devolution.
Completion November 2000.
Megan Heyward
Of Day Of Night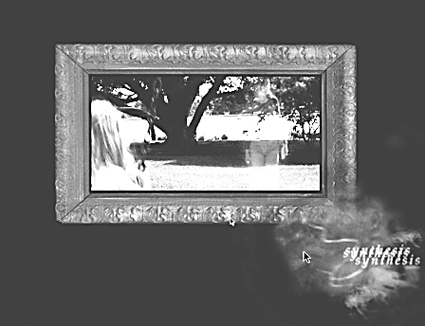 Megan Heyward, Of Day Of Night
A person has lost the ability to dream. Through a series of creative tasks, they attempt to spark their unconscious into dreaming again. This experiment in new media narrative is a hybrid of cinematic, textual and interactive elements, exploring intersections between oneiric experience and the fragmentations, multiplicities and juxtapositions of new media form. The challenge is to animate a text through sound and image with room for uncertainty, indecision, wandering and chance.
With video, sound, text and interactivity, Megan Heyward writes in new media. She developed I Am A Singer (1997) with the support of the Australian Film Commission, acting as writer, artist, programmer, sound designer and director. I Am A Singer has been widely exhibited internationally and has won several Australian and international new media awards. Megan lectures in new media in the Faculty of Humanities & Social Sciences, UTS. Collaborators: Graham Cheney, Suheil Dahdal, Phil Kakulas.
Completion February/March 2001. Australian Film Commission and University of Technology, Sydney.
Hobbs, Xavier, Beames & Glaser
Doctor Pancoast's Cabinet de Curiosités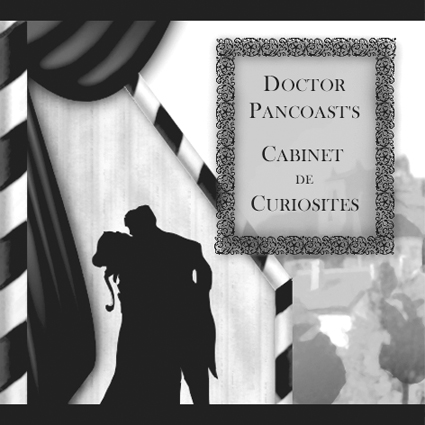 Hobbs, Xavier, Beames & Glaser, Doctor Pancoast's Cabinet de Curiosités
Anatomically accurate computer graphics and original celluloid vignettes recreate Doctor Pancoast's prurient misadventures. Locked inside his Cabinet are clues to fascinating and vile perversions. In here, monsters live, hidden behind rules of genteel etiquette, concealed inside quaint notions of scientific discovery.
Doctor Pancoast's Cabinet de Curiosités is a narrative with 2 intended distribution outcomes: release as an interactive multimedia and self contained linear short. Managing the narrative structure of each whilst making best use of common graphic content has posed a great challenge. Also, providing a satisfying story experience in the interactive has been a key issue for ongoing discussion.
Collaborators: Amelia Lalanne Hobbs, Marie-Louise Xavier, Nic Beames and Michelle Glaser. Past collaborations between Xavier and Glaser (with Robyn Marais) include tetragenia, a net based artwork exhibited in the 1999 Festival of Perth and Juvenate (with Andrew Hutchison), an interactive narrative selected for exhibition in the interactive program of the 2000 Melbourne Film Festival. Lalanne Hobbs is a freelancer accomplished in both screen and print design. Featured in Doctor Pancoast are drawings by WA artists Gina Moore and Richard Giblet.
Completion December 2000. Australian Film Commission; ScreenWest.
ART ORIENTE Objet & Maria Lunney
This as yet untitled work involves a 4 month collaboration-residency in Paris with contemporary art duo ART ORIENTE Objet (Marion Laval-Jeantet and Benoit Mangin) to create a multimedia installation for an exhibition in September 2000 at Galerie des Archives, Paris. The project will explore the connections between visual culture, technology, science and philosophy via the concept of the "ready thought" in opposition to the "open work." The project contends that if Dadaism pondered the questions of the machine age, and the International Situationists questioned the urban capitalist environment, then today's question would be to find the place of artistic production in an excessively image saturated world.
Maria Lunney completed a Graduate Diploma in Fine Arts at the VCA in printmaking/film/video and has exhibited recently at the Melbourne International Biennial and the New York Drawing Marathon.
Completion September 2000; online December 2000. Also planned for CD-ROM. New Media Arts Fund, Australia Council.
Kaz Madigan
Feast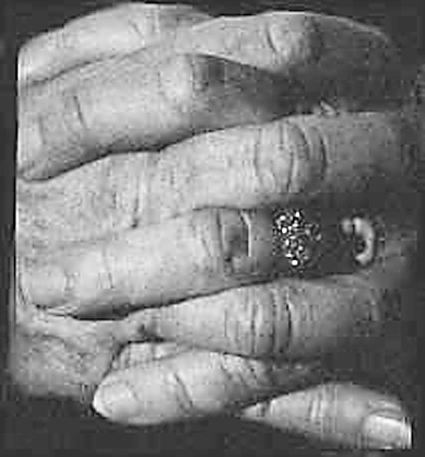 Kaz Madigan, Feast
This project is my contribution to an exhibition by ArtAngels (a group of regional women artists). The collective focus is on the interpretation of feast imagery and its meaning in reference to food, indulgence, body image and food justice.
I am interested in technical platforms which create artistic, fluid works. Like my arts practice, handweaving, the internet presents strict protocols which can be reworked with innovation to create new types of communication and imagery.
I am an artist/handweaver/writer and teacher currently transferring these skills and ideas to internet projects. I am the author of The Australian Weaving Book and was publisher/editor of Curious Weaver, a journal for Australasian weavers. I also serve as a mentor at trAce International Online Writing Community.
Completion, September 2000. www.geocities.com/curiousweaver [expired]
Fiona MacDonald
Museum Emotions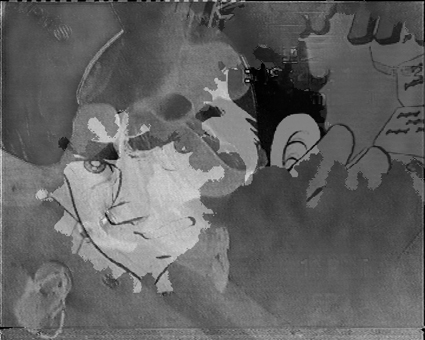 Fiona MacDonald, Museum of Emotions
This project brings together the disciplines and conventions of narrative script writing, video and digital imagery, dance performance, composed music and digital sound design to develop a participatory and experiential concept of narrative using a spatial framework of video and sound installation.
The challenge of this work is to develop a form of narrative writing that is created as much through a spatial dimension as a time-based one. Using televisual conventions and rendering them in a purely imagistic way while sustaining a narrative through boundaries of sound and movement is a central idea. Narrative meaning develops from the audience's movement. This could occur in ways that are quite dramatic and confronting for the audience while remaining 'invisible.'
Fiona Macdonald is an artist working in photography, video and installation. Her work has been directed towards showing in public places and she has exhibited in contemporary art spaces and state galleries. Collaborators: Shelley Lasica (choreographer), Francois Tetaz (composer), Jo Lloyd, Deanne Butterworth, Kylie Walters (performers).
New Media Arts Fund, Australia Council.
Second Nature
This non-narrative, 12 minute digital video work develops from abstract fast-moving colour and graphic sequences into tightly edited footage shot in a heavy industrial workplace. The soundtrack, a series of escalating noise intensities, uses the audio recorded onsite as a pure industrial sound element with no mixing down. The script, part translated into Japanese, is rendered in text as subtitles and as a graphic element.
The work is structured partly as a (computer) game, although without clear protagonists. The concept is a meditation on capitalism, commodification and the global economy. The graphic/animated sequences underline this by presenting the human element as interchangeable with a cartoon like or virtual presence.
Fiona Macdonald's video work has been shown in Australia at Experimenta and the St Kilda Film Festival, overseas at Ars Electronica and ISEA, and film festivals in Italy, Canada, USA and Germany.
Completion July 2000. Work made during tenure as artist-in-residence in the Department of Visual Culture at Monash University.
Sally McLaughlin
Real: a digital installation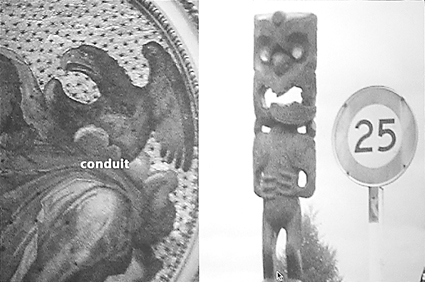 Sally McLaughlin, Real: a digital installation
In this exploration of the dynamics of interpreting experience, images drawn from contemporary environments are juxtaposed with terms such as 'nature', 'prosthesis' and 'body.' Shifts occur in understanding both the images and the terms. Assumptions about the authenticity of practices, modes and readings of experience are brought into play. The work was created over a period of 2 years, the collaborating artists working initially in different cities and ultimately in different countries.
Sydney-based Sally McLaughlin is an educator and interface designer who has developed commercial software, written on theoretical issues in interface design, and developed programmes of study in media arts. Aaron Fry is a New Zealand artist currently in the USA where he teaches art and digital media.
Completion October 2000. The Waikato Polytechnic and Massey University, New Zealand; equipment and facilities provided by Massachusetts College of Art, USA.
mez
Dataface Babee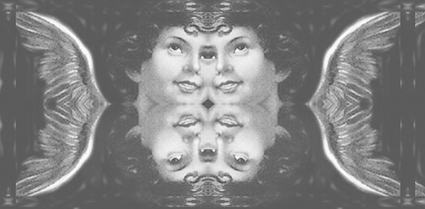 mez, Dataface Babee
Dataface Babee is a collaborative net.wurk that mezanders into the real wurld via a sculptural statement of virtual worth. This project is concerned with exploring the hackneyed notions of the 'interface' and developing alternative perspectives through a net.wurk reworking of this accepted paradigm.
Mez (Mary-Anne Breeze) is a widely exhibited net.wurk artist, avataristic author of the networked polysemic language system termed "mezangelle" and regular on and off-line journalist. Walter Brecely is an Australian-based visual artist with a fetish for metal who has exhibited and been involved in artistic-commissioned work for the last 7 years.
Completion December 2000. http://wollongong.starway.net.au/~mezandwalt [expired]
RealTime issue #38 Aug-Sept 2000 pg. 5, 8
© RealTime ; for permission to reproduce apply to realtime@realtimearts.net
Robin Petterd
Unsteady Motions
The visitor enters a dark space. An image of a tree being blown around in a storm appears. The visitor pauses to contemplate it. It freezes as they stop moving. They ponder the still image and the silence of the space in contrast to the turbulence of the storm. The image disappears. When the visitor moves the image erupts again.
The development of this piece has gone through many changes and explorations, different confirmations of images and sounds and responses to different types of movements. Constant technical compromises have had to be made between the image quality and the ability to process effects on the image in real time.
Robin Petterd's recent web-based work has been included in events in Australia, Brazil, the USA and Spain. His move to installation work is relatively recent and is part of a research program at the Tasmanian School of Art, Hobart.
Completion November 2000
Sally Pryor
As I May Write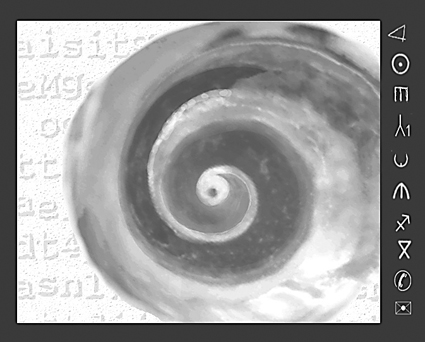 Sally Pryor, As I May Write
An experimental and interactive artwork about writing systems and the human-computer interface, this project explores histories (eg earliest graphemes, "Picture Writing" etc), contemporary visual languages (eg Blissymbolics, logos etc), relevant theories (eg hypertext, semiotics etc) and possible applications of "intelligent" icons in an interactive media space.
I am trying to create a hybrid form which combines advantages of CD-ROM (a bandwidth enabling generous/good quality images/audio; the creation of an actual physical object) with the immediacy, connectivity and changeability of a website. The other challenge is that I make art in order to find out what I think/feel about something. So I can't do detailed technical and artistic planning before starting. I have to program it, "look" at it, re-program it, in a spiral process that works for me but makes team work difficult.
Sally Pryor is an artist/programmer and independent multimedia developer with an eclectic background including biochemistry and 3D computer animation. Her most recent work was the internationally award-winning CD-ROM Postcard From Tunis.
Completion June 2001. New Media Arts Fund Fellowship, Australia Council. A small web component exists online: www.ozemail.com.au/~spryor/write.html [expired]
Melinda Rackham
empyrean
empyrean is a parallel universe, an online multi-user virtual reality environment, an arena beyond space and time—the void where all things are possible, the realm of the spirit, embracing the folds of the soul, a soft world of gaps and intervals, fluidly traced and transversed by in-tensions, relations, attractions and transitions between energetic avatars.
The challenges of the work are in 3 phases: firstly, to build an elegant vrml space of low bandwidth and crossplatform and plugin compatibility for internet delivery by September 2000. Secondly, to have a stable crossplatform multiuser space for web performances by June 2001, and thirdly, to eventually port the online world into a hard space immersive virtual reality environment in a museum by late 2001.
Melinda Rackham is an artist and writer who has been constructing imaginal and hypertextual net.art in her domain www.subtle.net since 1995. She is currently undertaking a PhD at COFA UNSW, has widely exhibited her web works and published theoretical and poetic texts both in Australia and internationally, and recently won the Faulding Award for Multimedia for Carrier. melinda@subtle.net
Collaborators: Horst Kiechle (additional modelling and scripting), Mitchell Whitelaw (sound).
The website will be available for viewing in September. www.subtle.net
Lisa Roberts
Lillie's Time Piece
A Victorian travelling clock opens to reveal a collection of memorabilia passed down by Lillian Williamson, frame maker and wife of painter Tom Roberts. Arranged within the 6 categories of meaning devised by Peter Roget for his Thesaurus, Lillian's most treasured objects, her artwork, photographs and letters, are interlinked through a play on the written and spoken word through both scripted and randomly accessed voiceovers and text. Viewers are invited to read their own meaning into her memorabilia and pose questions about identity that might be expressed through the items we ourselves value and keep.
The technical challenges include keeping the hardware up to the demands of the data involved and optimising the script for seamless transitions and links between large files.
Tasmania-based Lisa Roberts, grand-daughter of Lillian Williamson and Tom Roberts, studied at the National Gallery Art School (later the VCA), Swinburne Film & TV School, and recently completed a Masters in Animation and Interactive Media at RMIT. Collaborators: Helen Rayment (curator), Ron Ngorka (composer), Ruth Luxford (programmer), Veronika Macnow (oral historian), Rosy Green (research assistant).
CD-ROM completion November 2000. Website under construction. Funded and sponsored by Gallery101, Queen Victoria Museum and Art Gallery, Macromedia, TechAustralia.
Roget's Circular:
An Artist Book on CD-ROM
Peter Mark Roget wrote the Thesaurus, arranging words into Six Categories of Meaning so that the reader could bring order out of the chaos of thought and language. He saw that it was in their relationships to each other that words could approximate truth. A touch screen lies face-up in a suitcase, inviting viewers to participate in a dialogue between 2 travellers through 1999-2001, where Roget's categories provide the framework for engaging with imagery, sound and text collected throughout their interconnecting journeys via email.
The challenge here was to design and program a navigable interface within which to interconnect the journeys of 2 travellers, as well as to involve the viewer in their own enquiry. An organising device developed at the turn of the last century is being appropriated and extended to incorporate the generation of random image, sound and text within a series of interconnecting calendars. Collaborators: Melissa Smith (visual artist/composer), Ruth Luxford (programmer).
Completion November 2000. Macromedia, TechAustralia.
Kristian Thomas
Pseudo sound project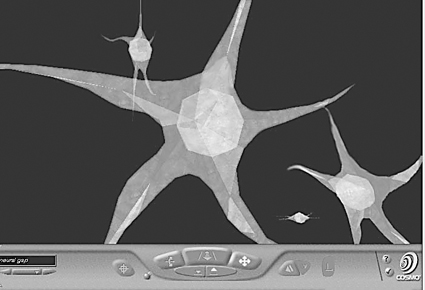 Melinda Rackham, empyrean
Pseudo sound project: you hear only what you want to hear is about sitting back and listening to weird techno-music, a focus very different from the typical nightclub scene. It will engage the eyes as well as the ears, as sounds are developed by interactive and/or graphic means, with hypnotic displays (sometimes called "eye candy"). The challenge is to program music into a computer, to make video, and make both simultaneously (not to mention faster).
When Kristian Thomas was 7, he 'ganked' his older brother's "good at the time" Casio keyboard, and would place heavy objects on the keys to warm it up for a while. Today, studying at the School of Art, University of South Australia, he uses digital equipment that can be given its own consciousness, so it can warm itself up. Collaborators: I Candy is a group of mainly sound artists performing together in Adelaide, including Greg Peterkin (eyespine), Echelon, Dan freak, Trip Wire, Cooper Black and Free the Radical. kristianthomas@hotmail.com
The work was given a first hearing June 23. Online Mp3 and Mpeg works available at kristianthomas.jumptunes.com [expired]
John Tonkin
Prototype for a Universal Ideology
"Tell me a theory on life. It could be grand or mundane, advice your parents told you or a heart-felt belief."
The spoken voice of each user becomes the raw material for a process analogous to the genetic recombination of DNA. The audio waveforms are broken down into fragments and rearranged with the phrases of other users. Users can breed different statements and decide which new recombinant statements survive, and consequently how they develop collaboratively over time to form a gene pool of ideas and memory.
John Tonkin is a Sydney-based artist who began programming and making computer animation in 1985. His current works involve building frameworks/tools/toys in which the artwork is formed through the accumulated interactions of its users. In 1999 Tonkin received a fellowship from the Australia Council's New Media Arts Fund. He is currently working on Strange Weather: a grand unified theory, a visualisation tool for making sense of life.
Prototype for a Universal Ideology is being developed as part of Cyber Cultures' Sustained Release: Infectious Agents, Casula Powerhouse (see interview with Kathy Cleland). www.johnt.org/projects/prototype.html
Mari Velonaki
Mutual Exchange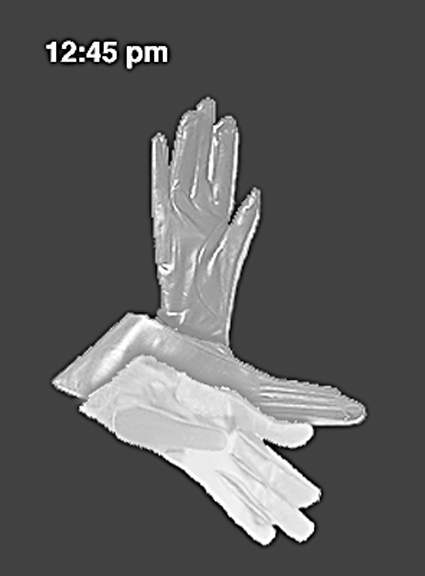 Mari Velonaki, Mutual Exchange
Viewers wearing coloured cotton gloves engage with projected characters by signalling to them. The reactions, moods and life span of the characters are effected by the participants' gestures, distance from the screen and the colour of both their clothing and the gloves of choice.
The integration of genetic algorithms and a robotic optical recognition system is the challenge, one amplified by the necessity of translating UNIX-based software and hardware into a Macintosh environment.
Mari Velonaki is a media artist with a performance background. She aims to engage spectators with digital characters in interplays activated by sensory triggered interfaces (breath activated, speech recognition, artificial vision systems). Her work has been shown at Artspace, PICA, Sciencentre of Queensland, IMA, Kunsthalle Prisma, Ton and Bild Spectakel. Collaborators: Gary Zebington (graphics & programming), Shannon O'Neill (sound design).
Completion December 2000. New Media Arts Fund, Australia Council; Newton Research Labs, USA.
Martin Walch
Mt Lyell Copper Mine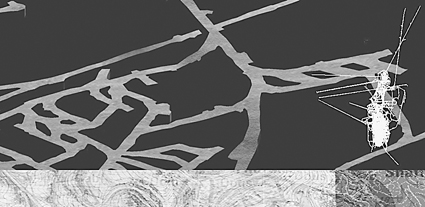 Martin Walch, Mt Lyell Copper Mine
This animation explores the visual and aural spaces both above and below ground at the Mt Lyell Copper Mine in Tasmania, combining topographical modelling, historical and contemporary photography, and recorded sounds from the site.
Immensely challenging, the project has given me the opportunity to extend my arts practice from a static photographic basis to a visually and sonically animated one. At the same time, working with a mining company during a volatile period in its history has presented another set of challenges that have influenced my work.
Martin Walch is a visual artist and writer, living and working in Tasmania. His formal studies include an Honors Degree in Photography and a Master of Fine Arts Degree (by Research) in Digital Stereoscopic Imaging. He is particularly interested in the interactions between people and the physical environments they work/live and recreate in.
Completion November 2000. New Media Arts Fund, Australia Council; extensive in kind support from Copper Mines of Tasmania.
Gary Zebington
Bodyssey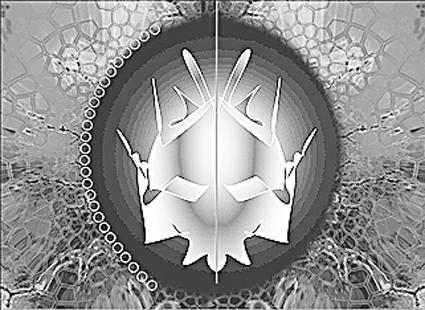 Gary Zebington, Bodyssey
This work chronicles modified phases of the human life cycle. Biotic engineering and older myths of transformation promise freedom from the ancestral, deterministic life cycle. Borrowing form and process from tales of real and invented species, we wander a continuum of bodily experience, through conception to reincarnate uploads into dataspace.
Challenges include: intertwining sound, speech recognition, text-to-speech, vrml, responsive texts and 2D image environments into parallel coherence (eased by the life cycle's natural narrative); transmuting image matter via inscriptions and conjurations; casting aside notions that form follows function and that sufficiently advanced technologies and magic are indistinguishable.
Gary Zebington converted from painting to digital media in 1990. Graphics and programming have featured in large-scale robotic performances, fibre-optic television, websites, CD-ROMs and international installations. He holds BA, IBM Broadband Scholarship, postgrad Design Computing and has been engaged in the design and development of experimental medical software at Sydney University since 1997. He rarely encounters steering committees. Collaborators: Gary Zebington (graphics, programming, text), Andrew Garton (sound designer), Gina Fenton (producer), Philipa Veitch (researcher).
Completion October 2000. Australian Film Commission.
RealTime issue #38 Aug-Sept 2000 pg. 9,12,13
© RealTime ; for permission to reproduce apply to realtime@realtimearts.net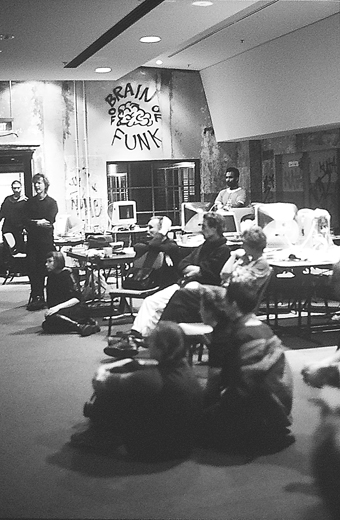 Alchemy
As her last major project for ANAT (Australian Network for Art and Technology), Director Amanda McDonald-Crowley planned and hosted Alchemy, a 5 week workshop presented at Brisbane's Powerhouse (May 8 – June 9). In almost 5 years Amanda has expanded the scale and vision of ANAT, transforming its annual schools and international connections into something new and substantial, Alchemy, with its intensive workshops, forums and presentations with Australian and international participants and tutors. Amanda is now one of the growing team of Associate Directors for the Peter Sellars' 2002 Adelaide Festival.
The first week of Alchemy was a set-up week. The sponsored equipment didn't turn up until the Saturday before and doing it in a new building was pretty tricky too. It was a fantastic venue to work in: we had the run of the whole space. But it didn't have any internet connectivity so we had to work with the Powerhouse to get that up. Getting the technical requirements out of the tutors was a pain. The best was when one of the UK group Mongrel said he needed 2 blow-up dolls. Cute, but not very useful.
You've run ANAT Summer Schools, what was the difference?
It was a lot bigger, 16 tutors, 46 participants, but never more than 26 there at any given time for a minimum of 2 weeks. In the future I'd insist on 3 weeks. Our Summer Schools have always been that and in teched-up venues belonging to organisations who sometimes use the schools as leverage to get enough equipment or set up a laboratory. By the third week people are using the tools and feeling familiar with them after being on a steep learning curve all the time.
We started out with art and science collaborations with tutors Nina Czegledy from Canada and Hungary, John Tonkin and Marko Peljan having just finished with Makrolab on Rottnest Island (RealTime 37, page 10). A lot of curators with some arts practice, attended this and there was a lot of discussion about public art and how you negotiate space and the overlap between public and private and then physical and virtual space. In the second week most of the Indigenous artists were there. I wanted them to be there at the same time. I think the bonding process is very important. Two of them, Christian Thompson and Jenny Fraser, had done the National Indigenous School in New Media Art last year that Brenda Croft had project-managed, so they mentored the 2 younger artists who had come from regional areas. That worked really well. They were doing a lot of digital imaging—Rea was teaching in that component—and work online, too, developing websites and building gif animations. A young guy called Chris Dempsey from Mount Isa is a cartoonist who's never worked with computers and did some fantastic gif animations.
So the workshops are not focused on direct outcomes?
No. When people arrive, one of the first things I say is if you've come with a project you want to do, forget it now. It is about process, about what you can do. It's exploratory, even moreso than the summer schools because there was a constantly shifting framework and negotiating with new arrivals, the people you'd be working with. I was there for almost all of it, except when I had to pop back to Adelaide for an AGM and a haircut. So I did a lot of hand holding. Having John Tonkin, who's taught at the Summer Schools, and Rea who taught at NISNMA, was really useful. It was more difficult where the tutors hadn't worked with us before. Then I did more hand-holding. The challenge is that it's so formless—you arrive with ideas and talk it through.
In the second and third weeks we were looking at something ANAT's been focussed on, 'A Digital Region?', what it might be, and the network of artists in our geographical region, mostly in Asia. Shuddhabrata Sengupta from India led some fantastic discussions. A majority of the international participants came from Asia and several from New Zealand. When I'm travelling I come across pockets of work in our region and there's a sense that there's a lot going on that you don't know about. And it also comes from the frustration of going to the northern hemisphere to find that they're convinced that the world is hemispherical and nothing exists below the equator…"So Australian artists make net art?"
Australians are well respected in this field and have great connections but it's always with a complete lack of acknowledgment of the cultural and geographical differences that artists in our region here face…they think, 'you're kinda like us really.' When Shuddha talks access, it's a completely different way of thinking, it's not about your computer at home not working or everyone having a connection, it's much more about sharing and access. Seventeen people from the Raqs Media Collective and friends (part of the team setting up Sarai New Media Institute, New Delhi) shared the first computer they got and 32 people shared the email account. It's also about printing out stuff from the internet and distributing it that way, a crossover between soft copy and hard copy.
Is this about collaboration within the region?
It can be about one-on-one collaborations. Graham Harwood from Mongrel said that it was the first time he'd been at an event with so many people from such diverse cultures who actually got beyond just cooking together, that people actually started to engage with what it might mean to work in cross-cultural ways. It was interesting that the fact that we were all working with new media was secondary to how we might work together. There were different expectations—someone like Raul Ferrera from Mexico arrived wanting skills—"You've got no idea what it's like working in a Third World country, I don't want to talk ideas anymore, I've done all this." But he left feeling that the experience and connections had been rewarding. We did cook together and there were some fantastic meals.
Graham was at the school for 2 weeks and Richard Pierre-Davies and Mervin Jarman popped in and out a bit and did residencies elsewhere including with an Indigenous community in Cairns. Mongrel are all cultural 'mongrels' who do work with communities…like the Korean community in Bristol. They're very generous, they're not there to take anything away, they're here to offer skills. They've developed a software called Linker, a bit like a Director hack, but very simple to use in order to allow participants in workshops to make their own stories, with images and sound and video, within a day or 2 of using it. Harwood gave a great presentation that had nice confluences—rather than teaching a piece of software he's much more interested in people knowing about how software works. So he draws maps about grasping it conceptually. So even people with high-end skills in Director or Dreamweaver found it incredibly useful to go back to basics, to think about what is it you're doing when you're using a piece of high-end software. He also did a great lecture on the potato and its responsibility for the Industrial Revolution. That came out of some tense moments of cross-cultural discussion about what it means to have been colonised, difficult stories to be negotiated. We were talking about people a lot, so Harwood decided we should talk about potatoes. He'd also been commissioned to do a piece of web art work with the Tate Organisation (all of the Tate museums) so he hacked their entire site and re-told the stories and history of how the Tate came about. The Tate British is built on the ruins of a penitentiary built at the time of the hulks. So the site for Tate British was a key prison for transportation to Australia.
Richard and Mervin from Mongrel taught skills at the Murri school in the mornings during the DÄR Festival, the Indigenous arts festival that was happening at the same time.
What came next?
Performance and hybridity, but even earlier there had been a performative element with the curators. Earlier Sara Diamond (Director, New Media Institute, BANFF Centre for the Arts, Canada) had made everyone enact a game and it was one of the silliest things I've seen, all these curators and artists wandering around the Powerhouse looking like weirdos. They were broken into several groups, for example the designers looked at how you might think about the framework for a game. A lot of it came out of an interest in the history of the building we were in, the Indigenous site, the factory, kids playing in it and squatters after it was decommissioned. So Sara said let's make a game about the building, a multimedia game which you can't do until you've actually physically acted it out.
How far did this go?
It remained at the imaginary stage, but they went through how you get your head into the space to make a game. We rarely went straight to the computer. It wasn't about sitting in front of the boxes all of the time. When Blast Theory (UK) came they did a digital karaoke workshop, a daggy way of stripping away the technology first before you think about using it. They then broke people up into smaller working groups and projects were again based on the building, developing a concept, bringing it back to the group. The following week, Tess de Quincey arrived and got everyone doing physical work in the mornings and conceptual project development in the afternoons with media artist and web designer Laura Jordan who worked with Tess on Triple Alice (RealTime 35).
What was the function of the physical work—getting into a state of mind or being before tackling the work?
That's part of it, reminding ourselves that we have a body before sitting in front of a screen. Placing yourself in relation to the work but also the world around you. Sounds a bit warm and fuzzy, doesn't it, but that's what it was about, and it informed some of the projects. We had public events, 2 forums, a sound event, and then performances.
What kind of people came for the performance module?
Dance and movement people, Samuel James, stage designer and video, Vanessa Mafe-Kean, the PVI music collective from Perth, performance artist Peter Toy, Bruce Gladwin from Back to Back Theatre, Rebecca Youdell from Bonemap, Grisha Coleman from New York, Mike Stubbs a video artist from the UK, Kamal Krishna, performance artist from Brisbane. If anything, it was a bit too heavily balanced towards performers. The previous weeks had been much more cross-disciplinary with more skill sharing and cross-overs in working in totally different areas—a sound artist wants to be a visual artist for a fortnight working with digital manipulation. You don't want people to go away owning a different discipline but knowing enough about it to be openminded about working with other people. But there was a lot of sharing, a lot of talk. A lot of show and tell. Laura would help people with technical skills, how to document work on the internet, how to use it. They didn't walk out web designers, but they understood it. Participants became tutors for a moment. Sam James helped with video editing.
We invited the public in to show some of the work and I'd booked the Visy Theatre and the computer room, but the artists wanted to be outside the building, to use the lift (sound artist Sophea Lerner was determined to use it). It ended up like stations, each with a performative element. The aim of the audience that night was to find all of the 12 stations, to visit them each at least once. The Visy Theatre was used after all, a single computer sitting in a spotlight in the middle of the stage, next to a speaker on its back so that vibration would move the computer's mouse and that would affect the interactive work on the computer. The rest of the sites were performative: in the lift people had to do things you wouldn't normally do in a lift. Keith Armstrong I believe was good at getting far too close to people. When I entered the lift I suddenly knew that I would have to swap clothes with Mari Velonaki…with the help of a little girl. Kamal with Mike Stubbs did a video piece as a shrine. A sound piece was developed with sound artist Alexei Shulgin about a computer that only speaks computer language. You had to tell it something intimate about your life and it would come back with something as mundane as 'System error 404.' It's about interactive sound pieces being about speaking very different languages. There was a great screaming sound installation with the lift and Vanessa playing the body. You could record your own scream.
These were works devised over 12 to 24 hours, they weren't resolved so the audience didn't get a slick performance—it was about playing with ideas, about networking and the participants are still chatting to each other on the list server we set up. From these schools people do get to work with each other years later and the international element of this one—the summer schools weren't international—will have a long term effect.
How did you achieve support for Alchemy?
Last year we ran 3 workshops, one for curators with the AFC and the Australia Council, one for Indigenous artists in collaboration with the Australia Council and the 'normal' summer school. Because we'd developed our international connections so well, we'd get a lot of overseas interest about participating, but I'd have to say, no it's funded for Australian artists. So we decided to go international and got money from the Daniel Langlois Foundation in Canada for the international participants, plus support from the Australia Council, the AFC, state governments, Macintosh and Choice Connections in Brisbane for the computers.
How many years were you at ANAT and was Alchemy a culmination of your work there?
Just under 5 years. Well it was a bit serendipitous. A few people made jokes, 'Ah getting together all your mates and colleagues from across Australia and internationally to have a big party before you leave.' In my job interview for ANAT I said I thought the summer school idea had run its course, tertiary institutions were starting up courses and now there's a lot. But once I'd run some I saw that it was a completely different kettle of fish. It's more about a masterclass environment, or perhaps I've turned it into that, rather than just skills-based.
You expanded the school model and ANAT to an international level. Was there enough strength in the organisation for you to build on when you arrived or did you have your work cut out for you?
It had gone through a lot and was at a bit of a sink or swim stage, and it didn't get any money from Creative Nation, despite lobbying. Yes, I did have my work cut out for me. We worked closely with the Australia Council at the time. ANAT's budget has now tripled, we've got fantastic support from the Australia Council, which comes as well from ANAT's success prior to my arrival, giving the Council the courage to support it. And we've developed a relationship with the AFC on a project by project basis. We haven't increased our infrastructure much (ANAT has 2 fulltime and 2 part-time staff). We have a national board and I think it's remarkable that an organisation like this has grown up in Adelaide. And I'm pleased to say that for the first time ever that at the moment I'm leaving we've actually got core administration funding from the South Australian Government.
Why stop now?
I think it's important for small organisations such as ANAT to have fresh input and ideas every few years. I'm stopping short of 5 years, and 5 years is all I've ever intended doing, because of the fabulous offer from the Adelaide Festival. We'll all be working in a very collaborative way. I'm keen to see new media and technology fully integrated into the entire festival, not just for streaming what's happening, but for community building and internet projects.
ANAT, Alchemy, Brisbane Powerhouse, May 8 – June 9, 2000
* * *
Alchemy wasn't as I expected—full of tech-heads—but instead full of artists trying to find ways around the outside of technology or looking at technology from the outside-in. The title Alchemy I thought referred to artists pooling together all the parts of the world in order to create a new brew (with digital media as just one part of the collective terrain available to artists) and distilling down processes to find the intrinsic nature of communication and how we now think of it. It seemed that there was a lot of work being made (in the actual Alchemy workshops) that was about the means and the utilisation of the many available vehicles of communication. I know that the New Media Fund shies away from 'discrete arts practices' and Alchemy was the same. There was not much room for development of individual practices but more on communal exchange, personal exchange and thinking 'low-tech'—can I make this performance/installation say what I'm trying to say without computers, or with a tape recorder or the existing potentials of the site or space, electronic or not. It was a bit like going to do a computer course and getting a massage instead. Then when you're walking home each night you are often thinking, "Well, I feel refreshed, I feel human…" The course would be suited to being hosted by regional arts organisations, especially with the international participants. It was a very earthy course which is where I imagine Amanda believes our best resources are. Sam James
We flew into Brisbane from around the world and from within Australia, bringing our cultural backgrounds and experiences from a wide variety of media—coming together at the Powerhouse under the generous umbrella of new technologies. We spoke of similarities and difference, attempting to articulate impossible spaces while discovering new ones. We plotted maps to explore unfound territories, cooked magnificent feasts, invented crazy games, gained networks, enriched concepts, and strengthened and acquired new skills. Alchemy was an info surge, a completely invaluable experience. Megan Rainey
RealTime issue #38 Aug-Sept 2000 pg. 10
© Keith Gallasch; for permission to reproduce apply to realtime@realtimearts.net
Annual MAAP festivals have become a notable fixture in the national and regional digital arts media calendar. After the rich collaboration with the Asia Pacific Triennial in 1999, MAAP 2000 centred at the Brisbane Powerhouse Centre for the Arts, is a deceptively smaller looking affair offering 3 days of concentrated viewing, interactivity and talk. There's a screening program (SEE), interactive exhibitions (SEEK), and a forum in situ and online (SPEAK). The 2000 festival is both an affirmation and rethinking of MAAP's role.
MAAP Festival Director Kim Machan explains, "This year we are directing a short and sharply focused physical festival with major labour pouring into the website! MAAP is working on a new emphasis for the organisation. We are building more content to attract and reflect the new media digital art community and progressing toward the full development of a meaningful new media digital art portal." Machan is eager for "the web site…to develop as the major digital art portal for artists and our web strategies are predominantly in line with this goal." She says that this next phase for MAAP has been driven by "streams of enquiries and demands for such a site." Machan is eager to realise her goal in the next 12 months.
As for the 2000 festival, the opening on Friday September 15 will feature the launch of the new Singapore digital art portal artsvox and the world premiere of a new video work by Chinese artist Gongxin Wang.
On Saturday the SEE program will offer free all-day screenings in the Powerhouse Theatre of video/digital art with artists' work from Singapore, Malaysia, China, Indonesia, Japan and Australia. The program includes new Chinese video; the Videotage selection from Hong Kong curated by Director Fion Ng; the dLux media arts d'art>00 interactive CD-ROM program; the 5th Malaysian video awards 2000; the Siggraph Singapore Chapter Animation Awards 2000; and the digital degrees student program from Australia and Asia-Pacific tertiary institutions.
Machan writes that for the SPEAK program there will be an all-day forum on Sunday, "with international panels in Brisbane and across the region to discuss and exchange issues presented by curators, theorists and artists. Panels will be netcast and streamed through the MAAP web site with online chats simultaneously open for interaction from international participants in Hong Kong, Seoul, Beijing, Tokyo and Australian cities." This will be facilitated by international new media agitator Geert Lovink and co-coordinated by art and screen curator and teacher Molly Hankwitz,
In the SEEK program, MAAP will showcase a wide range of art and technology projects. The Chinese artists' CD-ROM exhibition is being curated by Pi Li. Other works have yet to be announced. There'll also be a sound installation by Adam Donovan. Russell Milledge will run a workshop based on his and Rebecca Youdell's Bonemap—the wild edge, about site specific installation and performance with film and online art (September 16-17).
As in 1999, MAAP is again offering digital artists opportunities to display their work through links on the MAAP web site. The online missile launch project, featuring innovative web art from Asia. the Pacific and Australia, will be launched daily September 1-17. "Artists may also apply for free server space to host outstanding work. We are offering a 'Free Tools' section," says Machan. "The website will also have a bulletin board, a chat room and, from MAAP research, extensive links with digital media organisations in the region." Online computers will be available and projections continuously showing in the Powerhouse Bar over the festival. There'll also be an informative Macromedia seminar.
Satellite events include Dodg'em, an audio interactive installation by Martine Corompt and Philip Samartzis at the IMA. New media artist Freya Pinner and mentor Di Ball will present [co]:installations, a multimedia show exploring notions of transgression between mediums, visual arts practices and between text and body relationships at Double Helix, opening September 9.
Kim says that the aim of the festival is "to create a presentation platform to promote excellence and exchange of creative ideas" and through "a dialogue between professionals who create, experiment, design and build electronic forms of art (to) focus on creativity and industry development." The range of forms embraced by MAAP include new media installation, online artwork, digital animation, video, sound, photography, CD-ROM, and cultural internet projects.
Machan's rallying cry is "See…Seek…Speak!" "SEE your work included in the online festival. SEEK out cultural content and people who are interested and curious. SPEAK your opinions and perceptions of the new media related world. We are at your server!" See you there, in the flesh or online. KG
MAAP 2000 Festival, Multimedia Art Asia Pacific Inc, Kim Machan Festival Director, http://www.maap.org.au. Venue: Brisbane Powerhouse September 15 -17
RealTime issue #38 Aug-Sept 2000 pg. 13
© Keith Gallasch; for permission to reproduce apply to realtime@realtimearts.net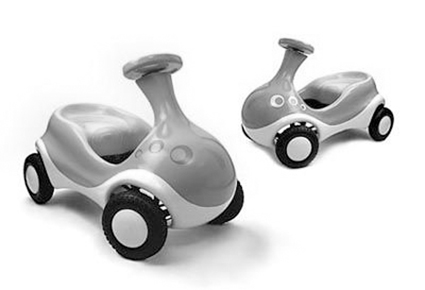 Martine Corompt & Philip Samartzis, Dodg'em 1999
Cyber Cultures has been a huge project, a long evolving thing. Originally it was done through Street Level (the moveable Western Sydney 'gallery' Kathy Cleland founded with David Cranswick. eds) and we approached Performance Space and Casula Powerhouse. We were hoping to do a 3-venue thing. As it happened we didn't get the funding we needed and the whole thing ended up happening at Performance Space in 1996. That show was so popular that we actually managed to get more funding and we did quite a large show at Casula the next year. It really got some new audiences out to the Powerhouse. It was a really big event for the organisation. It required a huge amount of equipment. Nevertheless, out of that grew the idea of doing something more sustained—hence Cyber Cultures: Sustained Release. Instead of having the big bang exhibition where everything happens in a month, we decided to have 4 smaller exhibitions over a longer period which would really help us to build audiences out west. We're in the middle of developing the touring itinerary at the moment. We've had a lot of interest from all over the country.
What seems to happen with new media work is that it's quite well supported in the more urban centres and the contemporary artspace organisations who've got a bit of equipment. But a lot of the regional galleries have very little…so one of the motivations behind the tour this time is to really focus on the regional—particularly regional NSW—and try and tie it in with some training for local staff in how to set up and run and maintain an exhibition like this. Questions I'm asking regional spaces are, do you have a local Apple Centre? Maybe your local council has a data projector? What about the library? So it's not just going in, doing a show and going out, and there's nothing left.
What about your choice of works? You have quite a few significant names, award winners, fellowship winners. Is this a kind of 'best-of'?
I wouldn't necessarily want to say it's a 'best-of.' It's a very personal selection. These are people whose work has interested me, some of them for a very long time, some more recently. It's also seeing what's out there, what artists seem to be interested in and the directions that the work is going.
In this first stage, called Infectious Agents, there's obviously some commonality in terms of the idea of infection.
The way the work is being exhibited at Casula it's all over the building. It's in these discrete areas that you stumble across. So it's a bit like the idea of a virus spreading. And I suppose in terms of the tour we're sending out these little viral pods.
I noted that there are 2 relatively private spaces, one for Melinda Rackham's Carrier, (see RealTime 37, page 23), the other an adults-only space for Linda Dement's In My Gash (see Working the Screen page 6) and then a couple are out in the open: the very playful one by Ian Haig called web devolution: a mobile digital evangelist unit (1998) and John Tonkin's Prototype for a Universal Ideology (2000) and Notes for a Collective Memory (2000) where the user gets into a compositional experience.
It's been really interesting watching John Tonkin's works in the gallery. People love them. You can listen to other people's ideas—either their theory of life or a personal memory which they've recorded—and you can cut it up and start mixing and matching it with other things. People sit there for ages. You can see them thinking, no I don't like that one, I'll try another one—listening to all these different permutations…
"…forming a gene pool of ideas and memory" says the catalogue. How does Ian Haig's very playful work fit your theme?
Cyber evangelism. It's very much like a digital soapbox spewing forth all sorts of crank ideas. That's how it fits in. The way that the internet and the world wide web have become these huge international fora for mad ideas and the way we're constantly bombarded from screens.
Other works invite quite a degree of intimacy. Sometimes this can be quite uncomfortable. Navigating Melinda Rackham's Carrier, you're implicating yourself in the world of the work.
In the user-notes that accompany that work there are 2 suggested ways of going through it. One is navigating through the linked words at the bottom of the screen but the way you're describing. which is the best way to do it, is to enter your name and the piece talks to you and asks you questions.
It says, "Hello Keith," and you have to decide whether to take on the infection and live with the consequences. I was standing there, musing on it and someone standing next to me was saying, oh no you should keep going, move ahead. I said no, no, I'm just absorbing this. Carrier is interesting because it looks like a cross between an informational site with medical data …
… and an incredibly poetic space…
… with 3 dimensional objects rotating in space which appear to be the viral components. Linda Dement's In My Gash, which has some of the most sophisticated imaging of the 4 works, is full of shocks and surprises, quick-time violence.
I had assumed that Linda would have preferred it to be more of a private piece and that maybe we'd be constructing some kind of housing around a single monitor so it was like a one-person-at-a-time viewing situation. But she'd actually done a few demos more like artists' talks with the work projected, and she likes the projected quality. So that was her decision. But it is in some ways an uncomfortable piece to watch with other people around.
Next up in the series is Post Human Bodies which we're launching with a new performance work of Stelarc's—Movotar. The work's been in development for a long time. At the moment the pneumatic arm is being constructed in Hamburg. Stelarc's using an avatar creation, a virtual autonomous body that lives onscreen. That will be projected but the avatar becomes what Stelarc calls a "movotar" in that it can access his fleshbody in the real world. There's feedback and interaction between Stelarc's body and the algorithms that are programming the movotar. When they reach threshold states Stelarc's body will be activated by the movotar driving the pneumatic arm. So it's kind of a turnaround of the normal avatar where you have a virtual body that represents you in cyberspace. This movotar controls the fleshbody to access the real world. Stelarc's maintaining control of his legs so he can remain upright.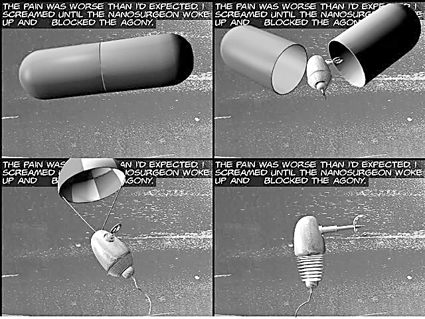 Jane Prophet, image from The Internal Organs of a Cyborg, 1999
Who's triggering the action?
The movotar is autonomous. It has its own desires which Stelarc can respond to and override if they are becoming unsustainable.
Also in Post Human Bodies is a new work by Gary Zebington. As well as working with Stelarc, he's been working on his own CD-ROM, Bodyssey, for a couple of years now. This will be its first public outing. I'm very happy to have the Lump CD-ROM, the project that Patricia Piccinini and Peter Hennessey have been working on for a few years. We exhibited Lump in 1996 Cyber Cultures. So this is the evolved CD-ROM project. Also there's an international work by Jane Prophet called Internal Organs of a Cyborg which is like a comic book photo story. You know how when advertising agencies need images they go to stock libraries? Well Jane's been using some of the same images which tend to be of elderly businessmen and beautiful young blondes. She's created a story involving this woman who's been a medical test subject for new drugs. There are all these ideas about the medicalised cyborg body. Also this elderly gentleman is about to have heart failure and her heart ends up going to him…The other work in Post Human Bodies is John Tonkin's Personal Eugenics which has been exhibited in a number of spaces already but I just think it's a wonderful work and one I really want to get out to the regions.
This is the one where you scan your face…
…and evolve yourself, decide which qualities you like, what you would like to become—more intellectual, more successful. And there's a Java algorithm you can click on and it morphs your face in different ways. Then you pick the one that looks most like you'd like to be. And you can keep going. You can also play around with other people's faces—based on what they say they want to be, you can help them evolve to their desired state.
How does Piccinini's Lump fit in the Post Human Bodies scenario?
This is a completely digital world. The Lumps are digital mutant evolutions which are part human, part something else. When Piccinini was making this earlier on, the babies existed out in the world without a context. Peter Hennessey has created an architecture, like a factory or a museum. It's like a Lump baby goes home. You go into the incubator and see all the facets of Lump life.
And the third show?
New Life is looking at crossovers between digital and biological life forms and how some of those boundaries are starting to blur. There's a new work by Jon McCormack called Eden which is, as it suggests, a new world populated by entities that users interact with and help to breed. It's an online world where you can create a herbivore or carnivore—its head, body and legs can be wheels or little spiky things and then you can track its existence, see how it gets on. I must confess when I tried it all my creatures died very quickly. Other people have had more success.
There are also some younger artists: Kathryn Mew's Muto which, again, has been around for a little while now but this will be the first time she's exhibited the work as installation and she's always wanted to do this. She's planning to project the work onto a huge weather balloon. Kathryn's also working with little digital life forms and worlds that have organic as well as digital characteristics.
Anita Kocsis, like Jon and Kathryn, is a Melbourne-based artist. She has a new work called Neonvert which came out of an ANAT residency at Gertrude Street Gallery. It's like a digital garden which Anita has largely developed on the web. The way she exhibits the work is via video documentation of that event and creating a physical installation around it. There are remnants of real garden and then projected digital gardenscapes. It's not purely organic. She's been working with Flash and some of the newer web software to help create it.
What about the final selection?
A fun family one we hope! It's called Animation Playground and we're exhibiting Martine Corompt and Philip Samartzis' Dodg'em which has 2 push pedal cars you can drive round the gallery navigating via a soundscape (see RealTime 33). As you pedal, you trigger different sounds which let you know where various things are. Dogs start barking and you have to go somewhere else. It's a lot of fun and the soundscape is a huge part of the work. It's like animation sound meets amusement park. And the other works in that selection are Dream Kitchen, the CD-ROM from Josephine Starrs and Leon Cmielewski which was exhibited at Biomachines at the Adelaide Festival this year and as part of d>art00 during the Sydney Film Festival. What's interesting about these artists is they've done so much work with different types of animation—stop motion, models, all sorts of things. People love it though some are a bit shocked at some of the violence…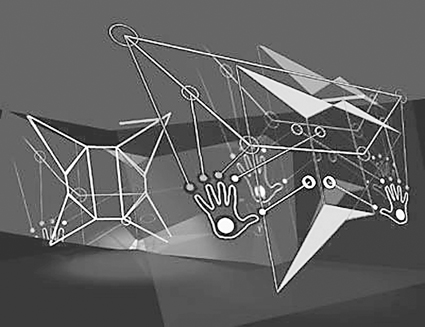 John Fairclough and Maureen Lander, Digital String Games 1998-2000
The pencil-sharpening scene is particularly scary.
…slicing open the rat. There's a bit of dissection stuff but, you know, eminently enjoyable. There's also Un-Icon by Mark and John Lycette which is a very simple but very beautiful animation. It takes different screen cursors like the little arrow or the blinking icon and transforms them in amazing animations. They'll create their own shapes and then whiz off round the screen and then form into another shape altogether—magnifying glasses, arrows. It's black and white and working very much with computer aesthetics. Very simple but really magical. We also have another work from Martine Corompt, a cute little thing called PetShop which has little animated animals scratching to get out of their TV monitors! And there's another international collaborative work by Maureen Lander and John Fairclough. Maureen is a Maori artist and this particular piece is called Digital String Games 3. She's created all these shapes which have cultural resonances for different peoples. They have Maori names but what happens when she leaves out the naming is that people say oh, that means this. It seems everyone has ideas about these shapes. John Fairclough has built an interactive program around it. There are digital handsets so you press buttons or coloured pads and you can create digital strings that link and build shapes as well. There's an installation with threads that respond to UV light. So it's a physical installation with a digital overlay. Apparently it's quite complex and if you're not successful, things dissolve. So you're implicated in the cycle of creation and destruction.
As the curator of Cyber Cultures and Chair of dLux media arts, how do you see the health of new media in Australia?
I think organisations like dLux and MAAP in Brisbane and Experimenta in Melbourne are doing amazing things with really very small amounts of money. It's quite difficult working in this area in NSW because the pools of money are pretty poor. The FTO (NSW Film & Television Office) for example and its staff like Sharon Baker are incredibly supportive but they have such small amounts to give out. It's hard for us to look at something like Cinemedia in Victoria which has got substantial amounts of money. It's fantastic what's happening there and in Queensland as well. I'm a New Zealander and the Labor government there has just committed $86 million to the arts, the arts in general, over 3 years. Organisations like ANAT have been instrumental in supporting so many artists in this area, especially with summer schools and training. That's been a huge factor for so many of the artists I've spoken to in the development of their work. There are some really good things going on in Australia but much more money needs to go into it. And into long-term support for work. It's like everyone wants something now. And they're more inclined to give money to a project that's going to have a quick and very visible result in contrast to something that's going to develop over a longer time. That's where the Australia Council New Media Art Fellowships have been good in giving artists that 2 year period for a body of work. And it's not tied to specific outcomes. Mind you, there usually are outcomes.
Cyber Cultures: sustained release: Infectious Agents, July 7 – August 11; Posthuman Bodies, August 19 – September 24; New Life, September 30 – November 12; Animation Playground, November 18 – December 22; presented by Casula Powerhouse Arts Centre, 1 Casula Road, Casula. Open every day 10am-4pm; www.casulapowerhouse.com/cybercultures [expired]
RealTime issue #38 Aug-Sept 2000 pg. 14-
© Keith Gallasch; for permission to reproduce apply to realtime@realtimearts.net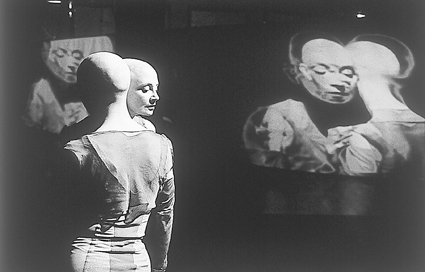 Company in Space, Escape Velocity
Across Australia, there are a significant number of artists and companies working with digital media and in multimedia, each in their own distinctive way, sometimes continuously, occasionally in one-off projects, exploring the relationship between live and pre-recorded performance, or between live and realtime mediated performance, or combinations. This list is by no means exhaustive, but it is indicative of the extent of the engagement: Arena Theatre, Trash Vaudeville, Bonemap, Back to Back Theatre, Sidetrack Performance Group, Urban Theatre Projects, Melbourne Workers Theatre, Nerve Shell, Salamanca Theatre, Dance Works, Heliograph, Doppio Parallello, Anna Sabiel and Sarah Waterson, Dina Panozzo, Marrugeku Company, Louise Taube, Snafu, skadada, Sam James, Mark Rogers, Brink Visual Theatre (Brisbane) and Cazerine Barry. The most dedicated and widely travelled (and broadcast) of groups committed to exploring performance and technology, and for the longest time, has been Company in Space.
In the first of the RealTime/Performance Space forums for artists about vision, training and practice, Company in Space co-Artistic Director Hellen Sky talked to Keith Gallasch, with questions coming from the audience when they wished. This is a small part of a much longer discussion available on the RealTime website. After a brief introduction to the work of Company in Space (John McCormick is co-Artistic Director ), Keith asked about the dancer's "relationship with the screen in performance, your awareness of the other dancer who is in another space?"
It's not like you're watching the screen all the time but a part of your eye, if you need it to, is going to the screen. In telematic works when you're dealing with different geographies, the screen is your conduit to the other dancer. No longer are you sharing a space, no longer can you hear their breath, their footfall. When working in any group choreography and looking at simultaneity of movement, your perception is already in the physical space, not just through your eyes, it's listening, you feel the people you're dancing with. There is this shared body thing. When you separate from that, you still have to feel that you're sharing that space, that you can get this sense of them being there. In terms of consciousness, this is very expansive—how might you perceive yourself being in the moment of the performance? But there is this thing which is the screen. And it changes depending on the circumstances. In January I was in Hong Kong and Louise Taube was in a nightclub in Melbourne. You can't always put the screen exactly where you want it to be in the performance space. It's not like you can always design it to have the privilege of your point of view going straight to your partner. And you don't want to be looking at the screen anyway. You actually want to be addressing all the other things that are going on in the space.
KG Here on video are 2 versions of Escape Velocity, one Hellen calls the "contained" performance, and then the telematic version performed in 2 locations.
This was done in 1998 in a non-conventional space. At this point, the hand and the head are orchestrating the sound. So very small movements of the body are creating the score. What you can't see is the little laser lights on the floor, a grid that doesn't emerge in the video. The movement is being motion-detected. The velocity of the movement is creating the score. The other sound is being mixed into the score because there's a ledge up there and we were out of the range of the camera and couldn't trigger the score. We're about 6 metres up in the air by now. You can see Kelly and Luke here. They're the ones down below who are stopping us from falling on our faces. Not only are they belaying us through all of this (controlling the raising and lowering of the performers) but they're also filming us from underneath and our images are being fed into the computer and an effect added and it's going across a whole cyclorama of screens at the back. This is their camera point of view happening in real time as they're belaying us and leaning backwards on the floor. The whole thing was about gravity and loss of gravity. Where is the body really when we have the possibility to exist in this virtual space where there's no gravity? What is meaning there? What is memory there?
Audience All the movement is set?
It's set in that if we want it to go slow we can. In that section where we're pushing it, we still have the privilege of being with each other and hearing each other. The movement is trying very much to be in unison. If we were to hang back we would do so together and know that we'd brought the score to silence. So from night to night, there's some flexibility to deal with—'Hey, I really like it here. It's good to have it quiet for a bit.' It's quite flexible.
Audience The audience is not necessarily aware what is happening technically?
In a way I don't care if the audience knows it or not but it changes my relationship to it and, therefore, it changes my presence and the evolution of the piece.
Audience I can see that not knowing that the dance and the sound are connected wouldn't matter but the sound seems like a sea of sound. How does the technology handle specific or subtle movements affecting the sound?
When we were experimenting with it, I could go like that with my little finger and Garth Paine could make it a huge or a little sound or it could happen 4 minutes later. That's its potential. That's a nice thing to play with. I could put the camera on my face and just do a whole thing with my tongue. It's something more than choreography responding to music. It's an expansive experience. And, if we had the privilege of being able to educate ourselves with this stuff, it'd be an expansive experience for the body to learn.
Audience Those little movements, do they happen live or did they have to be pre-programmed?
Absolutely in real time. I could ask him to delay the data and it would be different. The collaboration then is what becomes of data. I have to know the possibilities. Those are the things that take time to negotiate. For Garth to be able to set up the parameters and the data it takes time but it's quite interesting. These animations and graphics are pre-constructed with a brief. Some of them I made and some of them I've worked with an animation artist. I don't work with 3D graphics. You can't do everything. That's great. Why would you want to? Other people do one thing really well. You don't have to multi-skill. When you're beginning maybe you want to just so you know. I worked with an electronics engineer and each of the laser lights had stepper motors on them so that when you broke the laser beam the light would shift. My idea was to have a 3- dimensional light space which enclosed the body but which kept shifting around it. Sometimes these things fail too. The stepper motors didn't always work but there's a sense that I'm changing the light around the body.
Now you can see the 2 dancers juxtaposed against this but then the camera choreography comes in and we're working with a duplication of ourselves in the video frame. Now Louise is in red and has an overhead camera with virtual objects in it. Her virtual body is breaking these objects, creating noises, constructing her score. You can see the little icons there on the field. So we have an overhead camera point of view which is giving her virtual body the option of being able to break a virtual video object which can change the background but also orchestrate the sound in real time.
Audience What's a virtual video object?
It's a video icon which you can call a button. That's one layer. The mixing in of the camera point of view is another layer. Then the animations under that are another layer. When this object perceives the breaking of the object from the virtual camera body, it triggers the sound. That's the system that John invented.
KG That's the video of the "contained" version. Here's the telematic duet.
This was between Arizona and Melbourne. And just to think about how you might set something like this up is a whole dialogue in itself. It's about pragmatic things, about finding overseas partners who understand what you're trying to do…and installing the link. Just getting the link right! That's me in Arizona chatting to the audience. It was a thing called International Dance and Technology that they held at Arizona State University (see RealTime 31, page 35). The other place is the Rusden Campus of Deakin University.
Audience How is it connected?
Through an ISDN. A single line. 264k ISDN so it's 128k point to point ISDN. ISDN is what they use for tele-conferencing in the corporate sector or in the medical and educational sectors more and more, when you have 2 or 3 talking heads.
Audience It's like 6 telephone lines.
And ideally you want to have 3 of them. But each time you do it between here and America it's like a $450 per half hour phone bill. So, the thing about budgets is interesting once you start working on it. So for me to do this work was to reduce it from about 45 minutes into a 20 minute performance where the 2 camera operators and 2 dancers are in separate locations. The negotiation of framing is very intuitive. They're having to watch the screen output and know that they're putting us in the right relationship. Also, the intelligent hub with all the computers and the camera network is based in Melbourne and it's a camera feed that's going through to Melbourne. On the way it's going through a whole lot of processes and it's being sent back and there's a 3 second delay. So there's this whole thing about time. Some people might see it as a problem. I think it's quite interesting that time is altered because you're trying to pipe all this visual and audio information through what can be a 2 way exchange. You can see here that the image is slightly degraded, my image moreso than Louise's. I like that. Something's happening in the conduit. I think that's interesting.
Audience I'm curious at what point, if ever, do considerations of more traditional screen arts and their processes and methods come into play?
A lot actually and maybe in our next work it's more obvious. Often when you're having to control the cross-fades between 4 or 5 cameras it's much more cinematic and cinematic in real time. Things like the duration of a cross-over, when you want that to happen. It's very much a part of the direction of the whole work. As a choreographer I always used to work with film. I've been a photographer and a lot of my work would have Super8 or slides or something to do with light. I guess when we first started to work with these computers, there was a way of actually having all these different things speak to each other through a hub which meant there was a duplicity of possible juxtapositions of meaning, and that keeps happening now but through more complex interfaces.
Audience Does it influence considerations of structure in the whole work?
It does. Is the image just happening on the screen? Is it happening in the space? How long will the image be suspended? I don't know if we're consciously thinking about filmic structures in terms of say scripting but we've discovered that we score things in quite a complex way. When you're thinking about which camera, what frame, what effect, what cross-over, I suppose we are. But I hadn't deliberately thought about working in the sense of say, story-boarding or something like that.
KG Trial by Video is interesting in terms of site. It was done at the Economiser Building and in the Old Magistrates Court in Melbourne where Ned Kelly was tried. It's been done in an old building in Glasgow recently. What's the importance of site in the work you perform?
I think they empower a work. I suppose that's my visual arts perspective—how you install a work, what you actually get from the physical space, how that can amplify the content, how can you construct things so that they're satisfying for people just to walk in as an installation before they become enlivened through the performance. There's lots of histories and textures, possibilities within the physical space we've worked in.
For Trial by Video we set up installations at PICA in Perth and at Performance Space and another space in Brisbane. Simultaneously, we were performing in an underground railway station in Melbourne. We had 2 cameras set up in the installation spaces with 2 cameras and an ISDN connection so that the viewers at this end could do certain actions and have an influence on the performance as it happened in Melbourne. They also became part of the visual environment of the performance work.
The tunnel was blocked at both ends so people were contained within the 2 screens at either end of the tunnel. In each of the spaces in PICA and Performance Space and here we had the screen, the cameras, a tray of sand (audiences could move the sand to trigger sound) and a giant book with black and white pages. We did it in 1997 when Pauline Hanson was so, um, "outspoken". It's a very political work deliberately looking at the technology and the power of the media to be able to manipulate the masses and what the potential offloading of that is on an individual.
KG A lot of it is about the language of political gesture.
All of the movement was done from John's research into gestures. Basically a person doesn't just have identity through language and appearance but the way they talk with their hands is a development of who they are. He gave us scores of gestures to use. I was the voice of dissent. He was a politician. It's a very strong work and even though it was done in 1998, no matter what context we do it in again, (we did it in Glasgow in March this year) the work becomes more sophisticated because we know more about the technology and possibilities. We change it according to the political environment. If you're actually looking at media power and politics, it's not ever gonna get out of history. You'll remember there was a strong anti-Asian immigration debate going on too. John's half-Chinese and he learned the gestures from A-Z of all of these different words and performed it like a language test. It was as if he was being tested in Chinese and English. There was also a little bit of text from a Pauline Hanson speech—another flavour to the oral content.
KG What have you seen of motion capture technology?
Merce Cunningham has done some great things with motion capture. I saw it at SIGGRAPH in 1998 in Florida. He has 3 screens and he's working with coming in and out of the frame. And it's Merce's choreography. You just know it's Merce's choreography but it's not a body. It's just this whisp of a line but it has weight because it's come from a body with weight. And it's beautiful, it's just beautiful. And I'm thinking I'm getting old too and perhaps I can keep going on too. That's a big thing about age and Australia. A lot of us want to keep on moving and there's not a lot of acceptance for older movers in this culture.
Audience I think technology has the potential to change what we experience as a real event. That's really going to change a lot in the next 20 years if they do away with the screen and write on the retina. So your experience will be like a waking dream. There's still touch and smell locking you back down to earth but…
At SIGGRAPH there was a wonderful woman called Gretchen from Paris. She's an installation artist working with 'a trip around the world.' It was much more lateral than that but the way you experienced it was on a little footpad that had pebbles. Depending on how you shifted your weight, you went on a journey. The materials were all very tactile but it was like this very haptic relationship to the technology that just grounded the body in this other experience. It was so beautiful. That's installation work but the thing of touch and so on are important to work about the interfaces—not just the eye and the body and the screen.
KG That's something that Mari Velonaki's doing in her work.
Mari Velonaki Yes, I'm trying to link the spectator with a projected digital person through objects, through smell, touch, breath…
In installation it's very much more a one-to-one relationship. Even though you might be in a room with lots of people and there might be devices that are making that more complex, the notion of engaging in the experience in an installation is still very much yourself with it. When it can be as haptic as possible that's when it's most satisfying.
Mari Velonaki When you can forget about the interface and just go through it.
Company in Space's new work Architecture of Biography (see Working the Screen 99, page 16) will premiere in association with Melbourne International Festival 2001.
RealTime issue #38 Aug-Sept 2000 pg. 16-
© Keith Gallasch; for permission to reproduce apply to realtime@realtimearts.net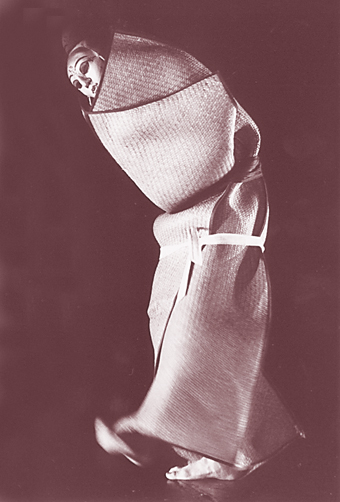 photo Jim Hooper
Wu Lin Dance Theatre, Nushu, The Women's Script
What is missing from the preoccupation with tradition…is the experience of modern Chinese people who have had to live their lives with the knowledge that it is precisely the notion of a still-intact tradition to which they cannot cling—the experience precisely of being impure, "Westernised" Chinese, and the bearing of that experience on their ways of "seeing" China.
Rey Chow, Woman and Chinese Modernity: the politics of reading between West and East (University of Minnesota Press 1991)
It is a perilous path to tread. On the one side lies authenticity, on the other, the level playing field of postmodern pastiche. Wu Lin Dance Theatre (Tina Yong & Sun Ping) address issues of Chinese culture and identity. If their work is not to be placed within Chinese traditions of performance, how might it be understood? Wu Lin are themselves aware of these dilemmas, having once written a paper entitled Is it traditional or is it contemporary?
NUSHU, The Women's Script is inspired by historical texts, written by Chinese women. It consists of a series of narrative depictions of women in China. The piece moves from male despotism to the articulation of female anger, to an envisaged sense of equality between the sexes, a familiar feminist tale. Surely the highlight of the work was Yong's evocation of anger, a duet performed in perfect harmony with the drum player, Junko Sakamoto. This was the moment where the many incarnations of woman as object ended and women's agency emerged. This produced the finale where the 2 sexes breathe each other's air, moving their Chi in and out of each other's territory, finding ground, losing ground, regaining ground.
In performative terms, it was Yong's clarity and focus which gave depth to this piece, as well as the wonderful musical compositions of Wang Zheng-Ting. Yong was deeply immersed in the predicaments and bodily formations of the choreography. Watching Sun Ping, I wondered whether I required some literacy in Chinese acrobatic dance. The question of tradition did not arise in regard to Yong because her dance is clearly hybrid, having been successively inscribed by ballet, Indian dance and Chinese imagery.
In narrative terms, the piece was a bit jerky, consisting of episodic, staccato moments with no link between patriarchal domination, the eruption of fury, and the even-handed finale. Although some of those moments were beautiful and poignant, others looked like they needed development. I imagine that some outside direction would be of great assistance to the company. And yet, what kind of eye am I to suggest—a Western gaze, which might require that Wu Lin commodify their cultural identity as recognizably Other? If Rey Chow is to be believed, Western perspectives have already infiltrated (post)modern Chinese sensibilities. For a while I wondered where NUSHU's final battle of the sexes was situated: in China (old or new)? In Australia? Or in Wu Lin's own imaginary? But now I think that there are circles within circles, that we cannot sustain the old myths of China over there and Anglo-Australia over here. NUSHU is not the repetition of old texts but the emergence of a new one. If it could be clearer, it would not become a better translation but would rather move more deeply into a script of its own making.
NUSHU, The Women's Script, Wu Lin Dance Theatre, performers Tina Yong & Sun Ping, music Wang Zheng-Ting (composer, sheng), Junko Sakamoto (drums), Dong Qiu Ming (dizi, xun), Theatreworks, Melbourne, April 12-16
RealTime issue #37 June-July 2000 pg. 8
© Philipa Rothfield; for permission to reproduce apply to realtime@realtimearts.net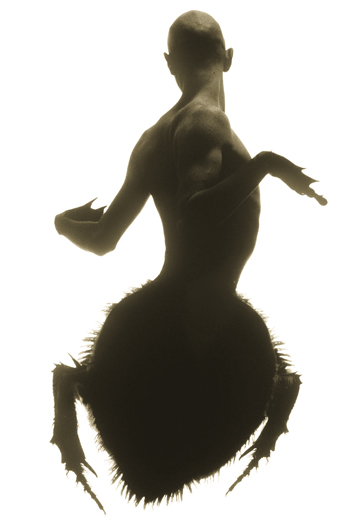 photo Alan Mahon
Random Dance Company, Aeon
Wayne McGregor's Random Dance Company has been hailed as Britain's answer to the integration of new media into dance.
As numerous British choreographers experiment on the small scale in academic and out of the way contexts, McGregor has succeeded in bringing the technology debate onto middle scale stages across the nation. Through a trilogy of full evening productions which began in 1997, with The Millennarium, Random has explored alternative environments for dance.
Working with technology as a source of inspiration for choreography and as a filter through which to run his ideas about movement, McGregor has not ventured far into the 'build-it-yourself' technological experimentation which characterises much of Britain's more experimental artists in this arena. Brief incursions into motion capture have produced stimuli for choreography on bodies, rather than leading to the construction of installation-based work explored by artists such as Susan Kozel. Collaborations with animators have led to the construction of projection-based spaces for dance rather than to the creation of CD-ROMs or online choreography, as explored by artists such as Bruno Martelli and Ruth Gibson.
Random is first and foremost a touring company, funded to create work for large audiences and to engage with them in a discourse about dance, sneaking technology in by the back door through its relation to choreography. The fact that the company has been able to scale up the level of input of technology is testimony to McGregor's growing choreographic invention. Taking energy from his collaborators, rather than becoming lost amidst the melee of intervening media, McGregor has defined for himself a context which sits somewhere between mainstream dance innovation and esoteric new media experiment.
Random performed Aeon, the final piece in the trilogy which began in 1997 with The Millennarium, at the Queen Elizabeth Hall. I have seen this company at close quarters, having worked with McGregor at a time when Random was growing in ambition and scale. Now with 8 dancers and a full evening piece which is burgeoning with design input from a range of collaborators, Random is clearly on a roll.
Aeon opens with a giant amorphous image projected onto several layers of screens. This image dances eerily into shapes which ever more resemble the human form, until suddenly the section ends and tiny Claire Cunningham leaps on stage amidst an assault of projections. Timo Arnall, who produced the searing imagery of McGregor's last production, Sulphur16, has collaborated with an architectural photographer to animate a moving environment of cityscapes with a lumbering, ominous choreography of their own. The disorientating effect of these images, surging over the angled screens and buttresses of Vicki Mortimer's set, frames Cunningham in an alienated world.
McGregor then introduces his dancers one by one, in a series of razor sharp solos. Springing from behind screens into pools of light, the soloists battle the oppression of the environment and find inspiration and relief in their introverted movement sequences. Sharing a common vocabulary of flickering, reflexive movement with blurs of gestural activity at the extremities, each dancer is given the space to show themselves. The addition of new males to the company introduces a weightier accent to the choreography, to contrast the sparky electrical feel of seasoned Random dancers such as Odette Hughes. McGregor himself does not perform in Aeon, and although I missed seeing his dysfunctional movements fire off his attenuated limbs, I am sure it is this new perspective which has enabled McGregor to tune his choreography more finely to his dancers.
At the end of a trilogy's worth of technology, McGregor returns to the engine of his inventiveness, the old-fashioned and enduring human body. Stripping away the technology in the final section of Aeon, McGregor focuses upon his choreography and demonstrates the intensity of his connection with the raw expressiveness of movement. The screens rise, the projections fall away and the music softens from the blare and bite of zoviet*france to classical Corelli. Ben Maher's refined costumes are typically inventive. They sample references to historic periods in jewelled sleeves and extravagant cuffs to contrast the cyber-feel of the earlier sections. Maher's pastel shades and the calm of Lucy Carter's lights introduce a gentler mood to the choreography which takes the dancers into intense communion through duets, quartets, sextets and some glorious octets, where one feels McGregor flex new found muscles with admirable control.
More a beginning than an end, Aeon is the definition of context in which McGregor will now develop his choreography. While new media sneaks increasingly into the British mainstream through the use of projections, film and sound experimentation in work by established choreographers, genuine inventiveness in its use is generally still confined to the fringes. The inclusion of technology-heavy installation work, such as Carol Brown's Shelf Life, or Kozel's Contours in the same season as Random, nevertheless shows that the climate in the UK is changing. With Random trail-blazing an acceptable path between dance and technology the ensuing exploration of the many facets of this relationship can more readily be explored by a new generation of artists.
Wayne McGregor has taught choreographers in Australia through Chunky Move, as well as having collaborated with Company in Space.
RealTime issue #37 June-July 2000 pg. 4
© Sophie Hansen; for permission to reproduce apply to realtime@realtimearts.net
The seductive power of cults frames the territory of the chalice, a collaborative work by Two Turns Dance Company. In the chalice which incorporates dance, puppetry, video, soundscape and design, Wendy McPhee and Michael O'Donoghue explore the 12 stages of an individual's journey into the world of the cult.
Greg Methé's design suggests the cross-cultural elements of cults through a strong, yet spacious entrance, emblematic of a Shinto shrine. Above this hangs a nine-stranded necklace. A pile of books rests either side of the central gateway.
The use of books as a symbolic device contributes to the imagistic intensity of the chalice. They signify altars, are scattered in despair, become pathways, and represent containers of tired knowledge systems. The interminable weight and demand of the word always refuses to reveal meaning to the frenzied and compliant recruits.
Puppeteer Philip Mitchell manipulates one book as a mirror for video images of a disembodied eye, mouth and fractured face. He kneads clay on a tablet of books. While his hands shape and spawn human replicas he repeats: "Do you have time for a quick chat?"
In the chalice the dancers are separated by, and converse across, a central space. It is this terrain of the middle ground where the energy of submission, conversion, denunciation and acceptance is situated. McPhee and O'Donoghue alternately climb and fall onto and across the central structure. Spinning like rejected angels, they use each other's bodies as levers, ladders and platforms to reach imagined higher ground.
The crack, hiss, static and distortion of Poonkhin Khut's unrelenting sound score accentuate the dancers' spatial travails and the constant reappearance of disembodied menacing icons. At times I missed the silence that might realise my aural response to the dancers' body score.
Ambiguity of power relations between each recruit and the charismatic cult leader emerges as a central motif of the work. A powerful sequence features a gag of rope placed across a dancer's mouth, containing and suppressing utterance, difference, desire and question. This image inscribes the mouth as the only place where obeisance is avowed.
The dancers' portrayal of simultaneity or contrast (for example, McPhee's writhing body and O'Donoghue's muscular and compact tautness) is often relieved by the intervention of the third: the third person portrayed by Phillip Mitchell, the third image of the dancers' shadows on a blank quarry wall, and the connecting/separating third of the space between the chalice cups.
The chalice is symbolically represented by a gesture that unites thumbs and fingers in a cup shape to trace the centre line of the body passing from lips, throat and heart to the genitals, all sites of vulnerability, violence and desire.
We witness the recruit's territory of disorientation, love and quest for stillness. These recruits are not resilient. They comfort and brutalise each other through a journey of confusion, momentary salvation and ultimate exhaustion. The high production standards of the chalice effectively exploit the unresolved contradiction of cults where surrender and conformity jostle with cruelty, denial, and loss.
the chalice, Two Turns, director Annette Downs, dance and choreography Wendy McPhee & Michael O'Donoghue, puppeteer Philip Mitchell, design Greg Methé, soundscore Poonkhin Khut, digital video design Benjamin Wright, lighting Tim Munro, multimedia visual artist Chantelle Delrue, Peacock Theatre, Hobart, April 5-7, Earl Arts Centre, Launceston, April 12-15, Cygnet Town Hall, April 19
RealTime issue #37 June-July 2000 pg. 4
© Sue Moss; for permission to reproduce apply to realtime@realtimearts.net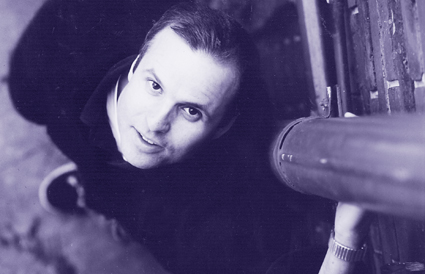 Phillip Adams
Born in New Guinea, Phillip Adams learnt to dance from the white woman in the local ballet hut. He then trained at the Victorian College of the Arts, after which he moved to New York where he performed with Trisha Brown. Phillip Adams is Artistic Director of a new company called BalletLab based in Melbourne. His recent work, Amplification was shown in Melbourne, Sydney, Glasgow, and will soon be seen am in Mongolia.
I think we should start by describing the room that we're sitting in today.
I've surrounded myself with mid-century, modern contemporary furniture. I have a passion for mid-century modern. I guess that comes from my fascination with the 50s. I would classify myself as a modernist in my aesthetic and my thinking. I try to come up with large things in the way that the designers of that period did with furniture and architecture.
How do you judge your own work?
First of all I try not apologise for it. I think that would be a grave error, especially for someone like me because I feel I'm out on a limb. I come from the absolute rawness of moving an audience. I've always wanted to make them feel an emotion. Yet I've been heavily criticised that I'm cutting my audience off. I wouldn't go as far as saying it's existential but there's an apocalyptic tone in my work. It's there in Amplification and in my newest piece, Ei Fallen.
In preparation for Amplification, I went to a hospital to interview patients for up to half a year, talking about the impact of car accidents, and seeing Crash the movie, seeing what it's like to be in an actual situation where there is no way out but death.
Ei Fallen translates from the German, "egg fallen", based on the nursery rhyme Humpty Dumpty. I took Humpty as the metaphor for suicide. All the King's horsemen arrive and discover the broken egg. And they think: how are we going to put him back together again and put him back up on the wall?
It was a metaphor for what it would feel like to be on the precipice, to be in mid-flight and then the actual smash, at the bottom with the ambulance arriving, or emergency people, seeing the dead body. What would it feel like to actually experience those 1 or 2 seconds? I'm fascinated with that, the impact of the crash, as in Amplification, Ei Fallen is about the actual fall. The performance I choreographed for Mardi Gras was inspired by a friend who was dying. He kept on attempting suicide. So I talked to him about what it felt like to do those things, drive the car off the cliff, shoot up, OD, cut his wrists, whatever, jump out of a window. When you see that work you're not going to pick that out of it. What you'll basically see is the usual Phillip Adams start, highly technical. Then the piece starts to turn on itself, you start to get a bit dark and a bit depressed by it, and then you realise gee, that's really sad. You know then the egg's left alone and in the end it's beheaded. It'll be performed at the Melbourne International Festival this year by Chunky Move.
I want to talk about Upholster, the next work that I've been working on.
Perhaps you could describe what we're sitting on first.
We're sitting on a pair of 60s Jetson chairs. The upholsterer and I took the sides off, washed them by hand and put them back on. Then I chose a chenille, Armani olive green, to give it that luxury hotel foyer 1960s New York feel. To top them off they are amplified with a red cushion. I made the cushions.
Upholster is about the idea of facades, covering up things, hiding or purporting to be somebody else. We are clothing. What we are underneath is the padding and stuffing. It's what we cake around it which is the stuffing or the fabric which forms the body. With a designer I've been reconstructing the pleat: cutting the pleat in half, re-sewing it to the back, and then I've done another pleat that's sectioned onto a poodle skirt. So we have a tapestry of deconstructed clothing.
I think there is a lack of design in contemporary dance in Australia. I see the work of Upholster as not to draw inspiration from the world of design, but to make it design. In doing that I'm building the set live as the piece goes. So the dancers are given a real job, a real project to put together, where the materials stuff it out.
We all have a cover, we all have a front that we hide behind. No matter what, who you are, we've all got a thing. But what's underneath that is what's more interesting. And I think the emotion comes from underneath—'I'm trying to find out who I am.'
Do you want to be in Australia, do you like being here making work?
I couldn't be happier. I think like the choreographers who seem to have infiltrated themselves back nicely in Australia at the moment (Lucy Guerin, Rebecca Hilton). Without the time spent in New York and Europe where I performed for 10 years and danced and did some bits of my own work, I wouldn't be who I am today. I was a student at VCA. To come back now and to implement my own world within that context seems to be working okay at the moment.
Do you want to show your work overseas?
It is important to me to have my work shown in an international context. I was lucky enough to go to Glasgow for New Moves (new territories) dance festival where I showed Amplification which received an excellent response. I was a little nervous, wondering how my work would stand up in an international arena. This year I'll be going to Manchester (UK), and to Mongolia. It will be the first chance for the Mongolian people to actually see contemporary dance. I'm showing Amplification. I'm interested to see how it goes down.
This couch is Hotel Foyer 1957. Beautiful isn't it? Your parents probably sat on this stuff. It's been remade. You could say…"as Phillip Adams shows me around his apartment". I'd love you to write that.
RealTime issue #37 June-July 2000 pg. 5
© Philipa Rothfield; for permission to reproduce apply to realtime@realtimearts.net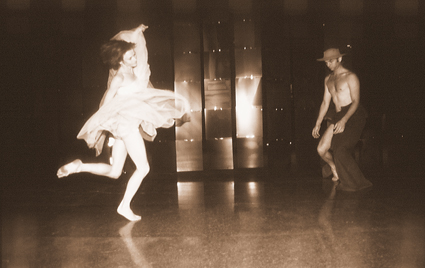 Rebecca Youdell & Russell Milledge, Bonemap
Bonemap's the wild edge creates a complex, multi-layered, intrinsically real journey of the "ephemeral body" in an ongoing exploration of the contrast between the tropical North Queensland landscape and the "wild edge" of urban and built spaces that we humans inhabit. Using performance, film, exhibition, installation, sound and online art, the 3 performances of this bold, seamless multimedia presentation at the Tanks Arts Centre in Cairns (as part of Australian Dance Week) were a milestone in the project.
the wild edge is a postmodern slideshow of the 'Deep North', its beauty, unique man-made intrusions, and curious social and physical contrasts. Using video material documented at sites as diverse as the Chillagoe Marble Mines, the Powerhouse in Brisbane, a cattle station in Toomba and the New Parliament House in Canberra, the collaboration takes place at each juncture, and another layer is created for the evolving work.
Bonemap's work has involved journeys to the Body Weather Farm in Japan and Australian field trips with Singapore artist Lee Wen. These investigations place the work on another wild edge—the Australian engagement with the Asia Pacific region.
A choreographer and accomplished performer, Rebecca Youdell's classical dance background informs her current movement practice ever so subtly, while training and discipline is obvious in her total control. Her ability to imitate the spectrum of human-animal expression is boundless. Russell Milledge has made a successful transition from 2D practice into movement, finding his niche in slow-emotion expression. Together, Youdell and Milledge have found a balance in style and form.
The soundscape created by Michael Whiticker and Paul Lawrence illustrates the tension in the movement, while traditional instruments, voice, sound devices and digital editing create an evocative and emotive soundtrack. Whiticker's dominance and focus on instruments is beautifully complemented by Lawrence's more discreet and quirky play with various installation elements. Pre-recorded sound also contributes to what amounts to a sophisticated live film score.
Form is a key element: Glen O'Malley's rich photography provides a classical launch pad for the human body as it traverses film, X-rays, performance, sound and installation. In the 'round' of the Tanks, the installation had a decidedly urbane nature, and in itself provided a perfect site to explore: the wall of X-rays dividing the dance floor, the hanging ice block (dripping water, and filled with stones ready to drop into aluminium bowls), rocks, a field of blue tutu's. The bone, as chief icon, represents decay, the transition between life and death, the connector between ephemeral worlds. Far from being morbid, it symbolises the built presence in the ecological landscape, the natural physical decay that occurs and its inherent beauty.
With shows at the Next Wave Festival in Tokyo, Umbrella in Townsville, and the new Powerhouse in Brisbane, the wild edge will continue to develop. Its flexibility in delivery is embodied in the exploration of various built environments and our habitation of them. Each new site will add another exciting layer to the work.
Bonemap, the wild edge, Tanks Art Centre, Cairns, May 13-21; World Dance 2000, Tokyo, August 1-5, Umbrella Studio, Townsville and Forts, Magnetic Island National Park,?August 14- 27; Brisbane Powerhouse Sept 9-24. info@bonemap.com, or go to www.bonemap.com
RealTime issue #37 June-July 2000 pg. 6
© Nicholas Mills; for permission to reproduce apply to realtime@realtimearts.net
No don't do it, you want to scream. You'll get hurt.
At one time you see them there, a long way off, upstage in a far corner but achingly close because of the drama of the figures, their movements, the eyes that span the distance to hook you in. Their eerie skull-capped faces. Stark yellow vinyl raincoats (you can just about smell the plastic). Striped-naked bodies. These masks—in slow mo—chart moments of excruciating love and tenderness mixed with a nearly intolerable menace and violence. To a heartbeat music.
You're too young. Innocents.
But these characters don't hear you. None of them do. They live dangerously. Teetering near the edge, sliced up and on the edge. They tip over, reappear, disembodied, provocative and sexy. For these characters—and not just the masked innocents—love to seduce. Whether they're kids teasing each other mercilessly, fat controllers or simpletons with plywood teeth, they suck you into a world of suspended disbelief, vulnerability.
This is a dance work that pulls you in, eyes singling you out of the crowd of the audience, tempting—oh so tempting—you onto another plane. Do you dare? Take a risk?
They play with you. Humour, laughter, followed quickly by moments that take your breath away. To leave you very nearly desolate, unnerved. It's raw, confronting. Guaranteed to get you. And all executed with precise movements and an acute sense of timing whether the characters are synchronised swimming on highways, near-to-bursting roly-pollies on a construction site or sculptures of roadkill.
This is physical theatre that dares to do something. This is a piece of work that is screamingly simple and naive at times—its striking aesthetic of witty primary colours, circus acts, the tap tap tap of feet in lines and circles—all the while swiping at an all too familiar landscape with its searing underscore of comment and satire. And, what's more, it's a work that changes, a work being developed in performance (I saw 2 of 9 in Canberra).
Clearly Kate Denborough has drawn a group of dancers around her who work well together (Gerard Van Dyck, Phillip Gleeson and Tuula Roppola) as Kage physical theatre. Denborough knows what she wants. And she gets it. And judging from comments afterwards (in the post-performance forum, a feature of The Choreographic Centre) she likes to keep a tight reign, and does. Bold and confident throughout.
What remains long after the performance, are the acute visuals—just like seeing the suite of Jeffrey Smart paintings that inspired the work—coupled with snatches of music. Oh the music: the original score by Franc Tetaz holds the pieces of the work together, swimmingly. (And it seems fitting to discover the music was incorporated into No (under) Standing through express post dispatches.) From nostalgia to funk, to one of the final vignettes when a slow drawl of a piece emerges (along with sheer testosterone) with its melancholic slide guitar. It takes us to the final ecstatic, captivating and strangely private moment.
This is a piece—uncanny as it is—you won't want to let go of. It sticks.
Kage physical theatre, No (under) Standing Anytime, devised/directed by Kate Denborough, The Choreographic Centre, Canberra, April 26–29 & May 2–6, Next Wave Festival, Athenaeum, Melbourne, May 18–28
RealTime issue #37 June-July 2000 pg. 6
© Francesca Rendle-Short; for permission to reproduce apply to realtime@realtimearts.net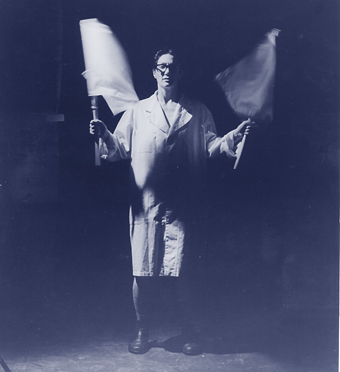 photo Ashley De Prazer
Jane Diamond, Cats'n'Dogs
I've had this creeping feeling over the past few years that the smartest performance work is coming not from a theatre base (physical or otherwise) or even from the visual arts.
It seems to be dance that is taking performance and turning it on its head. Somewhere along the way, some dancers have stopped being dancers or choreographers and become dance artists, much less concerned with step-making and much more with the art of performance. This is not, I stress, a move away from craft but towards it. Of course, it's not a new move but such work seems increasingly visible, no doubt facilitated by the sophistication of work seen in Australia over the past few years of the calibre of Alain Platel, Kate Champion and Wendy Houstoun for instance. There is far less bleating from mainstream reviewers about whatever happened to 'real' dance and much more acceptance of contemporary dance generally. [Not on the east coast. eds.].
The shift is more apparent among more mature artists for whom just possibly the purely physical experience of being a 'dancer' may necessarily have had to change. Here in Perth, this shift in focus is experienced increasingly through the work of a small group of dance artists who often work together in various configurations and under different company names. In this emerging body of works, text, light, film, movement, space, sound and bodies collide. There is discernible content. There is humour. There is complexity and contradiction. There is a willingness to experiment. Gone are the vapidly sentimental and earnestly wafting performances of a couple of years back, which just goes to show that if you give artists a bit of time and money to work through stuff and keep developing their practical, conceptual and expressive skills, good work will emerge. This work has an edge and it's pretty sharp!
A perfect example was Bill Handley's Cats'n'Dogs, performed by Jane Diamond and presented by ID339 Dancegroup as part of a double bill at PICA earlier this year. Cats'n'Dogs was a wickedly edgy performance teetering on the smart side of madness. Jane Diamond, performing the role of Dulcie, a fanatical AFL coach, hard balled the audience (her team) as she relived her glory days on the field with "Dicko, Crawf and Simon, Mel, Chesty, Wheaties and Brim", sex in the bunk of the Tasmanian Princess and other extraordinary moments in a life lived for football. Performed fast and hard, this monologue was not a dance piece per se but a glorious moment of vernacular performance, yet I doubt it could have been performed by anyone but a dancer and Diamond made this piece so completely her own. Whilst Dulcie is clearly a heterosexual gal, definitely a woman who loves men, with her football tucked under her shirt like a pregnant belly she conforms to no stereotype unless it is the rapidly disappearing Australian tradition of idiosyncratic characters; a rare experience for middle class Perth in the mid 90s.
Sue Peacock's Near Enemies, performed by Paul O'Sullivan, Sete Tele, Shelly Marsden and Sue Peacock, made up the other part of the bill. This was a far less resolved and more rambling work which nevertheless tightened up dramatically over the course of the season. Performed in a cabaret set-up with a smoky late night dive atmosphere, this meticulously performed work stretched to achieve a level of theatricality that it never quite attained. Drawing on everything from stand-up to conjuring tricks to flash tango numbers and even a gangster shoot out and quieter more romantic moments, Near Enemies is much more a work in the making. Hopefully it will get the time it deserves to develop further.
Paul O'Sullivan returned to PICA in April with his most recent solo show, Anomalies, with dramaturgy by Sally Richardson and movement direction by Sue Peacock. Paul is an amazingly relaxed performer who effortlessly creates an atmosphere of intimate domesticity as he asks the really big questions: "why is the ocean so full of sea sponges?" and "are aliens real?" In Anomalies Paul stretched himself beyond what might have easily slipped into a too cosy retreat into the domestic to comment on our contemporary moment. In this case, to expand a statement made by a visiting alien that "what impressed him most about humanity was that it seemed we were at our best when things are at their worst." Paul went on to ask whether the converse may also be true. "Can we be at our worst when we have very little to complain about?" This was a genuinely interesting piece of work, however the moment he donned a pair of black rimmed specs complete with fake fleshy nose to become a stuttering John Howard, incapable of saying sorry, it flashed into brilliance. The everyday suddenly transmogrified into an entirely more sinister experience.
Most recently, Company Loaded returned to PICA to present 3 works in progress. This company was conceived by Stefan Karlsson and Margrete Helgeby to provide a vehicle for mature dancers working with a wide range of choreographers. For Project One (their second project) the choreographers were Stefan Karlsson, Sue Peacock (working with theatre director Sally Richardson) and Lucy Guerin. Joining the choreographers were dancers Claudia Alessi, Paul O'Sullivan, Sete Tele and Margrete Helgeby who had to withdraw from the programme due to injury and was replaced by Shannon Bott.
This was an interesting programme which at times indicated that an increasing theatricality or use of text is neither necessarily nor inevitably desirable. This was particularly apparent in the work of Richardson whose use of cut-up bits of Shakespeare was infinitely literal and often naff. Mind you, it's always tricky talking about works in progress given that what you see at such an early stage may have little or nothing to do with the end product. Karlsson's contribution was by far his most mature choreographic effort to date. This was the most complete work on the night and was beautifully performed by the 3 male dancers. While working with a quite conventional vocabulary it was complemented by a great sound work by composer Cat Hope and lighting by Mark Howett, who did a beautiful job lighting the entire program. Lucy Guerin's contribution made no attempt to present itself as a resolved or finished work and, perhaps perversely, I found it the most satisfying and complex. The concluding contact-inspired trio between Alessi, Tele and O'Sullivan was just extraordinary.
It would be nice to take for granted [sic] that all these artists will get the opportunity to keep working and developing. Of course, now that they're mere 'hobbyists' as opposed to professional artists, life is likely to become even more difficult than it has been to date. Never mind the tall poppy syndrome, we seem to want to mow down even the modest sized daisies.
Cats'n'Dogs and Near Enemies, ID339, PICA, Perth, February 17-27; Anomalies, Paul O'Sullivan, PICA, April 6-16; Project One, Company Loaded, PICA, May 4-6
RealTime issue #37 June-July 2000 pg. 7
© Sarah Miller; for permission to reproduce apply to realtime@realtimearts.net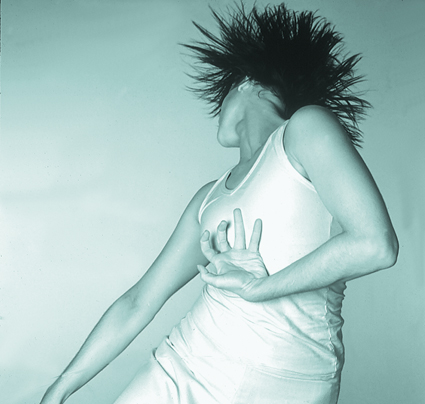 photo Ant Geernnart
Belinda Cooper, Audible
A loping slinking soundtrack slides across 50s mid-West domesticities, panty-twitch desires. This Happy Valley is soap opera scrapings, crackling radio, gluey mores of a country town. A horse and prairie loping in there somewhere. If home is where the heart is, then both home and heart are struggling here: the women stretching, straining from it (and each other) as if elastic, snapping in return. Unhappy valleying: conformity versus distinction, families, neighbours trying to keep each other tame. Rebecca Hilton's choreography is inventive, quirky, freshly detailed. Hands, limbs, torsos, pushing, pulling, softly slapping tools. Emotionally, the dancers are better informed as the performance season runs: the piece is becoming crazier, more seedy and disturbed. The mother figure is perhaps the best fleshed out, Jo Lloyd infusing her performance with muted longing, with mildly tempestuous flicks, pigruts and kicks like a chained mare.
A radio voice croons: "I went away for a while. I travelled, but not far enough. Something kept pulling me back. I gave in. I went home", but here, the daughter does depart, after her struggles, simply walking out the door. We need to see more of her struggle, feel more her imperative to leave. The scenes, for example, where mother and daughter parallel each others' dance needs not just mirroring, but subtle (perhaps rhythmic) distinctions between them to clarify their mutual rebellions, abandonments and griefs, to articulate the struggle forwards and backwards between generations to do with knowing and liking—or despising—where and who you are.
Sandra Parker's Audible, too, has developed since opening into a dance that is rougher, showing more jaggedness and verve, appropriate in a piece about bodies riddled with and ridding themselves of lovers/others. But these 'others' are not full bodies, only things which have disturbed already shaky cores: you journey from person to person; it's hard. What is an arm beyond pointing, or clutching at its own straws. In fact, there seems no 'other' in this investigation: angular bodies jump against their own edges, are dissected by their own awkward clothing, swish in introspective pain. Where there is partnering, I can't hear or see beyond the defence-lines spoken at one point by a dancer at a microphone: "You don't know what I'm thinking: even if you ask me I can lie."
There is a timidity to reaching out, reflected perhaps in the piece's relationship with spoken words. There seems a palpable distrust that breath can continue with integrity into language; thus, the projected sentences are so thin as to be easier ignored. I suspect they have been edited down—a pity, as there are elements which lead me to suspect the piece's intention is somewhere really valuable. This could be an interesting investigation of discrepancies between interior and exterior worlds (as attempted in the miked breathing of a dance segment), but my suspicion (even after a second viewing) is that this is a work which can't grasp its own material, generally displaying a reticence of emotion (resistance to self-reflection?) and at other times, a strange inaccuracy. "She watched herself waiting," speaks a prone body, "she was completely still," whilst others neither illustrate nor counterpoint her text with a jagged dance that is hard to incorporate in the watching.
Technically, as always, Parker's choreography and spatial patterning is very capable—although those straight gyrating arms are starting to bother me—and I admire the beginnings of a relationship to text that the dancers themselves have explored. I come away retaining most from Elizabeth Drake's soundscore, and perhaps in there lies the clearest intention: like a train, the voice and breath, sometimes husky, sometimes sharp as slicing knives, move towards another, never reaching a destination.
Audible, choreographer Sandra Parker; composer and pianist Elizabeth Drake, dancers Joanna Lloyd, Belinda Cooper, Olivia Millard, Tamara Steele, Carlee Mellow; Happy Valley, choreographer Rebecca Hilton; dancers as above, sound design Katie Symes & Rebecca Hilton, lighting Efterpi Soropos, costumes Anna Tregloan, Dance Works, North Melbourne Arts House, May 4-6, 9-13
RealTime issue #37 June-July 2000 pg. 8
© Zsuzsanna Soboslay; for permission to reproduce apply to realtime@realtimearts.net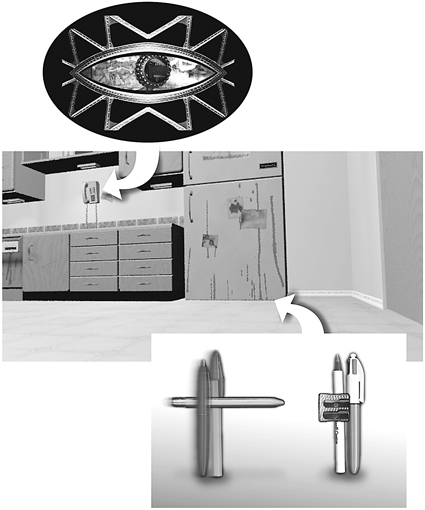 Leon Cmielewski & Josephine Starrs, Dream Kitchen
It's getting DIRTY in domestic land. QUICK, the housewife is hiding something under her apron. Afraid of creepy crawlies? "Domestic bliss" spray should get rid of them…for a moment.Dream Kitchen places itself between interaction and animation. While some aspects demand immediate action, other sections are watched as events evolve and mutate. The cursor is the only indication of any entry points.
The Dream Kitchen is clean. Melamine, minimal, there's a bowl of fruit. It's not contemporary flash but enough mod cons for the average homeowner. But the "player" is not the owner but a secret visitor, furtive, airborne and easily passed by.
There's a quick panic tour. Like an out of control camcorder the effects are dizzily sped up. Seen from below the fridge, towering monolithic stools ascend and giant telephones ring incessantly.
First stop is under the Fridge where inanimate objects take on evil lives of their own. Here pencils turn to pens, and under militant conditions there are burnings at the stake to the chanting of the masses…
The kitchen is getting dirtier. Next stop the Sink. Down the plughole and the pipes reveal a floating dreamworld of garbage, underwater sounds, no air only the throbbing pressure against your skull. Rollovers reveal the floating rubbish transforming slowly (very slowly) into an evil garbage man…recycled scarecrow boy made from the detritus of Aussie junk, Tetra pack shoulder blade, Maccas thickshake arms…
And it gets dirtier…Don't put your fingers in the open Socket…inside reveals a world of cables and uncut wires. Tearing electrocuted screams fry the eardrums, sexual tension between the penetrative and penetrating plugs.
Under the Oven is a cardboard world. Scuffle around it to reveal the macabre forgottens, the dead and decaying. A Frog, a mutant Bug and a decayed Rat with a secret are the specimens to be tampered with. Electrodes, clamps, razor blades and X-rays are all at your disposal. Furtively you experiment to the sounds of electro shocks and metal scraping, but someone is examining you…under the oven no-one can hear your screams…
Dirt. Dirty phone calls. Phoning incessantly finally allows you in. It reveals an Orwellian landscape of clandestine kitchen scenes. The cold metal conductor transforms into an all seeing TV drome. Twenty degraded surveillance images of the Dream Kitchen now filled with debauchery and violence. Broomstick mounted housewife looks down on bondaged victim, the sounds of crossed and interrupted lines, la la land over the airwaves, over and out kind of stuff.
The Dream Kitchen is now disgusting. Oily patches seep from the floorboards, filthy drips line the fridge, dirty phone calls, unanswered message stumps peel off the wall. There are ghosts in these machines, and they're all ours. Play another game?
Leon Cmielewski and Josephine Starrs, Dream Kitchen, CD-ROM, programming Adam Hinshaw, sound Panos Couros, produced and developed with the support of the Australian Film Commission and in co-production with the Banff Centre for the Arts, Alberta, Canada, with assistance from the Australia Council.
RealTime issue #37 June-July 2000 pg. 22
© Joni Taylor; for permission to reproduce apply to realtime@realtimearts.net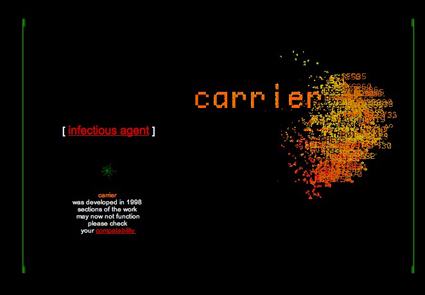 Melinda Rackham, Carrier
Can you explain how you came to make Carrier?
There are a few sources for Carrier: firstly I have hepatitis C virus, and I wanted to redress the social invisibility of this serious health issue. The work also grew out of my research interests over the last 10 years; notions of identity, sexuality, attraction and repulsion, beauty and ugliness and the messy body.
And the work has had a successful international life…
Web work is of necessity international, as it lives out there on the global matrix. Yes it has been exhibited in gallery-based shows around the world including Japan, North America and Europe, and soon in South Africa and South America. The Australia Council assisted me to promote the work overseas, which has been quite effective.
It's recently won the Faulding Award for Multimedia, a prize for writing in digital media. While there's a lot of writing in the piece, it's certainly not a straightforward text, or even a conventional hypertext. How do you feel about the work being treated as "writing"?
For me the distinction between text and image is minimal. As a "net.artist" I see myself more akin to a filmmaker, but this also encompasses being a "writer." I construct a digital architecture which is in itself a text, whether the individual components contained within it are image, word, audio, quicktimes or VRML.
The work involves an unusual mixture of modes: there are game-like elements with artificial agents and interactive dialogue, and this is combined with dense layers of visual material. But there's also a whole layer of straight "information" about Hep C. Can you talk about this mixture and your reasons for pursuing it?
I work on the web because I'm interested in reaching the widest audience possible, and this requires that "information" be structured in differently accessible ways. Some users will want the scientific and medical information, while others want to play a Shockwave game, read the personal stories, or will be interested in the seductive textual elements, which all give "information" in a different way. I think the site is successful because there is a balance of navigation, viewing and content options; it simultaneously functions as an artistic work and a public resource.
Carrier also makes a detailed exploration of viral immunobiology—and it seems that new media artists are increasingly taking on this kind of technoscientific conceptual material. What's the attraction here?
I don't think one can work any more in cleanly divided disciplines, everything seems to be cross-pollinating everything else…Reading and researching texts from areas like immunobiology, or more recently quantum physics for my new multi-user VRML project Empyrean, is totally fascinating. It's science, it's science fiction, and it's as theatrical as soap-opera television.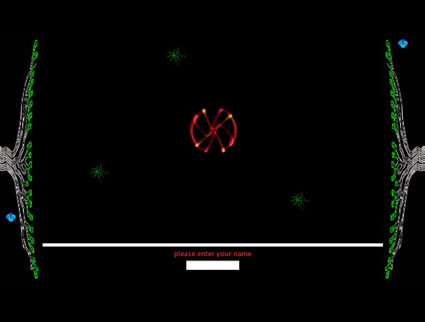 Melinda Rackham, Carrier
The work revolves around ideas of the virus—and it's a virus which is both biological and digital. Of course digital media have been rife with viruses for some time; the computer virus is a familiar figure. How is the virus in Carrier different, or the same?
The carrier virus sHe is of transient and multiple gender, and is posited as our lover rather than an enemy to be destroyed with antiviral software or medication. We willingly enter into the relationship with sHe, as an exploratory partner, rather than a toxic and scary alien.
And the work is very open in extending an erotic invitation; it wants to infect us, but not in a malicious way, more like a tight embrace. How do people respond to this invitation?
Some people find it totally spooky, however most respond positively—with a sense of intimacy and immersion. When you think about it, a virus penetrating your cellular core is probably the most intimate relationship you can have with another species.
In an essay on Carrier you question the romantic notion (from Roy Ascott) of the net's "telematic embrace". Does the work's intimacy involve a struggle with the medium?
I work on the net and I love the net, however I am highly critical of the net as an artistic medium, and as a social mediator, and use Carrier's perceived intimacy as a vehicle to address what intimacy now means. Is intimacy a shared viral illness with a group of people you have never met? Is intimacy built because the site asks you personal questions to which you must respond to continue viewing? Are we more intimate with our computers than our partners?
Following that infection which the work invites, there's a viral line here which leads towards a radically altered sense of the self—of where our borders are and what can cross them. This changes a lot of things, like ideas of "sick" and "well." Is there a kind of radical viral identity-politics lurking under here?
Binaries like "sick" and "well" are only useful to identify points in a spectrum of possibilities. The reality is that human bodies are composed of swarms of bacteria, viruses, and other organisms that we see as agents of illness, and don't acknowledge when we think of our bodies. Evolutionary biology posits that we only evolve with our illnesses, and that the difference and the diversity that comes from infection and contagion is what actually allows us to continue to proliferate and survive in a variety of environmental conditions on the planet. So we have to love our sicknesses, because in fact we are a conglomeration of diseases.
Carrier, Melinda Rackham, www.subtle.net/carrier
RealTime issue #37 June-July 2000 pg. 22
© Mitchell Whitelaw; for permission to reproduce apply to realtime@realtimearts.net
Parallax is a rare specimen, an anthology of locally crafted cultural criticism which tackles, among other things, digital media. Darren Tofts, correspondingly, is one of a handful of figures on the Australian scene to have established a profile as a theorist and critic of digital media. In the local context then, this slim compilation is bigger than it first appears—a too-rare indication of the emergence of a homegrown critical culture.
This is a collection of essays written between 1993 and 1999, many of which have been published in local venues such as Mesh, World Art and the sadly-missed 21C; others come from conference presentations and lectures. That the material isn't brand new might disappoint voracious theory-junkies, though only the most avid would know all of these papers. The result is a compilation which demonstrates both the diversity and consistency of Tofts' concerns over the last half-decade or so.
That diversity is considerable, at least in terms of critical subject matter. Tofts takes on new media art, hypertext, the historical avant-garde, Joyce, Duchamp, Beckett, Bacon, digital imaging, Andres Serrano and Troy Innocent. In the process he touches on cybernetics, indeterminacy, the notion of expressiveness in painting, Baudrillard and Star Trek (to take a random sampling). The sum is not as inconsistent as it sounds; it manifests a set of specific focii and characteristic approaches. As the names above suggest, Tofts' work articulates the big guns of modernist literature and visual arts with a constellation of contemporary works, artists and cultural moments. This interweaving isn't an attempt to write the postmodern, digitised present into a solid modernist lineage; rather, as Tofts puts it, it seeks "uncanny parallels, incongruous juxtapositions and surprising fusions of ideas between the old and the new, the residual and the emergent." Tofts pitches the project as a corrective to that "digital orthodoxy" which tends to forget these historical parallels, resulting in "cultural amnesia."
The most prominent of the parallels runs between modernist art and literature and contemporary hypermedia—spanning hypertext, the web, and interactive media. So it is that in "Un Autre Coup de Dés. Multimedia and the Game Paradigm" French symbolist poet Stéphane Mallarmé hangs out with cybernetician Norbert Wiener, Myst and the Residents' Bad Day on the Midway. The ways in which we wrestle narrative meaning from the indeterminate, entropic story-worlds of digital media are echoed, Tofts suggests, in the ways in which we read Mallarmé's nonlinear poetry. In "Hyperlogic, the Avant-Garde and Other Instransitive Acts", John Cage, Marcel Duchamp and James Joyce are brought together as practitioners of that interactive, nonlinear "hyperlogic" more often identified with high-tech hypermedia. The central, and well-supported assertion made in both these essays is that "hypermedia should be considered as an extension of the modernist avant-garde." Tofts isn't talking up new media here, in fact he's quite clear on the point that they "have a lot of catching up to do"; lagging in the shadows of modernist monoliths like Ulysses and Finnegan's Wake.
Tofts' assured literary scholarship underpins these parallel readings, but it also gets a few essays to itself in Parallax. "Ulysses Returns" is a detailed treatment of the troubled life of Joyce's tome; its many editions, corrections, editorial gaffes and presumptions, all striving for an authoritative, authorial master-text. Tofts good-naturedly points out the absurd contradictions here, as literary scholars scramble to tidy up, straighten out and nail down a work which is very clearly trying to resist such determination. He is more optimistic about a proposal for a hypertext Ulysses with multiple parallel versions of the text and additional multimedia ephemera—an appropriately Joycean labyrinth of interminable journeys. Ulysses returns again in "Parallatic Readings: Joyce, Duchamp and the Fourth Dimension", a tiny but engaging essay which constructs a kind of crypto-historical wormhole between Joyce's epic and its Duchampian equivalent: The Large Glass. What propels the essay is some fascinating literary detective work, beginning with a manuscript fragment in which Joyce's protagonist describes a work which seems to be The Bride Stripped Bare. This thread triggers Tofts' refiguring of Ulysses in which it comes to resemble Duchamp's collection of notes on The Bride, The Green Box, and explodes into a million interactive pieces.
Perhaps it's a subjective case of greener grass on the other side of the disciplinary fence, but I find Tofts' literary studies more interesting than his writing on new media. This may also have something to do with the fact that writing in this area, like the work, dates practically overnight. Tofts' "Your Place or Mine? Locating Digital Art" is from 1996, the year of the MCA's Burning the Interface exhibition—but here 4 years seems like 10 (remember CD-ROMs?). Of course this absurd time-dilation should be resisted wherever possible, and Tofts' historical perspective is valuable here. Certainly Nam June Paik, John Cage and Merce Cunningham are important precursors for the conceptual and practical concerns of contemporary digital media, and the importance of "the walk" in virtual spaces is prefigured in the ancient ars memoria. However Tofts stops short of following these historical contexts through into critical analysis. Not that he's pulling punches, necessarily: his writing seems to reflect a genuine enthusiasm for new media practice, together with an endorsement of some of its dominant drives. "The most likely and desirable outcome of the trajectory of the desktop to immersive, virtual spaces, is the creation of something that resembles the Holodeck on Star Trek: The Next Generation." Complete immersion in a seamless "apparent reality" is the unquestioned goal here—a trajectory which seeks a kind of digital literalisation of the overwhelming plenitude of a work like Ulysses.
Nowhere is Tofts' enthusiasm more apparent than in his writing on Troy Innocent. "Travelling to Iconica" is a glowing account of Innocent's work; Tofts hails the artist as perhaps digital animation's "first major exponent of the art of virtuality." Once again Tofts cheers on the drives which propel Innocent's work (in its quizzical way); immersive virtuality, interactivity, and artificial life. Of course enthusiastic support is preferable to the kind of muddle-headed non-engagement with which mainstream art criticism has greeted local new media work, but still, the pity is that Tofts' writing misses a chance to make some well-informed critiques and ask some curly questions. Is the local scene simply too small, or still too tenuous, to support robust critical exchange? While I'm not suggesting that Tofts' work falls into this category, there seems to be a kind of reverse-tall-poppy syndrome in effect, with an understanding that one just doesn't knock the work of one's friends and peers—at least not in public. For the health of the scene itself, I hope this changes.
Darren Tofts, Parallax: Essays on Art, Culture and Technology, an interface book, Craftsman House, 2000, ISBN 90 5704 007 7
RealTime issue #37 June-July 2000 pg. 23
© Mitchell Whitelaw; for permission to reproduce apply to realtime@realtimearts.net
From Stuart Moulthrop's Hegirascope, Mark Amerika's seminal Grammatron and recent work that continues these traditions, web-based hypertext fiction has utilised simple time-based rules to produce interactive narratives. This has generally been achieved through the use of the refresh tag, where another URL is loaded after a nominated interval, producing narratives that literally move through time. On occasion this is performed in a quite linear manner, a work containing a 'passage' or 'corridor' of time-constrained nodes without links that then opens to a richly linked series of nodes (Grammatron), though it is also routinely used with links so that the reader is invited into a game of temporal cat and mouse, following a link before another screen displaces possible choices. Generally a work might use various combinations of these, and it is the structural patterns that these produce that in many ways determine the linearity, temporality, and interactivity of any hypertext work.
This animation of screens, whether image or text-based, allows a work to have rhythms that ebb and flow with a reading, liberating the work from the author's subjection to a reader's whimsy, while allowing the reader that allotment of choice that guarantees the illusion of freedom. However, Moulthrop's work in Reagan Library introduces quite a different temporal trope. Here is a work that does not utilise meta refresh tags to produce a machine-based reading time, instead it uses what is known as state information (always quite difficult to do in the stateless protocol utilised by the web) through javascript to react to an individual reading.
In Reagan Library narrative closure is produced through a duration within the work that is defined by the negotiation of entropy and redundancy performed by the reader and the work. Rather than the reader recognising cycling narrative episodes and so deciding that they know 'enough' to finish, or surrender—a common strategy in much hypertext fiction—this work performs this redundancy on itself. Each screen starts out as almost abstract sentence collages, with pockets of sense, and as you read they coalesce, over time, into more stable units. Here the apparent disorder that many naïve readers claim for hypertext, a disorder due to the opaqueness of the structuring rhythms within any work, is not contained within the architecture of links, but within the time of the reading transcribed into the very spaces themselves. While this time of reading is marked by this evolving text, a series of QTVR panoramas form a part of every screen, providing a topographically consistent navigational interface.
The QTVR lets Reagan Library explore the architectonics of multi-linearity through a writing with noise, entropy, and negentropy. The consistency of the landscape allows the variability of the text to become more visible, and this is why the use of a panorama with 'hotspots' is more than mere fancy. The panoramas provide a navigable 3 dimensional space where pages can be visited by clicking on their eponymous objects. In turn, following a text link loads a page with the panorama which is the view from that geographical location, so the reader has, in fact, 2 methods of reading. One is spatial and concrete, the other is textual and abstract. Through these panoramas Moulthrop is not only exploring spatial metaphors in narrative, but expanding the relation of image to word. There is a well formed irony between the stability of the fictional visual world and its contradistinction to the permeability of the textual universe. The images are plainly imaginary (the Bryce generated landscapes tilt their collective caps significantly towards Myst and Riven) yet retain much more stability than the text, which in its turn appears as a series of fragmentary asides, personal reminiscences, observations and self reflexive aphorisms. In other words, the text reads like a typically interstitial postmodern fiction and so manages an ironical sense of historical or diegetic truth, while the images are of an imaginary world, yet concrete in their discursive permanence.
The world defined and produced by Reagan Library is one where the reader is unable to return to a space, where hypertextual repetition becomes a play of difference, a continual question of subtle variation. Within this world Reagan Library combines history, criticism, and self reflexive irony to meld a narrative that takes well aimed bites at both the self appointed keepers of a literary heritage and those who misread the vicissitudes of hypertext as merely the opportunity to turn a trick.
This is a work that is almost Oulipean in intent, but rather than operate as a rule governed combinatorial engine, Reagan Library probes the relation of reading and game playing, and explores the boundary between image and text based diegetic worlds, demonstrating that writing's electronic future is less about textual pyrotechnics than a refiguring of words into other narrative spaces.
Reagan Library, Stuart Moulthrop, http://raven.ubalt.edu/staff/moulthrop/hypertexts/RL/ (link expired)
RealTime issue #37 June-July 2000 pg. 26
© Adrian Miles; for permission to reproduce apply to realtime@realtimearts.net
Archiving Imagination is an accumulating exhibition of online projects. On the surface, the viewer is drawn in to read both the technical nuances and literary ideas inherent in the text and imagery but these also foreground the collaborative objectives of the artists. Aside from individual works on the site, writer/web-author Diane Caney and digital media artist Robin Petterd have creatively documented both their meetings and thought processes about the nature of collaboration itself. Poetry, hypertext, sound, video, imagery, diary entries and email correspondence are mixed in a way not easily possible before the internet and this is the artists' aim; to expose an emerging genre.
A synchronised collaboration is often sought by writers and other artists in an effort to create, extend and support new ideas. I asked Caney and Petterd if they viewed collaboration as a strength of working in digital media in comparison to conventional media forms.
RP Maybe…new media and media arts generally require collaboration as part of the process.
DC Yes, as with filmmaking, I think new media often needs people with different skill bases, and yes I see it as a strength, but I do think that people have been desiring an artform with which to collaborate (especially across media) for a long time. Musicians, poets, technicians, software developers, writers, artists, filmmakers can all now work on projects which emphasise the projects themselves rather than foregrounding any particular 'genius' involved.
The combination of technical and artistic/literary skills is plainly evident in Archiving Imagination. But I wondered why you choose to focus on the actual idea of collaboration as a subject in itself…
DC Working collaboratively certainly moves us away from our individual creative practice, but it also developed out of my research into Patrick White and Sidney Nolan and the ways in which their artwork enmeshed. I really became fascinated by image and words intersecting and producing transient new meanings but…it really just began with Robin taking away some hypertext I'd written and making Imaginative Reading V. After that I was hooked by the actuality of collaborating as well as the idea of it!
The site itself utilises an understated interface using white backgrounds to accentuate meanings in the text while gently inviting the viewer to interpret and make 'sense' of the work. I felt the artists had provided 'space' and had confidence in my hypertext choices. This is confirmed in the diary section which points out that the artists intended to place the viewer in a "fictive space" and "distance them." As much of the web can be bossy in interface design, what was behind the decision to give the viewer space.
RP I looked at this the opposite way. I don't think we set out to make things that are not bossy. What we may have set out to do is introduce ambiguity into the interactions. Ambiguity is a common way of working in the visual arts, but not as common a method in interactive media. People seem so focused on the 'interface' and the ease of use, that they forget that art doesn't need to follow those rules, and perhaps the most interesting interactive art doesn't follow the rules of interface design.
DC There was a definite decision to sometimes use non-linear navigation, which tends to give readers a sense of freedom from manipulation…I hope. As a writer I certainly began writing in a less linear fashion, although I probably didn't develop this skill as quickly as Robin might have liked. I love fictive spaces and I always want to lure my readers away from too much analysis of the text…of what's going on. As to the 'distancing', much of my writing is about personal stuff and because that can feel overwhelming and suffocating, I wanted to distance readers, but that was more from a writer's point of view, not so much from the position of someone creating interactive media.
Irina Dunn of the NSW Writers Centre has written that "web technology will remain insubstantial until writers specialised in the artform begin to make their contribution and create an audience for the medium." What type of audience are you seeking to create for your work?
RP The artist/writer audience is a difficult question. I often feel that it's driven by concern to apply marketing to the process of producing the works. I think these sort of comments are also driven by people who are unsure of media and are maybe scared of technology. But as I'm working I do generally have a person in mind to whom the work talks and as an artist I know that my work online is visited by more people than it would be if it was in galleries.
DC I tend to agree with Irina. I haven't liked a great deal of what has been labelled 'hypertext' on the web. And I don't see the point of simply transcribing poems which might be published in hardcopy onto a web page and thinking that the transcription is, in itself, anything amazing. It's legitimate. I publish my poems in that form online. But, it will be as writers embrace the possibilities of the web that substantial things in writing will emerge. A piece called SURFACE, which is a collaboration of ours, is a good example. In it, Robin makes the words ripple and sparkle, stand still and disappear, and he accompanies them with one small moving illustration, an almost whimsical reference to the fact that words do conjure images and vice versa. You can see it at: http://trace.ntu.ac.uk/frame/level2/petterd.html
Is Archiving Imagination an ongoing project…sort of open ended?
DC Yes. All the works are in a sense unfinished. But that's because readers will always make of them what they will. Robin and I hope to do more on the works that are still there. We're giving a presentation at trAce's conference, INCUBATION, and the online piece we're making for that will add to Archiving Imagination. It will be a meta-narrative which traces the formations of our existing online stories/semi-autobiographies/fictocriticisms in innovative ways and also addressing questions about narrative, intertextuality and the blurring of text/image/sound boundaries as they occur on the web. We're looking forward to making that. And we'd also like to rework our first ever piece, Imaginative Reading V, to make it less linear.
Archiving Imagination, Diane Caney & Robin Petterd, www.archiving.com.au
RealTime issue #37 June-July 2000 pg. 26
© Kaz Madigan; for permission to reproduce apply to realtime@realtimearts.net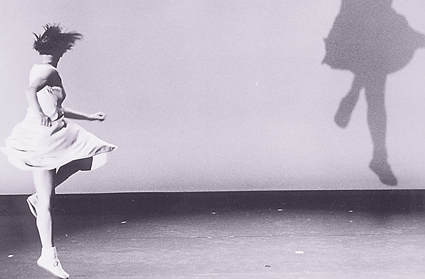 Anne Teresa de Keersmaeker and Rosas, Fase
Conservative programming in Australia that denies us the work of major contemporary artists is tragic. One visit from Pina Bausch to the 1982 Adelaide Festival has kept us going for decades—it's taken an Olympics to get her back. The Wooster Group—once. Mabou Mines—once. Jan Fabre—once. Jan Lauwers—once. William Forsythe—once. And all at Adelaide festivals. We've been waiting to see Anne Teresa de Keersmaeker for too long now. She brought her company Rosas once to Perth in the 1990s while the rest of us made do with pitifully brief dispatches. On the law of averages that should have been that, but Robyn Archer thankfully brought us de Keersmaeker in triplicate this Adelaide Festival.
It was in 1981 that de Keersmaeker collaborated with members of the Steve Reich ensemble to create Fase. Fortunately for us, de Keersmaeker believes in revivals. Watching the same two bodies who danced it then (de Keersmaeker herself and Michèle Anne De Mey) dance it 19 years down the track is pleasure indeed. In Piano Phase the dancers spin hypnotically against a wide screen. Between them is the shadow they jointly create, two nearly identical dancers making seemingly identical, seemingly simple movements. We watch as the inevitable variations of breath, blood, the velocity of hair, the kinetics and speed of singular bodies move them ever so slightly in and out of phase. As their shadows play with parallax, ergonomics, air and light, the music moves in and out of ever more complex synchronicities. The patterns of movement vary in each of the sections that follow (Come out, Violin Phase and Clapping Music) but the same geometrical attention to space, light and short choreographed sentences is repeated. What it adds up to is a synaesthetic experience of music and movement. A composer friend said she longed for live musicians—imagining that was almost too much. As it was, the beauty of this work left me breathless. VB
Drumming is like watching Chaos Theory in action as the dancers move in and out of sync with Steve Reich's score and with each other. Dance often likes to explore the relationship between the individual and the group (de Keersmaeker's I Said I being a potent example entering new territory), sometimes to the point of cliché, but in Drumming social complexity is evoked. The power of the work resides in the relationship between the one, the several and the many. Initially, an individual in a strip of light moves freely with the quality of improvisation, stop-starting her way into fluidity. Forward of her, in the dark we see a man enter, imitate her, slightly behind, suddenly totally in sync. Other dancers enter informally from the wings where they've been standing. Soon there's a swirling cosmos of atoms, sudden pairings, and trios striding together. In the middle a woman pushes into the back of a man, the first touch, which triggers others. Dancers fly dangerously close to each other. They acknowledge each other, a smile, a touch, making space, moving fast into a huge unit (here and there sudden partnerships you might miss if looking the wrong way). But there are limits, a change in the Reichian pulse and suddenly the edge of the stage becomes an invisible wall which pushes the dancer away, suddenly another dancer is another such a wall. But the swirling never ceases, the brief duos and trios recur, this looks like chaos but it's not, it's chancy but meaningful, and beautiful and recognisable. KG
Peter Handke's Self-Accusation is to dance for—the perfect text for choreographers we decide and Anne Teresa de Keersmaeker's I Said I the perfect spoken word dance. The 12 members of the company wear head microphones and deliver Handke's text to perfection (allowing the words to work their way through the bodies to the audience, never over-inflecting them but allowing emotion to believably build of its own accord). The text is also projected on a screen above their heads and the production is "driven" from a desk at the front of the auditorium. Since the 90s de Keersmaeker has worked increasingly with live music. As we enter the theatre, the dancers await us on the stage flanked by musicians—on one side, a saxophonist and a scratch dj; on the other a piano trio. We're often sold the idea of the journey in theatre and short-changed with hops to the corner shop. At the end of I Said I we feel like we've really been somewhere. Over two and a half hours (no interval) we re-live practically all we ever knew about getting along with other people—that vast vocabulary of interpersonal behaviours learned in all its traumatic detail, all its cultural complexity from ages nil to 7, modified from 9 to 12, rebelled against from 13 to 16 and still only occasionally perfect in adult life.
Each of the sentences is short, recited at fairly cracking pace; if someone makes a mistake, another corrects them. The music (both formally constructed and improvised) and the movement (eruptions of dance amidst patterns of everyday movement) builds step by step on the ideas embodied in the total work. Each dancer at some time becomes the individual learning to be part of the social corpus while the others team up or gang up to accept or reject. Everything is running smoothly until one of the performers decides to play 'blind' or accusative or demanding. Like the attention to the onstage infant in Les Ballet C de la B's Iets Op Bach, the others peripherally guide the one who is different. There's a revealing scene about blame and ostracism in which the many become the few and the one. It ends with everyone pointing accusingly at everyone else. The rebellious one walks into the audience to borrow a coat, eventually she'll take up the tarquette. Though it's rumoured to be a difficult work, we saw only 3 people walk out, leaving the rest of us to roar our appreciation.
At this year's Sydney Festival we had one of the relatively regular visits from choreographer Jiri Kylian and the Nederlands Dans Theater. The season of 2 works attracted justifiably large audiences but troubling responses from some of the critics. In particular, The Australian's dance writer used her appreciation of this work of 'pure' dance as a stick to beat Australian contemporary dance practitioners whom she believed should all go back to their studios and start again. But Kylian's choreography, however expert its execution, has none of the communicating power of a work such as I Said I which revels in its hybridity; relishes words as well as a full repertoire of movement; is serious, yet playful. We hope the Herbertsons, Waltons, Carbees, Stewarts, Guerins, Adams, Walshes, O'Neills, Parkers, Patricks, Kohlers, Lasicas, Obarzaneks and others continue to defy antagonism to the postmodern in Australian dance. We wish them the critical climate that nurtured the perfection of a work like I Said I.
Fase, Drumming, I Said I, Anne Teresa de Keersmaeker and Rosas, Adelaide Festival Theatre, March 14 – 18; Adelaide Festival 2000
RealTime issue #36 April-May 2000 pg. 19
© Keith Gallasch & Virginia Baxter; for permission to reproduce apply to realtime@realtimearts.net
The second in a series of Digital Seminars at Metro Screen was based on the questions, "Interactive new media and electronic music have developed within the same historical zone. Will they become a hybrid? Will live music become more like an installation or an interactive performance or distributed netevent?"
It's that same old question of computers and art, of what's new or somehow different from what has gone before. Technology and art/music have always gone hand in hand. At the centre of all art/music is technology in some form, whether a brush/computer or a violin bow/laptop. Technology is always there. That said, the topic was rarely addressed by the speakers, but a number of interesting angles were opened up.
Toby (Kazumichi) Grime demonstrated his Electronic Sound Remixers project. He gave examples of analogue sound production equipment and the equivalent electronic interfaces available, explaining why he felt these interfaces were clumsy and difficult to use, and then demonstrating his solution in the form of his Director-based application. The interface allows Grime to play and mix his music in a more interactive way both live and in the studio. The Remixers open possibilities for a more visual and graphic interface for the non-linear creation of Grime's audio.
Scott Horscroft spoke about his use of new 3D sound imaging systems in installation and sound works. His projects have a huge presence using the processed sound of installed wind devices like fans and airconditioners, as well as prerecorded sounds, to create the audio. Interaction within the system is limited to timing and triggers—the sound within the work is only partially live. Horsecroft's installations sit well beyond the inhibiting term 'hybrid.'
Wade Marynowsky talked around his Interactive Keyboard which allows for triggered images and sound at the touch of a key. Image stills flash in sequence and are attached to sounds. This combination works well when played in a live environment. Sounds converge, are joined to image and played out in real time. The piece firmly etches itself on the viewer's brain like a scrambled MTV playback. Wade may want to infect all computers with sound bites but what he has done is infect brains with sound/image viruses.
David Rogers explained his use of a massive ex-museum earthquake machine. The links with the seminar topic were at best tenuous and Rogers had no interest in addressing them. There is noise in the quake system and the work of Triclops International is, by all accounts, extremely noisy…but electronic music? However, the audience seemed attached to Roger's work, speaking at length with him during question time, engaging much more with him than with the other sound artists. Audio gets lost, again, when words and critical engagement are needed.
New Media and Electronic Music, Metro Screen, Sydney Film Centre, Paddington Town Hall, February 14.
RealTime issue #36 April-May 2000 pg.
© Caleb K; for permission to reproduce apply to realtime@realtimearts.net
In 1995 the outspoken American author Kathy Acker was taken off-line by America On-Line. Acker's charged fiction first appeared in the 1970s in underground, alternative publications. By the mid-80s she had established a huge audience and was hitting out at the mainstream, attacking everything from government to the education system, religion to social values. Her turbo-charged writing made her a natural denizen of the net. Taking an account with AOL, Acker built a reputation as an outspoken member of the internet community. However, AOL took a dim view of her anarchistic approach and Acker's account was deleted.
America On-Line has an extremely bad reputation amongst the culturati on the internet for its intense censorship in online forums. Now its merger with Time Warner makes it quite possibly the most powerful player on the wires.
Bruce Sterling, author of The Hacker Crackdown, points to the plethora of anti-AOL sites on the net such as AOL Watch, anti-aol.org and aoltimewarnersucks.com. Douglas Rushkoff, author of Cyberia and Media Virus, hopes that people will rapidly tire of the content offered by the gigantic merger.
"I've always thought of AOL as training wheels for the real Internet. But a lot of people consciously choose pre-digested media, and these people—perhaps a majority—they'll get what they ask for.
"The size of AOL/Time Warner in itself won't change the opportunities for alternative viewpoints. If anything does, it will be the structure and functioning of our information infrastructure. AOL and Time Warner are both entertainment companies. They are simply looking for new ways to push their content. People who are genuinely interested in communicating, organising, educating and networking, well, they can get a taste through AOL…and if they get frustrated enough, they'll venture out onto the Internet or whatever else is around."
If anything, says Rushkoff, "this merger promises only to limit what people might be exposed to, but not necessarily what they can get a hold of."
"It's pretty clear that variety ain't gonna be the spice of life for much longer on the Web," says the author of Memory Trade: A Prehistory of Cyberculture, Darren Tofts. "There is a growing uniformity and homogeneity which is all based on free web hosting, product placement and a pervasive parasitical approach to linking; one big in-crowd really. I suspect what will happen with AOL will be an intensification and consolidation of these features."
"The real issue in the merger is who controls broadband," says Sydney media theorist McKenzie Wark. "The cable systems are going to get broadband up before the phone companies do, and so the Internet/TV merger will happen first on cable systems. AOL Time Warner are positioning themselves to control cable access, Internet subscribers and content. It may be the usual messy merger that bogs a company down for years, or it might provide the kind of monopolistic leverage that the shareholders want and that the rest of us should fear."
According to RU Sirius, the founder of the cyber magazine Mondo 2000, there is a real danger of people being seduced by the giant body, but, he says, given the changing nature of media it will be a short term problem. "There is a very real chance that there will be a substantial pocket of clueless people for whom AOL will BE the Internet," says Sirius. "They won't know the difference between the two. But in the cultural and business environments we have now, how long can that last? Less than a single generation certainly."
Richard Metzger, editor of the New York-based online magazine Disinformation (www.disinfo.com) believes the internet is already overly crowded with cultural detritus. "Well, look at the current state of the Internet…it's a vast wasteland…cultural landfill.
"I think that all of the punditry chattering about the AOL Time Warner deal neglect to ask themselves: 'Do I care about this content?' And I think most people will answer 'No, I pay it no mind, I only use email.' Beyond the MGM movie catalogue and CNN, the value of this stuff, content-wise is, to my mind, fairly negligible to AOL."
Metzger points to the failure of Time Warner's Pathfinder site and asks why anyone would "want to look at the same exact stuff with a different URL?"
"With the amount of sheer white noise going on with all these newly minted.coms spending millions of dollars on primetime advertising campaigns where their product or service is only distinguished by whether it's Whoopie Goldberg or Geena Davis advertising their product, what chance do these businesses have anyway?
"The Internet was always just a delivery service, a better conduit than a fanzine…Anyone thinking that they can start on the WWW now and garner an audience is dead wrong. It's a way too crowded field and let's face it, turn on the TV and see just how thin the talent pool has been spread! The herd has been thinned, already, and it's all gonna be downhill from here for the foreseeable future…"
Even the technology editor for Salon.com—an AOL content partner—saw the merger as a disastrous precedent, writing that "AOL Time Warner's interests are now aligned opposite those of a freewheeling, independent Internet."
With its substantial music and cinema holdings Time Warner will inevitably gain greater access to new markets. The fear many express is that this will allow the mainstream to dominate the internet. Music that might be defined as alternative will be crowded out.
"I don't fear the mainstream," says the lead singer of US band Pere Ubu. "I fear the people who fear the mainstream. Media, politicians and generic do-gooders have dedicated themselves to retraining the ignorant mass of ordinary people. The internet is an exciting tool. History can be rewritten, science invented, political thought channelled, morality redefined. These are the people who succeed in companies like Time Warner and AOL.
"It's hardly surprising that corporate policy is to marginalize protestantism. So the real 'danger' is not to pornographers and social renegades, but to the mainstream by means of a process in which the 'authorized' reference sources become a handful of anodyne internet sites rewriting history to tickle the market and contorting truth to avoid offense."
Genesis P Orridge, whose bands Psychic TV and Throbbing Gristle are renowned in alternative circles, is even more apocalyptic. "Financially we are in the throes of hottest passion. Everyone is doing everyone else in a corporate parody of a bacchanalian orgy, complete with intrigues and perversions. We would do well to recall the last daze of Rome when everything was possible and the sacred and profane unified in power.
"What we are witnessing is the copulation of gargantuan entities whose tendrils probe into and feed off almost every living being on earth. It should come as no surprise that these various entities occasionally absorb each other like amoeba. What once were corporations are now sentient beings a little like feudal warlords in the Middle Ages. They have their ikonagraphic banners, their heraldic crests, and they wage wars of consuming attrition until new territories succumb to their power. A great, and ironic difference from the previous Middle Ages is that in years of old, soldiers and camp followers were paid for their services. Now the grunts, serfs and strap-hangers pay their Feudal Lords for the privilege of wearing their Lord's ikon in return for their services.
"AOL and Time Warner merging is part of this catastrophic process, as is the ethnic neo-tribalism upsurging everywhere. We are entering a New Dark Ages, where these corporate super-entities will wage Jihad upon each other until one blue micro-chip bond conglomerate is pivotally positioned to encompass omniscience, omnipresence, omnipotence and digital infallibility on behalf of all remaining human beings.
"We are watching an anti-intellectual coup of a willingly servile homo-sapiens by entities we imagined we created, but which really are independently sentient at this point with their own agendas and megalomaniac cravings."
However the internet is an inherently anarchic environment. Individuals have already claimed the domain names anti-aol.org and aoltimewarnersucks.com, and they've even installed a pornography page at aolwebmaster.com with the slogan "So sleazy, no wonder I'm number one."
AOL's power play may have met its match in Georgia resident Christopher Alan. He claimed the domain stephencase.com (Stephen Case is the chairman of the new entity) and then composed an online rockabilly song about it:
"When you bought Time-Warner we were all impressed/How come you didn't buy your web address?/ You may be a big-shot down at AOL/but I'm the one that got your URL!"
RealTime issue #36 April-May 2000 pg. 29
© Ashley Crawford; for permission to reproduce apply to realtime@realtimearts.net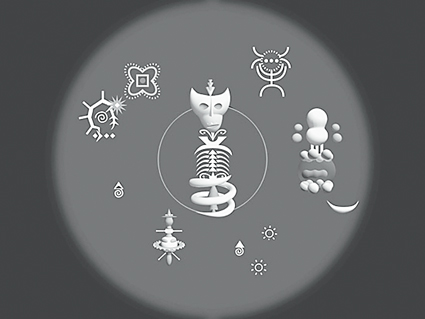 Troy Innocent, Sound Form
"Generative processes have been used by artists for decades. Now, as the computer becomes the medium of choice for many artists, composers and designers, process acquires new form and meaning in the computational realm."
So ran the blurb in the call for participation in First Iteration—Australia's first ever conference addressing this important area of artistic research and development. Almost immediately a flame hit the recode email list with a complaint about the 'testosterone' orientation of the event—mainly I think due to a misunderstanding about the definition of the adjective 'computational.' However on the day males certainly did predominate.
Why? Women are very well represented in the arts and Brenda Laurel has put to rest the 80s chestnut that computer science is a male 'nerd' domain. Women can and do make excellent programmers and analysts and they make up a significant proportion of the workforce. So how come more men seem to be attracted to computer programming (or, better, computational methodology) as a "metamedium" for artistic creation? The answer is complex and I can only summarise my opinion here. The art mainstream and, in particular, the art education sector have to accept much of the blame. Although many of the arts and humanities (psychology, social science, philosophy etc) have significantly adopted the computational paradigm, the practical arts, by contrast, lag disappointingly behind.
Nationally in the visual arts there has been little attempt to address this area with the funding and staffing that it needs. Few art lecturers can do more than push a mouse around with productivity enhancers like PhotoShop. This only reinforces traditional attitudes rather than encouraging a more meaningful engagement with this new metamedium. In general, the idea of science—or a meaningful relationship between art and science—is anathema. I recently attended one research planning meeting at a tertiary institution where the visual art theorists made it clear that they had no idea what theory meant in the context of science or of the relationship between theory and practice in a quantitative discipline. For obvious reasons they were reluctant to include these concepts in their syllabi.
Music, with an established history in permutative and generative techniques, fares better. In animation too there has been a significant development over the past 20 years of tools that overcome the prescriptive and limiting methods of traditional keyframe and inbetweening methods and stop-frame claymation. So it's not perhaps surprising that the conference keynotes reflected these areas.
Alistair Riddell, currently a researcher in the Music program at QUT's Academy of the Arts, presented the first keynote address, "Data Culture Generation." In it he considered how computational methods might alter the perception of music and lead to a new music aesthetic. He discussed process as "a way of thinking about music with an initial (…) absence of sound" and concluded that the "creative design of musical processes might become an art in itself."
Kurt Fleisher is best known for his work in texture generation. His early animation Knot Reel (made with Andrew Witkin and Michael Kass) won the Grand Prix at Parigraph '86 and received honourable mention for Prix Ars Electronica '87. He now works for Pixar (Toy Story I & II and A Bug's Life). In his keynote address, "Who's Driving? Control Issues for Generative Media", Fleischer discussed the dynamic relationship between computer visualisation professionals and the animators and designers in motion picture production. Fleisher and his colleagues are able to generate animations of a field of grass in a rainstorm or armies of ants. However the results have to be flexible enough so that the designers can frame and combine them with the foreground elements that the story prescribes.
James McCartney gave the last keynote. "Designing SuperCollider—a real-time audio synthesis language" was a first hand account of his development of this powerful digital synthesiser. As those who stayed for his workshop discovered, it's also an extraordinarily difficult tool to learn and McCartney joked that he puts people off buying it. His lesson was simple—if you want to mess around and do a few interesting things get a WYSIWHG "shrink wrapped" app with some nice sliders, dials and buttons and fire it up. However if you want to achieve something a little more significant and at the bleeding edge, you're likely to find yourself on a long and challenging learning curve.
Many artists from Europe, the USA and the Asia Pacific discussed their work and methods. I particularly enjoyed the presentations by David Chesworth and Sonia Leber about 5000 calls—their large scale sound artwork for the parklands surrounding the new Olympic Stadium. Public art too often devolves into compromised cliché as vested interests 'negotiate' the outcome. 5000 calls survives this process and demonstrates a role for new media arts in this area. The artists said of their work: "5000 calls can be seen as a kind of crowd made up of many individual voices which constantly combine and recombine in different ways. When new voices are introduced by visitors travelling through the space, they contribute to the ever-changing libretto, which is occasionally punctuated by the extraordinary sudden roar of the stadium crowd."
US artist Steven Rooke described his work: "my software begins by assembling random programs in a primordial soup consisting only of mathematical functions. Over eons of simulated evolution, increasingly complex image genomes are created, occasionally merging to form new levels of organisation." His animations, in particular, were mind boggling! They did however prompt the expected question: "yes, but is it art?"
The best answer to this ongoing debate has come from the archivist and historian Patric Prince. She has suggested that professional artworkers should consider the works of people like Rooke in comparison to 'naives' like Grandma Moses. Rooke, like Moses, has no formal training in the visual arts. The paradox, according to Prince is that we expect 'primitive' artists to have unsophisticated technique and this clearly doesn't fit the slick finish of the new computer naives. The question is, of course, another example of the "closed door" philosophy typical of the contemporary arts mainstream. It's an elitist attitude that belies their claims to postmodern pluralism and egalitarianism and one that many of us hope the new computational paradigm will eventually overthrow. It amazes me that such attitudes prevail some 150 years after similar prejudice was voiced against outsider artists like Monet, Gauguin, Van Gogh and Cezanne. Doesn't history teach us anything?
Mitchell Whitelaw, in "The Abstract Organism: Towards a Prehistory for A-Life Art", traced the "detailed engagement with particular processes and structures" into the arts of the 20th century, offering Paul Klee and Kasimir Malevich as examples. It's good to know that such a lucid and thoughtful theorist is creating an historical context and descriptive framework for this area of work.
First Iteration was an important event that brought together practitioners from around the world and confirmed Australia's participation and profile in this new area. Documentation, which includes the Proceedings, a CD-ROM and CD audio, can be ordered from the conference website which also announces the not-to-be-missed Second Iteration which is planned for 2001.
First Iteration, a conference on generative systems in the electronic arts, Monash University, December 1-3 1999. For more information, go to www.csse.monash.edu.au/~iterate/
RealTime issue #36 April-May 2000 pg. 31
© Paul Brown; for permission to reproduce apply to realtime@realtimearts.net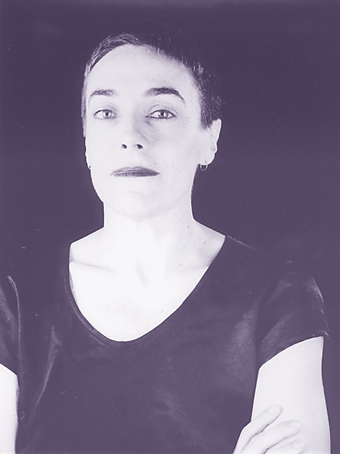 photo David B Simmonds
Helen Herbertson
Helen Herbertson was Artistic Director of the Melbourne-based company Danceworks between 1989 and 1997. For the next 2 years, she received a Fellowship from the Australia Council (Dance Fund). This assisted the creation of her extraordinary new work, Delirium, which won a Green Room Award in 1999, and has recently been shown in Glasgow as part of the New Moves (new territories) dance festival.
Was your dance training here in Australia or did you go away?
All my training is Australian. Classical ballet as a little one. Then I met a couple of Sydney people, Brian Cobram and Jacqui Carroll. I got involved in the independent scene. There wasn't a lot of funding around then and people just had ideas and did them. Eventually I moved to Adelaide where I started doing a lot more teaching in institutions. I did a lot of choreography for the Centre for the Performing Arts and that was when I really started to think about myself as a choreographer. I probably spent 10 years or so in that market making work, until Danceworks happened, where Beth Shelton and I began as co-directors. Beth left the company after a couple of years, and then I left at the end of '97. I made a lot of work there.
I think Danceworks was a great opportunity to deepen my work. I remember that first year where we had blocks of 10 week rehearsals, and I said, "What are we going to do, we'll be finished in 2 or 3 weeks?" It didn't take me long to really start to appreciate that amount of time and working with people continuously. It was fantastic.
How long did it take you to make your current work, Delirium, then?
Two years. I mean, to me, it feels like it's part of Descansos (Danceworks, 1996). That was the beginning of this particular team of people: Trevor Patrick, Jenny Kemp, Ben Cobham and myself. Simon Barley was also there. Danceworks was about making relationships with other practitioners and finding ways to collaborate, whereas what it's been in the last 4 years is about bringing myself as the performer back into the work. It's a very complex thing though, directing it, choreographing it, performing it, collaborating in it.
Yes, looking at the credits for Delirium, you see all these names. It was like a sort of macrame or a plait.
Every component is integral. Often the way a work's made is that you make the dance material and then you put the lighting on top and then you decide on the costumes and it's made in a linear way. Whereas all through Danceworks I was moving towards another way of operating.
Could you briefly describe Delirium? When I saw it I felt I hadn't seen anything like it. It had its own 'little' quality. I say little because it felt small, like looking down a telescope backwards.
Where to start, what to say? Well you'd see light and dark, you'd see 2 figures sliding between entrapment and freedom, you'd see a kind of lighting interplay that allows figures to appear and re-appear, in places you don't quite expect because it's so dark. Or sometimes, figures are floating as if they're off the floor. There are elemental sounds in it, you wouldn't say there's any music there. The soundtrack uses things like the sound of fire or the tinkling of bells or things that are really evocative, quite pure sounds. The sound of water dripping or a landslide or birds. I imagine if you watch it, it might feel like you're entering some kind of internal world inside these people, as if you're travelling a time line or something with them. I was interested in the place where things slip. You slip into madness or you're not quite awake or just asleep…sort of transformation places…it's hard to describe but the word Delirium came well after the place that things formed.
Once Descansos had happened, the team had a meeting. One issue about that work was that we wanted to take it and show it to other places but it was so site specific, so the idea for the floor grew from that need to have the site as the rehearsal space.
So that constructed proscenium arch in the middle of the National Theatre—that was meant to be like that?
Absolutely. I chose that theatre with absolute care because of its prosceniumness. We're not going to a space like that in Glasgow, so the void will have a whole other kind of framing. We've had to build the proscenium much smaller, so the whole thing has been framed down to a sort of chocolate box.
I see so much work that doesn't adapt well. I think people just forget that the volume of space that something's made inside of is as much a part of it as the work. That kind of history of a work, that negative space, the space around the bodies, it's all part of it, yet it just doesn't seem to be thought about. A lot of work doesn't survive. You can see a work in its initial stage and it's fantastic and then it moves on to another space and something's not right. I'm a sucker for any space that I rehearse in—it becomes a component of the work. That's why, in making this, we moved all over the place. What I really like about this work is that it never really lands. It just becomes visible for a little while.
In terms of the future, are you thinking of moving Delirium on or have you got ideas/energy for something else?
No, Delirium is going to keep on moving, I think. I have got some other things cooking, just on my own, for a little while, but nothing is formed as yet. Two years of time in the making is a long twist. This year feels like coming back down to reality. Last year was quite a weird year and I'm sure a lot of it had to do with the sort of states that had to be, to be inside Delirium to perform—unconsciously. That's why I'm fascinated with Glasgow because I have to re-enter those things again but in a much more practical way. It's going to be interesting.
–
RealTime issue #36 April-May 2000 pg. 41
© Philipa Rothfield; for permission to reproduce apply to realtime@realtimearts.net
How do we know where we are and what our bodies are up to? To what extent do we rely upon how our bodies feel (proprioception, kinaesthetics), and to what extent do we depend upon a sense of how they look? Whilst some dance forms privilege visual display, and others the felt experience of moving, clearly both factors are at play in the art of movement. Jude Walton's recent exhibition, Looking for Pierre, part 1, is more than an investigation of these matters. It is an intervention, a Darwinian leap into a possible future, through which Walton is (modestly) able to play God.
It all begins with the question of perspective. Perspectival drawing systems sprang from the Renaissance drawings of Alberti, who is credited with the discovery of artificial or scientific perspective. Walton's exhibition begins with a room lined with a series of computerised, perspectival drawings, twisted and warped in myriad ways. You begin to wonder whether the objects presented and re-presented are real or not. Are all those oblique lines of perspective how we actually see objects from various standpoints, or have we been trained to see these lines as reality?
Room 2 contains another kind of 'discovery' on perspective, this time our perspective upon our own bodies. Through the use of equipment (courtesy the biomechanics laboratory, Victoria University of Technology), Walton has been able to fiddle with our means of bodily perception. Room 2 is an empty space, containing a set of video goggles that can be strapped on. The headgear has little screens a few inches from the naked eye. These screens provide an external visual perspective on your own moving body (a camera linked to the goggles has been set up in the corner of the space). Visitors to the gallery are invited to experiment with these goggles.
It's quite extraordinary to see the back of your body as you dance, to watch yourself moving from quite alien points of view. I spent some time, dancing, whilst watching myself dance, combining my feelings of movement with this external visual information. Walton moved with me to offer the experience of moving with another person, and also videotaped my activities just to offer yet another perspective on the experience.
Not everyone deals with this 'new set of eyes' in the same way. Some felt that they were seeing themselves from the point of view of the camera, that they were outside their own bodies. Others tried to maintain their regular field of perception. I found myself flipping between my usual feelings of movement, and this 'other' visual look which enveloped those feelings. Then I started to wonder what I looked like doing this, what others would see of me, yet another perceptual take. To see oneself live is different from viewing a recording; the virtual feedback is immediate, thus, there is a sense that one can respond to the information within the ambit of the event itself. The usual closure of time is absent here.
By providing a new organ of sight, as it were, Walton has been able to provoke something like a new body, a new structure of perception. I remember one of my philosophy teachers asking us whether we thought Martians would perceive the world just like humans. It's clear that animals have different perceptual structures. What I find interesting about Walton's experiment is that a changed perceptual structure does not lead to the same experience for all people. It just goes to show that even God cannot anticipate the quality of individual perception.
Jude Walton, Looking for Pierre, part 1, Sutton Gallery, Melbourne, February 5 – 23
RealTime issue #36 April-May 2000 pg. 41
© Philipa Rothfield; for permission to reproduce apply to realtime@realtimearts.net
Possibility: Videogames are not yet art, but they could eventually become art. Possibility: Videogames are art already but we don't have the right terms of reference yet to define them as art. Possibility: Videogames are a mindless diversion best left to children and backward 20-somethings without girlfriends or things to do on a Saturday night. Probability: No matter what I say in this little article most people will lean much harder toward the third option than either of the first two.
The first step in convincing anybody would be to throw away the term 'videogame.' There's too much baggage attached. It gives the wrong impression of the medium in the same way that 'comic book' hangs like a stone around the neck of graphic art. If you want people to take you seriously, ditching the whole 'game' scenario is probably a good place to start. But what alternatives do we have? 'Entertainment software' is fine as a stop gap but is unwieldy in the long term and 'interactive art' (although a pretty useful definition of modern games) sounds far too much like a header in an undergrad essay. Which leaves us with nothing, nought, zero and nowhere to go without confusing most people or keeping the whole 'game' mess which is what we're trying to avoid in the first place.
I am not about to invent a new term. People have been trying it for years and they rarely succeed. Harlan Ellison tried to turn science fiction into 'speculative fiction' and while the term is still popular in the SF scene, the mainstream will give you nothing but a blank stare. Comic books on the other hand have been trying for years to be called graphic novels but the term has been poisoned by literary critics who wish to separate the comics they read and review from the mindless crap they mistakenly assume is the comic industry's staple diet.
We are, unfortunately, stuck with videogames for the forseeable future. I just want you to be aware of my misgivings and the idea that neither 'video' nor 'game' necessarily apply. Whenever you read the term in this piece please replace it with a term of your own devising with a version of the following definition: an interactive amalgamation of animation and/or 3D modelling and/or text and/or live acting and/or music and so on and on, all of which conspires to make videogames very difficult to pin down, explain or illustrate as art. It might be made up of artistic media but is the result itself art?
It's probably best to look at the problem from a different angle. The one concept which both binds all these different styles of games together and sets videogames out as a different art form is interactivity. Hypermedia has already clearly demonstrated that interactivity is not an obstacle to artistic acceptance, although many people will tell you it is right out of the gate. The difference of course is that hypermedia offers you passages from one clump of traditional art to another, whereas a game offers you the ability to choose how you get there, when you get there and sometimes even why you get there as well as where you're going.
The problems this poses in creating a traditional artistic scenario are immense. How do you create an emotive storyline or moment when you can't even be certain players will choose to follow the path you've laid out for them? How can you communicate a specific idea or message when you are not certain of how much the player already knows? These are problems all evident in hypermedia, but they are magnified in videogames. Think of it as a novel where the reader doesn't just believe s/he's the lead character, s/he can walk the protagonist off a cliff if s/he feels like it. Whatever your intent as the creator or author, it can always be subverted by the player.
Which brings us tidily to the question of whether the creators intend to make art or simply entertainment. It's the rather tedious art vs craft argument again and most people are ready to toss videogames in with needlecraft and be done with it, but what they don't realise is that in an idealised sense videogames are all about creating scenarios, not describing a finished product. They are not about showing the player a scene with the aim of dictating a mood, rather they immerse the player in it and allow the process of making that choice create the mood.
Videogames are not a passive medium like novels or films. They require a fresh set of critical tools if they are to be properly understood. We cannot look at videogames and say they aren't art under our current definitions because the honest truth of it is that they never wanted to be. Are videogames art as we know it? No. Not at all. Should they be seen as an art in their own right? I honestly believe they should. I also believe that with the evolution of better technology and an eternally growing user base, the whole concept of games-as-art will eventually become a non-issue. And it's worth remembering that most everything which is art today wasn't yesterday either.
RealTime issue #36 April-May 2000 pg. 32
© Alex Hutchinson; for permission to reproduce apply to realtime@realtimearts.net
Erin Brannigan is strongly motivated in organising a festival of dance film for One Extra. It's not only a form that fascinates her, it's also the subject of her PhD-in-progress, and, as reported in the pages of RealTime, she's visited overseas dance film festivals. Brannigan says, "I was quite overwhelmed by the amount of support for the form in Europe and America. I felt that Australia was behind the 8 ball in terms of the rest of the world." With limited funds, Brannigan curated the Dance Lumière project for Dancehouse in 1998. This time she's got a bit more room to move and has found a home for the festival at Sydney's Reading Cinemas—a significant move designed to reach a wider audience for a burgeoning form. She also feels for filmmakers: "there's not much impetus to make dance films if they're not going to be screened. I want to provide a platform for the work to be screened and for film-makers and choreographers to get together and talk. The interdisciplinary nature of the form requires an interface between the two."
While the transfer of plays to the screen is rare and most opera on screen is a higher form of documentation, dance and film have joined to create a hybrid where experimentation is fundamental. What is it about dance that invites filming? "I was speaking to Damien Cooper, and he talked about the kind of limitless scope for creating spaces for dancers through lighting. And I think that dance somehow offers opportunities for exploring different ways of staging that theatre doesn't—purely because dance can be a lot more abstract and it opens up different possibilities for context. And then there's the pure compatibility of the movement of the body and the moving camera. Dance is a challenge for film in terms of capturing the kinetic impact of human movement. But I also think it's an archival thing. From the beginning, I think the possibilitiy of capturing dance on film was always such a boon for dancers and choreographers because there was no other appropriate way of recording or documenting their work."
Reeldance, however, is not archivally motivated: "It's about looking at the more successful combinations of the 2 forms rather than something that's dictated by the dance performance." Brannigan has decided to hold a competition. After an initally slow response, she now has 30 entries. Competition, she thinks, is a sure way to attract filmmakers, especially since "there aren't really good networks of dance film-makers."
Because of the cost involved, the increasingly significant nexus of screen and live dance won't be represented by performance in Reeldance. However Margie Medlin's film for Sandra Parker's In the heart of the eye (see RealTime 35) will be shown. The film is "really interesting in terms of what they're trying to do with the camera and the performer's eye. Even just seeing the film there's a very strong link with a particular performance. But for me, screen in performance is almost a completely other genre. What I'm interested in is a festival that is about looking at films and the way that dance operates within film. "
To make Reeldance work, Brannigan needs to attract a hybrid audience of film fans, dance addicts, filmmakers, choreographers and dancers. "I've gone for quite high profile choreographers because I think that's going to be an important drawcard. There'll be work by Philippe Decouffle, Wim Vandekeybus and Alain Platel of Les Ballets C de la B. I think that will attract a dance audience but also dance practitioners. Most choreographers who work in film seem to have strong connections with other art forms and a lot of them have very theatrical sensibilities—such as Vandekeybus and Platel. I think there's something about the narrative history of film which appeals to those kinds of choreographers. I think we'll also get people who are specifically interested in those companies (especially after the 1998 and 2000 success of the Les Ballets C de la B showings at the Adelaide festival). I'm hoping we'll get the short film crowd who are interested in the potential that dance-film offers for a different type of language. And people studying film, and of course, film-makers who are interested in the possibilities of dance on film. I'm hoping for a cross-disciplinary audience."
Reeldance is a real live-in event, with not only numerous screenings but also forums. Brannigan's international guests are the joint winners of the IMZ Dance Screen Festival last year in Cologne—Pascal Magnin from Switzerland and Miriam King from the UK. "Their films screen on a double bill on the Saturday night. On the same program is Mura Dehn's The Spirit Moves, a documentation of jazz dancing in America in the 40s and 50s. Prior to that we'll have a forum with Pascal and Miriam about the international dance film circuit. On the Sunday, we've got a retrospective Australian program screening some films from AFTVRS and also the Screensound collection. Then we'll have the short-listed Australian filmmakers talking about the practicalities of making their work before we run the films on the big screen on the Sunday evening."
Reel Dance: International Dance on Screen Festival, Reading Cinemas, Haymarket, Sydney, May 19-21
RealTime issue #36 April-May 2000 pg. 42
© Keith Gallasch; for permission to reproduce apply to realtime@realtimearts.net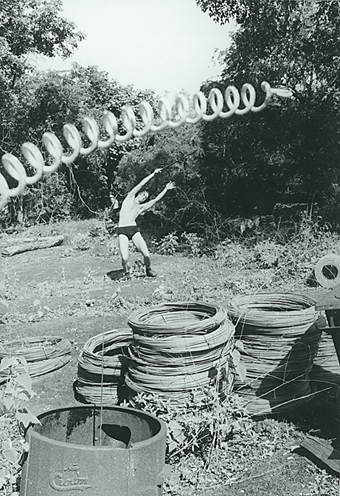 Bonemap
Out of Cairns and off to Townsville, Brisbane and Tokyo, and from a long line of projects since 1994 focused around the body in the environment and how to transgress the romanticising of the landscape, comes Bonemap—the wild edge. It's a site-specific exploration in collaborative art-making where audiences will enter the 'wild edge' between tropical Australia and urban space. Field trips across North Queensland in 1999 and a movement research stage at the Choreographic Centre in Canberra in early 2000 have allowed the artists to develop the work as a set of discrete modules of performance, dance video, photographic and object-based exhibition, audio CD and temporary sculptural treatments of different environments—the Tanks in Cairns, Magnetic Island and the Brisbane Powerhouse. Rebecca Youdell says, "We can present Bonemap in myriad situations, indoors or outdoors, responding to the environment." Russell Milledge says, "We've photographed and filmed in a lot of messed up places that have been abandoned, and, through our work, tried to regenerate them as sites for cultural inscription. We can still give a place cultural relevance without having a big impact on the environment."
Certain modules will suit some sites better than others. For example, Milledge says that The Tanks in Cairns is a round, thousand square metre theatrical space where film can work. At the Forts on Magnetic Island, power might not be available so film or projection is probably out, but a series of life size photograms along the track can engage the viewer, so time can play an important role. Individual modules will be marketed separately across art form boundaries in gallery exhibitions, film festivals, theatres, environmental/site specific events.
The principal artists are Russell Milledge—digital media, video, performance, lighting and staging design; Rebecca Youdell—choreography and performance; Glen O'Malley—photography, photograms, slides and exhibition; Michael Whiticker and Paul Lawrence—sound score and music performance. For Milledge and Youdell, "Living in tropical Australia, environment is a lifestyle choice which seriously informs our practice." This is a work aiming "to observe Australian cultural identity through ecology." RT
Cairns—Tanks Art Centre, Residency (Tank 3), May 13 – 21; performances May 18 – 20; Tokyo—World Dance 2000: Celebrating the Millennium Conference and Festival: Asian Next Wave, Theatre Tram, Tokyo, August 1 – 5; Townsville—Magnetic Island National Park 'Forts', Performance August 20; Townsville—Umbrella Studio Association inc. 'Victoria Bridge,' August 25; Brisbane Powerhouse, l'attitude 27.5°, Residency, September 9 – 25; performances September 22 – 24. www.bonemap.com
RealTime issue #36 April-May 2000 pg. 35
© inhouse ; for permission to reproduce apply to realtime@realtimearts.net
Fase (Phase): four movements to the music of Steve Reich. A work 18 years old and performed only once at this festival by the choreographer, Anne Teresa De Keersmaeker, and Michèle Anne De Mey. A tense work, tiring to watch, in its nowhere-to-hide—precise repetitive small moves—style. Tiring because of its relentless repetition, its going over the same movement again and again, not to 'teach' you but to insist on its language—as Reich insists on the minimal (often hard) structure of his music. After a while you begin to doubt your understanding of what is exactly there, as one does after looking at a word for an extended time (said George).
The beauty and excitement of Fase is its making of 4 spatial scenes, as if space is produced incrementally, as if it is always (in the end) in the moving-body. There is little to look at, except the height and width of the stage, and light—and the difficult pleasure of bodies performing for the sake of dance—not for the telling of a story with dance. Dance for dance, the dance of dance.
The pleasure is dance itself, or a particular type of dance which 'builds' a world by geometric and sensual fragments. A spatial pleasure which opens up inside one, a presence which is personal and startling (as one returns from some stray thought to find the dancers still there, dancing in one's absence): "Taken to its extreme, the pleasure of space leans towards the poetics of the unconscious, to the edge of madness." (Bernard Tschumi)
The relationship between De Keersmaeker's choreography and the music is close without being illustrative or subservient. There's a similar strength, like a holding pattern, in both forms; they leave each other alone. This I liked, as it assisted the time (timing, as beat, rhythm) of the space-becoming (becoming an experience of strange-fates, of fateful-events). The body was machinic, yet couldn't become robotic, it stayed too human, slightly off-balance now and then, enough to draw one's attention to effort, work, and 'now'. Within deliberate repetition is the dilemma of habit, or a naming of habit, as the effects of our own time alive surface, like a scent: is this how my living looks, arms flailing, head snapping, and sudden repose, like a tiny interlude of almost-sleep, then frantic action again (while sitting in a chair) doesn't matter, up, down, same constant arrival 'nowhere' (or slightly over there): arrival takes its time, a long time, and then it's over, all is changed. In real time, black stage, a few words projected large: Violin Phase, for instance.
Violin Phase, the third movement, is a solo work. A circle of light on the stage, the dancer's domain. A circling, lyrical, phase, which edged toward abandon, only to withdraw, and fade, a kind of promise which was never going to be fulfilled. The light constant, keeping movement safe.
The final phase: Clapping Music. The sound of hands beating together, and primarily danced by the feet. The feet clapping the floor, the bodies slowly moving toward the 2 suspended lights from the second phase (Come Out). Arriving there just in time for the end of the music. Phase 4 reaching back to remember phase 2 (which was all arms). These unannounced symmetries laying quietly beneath appearances, like grammar. There were others. Like the use of light as set—the stage fully lit for the first movement (and spot-lit to make the merged shadows sharp), then moving with the dancers to the front of the stage (and back again); the rectangle of light in phase 4 a counter to the circle in phase 3. The constant use of arms in the first 3 phases, completely subdued in phase 4. Making the body appear much more hinged (making balance look like falling, and bringing the arms to the fore retrospectively).
Arrangements, like words, are orders. We arrange words, produce habits. Often with repetition we are displaced, out of our element, uncomfortable—excessive repetition is a way to make an outside (when despair turns silent, we are not happier, it's just the beginning; noise is breathing, that sort of thing). Being out of one's element is to recall the fact of inhabiting, we see the outside, newly arranged, and we are juxtaposed, instead of harmonised. So, we are alone, peeled off from habit-world, outside the inside of a moment.
In some way Fase was dance on the outside of an imagined inside, and to see it we had to come outside too, adrift. And, it might be that there wasn't even an inside, imagined or real.
The 4 phases looked like this to me: Piano Phase: Dance For Plains (for the plains of Gerald Murnane: "And then word came that the plains had settled for peach."); Come Out: Dance For Waiting (for the men of Maurice Blanchot's infinite conversation: "This is a sentence of a somewhat enigmatic turn."); Violin Phase: Dance For Round Things (for the things of Jean-Luc Nancy: "One and one and one."); Clapping Music: Dance For Artists (for the music of John Cage: "One more idea and then I am through."). The End.
Fase, Anne Teresa de Keersmaeker & Rosas, Festival Theatre, March 14; Adelaide Festival 2000
RealTime issue #36 April-May 2000 pg. 26
© Linda Marie Walker; for permission to reproduce apply to realtime@realtimearts.net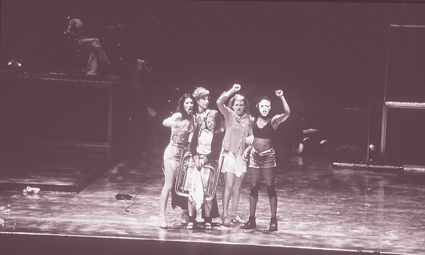 photo Mark Rogers
Les Ballets C de la B, Iets op Bach
By all accounts, instead of a bunny some dusty roadkill was let out of the hat in the discussion of community art at the Festival Forum thanks to Scott Rankin (Big hArt works) and Malcolm McKinnon (Essential Truths Readily to Hand) taking a few blind punches at "arts wankers". This brought on the depressingly tired argument about "elite" art versus the "art of the people." A paragraph from an essay on Bill Seaman's work was thrown to the crowd and duly savaged. To his credit, chair Michael Cathcart gave right of reply to Seaman who with customary courtesy made a simple plea for plurality. Harley Stumm from Urban Theatre Projects in Western Sydney urged more vehemently for community artists to embrace the new or lose touch altogether with their communities. Rumour has it that this speech earned Harley a post-forum hug from shockheaded Peter Sellars.
I've seen no more affecting depiction of community than in the new work by Les Ballet C de la B, Iets Op Bach. On behalf of the artists Robyn Archer dedicated the opening night performance to the late Dame Roma Mitchell who had expressed a strong desire to see this work. This is the company who rattled and seduced us at the last festival with La Tristeza Complice. In Iets Op Bach we observe a community in all its poignancy and resilience. The work mixes contemporary dance, performance and circus tricks and by juxtaposition returns the music of Bach to "the people". The classical music is ignored, silently contemplated and occasionally blissfuly danced to. It comforts and stirs. This work about people living on the edge of heaven and hell, is in turn created from the observations and experiences of a close community of performers working with director Alain Platel. To discern the matter of this work we watch the body in its full stretch, length, see its capacity for endurance, balance, watchfulness, its peripheral consciousness. We observe edginess alongside indolence, madness and serenity, an adolescent observer watches an adult exhibitionist. A small child wanders the stage and at one time or another is calmly attended to by all the cast.
Unlike the transient population of La Tristeza, in Iets Op Bach people who live in one place gather in communal space, the roof of their apartment block. Throughout this work we hear the burble of human talk, the little girl cries, women shout slogans, musicians chat between sets. An air-conditioning duct interrupts the action and the glorious renditions of Bach by musicians and singers. There are arguments, outbursts, groups synch into choreography, some mimic moves for a time, then abandon them. What slowly unfolds is the coherence that emerges despite difference and just as often because of it. There's no resolution and more catharsis than a fireworks night. In one sequence a girl dressed in white takes confidently to the stage and then discovers there's blood all over her dress. At first she's embarrassed then defiant, then she wildly flaunts her condition. The others ignore her, a couple try to hide her, to help her remove the soiled clothes eventually torn from her while a man shouts "Dirty bitch." Like many other sequences in the work this one extends long past our sense of predictable stage time. It never really finishes; there's no line between that and the next when something equally captivating happens. This a sublime hybrid performance. "It was worth being alive to see it," said a friend.
As I watch La Ribot performing her Mas Distinguidas, I'm thinking about the 25 Years of Performance Art Conference at Sydney's Performance Space in 1995, in which Noel Sheridan and Mike Parr had hissy fits about the incursion into the pure form of performance art by people with more theatrical intentions. I suspect Maria Ribot would turn their ears pink. I've heard her referred to as (finally!) a performance artist with a sense of humour (yeh, yeh). But it's not that simple. Though she clearly knows her way around a port de bras (high art/classical dance) her pieces eschew expertise (postmodern performance) or obvious displays of artfulness (performance art). Performing naked with only a little dye for comfort (performance art) she sometimes looks like Buster Keaton (pop culture/high art) but without the virtuosity (performance art); one minute she's in an intimate relationship with the audience, timing us as we successfully achieve one minute of reflection, contemplation, meditation and silence in real time (contemporary performance). "Very well done" she says. Next she is a demonstration model attempting a set of difficult instructions in her see-through suit or a grunge angel with foam rubber wings running on the spot (theatre). La Ribot also casts aside purist notions of ephemerality. In a nifty model of artistic enterprise she has hit upon the idea of selling her distinguished performances (commercial artist). Peter Sellars says money is like sausage, you shouldn't spend too much time thinking about where it comes from, but for La Ribot her distinguished proprietors propel the work and are free to attend any performance anywhere in the world. In the end it's the brave presence of this artist shifting across a minefield of definitions that holds my attention during her performance. She reminds me of an exotic bird caught inside the confines of the Space looking for a way to get out.
Another day, another forum on community and Robyn Archer deflects a poison dart from Michael Cathcart about artists as people in black who only talk to each other and refer to French theory. She believes in finding ways to take difficult or challenging work to the community. However, for her it is just as important for artists to talk to one another—it makes for more and maybe better art. The Adelaide Festival is, after all, a major meeting place for a community of artists. After the forum I talk to a performer/writer/community arts worker who tells me about the man who came up to her after a performance and told her he had a polaroid of her vagina on his notice board. She did vagina pieces for a while she said. He wanted her to autograph it: "To Eddie". This festival, she's signed up for a workshop at the Playwrights Conference. Next week she'll be talking about working with kids at risk in her community project in Western Sydney.
Art is about "not knowing," says Howard Barker; about "living the new life," says Sue Thomas, who runs an online community writing project (trAce) at Nottingham University (Verve Forum). Bill Seaman "encourages us to think beyond what we know." For photographer Bronwyn Wright, (Essential Truths Readily to Hand) "Each mark is layed over by others. My marks cross bird tracks, marks made by water, the incised paw marks of my dogs and the bare footprints of Maningrida women who walk beyond the lines of mangroves in search of crabs. Their marks will cross mine."
In the spirit of recombination I offer my own little contribution to community improvement. What say we re-program all the poker machines along the lines of Bill Seaman's world generator. Oranges and lemons will be replaced by small fragments from Mallarmé and Gregory Ulmer and cryptic DVD clips from Les Ballets C de la B. With all the time in the world punters become posers (pokie users) who set about mapping the patterns of human thought. Each machine will be linked to every other one in the room and jackpots will go to La Ribot to create even more distinguished pieces.
Festival Forums: Politics and Art—inspirer, inhibitor or accelerator, March 9; Cutting Edge—where community art is taking us, March 10; Essential Truths Readily to Hand, Festival Foyer; Verve: the other writing, Ngapartji Multimedia Centre, March 9; Iets Op Bach, Les Ballets C de la B, Festival Theatre, March 10; Mas Distinguidas, La Ribot, The Space, March 8; Adelaide Festival 2000
RealTime issue #36 April-May 2000 pg. 21
© Virginia Baxter; for permission to reproduce apply to realtime@realtimearts.net
I could be dancing with Seydou Boro right now at the Spiegeltent but no, here I am wondering what I've missed out on…Boro, who appeared in Mathilde Monnier's production, Pour Antigone, created Le Siècle Des Fous with Salia Sanou. It's a one-off within the festival, an elegant work that Boro informs me has been around for a while, and it provides a nice reference point for the Monnier work, giving an independent voice to her African collaborators.
The simple set of a wide ladder centre upstage and drums set at opposite corners downstage creates anticipation as the instruments remain unused and silent in the unfolding work, their purpose suspended. Percussion is created instead by the bodies of the dancers; they shake their hands so that their fingers slap together, hit their faces against their shoulders, smack their mouths so that they pop, stamp, hit the ground with the length of their bodies. But the rhythm is bigger than this—there is a staccato play of action and stillness that reminds me of the startling beats of Zani Diabaté's drumming in Pour Antigone, the blinks of anticipation it caused. The waiting-for-something-to-happen is diffused here beyond any dramatic function that drives toward a climax, consisting instead of micro-dramas within the rhythm of the work. The whole piece is defined by an unruly force that seems to kick it all along, stop go go go stop go, manifesting in a frenzy of swinging limbs, then a quiet moment of mouth-popping. When the drums do come to life, they too seem governed by an alien force, finally jumping out of Sanou's hands altogether.
This all amounts to an improvised feel throughout the piece, although it is simultaneously apparent that this is not how the work is structured. It is this sense of something-happening-as-we-watch, bearing witness, that gets so lost in contemporary dance, the choreography 'taking the stage' so to speak. These bodies seem to be very much in the process of doing rather than thinking 2 steps ahead or operating from a distance through muscle-memory. And this isn't a type of dramatic expressionism either. It's as if the effort to articulate through movement can be seen, witnessed, and becomes intricately tied up with what is trying to be said. These faces don't speak for the body but with it.
Le Siècle is about a century of war and the violent oscillations from action to stillness, and the visible effort to speak through the body perfectly evokes what must be a constant struggle between despair and hope for Africans. What is also striking is the interaction between the 2 performers which also evokes war, running the gamut from tenderness to slapstick; one awkwardly carries the other, wipes his brow, knocks him on the head, checks out his foot. Companionship, worthlessness, tragedy and pathos are all evoked in these moments that really make up the bulk of the action. Dancing is isolated into formal segments that suddenly burst open into joy and an undeniable life force. A very special performance…
Le Siècle Des Fous, (The Century of Fools), Company Salia Nï Seydou, Space Theatre, March 7; Adelaide Festival 2000
RealTime issue #36 April-May 2000 pg. 21
© Erin Brannigan; for permission to reproduce apply to realtime@realtimearts.net
On the Adelaide Festival plaza there's a display of lightweight structures—light houses. Architect Glenn Murcutt in a conversational forum with Robyn Archer refers to buildings as needing to have a level of transparency allowing legibility of landscape. He cites a knowledge of morphology, typology, scale and materiality as necessary for the architect wishing to touch lightly on the land.
Bill Seaman's Red Dice (part of Verve: The Other Writing) is installed in a cool, darkened room at the Contemporary Art Centre of SA where there are cushions to lie, look and listen. It's a beautifully complex work. A factory loom is explored in loving detail until it practically pulses its mechanical heart. The film moves back and forth from lingering close-ups of machinery parts to languorous views through leafy windows, to waterfalls, birds in flight and eventually to a hand throwing dice. The editing a friend describes as "liquid". The voices (Seaman's own in English and another in French) are mellifluous. They remind me of other soft male voices of contemporary art like Robert Ashley's. Sentences sidestep closure, dissolving into the next discrete utterance. The work is a response to a Mallarmé poem and this version part of a larger work in which sentences and images are interactively woven by the viewer to create what Bill Seaman describes in another festival forum as "fields of meaning."
For touching lightly on the land, my feather goes to Lucy Guerin's cap for the unforgettable Robbery Waitress on Bail. A small clipping from a newspaper has clearly caught the choreographer's eye. A waitress who assisted her boyfriend to rob the all night restaurant where she worked is out on bail. For her part in the crime in which she pretended to be the hostage, she was sentenced to two years in jail. Now she's out. The story of the crime is revealed in 3 small sections from the clipping on illuminated panels above the heads of the dancers (Guerin and Ros Warby). Having given us the story, Guerin (with music by Jad McAdam) proceeds to explore the material of the rest—place, character, the state of being. It's all done economically in a set of often mirrored movements between the dancers who swagger and strut with a shifting sense of bravado, indolence and fear. It's totally engrossing and I know I wasn't the only one in the audience who would have traded the experience of the second piece on the program (the more densely choreographed, less successful Heavy) for an instant replay of the first.
–
Light/House, Adelaide Festival Centre Plaza; Red Dice, Bill Seaman, Contemporary Art Centre of SA, March 7; Conversation with the Architect, Glen Murcutt with Robyn Archer, Adelaide Festival Piano Bar, March 7; Robbery Waitress on Bail, Lucy Guerin, Space Theatre, March 5; Adelaide Festival 2000
RealTime issue #36 April-May 2000 pg. 21
© Virginia Baxter; for permission to reproduce apply to realtime@realtimearts.net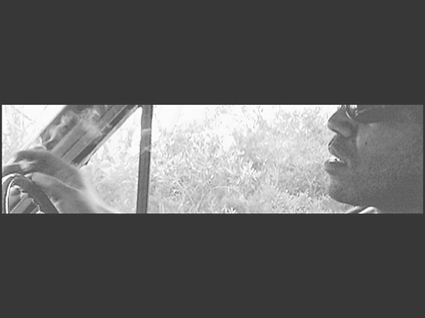 Brook Andrew, level one – Reality Check, level two – Tom (video), digital print, video and sound (CD) installation, 1999
In the liner notes to retArded Eye's 1997 film Superpermanence, Experimenta's Keely Macarow notes that the film's digitally rendered appearance as a hand processed experimental film "confounds the populist myth that digital = slick techno geekdom!" This aphorism neatly sums up the spirit of Experimenta's signature program of 1999, Manifesto. The title of this film (part of Experimenta's 1999 screening program in September) was suggestive of one of the key themes of Manifesto, longevity. Macarow's didactic use of the film as a rejoinder to public opinion on the subject of digital art also anticipated the sense of challenge in Manifesto.
Manifesto was a series of events aimed at reviewing 20th century experimental media culture and locating this legacy in the context of contemporary digital media. Manifestos, at the best of times, smack of the rantings of the ideologue (think of Marinetti) or march to the beat of the militant avant-garde ("the plain reader be damned"). In curating this serial event, Keely Macarow astutely sidestepped the declamatory inflections of the manifesto and instead garnered its ability to capture a moment (to make it manifest). And I'm not talking about anything so facile as zeitgeists. Manifestos are really about commitments, in the dual sense of giving or bestowing and investment in a principle or policy. In using the venerable technology of the time capsule as a metaphor for embodying the relationship between the experimental history of 20th century media arts and its continuation in digital practices, Manifesto literally captured the art of the present and sealed it for posterity in a purpose-built plinth that will reside at Melbourne's Scienceworks for 100 years. It is fitting that in its last program of the 20th century, Experimenta made a commitment to the future, a commitment to its own present.
It's difficult to know what the late 21st century will make of the digital prints of Brook Andrew and Brenda L Croft, the video installation of BIT (Bureau of Inverse Technology), Chris Knowles' soundscape Beam—Me—Back, or the web-based installation Greylands, produced by KIT, an international group of artists based in Australia, Canada and the US. These pieces are part of a collection of 8 works deemed representative of their time. But time present may be very different from time future; the mediating technology that (in most cases) is required to run them may be dead media in 2099. Curatorial issues of inclusion must have been a breeze compared to the archival decisions about what would actually survive for a century in a time capsule: will we include a VCR? Digital video will probably be a memory in 50 years. What about wooden boxes? Too combustible. Will the enclosed state of the art I-Book be the clay writing tablet of the 21st century?
The time capsule was designed to be more than an archaeological midden. Macarow and Louise Whiting (the project's research co-ordinator) have tried to second-guess the future by including the technology that is least likely to be redundant for the presentation of the work. But more importantly they have retained a sense of temporality, of what was (is) required for the work to be experienced as art. In this sense the time capsule installation itself (designed by Lifford/Smith) is less an archive than a kind of memory theatre, a means of reconstructing a particular cultural event (the installation of the work as an exhibition, originally held at Span galleries) and a specific historical moment (the Australian digital arts scene in 1999). Like the mastabas of ancient Egypt, the time capsule will hopefully be more than a store of treasure for the future custodians of the past; it will be a vibrant key to understanding their own world.
Also included in the capsule were reproductions of other events in the Manifesto program, such as the outcomes of the internet media laboratory Hothouse (co-ordinated by Steve Ball). Conceived as an interactive means of exploring new media arts, Hothouse began in late October as a subscription-based discussion list and developed into a collaborative web space, in which participants could include samples of the media art they were discussing (although part of this event has been included in the time capsule, Hothouse is an ongoing project: www.experimenta.org).
Also present was a CD-ROM version of Experimenta's first online edition of Mesh. The theme of Mesh 13 was 'cyberbully', described by Macarow in her editorial as an "omniscient entity that may be found lurking in the cyber corridor of the school yard, the nation state, the digitised corporation or your email discussion list." In a very general sense, Mesh contributors set out to reveal how cyberbullies "disseminate, regulate, dictate and infiltrate digitised information, software and hardware." Specifically, this culture of cyberbullying was evidenced in a range of online discursive practices, such as Dean Kiley's brilliant expose of the powerplay of academic mailing lists. Using the discussion of the death of Princess Diana and JFK Junior as exemplars, Kiley constructs an hilarious and ingenious "taxonomy of the postures, gestures, rhetorical moves, subject positions, intimidatory tactics, self-characterisations, other-caricatures, disciplinary gambits, administrative threats, and plain old verbal bashing-up" that manifest when academic communities get together online.
Sam de Silva's piece on NASA's global surveillance system, Echelon, reveals the subtler, more insidious side of the cyberbully who intrudes into every nook and cranny of your telematic space without you ever being aware of it. Lisa Gye's analysis of style bullying in web design questions the prescription of what is good and bad style. The presence of the style bully suggests that the arbitration of taste will continue to be a highly contested area of cultural life and anyone's homepage runs the risk of being ridiculed in Offensive Web Site of the Month. Who said cyberspace was an egalitarian state?
The fourth component to Manifesto was Zen Cinema, a survey-celebration of defining avant-garde film and video of the 20th century. Assisted by Ian Haig and Corinne Preston, Macarow assembled an impressive salmagundi of the genre, spanning the heyday of modernist preoccupation with materiality and form (Man Ray's Retour la Raison [1923], Marcel Duchamp and Rose Selavy's Anemic Cinema [1926]) to postmodern appropriation (Martin Arnold's inspired piece of pure cinema, Piece Touchee [1989], Sadie Benning's Girlpower [1992]). In between were the pleasures of old favourites, such as Stan Brakhage's Dog Star Man (1961), Kenneth Anger's Kustom Kar Kommandos (1965) and Nam June Paik and Jud Yalkut's Electronic Fables (1971); the latter a true encapsulation in time of some of the acknowledged sages of the digital age, John Cage, Marshall McLuhan and Buckminster Fuller.
Zen Cinema provided a real sense of the coalescence of the past with the future that Manifesto was trying to achieve. It was successful in reminding us of the synergies between historical moments of experimentation in media arts, which implicitly established the premise of projecting the digital arts scene and its avant-scene into the present of another century. Combined with Experimenta's September screening program, which featured the work of contemporary Australian and international experimental filmmakers, Zen Cinema reinforced the convergent nature of our engagement with and critical understanding of the emergent digital arts scene (fittingly, Convergence was the title of a series of forums on art, culture and technology presented by Experimenta at OPENChannel during 1999).
Manifesto was a successful event that culminated an active and fruitful year for Experimenta Media Arts. As an event it was a commendable and memorable expression of Experimenta's commitment to fostering an active and informed media arts culture. Manifesto's singular contribution was its determination to see that new media art carries with it the historical signatures of media past and present. I feel confident that when that time capsule is opened in 2099, those present will feel an uncanny sense of familiarity with the past of their own present.
Manifesto, curated by Keely Macarow, Experimenta Media Arts, November, 2-13
RealTime issue #36 April-May 2000 pg. 30
© Darren Tofts; for permission to reproduce apply to realtime@realtimearts.net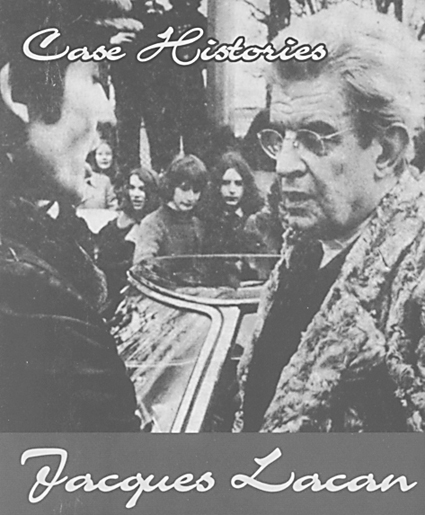 CD-ROM Suzanne Treister
No Other Symptoms. Time Travelling with Rosalind Brodsky
Rosalind Brodsky could very well be the alter ego of artist Suzanne Treister who bears strange similarities to this time travelling scientist, tracing her European Jewish ancestry while still engaging in a plethora of eccentric occupations and activities.These change from psychoanalytical sessions with deceased therapists to preparing traditional German dishes, to performing in her psychedelic rock band, to developing a range of designer vibrators. The recommended viewing time for this CD-ROM is 3 hours, the amount of time necessary to fully explore and participate in her time travelling tales.
The date is 2058, the year of Brodsky's death and the setting is the Institute of Militronics and Advanced Time Interventionality, where Brodsky conducted her research and still lingers. The virtual space is more digital collage than animation. Brightly coloured juxtapositions of furniture, wall hangings and retro sci-fi machines. As in a computer game simulation, you travel through the space by a few clicks of the mouse. Like a virtual tour there are characteristics such as a map, a guide and various info areas. Once in Brodsky's study you can time travel to her home in Bavaria, modelled on Koningssschlos Neuschwanstein, the original home of the "mad" King Ludwig, and more recently to neo-Nazi squatters. There are also options to explore her diary, or go down a level to the clinics where Brodsky regularly received counselling by Freud, Jung, Klein, Lacan and Kristeva. Inside the institute you are informed by the Introscan TV Corporation that a group of armed academics are demonstrating outside, and time travel is the only means of escape. As in The Lion, the Witch and the Wardrobe, the closet leads on to other destinations, not Narnia, but the very 20th century cultures of the Russian Revolution, the Holocaust and swinging 60s London.
A quicktime movie shows a haunting dual image of the train tracks leading to Auschwitz. A recurring theme is Brodsky's attempts to rescue her grandparents from World War 2. She is the silver clad futuristic time-traveller, superimposed over black and white footage of war-torn Europe. At other times she is part of a Monty Python-esque collage, posing next to key figures from cult films such as Norman Bates and Mary Poppins. Also in the wardrobe are Brodsky's attache cases. In order to fund her projects, Brodsky appears to have developed a range of designer vibrators. These range from the architectural variety, such as the Kremlin and the "double sided" London Bridge, to key political figures like Marx and Lenin and pop culture icons Emma Peel and David Bowie. By clicking on the speech bubble, each sex aid literally "speaks" for itself. Sexy science seems to be the name of the game and food is a constant delight on the journey.
Some startling new developments have enabled the Nutragenetica Corporation to begin harvesting chicken legs on human torsos, and Brodsky, like any traditional Jewish hostess, seems right at home with these new condiments. A TV in the bedroom plays snippets from her cooking show, as well as the music videos Brodsky made with her band, Rosalind Brodsky and the Satellites of Lvov. The remake of Lou Reed's Satellite of Lvov is a trippy track involving sci-fi theremin sounds and Glam rock beats. It regularly comes bleeping through the castle corridors.
Travelling further, you become familiar with the interactive vocabulary of Brodsky's creation. Big buttons need to be pushed, cursor "R" turns to cursor "B" at select moments, rollovers light up and footstep sounds signify you've arrived.
When the final destination is reached— satellite probe (a Christo wrapped Reichstag)—it appears that Brodsky in her old age transformed most of her archival research into a painting game, a virtual kinetic colouring-in book, where multiplying vibrators can be placed over varying backgrounds, such as Mars and Shinjuiku, Tokyo. It gets more bizarre as the final choice on the tour is to return to the Castle music room, and play some more, or get dropped off in the Australian mining town of Coober Pedy!
Despite the idea of transcending time, the work has a set narrative with pre-determined choices and specific geographical locations that lead onto the next stage. At one point, Brodsky describes herself as a "necrophiliac invader of spaces containing the deaths of her ancestors, through the privileged violence of technology." Using this violence of technology, Treister has enabled us to invade many facets of her anthropological history. And what a ride it is.
Time Travelling with Rosalind Brodsky, Suzanne Treister, Black Dog Publishing Limited, UK.
RealTime issue #35 Feb-March 2000 pg.
© Joni Taylor; for permission to reproduce apply to realtime@realtimearts.net
In an industry where newer, faster and more powerful are usually synonymous with quality it is surprising to find a mini-boom in software that is slower, graphically inferior and borderline obsolete. This is because computers and computer software have always been considered functional objects. They did things. Performed tasks. And when a newer version of a program came along which performed the same task faster or more efficiently, the old version was straight into the bin.
Even games were victims of this staged obsolescence. The buying public want the new games. The new games looked and sounded better therefore they were better therefore you may as well throw out that copy of Mario Brothers because here comes Super Mario Brothers. Historically, graphics have always been able to sell a game. Gameplay is more difficult. Consumers have often found it difficult to see past a dated surface to the game inside.
But things are changing. A recent boom in emulation has (in a physical sense) made old software accessible to more people than ever before and (in a theoretical sense) given us yet another example of the slow maturation of entertainment software. Put simply, emulation allows owners of high end PCs to run software designed for foreign formats. That means old Nintendo games, old Atari 2600 games, old Amiga games, and a slew of different arcade boards. And we're not talking the half-baked arcade conversions ported to PCs in years past, we're talking perfect arcade/system replicas. Consider it a gaming renaissance.
Software that you thought had died with systems you owned in the 80s can be resurrected on your brand new Pentium or i-Mac. Games that are no longer for sale and no longer available at any price, games that your mother threw out, games that rotted in your closet, games that died in the sun, all of them can be played afresh. And this is what lies at the heart of emulation: preservation. There is also no money involved. Emulators are (for the main) freeware, designed by enthusiasts for enthusiasts. In other words emulators appeal to those who appreciate the subtle art of gameplay regardless of its age. People who understand that newer isn't always better, faster isn't always more enjoyable, and that there are few things as enjoyable in life as bouncing a tiny green bubble-blowing dragon around a 16 colour, single screen maze in Taito's 1986 classic Bubble Bobble.
At ground level people are taking games seriously. This is not an argument foisted on people by academics or cultural observers. In fact, most cultural observers couldn't care less about games, the ubiquitous and only passably entertaining Tomb Raider series and Douglas Coupland aside. This is a grass roots revival which is showing us that games are no longer the disposable tissues of the entertainment world.
Legally, emulators exist in a grey area. The programs themselves are perfectly legal so long as certain reverse engineering techniques are avoided. This has been true since Atari lost its suit against Colecovision in the early 80s for marketing the 'Atari 2600 expansion kit' which allowed users to play Atari 2600 games on their Colecovision. However the situation regarding games is a little hazier. If you own the actual game you are allowed to own the copy of the game on your PC. If you don't, you can't. A fact which of course hasn't stopped anybody or escaped the notice of the copyright holders. But that isn't the issue here. Morally, most emulators occupy the high ground. They emulate systems which are no longer available for sale, often by companies which went belly up over a decade ago. They allow people to play games they could not buy at any price.
Why is this important? To those who have never had an interest in games, well, probably it isn't. But to those of us who grew up in front of their trusty Amiga 500, it means a hell of a lot. A chance to relive classic gaming moments and a chance to realise that games are a powerful and different medium.
What were old games? Think of them as genre fiction. They were fun. People enjoyed them and happily spent money on them. Some of them had great depth and intelligence. Most of them didn't. But they allowed game companies to grow fat enough to put together the millions of dollars that modern games require. Think of them as analogous with the populist origins of other artforms.
For home game systems, it all really started in the 80s. Earlier systems had done well but it was the original Nintendo (NES) which boomed and found a place beneath 90% of American family TVs. Many more systems followed, but it was the PlayStation which was the spiritual follow up to the NES in 1995, again selling in ridiculous numbers but this time bringing a level of sophistication most people hadn't realised was possible.
What has this created? A culture of game players.
The major emulation sites have all topped 20 million hits and growing. There is a massive and varied audience who not only enjoyed playing games in their youth, but who are waiting for the next step. There will be a time soon when players demand more from their software—the signs are already there—and game companies are forced to begin looking at what they are communicating and how they're doing it. Whether they use this to make a play for 'art' status will make interesting viewing.
But while you're waiting, join the classic gaming fraternity in a celebration of the old and pixilated by checking out these sites for pure gaming history: start at the source, the Multiple Arcade Machine Emulator (MAME) site at www.mame.net then check out Retrogames at www.retrogames.com or the good folk at the site formerly known as Dave's Classics at www.vintage gaming.com. They should have links to all the files and instructions you need.
RealTime issue #35 Feb-March 2000 pg. 22
© Alex Hutchinson; for permission to reproduce apply to realtime@realtimearts.net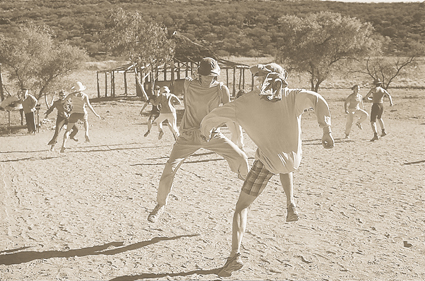 Triple Alice 1999, Body Weather Laboratory
Did the event meet your expectations?
I've always thought it would be a burning point and it did prove itself as that, the sense of what that land gives off and the kind of energy it seems to produce in people. Financially, the whole thing was carried by the workshop. We had about 45-50 people regularly throughout the 3 weeks. Then we had another crew on top of that of about 14 people and writers, theorists and then local artists who joined us for different periods. The workshop was fabulous. We had a lot of people coming from Europe and some from Japan. There was a good mixture of people from all over Australia, not just the capital cities but really from all over.
What was a working day like?
Breakfast was at 6. We had a cooking team led by a wonderful macrobiotic cook and then we started training at 8, which we changed to 7.30 because it was just getting too hot. Whew! Sun! Boiler! Sweat! Drip! Dust! Within the first half hour the dust level was just massive and we were thick with this heat. Body weather is a literal workout, working up a sweat, working through different areas of the body. There are a lot of aspects to do with co-ordination, plus group body and individual body, timing and that sort of thing. But the actual sense of working outside is always an enormous thing in terms of what it does to focus and perspective. To have to generate the energy to meet that environment, it's very big.
How do you establish the participants' relationship with the landscape?
Basically by asking them to use their focus in different ways. Asking, for instance that the head travel and take in different relationships, to gauge what the eye is seeing without necessarily using point focus, to encourage a sense of scanning which is also to do with nomadic vision. Hunter-gatherers scan landscapes.
Then we'd move into manipulations, opening out and stretching and aligning the body. You're in couples working with breath, weight and alignment in a quite fixed series of forms, gradually learning to gauge different parameters of the body and how to change and push border lines. That's a much softer, quieter thing. So where the workout focuses and pulls in the body and contracts the muscles to a certain degree, this opens out the muscles and the borders. Then a lunch break and a rest in the heat of the middle of the day, to zonk out. But most people didn't sleep. They slowed down, wrote a lot of notes, did their logs on the bank of computers, because I wanted to look at how the experience could exist on the net through the performers responding to a set of questions.
The afternoon was what I call groundwork which is more to do with basically opening up sensitivity to different speeds, practising how perception is altered working with mimetic relation to trees, grass, stalks, different elements of the rocks.
What do you mean by mimetic here?
Taking the body of the tree into your own body in an empathetic sense, trying to take the imagination of the molecules of that object and transferring that so that one gauges a different sense of being.
Duration becomes very important…
A whole set of durational relationships are established and worked through. One thing I wanted to do which I've never done before is to work 20 minutes regularly every day with slow movement, varying between one millimetre all the way up to 10 centimetres per second. I did that every day at about 2pm. I wanted to see what the effect would be.
We also did a lot of blind work and then, finally, the culmination of the workshop was in 2 elements. Firstly I asked people to put together small solos. They chose a particular place and they put together something that had a relationship to what they'd been doing over the 3 weeks. I let that stand as their individual investigation to get a relationship to the land. The other aspect was that I choreographed a series of exercises together, the effect of which was in a sense like a 20 minute performance. I was really happy with this because when I looked at it I thought, "Ah, we've caught the weather of the place! I had a really nice feeling about it. It felt absolutely, "ah yes, we got hold of it."
You had Indigenous people coming by. How did they respond to what you were doing?
It had been planned that we'd have 13 women from Yuendumu who were due to come but there were 2 deaths so there was sorry business and they just couldn't come at the last minute. I knew this might happen. So it was okay. We had a lot of discussions over the phone and so there's a movement forward, and they've now invited me to go hunting with them. The 2 women who did come out—very interesting artists based in Alice Springs—had a fantastic time. They had their kids out with them. They taught us how to do some dot paintings and we did a communal painting together. It was more to do with talking. We set up social situations with the local artists, they came and visited mainly in the evenings and then they'd do slide showings of their work and we had a lot of poetry readings. We also had people who came as speakers—ethno-botanists, politicians, meteorologists, historians who know that area.
A lot of the local artists came and joined us which was very nice. The workshop was open to them if they wanted to join in. Some did and some stayed longer than others and were more engrossed in it. Then we did some collaborations. Watch this Space, the local artist-run co-operative in Alice Springs, were a major partner. A lot of their artists came up. They brought some of their installation materials and put them out in the land and then I concocted various relationships that the participants could enter into.
So what happens in stage 2?
We're holding on to the core of the local artists and then inviting interstate artists to come and collaborate. In the main we're looking at visual artists and particularly artists interested to work with the website. I won't do a public workshop. I just want to work with a smaller group of people who are doing a higher level of research at a more professional level. And I'd really like to move into another level entirely on the web to see what can happen with Triple Alice in this place and in virtual space.
–
Triple Alice, Hamilton Downs, September 20 – October 10, 1999. www.triplealice.net
RealTime issue #35 Feb-March 2000 pg. 9
© Keith Gallasch; for permission to reproduce apply to realtime@realtimearts.net
[CHAOS]
Since April last year a steady stream of emails with subject headings like 'censorship' and 'refused classification' have been coming in. On the art and culture list, Recode, there's debate, resistance and running commentary among its subscriber base of artists, activists and academics about the Broadcasting Services Amendment (Online Services) Bill 1999 which was passed in May and effective from January 1 2000. As it passed through parliament, Minister for Communications, Information Technology and Arts, Senator Richard Alston's 1998 speech (Hansard, May 28) echoed loud and clear: "I do not think that anyone in this country wants to see an electronic Sodom and Gomorrah. It is unedifying and debasing and we will take action to…ensure that it does not occur" (www.dcita.gov.au – expired).
Among the responses to the legislation is a protest by Sydney-based ISP, Autonomous Organisation (autonomous.org-expired) which hosts a number of artist sites and artworks. Autonomous Organisation has 'Refused Classification' and in a statement published on Recode said, "most of the material published here by artists is relatively innocuous, however, we refuse to deny that existing material and future work…will ever be amongst material which could generally be considered R or X or even RC rated on television."
As in the arts community, there is speculation in other communities. Opponents include the CSIRO, Electronic Frontier Australia, Civil Liberties Groups and Lawyers, Australian Council for Lesbian and Gay Rights and the Eros Foundation, variously labelling the exercise as unwieldy, contradictory, moralistic, unworkable and an infringement of rights. Author of the ACLGR submission to the Select Senate Committee, Paul Canning (www.rainbow.net.au/~canning – expired) anticipates that the legislation will devastate the Australian lesbian and gay online community with filtering and classification provisions inhibiting access to gay and lesbian sites.
[FREEDOM]
In Electronic Frontier Australia's Senate submission on the Broadcasting Services Amendment (Online Services) Bill 1999, John Howard is quoted as saying that as an effect of his government, Australians feel more comfortable speaking their opinions and sentiments freely. Howard is referring to the tongue-biting scourge of 'political correctness' described in McKenzie Wark's Virtual Republic (Allen and Unwin, 1997) as possibly "more fantasy than fact." Using this power of exaggerated myth, quixotic conservatives asserted that the community was held to ideological ransom, censored by some imagined authority in the guise of multiculturalism, feminism and ATSIC. Sure, it's a whole other story, but as EFA points out, such a statement indicates that 'freedom of expression' must be a value of the government. Nevertheless, as the bill was introduced into Parliament, it was described as 'Draconian' and more rigid than its Singaporean or Malaysian counterparts.
Chair of the Australia Council's New Media Arts Fund, John Rimmer also sits on the Board of the Australian Broadcasting Authority. He explained that during its passage through Parliament, the bill was vigorously debated: "You shouldn't assume that the legislation is as 'Draconian' as it appeared when first introduced, as a number of amendments have been made." Accordingly, the provisions of the Act will be clarified by the Internet Industry Association Code of Practice and as the first complaints are processed.
[CODE]
On December 16, the ABA registered 3 codes of practice outlining the obligations of ISPs and ICHs in relation to internet content. Developed by the Internet Industry Association (www.iia.net.au) for implementation with the Act from January 1, the codes are integral to the co-regulatory scheme established through the legislation. They will operate in conjunction with the ABA's complaints investigation procedures.
The codes outline the rights and responsibilities of clients, ISPs and ICHs including: customer advice and content management; the requirement for parental permission for children's internet accounts as well as parental supervision of child internet access; complaint procedures; informing producers of legal responsibilities for content; and making provision for the use of approved client and server side filters for overseas content.
According to Canning, filters indiscriminately restrict content and he cites the example of a Melbourne scientist working at St Vincent's Hospital unable to access a HIV/AIDS website, receiving the message, "access denied: unsuitable content: full nudity, sexual acts/text, gross depictions/text." This indicates the possibility that art sites with such depictions or texts could also be filtered. He anticipates increased self-censorship among artists as well as reduced accessibility to gay and lesbian artwork due to the imposition of film classifications which he claims are more severe than literature classifications. Rimmer says this is a matter of opinion. "The OFLC interpretations may not in fact be more stringent in the context of artworks. Scenario Urbano (Denis del Favero et al) have managed quite a lot in their video installations."
On behalf of Adelaide-based arts ISP, Virtual Artists (va.com.au), artist Jesse Reynolds said that while he was wary of any internet regulation, the codes seemed useful for ISPs. "I think the codes are a positive step away from the complete nightmares of the new legislation. I certainly intend to steadfastly ignore the new legislation until such point as someone forces me to do something, then it will be kick up a stink time. Basically, I've got no truck with the legislation whatsoever. If we are forced to shut down servers for our clients, I'll set up a VA mirror in the States and put the sites there instead."
[INTENT]
According to John Rimmer, artistic context will be considered should complaints about online artwork be lodged with the ABA. "The classification process takes into account a range of matters and is required to look at literary or artistic merit as well as the intended audience. I personally find it hard to see that this sort of [artistic] activity is likely to be of great concern."
[PROTECTION]
The Act seeks to restrict children's access to explicit material by introducing a system for dealing with complaints from the public as well as for removing 'offending' content. Subsequently, material which is currently legal and available in other formats will be banned on the web. For Canning, the issue of protecting children is something of a furphy given that laws banning material such as child porn already exist. "I would say that it was a response to a media-induced moral panic about child safety online, a 'beat-up' in other words. But Senator Alston ran with that and made the law far harsher by, for example, using the film rather than literature classifications."
In Bad Girls: the media, sex and feminism in the 90s (Allen and Unwin, 1997), Catharine Lumby argues that children's interaction with virtual and real communities should be treated the same way. Rather than be excluded, children should receive warnings and be supervised: "adults have to work with children and help them negotiate unfamiliar information, situations and people."
John Rimmer is particularly concerned about those aspects of the internet he describes as "in your face", especially the ease with which users can unwittingly access pornography or email users can harass with or forward unsolicited material. Describing the intent of the legislation, he said it provides the community with an opportunity to complain about material they do not want available to children. "Its highest priority is sensible oversight of contexts in which material comes into contact with children. However, in itself, it does not replace the supervision of children while using the internet."
[FEAR]
When Senator Alston said in an ABC interview that he aims to filter the web to create a "clean universe", you have to wonder whether pornography is the target or the excuse, especially considering that the legislation was drafted to placate Brian Harradine, thus securing his Senate vote for the GST. There's clearly a degree of fear and anxiety at play: anxiety about new technologies, fears for children and the risk of exposing them to adult sexuality, 'moral panic' about society as a whole. Catharine Lumby sees such fears as "unavoidably bound up with broader anxieties about the potential new media has to change people and traditional social and power structures and values."
Describing a possible effect of this anxiety, Electronic Writing Research Ensemble Site Editor, Teri Hoskin, is concerned about the reliance that newcomers to digital technology will and do place on corporate entities, such as Ninemsn, to 'guide' them through the internet. "Playing on unfounded fears isn't going to generate an environment of invention and experimentation. What we are increasingly seeing is the one-application-that-does-it-all syndrome, instead of an empowerment that relies on the agency of the user in forming networks and making accidental discoveries along the way. Perhaps (and with hope) this technophobia will die out as the kids of today gain more access to decision-making. They've grown up with a keyboard and screen."
[ART]
The issue for the arts community is any possibility that this legislation will be applied to all internet content. Hoskin is tempering confidence with caution. "I really cannot see [a fuss] happening with art sites unless someone got a bee in their bonnet and wanted a scapegoat or wanted to test the scope of the law. Even though the legislation targets other types of content, I'm not convinced it's in anyone's best interests and I am wary of the potential for dangerous, unintended effects."
The legislations seems to result in a community 'dragnet', with content, as distinct from entire websites, receiving Office of Film and Literature Classification ratings and regulation on a complaint basis. The prospect of restrictions on any explicit material including artworks, sexuality and health information looks real enough. Pursuant to the Act, R, RC or X rated content must be removed by order of the ABA. However, R rated content can remain if an Adult Verification Scheme (AVS) is in place. According to Canning, there are problems with the AVS which have resulted in reduced site visits. Search engines do not list sites using them and visitors are duly worried about privacy. Accessing art sites may not evoke the same privacy issues, but the obstacle of finding those sites remains.
While there are some generous considerations for artwork in the ABA's deliberations, these are not absolute. The ABA determines the nature and context of the work, meaning that the demeanour of an artwork would be interpreted quite differently from pornography. According to John Rimmer, an internet porn site is obviously and inherently different in its character and intention from an artwork, even an artwork that appropriates porn.
Rimmer advised that the ABA applies administrative priorities in its processing of complaints. "The intention of the legislation is to obstruct access to pornographic material. Therefore, the ABA is more likely to address complaints about material of broader and more immediate concern, such as child pornography, than complaints about work produced for a consciously artistic context."
[HACKED]
The ABA's website was hacked on December 9, 1999. The following message appeared on its home page: "YOU CANT FUCKING CENSOR ME… if a message wants to get out..it will..leave it up to the au gov to make sure we stay in te dark ages… people only now can get connectivity USA has enjoyed for years…and now one of te greatest resources we gave for free speech and afree learning will be stifled by a vocal minority with no understanding of the underlying technology stand up now..and fight for your rights..if you want to be able to decide for YOURSELF what you can and cant read… i say once again…..LOUD and clear.. the internet is NOT a babysitter.. wou wouldnt let them roam the streets… dont let them roam the world… dont let your bad parenting spoil it for others… go buy a fucking clue.. ——— greetz and respect to the usuals.kat.etc.analognet. and barry heh…and a big FUCK YOU CNUTSUCKING SMEGWHORES to au gov.. clueless fucks… i digress.. adios… Ned R ——- p.s. admin.. dont bother..you wont trace me… and im not coming back here.. my point is made..if i get time one day ill secure it for you…luv and kisses.. Ned R—-pp.s My spelling sucked real bad cos i was high on methyldioxymethamphetamines and crack…"
RealTime issue #35 Feb-March 2000 pg. 20
© Linda Carroli; for permission to reproduce apply to realtime@realtimearts.net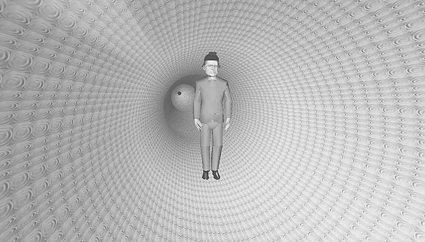 The Men Who Knew Too Much, Virtual Humanoids
dLux media arts' annual futureScreen event sets out to explore new media hotspots formed at the intersections of art practice, cultural theory and new technologies. 1998's inaugural event, Immersive Conditions, considered virtual space; last year, AvAtArs | phantom agents took on virtual identity through the figure of the avatar, the placeholder for the self in online virtual environments.
Jeffrey Cook opened proceedings with a paper offering a useful prehistory for the notion of the avatar—a corrective, as Cook noted, to the tendency for new media discourse to naively overestimate its own "newness." In fact "avatar" is an ancient Sanskrit word—literally meaning "descent"—which referred to the embodiment or manifestation of a god on the earthly plane. As Cook explained, this original usage also suggests a kind of divine multiplicity, a single perfect identity manifest in multiple earthly aspects. However the term's contemporary meaning, Cook suggested, is also shaped by the more troubled figure of the Golem—in Jewish mythology, an artificial being with a crude clay body brought to life by a heretical cleric. The Golem is thoroughly imperfect, a kludgy construction, a product of fallible technology and human hubris, but it's magically autonomous—clay with a spark of the divine.
If the avatar is, as Cook suggested, a mixture of god and Golem, at AvAtArs the Golems had the numbers, at least initially. The technology was as fallible as ever, and the online virtual worlds and their avatar inhabitants were weighed down by the kludgy clay of crude 3D geometry and slow net connections. Merryn Neilson and Dave Rasmussen, virtual world designers, were to play host to the remote presence of Bruce Damer, cyberculture's most prominent avatar evangelist. Neither Damer nor his avatar could be found: we waited, and waited, passing the time zooming through some airy virtual architecture and watching the assembled avatars run through their preset repertoire of kung-fu and ballet moves. Finally Damer appeared in the form of a giant, beaming sphinx-head which spoke in that tinny, choppy stutter of real-time internet audio. "Hello", it said, "can you hear me?" We switched virtual environments in order to see a webcam image of Damer waving hello once again. These tortuous negotiations with the medium left no time, or energy, for actual "content"—and gave a decidedly underwhelming impression of life as an avatar.
Next Fletcher Andersen, another builder of virtual worlds, introduced his Pollen environment and his avatar persona, Facter Pollen, before giving a clear-headed comparative outline of online environments such as ActiveWorlds and EverQuest. Andersen reported the startling statistic that EverQuest, essentially a giant networked role-playing game, has some 150,000 subscribers who pay $US10 per month in order to keep playing. Welcome to the new economy of online identity. While open about the limitations of these systems and the restrictions which they place on their avatars, Andersen expressed a hope that with technological advances we might soon be able to experience "a true existence within virtual worlds." Miriam English, another Australian world-builder, anticipated a similar technological progression, culminating in the eventual dominance of virtual worlds over film as a fictional medium.
These presentations represent a "head-on" approach to avatars and virtual worlds; following a conventional VR paradigm, they pursue an ideal of immediacy and immersion which involves pushing against stubborn technological and representational obstacles. Happily, other presenters took on avatars in more tangential and strategic ways. Keynote speaker Adriene Jenik led a performance of a brief excerpt from her Santaman's Harvest, a chatroom morality play on the evils of genetically-modified food. While it too was fully-laden with technological and representational kludge, some striking and funny theatrical moments filtered through the graphic chat-space which it inhabited. An international ensemble of avatar-actors joined Jenik's own avatar, the "Prof", in a loose, haphazard narrative which staked out a performance-space in a cyberspatial public plaza; the finest moments came as an innocent member of the online public stumbled in, blithely looking for someone in her home town to chat to. In the process of striving to maintain a sense of drama, or convey topical content in a normally vacuous virtual space, Jenik's work develops a keen sense of the social and institutional dynamics which shape those spaces and their avatars.
Others offered a more personal perspective on virtual identity. Bondage mistress and sex industry activist Mistress Eve Black (herself presenting through an "avatar" stand-in) made a clear argument for the value of sexual role-play and identity-shifting. Role-play is ubiquitous, she reminded us—to a greater or lesser extent, we take on socially-prescribed identities in everyday life. Black warned that the current wave of censorship, which has attacked the non-prescribed roles of B&D, involves a narrowing of options for identity-formation and sexual expression. Moving back online, local artist Graham Crawford gave a candid guided tour of his own avatar-selves, "fractal personalities" woven into a hypernetwork of lavish animation. Interestingly the web, which can be both private and public, contained and open, seems to offer an ideal medium for these split selves: each subdirectory can house another past life or lover, neatly enclosed but easily navigated and unpacked. As well these selves are mobile and replicable: a portion of Crawford's site had recently been mirrored on an overseas server, moving beyond the control of its original "host" to become an autonomous part-self.
Dr Jyanni Steffensen presented another case study in labyrinthine identity, discussing Suzanne Treister's CD-ROM No Other Symptoms: Time Travelling with Rosalind Brodsky (see Joni Taylor's review, page 22). Here Brodsky, both "virtual subject" and alter ego for Treister, is the central figure in a dense fantasy world which mingles personal and public histories and fictions, rewriting Freud, Lacan and Kristeva. As in Crawford's work, complex virtual identities are constructed, explored and exploited through interactive forms—the conventional VR "avatar" is nowhere to be seen. That figure has its uses, though, as Simon Hill and Adam Nash showed. The wooden, "salaryman" personas of their performance art troupe The Men Who Knew Too Much are ideally suited to translation into VR—and their work Virtual Humanoids promises to give virtuality the absurdist send-up it so badly needs.
Finally Stelarc, virtually present via prerecorded video, presented the concept for Movatar, an "inverse avatar" that extends his work with corporeal remote-control. As planned, Movatar describes a tight engagement between avatar and physical body: the performer ("the human") wears a motion-control prosthesis, a pneumatically-actuated exoframe which moves its host's limbs like a puppet. This prosthesis is controlled by an autonomous virtual entity, the "digital Movatar." In an elegant circuit, the digital Movatar is fed sound from the motion of its pneumatic "muscles"; it is "startled", and changes its behaviour in response. The human body is caught in a feedback loop between the disembodied autonomous entity and its physical machinery, possessed by an unstable avatar.
Movatar raises the close coupling of avatar and host, and of reality and virtuality, in a quite confronting way. It recalled an image that Jeffrey Cook had earlier borrowed from Deleuze and Guattari, of the wasp and the orchid co-forming each other, co-evolving in a double spiral of imitation. Our avatars, Cook proposed, might relate to us in the same way: not as simple projections or representations, but as artificial entities which inflect their creators, "both shaped and shaping." Cook's notion was borne out by the more interesting work presented at this forum: rather than an idealised virtual presence, this avatar is used knowingly and experimentally in a game of virtual dress-ups with a serious agenda: the transformation of the self.
dLux media arts, futureScreen 99: AvAtArs | phantom agents, Powerhouse Museum, Sydney, November 6 – 7, 1999.
RealTime issue #35 Feb-March 2000 pg. 21
© Mitchell Whitelaw; for permission to reproduce apply to realtime@realtimearts.net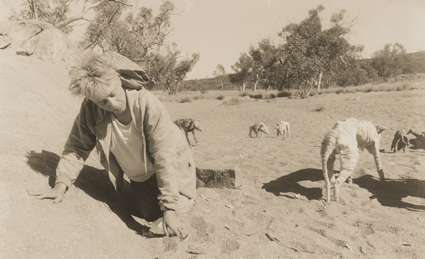 photo Juno Gemes
Tess de Quincey in collaboration with Pamela Lofts
The idea of representation (whether classically defined or ironised in a postmodern sense) is not what the Triple Alice project is about. Certainly, it is an event which is taking place 'at the centre'—literally so, outside Alice Springs—and which thematically, too, is centred within a set of convergences and overlaps between disciplines, artforms, individuals and languages. In October 1999, it brought together Tess de Quincey's Body Weather workshop, a group of writers and critics, a large number of painters from Alice Springs, botanists, environmentalists and Indigenous artists together with a program of visiting speakers, politicians, musicians, all of whom were connected with and committed to the day-to-day affairs of the Northern Territory. But even with such a multiform set of activities, criss-crossing over 3 weeks—all roughly related on a theme to do with local place and local environment—there was no intention to set up a representative 'space' in which the immediacy of locale could, or should, be embodied. If the experimental practice of the event was definitely locative, Triple Alice's understanding of locus was not, first off, about the representability of place, nor about its cultural appropriation and exclusiveness.
It's important to make that distinction. So much work that 'goes to' and 'comes from' the centre is about representation—about land, about race, about what constitutes a voice or a presence within evolving notions of country. Of course, the first, and highly tentative, attempt to mount Triple Alice links with these ideas. Yet if you were asked to provide some key terms for the event, then a suggestion would be that a series like edge, desert, reticulation and information provides better means for describing the intentions and the outcome of Triple Alice than any discussion of centre and margin could do. In this regard, there was no specific agenda for what could or might have occurred at Hamilton Downs. The aim was to create an information site for participants—sure, a space for interaction. But it was also a means for acquiring knowledge about ground and land-form and the body's integration with them in the context of a post-industrial analysis of the nature of extremely arid country and the integration of technology with that country.
The terms just mentioned were, in other words, not just arbitrarily poetic. The Triple Alice experiment grows from sustained discussions among a variety of artists and writers, with performer/choreographer Tess de Quincey and her work with Body Weather playing a leading role. The aim, expressed in those discussions, was to imagine an experimental event which would act as a 'think tank', a database and a rich and ongoing informatic process. What is an aesthetics, or more accurately a poetics, which responds to locale in Australia? What's a useful and productive notion of exchange and collaboration in the context of information technologies? What is 'thinking' and 'practice' at a moment when thought is (to borrow Gregory Ulmer's terms) conductive and associative and when the "writing of space" is the primary and yet necessarily inconclusive medium for expression? Ulmer's claim that contemporary legibility is a legibility "beyond representation"—in short, a category of the ontologically unspoken—was a powerful provocation in this first stage.
A Body Weather workshop—a workshop in which the intentionality of body position and movement are read in relation to land form, to earth, to stones, to heat, to wind—was the locus for many of the 50 or so participants. Each workshop was a mini-history of the senses, checked out in meditative and poised relationships not literally related to a dry creekbed or the caterpillar dreaming of the Chewing Ranges visible in the site's background, but where each participant was conscious of his or her position, autobiographical, intimate, externalised and inward.
The events were photographed and documented as part of a research project conducted through Ian Maxwell at Sydney University's Centre for Performance Studies. Other writers, artists and photographers intervened in and interacted with the event—photographer Juno Gemes, for example, writer and installation artist Kim Mahood, Alice Springs based artist Pamela Lofts. But there were many other visiting artists who observed or contributed, or simply made new work which criss-crossed with the site and the environment. Some like Ann Mosey or Rod Moss presented and talked about their work. Dorothy Napangardi and Polly Napangardi Watson painted with various members of the group.
Participants were also asked to post statements, texts and journal entries on the Triple Alice website. At the same time, this website was receiving information from writers and artists not at Hamilton Downs but who knew of Triple Alice. It was a first attempt at tracing an interactive history of the senses. There was no 'theme' but there was a version, enormously dispersed and many-sided, of a living 'topo-analysis' occurring.
As a third element, a small group came together in short seminars focused on current discourses of Australian place. Again there was a wish to keep the edges open in these discussions so that we could include discussion about performance theory, Bachelard's poetics, the work of intellectual historian Edward Casey, Gregory Ulmer's work in heuretics and the theorisation of desert, space and sense in J-L Nancy.
The dynamics—and installation of the necessary resource base—for such an event were obviously complex. The location itself, a drive 110 kilometres north-west of Alice, made sure of that. No-one knew if the open-ended terms—edge, desert, reticulation and information—would act as sufficient markers for the trajectory. Would we simply lose our way in the desert, in that place where, according to Jean-Luc Nancy (The Sense of the World, Uni Minnesota Press, 1997) there is "the end of sources, the beginning of the dry excess of sense?" In fact, Triple Alice was immensely information rich and 'sense' rich. It seems already to have become productive ground for a series of collaborative and individual projects which are occurring through this year. Triple Alice 2000 will refine the interactive model of 'sites' within a site: performance, visual art, writing and the internet. And the collaborative excitement of working with local artists from the centre will continue.
–
Triple Alice, Hamilton Downs, September 20 – October 10 1999.
RealTime issue #35 Feb-March 2000 pg. 8
© Martin Harrison; for permission to reproduce apply to realtime@realtimearts.net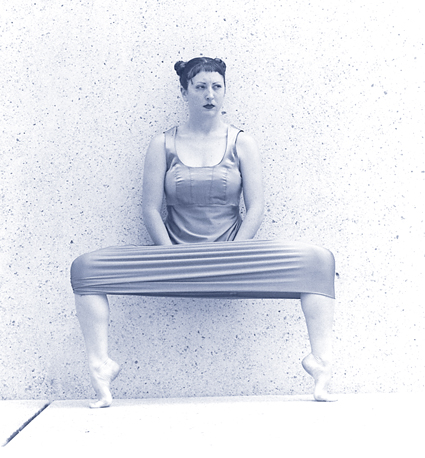 Lisa O'Neill
Lisa O'Neill leaves her backyard in Brisbane for "the UK's hottest international contemporary dance festival." New Moves (New Territories) 2000 in Glasgow is hosting a radical exchange of work with some of Australia's most exciting contemporary choreographers—Sue Healey and Phillip Adams, Lucy Guerin, Trevor Patrick, Dean Walsh and Lisa herself.
"When I saw these people I was performing with I did a bit of homework and found out that they're all in the limelight, but they'll be there with their work and I'll be there with my slippers, stomping to Nirvana, and I just laughed."
Nikki Milican, the Festival's Artistic Director, travelled to Brisbane to see local work and responded to O'Neill's uniqueness with a request for a 20 minute work to go into the New Moves Australia component of the festival. This is the first time her work has been seen outside Brisbane despite the choreographer having a solid repertoire of 16 works.
"I love what I do so much I've never taken the time to promote myself or push my work into anyone's face. I would not work anywhere else but up here. I can isolate myself and there are no trends to follow."
O'Neill's earlier reference to slippers and stomping indicates her close connection to the Suzuki actor-training method which has heavily influenced her development as a contemporary dance choreographer. She has trained 3 days a week for the last 6 years under Jacqui Carroll's guidance with Frank Productions Austral-Asian Performance Ensemble. O'Neill first came into contact with Carroll in her teens at the Queensland Dance School of Excellence and then at Queensland University of Technology as a student.
"I believe in having a teacher—you always need someone with their eyes on you constantly and Jacqui has…She's incredibly articulate and she really knows my body—she's been teaching me since I was 14 years old. That's a really long relationship. She's watching me always, suggesting things all the time so I feel safe knowing that someone's working on me."
O'Neill is developing a work titled Sweet Yeti for Glasgow which draws on 3 separate solos made for 3 different venues over the last 3 years! "I've called the piece Sweet Yeti 'cause I've been working with this Yeti character for a couple of years. I've chosen movement material from Yeti in e minor which I did in 1996 at The Cherry Herring, a solo piece from Marble which I did as part of the Brisbane Festival in 1997 and another short solo which I did for The Cherry Herring's Cityscapes in 1999. All of those works centred around a particular character—myself, my stage persona. Also all of those pieces were actually done in completely different environments and were quite site-specific; Yeti in e minor was created in a cage, Marble was done up against a wall and the Cityscapes piece was in an outdoor environment against a wall of glass. I've got these 3 solos done against a wall but they're very different emotionally and in content because of the environment I was in at the time. So I'll be developing all those solos up against the one wall for the theatre in Glasgow."
There is an overt fascination with walls here which O'Neill readily acknowledges. She uses walls in her work as points of departure, support structures, forces of captivity to define spatial qualities, old friends or simply for their visual and architectural stature. It may have something to do with another obsession—her desire for structure both in her work and her working environment.
"I've always had a full-on thing about structure. I've always structured things. The movement vocab may have been different but I always had a set structure for it to take place in…The Crabroom and The Cherry Herring were a godsend for me. A place to create in. The Crabroom (The Cherry's predecessor) was where I first started Yeti and I was terrified—I'd never done a solo before but from there I did 3 more and 2 for The Cherry Herring who have always been supportive. I enjoy being in Frank because there is the structure—training every week. I don't know what I'd do without it. I haven't done a dance class in 5 years. I'm just training in another way now. Because I have that structure I feel confident independently."
O'Neill has a busy year ahead. Alongside Glasgow, she has a choreographic commission for L'Attitude 27.5, Brisbane's new Powerhouse program for independent artists, a collaboration on a laser show, MYRRHA, with Diane Cilento as director, the remounting of Transit Lounge with Keith Armstrong (a multimedia adaptive technology animation set-up), a programme of new work by 3 Frank women, and Frank Production's own Hamlet in Japan at the Shizuoka International Arts Festival.
"Even though I started out wanting to be a famous Australian dancer in a big company, that never happened and that's okay. I thought to myself I would do anything to be a really good performer—I would go through anything…do that stomp every day for 10 years so I can stand there on stage and look fucking amazing. That's what the stomp is for—the stomp is just to find stillness."
When asked about future directions for her choreographic work, O'Neill replied "I think my work is becoming more simplified. Every piece seems to have less vocab in it. It's getting more streamlined. But besides choreographing and creating works I'm trying to improve myself as a performer which I do through the Suzuki training. That's my main objective—to be able to stand in front of an audience one day and not do anything and have it work."
New Moves (new territories) 2000 will be held in Glasgow, Scotland, March13 – 25 2000. The International Choreographic Laboratory will be held in Adelaide as part of the Telstra Adelaide Festival, February 28 – March 11 2000, and in Glasgow.
RealTime issue #35 Feb-March 2000 pg. 31
© Shaaron Boughen; for permission to reproduce apply to realtime@realtimearts.net
Is there a psycho-kinetic space between the blow and the caress, or is the touch of flesh on flesh always a sadomasochistic enactment of power which both stimulates and contains desire and unpleasure? Melbourne has become the dance performance site for the painful sublime, populated by anatomic, deconstructed bodies from Lucy Guerin, Phillip Adams, Brett Daffy and Gideon Obarzanek. Bodyworks presented a suitably eclectic selection, but the most compelling was that which aroused such Artaudian and Foucauldian ideals.
Russell Dumas is stylistically and geographically removed from these approaches. His work is characterised by a gentle yet controlled ascension of everyday movement into the rigours of formal dance. It represents an aestheticisation of the commonplace, not a Dadaesque challenge to such terms. Nevertheless the depth of his execution and that of Collin Sneesby in Post Larret 99 paradoxically gives them an unmannered ease which problematises their status as 'performers.' The embrace however reveals the underlying violence of Dumas' choreography. Dumas guides and positions his companion, shaping and modifying the latter's gestures. Despite Dumas' sensual, soft touch, there is an inherent cruelty in this friendly meeting of flesh. Dumas moves his subject, curtailing Sneesby's freedom. The aesthetics of ballet is reinscribed through the embrace.
Brett Daffy's lonely body is not subjected to the literal imposition of another's power. This is a body that embraces itself in a violent concatenation of disparate body-parts. It is "meat", smashed against itself under the gaze of the audience. In Human meat processing works, the spectators act as wall-flowers at a nightclub, probing the body visually in a search for sexual arousal. It is not only the observer who enacts this harsh embrace of flesh by the eye though. Like the denizens of the nightclub, Daffy has internalised this gaze; he scrutinises himself. Violent self-regulation is physicalised in a painful, contorted touching of the self which rips apart and meshes together the fragments which meet. Even alone, the sensual violence of the (self-) embrace remains.
Gekidan Kaitaisha's Into the Century of Degeneration begins with an unmotivated woman, wandering into 3 men who at her touch lift her by the waist, shake her, and drop her. They seize her as though life depended on it. She struggles to escape while one holds her back—protecting her from herself? Each embrace mingles affection, self-hatred, and loathing of the other. One in a dog collar with eyes heavy with unspeakable sadness manipulates his subject as though trying to save her, hoping to agitate her out of her benumbed reverie. A bully-boy with eyes that bore through walls thrashes her about as though wreaking his havoc on the world. The third reacts instinctively, his sensations dulled but his reactions angry. For all 3, the embrace inflicts pain with a loving cruelty, using an aggressive physicality for salvation and damnation, containment and liberation. The uneven pacing of the embrace, its slow, subtle arousal and whip-lashes of fearsome energy, reveals the anger and love that underlies the meeting of flesh. The body and my jaded eyes emerge scarred yet reinvigorated.
–
Bodyworks 99: Post Larret 99, director/performer Russell Dumas, performer Collin Sneesby & various guests; Ward: Human meat processing works, choreographer/performer Brett Daffy; Into the Century of Degeneration, by Gekidan Kaitaisha, director Shinjin Shimizu, Dancehouse, Melbourne, Nov 24 – Dec 7 1999
RealTime issue #35 Feb-March 2000 pg. 32
© Jonathan Marshall; for permission to reproduce apply to realtime@realtimearts.net
Immersing myself in Philip Brophy's Sound Punch releases before I went out to Chunky Move's Live Acts#4 has done something to my brain. I miss the first act…s'okay, I've seen it before.Two women rise, feet skywards, from Kate Denborough's decapitating boxes, restlessly fidgeting with clothing—an inverted, Dali-esque can-can.
In the heady atmosphere of the club, things are getting fuzzy. Video projection warns of impending lift-off before Frances d'Ath's Pirn morphs on stage. The characteristic Melbourne/Chunky Move fleshy machines are here. D'Ath gives this a computerised clicking—head turns pre-empt torsos and shoulders ("head boppin', ass droppin'"—Ice Cube). Memories of Live Acts #1-3 leak through. Arms between partner's legs, leading to interlocking twists, recall Shelley Lasica's Restricted Situation from LA #1. Twister for intellectuals. All the works have this quality. On this small stage, multiple bodies occupy mutual space. Voiteck's sharp, gritty techno fuzz clears the air for the performers, placing them in a clean yet distorted machine.
Elvis (Shirley Billings) is in the house, but not looking too good. Viva Las Vegas is low on "viva", despite 'Hunka-hunka' being flanked by the Chunky Move fly-girls. Dead-pan cabaret. I miss Martine Corompt's anime pet installation and John Meade's smoking, muppet volcano from earlier LAs. Tonight dark oils hide in the shadows. So much for art. Back to the band!
The design of Byron Perry's operating theatre drama—Hayflick Limit—recalls Reanimator, but the movement and sound (Aphex Twin's Nannou) has an almost Renaissance, clockwork feel. The realtime projection of alternative views has cleaned up since Pirn (does this make the earlier, pleasingly viral static 'not part of the show'?). Two women manipulate a man to the whoops of the crowd. A smirk hides under Fiona Cameron's lips all night.
Cross-fertilisation between Lucy Guerin and Chunky Move has highlighted the anatomising quality of both, while bringing Guerin towards Gideon Obarzanek's panto-drama. With Gift, Guerin takes this elsewhere: poppy abstraction, accessible dreams of dancers licked to death like lollipops, or playing with others' limbs like Christmas treats. Brophy's masterer—Franc Tetaz—opens up the gorgeous, flowing comedy of the piece with some swinging, French funk ("head boppin', ass droppin'").
Then there's Obarzanek's Disco.Very and its mish-mash of disco phrases. Where Ransom's score pounds one 70s classic into another, even using Hendrix riffs to segue between sources, Obarzanek's choreography is a more subtle melding. I close my stoner eyes and let the turntables dance. Then the dancers double-take and misfire. We see choreographic effort. Even so, Ransom leaves them for dead.
After the packed concentration of the first half, the room becomes a vortical lacuna of movement and sound. Perry's surgical bed becomes a console table with steady boppin' DJs behind it. I recall earlier LAs where Obarzanek and Phillip Adams danced spastically to crunchy noise (why is so much techno un-funky?). Professional dancers look weird on the dance floor. Production folk are the real party animals—techie Ruth Bauer is there, bouncing in clogs. Is she performing? Am I?
–
Live Acts #4 Chunky Move, Revolver Night Club, Melbourne, December 16 – 17
RealTime issue #35 Feb-March 2000 pg. 32
© Jonathan Marshall; for permission to reproduce apply to realtime@realtimearts.net
Rosalind Crisp has spoken at length about studio-based practice; a collective of artists based around a studio, aligned with the particular type of dance practice which that studio represents. With this Stella b. series, along with the studio showings I have seen over the past 3 years at her Omeo Studios in Newtown, Crisp has achieved exactly this—a distinctive, productive centre of activity that comprises an important part of the rather dislocated dance activity in Sydney.
I saw Stella b. in the second and last weeks of the month-long development. The piece shown, which culminated in a reworking for Artspace in January (The View from Here), consists of a series of repetitions performed solo by dancer Gabrielle Adamik at the front corner of the performance space with duos, trios and quartets by Crisp and the other dancers (Nalina Wait, Lizzie Thomson and Katy Macdonald) unfolding on a plane behind her. The set of column supports running down the performance space of the studio, cutting the space by two thirds, becomes a margin for play with entrances and exits marked by the passage through this architectural feature.
Adamik's repetitions perform a function similar to James McAllister's performance in this same space in Six Variations on a Lie; a kind of bass note marking the progression of the work. The gentle, moderate and measured movements characterised by a swinging rhythm and a delicacy of touch, slowly revolve so that each movement is seen from several angles…like a turn-of-the-century study of human motion, but the 'model' here occupies a place between going through the motion and being immersed in it with ease.
Behind this, the groupings progress slowly along the floor, burst into the space with bold walks and swinging turns or hesitate with minute foot manipulations at the threshold of the space. Set against the steadiness of Adamik, the variations in energy and intention on this other plane are very satisfying, breaking the moderation just when it is required.
The intensity, detail, stillness and assuredness are all still here from Crisp's solo work, as are the trademark elastic-ricocheting joints which a friend put her finger on. But with this group work, the edgy immediacy has been replaced with something much more ordered. The unpredictability is still there—perfectly-timed bolts with 4 dancers changing instantaneously from stop to go, or one dancer following a large, reaching gesture with a toe flick—and this is a real achievement. But the group work has obviously necessitated a huge shift—aesthetically and tonally—and it's a very different experience to the solo Crisp we've come to know. The young dancers Crisp is working with have brought a lightness, clarity and ease to the work. It's a new aesthetic chord in the work that signals a change for Crisp.
Importantly, Ion Pearce's live sound work seemed to progress in tandem with the performance, being very different on the 2 occasions I attended the showings. The spaces in the score and diversity of sounds—electronic bleeps, percussive elements, music recordings—had an unpredictable quality that perfectly matched the performance.
Rosalind Crisp has been awarded a two-year Fellowship by the Dance Fund of the Australia Council and is one of the choreographer-dancers selected for the New Moves (New Territories) dance workshop at the Telstra Adelaide Festival 2000.
–
RealTime issue #35 Feb-March 2000 pg. 32
© Erin Brannigan; for permission to reproduce apply to realtime@realtimearts.net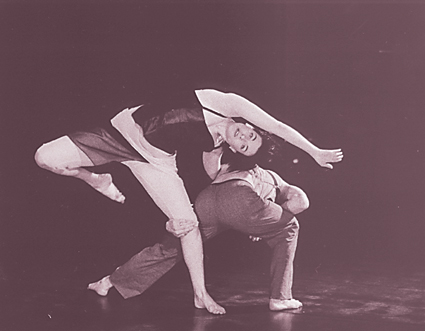 photo Rachel Roberts
Belinda Cooper, Michael O'Donoghue, In the Heart of the Eye
Dance Lumiere 99 was a very different affair to the Dance Lumiere I curated in 98. Moved to a cinema venue—Cinemedia—and spread over 3 days with 5 themed sessions, curator Tracie Mitchell and her team created a stylish dance screen event as part of the Dancehouse Bodyworks season. With a weekend-long film program as part of Perth's Dancers Are Space Eaters in 1999, an Adelaide dance film screening in November last year, and One Extra Company's dance screen event scheduled for May this year, substantial attention is turning towards this interdisciplinary form.
Mitchell's opening night double bill of Revolver, a short British film featuring a very young Liam Neeson, and Milos Forman's 1979 musical Hair featuring the choreography of Twyla Tharp, was a bold move, but an interesting one that illustrated filmmaker Lawrence Johnstone's keynote address. Johnstone gave a neat history of dance and film stressing the significance of the musical which too often gets shrugged off like an embarrassing relative. Placing Revolver, a windswept, magical, 'rondo' style tale of car problems, a wandering bride and lust beside a highway, against a 70s musical about the 60s that's as densely worked as a paisley shirt, demonstrated Lawrence's comments on the diversity of the form. Hair was hysterical—it was great to see it for the first time on film and it warmed up a crowd that appeared to return for other programmes throughout the weekend.
Mitchell chose some very safe, beautiful international work which was a smart move for the festival's big leap from the $5-a-seat-in-the-studio model, screening works by Laura Taler, Pascal Magnin, Philippe Decouflé and de Keersmaeker; all award-winning dance filmmakers. All have created distinct oeuvres within the form; Taler's cheeky sentimentalism, Magnin's cinematic romances, Decouflé's homages to early cinema, Rosas' epic masterpieces (De Keersmaeker's film shown here, Rosa, was directed by Peter Greenaway).
The Australian programme was more of a mixture of low budget, experimental work, well-crafted explorations which had some funding, and glossy packages that had a lot of experience and support behind them. It included work by Christos Linou, Cordelia Beresford, Michelle Heaven, Clair Dyson, Justine Spicer, Morag Brownlie (NZ) and Mitchell herself. Linou's Fiddle Di Die which I first saw as part of his stage work of the same name is a staccato Super 8 film, the highlight being a series of jumps filmed to create a jerky levitation. Heaven's collaboration with Jessica Wallace is an interesting first exploration of the film medium for this exquisite performer and the care taken with the resources at hand result in a curious and delicate film. Beresford's Restoration with choreography and performance by Narelle Benjamin is an amazing graduation short and a good investigation of that awkward place where narrative moves into dance. It's the type of dance-film performance that has given an international leg-up for companies such as DV8 and La La La Human Steps.
A real thrill was seeing Margie Medlin and Sandra Parker's collaboration for Danceworks, In the Heart of the Eye. Seen in the same weekend as Dance Lumiere, this work seemed like an exciting jump sideways with its beautifully incorporated film and live work—a rare and remarkable success story. The elegance of the choreography—all fine lines, sharp angles and a lot of beauty—never became cold which I attribute to the 'dance-cam' work that placed the audience in the dancer's head. As the film image on the back wall of screens traces a passage through a classic interior—all wood panelling and stained glass—a dancer in front on the stage marks out the movements that have created the moving image. As she turns abruptly a quick pan occurs. As she swings to and fro in position, in a movement echo, the camera oscillates from side to side. In the Heart of the Eye takes us into a bizarre space between our observations of the dance on stage and the visual experience of the dancer on screen—a heart with no sole (so to speak). Like a strange voyeuristic kinaesthetics, the space or gap at the heart of the relation gives the work a haunted aspect that I found oddly disarming, allowing me to be taken in.
Some black and white footage of the dancers is repeated on the screens like a round (there is usually more than one projection happening at once), the movements falling after each other like ghost-dancers. Other shots were achingly gorgeous, like the falling snow which seemed to freeze/burn into the cinematic image.
Dance Lumiere, curator Tracie Mitchell, Cinemedia at Treasury Theatre, Melbourne, November 18 – 20; In the Heart of the Eye, choreography Sandra Parker, filmmaker/lighting Margie Medlin; Athenaeum II, Melbourne, November 19 – 28, 1999
RealTime issue #35 Feb-March 2000 pg. 33
© Erin Brannigan; for permission to reproduce apply to realtime@realtimearts.net