IN MARCH TASMANIA WILL ONCE AGAIN WELCOME ARTISTS AND COMPANIES FROM ISLANDS OF ALL SIZES AND OTHER REMOTE AND NOT SO REMOTE PLACES TO TEN DAYS ON THE ISLAND, ONE OF AUSTRALIA'S, AND THE WORLD'S, MOST IDIOSYNCRATIC ARTS FESTIVALS.
<img src="http://www.realtime.org.au/wp-content/uploads/art/2/276_kg_tendays_comp.jpg" alt="Bikini Islanders receiving gifts of chocolate
from US military personnel as a "sweetener"
to their forced evacuation in 1946, ©Smithsonian Institute;
Linda Mancini as a contestant in the "Bikini ">
© the artist
Bikini Islanders receiving gifts of chocolate
from US military personnel as a "sweetener"
to their forced evacuation in 1946, ©Smithsonian Institute;
Linda Mancini as a contestant in the "Bikini
They're coming from Cape Verde, Sardinia, Ireland, Newfoundland, Manhattan, New Zealand, Japan, Taiwan, Canary Islands, Denmark and the Torres Strait. Here's a good-looking selection from the large program of acclaimed visiting works and new creations from local artists. RealTime will also be there with an intensive review writing workshop, so watch out for responses to these and other works as they go online at www.realtimearts.net.
the corn exchange, dublin by lamplight
In their first visit to Australia, this award-winning company, described as "a renegade version of Commedia dell'Arte", present theatre magic and tough politics in the Dublin of 1904.
benjamin bagby, beowulf
In the bardic tradition, accompanying himself on six-string lyre and reciting in Old English (with Moden English surtitles), Bagby delivers a big chunk of the beautifully grim, 1000 year-old epic about the battle between a warrior and a monster.
gruppe 38, the little match girl
Denmark's award-winning children's theatre company perform the four-hanky children's tale featuring three performers and innovative deployment of gadgets, projections, music and paper.
dream masons
In RealTime 72 p40, Sue Moss interviewed the makers of this new work at the first stage of their coming together. Dream Masons transforms the façade of the Salamanca Arts Centre into a theatrical spectacle in a work about survival replete with 100 Tasmanian performers, musicians, artists and technicians. Created by Jim Lasko (Chicago), Jessica Wilson (Hobart) and Joey Ruigrok Van Der Werven (Sydney).
is theatre, queen of the snakepit
Fourth generation Flinders Islander, Cheryl Wheatley performs a theatrical collage of island life in "a portrayal of longing, endurance, strength and solitude staged cabaret style in the island's infamous ladies lounge, the Snakepit." Deviser-performer Cheryl Wheatley, writer Finegan Kruckemeyer, director Tania Bosak, designer Greg Methé.
linda mancini, bikini
Manhattan Bessie Award-winning performance artist Linda Mancini's one-woman play juxtaposes the destruction of the mid-Pacific Bikini Atoll by US A-bombs in 1946 with the French creation of bikini swimwear. The impact on islanders and women, respectively, is played out with slapstick and black humour.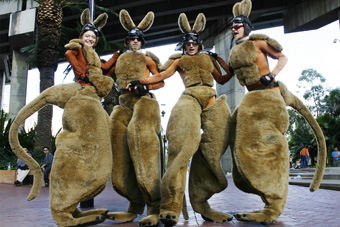 Roo'd, Icarus Performance Troupe
icarus, roo'd
Leaping two metres in a single bound, these giant kangaroos evoke at once a prehistoric Australia and a genetically engineered future, old rural toughness and urban brashness. "Always 'Roo'd' but never offensive", they promise.
hsiao hsi yuan puppet theatre
For connoisseurs of traditional puppetry, in this case with its roots in the spectacle of Peking Opera, this will be a must: the puppets perform routines usually only within the abilities of the humans they mimic.
the spectre of the rose
A return season of local performer and writer Robert Jarman's much-lauded account of the Genet autiobiographical novel directed by Franz Docherty.
back to back, small metal objects
A not-to-be-missed, never-to-be-forgotten experience from Geelong's Back to Back played out in the street by performers and passersby in a stark tale of affection and corruption [see p39].
ihos music theatre: a thousand doors, a thousand windows
Inspired by WH Auden's Twelve Songs, this is contemplative multimedia music theatre for soprano (Xenia Hanusiak), projections (Cazerine Barry) and a score by Constantine Koukias, staged in the beautiful early stone barn at the newly remodelled Rosny historic site.
ricky maynard, portrait of a distant land
Based on his Indigenous family background, leading Australian photographer Ricky Maynard's new work responds to landscapes and oral histories and will appear on billboards around Tasmania.
leigh hobba: tasmanian landscapes in video and sound
Video, performance, installation and sound artist Leigh Hobba is celebrated at the Tasmanian Museum & Art Gallery in the first major survey of his work and focusing on his response to the island, 1980-2007. The exhibition includes Blues, a collaborative performance with dancer Wendy Morrow. Curator Craig Judd.
tasdance: mercy: a dance for the forgotten
In the festival's first international co-commission, Mercy explores imprisonment and death in Tasmania's convict past and in repressive regimes around the world. The choreography and conceptual design is by New Zealand innovator Raewyn Hill.
For more theatre, music, visual arts and special events for the mind and not least the gourmand within, go to www.tendaysontheisland.com
RealTime will be reporting each day of the festival. Go to the features section for more.
Ten Days on the Island, March 23-April 1
RealTime issue #77 Feb-March 2007 pg. 14