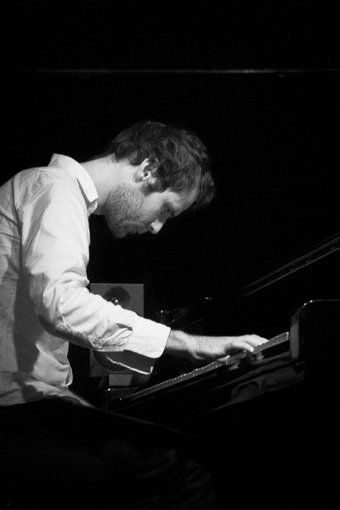 courtesy the artist
Pierre-Yves Macé
THERE IS BARELY AN INTERNATIONAL ARTS FESTIVAL TODAY THAT DOES NOT INCLUDE A COUPLE OF ACTS THAT DEFY A CLEAR ART- OR POPULAR-MUSIC LABEL. QUIRKY STRING SECTIONS AND FIVE-MINUTE MUSIQUE CONCRÈTE INTROS ARE COMMONPLACE IN POPULAR RECORDINGS. EVERY CLASSICAL MUSIC STUDENT IS URGED TO "DIVERSIFY THEIR PORTFOLIO," WHICH NEVER MEANS "ENGAGE IN MANUSCRIPT STUDY OF THE FLEMISH MASTERS."
Why, then, if it is a part of everyday musical life, are we so quick to dismiss the "crossover" title? I'd like to ask exactly what crossed over in some semi-popular, semi-art music concerts from 2012 and draw a musical geography of the term. Ultimately, crossover music is the thawing of boundaries that only froze up 50 years ago, but as we reconfigure these imaginary boundaries there are real stakes to be considered.
composing crossovers
One form of crossover is to bring the melodies, rhythms and articulations of popular music into an art music context. An excellent example of this genre of crossover appeared at Paris' Festival d'Automne this year. Pierre-Yves Macé's Song Recital is an arrangement of "tubes" (songs covered a cappella by fans on YouTube) for soprano, flute, oboe, clarinet, percussion, electric guitar, harp, Rhodes piano, violin, viola, cello and double bass. The piece is based on Macé's earlier work, Song Recycle, for tape and piano. His formation in musique concrète, to which he dedicated a musicological doctoral thesis, is put to masterful use here. Each tube is ingeniously remixed to retain the abstracted character of the original song's melodies, rhythms and articulations while leaving barely a single word intelligible. The tape is no glitch-pop mashup, but a convincing reconstruction of the original musical material that translates beautifully into the live vocal part of Song Recital.
Song Recital was premiered by soprano Natalie Raybould amid the crumbling interior of Paris' Théâtre de La Chappelle. Barely a detail was not communicated from the original tape part to the live vocal part, including breathy articulations, finger clicks, peaking microphone artefacts and awkward 'asides.' Raybould's performance was more than a transcription of the tape part, but brought each character to life, interacting with the rest of the ensemble as they imitated and accompanied her.
The piece made me think of another work programmed at the Festival d'Automne, Guillaume de Machaut's 14th century "Tant doucement me sens emprisonnes." Included for its rhythmic sophistication next to the complex metric superpositions of the medieval Codex Chantilly and a première by the contemporary complexist composer Brian Ferneyhough, the Machaut rondeau could have appeared just as comfortably next to Macé's work as an example of a medieval composer using art music methods on a popular song form.
One wonders what the reaction of the original YouTube soloists would be to Raybould and Macé's interpretation of their covers. Would they recognise themselves in Raybould's contortions or Macé's abstracted rhythms? Would they think that Macé's arrangement added value to the original songs? Despite the piece seeming entirely serious (apart from a children's song fittingly accompanied in Song Recycle by rhythmic piano-lid tapping), would they think it was a bad joke?
an instrumental divide
This year's Vivid Live festival at the Sydney Opera House invited a host of 'indie classical' bands and solo artists to collaborate with Sydney's art music ensembles. Some of these projects demonstrated the opposite exchange to Macé: from art music into popular music. Where Macé bridged the popular-art music divide using compositional processes, the acts of the Vivid Live festival crossed the divide using instrumentation. But is classical music instrumentation enough to identify a work has 'crossed over' from one type of music to another? Even before performing with string sections, Florence and the Machine, a highlight of the festival, seemed to slip into the 'indie classical' category simply by virtue of their resident harpist. Their use of harp is purely decorative, limited to glissandi and (out of time) arpeggiated ostinati. Compare the use of harp by Florence and the Machine with that of Joanna Newsom (who was, unfortunately, not at the festival), where the harp is front and centre, as much a part of the song as Newsom's voice.
Perhaps an instrument from the opposite 'camp' has to be an important part of the composition process to justify a 'cross over' between genres. Efterklang, whose album Piramida was spurred into existence by the invitation to perform with the Sydney Symphony Orchestra at the Vivid Live festival, have remarked in interviews on the immediate feedback a live instrument provides that a synthesised version may not. Even though they had worked on Piramida for 10 months, they could hear instantly what worked and what did not work when they entered the concert hall with the SSO.
crossing contexts
Yet another way of crossing over between popular and classical music is to present classical music in popular music contexts and vice versa. Sydney's Ensemble Offspring have worked to break down the sit-down-shut-up concert setting, marketing themselves as a lively group of music entrepreneurs presenting new music to crowds in bars as well as traditional concert halls. Their program at the Petersham Bowls Club this year presented contemporary art music alongside folk and electronica. Melbourne's new ensemble 3 Shades of Black debuted at the Melbourne Fringe Festival with a program featuring Renaissance vocal music and Terry Riley's In C, performing in a hall furnished with bean-bags and serving mulled wine.
We have seen the inverse option (dressing up popular music and sticking it in a concert hall in front of a seated audience) more times than we can count. Theatre orchestras provided galas of operetta overtures, military marches and popular songs from the end of the 19th century to the 1960s. We have seen a renaissance of this sort of programming, with this year's Australian orchestral programs abounding with concerts dedicated to film medleys (the modern operetta overture), Beatles covers and arrangements of indie classics.
an opportunity
Instead of rejecting the term, our awareness of crossover music on the level of individual bands and musicians should extend to an awareness of how our musical palettes and contexts are also becoming increasingly blurred. I am particularly excited about the third form of crossover presented here: that of presenting art music in casual environments. Such concerts invite creative programming to show the lines of connection between seemingly diverse art forms, showing how little musical distance there might be between a New York minimalist composer from the 1960s, a 12th century Parisian choir master and a contemporary Icelandic indie band. While the term may be enabling in terms of programming, the 'crossover' label can also be too easily applied where there is only a superficial exchange of styles. The label should be a signal for us to think critically about what exactly is crossing over.
Festival d'Automne à Paris: Pierre Yves Macé, Natalie Raybould, Ensemble L'Instant Donné Théâtre des Bouffes du Nord, Paris Nov 5
RealTime issue #112 Dec-Jan 2012 pg. 36
© Matthew Lorenzon; for permission to reproduce apply to realtime@realtimearts.net