The Cerini vision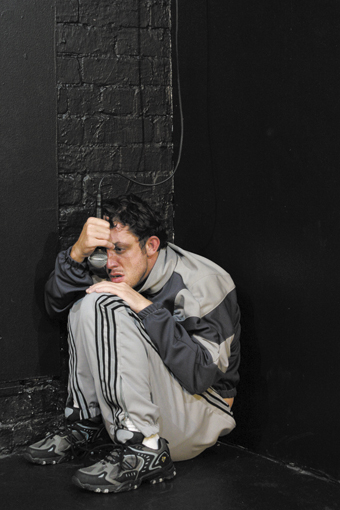 photo Shay Minster
Angus Cerini, This Thousand Years I Shall Not Weep
Angus Cerini has long cut a distinctive figure in Melbourne's theatrical landscape. For the past decade he has produced a series of riveting solo shows consistently characterised by a furious energy which is only done when exhausted. This is often a cathartic process, with audiences leaving as drained as the performer himself. Cerini's theatre is a volcanic one, and after several years away from the stage while collaborating with others, This Thousand Years I Shall Not Weep is a long-awaited return to form. Along with its precursor Puppy Love (which won Cerini a Best Performance award at this year's Melbourne Fringe Festival), This Thousand Years… reminds us why the physicality of live theatre can provide a vital experience in an age of telecommunications.
A very palpable sense of outrage gives Cerini's performances the visceral ferocity which lingers long after the house lights come up; though their subjects may differ, an undeniable anger borne of bewilderment has long been a connecting thread between his disparate writings. This feeling reaches its apex in This Thousand Years… where the specific institutions on which Cerini sets his sights (the military, medicine and politicians) are in some ways straw men; rather than offering concrete targets whom we may blame, they are merely contingent vehicles providing another reason to question the very world in which we live. And this is perhaps the key poser which gives rise to each of Cerini's works: how can I live in this world? How can I bear the insanity presented by everyday existence when society, even humanity is predicated on a fundamental madness?
This Thousand Years… sees Cerini playing out 2 disconnected but intercut monologues: one the narrative of an Australian 'peacekeeper' in the Middle East who carries out a vicious and senseless act of torture on a child as a kind of practical joke; the other the tale of an ordinary citizen who becomes a victim of a hospital blunder and suffers an unimaginable yet utterly believable fate. These dominant threads are bookended by the empty rhetoric of a generic politician whose platitudes ring hollow in such juxtaposition. The performance is accompanied by a crackling electronic score by the prolific and estimable Kelly Ryall, and Cerini's monologues are often interrupted by the hair-raising clash of white noise or a teeth-rattling buzz.
These are not elegies of pure despair, however, and Angus Cerini's works have always been riddled with cracks through which an uncertain light of possibility shines. He recently wrote the text for a collaborative theatre work produced by Platform Youth Theatre, and in this his oddly skeptical idealism was at its most apparent. Test Pattern brought together young people new to performance under the direction of Nadja Kostich and, by workshopping dialogue and story with Cerini, a series of overlapping vignettes resulted. The final work was problematic; uneven pacing and an early lack of apparent intention meant that the piece failed to flow coherently. The interesting but non-professional performances also meant that the complexities of the work had difficulty finding solid footing, and occasionally came across as amateurish rather than experimental and abstracted. The sense of hopefulness was strong, however, as was the unflinching willingness to face the reality of social isolation, oppression and violence in trying to find some way of surmounting these pressures.
This Thousand Years I Shall Not Weep, like Test Pattern, offers a highly charged plea for social justice in a way which avoids clear polemicising or overt scapegoating. It is a work emphasising the importance of compassion and serious thought, while retaining an electricity that gestures towards the sublime.
Political arousal
Another piece of theatre which sublimates but ultimately succeeds for its political intentions is commonplace's Billy Maloney. Sue Gore and Bill Garner dredge up a dazzling array of lost or neglected performance modes. Pantomime, historical lecture, parliamentary debate, union speech and, yes, music hall sing-along are all invoked at one point or another, and the interplay between these forms is deftly handled. The play begins with a pair of amateur historians setting up a hall for a discussion of Maloney before the historical figure himself interrupts and takes over the show. As he recreates for them the crucial events in his past, they shift between playing the bit parts who figured in his story and acting as self-aware commentators on the significance of these people.
This is an unashamedly didactic work, and its central figure is painted in broad and often comically exaggerated strokes. The very real Maloney holds a clear place in Melbourne's history as a distinguished and successful politician and campaigner for the rights of women and workers. There is always the danger that his successes may be lost beneath his flamboyance; that he will become merely another 'colourful' character of Australia's past. Garner and Gore handle this dilemma by overplaying it: Don Bridges' Maloney is a ridiculously ham-fisted clown. This pantomime element perhaps prevents us from indulging in a sort of nostalgic hero-worship as we are never given much of a sense of Maloney as an actual personality, instead admiring the effects of his deeds rather than their cause. This methodology also helps to explain the frequently interactive nature of the play: audience members are lightheartedly given roles as members of parliament, and all are called upon to stand and join in several songs from the era (and on the night I attended, several spectators did not require recourse to the program for the lyrics). In this way, the intentions of Billy are unmistakable: it does not seek to provoke dialectical debate or discussion, but, like its subject, aims to rouse.
Billy may, in some senses, be a particularly unfashionable kind of theatre. It appeals to the heart and its audience's sense of justice in a way which might appear at home in the archaic settings the play recreates, but once we leave the carnivalesque music hall, what are we to do with these feelings? Like Angus Cerini's work, we are not offered easy solutions or promises of utopia, but instead leave with an intuition, dogged but difficult to pin down, that something has to change.
This Thousand Years I Shall Not Weep, writer-performer Angus Cerini, sound Kelly Ryall, design Emily Barrie, Gina Gascoigne; The Store Room, Nov 24-Dec 11, 2005
Billy Maloney, writers Bill Garner, Sue Gore, director Denis Moore, performers Don Bridges, Jim Daly, Ruth Schoenheimer, design Shaun Gurton, lighting Nick Merrylees, commonplace productions, North Melbourne Town Hall, Dec 5-10, 2005
RealTime issue #71 Feb-March 2006 pg. 29
© John Bailey; for permission to reproduce apply to realtime@realtimearts.net