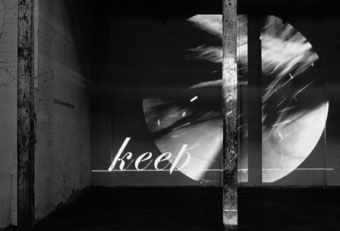 photo Michael Kluvanek
Lisa Harms, circle-work_keep courtesy the artist
Two recent artist-initiated exhibitions in Adelaide pay careful attention to the operations of language. The point where language fails is the place where art (sometimes) takes chances and risks failure. Both Manifesto and Interval: proximity are concerned with relationships, action and the possibility of generating something unexpected, or even new, from the most intimate familial relations to wider social agendas.
Queens Theatre provides a chance for installation artists to consider the dimensions of spatial atmospherics offered by a building that appears ruined. The artists are there to greet visitors, offering tea, coffee, biscuits and a floor plan. The hospitality is a great idea and provides a perfect entrance. Video/DVD projection, though ubiquitous in the last few years, is used here to good effect by Julie Henderson and Lisa Harms. Tucked around the first corner is Harms' circle-work_keep, a DVD projection and soundscape footnoted with assembled objects barely lit by flashlights. Upturned preserving jars and a goldfish bowl recall experiments in the measurement of sensation. The primary image is projected as a circle. I get a sense of movement, of hair perhaps. The soundscape is low, of the body, at a distance yet close. The text moves from left to right, a simple loop, eloquent fragments from the middle of things: "Story number two: I keep/ I keep the wolf from the door with velvet strip/ & gossamer thread I keep/ a bare & approximate distance." Line breaks become intervals, the font is Nuptial Script. Designed by Edwin W Shaar in about 1952, Nuptial was developed especially for wedding invitations. Here it signifies the baroque: excess, loss and hope.
The click, click, click from Henderson's video work in the next room resonates in this one, calling me in. he drinks only when thirsty uses the intransitive verb—a verb with no object. And there he is, the naked man, running. We see him from behind as he runs away from the camera down the centre of 2 tyre tracks that mark a green field. Via jump cuts and fades he moves backwards, forwards and runs on the spot. It's as though he is always trying to catch up with himself. The image appears large on the wall, and twice more on a television and video camera monitor. These are assembled inside a large packing crate along with the rest of the technology used in the work. Everything is bound roughly with rope, as if all at sea.
Around the corner of the same space is Anna Hughes' installation Drawing on the particular. The choice of materials is deliberate and sure: "Steamed European Beech" is used to make the frame for an image of an old woman's hands, palms opened toward the one who watches. "One thousand metres" of thread punctures the image (a "digital print on trace"), a precise stitching that hangs like hair between the arthritic fingers of the old woman, marking the simultaneous distance and proximity of death—death as a passage. The frame is made heavier by the addition of coffin screws and the whole is suspended from a small circular sieve-like object at the back of the room. Or is it a drum? The object, in turn, is held tight by the structure of the building.
Together these works operate like a refrain. They suggest stories—of sadness, of aging or death, of puberty and fear, of melancholy and love. There are aleatory resonances between sound and image from one work to another. The alliance here is both intimate and distant. (A daughter, a lover, a grandmother.) "This distance is never covered, always to be passed through, and even to be started anew" (Luce Irigaray, The Way of Love, Continuum, London, 2002).
Manifesto operates around the impossibility of the declarative statement as an effective political agent. As a group show it is a good example of the kinds of work and questions the new Downtown gallery, Adelaide's only artist-run space at the moment, is attracting and generating. Curator Bridget Currie wrote in an email: "Downtown Art Space is really the only forum for such an exhibition in Adelaide. Manifesto was a bit of a wild unpredictable beast of an exhibition, too broad and spontaneous for the CAOS [Contemporary Art Organisations of Australia] galleries. An artist-run space is the ideal venue for trying out ideas, without the surety of a 'result.' Artist-run initiatives have an important role in making artists' voices heard. Downtown provided an informal and supportive space to air some (one's) opinions."
The exhibition grew from Currie's fascination with the crazy manifestos of the Futurists, written when a 'statement' carried the strength of demand and action: a possible future. I asked Currie about the impetus for the show: "Well I think that the easy road as an artist is to avoid making statements (other than the ubiquitous grant application). This protects you in a way. Political art with a capital P has been frowned on in recent years and I wanted to explore ways in which diverse artists could approach this area. It was important to me to curate artists who didn't necessarily use text or were overtly political in their practice. In developing this show I was interested in eliciting a response that went deeper than art practice, that was about seeing something underlying—what would you say if you needed to declare something to the world? Because the manifesto is a declamatory form. In a modernist sense this can mean a didactic, propagandist mode, but now I feel people have a much warier relationship with grand statements.
"The works in this show ended up being so varied, from a real world protest manifesto (Sydney Art Seen) to tongue in cheek (Marcin Kobelecki) to personal and poetic (Louise Flaherty). Also, as an artist who makes work that has been described as obscure, I wanted to challenge myself to let other people into my brain a little more. The works were incredibly idiosyncratic in approach and very generous in the end. Looking at the show was for me like being lost in many little worlds (or world views), stories with different narrators. Perhaps it was slightly confronting for some viewers; as you interacted with most works like they were short books—texts in a way. I noticed that some viewers looked at the text as though it was just an aesthetic visual thing, not engaging with its content at all. Glancing briefly at a page of typewritten text, what could they hope to understand?"
Bridget is currently collating all the works into a book and downloadable PDF file which will foreground the "reading" aspect of the works and also serve as a reference.
Lisa Harms, Julie Henderson, Anna Hughes, Interval: proximity, Queens Theatre, Adelaide, August 21-22; Manifesto, curator Bridget Currie, various artists, Downtown Art Space, July 14-24
RealTime issue #63 Oct-Nov 2004 pg. 51
© Teri Hoskin; for permission to reproduce apply to realtime@realtimearts.net