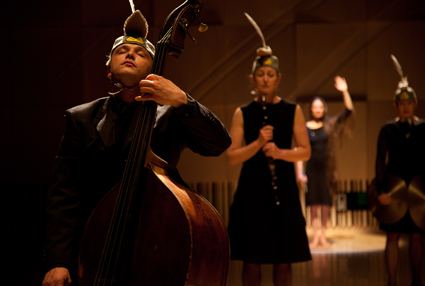 photo Pia Johnson
The Minotaur Trilogy, Chamber Made
JOURNEY IS SUCH A HACKNEYED TERM, THOUGH WHEN WE ARE TALKING ABOUT A THREE-HOUR EPIC, YOU MIGHT BEAR WITH ME. THE MINOTAUR TRILOGY TAKES YOU TO ANCIENT GREECE, VIA A LOST MONTEVERDI OPERA AND SOMETHING LIKE A SURREALIST BIRTHDAY PARTY. IN THREE HEFTY 50-MINUTE ACTS THIS UNORTHODOX WORK FROM CHAMBER MADE OPERA IS A CRUCIBLE OF MYTH, MINIMALISM AND CREATIVE RUSH.
It's not an easy work; at times you might wish Ariadne had given you a ball of thread to navigate the dark corners of this particular labyrinth. At other times, you can let go of plot expectations and see The Minotaur for what it is—a meditation on creativity. It's as challenging for its pace and length as it is extraordinary for unabashedly roaring headlong into the new with the scale and emotion befitting opera. Likewise, the Minotaur, born of a bizarre creative act, is a beast defying easy classification: Pasiphaë had a wooden cow constructed, her lust compelling her to climb inside it in order to copulate with a beautiful bull. It was this act that led to the birth and exile of the man-eating Minotaur.
There begins the first act, The Island, set on Naxos, where Theseus jilts lovelorn Ariadne after she has helped him escape the labyrinth. Any lavishness you might expect from an opera is instead a soft pencil sketch—the music is mostly improvised from performance cues. A double bass (often down-tuned), a harpischord and percussion (often eccentric—any object might be struck or rubbed) make up the orchestra. In the first and third part, the singing is performed with heart-aching clarity, breathing with loss and sea mist. It includes the remaining aria from Monteverdi's lost opera on the subject of Ariadne and Theseus, Lamento d'Arianna.
Using the sensitive acoustics of the Recital Hall's Salon, the music borders on a sound art experiment. Even the opening of a wooden box, its contents rearranged, is integral to the musical score. Similarly the set is built from minimal elements such as an old spire that becomes everything from a weapon to a hill to climb. The performers wear sheath-like dresses and handbags on their heads that, worn lengthways, resemble medieval women's caul headdresses. The Minotaur makes an appearance, pawing at the ground in thick wedged heels, dressed like a frightening dominatrix.
The Minotaur Trilogy fleshes out the emotional content between the lines of the myth. Fear of the Minotaur and Theseus' escape from becoming a human sacrifice are rendered through visual clues. As I was beginning to grasp symbols such as a large basket becoming a ship's hull, harpsichordist Anastasia Russell-Head walked on in a baroque red velvet dress and an enormous seagull head. The audience is steered across the terrain of the story with elements that are unexpected and unsettling.
Nowhere is this more true than in the second part, The Labyrinth. The most stripped back of the three parts, it nonetheless has a near intoxicating effect. In almost total darkness you wait for several long minutes. Only small lamps guide performers to make costume changes. A long chant begins in the dark. Then a bright light reveals a series of striking, surreal tableaux vivants against a plain canvas backdrop. A performer might have a stockinged face, be naked or carry a grass catcher—there is a palpable sense of anticipation as we await the next eerie, richly evocative 'painting' made briefly visible. The performance is felt as much as seen. Eyes adjust from darkness to light and time slows in the long, dark minutes of silence. It's as though we are walking through a labyrinth flicking a lighter. All manner of creature, costumed and bizarre, may be encountered here.
The closing act, The Boats, stepped away from the sonic minimalism of the second part. The improvised music included jazz elements lead by Mark Cauvin who bashed out some bigger rhythms before flipping his double bass upside-down and scratching the floor with the scroll. The six performers this time wore beige shoes on their heads, topped off with white feathers—like small boats. As in a feverish dream or in a half-forgotten myth, The Minotaur operates on its own rules and symbols. It boils down the bones of this epic monster, replating its emotions for a contemporary audience. The Minotaur Trilogy, performed with unwavering conviction by the cast, is a fearless creative act full of imagination and unforgettable imagery.
See Matthew Lorenzon's review of the first part of the trilogy, Minotaur the Island, performed in Western Sydney's Aurora Festival of Living Music in May: www.realtimearts.net/article/issue109/10711.
Melbourne International Arts Festival: The Minotaur Trilogy, creators Margaret Cameron, David Young, performers Deborah Kayser, Caroline Lee, Hellen Sky, double bass Mark Cauvin, percussion Matthias Schack-Arnott, harpsichord Anastasia Russell-Head, architect Michael Roper, lighting Yasmin Santoso; Salon, Melbourne Recital Centre, Oct 18-21
RealTime issue #112 Dec-Jan 2012 pg. 40
© Varia Karipoff; for permission to reproduce apply to realtime@realtimearts.net