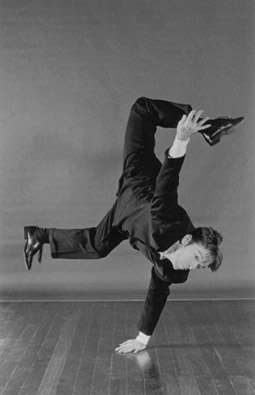 photo Ashley de Praser
Paul O'Sullivan, Shopping, fashion, travel and…Genocide
In perspective…

This year's 50th anniversary festival—the Festival of Fire—marks the end of Sean Doran's 4-year reign as Director of the Perth International Arts Festival (PIAF). Not surprisingly, it has been a difficult period for the festival. Previous director, David Blenkinsop, had been in the job for 23 years and Doran sought to manage and promote a more dynamic artistic direction. In 2004, the Festival will have its first Australian director, Lindy Hume. The fact that Hume is young and female suggests not only a new confidence but also a new direction for future festivals.
Doran's departure allows the distance required to put the programming of Blenkinsop and then General Manager, Henry Boston into clearer perspective. They provided many memorable performance moments. Think of Ballet C de la B, Ann Teresa de Keersmaeker and Maguy Marin; Ong Keng Sen's adventurous Lear and Robert Lepage's Seven Streams of the River Ota; the fabulous Royal de Lux and the ever inventive Vis à Vis. This regime also provided essential support for the establishment of the internationally acclaimed Marrugeku Company and underwrote 2 experimental/experiential music theatre works by Elision, as well as commissioning projects for the development of local theatre. Of course Blenkinsop had the advantage of time, experience and consequently depth on his side.
Doran was always keen to distinguish his role from his predecessor. While this has perhaps resulted in the loss of a strong contemporary dance, circus and street theatre presence, it has led to a greater emphasis on chamber music, opera and contemporary music. Doran's focus was on what he calls "a festival of festivals." This year's festival included the Midland Festival Theatre; the weekend Jazz Festival in Fremantle; the Opera Festival in Mandurah, an international chamber music festival; the Lotteries Film Festival; the Writers' Festival; The Johnnie Walker Watershed and Celestial City (aka Perth Cultural Centre). Punters have apparently greeted these new directions with enthusiasm; but it remains to be seen whether this more decentralised approach to festival activities will extend or fragment audiences.
Another Doran innovation was to provide programming across the state. Not a new festival concept per se, but the regions certainly received a higher profile under his leadership. The Goldfields was host to events such as Anthony Gormley's sculpture, Inside Australia, at Lake Ballard northeast of Kalgoorlie. Programming in the Kimberley, Albany and the Great Southern and nearby regional centres meant that the dispersed population in WA's 'one third' got a piece of the action. Doran tried to broaden the audience base through contemporary and world music programs at the Watershed. Laurie Anderson's marvellous performance, Happiness, was a hit in this year's program. While Irish born Doran knew little about Indigenous art when he arrived in WA, he increasingly embraced the presence of Aboriginal artists. An arts market style event with a gala opening at The Watershed which showcased musical acts, this year's Indigenous Showcase was a stunningly successful event.
Doran's interest in opera on a big scale brought us the truly wonderful Peony Pavilion in 2000. There is no doubt, however, over the years that big ticket numbers from shows such as this and Robert Wilson's Dream Play, Romeo Castelluci's Giulio Cesare and Deborah Warner's The Angel Project, all undertaken by an inexperienced management, left a legacy of financial problems for Doran's next 3 festivals.
It's hoped that Hume will maintain support for local initiatives. An appropriate level of support for contemporary visual arts programming is long overdue. It would be wonderful to see her commit to developing work, perhaps through reinvigorated WA theatre commissions (a Blenkinsop initiative). This well-intentioned venture had appalling outcomes over its 2 years, but it did seek a means of putting real money into local theatre and performance. Perth-based theatre companies are included in the festival but without any financial assistance. This fuels an underlying tension between the perception of the festival as a funding body and as an organisation that curates its own program. Given this, it was fabulous to see local contemporary dance organisation STRUT present 2 programs this year. Five local choreographers/groups strutted their stuff to excellent houses at the Playhouse and PICA.
STRUT
The relative absence of 'dance' from the STRUT program was interesting. In Point of Entry Claudia Alessi used spoken word, circus skills, slides and puppetry; Kompany Kido's Pivot and Enter drew on an eclectic mix of Aikido, contact improvisation and live and recorded video; Paul Gazolla's work was a classic piece of performance art; while Paul O'Sullivan's solo narrative and Shannon Bott's So…do you come here often? drew a more theatrical bow.
This laudable hybridity brought several problems. A mixed bag of stylistic and generic references can sometimes muddy the integrity of individual works. This was most sharply felt in Claudia Alessi's work, where a poor script and an earnestly dated thematic undermined the power of her physical presence. Despite input from 2 directors, the work suffered from a lack of dramaturgical clarity and an indiscriminate overabundance—a mixed bag of tricks.
On the other hand, while overly long and sometimes shambolic, Kompany Kido's comedic framework allowed a succession of generic leaps, referencing cinema (particularly Chinese action films), slapstick and contemporary dance. Their appealing sense of the ridiculous and the ensemble's generosity and enthusiasm meant the work was resoundingly applauded.
Gazolla's Bird Talk #1-7 was a highly self-reflexive yet disciplined live art piece that bemused and even angered much of the audience. Gazolla presented a complex and funny treatise that mocked the idea of dance as a purely expressive medium. The work employed a series of 'real-life' moments (juxtaposed with sound and video), in which the artist impersonated, replaced or copied somebody or some thing else. The work moved from opaque to profound, ultimately suggesting it might be impossible for the artist to find a pure moment of originality. Gazolla was reduced to bouncing up and down on the spot, a choreography he tells us he discovered as a child. Dance is revealed as pure pleasure, neither an academic nor learned space, but rather a space of play.
Shannon Bott's work was the most stylistically coherent of the STRUT program. So…Do You Come Here Often? drew on experimental (non-realist) theatre to create a cool gestural space referencing transitory bar-based relationships. Despite strong performances—particularly by actor Karen Roberts and dancer Rachel Whitworth—the work felt unresolved and its impressionistic but cool design stymied the piece's potential to resonate beyond its clipped frame. However, it certainly deserves revisiting and developing.
Conversely, Paul O'Sullivan's Shopping, fashion, travel and…Genocide risked didacticism in a passionate and witty exploration of current issues, ranging across Australia's policy on refugees, the war in Iraq, consumerism and blind self-interest. This witty monologue was performed in O'Sullivan's characteristic relaxed and loose-limbed mode. Scripted yet nonetheless improvisational, his performance avoided the self-righteousness that mars so much issue-based work. O'Sullivan has been invited to present this work at the 2004 Grahamstown Festival in South Africa, where its unabashed politic and humour are sure to resonate. The opportunity to extend the life of the work through touring should result in a tighter, more precise structure.
STRUT frees up independent dance artists to focus on artistic development by providing administrative and marketing support. For this great initiative to grow within the context of an international arts festival, more financial support and dramaturgical input are needed. Once more, we look to Lindy Hume to recognise and reward such deserving local initiatives.
Incognita
Stalker Theatre's Incognita was one of the festival highlights. Located in the Australian outback and involving a small group of men and women isolated by distance and drought, its outdoor setting at the old Midland Railway Yards perfectly complemented the Australian Gothic style of Andrew Carter's design. The serendipitous full moon rising on a stinking hot night made this a visceral and physical experience.
Incognita sparked heated debate and undeniably the show had some structural weaknesses. The opening scenes locate the work within recognisable visual and narrative traditions drawn from Australian theatre, cinema and literature (Randolph Stowe, Nick Enright, Karen Mainwaring, Tracey Moffatt). Unfortunately the strong narrative potential of these scenes (the stranger/outsider comes to town, sexual tension, rising temperatures…) is quickly abandoned as the piece drifts into a more impressionistic and dancerly work.
There are great risks in jettisoning such a strongly marked character-based narrative. Your audience has already entered into the narrative contract—they have begun to make connections, invest in story. Once character is abandoned, relationships become a matter of proximity. While the audience is certainly left with strong impressions from individual performances and scenes, the overall sense of the work is compromised. The development of an Australian vernacular choreography was compelling—however the absence of a strong script and rigorous dramaturgy diminished the work. On the drive home from Midland it struck the 2 of us that Incognita's producers would benefit from looking at the ways American narrative dance and musical cinema have struggled in the 20th century to negotiate theatre, movement, song and story.
Three Tales
Steve Reich and Beryl Korot might also want to observe these traditions! Their Three Tales was actually 2 tales and one lecture. Both the first and second tale, "Hindenburg" and "Bikini," drew on powerful black and white archival footage to underscore the tragic, ambiguous, even mythic story of technological advancement in the 20th century. In "Hindenburg", the 1937 explosion and crash of the airship signals the end of a failed technology. "Bikini" presents the clash between the atomic bomb tests by the American Government and the people most immediately affected and generally ignored—those displaced from Bikini Atoll in the Solomon Islands. (These tests, carried out between 1946 and 1952, marked the end of World War II and the start of the Cold War.) In the third tale "Dolly" (after the cloned sheep), we are brought to the end of the 20th century and invited to explore a post-human, genetically warped future.
The performance meshes orchestra, large format video, and singers who act as a kind of chorus reflecting on the action on screen. While the music was haunting and insistent, the integration of digital video often undercut the power of the score. Lacking the grain and texture of film, the video was frequently overburdened with digital after-effects. While this made a point about the imbrication of technology and the image, the focus on digital 'effect' was at the cost of human 'affect'; human tragedy—particularly in the Bikini Atoll story—was largely effaced.
While "Hindenburg" and "Bikini" relied on real historical events to provide coherence and force, the significance of human cloning and virtual reality is still under debate. This lessened the formal coherence of the last section of Three Tales. In "Dolly", the potential for ambiguity present in the music (and a stated artistic ambition of the work) gives way to a one-dimensional and often morally hectoring tone, delivered in cut-up by edited 'talking head' scientists and religious leaders. In this context, the application of Reich's familiar compositional elements to the spoken score diminished the work's poetics and tragic resonance. In his program notes Reich describes the "double edged sword of the gains and losses of each new technology as it is incorporated into our lives;" however, in "Dolly" the subtext seemed less ambivalent and rather more apocalyptic and dogmatic.
Three Tales was constantly interesting, engaging and at times brilliant (if brutal). However, despite Reich and Korot's mutual fascination with multiple registers and ambiguity, the sublimation of music to video ultimately closed down the work and left the audience with less space than is humanly needed.
Beasty Grrrl
Scott Rankin's festival commission Beasty Grrrl, took the story of young Tasmanian Errol Flynn and tracked not so much his rise to Hollywood fame as his appalling record as abuser (alleged statutory rapist, paedophile, gun enthusiast, Nazi sympathiser and possibly spy for the Japanese). An unlikely parallel between Flynn and the extinct Tasmanian Thylacine sought to establish some sympathy for the actor who was the product of an abusive childhood. Solo performer Paula Arundell struggled with live sound and video mix in a hugely wordy monologue on a large and clunky set. Ultimately, neither the writer nor performer could summon up much sympathy or enthusiasm for the daredevil actor and star of 23 Hollywood movies.
On the fringe
Two Fringe Festival projects were arguably much more successful. The surprise hit (with capacity houses every night) was 18 year old Matthew Lutton's production of Ionesco's The Bald Prima Donna, at the suffocatingly hot Rechabites Hall. This truly exciting theatre was presented with the kind of wit and artistic risktaking generally absent from many more highly resourced mainstage productions. Working with Associate Director Eamon Flack, Lutton elicited excellent performances from his actors and a dancerly chorus. Self-devised works in the past have shown that his instincts are good, and his influences avant-garde. This work clearly benefited from the structure imposed by Ionesco's script.
Tony Osborne's Rest in Silence at the Blue Room Theatre showcased his idiosyncratic and improvisatory performative style. While Osborne is a skilled and often very funny performer, this work would have benefited from extended development time. As with so much contemporary performance and theatre, the fundamental concept was let down by writing that skittered across the surface. This was a pity, as the stage, lighting and sound design created by Virginia Ward, Mike Nanning and Rob Muir respectively was extraordinary and impeccably integrated.
Exit
And so, as the sun set on another Perth International Arts Festival, we found ourselves driving with the windows down, wondering if summer was ever going to end. We took deep swigs on our water bottles and remarked on the almost universal misunderstanding about narrative and character and on that outmoded and pointless distinction between acting and performing. As we pulled into Kentucky Fried and took out our water pistols, we wondered why nobody wants to play the bad guy no more. It's such fun.
"I'm not really a robber," I told the woman as I pocketed the pistol and paid for the Bucket. "Honey," she said, "this ain't really a chicken."
Perth International Arts Festival, Jan 25-Feb 17: Point of Entry, choreographer, performer Claudia Alessi; Pivot and Enter, Kompany Kido, choreographers Rob Griffin & Sete Tele; Bird Talk #1-7; choreographer, performer Paul Gazzola; Shopping, fashion, travel and…Genocide, choreographer, performer Paul O'Sullivan; Shott Dance Theatre, So… do you come here often?, director, choreographer Shannon Bott; 3 programs at Playhouse Theatre and PICA, Jan 29-Feb 8 25; Stalker Theatre Company, Incognita, conceived & co-directed by Rachael Swain; co-director: Koen Augustijnen, Midland Festival Theatre, Feb 9-16; Three Tales, composer Steve Reich, video Beryl Korot, Board Walk Theatre, Mandurah Performing Arts Centre, Feb 14 & 18; Beasty Grrrl, writer, director Scott Rankin, performer Paula Arundell, Regal Theatre, Feb 6-15; WA Fringe Festival: Thin Ice Productions, The Bald Prima Donna, writer Eugene Ionesco, director Matthew Lutton, Rechabites Hall; Rest in Silence, writer, performer Tony Osborne, Blue Room Theatre, Jan 29-Feb 8
RealTime issue #54 April-May 2003 pg. 43-
© Sarah Miller & Josephine Wilson ; for permission to reproduce apply to realtime@realtimearts.net