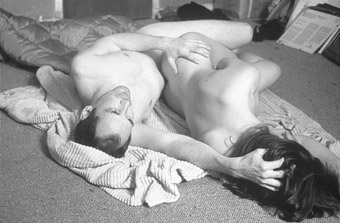 Intimacy
After the lights went up after Intimacy, the woman sitting next to me said in a conspiratorial tone, "you can tell that was written by an English man. A French man would never write love scenes that way." And a friend argued vehemently, "Why does sex always have to be about the woman pleasuring the man. Why must we continue portraying this myth of the vaginal orgasm being the be-all and end-all…a little clitoral stimulation wouldn't go astray." But hey, this ain't the Hite Report, and when a French man does write and direct a similar scenario in a French fashion, we end up with the soufflé A Pornographic Affair. And, Patrice Chereau (French director of Queen Margot and Intimacy) did co-write the screen adaptation from British writer Hanif Kureishi's short stories.
Kerry Fox's character Claire just would not work if she was pleasured by Jay (Mark Rylance). Her almost-anonymous weekly sexual encounters are as much about performance, even abnegation, as satisfaction. At one point he tries, and she brushes him off: "don't worry." Like Samantha Morton's Iris in the brilliant Under the Skin (Carine Adler 1997), she is working through some kind of detachment, or even grief, expressed as lust. If she were after love, she wouldn't be getting carpet rash in a grotty flat with a man too disconnected from the world to even speak. She wants to be the one doing all the work, manipulating his body into poses, consumed by their silences, disappearing out that door into the crowded market. In a pivotal scene, in the dreary hall where she takes drama classes and works through her own frustrations, she breaks down and hurls "I've lost someone" at Betty (Marianne Faithfull). In a later scene, Betty responds in an Emily Dickinson moment, "I died once too."
Much has been made of the explicit nature of their sexual tryst. But the film is interesting because the sex is boring. And it takes up a third of the film. In life, it's hard to admit that we all look so ordinary in those moments when we're meant to look, well, sexy. Hollywood brings in body doubles to cover for the wobbly bits. The opening scenes of Betty Blue set a new standard in how we all wanted to look while getting it on and getting off. A friend once said that she liked David Cronenberg's Crash because it was boring–it was interesting because it was boring. I've grappled with this idea for years but with Intimacy I finally saw what she means. In most other films, sex is boringly boring. But with Intimacy I was satisfied.
The male characters, Jay and Kerrie's husband Andy (Timothy Spall), are particularly strong (in their weaknesses). Estranged, in every sense, from his wife and children, Jay is an alien in almost every environment he encounters except the bar where he works. As he drives in the London traffic he screams "that's a bus lane you cunt." He is physically always opening and closing doors in the film and, like Tom Cruise's Dr William Harford in Eyes Wide Shut (Stanley Kubrick 1999), never seems to have the right combination to the padlock. Children are the key for him. Boys are delirious, wondrous beings. At the beginning, fresh from a bath, his son declares to him "I love everyone"; and Kerrie's son is a font of wisdom, watching her performances in The Glass Menagerie at a "theatre stinking of piss" every night, already understanding more about her needs than either her husband or lover. At his lowest ebb, Jay sits down next to his son and asks in an adult manner, "do you have a girlfriend you like at school?" then, seriously, "how's it going with her?" The audience laughs because his need for reassurance from a child seems ludicrous, but is it really? We never get an answer but who knows what it might have offered Jay. Children are always the moral centre too: his guilty masturbation in the bathroom interrupted by his son who has wet the bed; his angry rant at Kerrie disrupted by her son: "Hi Jay, mummy was good tonight wasn't she?"
It's at these moments where the intimacy of the title works its way magically into the subconscious, continually defined and redefined. After intense sex, Jay sits in a chair and watches Kerrie sleeping. Just a glimpse, but the audience feels uncomfortable, voyeuristic–far more than watching them make love–and when Kerrie wakes, we know that Jay has trespassed. And, as the couple gradually discover each others' lives, less clothes are shed in passion. As if covering up is more revealing. Then there's the acting classes, where participants perform being-in-love, like Kerrie does in her waking world, like we all do at some point in our everyday lives. So, the film asks, where does intimacy really lie, and is it just a conjuring act?
Patrice Chereau's film is the beginning of a dialogue that I hope will be taken up by filmmakers in the future. Less cold and formal than Catherine Breillat's Romance (that it's often compared to) and more oblique than British realism like Mike Leigh's, it's a major insight into the forces that shape us, with death-defying performances from Fox, Rylance and Spall. I'm wrapped in its cocoon and I don't want to stop thinking about it. And I guess that defines intimacy, for me.
Intimacy, director Patrice Chereau, co-writers Anne-Louise Trividic & Chereau, based on stories by Hanif Kureishi; distributor Palace Films, currently in national release.
RealTime issue #47 Feb-March 2002 pg.
© Kirsten Krauth; for permission to reproduce apply to realtime@realtimearts.net