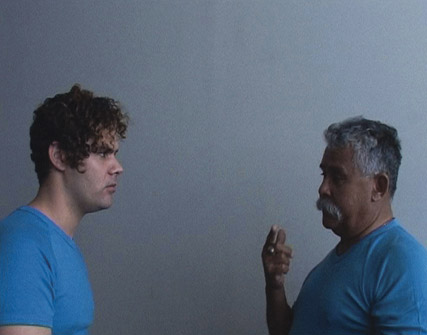 Christian Thompson, The Sixth Mile
MHUL, MEANING IDEA OR CONCEPT FOR THE CENTRAL QUEENSLAND BIDJARA PEOPLE, WAS THE TITLE OF THE INDIGENOUS IDEAS WORKSHOP AT THE AUSTRALIAN CENTRE FOR THE MOVING IMAGE (ACMI) IN MELBOURNE.
Organized by artist and curator Christian Thompson, this five-day workshop brought Indigenous artists from all over the country together to discuss and constructively critique each other's work, as well as engage with the practices of contemporary artists in Melbourne. Fiona Foley, Gary Lee, r e a, Jenny Fraser, Karen Casey and Dianne Jones joined Thompson at ACMI to address pertinent issues for Indigenous practitioners, such as the current reception and positioning of their work in national and international art worlds, institutional collecting practices, the significance of global Indigenous artists' networks and the future of contemporary Indigenous arts practice.
The second day of the workshops featured the Mhul Conversations, an all day public symposium where the artists provided audiences with insight into their past and recent art projects. In ACMI's screen pit, Melbourne-based Dianne Jones spoke about her Mona Lisa photomedia series, which was commissioned by the Centre for Contemporary Photography (CCP) for last year's Black on White exhibition. Presented with a brief to explore the ways in which Aboriginal people see non-Aboriginal people (do they see non-Indigenous Australians as 'Other'?) Dianne responded by interviewing her nephews and nieces, who each have a black and a white parent. It turned out that they perceived themselves as living in between Indigenous and non-Indigenous cultures, unable to express their feelings. The artist explains: "These kids have always been told they are Nyoongar, but no one ever asked them how they felt about their non-Indigenous heritage." Wishing to override the binary opposition between black and white, Dianne subsequently placed her nephews and nieces within Da Vinci's Mona Lisa painting. She remarks: "many people have speculated about Mona Lisa's identity but, so far, have been unsuccessful in determining who she (or he?) is." Focusing on the beauty in her subjects, the artist celebrates the ambivalence of their cultural identities, effectively rejecting straightforward representations of black and white.
In discussing his photographic practice Gary Lee, an artist from Darwin, showed his ability to actively engage the audience with humour, but without being consciously funny. His series Nice Coloured Boys (the title is inspired by a Tracey Moffatt work) which Gary commenced in 1994, currently contains over 700 images. Photographing men during visits to India, Nepal and Bangladesh, the artist allows his subjects to choose their pose while he focuses on their beauty. At times the photographs, some of which show men exposing themselves to the camera, enticed laughter from the audience. However, the conceptual premise of these works is far from laughable. Lee laments the lack of imagery in our daily lives of sexy, beautiful, perhaps even desirable 'coloured men.' Having recently extended his practice by taking pictures of good-looking, young Aboriginal men, the artist challenges preconceived notions of black sexuality, beauty and what he describes as "the fear of desirable coloured boys." Interpreting recent rejections of his work by Australian exhibition venues as a result of "the inability of white people to deal with black beauty shoved in their face", Lee illustrates in his paper some of the constraints currently faced by artists in the Australian art world.
Christian Thompson, whose work was on show both at CCP and the Shrine of Remembrance, also deals with constraints in his recent video art, albeit of a different kind. Previously the artist was known for his work in photography; many of us remember his 2003 Emotional Striptease images in which Indigenous Australian models posed in front of renowned art institutions in Melbourne. Dressed in Victorian clothing while holding Indigenous cultural objects such as boomerangs and a nulla nulla (a deadly weapon), the models defiantly returned the camera's gaze and recreated a presence for themselves in colonised and institutionalised spaces. However, over the past months a shift has occurred in the artist's practice. From extrovert photographic work through which Thompson sought to establish his presence and identity as a Bidjara man, he has moved into making more introspective, intimate works in real time.
The new video work on display as part of his Sixth Mile show at CCP presents the viewer with a very intimate, family ritual. We see Christian and his father involved in what could be interpreted as a greeting ceremony. Speaking in Bidjara, their bodies turned towards each other, the men are engrossed in acting out the same gestures repetitively. The non-Bidjara viewer, who can't understand what is being said, is nonetheless invited into this private space of communication and learning between father and son. The artist explains that this work follows on from earlier videos that similarly focused on Bidjara rituals, made visible by means of a Western visual language. It forms a response to the increasingly conservative government policies and, in particular, to the recent media coverage of dysfunction in Indigenous communities, something described by the artist as "Aboriginal man-bashing." Choosing video because of its potential for direct and intense audience engagement, Thompson offers insight into Indigenous rituals and notions of masculinity and father-child relationships in personal and challenging ways.
Other significant issues arose in the symposium, provoking discussion with the audience and amongst artists about what constitutes Indigenous Australian art; what kind of creative expression is expected from Aboriginal artists in art worlds; the importance of art in supporting Indigenous communities, whether through the creation of positive representations or by involving community members in the art making process; and the exploration of digital media and the ways these can be incorporated into art practices. The symposium in combination with the Mhul Workshops for the artists was an opportunity for Indigenous practitioners to exchange a broad range of ideas, experiences and knowledge with audiences and each other, away from the public gaze. As such, it formed a unique event.
–
Mhul Workshops, Oct 30-Nov 3; Mhul Conversations, Oct 31; Australian Centre for the Moving Image; Christian Thompson, The Sixth Mile, Centre for Contemporary Photography, Melbourne, October 27-Dec 16
RealTime issue #76 Dec-Jan 2006 pg. 54
© Marianne Riphagen; for permission to reproduce apply to realtime@realtimearts.net