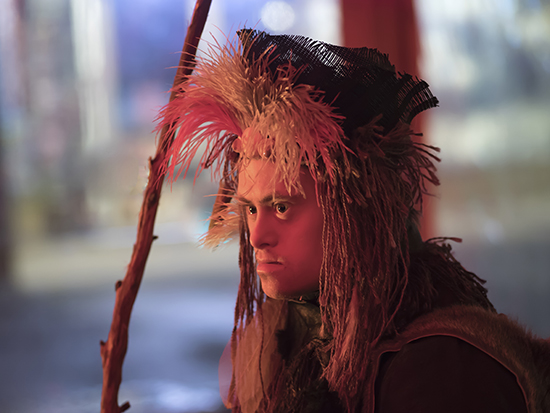 Luke Campbell, Rite of Spring, Second Echo Ensemble
Hobart's inaugural Salamanca Moves dance festival demonstrates the ever-broadening definition of contemporary dance—a discipline that festival curator Kelly Drummond Cawthon describes as "suitable for any BODY and every BODY". True to this philosophy, the ambitious and diverse 11-day program emphasises accessibility without sacrificing criticality, challenging traditional models through site-specific and participatory performances. Of the seven events I attended, only two took place wholly within a theatre; the rest shunned traditional performance spaces for the public realm, blurring the distinction between performer and audience.
Rite of Spring
Rite of Spring borrows the title of Igor Stravinsky's famous 1913 ballet. While there are similar elements of ritual and pagan mysticism, this interpretation takes liberties with the narrative, score and performance style. The four-part performance—each part representing a season—starts off in the Peacock Theatre where we're welcomed to our seats with requests to dance later. Although provided with a glass of wine on entry, none of us is quite ready to drop our inhibitions just yet. They then drop to the floor and weep when we say "no." It's a testament to the artists' infectious enthusiasm that by the end of the performance (at 10pm on a cold Hobart night no less!), on instruction, the entire audience is jumping and spinning around St David's Park.
Rite of Spring is a production by Second Echo Ensemble, an integrated performance group that includes people both with and without disability. Cawthon notes, "it's not a service provider or a community project. It's its own thing." The performance itself is definitely "its own thing," defying genres with its mix of seated, roaming and participatory moments for the audience. It includes a debaucherous feast of wine, fruit and chocolate in a fire-filled garden, giant insect-spotting through cardboard binoculars from a rotunda in St David's Park, a procession up Salamanca Place with the company of giant insect-like performers on stilts, and a final celebratory shot of vodka ("nostrovia!"). Although we start in a theatre, the performance soon graduates to a nearby underground carpark where a winter wedding is celebrated with the firework-like popping of a bubblewrap wedding dress train echoing throughout. Now holding ceremonial sticks, we're corralled into Salamanca Square on our journey to 'Spring,' tapping a steady beat to the sounds of the roaming double bass (much to the amusement of nearby restaurant patrons).
The music is largely provided by the group's "musical provocateur," Michael Fortescue on double bass with additional electronic tracks. It's strongly rhythmic, capturing the energy and emotion of ritual celebrations and blind abandon. The Sage, played by Luke Campbell, brilliantly matches this energy, mesmerising in the way he almost convulses to the beat, recalling Alexei Sayle's manic and infectious dance in his 1991 show 'Itch.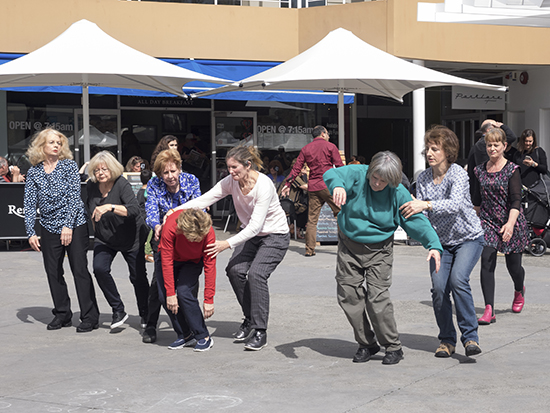 The Stance, Liesel Zink and MADE
The Stance
The Mature Artists Dance Experience (MADE) production of Brisbane artist Liesel Zink's The Stance, also takes place in Salamanca Square, this time at its busiest, thanks to the Saturday market. The Stance is based on a poem about protest and politics by one of the group's members, noting that protest is so often associated with young people ("being pushed and shoved is for the young"). It's a subtle performance. The dancers are in everyday clothes and consequently blend into the crowds when not in formation. The ambient soundtrack is delivered through wireless headphones, and it's the absence of surrounding sound—the cacophony of screaming children, squawking seagulls and coffee machines—that really narrows my focus on the dancers. That said, as with Rite of Spring, I'm hyperaware that the audience is as much the subject of the public's gaze as the dancers.
Salamanca Square is an odd choice for a performance about possession, protest and justice when Parliament Lawns is only minutes away, particularly as the program claims The Stance is site-specific. The restaurant and bar-lined Salamanca Square is associated with tourists, consumption and drunken visits to the 24-hour bakery. It's a largely uncontested space, a safe space. Parliament Lawns, on the other hand, is Hobart's traditional location for protests. It represents democracy and power, and would surely better complement the struggle described in The Stance.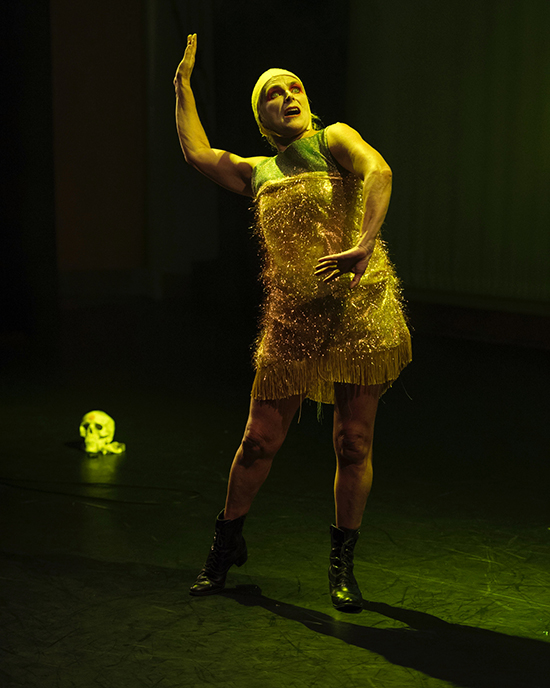 Liz Aggis, The English Channel
Liz Aggiss
Liz Aggiss' two performances, Slap and Tickle and The English Channel, feature a frenetic melange of music hall, dance, performance art, film and stand up, delivered with a heavy dose of dark humour and absurdity. Each is a celebration of women, the female body and the ageing body, and the 63-year-old Aggiss (the headline act for Tasmania Performs' Mature Moves program in the festival) is not afraid to flaunt hers. Of the two, Slap and Tickle is the more engaging show, and doesn't seem forced. It's unapologetically 'dirty' with a constant reel of gags about all things sexual and taboo. Aggiss produces coins and ping-pong balls from her undies and snakes from her bra, which sounds crass (and it is) but is delivered in such a way that the audience doesn't even question why they're laughing. Nor can her jokes be retold. At one point she exclaims, "I have things in my pants to be grateful for" before producing bunting printed with stylised penises. "Cocks plus bunting…I think that makes cunting! Lets party!" It's a gag that made me writhe with laughter at the time, but cringe when recounting it. It's all in the delivery. And that's how Liz Aggiss manages to slip seamlessly from "Let's party!" to dark observations about domestic abuse, cancer, ageism and gender inequality, and still have us laughing. The thematic whiplash is made deliberately uncomfortable.
In The English Channel, Aggiss plays medium to a number of figures from Kurt Joos ("and his Dance of Death") to the first woman to swim the English Channel, Gertrude Ederle. The standout is Aggiss' hammed-up evocation of Florence Foster Jenkins, the American socialite and notoriously bad amateur soprano. As with Slap and Tickle, her variety of cloaks and dresses are beautifully sculptural and constantly changing thanks to the various props hidden beneath the fabric (at one point a tall headdress is removed to reveal a human skull armature, at another a single antler is produced from beneath a cloak). Verbalising a common internal monologue, she repeatedly asks the audience, "Do I please you? Or do I please myself?" before stripping down to a pair of glittering bathers and gold heels, thereby defying the social conventions of modesty we expect of mature-aged women.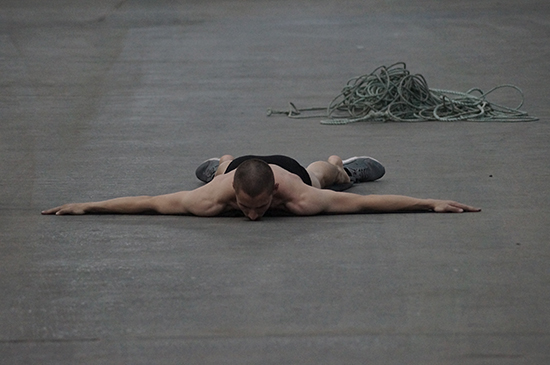 Deepspace, James Batchelor, Salamanca Moves
Deepspace
Deepspace is the result of a research project in the sub-Antarctic undertaken earlier this year. Choreographer and dancer James Batchelor and his artist collaborator Annalise Rees were part of an interdisciplinary team on the CSIRO Investigator, an Australian marine research boat. Deepspace takes place in one of Macquarie Point's now empty industrial sheds. It's a cavernous space that dwarfs the two performers. As if to make the point that everything's relative, it's divided by a line of tiny, model-like hanging sculptures. Batchelor and his fellow dancer, Amber McCartney, use this architecture strategically, deploying rope and other marine-related props as spatial mapping tools, 'drawing' with their bodies.
There are gestural allusions to Batchelor's time on the ship: a flattened crawling along the ground to the sound of wind, the winding of rope and the manipulation of ball bearings over his back—as on a ship in rough water, the cargo shifts back and forth along his spine, threatening to spill over the edge. There's an underlying theme of harmony to the entire performance, from the trust and balance demonstrated by the two dancers, to the hypnotic soundtrack designed by Morgan Hickinbotham.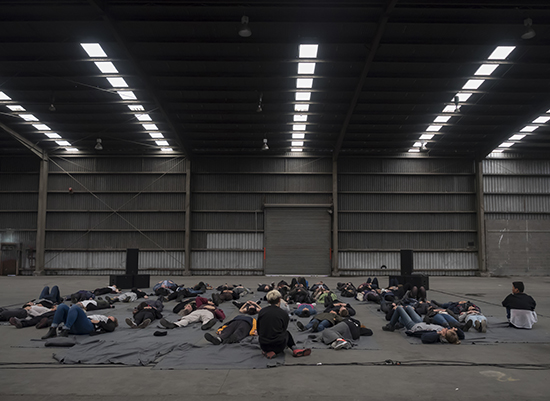 Aeon
Aeon
A couple of hours before Aeon commences, I'm texted the starting location of my "flock"—the play equipment situated on the Queen's Domain. We're handed a small portable speaker and a card, each with an image and phrase relating to birds, flight, evolution, dinosaurs, behaviour and/or breeding. My card has a picture of caged pigeons and a crooked sign reading "pigeons $2.00," which is not as dismal as my neighbour's picture of a used condom. "Everything is natural. Nothing is normal," another participant reads out loud. We're told that in a flock "everyone is a leader, everyone is a follower, so let's stick together." Cue collective awkwardness. Not moving, I look at the overhead birds for advice. They land on a nearby powerline before gracefully lifting off as a flock only seconds later. They've probably never heard the phrase 'natural born leader.' A few of our (human) flock edge towards overgrown railway lines. We follow. Someone starts balancing along one of the tracks, prompting five others to follow suit. Our flock already has leaders and followers.
There's a distorted cooing from the speakers with a beat that's gradually increasing in speed—a pace closer to a bird's heartbeat than any human's. We instinctively walk faster. As we near two other flocks near the Cenotaph, our group starts running in circles. One man takes his shirt off and a woman soon follows. Humans may demonstrate collective behaviour in many aspects of our lives, but we don't flock like birds. In this instance, it's evident that the awareness of social norms overrides any instinctual flocking, although it makes for an interesting social experiment. As we wander down to Macquarie Point to 'roost' in a shed, I can pick members of the Aeon performance. They're the ones jumping around, hitting resonant objects, stepping off the footpaths and taking off their shirts. We almost need to be trained how to flock.
Salamanca Moves at 30,000 feet
The dance party finale reflects the festival's dual focus. Salamanca Moves involves a number of international performers, but it is also very much rooted in the local community, as demonstrated by the small and low-key performances in this final event. It has a slightly twee airline theme with the male DJ dressed as a pilot and the female front of house staff designated as "air hostesses." However, as one runs through pseudo-safety briefing, her movements robotic and familiar, it dawns on me how much dancing we inadvertently experience in everyday life. Everybody dances.
Read a RealTime interview with Salamanca Moves' curator Kelly Drummond Cawthon.
–
Salamanca Art Centre, Salamanca Moves, Hobart, 20 Sept-1 Oct
RealTime issue #135 Oct-Nov 2016
© Lucy Hawthorne; for permission to reproduce apply to realtime@realtimearts.net