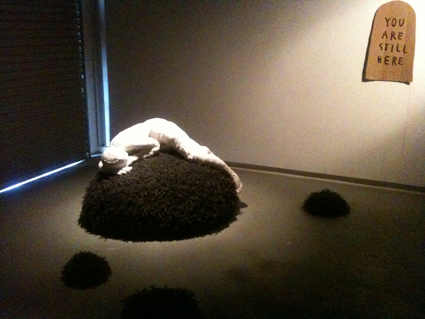 photo Nicholas Mills
Elizabeth Dunn and Jessie Hall, (please give: it a moment)
NOW IN ITS SIXTH YEAR, THE ON EDGE FESTIVAL IN CAIRNS IS INSTRUMENTAL IN INTRODUCING NEW WORKS TO NEW AUDIENCES IN FAR NORTHERN QUEENSLAND. THIS YEAR'S PROGRAM, CURATED BY NICHOLAS MILLS, INCLUDED SOUND ART (LIQUID ARCHITECTURE), VIDEO ART (CAO FEI) AND DANCE ON SCREEN (REELDANCE) AS WELL AS PERFORMANCE WORKS. THREE OF THE PERFORMANCE HIGHLIGHTS WERE ELIZABETH DUNN AND JESSIE HALL'S (PLEASE GIVE: IT A MOMENT), POST'S SHAMELESSLY GLITZY WORK AND NICHOLAS MILLS' OWN 2WHYTE. FOR ME, EACH OF THESE WORKS HAD A REFLECTIVE QUALITY AND MINED THE INNER WORLD OF THE SUBJECT FOR MATERIAL.
(please give: it a moment)
Wallwork Studios has been transformed into an interactive obstacle course. As I enter, I am handed a conical mask with hand-drawn features, suggestive of a shy creature that spends a lot of time in the dark. Wearing this makes me feel as though maybe I too will find a bolthole in which to hide. This is (please give: it a moment), where each audience member becomes the work's subject via their physical engagement with it. Created by Cairns' artists Elizabeth Dunn and Jessie Hall, it is fresh from the Next Wave festival in Melbourne.
Other masked creatures inhabit the space. We are guided past fabric mounds and along the way encounter a larger crafted hillock where a life-sized figure made from wool curls like a cat in repose. We move on to a table where we are invited to partake of a conversation conducted entirely via pen and paper. Tea is offered, along with written advice and the messages then affixed to the studio wall—as a sort of 'moodboard' of the soul. It's tea and sympathy and the writing is on the wall.
We are then gently coerced into a cubby constructed of translucent paper, with moving images projected on the back wall. These are landscapes, seemingly shot at twilight from the window of a moving vehicle. By now, I am overtaken by the persona of the mask; I become a kind of hybrid creature that scratches at the door of both human and animal worlds, and it seems that I am viewing these images through new eyes. They offer up a whole new world of opportunities, should I find the courage to step over the threshold of my hidey-hole and venture into the beyond.
(please give: it a moment) is a refreshing take on the interactive installation form, where participants experience a nuanced and subtle trip through the psyche, like animals being coaxed from a subterranean burrow.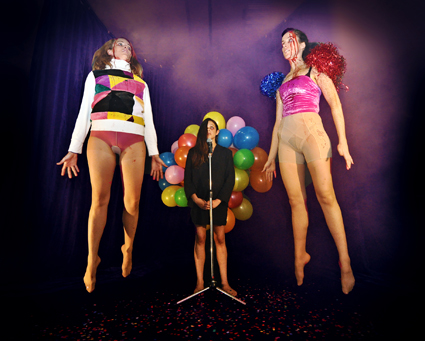 photo James Brown
Post, Shamelessly Glitzy Work
shamelessly glitzy work
This offering from Sydney's Post has had rapturous receptions in Sydney, Melbourne and Brisbane, so it was a sweet treat to see it in Cairns. The piece itself, however, was not without some deliciously tart satire. To open, three sparkly, spangled magicians tease us for an extended time at the microphone with inhalations, lip smacking and inane smiles. What follows is a series of faux magic routines where the performers build up our expectations for the big showstopper to reveal…well that the performer is wearing a patchwork jumper identical to the one she has just removed. The performer gestures "Ta-da!" all the while looking at us knowingly.
As the show progresses, there is a meditation on the rave scene replete with glitter in the laser lights and an account of an incident outside a nightclub where a woman, a self-described melange of Bonne Bell, Maybelline and feminine hygiene spray, considers an offer from a potential suitor. She tells us, "Guys in Barinas have yelled at me before, but this was different." There are ruminations on contemporary security policies too, where nameless organisations reminiscent of George Orwell's Thought Police encroach on civil liberties. The performers describe a quasi Big Brother state where the control of one's mind and fast food choices—"I've got the fish burger in my hand, but I really wanted a chicken burger"—rates as serious social concern.
The centrepiece of the show is a vignette where the performers bounce for over 10 minutes to techno music while one boozily bawls "C'mon ladies!" This slowly turns into a wet t-shirt competition and then something more sinister where blood pours from mouths of the 'contestants.' This act is chilling in its evocation of sexual objectification and abuse, reinforcing the idea of performance as a political act that can both challenge and reassert structures of power.
The writing is a revelation in a formal sense; all that is said in the first half of the show is repeated in the reverse order in the second. As well the characters constantly allude to the audience's presence through eye contact and gesture. This staginess, or self-conscious awareness of what Peggy Phelan calls performance's "maniacally charged present" (Unmarked, Routledge, 1993), is echoed in the performers' oft-repeated line: "I definitely feel something." I felt something too, Post, and even if you were being ironic you were generous enough to let us in on the joke.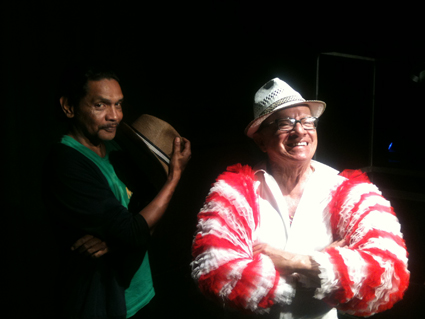 photo Nicholas Mills
Raymond D Blanco and Raphael Blanco, 2Whyte
2Whyte
2Whyte was held on the last weekend of the festival and is best described as a work in progress. It has an interesting premise, with Nicholas Mills bringing together two established dancers with the same surname but from different disciplines. Raymond D Blanco is a prominent Indigenous dancer, choreographer and director who has been at the forefront of Indigenous dance and its development, while Raphael Blanco is a 76 year old Cuban dancer and teacher and reportedly one of the first Cuban immigrants to arrive in Australia. Together they bop, boogie and cha cha cha their way through the show, finding common ground through dance.
As the houselights dim we are shown projected text, first about the history of Cuba and then Australia and the Torres Strait. The source cited is Wikipedia and I'm not sure if the team are being ironic or simply relaxed in respect to their research. Next there is a demonstration of Cuban dance moves, projected documentary-style footage and live onstage interviews with the dancers, interspersed with examples from Raymond's repertoire. His evident joy in performing to Silver Convention's Lady Bump (presumably a favourite from his formative years) is so infectious that we find ourselves bopping along in our chairs.
One audience member described this work as "docu-dance" and it shone when we were able to glimpse into the dancers' psyches. Each grappled in their own way with the notion of being categorised as an 'older dancer' and the significance of this for their careers resonated with the sympathetic audience. Perhaps the work would benefit from a little more finessing and some direction in relation to teasing out further synergies, however, the performers held us with their charm and zeal.
Like the individual performances within it, the On Edge festival offers fascinating insights into the interior worlds of artists and audiences alike. The festival makes an integral contribution to the far northern landscape and its arts community with a celebration of contemporary performance and media works from all over Australia and the world.
2010 On Edge Festival: (please give: it a moment), creators Elizabeth Dunn and Jessie Hall, Wallwork Studios, July 4-7; post, Shamelessly Glitzy Work, created and performed by Mish Grigor, Natalie Rose and Zoe Coombs Marr, COCA Theatre, July 8-9; 2Whyte, director and media Nicholas Mills, performers Raymond D Blanco and Raphael Blanco, COCA Theatre July 15-17; www.onedgeart.com/
RealTime issue #98 Aug-Sept 2010 pg. web
© Victoria Carless; for permission to reproduce apply to realtime@realtimearts.net