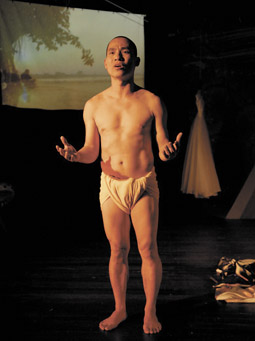 photo Heidrun Löhr
Binh Duy Ta ,Yellow is not yellow
IN DECEMBER 2007, PERFORMER AND DIRECTOR BINH DUY TA AND VIDEO ARTIST PETER OLDHAM TRAVELLED TO VIETNAM TO UNDERTAKE RESEARCH AND DEVELOPMENT FOR CITYMOON'S LATEST WORK, YELLOW IS NOT YELLOW, A WORK-IN-PROGRESS SHOWING OF WHICH WAS PRESENTED AT THE COMPANY'S BANKSTOWN HOME IN LATE MARCH. TA DESCRIBES THE EARLY DAYS OF THE TRIP, DRIVING THROUGH THE STREETS OF HANOI, WITH OLDHAM FILMING AND HANGING ON FOR DEAR LIFE: "HE WAS VERY BRAVE. BEFORE WE LEFT, I TOLD HIM THAT WE WOULD FILM AROUND THE CITY ON A MOTORBIKE, AND HE DIDN'T BELIEVE ME. BUT HE COPED WITH THAT VERY WELL."
The title Yellow is not yellow is drawn from Ta's investigations of Buddhist philosophy, in particular the notion that something might not be what it appears or claims to be. For Ta, this evokes the migrant experience, slipping constantly between identities and languages. With this linguistic and embodied state of shifting, one loses that which one was, without ever becoming that which one wished to become. This is a deeply personal theme for Ta. Despite having lived in Australia since 1991, he feels that he has never quite become 'Australian', but is not exactly 'Vietnamese' anymore either. One of the aims of the Hanoi visit was to stage an encounter with states of not-here and not-there and this proved to be a rich thread informing the work's development.
Questions of identity and culture have been very much at the heart of Citymoon's practice over the last decade. The company began in 1995 as a collaboration between Binh Duy Ta and the late director and performer Bruce Keller. The two had previously worked together on Jigsaw Theatre Company's Treehouse (1991) in Canberra, a work that later toured throughout East Java. "You have to go to Sydney", Keller told Ta when they completed the project. Ta took this advice, and work with renowned performance group Entr'acte Theatre followed.
On tour with Entr'acte through Indonesia, Ta encountered the work of the poet, director and writer WS Rendra and his Bengkel Theater, and was struck by their powerful integration of martial arts and performance: "My training background was as a pantomime artist, a classical mime. Entr'acte is not classical mime, but modern or corporeal mime. At the same time, I trained in martial arts. I trained as my own interest, rather than thinking that one day I can apply this to performance. Since [seeing Bengkel Theater] I thought maybe I've got something that I can develop, and combine the mime to the movement to the kung fu into something that could be my own style."
This stylistic fusion was clearly of interest to Keller as well and the pair founded Citymoon. Each saw the potential to develop a distinctive hybrid movement vocabulary, a physical performance practice that might be able to build a cultural bridge between embodied Vietnamese and Australian identities. With an intercultural agenda that was both personal and aesthetic, Citymoon took as its mission to make performance from "contemporary themes with a Vietnamese sensibility." Their first work, Conversations with Charlie, premiered at Belvoir Street Theatre's now defunct Asian Theatre Festival in 1996, and subsequent works included The Three-Cornered Room (1999), Hip Hop Horse (2000), The Monkey Mother (2000), and Soft Silk, Rough Linen (2001).
Keller and Ta's work with Citymoon has had the recurrent theme of identities in states of flux and transformation, encountering, embracing and usually overcoming cultural difference. Alongside their work with professional artists, Citymoon also began to develop a range of projects involving young people. The youth aspect to the company was not originally part of the plan but made increasing sense as Citymoon's practice developed. Ta remembers an interview with the youth arts magazine Lowdown in the early years of the company, which, upon publication, left the strong impression that Citymoon intended to have a focus on developing performance with young people. Upon reflection, he and Keller decided that this sounded like a very good idea.
Personal contacts with Bankstown Youth Theatre and the presence of large numbers of young Vietnamese people in the area saw the company relocate to Bankstown and, over the next few years, Citymoon created Dat Nuoc: Earth/Water (1999), Beat Box Vox Pop (2001), Eleven Parts of Feeling (2004) and three co-productions with Powerhouse Youth Theatre, Journeys West (1999), Finding the Buffalo (2001) and Heartland (2002). While each of these projects had a strong core group of young Vietnamese-Australian artists, true to the company's vision of performance as a place of cultural exchange and transformation, later projects included increasing numbers of non-Vietnamese young artists. For Ta, this move made the work "more reflective of the society we live in now, rather than just Vietnamese."
The strength of Citymoon's performance practice was the strong cross-cultural collaboration between Keller and Ta, representatives of two cultures. For Ta, this aspect of Citymoon's work has continued despite Keller's death in 2003: "The ideas and philosophy are still there. I know that this sounds clichéd, but the work of Citymoon is the bridge between Vietnamese culture and Australian culture and artists."
Yellow is not yellow continues this process of performative bridge-building. Citymoon's first performance work in three years, Yellow… explores strangeness, loss and dislocation through a unique blend of music, physical performance, video and poetic text, and features a strong line-up of collaborators: Peter Oldham's video work, musical compositions by Sawung Jabo, Ngoc-Tuan Hoang and Sarah de Jong, design by Pierre Thibaudeau, and lighting by Neil Simpson. Slipping in and out of languages, identities and cultures, getting carried away by strangely beautiful intercultural harmonies, Ta and his collaborators have created a vibrant new work for Citymoon.
Citymoon Theatre, Yellow is not yellow, work-in-progress, Hackett House, Bankstown, March 29
RealTime issue #85 June-July 2008 pg. 43
© David Williams; for permission to reproduce apply to realtime@realtimearts.net