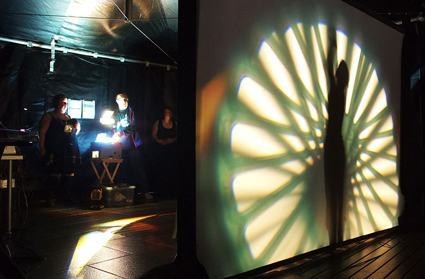 photo Tim McNeilage
Shadow Tales: Rawcus and The Amplified Elephants, Melbourne Festival
Some disability arts groups are standalone, others partner with or emerge from existing organisations, for example Merrigong Theatre Company runs drama classes for Disability Arts in Wollongong NSW, out of which has come The Man Who Dreamt The Stars (see page article). JOLT Sonic Arts Inc in Melbourne supports The Amplified Elephants, formed in 2006 by JOLT director, composer and sound artist James Hullick after working with people with disabilities at the Footscray Community Centre.
The Amplified Elephants, who perform and tour with JOLT's contemporary music ensemble, BOLT, will travel to Japan and Europe in 2014 with a new work. Matthew Lorenzon spoke with James Hullick about The Amplified Elephants and JOLT, the increasingly international organisation they are a part of.
You have just stormed Melbourne Festival with shows from your organisations including JOLT and BOLT. How long have they been running?
There's JOLT, which is a not-for-profit sound art organisation. Really that's about touring and it is turning into a record label shortly. Through JOLT we've run festivals in Switzerland and Japan. BOLT is the ensemble. It's a chamber orchestra, but sometimes it's much smaller than that. There's also the Click Clack Project, which does community-based stuff. Originally they were all one thing, but then we split them up so they could each find an identity in the field they were specific to.
An important aspect of your work is working with people with disabilities. Was that a founding principle of your organisations?
That started very early. The Amplified Elephants is a group of people with intellectual disabilities that I work with in partnership with Footscray Community Arts Centre and the Artlife program there. It started as a workshop, which it still is every Thursday, but we turned it into a group in 2006. From there we started making more and more shows and plugging it into the sound scene in Melbourne. They've worked with a few overseas artists, which has been good experience for both parties.
There's a post-apocalyptic dramaturgy at work in your shows. Bruchlandung in this year's Melbourne Festival was explicitly post-apocalyptic. Where does this impulse come from?
I have thought about that. I like things that are non-narrative. So maybe I'm plugging into the dream world, which happens at night. Dreams come out of a backdrop of darkness, rather than a backdrop of light as you would find in a gallery. So there tends to be a basic black layer and something that occurs on top of that.
Working out in Footscray also gives me a sense of a sort of antipodean Gothic. I think of the Ned Kelly paintings by Sidney Nolan with these blocky, black squares. There's a world of it that runs through Victoria and Melbourne in particular. There was an article about this some years back (Ashley Crawford, "Melbourne Gothic," Art Collector 24, April–June 2003) talking about those things.
One of my teachers was Felix Werder, who is German and was strongly interested in German Gothic. We talked about this a lot, the difference between Gothicism and Imperialism, which is where, from Germany's point of view, as far as I can gather, the power struggle has always been. The Gothic is networked and the imperial is hierarchical. Germany is laid out as a network of smaller cities while other countries are more centralised. It is something that comes from a different idea of governance and organisation. That has influenced how all of our different organisations were made. JOLT has producers who live overseas doing their own thing. When they are called upon they join the fray, the council comes together. Cal Lyall is the producer in Tokyo and Daniel Buess is the producer in Switzerland. There are other producers starting up.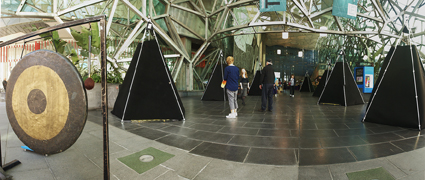 photo Tim McNeilage
Sonic Flock, Jolt, Melbourne Festival
Where to from here? What happens in 2014?
That's a good question. We're booked in for the Bendigo International Festival of Exploratory Music. I've been pulling out older shows and preparing them for touring: crunching them down a bit; streamlining bits that didn't work so well.
More than that I'm focusing on getting the recordings going. We have a backlog of umpteen recordings over many years. The recordings will be available online and in stores in Australia first, then in Switzerland and Japan. It's hard to establish a label in a networked way, but sound art has been networked for so long that it's hard to do it otherwise.
Do the Amplified Elephants have a new show?
It's called Re-evolution and will come up at the end of next year. It has a lot of machines in it actually. It's interesting, the idea of virtuosity coming out of community projects. With The Amplified Elephants Katherine Sutherland is the punching-bag specialist [a punching-bag fitted with pressure triggers]. Teagan Connor is the specialist on the violins [the Gotholin or stack of four MIDI-controlled robotic violins, part of The NIS, an all-abilities sonic art show]. Working out what each person can do really well is part of the puzzle. That process has then been translated onto the BOLT ensemble, asking "what does this individual do that is amazing?" Building communities in these networked ways, putting these networks in motion, can feel a bit like an army of ants, a bit impersonal. But on the other hand there's a lot of individual focus. I don't know if the performers know that they're constantly being watched.
We will also tour in August with The Amplified Elephants and BOLT to Japan and Europe. That's why we've toured to Sydney with Bruchlandung. We had to see whether we could tour with it. We had Guillermo Anzorena from Neue Vocalsolisten [Stuttgart, Germany] singing the vocal part. They're an amazing group and one of the things we're trying to do is link in with these groups and bring them back to Australia, because there are actually not a lot of international acts in the art music scene. We want to get that out to Australian audiences so they don't feel like they're just part of an Australian conversation, but an international one. I think that's where the challenges really are, and that's why the touring's important for me. I'm a dad with two kids, so getting my name out there is not necessarily helpful. It just means more time away.
Concerts featuring Amplified Elephants with BOLT ensemble have been reviewed in RealTime: The Mountain Concerts (RT101), The Click Clack Project, The NIS (RT115, online).
RealTime issue #118 Dec-Jan 2013 pg. 10
© Matthew Lorenzon; for permission to reproduce apply to realtime@realtimearts.net