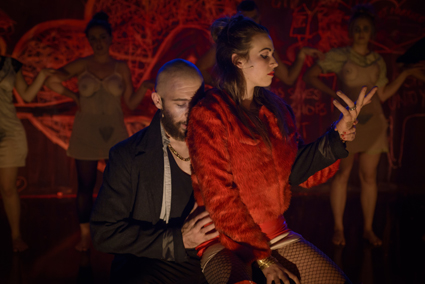 photo Sofia Calado
David Geddes, Caetlyn Collins, The Threepenny Opera, 2013, director Cameron Goodall, Adelaide College of the Arts (ACarts)
After 30 years of acting, directing, teaching (including NIDA, VCA, UWS, The Actor's Centre and conducting his own acting courses), Steve Matthews has taken on the position of Principal Lecturer, Performing Arts, at TAFE SA's Adelaide College of the Arts. He's been a mere six months in this position but had long admired the college: "It's a $60m purpose-built performing and visual arts centre. 'Wow,' I thought, this is the country's best kept secret." It's as well-equipped as NIDA and the VCA, he says, and offers students advantages less available in larger cities.
He and his staff emphasise not just the facilities, but also the industry readiness of its graduates, "The College has first class facilities reflecting industry standards. There are two very good theatres plus studio theatres and dance studios. We work on the production house model similar to NIDA and WAAPA. There are four 10-week terms, the first 5-6 weeks of which are studio-based, plus lectures and tutorials and then we move into production mode. We do up to 14 theatre and dance productions a year; tech, design and stage management students all work on these. It's very practical, hands-on, three-year intensive training."
Other advantages centre on the College's home being a festival city, ideal for placement of students as interns in the performing arts. There's a very high demand for technical staff and opportunities for emerging actors and dancers, given a close relationship between the college and the State Theatre and other companies. Adelaide is also a very liveable city and far less expensive for students than Sydney and Melbourne. Matthews is determined "to put this well kept secret on the map." Certainly the industry is aware of the College but it warrants more attention, national and international, insists Matthews, eager to also attract overseas students.
Acting
Terence Crawford, Head of Acting and an actor himself (most recently in the STCSA's The Seagull) and also director, playwright and author of two books on acting, is passionate about teaching. He expresses wariness about the ways acting schools often seek to make students creatively autonomous: "After years of running courses here and overseas and hearing and believing the rhetoric that we should teach students to make work. I've really tried to take responsibility for it. Schools err by saying we'll get some theatre-makers in and they'll lead you through a process to make your own work: student-devised work is often in fact expert-devised work, and at the other end of the scale it's done for cost efficiency—'Here's the keys to the theatre, go and make it.'
"We asked, what might we thread through the course so that in third year students are fully ready to make their own work. We have 3D, the Third Year Devised Exercise, with students working without directors and devising short pieces, but for two years they know that's going to be the culmination of their course and on the way they've learnt a lot about writing. I learnt a lot about acting through being a playwright and have brought into courses a kind of reversal of the classic American writing model where writers have to get up and act their own scripts to know what it's like to be an actor. I get actors to write. History tells us that quite a few of the great writers were actors. It's a way to attack a study of dramaturgy and if nothing else, they learn how bloody hard it is to write a couple of pages of dialogue. And in second year, there's a director-led devised project. The students have been prepared and their ideas pitched by the time they get to third year. The outcomes are remarkable."
The practicing professional artists the students work with in their second year "include the young constantly working Adelaide playwrights Emily Steel and Nicki Bloom; Paulo Castro, a Portuguese-Australian director with an international reputation; Jo Stone the other half of Stone-Castro who has performed with les ballets C de la B; and Chris Drummond, the Artistic Director of Brink and a regular contributor to the course who has his own particular dramaturgical approach."
Crawford states with conviction, "we teach to empower and liberate rather than tick boxes. I also think there's a particular value in being taught by someone who has published as much as I have [including Dimensions of Acting, An Australian Approach, Currency Press, 2012]: you know what you'll be getting."
Another strength, he says, is that the College "is so closely linked with the industry with a closer relationship with the State Company than any school could hope for. They often rehearse in our building, I perform with them and their Artistic Director Geordie Brookman has directed here. We're a sibling institution offering great opportunities for work for our best graduates. Of course, we aim for our students to have national careers, but it's best to stay in Adelaide for a couple of years and get some runs on the board. Graduate Kate Cheel has played Irina in The Three Sisters, Laura in The Glass Menagerie and Thea in Hedda Gabler, all for STCSA." Other graduates performed in STCSA's Vere which toured to Sydney Theatre Company as a co-production.
Crawford says, "TAFE's god is industry while a university's god is the very notion of the academy. That means we can justify the hours of studio work that we deliver because they are the hours called for by the industry. It's about employability."
Dance
Lecturer in Dance, dancer and choreographer Peter Sheedy, whose extensive career includes performing with ADT, Dance North, Human Veins and Taipei Crossover, likewise points to the College's courses "being born out of Vocational and Educational Training [VET, government certificated]. A lot of hours are dedicated to the actual training of the dancer; we're still embedded in studio practice with a healthy number of hours even though now the course is a Bachelor of Creative Arts Dance degree offered by Flinders University, run in conjunction with TAFE SA.
"All our teachers have a minimum seven years in the industry and choreographers come in to work with our students on productions. We function like a production house, all the subjects are tied to that. We diversify from pure or abstract dance forms through to theatre-based work where you'll be handed a script towards building your own physical theatre forms. Students perform at the Fringe Festival in their final year and there are secondments with companies in direct correlation with the industry. It's a lot of work."
After the first year's relatively informal Foundation Performance course, there are five major seasons in second and third year shown publicly as well as students developing their own work. Guest choreographers include Daniel Jaber, the new artistic director of Leigh Warren and Dancers, Jo Stone, Larissa MacGowan (ex-ADT)." Contemporary dance is taught by Sheedy and Lisa Heaven, classical by Sally Collard-Gentle (Sheedy comments, "we are a contemporary course but ballet is included for discipline and technique") and sessional teachers include Rebecca Jones (Leigh Warren and Dancers) and Kylie Nadine Williams (ADT). The many successful graduates include "Chris Aubrey in Sydney Dance Company, Tom Greenfield and Jessie Oshodi, who have worked with Dance North and Oshodi's now working with Shaun Parker & Company which another graduate, Lewis Rankin, joined for a European and Middle Eastern tour.
Technical production
Jeanne Hurrell, an experienced theatre technician, writer for the national entertainment technology magazine CX and Lecturer in Sound and Technical Management at SA College of the Arts, lists its extensive range of Diplomas in Live Production, Theatre and Events, Set and Scenery Construction, Costume for Performance, Advanced Diploma in Stage Management and Advanced Diploma in Design. "Students design and manufacture sets, props and costumes, install and operate complex staging, lighting and sound and stage manage eight fully-resourced public productions for our Acting and Dance students each year…guest directors and choreographers expose our students to the high standards expected in the profession."
Hurrell writes that a typical successful technical production graduate is Lachlan Turner, who is working with Australian Dance Theatre on Multiverse (see review p38). "The production relies on high-end 3D technology. As a student, Lachlan had spent six weeks seconded to ADT's Production Manager, Paul Cowley—a graduate of the technical course at AC Arts' predecessor, the Centre for Performing Arts. Paul takes AC Arts technical students for work placements because he knows that our training gives students experience with the latest technologies and teaches them how to adapt and develop technology to support artistic efforts. Lachlan was part of the small technical production team that accompanied ADT's recent European tour.
"Graduates are taken up by the Adelaide Festival Centre, Adelaide Convention Centre, Adelaide Festival, Fringe Festival and the technical production companies servicing South Australian major events and festivals. Many students start work with these organisations while still studying."
Sometimes referred to as "TAFE SA's jewel in the crown," Adelaide College of the Arts is "a well kept secret" no longer, with the institution eager to promote its successes and offer the kinds of intensive courses that engender students who are not simply industry ready, but confidently creative.
Adelaide College of the Arts Open Day, 10am-3pm, Sunday 17 August, Adelaide College of Arts TAFE SA, tafesa.edu.au/adelaide-college-of-the-arts
RealTime issue #122 Aug-Sept 2014 pg. 16
© Keith Gallasch; for permission to reproduce apply to realtime@realtimearts.net