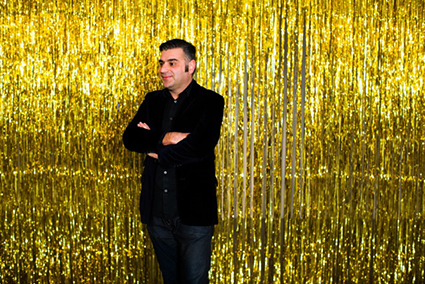 photo courtesy Campbelltown Arts Centre
Michael Dagostino
Interactivity and immersion, live and digital, are the go-to states of the moment. The staging of Carriageworks' 24 Frames Per Second is spatially immersive, with paths to, between and into recorded film/video works jointly made by visual artists and choreographers. In Sue Healey's On View at Performance Space (also at Carriageworks) the sensory embrace is felt in the interplay between live dancer-choreographers and Healey's film images of them.
In Campbelltown Arts Centre's I Can Hear Dancing immersion is realised not simply in the live pairing of choreographer and composers/sound artists, but also in the spatial constructs they've designed for audience engagement, as CAC CEO Michael Dagostino explained to me shortly before the first work of the season is to premiere.
This program has been three-years in the making. Describe its evolution.
Our former Dance Curator Emma Saunders and I were looking beyond what was happening in contemporary dance and we thought there was a really interesting synergy between contemporary dance and music. We came to the conclusion that I Can Hear Dancing could be a model for joining contemporary musicians with choreographers in a way that removed the usual hierarchy, to create an equal platform. So we came up with a list of artists and started pairing them up. At Campbelltown, we see ourselves located on the edge: we're on the edge of Sydney, the edge of Western Sydney and also on the edge of contemporary art production. And we're always trying to encourage new ways of working. For example, one pair is Anthony and Julian Hamilton. Antony is a well-established choreographer and his brother Julian is one of The Presets duo. They hadn't worked together previously so we thought that was a pretty interesting idea.
Who's managing the program?
Kiri Morcombe, a really interesting curator who has worked at the Australia Council, FORM Dance Projects and Blacktown Arts Centre, has done a lot of work to put this program together after Emma Saunders set it off and then moved on to other things.
I gather there's an installation element to the program.
All three works involve construction. I guess "sets" is not the right word but definitely installations which the audience will journey through. In the Hamiltons' Ruth the audience will be led through a number of 'sites' within the theatre.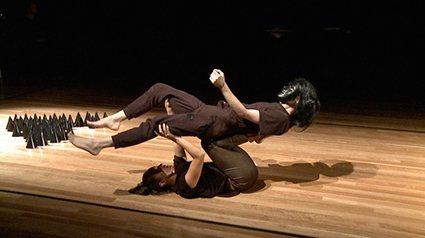 photo courtesy Campbelltown Arts Centre
Ruth by Antony & Julian Hamilton
Watching Antony Hamilton's creations [Keep Everything, Black Projects 1 & 2] is always very immersive with his intense play with light and dark and figures integrated into the design—or making it as they perform. Will he be dancing?
Not this time. There are two dancers and the audience is a major part of the work—not participating as such but forming a part of the structure. I can't reveal too much more. Julian will also be performing. He's a classically trained pianist and he's moving back towards that in his new composition for Ruth.
What's the kinship between Kate Mcintosh and the Sydney percussionist Bree Van Reyk in their work, In Stereo?
Kate's a Berlin-based, New Zealand born choreographer and performance, video and installation artist who works predominantly with space. So the abstract nature of her work creates a natural synergy with Bree's. They have non-narrative based practices. With Bree it's percussion with elements of minimalism, as there is in Kate's. We thought there might be a natural collision between the two and they've been working effectively together with Kate dancing and Bree playing.
All these works are still in development. We're not going to know the final outcome for a while. We're getting closer as we speak with Antony and Julian's work while Kate and Bree and Julie-Anne Long and Glen Thompson are in the final stages.
The Long-Thompson work is intriguingly titled 4'33" Into The Past, an obvious reference to the historical John Cage moment.
They're both very lateral and also deal extensively with popular culture. I'm fascinated to see how they deal with John Cage's silence. The site they've chosen is the gallery space, with an exhibition in it—which can feel very immersive. They've also asked for the space not to be empty [of gallery-goers] as well. At that time we'll have the Imperial Slacks show—Cosmic Love Wonder Lust, a survey of works from Sydney's Imperial Slacks venue [see RT 128]—so that's going to be a very interesting juxtaposition.
There's also an accompanying film by Deborah Brown and Lucy Phelan.
Deb Brown is a dancer, not so much a choreographer. She's currently in Bangarra's Lore at the Opera House. Lucy Phelan is a musician and sound artist. They've been paired up to talk, through film, about Indigenous identity politics and what it means to be Indigenous in contemporary society. It's a beautiful film and features our local Indigenous dance group.
Tell me about this group.
It was set up about two years ago when a group of Aboriginal women wanted to connect back to culture through dance. So we set up an Aboriginal women's dance group and it's been through a couple of iterations. Now we're focusing on young women. Some of the older women as well as younger women performed in Deb's work and they constructed parts of the narrative. Sharni Potts, a significant young local choreographer, also appears in that work. She studied at NAISDA and manages the dance group.
What length is the film?
About 11 minutes. There'll be a community premiere quite soon and it'll be screening at all the performances. Deb led the project with a professional film crew shooting onsite in the theatre and in various locations around Campbelltown.
I Can Hear Dancing seems like it will provide and interesting counterpoint to 24 Frames Per Second.
All of these works are still very much about the live event.
I Can Hear Dancing, Anthony Hamilton, Julian Hamilton, Ruth, 7pm. 8.30 pm, 24, 25 July; Kate McIntosh, Bree Van Reyk, In Stereo, 7pm, 28, 29 Aug; 4'33' into the past, Julie-Anne Long, Glen Thompson, 25, 26 Sept, 7pm; Campbelltown Arts Centre, NSW
RealTime issue #127 June-July 2015 pg. web
© RT ; for permission to reproduce apply to realtime@realtimearts.net