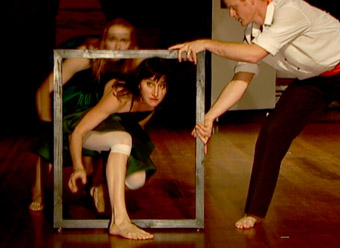 Mild Things, With a Bullet: The Album Project
'Mid-career' isn't the prettiest term. In dance circles, it usually connotes an independent artist who has been around long enough to prove their worth, but hasn't joined one of the professional companies as a permanent member—no longer a bright young thing, but not an established icon. It can also act as a discrete euphemism for 'underemployed.' And the sad truth is that there aren't many opportunities for mid-career artists. There's the occasional commission, perhaps, and the tiring process of applying for funding. There's often a great degree of isolation. In all of these areas, With a Bullet: The Album Project is a collaboration so obviously valuable that one wonders why something like it isn't a permanent staple of the dance calendar. Bringing together a group of independent choreographers to work together on a series of pieces, each responding to a common theme or working through a shared principle allows experienced artists who often work individually to pool their knowledge, bounce off each other, retain their distinctive styles or test out somebody else's. Luckily, With a Bullet is also terrific fun.
The choreographers involved are Simon Ellis, Luke Hockley, Gerard Van Dyck, Shannon Bott, Phillip Gleeson, Michelle Heaven, Jo Lloyd and Natalie Cursio, who initiated the project. The general brief given by Cursio was to create a work for any number of dancers using the first song to which they ever choreographed a piece, whether it was as a child dancing around the lounge room or as a mature artist. The task was not to recreate that initial experience of dance, but to respond to it, reinterpret the song, or devise an entirely new encounter with it. The results are massively varied in character and style, but all in some way offer a retrieval of the innocent love of sheer movement and playfulness, which is often the spur to dance.
Simon Ellis' piece opens the evening with an ironic take on Cyndi Lauper's Girls Just Wanna Have Fun. Ironic (though this aspect didn't seem to trouble audience members laughing at the track's kitsch value), in that it offers a pair of disenfranchised women clearly undergoing some kind of loss, unable to connect with each other and quite evidently not having a lot of fun. It's a subtle work, but an intriguingly multi-layered way to kick off proceedings. At the other end of the evening, Jo Lloyd uses Yes' Owner of a Lonely Heart as the soundtrack to recreate the sense of pleasure of a group of 8 year-olds cavorting around the house. But here it's pyjama-clad dancers at the peak of their talents. Being able to reconnect her performers (including herself) to the artless and uninhibited side of childhood is certainly a triumph for Lloyd.
Cursio's own contribution (set to Leif Garrett's disco hit I Was Made For Dancing) is a highlight: a catapult ride through a sex-and-crime filled narrative that alternates between soap opera, action film and pulp noir. It's clever, catchy, and laugh-out-loud funny, three qualities that really do define With a Bullet as a whole. It's far from the arch seriousness of much contemporary dance, while never losing a sharp, knowing edge.
Body Corporate: With a Bullet: The Album Project, concept Natalie Cursio, choreography Simon Ellis, Luke Hockley, Gerard Van Dyck, Shannon Bott, Phillip Gleeson, Michelle Heaven, Jo Lloyd, Natalie Cursio, performers Shannon Bott, Natalie Cursio, Simon Ellis, Jo Lloyd, Jacob Lehrer, Gerard Van Dyck, designer Matt Delbridge; Arts House, North Melbourne Town Hall, June 22-July 1
RealTime issue #74 Aug-Sept 2006 pg. 33
© John Bailey; for permission to reproduce apply to realtime@realtimearts.net