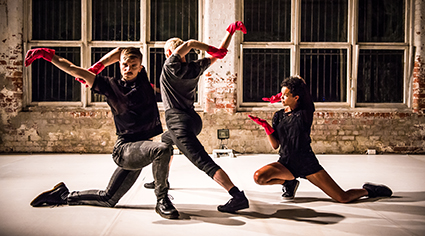 photo Gregory Lorenzutti
James Welsby, Benjamin Hancock and Chafia Brooks, HEX
By my reckoning, it's been over a decade since Brisbane had a dedicated queer performance festival. Now MELT is here, curated queer performance is back and while many of us are sorry to see the wonderful World Theatre Festival drop off the Powerhouse's program—this is the February slot WTF used to occupy—MELT's arrival is entirely welcome.
One of my most vivid recollections of the early 2000s queer performance seasons at the Powerhouse is the overwhelming dominance of 'coming out' narratives in the one-person confessional performance paradigm—'wide eyed country boy goes to big city and discovers clubbing/drugs/sex scene' was such an oft-repeated synopsis as to become its own genre. As it turns out, three of the four shows I got to see this time meet the one-person-show confessional template.
Matthew Mitcham, Twists and Turns
Matthew Mitcham's Twists and Turns follows the champion diver's life from a childhood in suburban Brisbane—or as Mitcham archly points out, "Dorothy Street, Camp Hill, Queen's land? Come on!"—to the Beijing and London Olympics via Sydney's gay club scene. Mitcham's broad biographical narrative trajectory is already familiar to most of the audience. There were few revelations to be had in a candid song-and-commentary piece that was, to be frank, fairly heavy on therapy-speak-as-dialogue, an approach which had the effect at times of reducing a compelling and unique 'journey' to cliché. The self-penned songs revealing the torment beneath the success that the world witnessed were encumbered by the same linguistic blandness, but Mitcham's stage presence was very warm, and the real revelation of the evening was his singing voice. It makes sense that a professional diver and trampolinist should possess innate choreographic or musical timing and discipline, and the one truly beautiful transformational moment of the evening was indeed that Olympic dive, recalled on stage in slow motion choreo, with Mitcham singing Nick Cave's "Little Water Song." Jeremy Brennan's musical direction was lovely and the onstage presence of Rhys Morgan as a bitchy drag queen personification of Mitcham's self-sabotaging alter ego was worth a go, but only worked humorously in moments.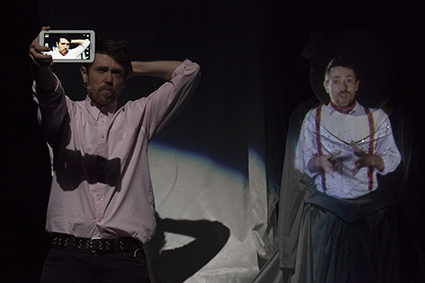 photo Hilary Green
Sunny Drake, Transgender Seeking
Sunny Drake, Transgender Seeking

Sunny Drake's Transgender Seeking was an altogether more theatrically sophisticated and accomplished one-person confessional, and was well supported by a robust and vocal lesbian, queer and trans audience. Stage design comprised a single white chair in front of a large cloth-draped puppet—a bride—onto whose dress were screened excerpts from romantic Hollywood films. The theatrical conceit is that we are at a romance-aholics meeting with 'Jimmy' (who refers to Drake as his 'sponsor'). Despite an over-choreographed monologue or two at the beginning with Jimmy's blustering late arrival—he performs a series of S&M sexual positions on the chair while telling us why he's here and how hopeless a romantic he really is—the piece soon settles into a riveting meeting-cum-therapy session during which Jimmy engages in virtual dialogue interface with Drake via the bride puppet videography. It's a technically savvy performance, raw and revealing and humorous in its depiction of Jimmy's online dating quandaries—the impossibility of ticking conventional boxes—and the difficulties inherent in maintaining poly-partnered open relationships in the modern world. Jimmy appears with significant ex Brian in a gay reality TV show (The Games We Play), negotiates a dystopic queer political world via an encounter with the Queer Radical Relationship Act and wrestles with the dilemmas of being an Ethical Slut. Transgender Seeking is touring the nation in venues stretching from Launceston to Cairns, and will allure, confront and inform audiences every step of the way.
Dash Kruck, I Should Take My Shirt Off

The third in the troika of one-man confessionals I attended was local actor-singer Dash Kruck's I Should Take My Shirt Off. Kruck plays a hapless, nervous ingénue, Lionel, who has just had his heart broken and has been instructed by his overbearing German therapist Griselda to use cabaret as a means of catharsis. The theatrical premise, then, is that this is a cabaret about producing a cabaret with titles like "How Do You Start a Show?" navigating character and audience alike through an evening of DIY entertainment. Lionel is trying to rebuild his confidence and find love again—trying to get to the point where he can take his shirt off, metaphorically and literally, in public. Despite the slightness of the dramatic premise, Kruck's acting experience and charm are enough to sustain the piece. The TV series Glee has possibly influenced the final sections of the piece too heavily: "Here I am: this is me" as a finale dips the piece into the same kitschy, anodyne therapy speak already discussed. But overall, this was a show that won over a clearly appreciative local audience.
James Welsby, Hex

Hex, choreographed by James Welsby, riffs on the central question, "What does the AIDS crisis mean for people born after 1981?" This smart, funky contemporary dance piece is more overtly political than the other shows I saw and takes us immediately back to the moment AIDS 'broke' in the minds of the Australian public via a wry re-enactment of that iconic Grim Reaper ad. Accompanied by a sour, mutated version of the relentlessly preppy "Everything Old is New Again," we see the young people in that ad (depicted by fellow dancers Benjamin Hancock and Chafia Brooks) transmogrify into young clubbers of the era, joined by Grim Reaper/Welsby himself. The whimsy and carelessness of pre-AIDS clubbing is represented by a tightly choreographed unison routine that puts one in mind of a Jane Fonda or Richard Simmons workout. The sequence is extended to the point of exhaustion and we gradually find jubilation turning sinister. As the disease stalks and strikes the gay community whose culture is being referenced in these early sequences, funk gives over to Gregorian chanting that intensifies in pitch to a point of collapse. Suddenly the dancefloor is strewn with torpid bodies and we could be in the living room floor of a junkies' share house. We move from sickness to death to political protest rally via a wonderfully inventive scene that uses pink latex gloves as balloons to mark the graves of the fallen, and arrive finally at survival and triumph—a finale, a 'one in your eye' to the Grim Reaper with Piaf's "Je ne regrette rien," which I won't spoil by describing. Let's just say that memories of Piaf's vibrato may never recover from this rendering. While the pop accompaniments to the dance sequences sometime spell things out to the nth degree ("Another One Bites the Dust" being a clunky case in point), this is clever, spirited, compelling contemporary dance. I enjoyed the dramaturgical clarity and rigour of the work every bit as much as I've enjoyed DV8 or Chunky Move performances in the past. Hex is excellent and Welsby's company has a great future.
Melt: A Celebration of Queer Arts and Culture: Matthew Mitcham Twists and Turns, director Nigel Turner-Carroll, musical director Jeremy Brennan. 5-6 Feb; 2015, Brisbane Powerhouse; Transgender Seeking, writer-performer Sunny Drake, director Gein Wong, 8 Feb; I Might Take My Shirt Off, writer-performer Dash Kruck, composer Chris Warren, director Emily Gilholme, 13-14 Feb; Hex choreographer James Welsby, performers James Welsby, Benjamin Hancock, Chafia Brooks, 8 Feb, 2015; MELT Brisbane Powerhouse, 5-15 Feb
RealTime issue #126 April-May 2015 pg. 33
© Stephen Carleton; for permission to reproduce apply to realtime@realtimearts.net